126
Well, the last two days were fun and exciting for me. Though many folks got fooled, pretty much everyone enjoyed the spoof. Thanks again to the very kind and generous Bryan Carnathan of The Digital-Picture.com who kindly granted me permission to adapt and re-publish his clever April Fool's post here on my blog on April 2, 2014. Lots of folks were on guard on April 1 but had let their guard down by the next day. If you missed it, you can read Bryan's original post here
This post marks 126 straight days with a new educational post. With so many folks getting in the habit of using our B&H and Amazon links why quit now? To show your appreciation for my efforts here, we do ask that you use our the B&H and Amazon affiliate links on the right side of the blog for all of your purchases. Please check the availability of all photographic accessories in the BIRDS AS ART Online Store. We sell only what I use and depend on. We will not sell you junk. We know what you need to make creating great images easy and fun. And we are always glad to answer your gear questions via e-mail.
You can find the following items in the store: Gitzo tripods, Mongoose M3.6 and Wimberley heads, plates, low feet, and accessories, flash brackets, , Delkin e-film Pro Compact Flash Cards, LensCoat products, and our unique line-up of educational materials including ABP I & II, Digital Basics, Site and Set-up e-Guides, Canon and Nikon Camera Users and AF e-Guides, and MP-4 Photoshop video tutorials among others.
I would of course appreciate your using our B&H affiliate links for all of your major gear, video, and electronic purchases. For the photographic stuff mentioned in the paragraph above we, meaning BAA, would of course greatly appreciate your business. Here is a huge thank you to the many who have been using our links on a regular basis and visiting the BAA Online store as well.
This blog post took about 1 1/2 hours to assemble. Enjoy!
The Cabbage Palm Kids
On cloudy mornings or on any given afternoon there are lots of opportunities to photograph the birds and nests on the eastern side of the gator swamp. On sunny afternoons you will have the sun behind you. All of the Wood Stork nests are on that side in the larger trees. But the herons and egrets like to build their nests in the cabbage palms.
Image Questions
#1: In the soft light, why did I need -1/3 stop with a white bird? Note: there are 2 reasons…
#2: What do you think that I like best about the design of this image?
#3: Click on the image to enlarge it and see if you can figure out what I like least about this image.
#4: After enlarging the image what do you think of the head positions and head angles of the two chicks?
#5: With the same gear would you have re-composed differently?
Selling Your Used Photo Gear Through BIRDS AS ART
Selling your used (or like-new) photo gear through the BAA Blog or via a BAA Online Bulletin is a great idea. We charge only a 5% commission. One of the more popular used gear for sale sites charges a minimum of 20% plus assorted fees! Yikes. The minimum item price here is $500 (or less for a $25 fee). If you are interested please e-mail with the words Items for Sale Info Request cut and pasted into the Subject line :). Stuff that is priced fairly–I offer free pricing advise, usually sells in no time flat as did Dennis Cassidy's 500 II recently on the blog. Larry Master's 400 DO and his 800 f/5.6 sold within a week. From Larry via e-mail: Thanks for helping me sell the lenses so quickly!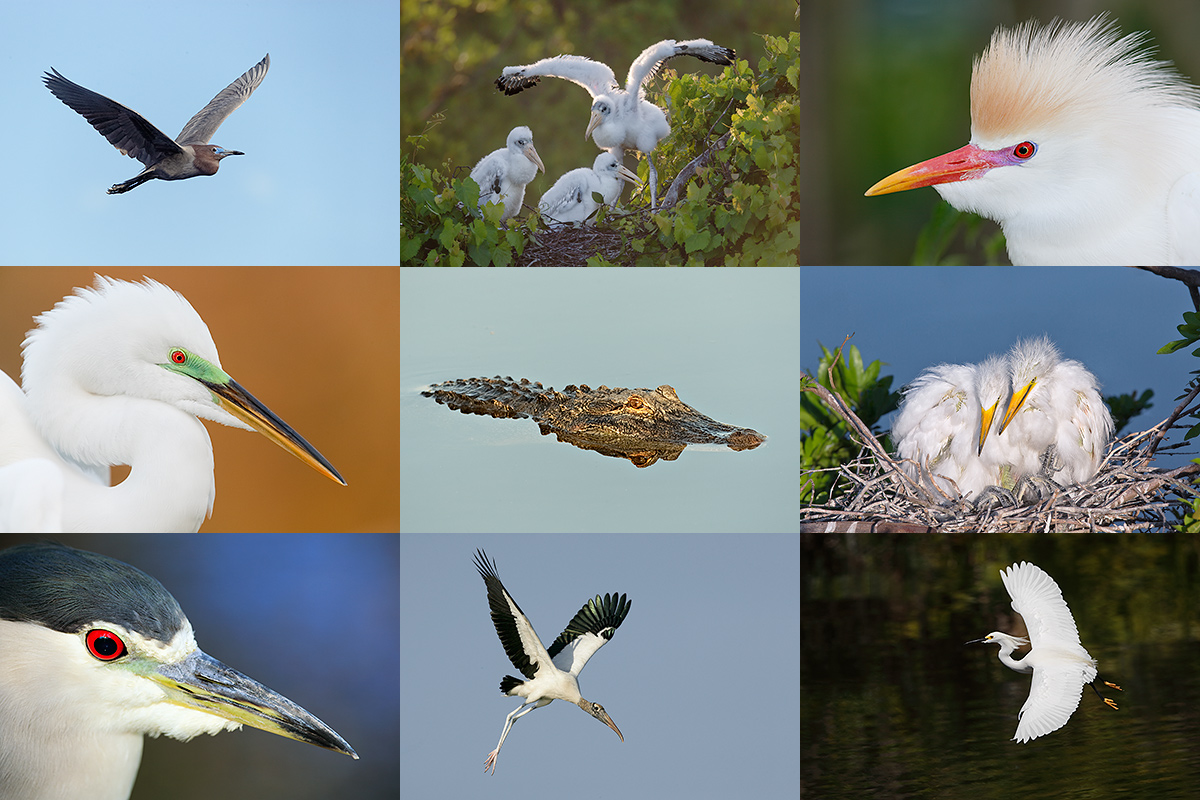 Join me at Gatorland for a ton of learning. I will have my flash along…. Click on the composite image to enjoy a larger version. Click on the composite to enjoy the larger size.
Gatorland Saturday Full Day/Sunday Morning In-the-Field Workshop
Saturday Full Day April 5: $399/Sunday Morning April 6, 2014. 7:15am till 10:45 photo session.Lunch, image review, and Photoshop session included: $299.
The cost of your Gatorland Photographer's Pass is not included.
Payment in full via credit card is due upon registering. Please call Jim or Jennifer at 863-692-0906 to register. Please ask for me if you have any questions. Or get in touch via e-mail. Lens rentals are available.
Please note: There is a single opening left on the Saturday April 5 ITF Workshop. But three folks are leaving early; if you are interested in an afternoon only session ($149) or attending on Saturday afternoon and Sunday (morning and lunch)–($299), please contact me via e-mail.
You can learn more about the Gatorland In-the-Field Workshops by scrolling down here.
Support the BAA Blog. Support the BAA Bulletins: Shop B&H here!
We want and need to keep providing you with the latest free information, photography and Photoshop lessons, and all manner of related information. Show your appreciation by making your purchases immediately after clicking on any of our B&H or Amazon Affiliate links in this blog post. Remember, B&H ain't just photography!
Amazon
Everyone buys something from Amazon, be it a big lens or deodorant. Support the blog by starting your search by clicking on the logo-link below. No purchase is too small to be appreciated; they all add up. Why make it a habit? Because I make it a habit of bringing you new images and information on an almost daily basis.
Typos
In all blog posts and Bulletins, feel free to e-mail or to leave a comment regarding any typos, wrong words, misspellings, omissions, or grammatical errors. Just be right. 🙂