The Streak Continues
As you read this, I will be photographing Ospreys for the second straight day on Lake Blue Cypress with Jim Neiger. This time with our second group of 3. It was a real pleasure meeting and photographing with George and Kay Williams, traveling in the southeast while pulling a 30-foot bumper pull travel trailer. Like me, they love their Toyota Sequoia. Joining us was Beth Eldridge who lives with her husband in a 43-foot fifth wheel trailer. They move on average about every six months.
This post marks 134 straight days with a new educational blog post. With so many folks getting in the habit of using our B&H and Amazon links why quit now? To show your appreciation for my efforts here, we do ask that you use our the B&H and Amazon affiliate links on the right side of the blog for all of your purchases. Please check the availability of all photographic accessories in the BIRDS AS ART Online Store, especially Gitzo tripods, Wimberley tripod heads, and the like. We sell only what I used, tested, and can depend on. We will not sell you junk. We know what you need to make creating great images easy and fun. And we are always glad to answer your gear questions via e-mail.
You can find the following items in the store: Gitzo tripods, Mongoose M3.6 and Wimberley heads, plates, low feet, and accessories, flash brackets, , Delkin e-film Pro Compact Flash Cards, LensCoat products, and our unique line-up of educational materials including ABP I & II, Digital Basics, Site and Set-up e-Guides, Canon and Nikon Camera Users and AF e-Guides, and MP-4 Photoshop video tutorials among others.
I would of course appreciate your using our B&H affiliate links for all of your major gear, video, and electronic purchases. For the photographic stuff mentioned in the paragraph above we, meaning BAA, would of course greatly appreciate your business. Here is a huge thank you to the many who have been using our links on a regular basis and visiting the BAA Online store as well.
This blog post took only about 1 1/2 hours to put together. Enjoy!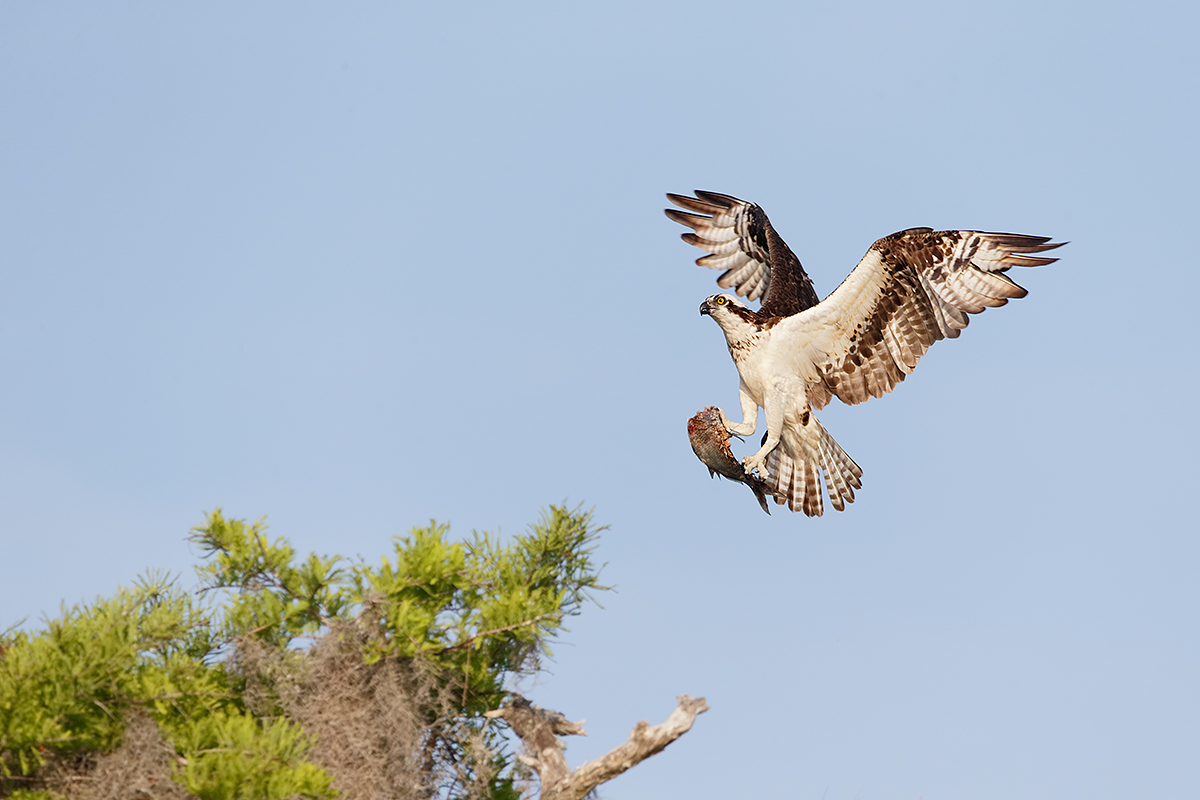 This image was created on the clear, sunny Friday morning of April 11, 2014 at 8:15am. There were five of us aboard Jim Neiger's pontoon boat. I used the hand held Canon EF 200-400mm f/4L IS USM Lens with Internal 1.4x Extender (with the internal TC engaged at 560mm) and the Canon EOS-1D X. ISO 400. Evaluative metering +1 stop off the blue sky: 1/1600 sec. at f/7.1 in Manual mode. AWB.
Central Sensor/AI Servo-Surround/Rear Focus AF caught the fish and was active at the moment of exposure. Learn everything there is to know about the 1D X and 5D III AF systems including how to manage the various AF Area Selection Modes, when to use which one, and several ways to move the AF sensor around in my 1D X AF Guide and the 5D Mark III User's Guide. Click here to see the latest version of the Rear Focus Tutorial. Click on the image to see a larger version. .
Your browser does not support iFrame.
Two Shining Moments
Congrats to the Connecticut Men's and Women's basketball teams on their recent victories in the NCAA National Championship Tournaments, aka March Madness. The men's teams from Florida and Kentucky were bigger and more athletic than the UConn men but the Huskies were faster, smarter, and more determined. Kudos to coach Kevin Ollie on his superb coaching job. The women finished an undefeated 40-0 season with a victory over previously undefeated Notre Dame. Congrats to the UConn women's team coach Geno Auriemma on his record ninth national title.
One Shining Moment
We had a tough morning on Lake Blue Cypress. Early on there was not much wind so few Ospreys were flying. And when the wind picked up it was slightly north/northwest; the last thing you want on a clear morning is a wind with any westerly component… That leaves all the birds taking off and landing slightly away from you and from the light. Bad news.
The image above was created in near windless conditions just before the wind switched to the north/northwest. It was our very best landing opportunity of the morning. This was my favorite of an all-sharp eight-frame sequence. It is a small crop from the right and from below.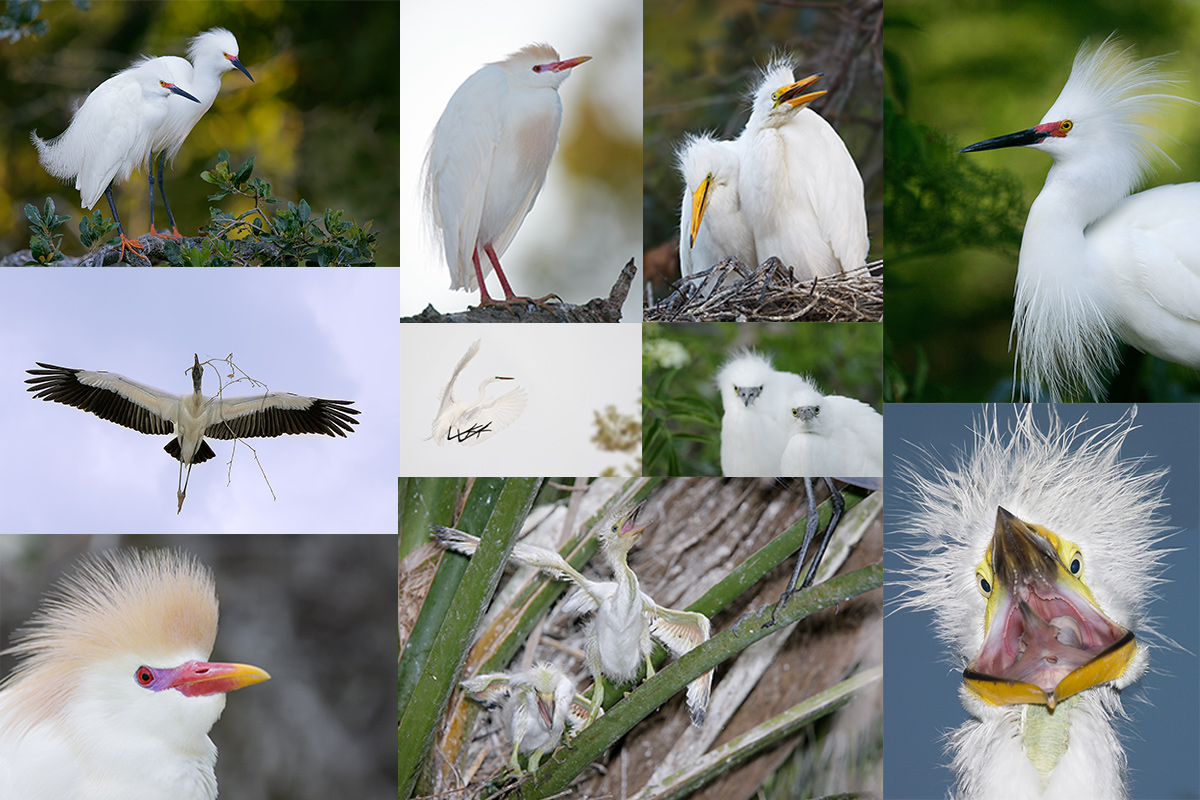 All of the images created at the St. Augustine Alligator Farm and copyright Arthur Morris/BIRDS AS ART
From top left clockwise to center: Snowy Egret pair in breeding plumage, breeding plumage Cattle Egret with fill flash, large Great Egret chicks in the nest, killer breeding plumage Snowy Egret displaying, flash-as-main light Great Egret chick happy to see mom, Little Blue Heron chicks, Cattle Egret breeding plumage head portrait, flash flight Wood Stork with nesting material, Great Egret landing at the nest, large Snowy Egret chicks.
Click on the image to enjoy a larger version.
St. Augustine Alligator Farm Short-Notice IPT. 3-FULL DAYS. Early entry/Late stay. May 5-7, 2014. Meet and greet at 8pm on Sunday May 4: $1299. Two Great Leaders: Arthur Morris and Denise Ippolito
This trip needs four to run.
Breeding herons, egrets, and Wood Storks. Eggs and chicks in the nest. Some fledged young possible. Breeding behaviors including displaying and copulations. Flight and flash flight. Great Egret, Snowy Egret, Little Blue Heron, Cattle Egret, Tricolored Heron, Wood Stork. Early May rocks at the Farm as the weather is usually gorgeous and there should be lots of both small and large chicks in the nest. And you avoid the possibly oppressive heat of June and July.
Includes in-the-field instruction, early entry, late stay, $5/person late-stay gratuity, informal, small group Photoshop and image review sessions. Three lunches.
Not included: your lodging, your St. Augustine Alligator Farm photographer's pass ($79.95 for the year); we will be more than glad to pre-order your pass for you. Please let us know when you register.
What you will learn:
How to see the good situations.
How to best avoid the clutter of a rookery by choosing the very best perspective.
How to properly evaluate the histogram and come up with the right exposure every time after making a single test exposure
How to see and understand the light.
How to to design pleasing images by mastering your camera's AF system.
Why you must work in Manual mode 95% of the time when photographing at a rookery and how to do it.
How to evaluate and process your images.
Via intensive instruction how to use fill flash flash as main light, and Manual flash.
Flash flight techniques including the necessary use of high speed sync.
And tons more.
Please call Jim or Jen at 863-692-0906 to hold your spot with your non-refundable $299 credit card deposit and then put your check in the mail along with your signed registration form; you can find the form here.
Suitable airports: Jacksonville (JAX), Daytona Beach (DAB), Orlando MCO).
We look forward to seeing you in the nation's oldest city for three days of fun and learning.
Note: Folks interested in possibly continuing on to Fort DeSoto–great in spring, are invited to shoot me an e-mail.
Support the BAA Blog. Support the BAA Bulletins: Shop B&H here!
We want and need to keep providing you with the latest free information, photography and Photoshop lessons, and all manner of related information. Show your appreciation by making your purchases immediately after clicking on any of our B&H or Amazon Affiliate links in this blog post. Remember, B&H ain't just photography!
….. …..
Typos
In all blog posts and Bulletins, feel free to e-mail or to leave a comment regarding any typos, wrong words, misspellings, omissions, or grammatical errors. Just be right. 🙂