The Streak Continues: 147
I am not sure when this will be published but it will likely be online before 7:00am Florida time on Friday, April 25th. My flight departs AMS for DTW (Detroit) at 8:15am and daughter Jennifer is picking me up at about 3:30pm at MCO. It will be good to get home. We enjoyed yet another great day at Keukenhof. When you have visited a location for more than a week and everyone ends up wishing that there was more time to photograph, more time to create new and exciting images, more time to try the new techniques, the leaders feel pretty darned good. And that is exactly how Denise and I feel.
This post marks 147 straight days with a new educational blog post. With so many folks getting in the habit of using our B&H links and our Amazon logo-links why quit now? To show your appreciation for my efforts here, we do ask that you use our the B&H and Amazon affiliate links on the right side of the blog for all of your purchases. Please check the availability of all photographic accessories in the BIRDS AS ART Online Store, especially Gitzo tripods, Wimberley tripod heads, and the like. We sell only what I used, tested, and can depend on. We will not sell you junk. We know what you need to make creating great images easy and fun. And we are always glad to answer your gear questions via e-mail.
You can find the following items in the store: Gitzo tripods, Mongoose M3.6 and Wimberley heads, plates, low feet, and accessories, flash brackets, , Delkin e-film Pro Compact Flash Cards, LensCoat products, and our unique line-up of educational materials including ABP I & II, Digital Basics, Site and Set-up e-Guides, Canon and Nikon Camera Users and AF e-Guides, and MP-4 Photoshop video tutorials among others.
I would of course appreciate your using our B&H affiliate links for all of your major gear, video, and electronic purchases. For the photographic stuff mentioned in the paragraph above we, meaning BAA, would of course greatly appreciate your business. Here is a huge thank you to the many who have been using our links on a regular basis and visiting the BAA Online store as well.
This blog post took about 1 hour to create. Enjoy!
Keukenhof Farewell Painting
4pm at the fish sign was our meeting place. Having arrived a few minutes early I was again inspired by friend and multiple IPT veteran Mike Gotthelf. He was doing in-camera Multiple Exposure zoom blurs. As I only had my 100mm macro with me I decided on a 7-frame in-camera Multiple Exposure. I wanted to get a blog post done before bed as I need to be up at 4:30am and on my way to Schipol Airport by 5:30. I was thrilled when I saw this image, the very last image that I created on what turned out to be a great trip with great folks and perfect weather.
I simply created 7 images with the tripod head locked up while barely moving the lens a fraction of an inch between each frame.
Which classical painter worked in this style?
Gotta pack and hit the sack.
Like it or hate it?
Let us know and be sure to let us know why.
5D Mark III User's Guide
You can learn the fine points of in-camera Multiple Exposures and creating in-camera HDRs plus everything that I know about this great camera in my 5D Mark III User's Guide here.
Get a Free Copy of Our 5D Mark III User's Guide
Purchase a Canon EOS-5D Mark III using one of our product-specific B&H affiliate links above or by clicking on the logo link below and shoot me your B&H receipt via e-mail. Once and if the purchase appears in my account–it should unless you screwed up somehow and did not use the link :), I will be glad to have Jim send you a free copy of our 5D Mark III User's Guide.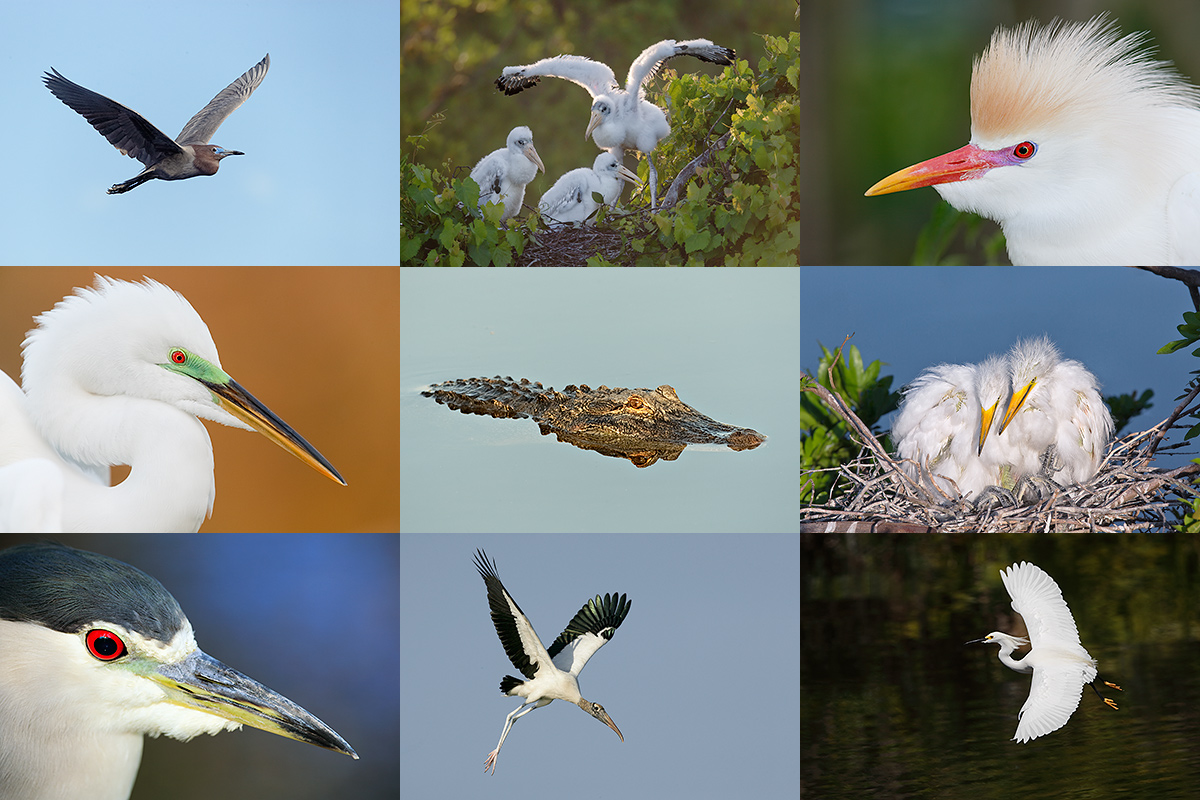 Join me at Gatorland for a ton of learning. If you want to learn to use your flash, you will not want to miss this one. Click on the composite image to enjoy a larger version. Click on the composite to enjoy the larger size.
The Gatorland Short Notice Saturday Full-Day In-the-Field Workshop
Saturday May 3, 2014. 7:15am till 10:15am & 4:00pm till dusk. Lunch, image review, and Photoshop session included. Limit 6. A very small group is again likely: $399.
The cost of your Gatorland Photographer's Pass is not included.
Chicks in nests likely. Breeding plumage Cattle and Snowy Egrets. And tons more. You will learn to spot the good situations, to choose the best perspective, to see and understand the light, to get the right exposure every time after making a single test exposure, and to design pleasing images by mastering your camera's AF system. A big part of the above is that you will learn how and why you must work in Manual mode 90% of the time at Gatorland.
At lunch we will review my images, take a look at five of your best images from the morning session (for those who opt to bring their laptops), and process a few of my images in Photoshop after converting them in DPP. That followed by Instructor Nap Time.
Payment in full via credit card is due upon registering. Please call Jim or Jennifer at 863-692-0906 to register.
Another Used 400 DO For Sale
I will be offering a very well taken care of 400 DO lens for sale when I get back. If you are interested, please shoot me an e-mail. The lens is currently owned by Peter Kes.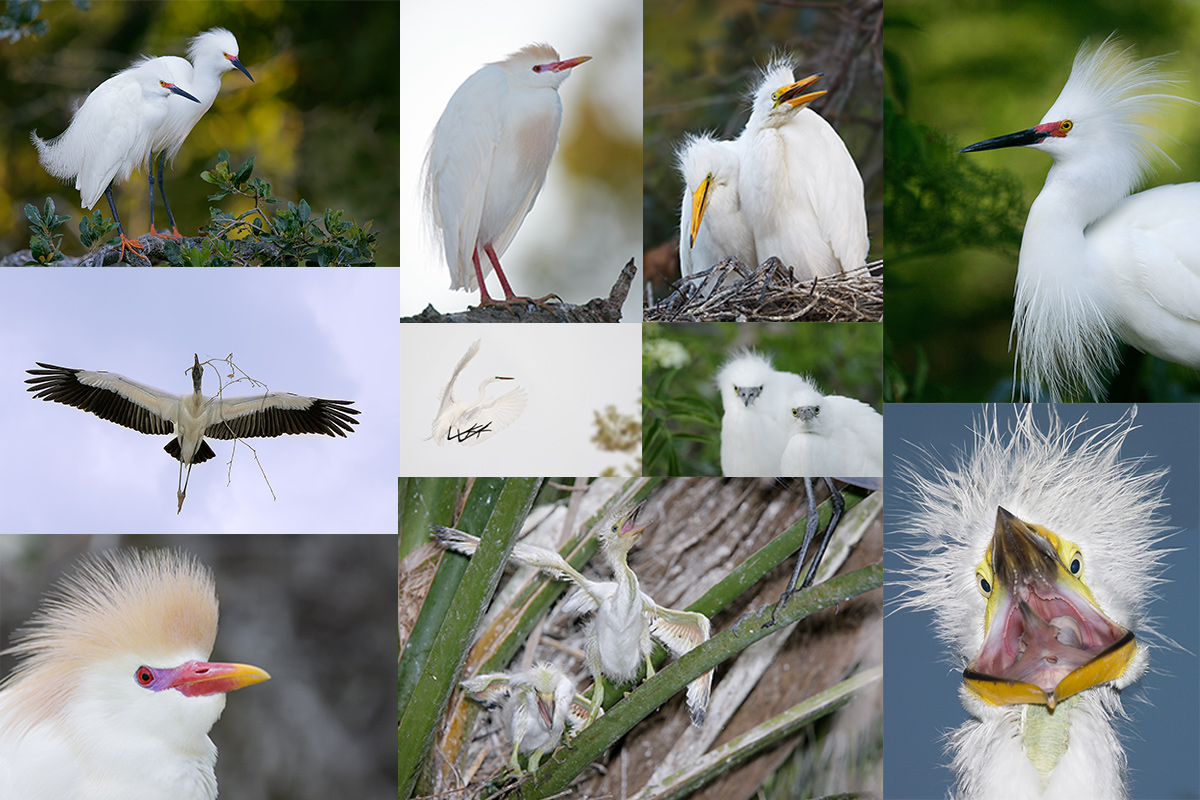 All of the images created at the St. Augustine Alligator Farm and copyright Arthur Morris/BIRDS AS ART
From top left clockwise to center: Snowy Egret pair in breeding plumage, breeding plumage Cattle Egret with fill flash, large Great Egret chicks in the nest, killer breeding plumage Snowy Egret displaying, flash-as-main light Great Egret chick happy to see mom, Little Blue Heron chicks, Cattle Egret breeding plumage head portrait, flash flight Wood Stork with nesting material, Great Egret landing at the nest, large Snowy Egret chicks.
Click on the image to enjoy a larger version.
St. Augustine Alligator Farm Short-Notice IPT. 3-FULL DAYS. Early entry/Late stay. May 5-7, 2014. Meet and greet at 8pm on Sunday May 4: $1299. Two Great Leaders: Arthur Morris and Denise Ippolito
This trip needs four to run.
Breeding herons, egrets, and Wood Storks. Eggs and chicks in the nest. Some fledged young possible. Breeding behaviors including displaying and copulations. Flight and flash flight. Great Egret, Snowy Egret, Little Blue Heron, Cattle Egret, Tricolored Heron, Wood Stork. Early May rocks at the Farm as the weather is usually gorgeous and there should be lots of both small and large chicks in the nest. And you avoid the possibly oppressive heat of June and July.
Includes in-the-field instruction, early entry, late stay, $5/person late-stay gratuity, informal, small group Photoshop and image review sessions. Three lunches.
Not included: your lodging, your St. Augustine Alligator Farm photographer's pass ($79.95 for the year); we will be more than glad to pre-order your pass for you. Please let us know when you register.
What you will learn:
How to see the good situations.
How to best avoid the clutter of a rookery by choosing the very best perspective.
How to properly evaluate the histogram and come up with the right exposure every time after making a single test exposure
How to see and understand the light.
How to to design pleasing images by mastering your camera's AF system.
Why you must work in Manual mode 95% of the time when photographing at a rookery and how to do it.
How to evaluate and process your images.
Via intensive instruction how to use fill flash flash as main light, and Manual flash.
Flash flight techniques including the necessary use of high speed sync.
And tons more.
Please call Jim or Jen at 863-692-0906 to hold your spot with your non-refundable $299 credit card deposit and then put your check in the mail along with your signed registration form; you can find the form here.
Suitable airports: Jacksonville (JAX), Daytona Beach (DAB), Orlando MCO).
We look forward to seeing you in the nation's oldest city for three days of fun and learning.
Support the BAA Blog. Support the BAA Bulletins: Shop B&H here!
We want and need to keep providing you with the latest free information, photography and Photoshop lessons, and all manner of related information. Show your appreciation by making your purchases immediately after clicking on any of our B&H or Amazon Affiliate links in this blog post. Remember, B&H ain't just photography!
….. …..
Typos
In all blog posts and Bulletins, feel free to e-mail or to leave a comment regarding any typos, wrong words, misspellings, omissions, or grammatical errors. Just be right. 🙂