IPT and I-T-F Updates
There are only 4 slots left on the UK Puffins and Gannets IPT and on the NOV 29-DEC Bosque IPT. The Fort DeSoto Short Notice, Nickerson Beach, and the Bosque Creative IPTs all have lots of room though the latter is filling nicely as Muriel McClellan and her daughter-in-law signed up recently. Scroll down for updated info & details on the St. Augustine In-the-Field days and the Fort DeSoto IPT. Click here for info on the others and for complete IPT details.
Used Canon and Nikon Gear for Sale
There are some great buys available on a variety of super-telephotos lenses as well as a few camera bodies. Scroll down for details. Kitty Kono's Nikon 500 sold yesterday. Her 400 f/2.8 is still there for the taking at a great price.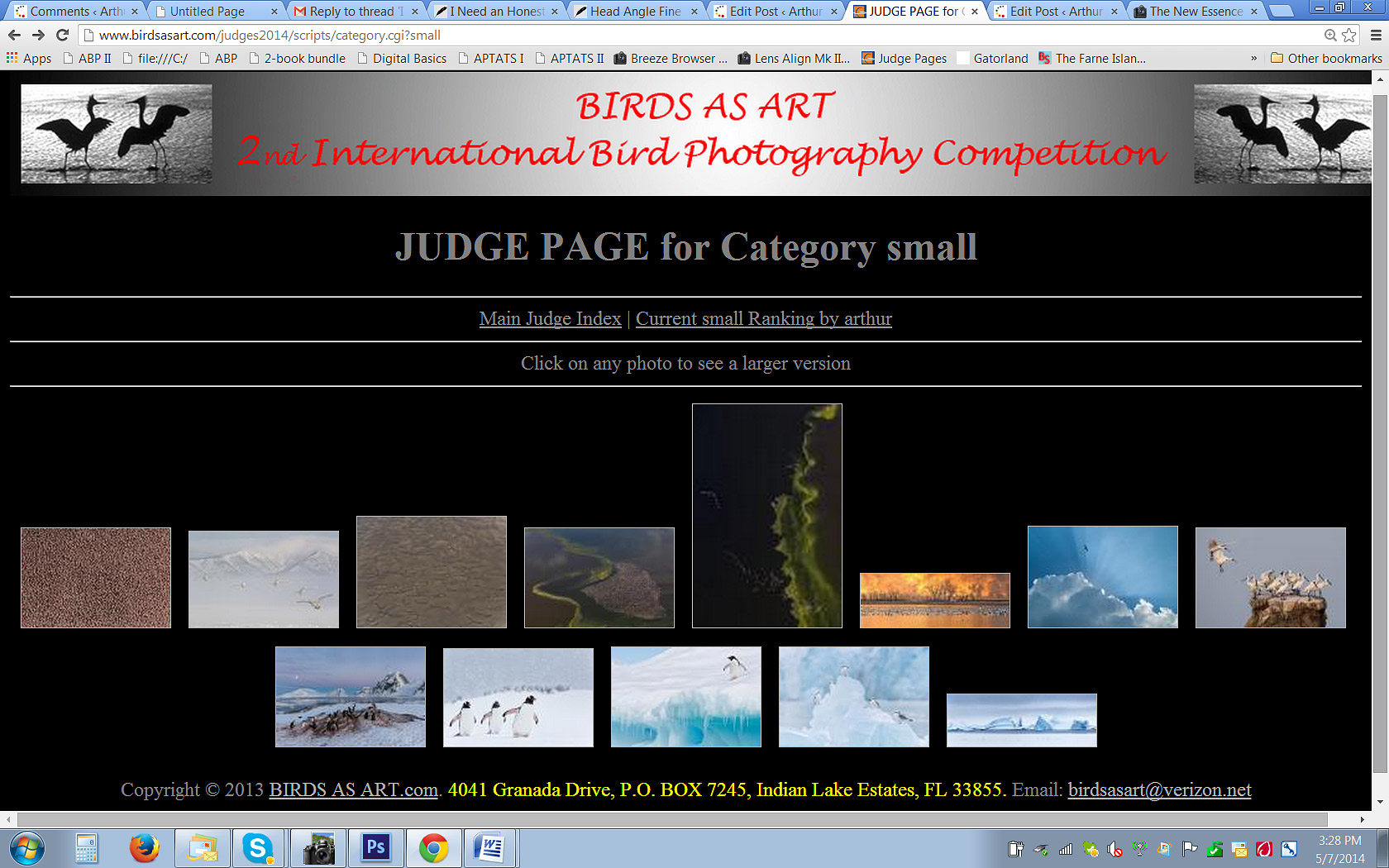 Because there are so many amazing images the public voting in the Small-in-the-Frame Category of the BIRDS AS ART 2nd International Bird Photography Competition has been extended an additional day to give everyone an opportunity to vote. Click on the image to get a better idea of the great images in this category.
Small-in-the-Frame Voting Extended One Day
Join in the fun by voting on the Small-in-the-Frame Category of the BIRDS AS ART 2nd International Bird Photography Competition here. While the public vote has been very close to the results of the judge's voting and the actual order of finish the opinions in this category so far have been all over the place. There are so many strong images that choosing your favorite five might just be impossible. Do take a peek. You have until early Friday morning to vote if you have not done so already.
The Streak Continues: 159
This post marks 159 consecutive days with a new educational blog post. With so many folks getting in the habit of using our B&H links and our Amazon logo-links why quit now? April was a record month! To show your appreciation for my efforts here, we do ask that you use our the B&H and Amazon affiliate links on the right side of the blog for all of your purchases. Please check the availability of all photographic accessories in the BIRDS AS ART Online Store, especially Gitzo tripods, Wimberley tripod heads, and the like. We sell only what I used, tested, and can depend on. We will not sell you junk. We know the tools that you need to make creating great images easy and fun. And we are always glad to answer your gear questions via e-mail.
You can find the following items in the store: Gitzo tripods, Mongoose M3.6 and Wimberley heads, plates, low feet, and accessories, flash brackets, , Delkin e-film Pro Compact Flash Cards, LensCoat products, and our unique line-up of educational materials including ABP I & II, Digital Basics, Site and Set-up e-Guides, Canon and Nikon Camera Users and AF e-Guides, and MP-4 Photoshop video tutorials among others.
I would of course appreciate your using our B&H affiliate links for all of your major gear, video, and electronic purchases. For the photographic stuff mentioned in the paragraph above we, meaning BAA, would of course greatly appreciate your business. Here is a huge thank you to the many who have been using our links on a regular basis and visiting the BAA Online store as well.
This post took 2 hours to put together. Enjoy!
The New Essence of the St. Augustine Alligator Farm
It has been years since I visited the St. Augustine Alligator Farm. As one would expect, a lot has changed. Over the years the management team–led by director John Brueggen–has removed extensive stands of non-native vegetation. To provide nesting habitat they have planted numerous Bald Cypress trees, Eldeberries, and Wax Myrtles. Overall the habitat has been thinned out; much of the vegetation adjacent to the boardwalk was non-native. Numbers of nesting Wood Storks have increased as this species has moved into several new and previously unoccupied areas of the Farm. Great Egrets are thriving as well with many dozens of successful nests with chicks of sizes various ranging from tiny to almost fledged. During our visit we witnessed but did not get to photograph the demise of several small Great Egret chicks. The runts of each litter are often attacked and driven into the water by their older siblings, Survival of the fittest for sure.
As before there are many breeding pairs of Snowy Egret and Tricolored Heron along with a smattering of Little Blue Herons. Cattle Egret numbers seem to be down. My impression is that the nests of the smaller species are a bit more difficult to photograph than they were 5-10 years ago. As with all rookery photography the good photographers can spot the few good situations but most folks simply do not understand that they need to work on sun angle on clear days and they have no clue when it comes to finding the best perspective. For clean shots of the smaller nesting species the edge this year goes to Gatorland. But as has always been the case, St. Augustine rules by a mile when it comes to good flight photography.
The biggest change at St. Augustine is that Roseate Spoonbill, surely one of if not the most desirable avian species in the state of Florida, is now an established breeder. There are dozens of nests with young of all sizes ranging from hatched yesterday to nearly fledged. There are several pairs still building nests. Photographing the nests with young is a nearly impossible task. There was one nest with four small chicks that offered great promise–low with a clean line of sight for one photographer. A pair of Snowy Egrets chose to set up a nest right in the only available photographic slot. So ixnay on that one.
Discouraged? No need. Competent photographer can take advantage of the pair that is building a nest on the left side of the boardwalk in early morning light. They offer great opportunities for creating extreme close-ups as they are totally oblivious to the visiting photographers. Denise and Catherine and I had a ball on Tuesday morning creating tight face portraits of a single sleeping Roseate. And there are many other more transient photo opps for this species available to the observant photographer. All in all, St. Augustine is now a Roseate Spoonbill photographic paradise.
Image Question
Why ISO 800 if the sun was out?
Used Nikon Super-Telephoto Lens for Sale
A Creative Adventure/BIRDS AS ART friend Kitto Kono sold her Nikon 500 yesterday to a Blog subscriber!
Nikon AF-S 400mm f/2.8G ED VR AF Lens
The first is a used Nikon AF-S NIKKOR 400mm f/2.8G ED VR AF lens for $5999.00. This lens sells new from B&H for $8999.00. The price includes UPS insured Ground shipping to the continental US. The lens comes with just about everything that came with the original purchase including the lens trunk, monopod collar, front lens cover, rear lens cap, slip on HK 33 Lens Hood, Slip-in Filter Holder, 52mm screw-in NC Filter, and LN – 1 Strap. The lens is in excellent condition with some minor blemishes and scratches on the exterior body and lens hood. Photos upon request. Potential buyers can contact Kitty via e-mail or by phone: 610-995-2339. Your check must clear before the lens is shipped.
The 400 f/2.8 is superb for large mammals, for birds at close range, and for work at bird feeders. Priced at $3,000 less than new this one should sell quickly.
Used Canon Gear for Sale
Denise Ippolito's 100-400 and her 100 macro sold in one day. Peter Kes sold his 70-200 f/2.8: IS II and his 400 DO through BAA in just more than one week. In the past two months we have sold a Canon 800, a Canon 500 II, 3 400 DO lenses, a Nikon 500mm, and lots more. If you are interested in using our services, please e-mail.
Used Canon 100-400mm f/4.5-5.6L IS USM Lens for Sale/Price Reduced $100!
Multiple IPT veteran Bill Wingfield is offering a Canon 100-400mm f/4.5-5.6L IS USM lens in excellent condition for $1325! The glass is clean and the lens is in perfect working condition. The sale includes the lens hood, the fabric case, and insured shipping by UPS Ground to US addresses only. Personal checks only; your new lens will be shipped after your check clears.
For more than a decade I used the 100-400 to create hundreds of sharp, sale-able image. It is a very versatile lens.
You can reach Bill via e-mail or by phone at 843-729-6670.
Used Canon 800mm f/5.6L IS Lens for Sale
Multiple IPT veteran, the too-kind Jim Bicket, is offering a Canon EF 800mm f/5.6L IS USM lens in excellent condition for $8750. The lens is like new except for some wear on the bottom of the lens hood near the forward edge when the hood is reversed. The sales includes the LensCoat that has protected the lens since day 1, the leather hood, the original hard case and key, and insured shipping via UPS Ground to US addresses only. Personal checks only; your new lens will be shipped only after your check clears.
This great lens, my favorite for 3 years, sells new at B&H for $13,999.00. A month ago B&H was offering one in mint condition for a ridiculous $10,249.90; it sold overnight. Go figure. Jim's lens will save you a ton of dough and you will have a great lens with lots of reach.
Interested folks can contact Jim via e-mail or try him at 501-915-9336.
This sale will be made through BAA. Please call Jim at 863-221-2372 (weekdays) or shoot me an if you have any questions.
Used EOS-5D Mark II for Sale/Price Reduced $100!
Doug Bolt's 400 DO sold early last week. Doug is offering a used EOS-5D Mark II in very good to excellent condition for $1099! There is a shallow scratch on the body and a faint smudge on the top LCD. The sale includes a RRS L-plate, an off-brand vertical grip, and the original box and all the stuff that came in it. The seller will pay shipping to US addresses only. This one is a great body for flowers and landscapes. Mine saved me on a Southern Oceans cruise when I trashed two EOS-1D Mark IV bodies in a rainstorm; it was a great back-up camera body. The item will ship only when the check clears.
Please contact Doug for a link to photos of the camera and for additional info via e-mail or try him by phone at home: at 301-937-3112 or on his cell at 301-537-8073.
Used Canon EOS-7D for Sale
Doug Bolt loves his 5D Mark III so much that he is also offering a used EOS-7D camera body for $799. The sale includes a RRS camera body plate. The seller will pay shipping to US addresses only. This one is a great starter body. The item will ship only when the check clears.
Please contact Doug for additional info via e-mail or try him by phone at home: at 301-937-3112 or on his cell at 301-537-8073.
Used Canon EOS-7D for Sale/Price Reduced $100!
Janet Horton is offering a used Canon EOS-7D in excellent condition for $625!. The sale includes a RRS model B7D-L L plate, all items that were in the original box (including instruction manual) and the cost of insured shipping to US addresses only. Your check must clear before the item ships.
Please contact Janet via e-mail or try her at by phone at home: at 425-313-3060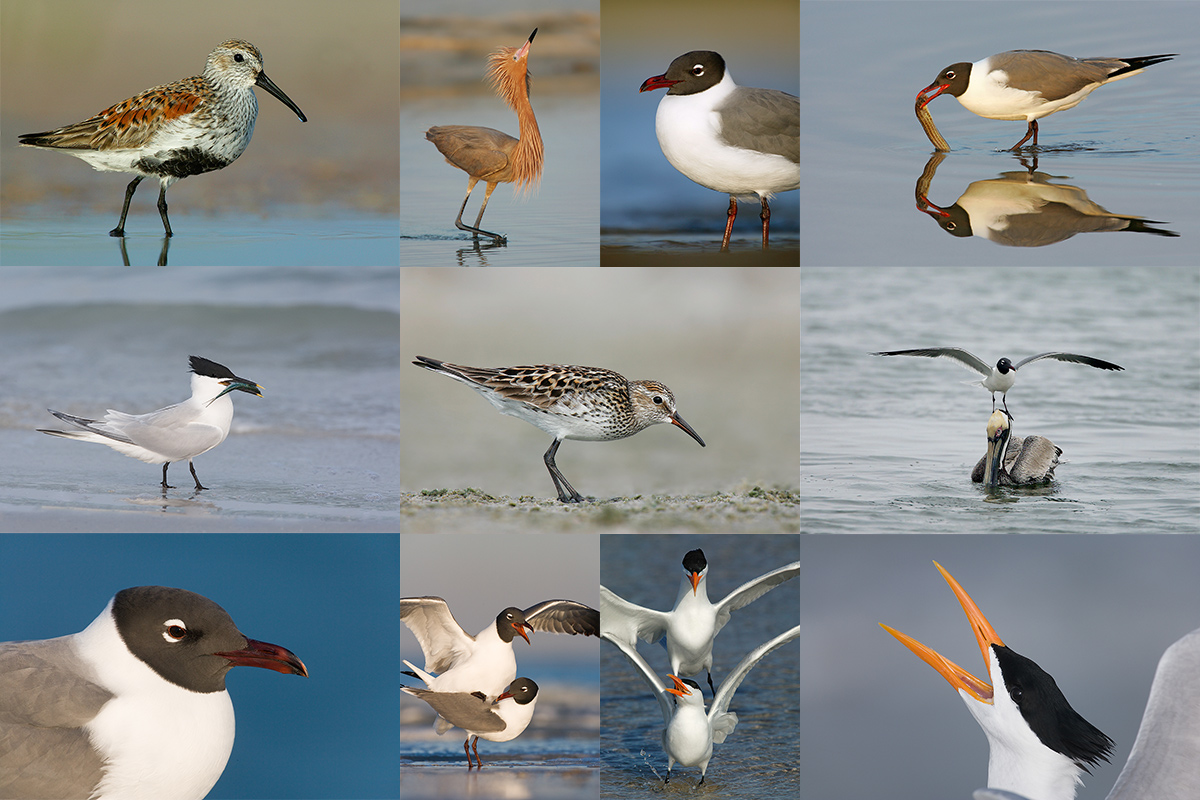 Fort DeSoto in spring is rich with tame birds. With many in breeding plumage it is a photographer's paradise. I hope that you can join me there in mid-May.
Short Notice Fort DeSoto IPT/In-the-Field Workshops: May 9, 10, & 11, 2014
IPT–3 FULL DAYs: $1099. In-the-Field Workshops: $399/day
Call the office, e-mail, or call my cell at 863-221-2372 for Late Registration Discount or Single Day info. Please leave a message if I do not answer.
Fort DeSoto in spring is so good that I needed to create two cards in order to give folks an idea of what is possible. Even then I have barely scratched the surface. If you are coming from out of town you will surely want to do all 3 days, the entire IPT. Local folks may wish to join me for one or more full days.
There will Lots of tame birds including breeding plumage Laughing Gull and Royal and Sandwich Terns courting and copulating. American Oystercatcher plus lots of sandpipers and plovers, some in breeding plumage. Red Knot in breeding plumage likely. Lots of wading birds including Great and Snowy Egrets, both color morphs of Reddish Egret, Great Blue, Tricolored and Little Blue Heron, and Yellow-crowned Night-Heron. Roseate Spoonbill and WOod Stork between possible and likely…. Lots of flight photography with the gulls and terns and with Brown Pelican.
You will learn how to approach free and wild birds without disturbing them, to understand and predict bird behavior, to identify many species of shorebirds, to spot the good situations, to choose the best perspective, to see and understand the light, to get the right exposure every time after making a single test exposure, and to design pleasing images by mastering your camera's AF system. And you will learn learn how and why to work in Manual mode (even if you are scared of it).
At lunch we will review my images–folks learn a ton watching me edit–why keep this one and delete that one. If you opt to bring your laptop, we will take a look at five of your best images from the morning session. We will process a few of my images in Photoshop after converting them in DPP. That followed by Instructor Nap Time.
This is the IPT hotel: Comfort Inn St. Petersburg, FL. 2260 54th Ave N., St. Petersburg, FL 33714. tel: 1-727-362-0075. The best airport is Tampa (TPA).
Payment in full via credit card is due upon registering. Please call Jim or Jennifer at 863-692-0906 to register.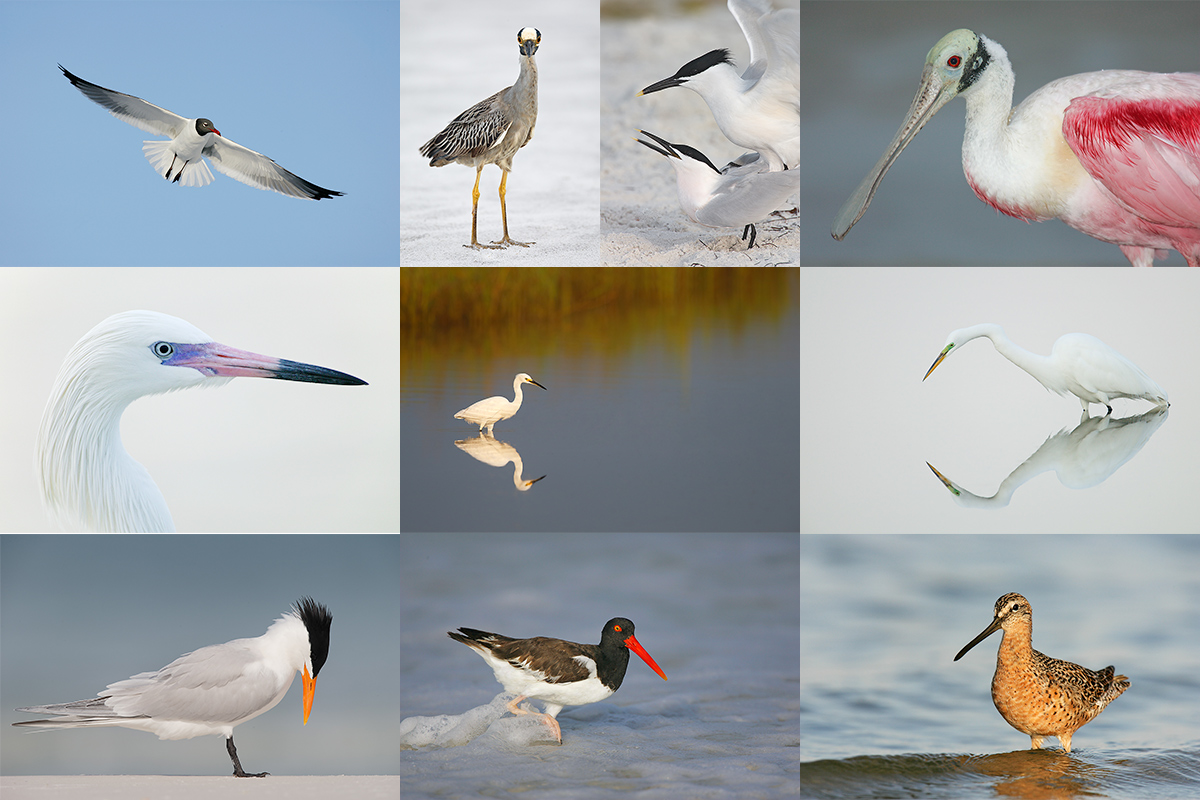 Fort DeSoto in spring is rich with tame birds. With many in breeding plumage it is a photographer's paradise. I hope that you can join me there in mid-May.
Fort DeSoto Site Guide
Can't make it in mid-May? Get yourself a copy of the Fort DeSoto Site Guide. Learn the best spots, where to be when in what season in what weather. Learn the best wind directions for the various locations. BAA Site Guides are the next best thing to being on an IPT. You can see all of them here.
Shorebirds/Beautiful Beachcombers
If the shorebirds in the ID quiz gave you pause, get yourself a copy of my Shorebirds/Beautiful Beachcombers. Includes ID tips, shorebird biology, migration, and tons more. All in my simple-to-read easy-to-read style.
Support the BAA Blog. Support the BAA Bulletins: Shop B&H here!
We want and need to keep providing you with the latest free information, photography and Photoshop lessons, and all manner of related information. Show your appreciation by making your purchases immediately after clicking on any of our B&H or Amazon Affiliate links in this blog post. Remember, B&H ain't just photography!
….. …..
Typos
In all blog posts and Bulletins, feel free to e-mail or to leave a comment regarding any typos, wrong words, misspellings, omissions, or grammatical errors. Just be right. 🙂