Important UK Puffin IPT News
Guys or couples considering joining us for the UK Puffins and Gannets IPT need to register no later than Thursday, May 22 as we need to give up our last empty room on Friday. Scroll down for details.
The Streak Continues: 170
This post marks 170 consecutive days with a new educational blog post. With so many folks getting in the habit of using our B&H links and our Amazon logo-links why quit now? April was a record month but May has not been so good. So far…. To show your appreciation for my efforts here, I do ask that you use our the B&H and Amazon affiliate links on the right side of the blog for all of your purchases. Please check the availability of all photographic accessories in the BIRDS AS ART Online Store, especially Gitzo tripods, Wimberley tripod heads, and the like. We sell only what I used, tested, and can depend on. We will not sell you junk. We know the tools that you need to make creating great images easy and fun. And we are always glad to answer your gear questions via e-mail.
You can find the following items in the store: Gitzo tripods, Mongoose M3.6 and Wimberley heads, plates, low feet, and accessories, flash brackets, , Delkin e-film Pro Compact Flash Cards, LensCoat products, and our unique line-up of educational materials including ABP I & II, Digital Basics, Site and Set-up e-Guides, Canon and Nikon Camera Users and AF e-Guides, and MP-4 Photoshop video tutorials among others.
I would of course appreciate your using our B&H affiliate links for all of your major gear, video, and electronic purchases. For the photographic stuff mentioned in the paragraph above we, meaning BAA, would of course greatly appreciate your business. Here is a huge thank you to the many who have been using our links on a regular basis and visiting the BAA Online store as well.
This post took 2+ hours to put together. Enjoy it!
Digital Creations Voting Continues Today
Join in the fun by voting on the Digital Creations Category of the BIRDS AS ART 2nd International Bird Photography Competition by clicking here. As with the Pleasing Blurs category, the public vote in Digital Creations bears little to no resemblance to the results of the judges voting. It seems likely that this will be the secoond category in which the public's favorite will not match the judge's first choice. Thirteen strong images made it to the final round in this category. Do take a peek.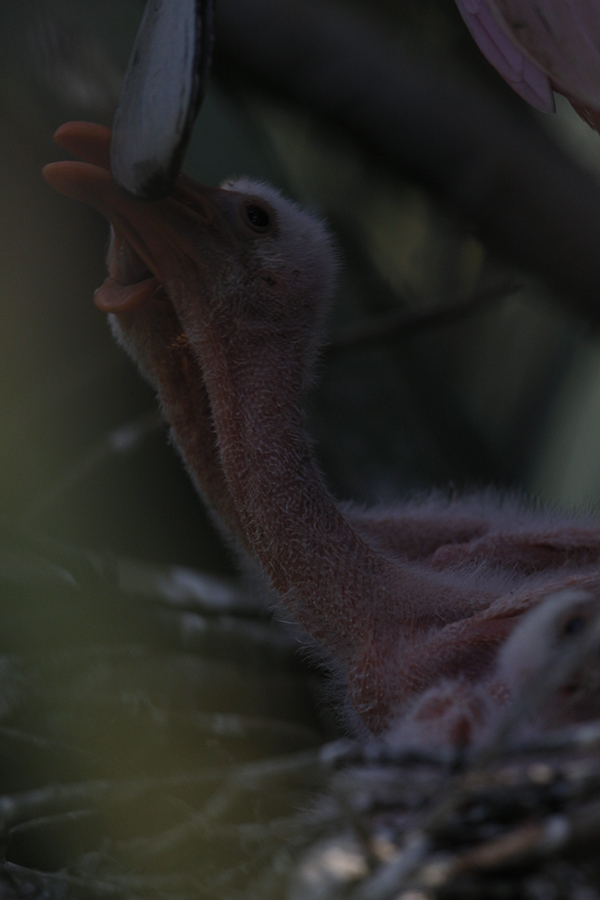 This image was created on the St. Augustine IPT in the very early morning of May 6 with the Gitzo 3532 LS carbon fiber tripod, the Mongoose M3.6 head, the Canon EF 600mm f/4L IS II USM lens, the Canon Extender EF 2X III, and the Canon EOS-1D X. ISO 1600. Evaluative metering minus about stops: 1/250 sec. at f/10 in Manual mode. AWB.
Central Sensor/AI Servo/Rear Focus AF on the closest bird's eye and re-compose. Normally, When I add the 2XIII TC to an f/4 lens with the 1DX or the 5D III I hit the MFn button once to toggle to AF Expand and enjoy 4 extra AF sensors with Expand. And that is what I did here. Learn everything there is to know about the 1D X and 5D III AF systems including how to manage the various AF Area Selection Modes, when to use which one, and several ways to move the AF sensor around in the 1D X AF Guide and the 5D Mark III User's Guide. Click here to see the latest version of the Rear Focus Tutorial.
Your browser does not support iFrame.
What Would You Do With This Image?
What would you do with this 3-stops underexposed image? For many this would be an insta-delete. And I will admit that I almost failed to give this one the blue check mark that I use to indicate my keepers when editing a my images from a morning or afternoon shooting session in BreezeBrowser. But I did, and please pardon the pun, eventually see the light. It is important to realize the great potential of digital RAW files….
The Dramatic Image Rescue
No. The baby spoonbills were not in any danger. And yes, though the EV (ambient light) level was very low, that did not cause the 3-stop underexposure. That was a result of operator error. Not sure why other than that I was excited to see the chicks getting fed. (There were four chicks in all in the nest.) As I said in a previous blog post, photographing the chicks in the tree nests was nearly impossible with extremely cluttered and limited sight-lines into the nests… Seeing that this image was sharp and given the scarcity of images of small spoonbill chicks in the nest, I decided to try to save it.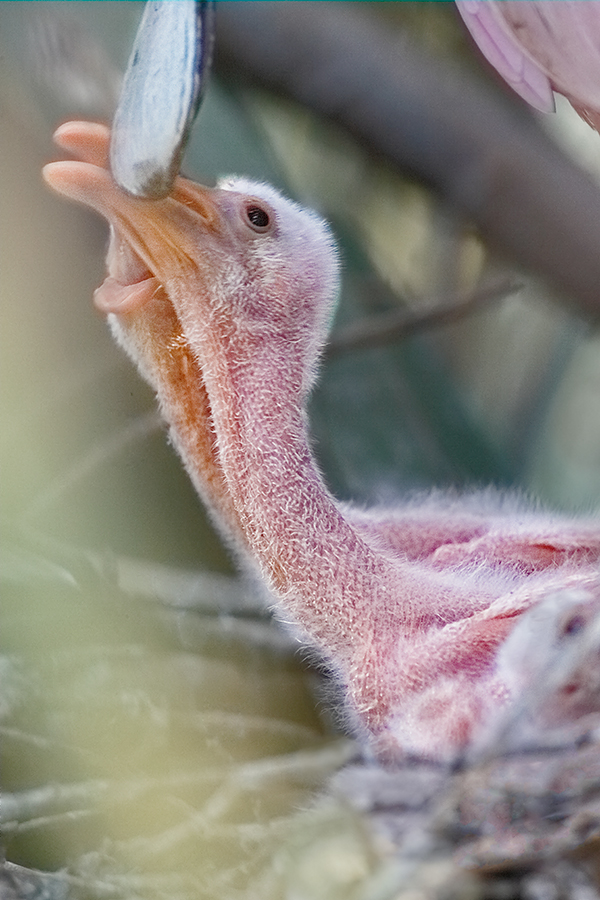 Believe it or not, the optimized image here was created from the original capture that opened this blog post. The green haze in the lower left portion of the image was the result of out-of-focus vegetation between the lens and the image as framed. Moving my tripod about 1 1/2 inches to my right would likely have helped a bit with that. Folks often show up on IPTs asking "What's the single biggest secret to creating great natural history images?" I always respond, "The big secret to creating great natural history images is attention to small detail…."
The Image Optimization
During conversion of the RAW file in DPP (Canon's Digital Photo Professional) I increased the Brightness 2 stops (the maximum), moved both the Highlight and the Shadow sliders to +2, set the chrominance noise reduction slider to 16, and, on the Lens tab under Lens aberration correction, tuned the Peripheral illumination to 100. Total elapsed time to make those changes: less than 30 seconds.
The TIFF was brought into Photoshop 6. I dealt with the bright highlights in the lower right-center of the frame with the Clone Stamp Tool at 50% Hardness with the Opacity set between 10 and 60% depending…. I eschewed my usual NIK 50-50 pre-set opting instead to first run Tonal Contrast and then Detail Extractor on separate layers. They were applied only to the birds by painting the effects in with an Inverse (Black or Hide-All) Mask. I pulled the curve (Control M) up on the Tonal Contrast layer and added a Contrast Mask as well. The opacity of the Detail Extractor layer was reduced to 50%. Next was some simple Eye Doctor work; I selected the entire eye with a Quick Mask and blackened it by pulling the curve down. That was followed by applying Image/Blur Surface Blur (as taught to me by Denise Ippolito) at about 5/8 to the whole image to further control the noise.
All in all I was thrilled with the result.
The DPP RAW Conversion Guide
To learn why I use Canon's Digital Photo Professional (DPP) to convert every image that I work on, click here.
Digital Basics
Everything that I did to optimize today's image is detailed in my Digital Basics File–written in my easy-to-follow, easy-to-understand style. Are you tired of making your images look worse in Photoshop? Digital Basics File is an instructional PDF that is sent via e-mail. It includes my complete digital workflow, dozens of great Photoshop tips, the use of Contrast Masks, several different ways of expanding and filling in canvas, all of my time-saving Keyboard Shortcuts, Quick Masking, Layer Masking, and NIK Color Efex Pro basics, my killer image clean-up techniques, Digital Eye Doctor, creating time-saving actions, and lots more.
APTATS I & II
Learn the details of advanced Quick Masking techniques in APTATS I. Learn Advanced Layer Masking Techniques in APTATS I. Mention this blog post and apply a $5 discount to either with phone orders only. Buy both APTATS I and APTATS II and we will be glad to apply at $15 discount with phone orders only.
Selling Your Used Photo Gear Through BIRDS AS ART
Selling your used (or like-new) photo gear through the BAA Blog or via a BAA Online Bulletin is a great idea. We charge only a 5% commission. One of the more popular used gear for sale sites charges a minimum of 20% plus assorted fees! Yikes. The minimum item price here is $500 (or less for a $25 fee). If you are interested please e-mail with the words Items for Sale Info Request cut and pasted into the Subject line :). Stuff that is priced fairly–I offer free pricing advise, usually sells in no time flat as did Dennis Cassidy's 500 II recently on the blog. Larry Master's 400 DO and his 800 f/5.6 sold within a week. From Larry via e-mail: Thanks for helping me sell the lenses so quickly!
A Creative Adventure/BIRDS AS ART friend Kitto Kono sold her Nikon 500 to a Blog subscriber in less than a week. Janet Horton's 7D sold this week after a $100 price reduction. Denise Ippolito's 100-400 and her 100 macro sold in one day. Peter Kes sold his 70-200 f/2.8L IS II and his 400 DO through BAA in ten days. In the past two months we have sold a Canon 800, a Canon 500 II, 3 400 DO lenses, a Nikon 500mm, and lots more. If you are interested in using our services, please e-mail.
Used Photography Gear Page
Eagle-eyed readers may have noticed that there is a link to the Used Photography Gear page on the yellow tool bar at the top of each blog page. Folks looking to buy (or to sell) can click on that tab or here. I will on occasion continue to list new gear and great buys in blog posts and in Bulletins and may on rare occasion share all the listings with you on the blog. I will strive to keep the listings current. Great news for Kitty Kono and her Nikon 400mm f/2.8; it sold yesterday! That made her 2 for 2 on selling her older Nikon super-telephotos with BAA.
Support the BAA Blog. Support the BAA Bulletins: Shop B&H here!
We want and need to keep providing you with the latest free information, photography and Photoshop lessons, and all manner of related information. Show your appreciation by making your purchases immediately after clicking on any of our B&H or Amazon Affiliate links in this blog post. Remember, B&H ain't just photography!
….. …..
Typos
In all blog posts and Bulletins, feel free to e-mail or to leave a comment regarding any typos, wrong words, misspellings, omissions, or grammatical errors. Just be right. 🙂