The Streak Continues: 173
This post marks 173 consecutive days with a new educational blog post. With so many folks getting in the habit of using our B&H links and our Amazon logo-links why quit now? April was a record month but May has not been so good. So far…. To show your appreciation for my efforts here, I do ask that you use our the B&H and Amazon affiliate links on the right side of the blog for all of your purchases. Please check the availability of all photographic accessories in the BIRDS AS ART Online Store, especially Gitzo tripods, Wimberley tripod heads, and the like. We sell only what I used, tested, and can depend on. We will not sell you junk. We know the tools that you need to make creating great images easy and fun. And we are always glad to answer your gear questions via e-mail.
You can find the following items in the store: Gitzo tripods, Mongoose M3.6 and Wimberley heads, plates, low feet, and accessories, flash brackets, , Delkin e-film Pro Compact Flash Cards, LensCoat products, and our unique line-up of educational materials including ABP I & II, Digital Basics, Site and Set-up e-Guides, Canon and Nikon Camera Users and AF e-Guides, and MP-4 Photoshop video tutorials among others.
I would of course appreciate your using our B&H affiliate links for all of your major gear, video, and electronic purchases. For the photographic stuff mentioned in the paragraph above we, meaning BAA, would of course greatly appreciate your business. Here is a huge thank you to the many who have been using our links on a regular basis and visiting the BAA Online store as well.
This post took 1 hour to assemble. Enjoy it!
BIRDS AS ART BULLETIN #461
BIRDS AS ART BULLETIN #461 has been online here for a few days. I have been remiss in not posting a notice here sooner. IAC, here you go:
St. Augustine Alligator Farm IPT Report
The New Essence of the St. Augustine Alligator Farm: Roseate SpoonBILL
Silhouette Soup From a Stone
Speaking of Spoonbills
The Weather and the Food
Fort DeSoto IPT Report
Selling Your Used Photo Gear Through BIRDS AS ART
Used Photography Gear Page
UK Puffins and Gannets IPT July 2-9, 2014
Jim Neiger West Coast Flight Workshops, July 2014, Orange County, California
Flight Plan eGuide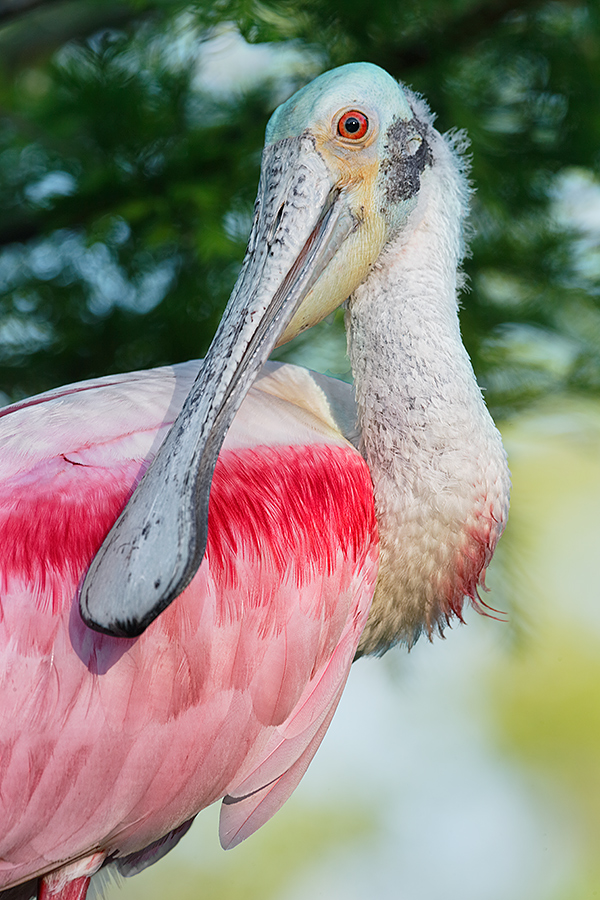 This image was created on the St. Augustine Alligator Farm IPT on a mostly sunny early morning with the Canon EF 200-400mm f/4L IS USM Lens with Internal 1.4x Extender (hand held with the internal TC in place at 560mm) and the Canon EOS-1D X. ISO 400. Evaluative metering +1/3 stop as framed: 1/160 sec. at f/10 in Av mode. AWB.
61-Point/AI Servo/Rear Focus AF active at the moment of exposure performed perfectly selecting a tight cluster of sensors on the bird's upper bill. Learning which AF Area Selection mode to use in different situations helps you maximize the efficiency of the great AF systems of the 1D X and 5D III. Learn everything that I know about the various AF Area Selection Modes, when to use which one, several ways to move the AF sensor, and tons more in the 1D X AF Guide and the 5D Mark III User's Guide. Click here to see the latest version of the Rear Focus Tutorial. Click on the image to see a larger version.
Roseate Spoonbill vertical front-end portrait
Your browser does not support iFrame.
Problems, Problems, Problems
This was the lead image in BAA Bulletin #461. There I wrote, I have three problems with this image. If you think that you know what any of them are, please feel free to leave a comment. I will respond. Several folks commented but nobody hit that nail on the head. So I thought that I would run it by the blog readership as there is one very important lesson here, one that I have never seen or heard mentioned by anyone but me. I will give everyone a few days to see if they can come up with the 3 things that bug me and then I will come clean.
For this version I lightened the face, bill, and neck as compared to the image that originally appeared in the Bulletin here.
Your Thoughts?
Please leave a comment and let us know What things about this image bother you. There is one major problem that plagues this vertical image and many horizontal images as well. As always, please be specific and explain your reasoning. Several folks who commented on this image in the Bulletin half hit the nail on the head without being able to identify the problematic concept….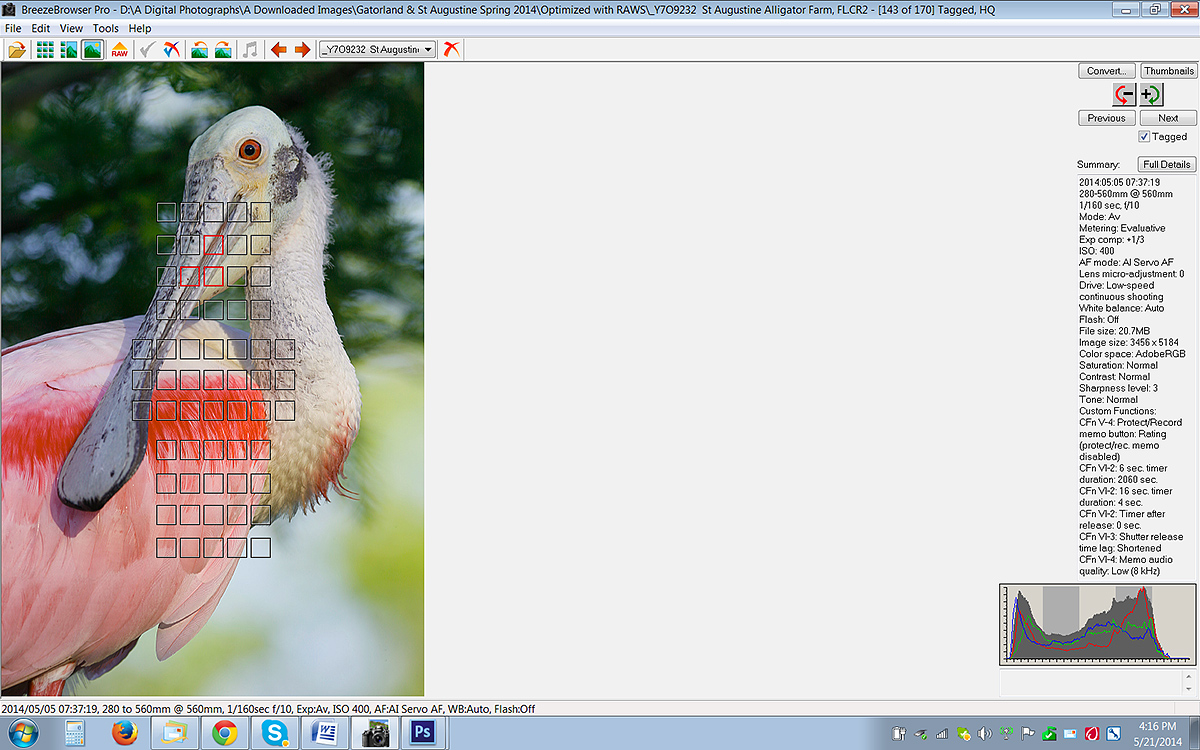 This is the BreezeBrowser Main View screen capture for today's image.
The Breezebrowser Main View Screen Capture
Note that the illuminated red squares show the AF point sensors that were activated by 61-Point AF. Not bad at all. Note: in Breezebrowser you need to check "Show Focus Points" under View to activate this feature. To see the focus points in DPP check "AF Point" under View or hit Alt L. Hit Alt M to see Highlight Alert. To learn how and why I use DPP (Canon Digital Photo Professional) to convert my RAW files, see the info on our DPP RAW Conversion Guide here.
Note the histogram with the WHITEs well into the rightmost histogram box. Regular readers know that I use and depend on BreezeBrowser every day of the year. It allows me to sort my keepers and delete the rejects faster than any other Windows browsing program. We use it on the main computer in the home office to catalog our images file-drawer style. And the companion program, Downloader Pro allows me to download my images quickly and conveniently. It automatically adds my IPTC data and the shooting location. I have it set up to create a folder named by the Month/date/year. The Breezebrowser/Downloader Pro combo saves me many hours each week. To learn more or to purchase this great PC only program, click here. As far as the BreezeBrowser/Downloader Pro Combo goes, if you are using a Windows platform and are not using these two great programs you are at best, wasting your valuable time. My understanding is that Photo Mechanic is best for Mac-users who do not opt to run Parallels or VM Ware fusion on their Macs so that they can enjoy the many advantages of BreezeBrowser. See BreezeBrowswer on a Mac for details.
61-Point AF Area Selection Mode
If you do not know how and when to use 61-Point then you need a copy of either the 1D X AF Guide or the 5D Mark III User's Guide. And here's the great news: purchase either camera using one of our B&H Affiliate links, send me your B&H receipt via e-mail and I will be glad to send you a free copy of the corresponding eGuide. Buy both and get two free e-Guides. I own and use two EOS-1D X bodies and one EOS-5D Mark III body.
Coming Tomorrow
The lowdown on the Canon 400mm f/4 IS DO(E) (Diffractive Optical Elements) Lens.
Selling Your Used Photo Gear Through BIRDS AS ART
Selling your used (or like-new) photo gear through the BAA Blog or via a BAA Online Bulletin is a great idea. We charge only a 5% commission. One of the more popular used gear for sale sites charges a minimum of 20% plus assorted fees! Yikes. The minimum item price here is $500 (or less for a $25 fee). If you are interested please e-mail with the words "Items for Sale Info Request" cut and pasted into the Subject line :). Stuff that is priced fairly–I offer free pricing advise, usually sells in no time flat as did Dennis Cassidy's 500 II recently on the blog. Larry Master's 400 DO and his 800 f/5.6 sold within a week. From Larry via e-mail: Thanks for helping me sell the lenses so quickly!
A Creative Adventure/BIRDS AS ART friend Kitto Kono sold her Nikon 500 to a Blog subscriber in less than a week. Janet Horton's 7D sold this week after a $100 price reduction. Denise Ippolito's 100-400 and her 100 macro sold in one day. Peter Kes sold his 70-200 f/2.8L IS II and his 400 DO through BAA in ten days. In the past two months we have sold a Canon 800, a Canon 500 II, 3 400 DO lenses, a Nikon 500mm, and lots more. If you are interested in using our services, please e-mail.
Used Photography Gear Page
Eagle-eyed readers may have noticed that there is a link to the Used Photography Gear page on the yellow tool bar at the top of each blog page. Folks looking to buy (or to sell) can click on that tab or here. I will on occasion continue to list new gear and great buys in blog posts and in Bulletins and may on rare occasion share all the listings with you on the blog. I will strive to keep the listings current. Great news for Kitty Kono and her Nikon 400mm f/2.8; it sold yesterday! That made her 2 for 2 on selling her older Nikon super-telephotos with BAA.
Both of these items are priced to sell fast!
EOS-1D Mark IV
BAA friend Nancy Bell is offering a used Canon EOS-1D Mark IV camera body for sale for $3200. The body is in excellent condition. It enjoyed annual routine cleaning and service at a Canon Factory Service Center; the last one was done on 5/30/13. The sale includes the original box, battery charger, 3 Canon batteries, the instruction manual, all connection cables, a Canon neck strap, and insured Fed-Ex Ground shipping to US addresses only.
Payment by personal or teller's check; the item will ship item only after the check clears. Please contact Nancy via e-mail or by phone at 970-484-8791–Colorado, MDT.
Canon 400mm f/4 DO IS Lens
BAA friend Nancy Bell is also offering a used Canon 400mm f/4 DO IS USM lens for sale for only $4499. The lens is in very good to excellent condition with some minor blemishes on the exterior finish and some signs of wear on lens hood interior rim. The glass is perfect and he lens is both light and sharp. The last yearly routine cleaning and service at a Canon Factory Service Center was on 5/30/13.
The sale includes the leather lens hood, the lens trunk, and insured Fed-Ex Ground shipping to US addresses only.
Payment by personal or teller's check; the item will ship item only after the check clears. Please contact Nancy via e-mail or by phone at 970-484-8791–Colorado, MDT.
Price Reduced
Used Canon 100-400mm f/4.5-5.6L IS USM Lens for Sale/Price Reduced $300!
Multiple IPT veteran Bill Wingfield is offering a Canon 100-400mm f/4.5-5.6L IS USM lens in excellent condition for $1125! The glass is clean and the lens is in perfect working condition. The sale includes the lens hood, the fabric case, and insured shipping by UPS Ground to US addresses only. Personal checks only; your new lens will be shipped after your check clears.
For more than a decade I used the 100-400 to create hundreds of sharp, sale-able image. It is a very versatile lens.
You can reach Bill via e-mail or by phone at 843-729-6670.
Best Super-telephoto Lens Value
Used Canon 800mm f/5.6L IS Lens for Sale
Multiple IPT veteran, the too-kind Jim Bicket, is offering a Canon EF 800mm f/5.6L IS USM lens in excellent condition for $8750. The lens is like new except for some wear on the bottom of the lens hood near the forward edge when the hood is reversed. The sales includes the LensCoat that has protected the lens since day 1, the leather hood, the original hard case and key, and insured shipping via UPS Ground to US addresses only. Personal checks only; your new lens will be shipped only after your check clears.
This great lens, my favorite for 3 years, sells new at B&H for $13,999.00. A month ago B&H was offering one in mint condition for a ridiculous $10,249.90; it sold overnight. Go figure. Jim's lens will save you a ton of dough and you will have a great lens with lots of reach. I can't believe that this one has not sold yet as Jim is practically giving it away!
Interested folks can contact Jim via e-mail or try him at 501-915-9336.
Support the BAA Blog. Support the BAA Bulletins: Shop B&H here!
We want and need to keep providing you with the latest free information, photography and Photoshop lessons, and all manner of related information. Show your appreciation by making your purchases immediately after clicking on any of our B&H or Amazon Affiliate links in this blog post. Remember, B&H ain't just photography!
….. …..
Typos
In all blog posts and Bulletins, feel free to e-mail or to leave a comment regarding any typos, wrong words, misspellings, omissions, or grammatical errors. Just be right. 🙂