The Streak Continues: 174
This post marks 174 consecutive days with a new educational blog post. With so many folks getting in the habit of using our B&H links and our Amazon logo-links why quit now? April was a record month but May has not been so good. So far…. To show your appreciation for my efforts here, I do ask that you use our the B&H and Amazon affiliate links on the right side of the blog for all of your purchases. Please check the availability of all photographic accessories in the BIRDS AS ART Online Store, especially Gitzo tripods, Wimberley tripod heads, and the like. We sell only what I used, tested, and can depend on. We will not sell you junk. We know the tools that you need to make creating great images easy and fun. And we are always glad to answer your gear questions via e-mail.
You can find the following items in the store: Gitzo tripods, Mongoose M3.6 and Wimberley heads, plates, low feet, and accessories, flash brackets, , Delkin e-film Pro Compact Flash Cards, LensCoat products, and our unique line-up of educational materials including ABP I & II, Digital Basics, Site and Set-up e-Guides, Canon and Nikon Camera Users and AF e-Guides, and MP-4 Photoshop video tutorials among others.
I would of course appreciate your using our B&H affiliate links for all of your major gear, video, and electronic purchases. For the photographic stuff mentioned in the paragraph above we, meaning BAA, would of course greatly appreciate your business. Here is a huge thank you to the many who have been using our links on a regular basis and visiting the BAA Online store as well.
This post took more than five hours to assemble. Enjoy it!
Canon EF 400mm f/4 DO IS II USM Lens
The new and improved version of the original 400 DO lens, the Canon EF 400mm f/4 DO IS II USM lens has been "available" for some time but they are extremely hard to come by. Use my B&H affiliate link and I will do my very best to have your order expedited. It won't cost you one extra penny and is a great way to thank us for the work that we do here on the blog and for the countless hours spent answering gear e-mails :). The new version is much sharper than the old one and features 4-stop IS (as opposed to 2-stop IS system on the original lens).
The Canon 400mm f/4 IS DO Lens: Fourteen Images that Prove that the Internet Experts are (As Usual) Idiots
We have sold several used 400mm DO lenses in recent weeks2 in the last 2 days. We have at least one more in the pipeline. Why are there so many 400 DO lenses for sale? Many serious photographers with money to spend are opting to purchase the Canon EF 300mm f/2.8L IS II USM lens after either selling or trading in their 400 DO lenses. BTW, trading in your lenses with the major camera stores is the equivalent of putting your money in the toilet and flushing. Yes it is a bit faster and more convenient to trade your valuable lens for 100's or even a 1,000s of dollars less than what it is worth, but economically, selling (in effect) your used lens to B&H or Adorama is foolhardy.
Over this same time period mentioned above I have received several e-mails asking if the 400 DO was a legitimate, high quality telephoto lens. Without fail, each e-mail included something like this:
I have, however, read mixed reviews about the sharpness of that lens and how well it works with teleconverters. Presumably this has something to do with the DO optics.
What can I say? It would be nice if the so-called and oft-quoted internet experts actually went out into the field once in a while to work with the gear that they so eagerly trash. Each of the images in this post was made with my 400 DO. It looks to me as if the optics are just fine. Yes, I eventually sold it to upgrade to the 300 II. Which of these two lenses is right for you? Basically the 400 DO is lighter and will cost you a lot less. The 300 II is heavier, more expensive, and a bit sharper across the board. (Note: the 300 II is a bit sharper than pretty much every other telephoto lens ever made.) But as you can see here, the 400 DO is–in the right hands–can you say operator error?–fully capable of producing sale-able, professionally sharp images on a consistent basis. Stay tuned: I will be doing a blog post here on just the subject of the 300 II vs. the 400 DO within a week or so.
The Canon EF 400mm f/4 DO IS USM lens is currently in production and sells new for $6,469.00 at B&H. The DO (or DOE) stands for Diffractive Optical Elements. Canon's idea was to create a series of lenses made with composite (rather than glass) lens elements that would be lighter and less expensive than traditional telephoto lenses. They got the lighter part right but this lens sold new for well more than $7,000 for quite a while after its introduction.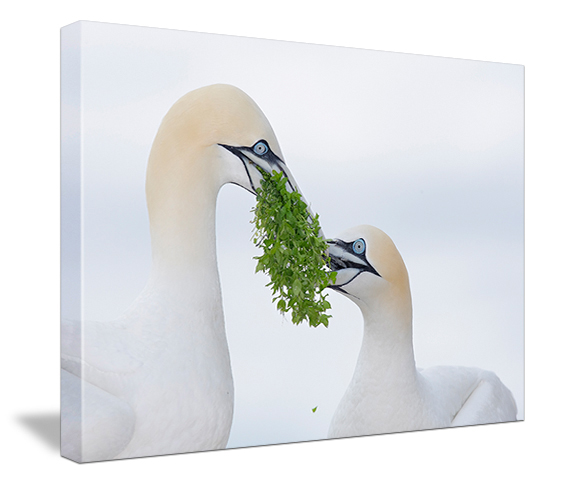 "Gannets in Love" is available both as a signed fine art canvas print (above) and as a signed traditional fine art photographic print (matte or glossy). Learn more or purchase a print for your home, your office, or as a gift here.
"Gannets in Love" was created with the tripod-mounted 400 DO and the EOS-1D Mark III. Coincidentally, the EOS-1D Mark III was also maligned by the so-called internet experts…. A few years ago this image was awarded first place in the Art in Nature category of the Nature's Best Windland Rice Smith International Awards competition and first place in the Birds category of the National Wildlife Photography contest. Where oh where are the internet experts when you need them?
It had been entered in the BBC Wildlife Photographer of the Year Competition that same year and I had really been hoping for a clean sweep but alas, it did not even make the final round of judging in the BBC contest. And once an image is honored in a major contest it cannot be entered in the BBC competition….
The 400 DO on a Zodiac
With Image Stabilization and its relatively light weight, the 400 DO is a great lens to use when photographing from any type of watercraft. The image above was created from a Panga on one of my killer Galapagos Photo-Cruises. If you are seriously interested in joining me on the July 2016 voyage, please get in touch via e-mail; six slots are already filled.
400 DO Close Focus
The 400 DO focuses down to a not-too-bad 11.48 feet (3.5 meters). With the addition of a 1.4X TC (as here), it can be used effectively to photograph small birds at close range. Adding one or more extension tubes makes it even more versatile. This hummingbird was photographed on a day trip to Tandayapa Bird Lodge the day before we began our Photo-Cruise.
The 400 DO for Hand Held Flight Photography
With 400mm of full-frame reach, a relatively wide (fast) aperture of f/4, and its light weight, the 400 DO is a great lens for hand held flight photography. This nocturnal gull was photographed at Darwin Bay on Tower Island in the Galapagos. Again, if you are seriously interested in joining me on the July 2016 voyage, please get in touch via e-mail.
The 400DO Hand Held with the 1.4X Teleconvrter
I wanted to go light on my visit to Great Saltee Island, Ireland in 2008 so I went ashore with only the 400 DO, my Canon EOS-40D, and a 1.4X TC. That combination yields an equivalent focal length of 896mm, a magniification of 17.92X. Note that with good sharpness techniques and the 400 DO's great IS system that hand held results with this combo can be razor sharp.
The 400 DO as a Macro Lens
For the image above, I added two Canon EF 25 II Extension tubes and a single Canon EF 12 II Extension tube. Whenever you use extension tubes with a long lens be sure to stop down to prevent vignetting.
A viable alternative to purchasing several of the more expensive Canon extension tubes is to purchase the Kenko Auto Extension Tube Set DG for Canon EOS Lenses. As there is no glass in an extension tube image quality is not an issue.
One Small 400 DO Negative
One small drawback of the 400 DO is that you cannot zoom out (or in). Had I been able to zoom out just a bit here I would not have clipped the gannet's rectrices (tail feathers). Another lens in this focal length range is the relatively new Canon EF 200-400mm f/4L IS USM lens with Internal 1.4x Extender. The 200-400 is of course far more versatile than the 400 DO. Heck, it is far more versatile than any other super-telephoto lens ever produced. At 7.98 pounds it is 3.78 pounds heavier than the 400 DO and comes with a nice $11,799.00 price tag….
For folks looking for a sharp, hand holdable, affordable lightweight super-telephoto lens the 400 DO can't be beat.
Hand Held Flight with the 1.4X TC
As you can see in the image above, the 400 DO is perfectly capable of producing razor sharp images hand held with a 1.4X TC in place. And that with the much maligned EOS-1D Mark III…. This image was made at Coffee Pot Bayou aboard the Hooptie Deux with Captain James Shadle in January of 2008.
Lens Speed Can Matter
The image above was created with the tripod-mounted 400 DO on a cloudy dark afternoon in Katmai National Park. At ISO 1600 with the wide open aperture I was able to get a just-sharp-enough shutter speed of 1/200 sec. The 400 DO is a great lens for photographing large mammals in low light. Compare it with the slightly faster 8.49 pound Canon EF 400mm f/2.8L IS II USM lens: yours for only $11,499.00 at B&H.
Lens Speed is Important When Hand Holding
Working at f/4 here, again in Katmai National Park on a Bear Boat Photo-Cruise, allowed me to get a shutter speed of 1/500 sec. at ISO 800. This relatively fast shutter speed enabled me to create sharp images while seated and hand holding.
Fast Accurate AF at Close Range
This image was created in Panama using the high speed flash as main light techniques described in detail in the great eGuide, "The Hummingbird Guide – How to Photograph Hummingbirds Using High-Speed Multiple Flash" by Linda Robbins with yours truly. Learn more or purchase here.
When I experimented with using the 400 DO on the hummers in Panama, I was somewhat shocked to find that it acquired focus at close range much faster than the old Canon 500mm f/4L IS lens. And yes, the images were super sharp. If you like tropical birds, tropical birding, and tropical bird photography you can learn more about Canopy Lodge and Canopy Tower here.
Weight-restricted Travel?
I have been blessed to have made several trips to the now closed to all tourism Midway Island NWR. On my trip in March 2010 there were severe weight restrictions on our flight from Honolulu, Hawaii, to Midway. As I knew that I needed a long lens but could not figure out a way to get the 800 f/5.6L IS there, I brought the 400 DO and was thrilled that I did. Again, the light weight of the 400 DO can save the day in a variety of situations.
The 400 DO at the Gator Rookeries
The 400 DO is a great lens to use at Gatorland and at the St. Augustine Alligator Farm. It is light. It focuses closely. It focuses even more closely when you add a 25mm extension tube as I did here. And best of all it is sharp with the 1.4X TC. As here.
Here I used flash as main light techniques to create a sharp, fairly well lit image in a very dark, shaded situation. Learn everything that I know about using flash in the Flash Simplified Section of The Art of Bird Photography II. (ABP II: 916 pages, 900+ images on CD only. It is the continuation of the legendary classic The Art of Bird Photography. Save $10 when you buy both here.
The 400 DO on the Front Seat of Your Vehicle
Whenever and wherever you are driving around and the possibility of photographing birds or other wildlife using your car as a blind exists, it is mandatory that you have a light weight, hand holdable lens on the passenger seat. With a camera body on it and the body turned on. I encountered this great situation on the way to the Refuge Headquarters to pick up the permit for a Bosque IPT. I was very glad that the 400 DO with a TC in place was within easy reach.
Both Bosque IPTs are nearly sold out. Learn more by scrolling down here.
Summing Up
The Canon EF 400mm f/4 DO IS USM lens is not a toy. It is a sharp, lightweight super-telephoto lens that offers a relatively low priced option to folks who cannot either afford or carry any of the lenses in the next higher class. It can also serve as a great on the shoulder intermediate telephoto lens for folks carrying either the Canon EF 800mm f/5.6L IS USM lens or the Canon EF 600mm f/4L IS II USM lens into the field on a tripod. It is not as good a fit with the Canon EF 500mm f/4L IS II USM lens. The latter folks who do lots of hand held photography from some type of watercraft might, however, find that the 400 DO is perfect for them.
400 DO Owners
If you own or have owned a 400 DO, we would love to hear from you. Please leave a comment below and share your thoughts.
Your Favorite?
Feel free to leave a comment and let us know which of the fourteen 400 DO images here is your favorite. As always, be sure to let us know why you made your choice(s).
Selling Your Used Photo Gear Through BIRDS AS ART
Selling your used (or like-new) photo gear through the BAA Blog or via a BAA Online Bulletin is a great idea. We charge only a 5% commission. One of the more popular used gear for sale sites charges a minimum of 20% plus assorted fees! Yikes. The minimum item price here is $500 (or less for a $25 fee). If you are interested please e-mail with the words "Items for Sale Info Request" cut and pasted into the Subject line :). Stuff that is priced fairly–I offer free pricing advise, usually sells in no time flat as did Dennis Cassidy's 500 II recently on the blog. Larry Master's 400 DO and his 800 f/5.6 sold within a week. From Larry via e-mail: Thanks for helping me sell the lenses so quickly!
A Creative Adventure/BIRDS AS ART friend Kitto Kono sold her Nikon 500 f/4 and her 400 f/2.8 VR lenses in less than 3 weeks. Janet Horton's 7D sold this week after a $100 price reduction. Denise Ippolito's 100-400 and her 100 macro sold in one day. Peter Kes sold his 70-200 f/2.8L IS II and his 400 DO through BAA in ten days. In the past two months we have sold a Canon 800, a Canon 500 II, and four 400 DO lenses and lots more. If you are interested in using our services, please e-mail.
Used Photography Gear Page
Eagle-eyed readers may have noticed that there is a link to the Used Photography Gear page on the yellow tool bar at the top of each blog page. Folks looking to buy (or to sell) can click on that tab or here. I will on occasion continue to list new gear and great buys in blog posts and in Bulletins and may on rare occasion share all the listings with you on the blog. I will strive to keep the listings current. Great news for Kitty Kono and her Nikon 400mm f/2.8; it sold yesterday! That made her 2 for 2 on selling her older Nikon super-telephotos with BAA.
Support the BAA Blog. Support the BAA Bulletins: Shop B&H here!
We want and need to keep providing you with the latest free information, photography and Photoshop lessons, and all manner of related information. Show your appreciation by making your purchases immediately after clicking on any of our B&H or Amazon Affiliate links in this blog post. Remember, B&H ain't just photography!
….. …..
Typos
In all blog posts and Bulletins, feel free to e-mail or to leave a comment regarding any typos, wrong words, misspellings, omissions, or grammatical errors. Just be right. 🙂