Action and Behavior Voting Continues Today
Voting Continues today in the beyond amazing Action and Behavior category of the BIRDS AS ART 2nd International Bird Photography Competition. Click here to vote.
The Streak Continues: 190
It is 3:30am in Pullman, WA as we get ready to head out early to Steptoe Butte. This getting up early is not for sissies!
This post marks 190 consecutive days with a new educational blog post. With so many folks getting in the habit of using our B&H links and our Amazon logo-links why quit now? To show your appreciation for my efforts here, I do ask that you use our the B&H and Amazon affiliate links on the right side of the blog for all of your purchases. Please check the availability of all photographic accessories in the BIRDS AS ART Online Store, especially Gitzo tripods, Wimberley tripod heads, and the like. We sell only what I have used and tested, and know that you can depend on. We will not sell you junk. We know the tools that you need to make creating great images easy and fun. And we are always glad to answer your gear questions via e-mail.
You can find the following items in the store: Gitzo tripods, Mongoose M3.6 and Wimberley heads, plates, low feet, and accessories, flash brackets, , Delkin e-film Pro Compact Flash Cards, LensCoat products, and our unique line-up of educational materials including ABP I & II, Digital Basics, Site and Set-up e-Guides, Canon and Nikon Camera Users and AF e-Guides, and MP-4 Photoshop video tutorials among others.
I would of course appreciate your using our B&H affiliate links for all of your major gear, video, and electronic purchases. For the photographic stuff mentioned in the paragraph above we, meaning BAA, would of course greatly appreciate your business. Here is a huge thank you to the many who have been using our links on a regular basis and visiting the BAA Online store as well.
This post took 2 hours to prepare. Enjoy!
The Decision
After our great morning at Steptoe Butte the plan was to make the 1 hour, 45 minute drive to Palouse River Falls State Park, scout around, and then return to the splendor of Steptoe. We did, however, run into some different but wonderful splendor. We scoped out several view points that looked as if they would have great potential either on cloudy days or when the sun was down. Waterfalls are best avoided on sunny days. After some discussion we decided skip Steptoe and stay at the state park and wait for sundown. To kill a few hours we headed to Lyons Ferry Marina for some snacks. There we found some pleasant folks and a plug for my laptop. We wound up staying for dinner as it was too sunny for waterfall; the chili was great and plentiful. Cheryl and Lynn each enjoyed their salad.
Recipe For Success: Palouse Falls Three Ways
While Denise, Lynn, and Cheryl hung out at the primary vantage point, I explored and found a few nice mini-scenes, most in the shade. As the sun sank lower in the western sky the light on the canyon walls got richer and richer, the walls got prettier and prettier, and I made some nice in-camera HDRs. Just before the entire river canyon was in shade I headed up to meet the ladies.
Setting up the tripods with the short and ultra-short zoom lenses was quite precarious and somewhat dangerous as there is no fence. If you lost your balance toast you would be. It was downhill and gravelly to the edge so we were all very careful not to go swimming with the fishes, or more accurately, swimming with the rocks. Denise had the one lens that I did not: the 16-35 f/2.8. 16mm turned out to be the perfect focal length. I started with the 8-15 as a true fish eye at 15mm on a full frame camera. Getting as close to the edge as possible I still had someone's tripod leg in my frame. That's what the Patch Tool is for.
The next obvious choice was to go circle lens, the 8-15 at 8mm with a full frame camera. Now I needed to get even closer to the edge. So I did. Was it worth it?
The 24-70.
Well after sunset I went to the 24-70 while and was practically working in the dark. Finally coming to our senses we packed up and headed back to Pullman. Everyone was dead to the world. Cheryl and I, sitting in the back, both fell asleep for a while and woke up with stiff necks. Lynn nodded off and on. Amazingly, Denise Ippolito drove the whole way and got us safely back to town. With all of us so tired that we hurt, we simply could not find the Holiday Inn and Suites. That despite two GPS devices. Can you say " stumbling, bumbling, very tired idiots"? I was near tears with exhaustion as were Lynn and Cheryl. Denise troopered on. After driving around in circles and passing the same places three times, the motel magically appeared in sight. We were not in our rooms until 11:15pm. With a 3:45am wake-up call it turned out to be a very short night…. The next morning at Steptoe was indeed magical.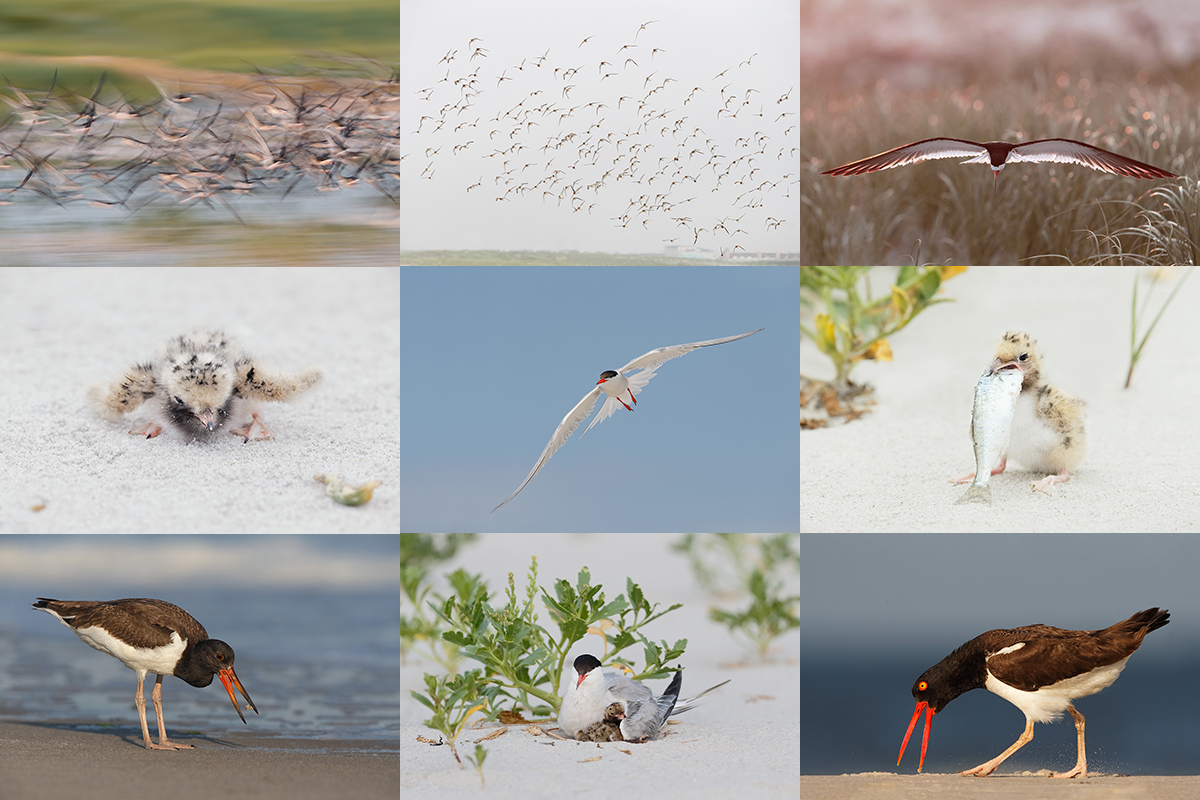 I created all of the images in this composite on last year's July Nickerson Beach IPT.
All copyright 2013: Arthur Morris/BIRDS AS ART
Click on the composite to enjoy a larger version
Nickerson Baby Beach-nesting Birds IPT: 3-Full Days/July 15-17, 2014: $1199. Introductory meet and greet: 8pm, Monday, July 14, 2014. Co-leaders Arthur Morris and Denise Ippolito
Greg Gulbransen is very much looking to this IPT. Join us on Long Island, NY this summer to photograph Black Skimmers, Common Terns with chicks, American Oystercatcher families, and possibly some just-hatched Black Skimmer chicks. Things are looking great. The opportunities will include chances to photograph a variety of breeding behaviors including courtship feeding, display flight and combat, and copulations. Car-pooling is recommended; if we opt to return to the beach before 5pm there is a $30/vehicle parking fee that is not included so it is best to share that expense. Parking in the morning is free.
A $499 non-refundable deposit is required to hold your slot for this IPT. Your balance is due 4 months before the date of the IPT and is also non-refundable. If the trip fills, we will be glad to apply a credit applicable to a future IPT for the full amount less a $100 processing fee. If we do not receive your check for the balance on or before the due date we will try to fill your spot from the waiting list. If your spot is filled, you will lose your deposit. If not, you can secure your spot by paying your balance.
Please print, complete, and sign the form that is linked to here and shoot it to us along with your deposit check (made out to "Arthur Morris.") Though we prefer a check, you can also leave your deposit with a credit card by calling the office at 863-692-0906. If you register by phone, please print, complete and sign the form as noted above and either mail it to us or e-mail the scan.
If you have any questions, please feel free to contact me via e-mail
Your Favorite?
Please take a moment to leave a comment and let us know which of the 3 images is your favorite, and do let us know why.
Support the BAA Blog. Support the BAA Bulletins: Shop B&H here!
We want and need to keep providing you with the latest free information, photography and Photoshop lessons, and all manner of related information. Show your appreciation by making your purchases immediately after clicking on any of our B&H or Amazon Affiliate links in this blog post. Remember, B&H ain't just photography!
…..
Amazon Canada
Many kind folks from north of the border, ay, have e-mailed stating that they would love to help us out by using one of our affiliate links but that living in Canada and doing so presents numerous problems. Now, they can help us out by using our Amazon Canada affiliate link by starting their searches by clicking here. Many thanks to those who have written.
Typos
In all blog posts and Bulletins, feel free to e-mail or to leave a comment regarding any typos, wrong words, misspellings, omissions, or grammatical errors. Just be right. 🙂