The Streak Continues: 195
It is 9:08am in Indian Lake Estates, FL. My flight home was non-eventful. The Palouse was tremendously inspiring and productive.
This post marks 195 consecutive days with a new educational blog post. With so many folks getting in the habit of using our B&H links and our Amazon logo-links why quit now? April, May and June have been fantastic as lots of folks are getting the message; using my affiliate links does not cost you a penny and helps support my efforts here. To show your appreciation, I do ask that you use our the B&H and Amazon affiliate l8inks on the right side of the blog for all of your purchases. Please check the availability of all photographic accessories in the BIRDS AS ART Online Store, especially Gitzo tripods, Wimberley tripod heads, and the like. We sell only what I have used and tested, and know that you can depend on. We will not sell you junk. We know the tools that you need to make creating great images easy and fun. And we are always glad to answer your gear questions via e-mail.
You can find the following items in the store: Gitzo tripods, Mongoose M3.6 and Wimberley heads, plates, low feet, and accessories, flash brackets, , Delkin e-film Pro Compact Flash Cards, LensCoat products, and our unique line-up of educational materials including ABP I & II, Digital Basics, Site and Set-up e-Guides, Canon and Nikon Camera Users and AF e-Guides, and MP-4 Photoshop video tutorials among others.
I would of course appreciate your using our B&H affiliate links for all of your major gear, video, and electronic purchases. For the photographic stuff mentioned in the paragraph above we, meaning BAA, would of course greatly appreciate your business. Here is a huge thank you to the many who have been using our links on a regular basis and visiting the BAA Online store as well.
This post took 2 1/2 hours to prepare. Enjoy!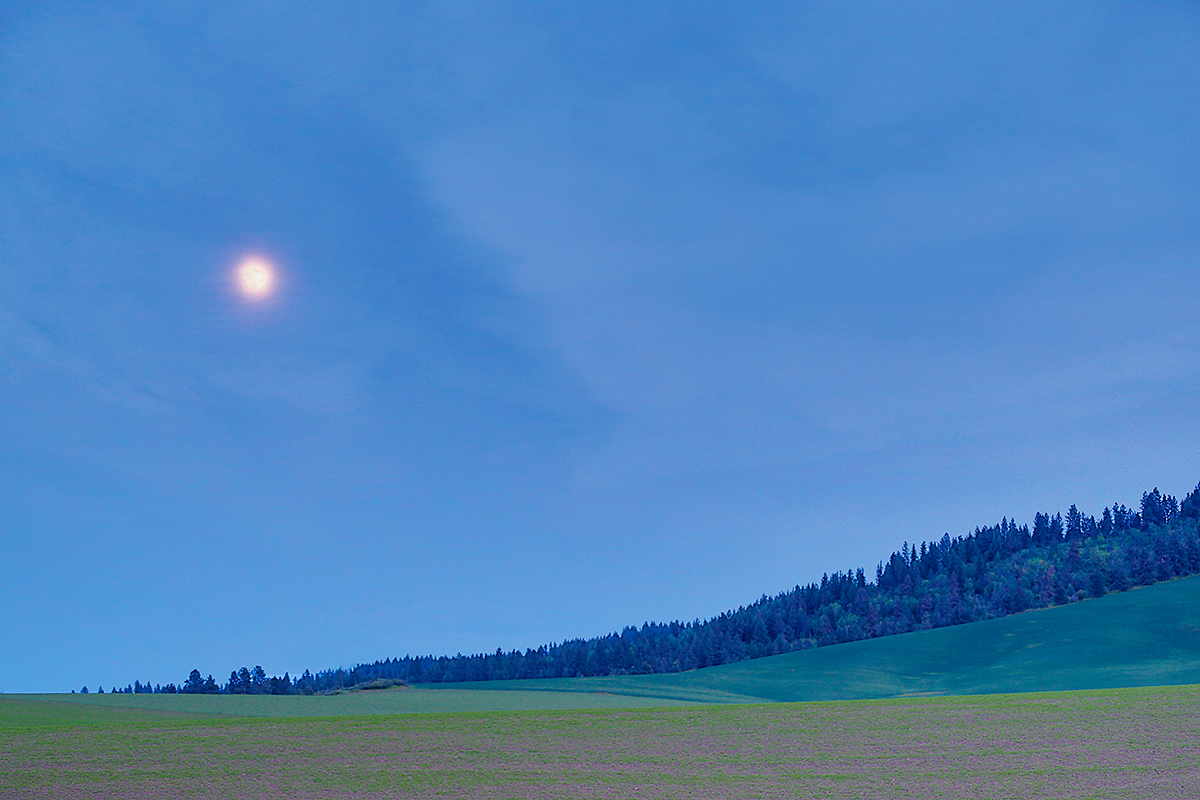 This 3-frame in-camera Art Vivid HDR image was created at 8:52 pm on June 11th, the last evening of our 6-day scouting trip to the Palouse region of Washington state. I used the Gitzo 3532 LS carbon fiber tripod, the Mongoose M3.6 head, the Canon EF 70-200mm f/2.8L IS II USM lens (at 90mm) and the Canon EOS 5D Mark III. ISO 400. Evaluative metering +2 1/3 stops +/- three stops around the base exposure of 1/5 sec. at f/2.8 in Av mode. AWB. Live View (for mirror lock) with the 2-second timer.
AI Servo Rear Focus AF on the line of trees and re-compose. Click here if you missed the Rear Focus Tutorial. Click on the image to see a larger version.
Your browser does not support iFrame.
Sleep Deprived
With the sunrises just before 5am, the best pre-dawn colors nearly an hour before that, and sunsets at about 8:45, the days on our scouting trip were long. Most days I got to sleep at about 10:30 or 11:00 and was up at about 3:15am. Every morning as we headed up to Steptoe Butte we'd agree, "We need to get back to the hotel no later than 10:30 am so that we can get a long nap and get some work done. And every day we would get back to the hotel at noon or 1:00pm. Why? Everywhere we went and everywhere we looked there we found something great to photograph. And even when the light was harsh, we kept looking for new and different subjects and locations for next year's IPT. And that was not very hard to do.
Lunch every day was at South Fork Public House. The girls loved the Lettuce Wraps: spring salad mixture of lettuce cucumber, vermicelli noodles, cilantro, peanuts, shrimp and honey-lime vinaigrette, served with a peanut sauce and crisp butter lettuce. I had the Lentil Chile every day: thick and hearty house-made chili made with ground beef and pork, Andouille sausage, and Palouse Brand Lentils. Yummy on all counts. Even though we are moving to a motel in Colfax that is 25 minutes closer to most of our shooting locations, we have arranged to have lunch every day at South Fork in Pullman. That to be followed by our image sharing and Photoshop sessions. If you are in the Palouse you should be eating lunch and dinner every day at this great restaurant. Did I mention that the food is not at all expensive?
The Last Afternoon
Our original plan for the last afternoon was to stay in, work on some images, and pack for our early morning Pullman to Seattle flight–departing PUW at 5:45am. But Denise wanted to photograph a lovely hillside fence that we discovered while returning from a scouting trip west of town and we all wanted a crack at an iconic salt barn in late afternoon light. We had photographed it earlier in the day in harsh backlight. We vowed to head back to the hotel well before sunset…. We left the hotel at 5:30pm, worked the fence for about an hour, and headed back to the salt barn. We had hoped for golden light but that did not materialize. The light clouds in the western sky got me thinking about the possibilities of a great sunset and of the lone tree on a ridge that I had noted earlier in the day when we got well lost :).
So we packed up our gear and drove the 20 miles to the tree arriving just before sunset. The sunset looked like a fizzle but the cloud patterns looked interesting so we set up and went to work. Denise and Lynn headed back to the car at about 8:45 and I followed. But when I looked back towards the east I saw the hazy, rising full moon above a wooded hillside and could not resist. I headed back across the highway to avoid having the overhead utility wires in the frame. I initially turned off the in-camera HDR feature but quickly noted that I could not avoid blinkies in the moon with a straight shot without way-underexposing the scene so I went back to Art Vivid HDR. I set +/- three stops rather then my usual +/- two stops to make sure that I controlled the moon. That strategy worked perfectly.
What We're About…
Denise and I are about having fun and maximizing the opportunities to create quality images. We are about driving ourselves and our clients to do our best and to enjoy every breath. All while maximizing the opportunities to create quality images. If the question on the table is "Rest or photograph?" we always opt for the latter. Photograph. It's who we are and what we do. That and teaching you to create great images.
After gassing up the car we got back to the rooms to start packing at 9:45pm. I was in bed by 11:30pm with the alarm set for 3:15am. Yes. Sleep deprived. I slept for more than 4 hours on the Seattle to Orlando nonstop. I fell asleep on the couch last night at 7:30pm while watching the first round of the US Open golf on TVO, got into bed at 11:30pm, and slept till 6:30am. That made for 15 hours of solid sleep in a 21 hour period. Can you say "refreshed"?
Denise and I already have dates for the first BAA/A Creative Adventure Palouse IPT next spring. If you would like to be placed on the interested list, please shoot me an e-mail. Dates and details will be announced here soon. We already have a slew of folks interested and are hoping that this trip sells out quickly.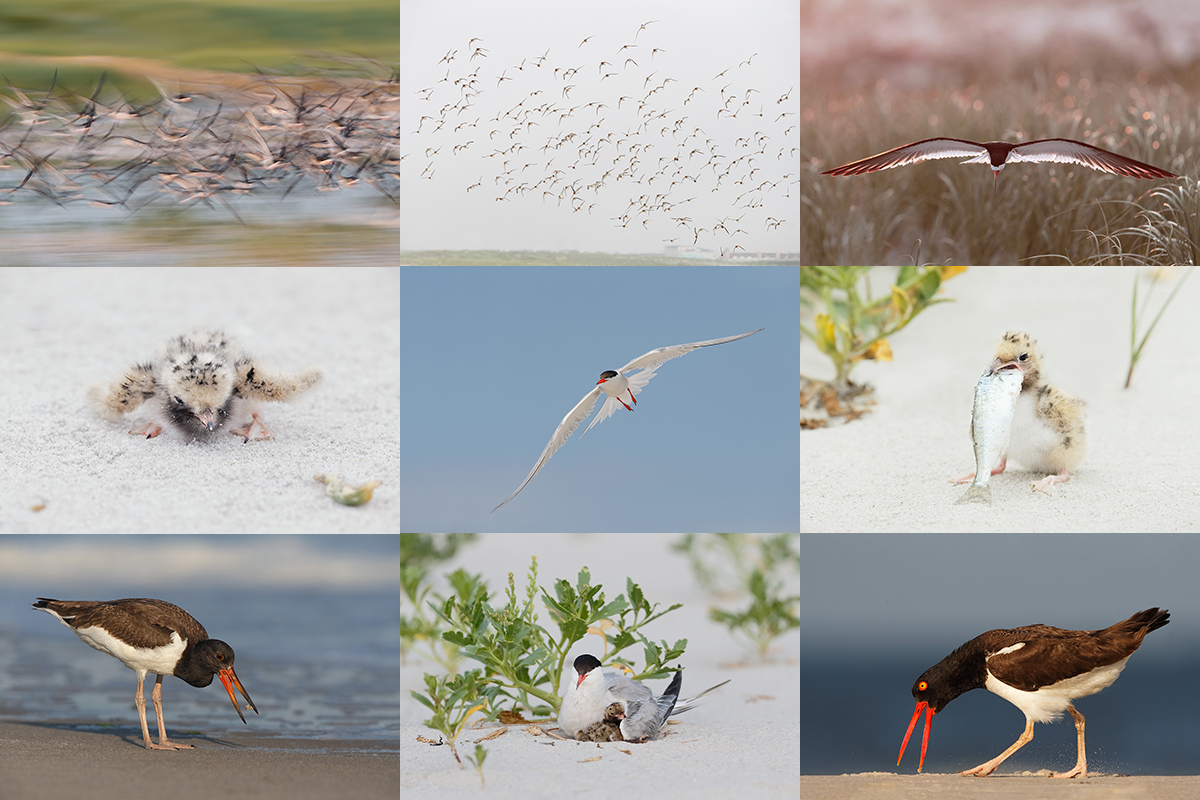 I created all of the images in this composite on last year's July Nickerson Beach IPT.
All copyright 2013: Arthur Morris/BIRDS AS ART
Click on the composite to enjoy a larger version
Nickerson Baby Beach-nesting Birds IPT: 3-Full Days/July 15-17, 2014: $1199. Introductory meet and greet: 8pm, Monday, July 14, 2014. Co-leaders Arthur Morris and Denise Ippolito
Greg Gulbransen is very much looking to this IPT. Join us on Long Island, NY this summer to photograph Black Skimmers, Common Terns with chicks, American Oystercatcher families, and possibly some just-hatched Black Skimmer chicks. Things are looking great. The opportunities will include chances to photograph a variety of breeding behaviors including courtship feeding, display flight and combat, and copulations. Car-pooling is recommended; if we opt to return to the beach before 5pm there is a $30/vehicle parking fee that is not included so it is best to share that expense. Parking in the morning is free.
A $499 non-refundable deposit is required to hold your slot for this IPT. Your balance is due 4 months before the date of the IPT and is also non-refundable. If the trip fills, we will be glad to apply a credit applicable to a future IPT for the full amount less a $100 processing fee. If we do not receive your check for the balance on or before the due date we will try to fill your spot from the waiting list. If your spot is filled, you will lose your deposit. If not, you can secure your spot by paying your balance.
Please print, complete, and sign the form that is linked to here and shoot it to us along with your deposit check (made out to "Arthur Morris.") Though we prefer a check, you can also leave your deposit with a credit card by calling the office at 863-692-0906. If you register by phone, please print, complete and sign the form as noted above and either mail it to us or e-mail the scan.
If you have any questions, please feel free to contact me via e-mail
Support the BAA Blog. Support the BAA Bulletins: Shop B&H here!
We want and need to keep providing you with the latest free information, photography and Photoshop lessons, and all manner of related information. Show your appreciation by making your purchases immediately after clicking on any of our B&H or Amazon Affiliate links in this blog post. Remember, B&H ain't just photography!
…..
Amazon Canada
Many kind folks from north of the border, ay, have e-mailed stating that they would love to help us out by using one of our affiliate links but that living in Canada and doing so presents numerous problems. Now, they can help us out by using our Amazon Canada affiliate link by starting their searches by clicking here. Many thanks to those who have written.
Typos
In all blog posts and Bulletins, feel free to e-mail or to leave a comment regarding any typos, wrong words, misspellings, omissions, or grammatical errors. Just be right. 🙂