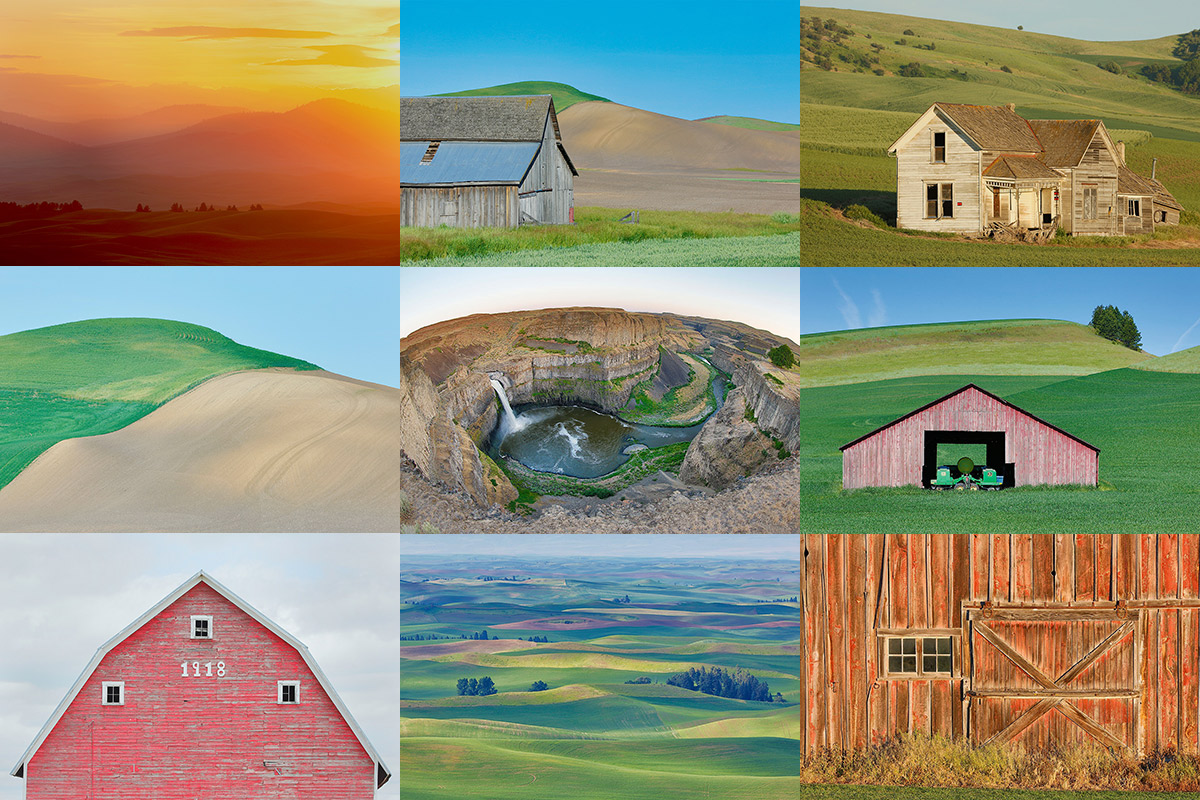 Please note that there are two Palouse IPTs in place. The first is sold out. I hope that you can join us 🙂 Card and design by Arthur Morris/BIRDS AS ART.
The Palouse A Creative Adventure/BIRDS AS ART Instructional Photo-Tour (IPT)/Eastern Washington State. June 5-9, 2015/5 Full Days: $1699/Limit 12 photographers/Openings 6; this trip is a go.
The 2nd Palouse IPT Added By Popular Demand is Filling Up Fast
Please click here and then scroll down for details.
The Streak Continues: 202
It is now just after 8:20am here on a sunny day at Indian Lake Estates. This post took about 3 1/2 hours to prepare after several updates. Enjoy and learn.
This post marks 202 consecutive days with a new blog post. With so many folks getting in the habit of using our B&H links and our Amazon logo-links why quit now? April, May and June have been fantastic as lots of folks are getting the message; using my affiliate links does not cost you a penny and helps support my efforts here. To show your appreciation, I do ask that you use our the B&H and Amazon affiliate links on the right side of the blog for all of your purchases. Please check the availability of all photographic accessories in the BIRDS AS ART Online Store, especially Gitzo tripods, Wimberley tripod heads, and the like. We sell only what I have used and tested, and know that you can depend on. We will not sell you junk. We know the tools that you need to make creating great images easy and fun. And we are always glad to answer your gear questions via e-mail.
You can find the following items in the store: Gitzo tripods, Mongoose M3.6 and Wimberley heads, plates, low feet, and accessories, flash brackets, , Delkin e-film Pro Compact Flash Cards, LensCoat products, and our unique line-up of educational materials including ABP I & II, Digital Basics, Site and Set-up e-Guides, Canon and Nikon Camera Users and AF e-Guides, and MP-4 Photoshop video tutorials among others.
I would of course appreciate your using our B&H affiliate links for all of your major gear, video, and electronic purchases. For the photographic stuff mentioned in the paragraph above we, meaning BAA, would of course greatly appreciate your business. Here is a huge thank you to the many who have been using our links on a regular basis and visiting the BAA Online store as well.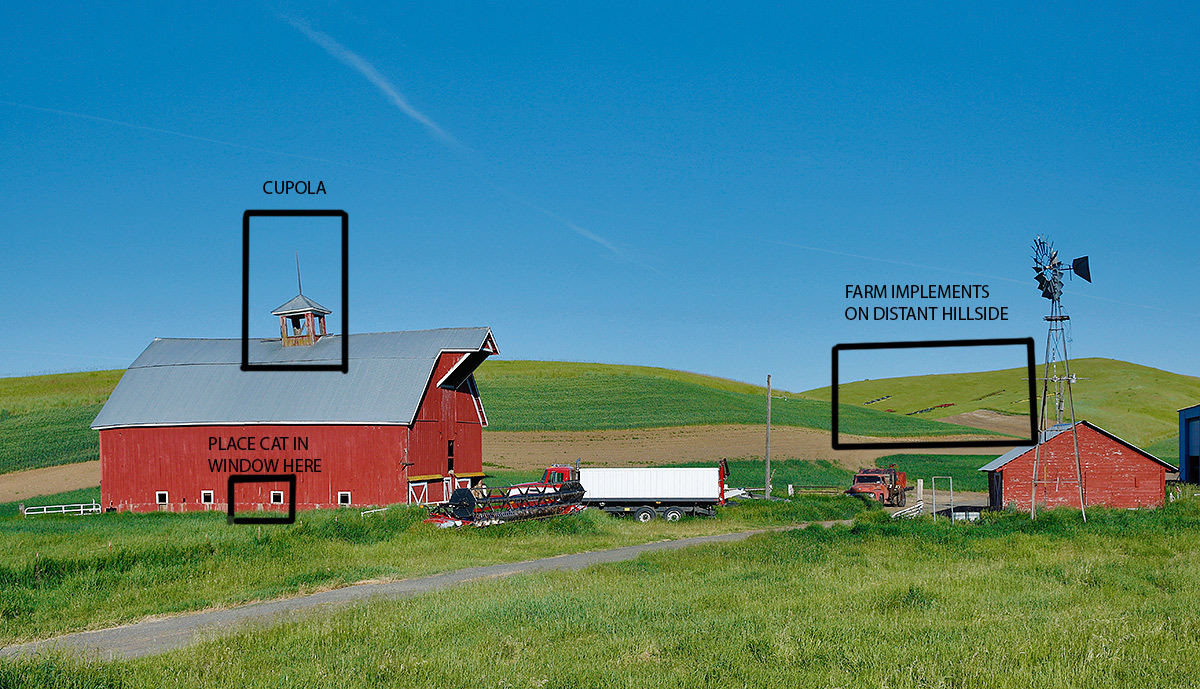 What I saw….
What I Saw on the Ranch/On Learning to Think and See Like a Pro
In the Learning to Think and See Like a Pro/The Second of a Series–Where Would You Put the Cat? blog post of June 18th here, I wrote:
OK, here is the challenge. Click on the image above to enlarge it. Examine it carefully. You have all focal lengths from 8mm to 784mm available. What catches your eyes? Which images would you extract from the scene? If you could place a black and white house cat anywhere in the scene where would you put it? For all of the above please leave a comment and please be specific. I will share several of my images with you in a not-too-distant blog post.
Lots more folks chimed in than on the similar previous post and that is a good thing. Several folks knew that I would photograph the cupola. Again. Aren't they neat? Only Ar figured out where I would have put the cat :). Note the focal length on that one. And nobody saw the long shot of the farm implements on the hillside. We will do another one of these soon and hopefully even more folks will participate.
The Cat in the Barn Window
As we were getting our gear set up, I think that it was Lynn Fulton who called out, "There's a cat in the barn window." Pretty cool I thought. I knew that I would want my longest lens so I grabbed the 2-4 and mounted an external 1.4X TC. It was only natural to put the cat in the lower right portion of the frame. So that's what i did.
I went with Natural HDR as I did not want the colors of the barn to go over the top in the early light. This is a small crop from the right and above. NIK Color Efex Pro Detail Extractor at 80% did wonders on the cat and the too-white-in-the-original window frame. Then I used a series of small Quick Masks along with the Transform Tool to open the cat's right eye. After that work was done I put the opened eye on its own layer via a Quick Mask. I flopped and warped the now good eye and put it in place with the Move Tool (V).
Digital Basics
Pretty much everything discussed above plus tons more is detailed in our Digital Basics File–written in my easy-to-follow, easy-to-understand style. I am not sure if the perspective control bit is covered in Digital Basics, but no matter: it is detailed above :).
Are you tired of making your images look worse in Photoshop? My Digital Basics File is an is an instructional PDF that is sent via e-mail. It includes my complete digital workflow, dozens of great Photoshop tips, the use of Contrast Masks, several different ways of expanding and filling in canvas (including the John Heado Technique), lots of color balancing tips, Tim Grey Dodge and Burn, all of my time-saving Keyboard Shortcuts, Quick Masking, Layer Masking, and NIK Color Efex Pro basics, my killer image clean-up techniques, Digital Eye Doctor, creating time-saving actions, and lots more.
APTATS I & II
Learn the details of advanced Quick Masking techniques in APTATS I. Learn Advanced Layer Masking Techniques in APTATS I. Mention this blog post and apply a $5 discount to either with phone orders only. Buy both APTATS I and APTATS II and we will be glad to apply at $15 discount with phone orders only.
The Cupola
What can I say? I am a sucker for these old cupolas. Here I went with Natural and boosted the color via increases in Vibrance and Saturation. The look I got is very close to that of a subdued Art Vivid creation. See more on this topic in image next.
Farm Implements on Distant Hillside
I have long been blessed with what I call "super-tele-photographic vision." the ability to see the world in small rectangular frames. It is a skill that takes some practice to develop. Begin by asking, "What do I see in the wide view that interests me?
Then ask yourself, "What lens do I have with me that can help me create the image that exists in my mind's eye."
When I first saw the arrangement of farm implements on the distant hillside the shapes and the pattern and the colors caught my eye. I looked once at creating a nice image but could not find a good perspective. When I followed up on that thought, I moved farther to my right. By going right of the windmill I was able to frame the image perfectly while eliminating the hillside that blocked the implements on our left, as you see in the opening image here. Telephoto extraction at its best.
For this one I went with Art Vivid at K4500 and then toned down the colors just a bit for a pretty natural look with bright colors.
This image is my favorite of the three. Which is yours?
Selling Your Used Photo Gear Through BIRDS AS ART
Selling your used (or like-new) photo gear through the BAA Blog or via a BAA Online Bulletin is a great idea. We charge only a 5% commission. One of the more popular used gear for sale sites charges a minimum of 20% plus assorted fees! Yikes. The minimum item price here is $500 (or less for a $25 fee). If you are interested please e-mail with the words Items for Sale Info Request cut and pasted into the Subject line :). Stuff that is priced fairly–I offer free pricing advise, usually sells in no time flat as did Dennis Cassidy's 500 II recently on the blog. Larry Master's 400 DO and his 800 f/5.6 sold within a week. From Larry via e-mail: Thanks for helping me sell the lenses so quickly!
A Creative Adventure/BIRDS AS ART friend Kitto Kono sold her Nikon 500 to a Blog subscriber in less than a week. Janet Horton's 7D sold this week after a $100 price reduction. Denise Ippolito's 100-400 and her 100 macro sold in one day. Peter Kes sold his 70-200 f/2.8L IS II and his 400 DO through BAA in ten days. In the past two months we have sold a Canon 800, a Canon 500 II, 3 400 DO lenses, a Nikon 500mm, and lots more. And the list goes on and on. There have been so many recent sales that it is impossible to keep track of them. If you are interested in using our services, please e-mail.
Used Gear Caution
Though I am not in a position to post images of gear for sale here or elsewhere, prospective buyers are encouraged to request for photos of the gear that they are interested in purchasing via e-mail. Doing so will help to avoid any misunderstandings as to the condition of the gear.
Used Photography Gear for Sale
In the past two weeks, practically everything on the shelves has been sold. I am still at a loss as to how Jim Bicket's 800 has not sold. It is a great lens in perfect condition that is more than fairly priced. B&H is asking $11,999.90 for a used one in the same condition here. Buy Jim's lens and save $3249.90 right now!
And be sure to check out the great Mongoose M3.6 package.
IAC, there are several great news listings including Carl Zanoni's immaculate 500 II, another great 400 DO, and Michael Zajac's Canon EOS-1D Mark III, Coming soon: a 500 f/4 L IS, a 300 f/28 L IS, and an EOS-5D Mark III/24-105 kit with extras. Click here to visit the Gear for Sale page for complete details.
Support the BAA Blog. Support the BAA Bulletins: Shop B&H here!
We want and need to keep providing you with the latest free information, photography and Photoshop lessons, and all manner of related information. Show your appreciation by making your purchases immediately after clicking on any of our B&H or Amazon Affiliate links in this blog post. Remember, B&H ain't just photography!
…..
Amazon Canada
Many kind folks from north of the border, ay, have e-mailed stating that they would love to help us out by using one of our affiliate links but that living in Canada and doing so presents numerous problems. Now, they can help us out by using our Amazon Canada affiliate link by starting their searches by clicking here. Many thanks to those who have written.
Typos
In all blog posts and Bulletins, feel free to e-mail or to leave a comment regarding any typos, wrong words, misspellings, omissions, or grammatical errors. Just be right. 🙂