The Streak Continues: 211
It is now about 9:30am here in Indian Lake Estates as today's blog post is being published. I am getting really excited about the UK Puffin IPT. I fly to Newark on Tuesday afternoon where I will meet Denise and one of our 7 clients for the red eye flight to Edinburgh, Scotland, arriving in the UK at 7:55am on Wednesday morning. This post took about 3 hours to prepare. Enjoy and learn.
This post marks 211 consecutive days with a new blog post. With so many folks getting in the habit of using our B&H links and our Amazon logo-links why quit now? April, May and June have been fantastic as lots of folks are getting the message; using my affiliate links does not cost you a penny and helps support my efforts here. To show your appreciation, I do ask that you use our the B&H and Amazon affiliate links on the right side of the blog for all of your purchases. Please check the availability of all photographic accessories in the BIRDS AS ART Online Store, especially Gitzo tripods, Wimberley tripod heads, and the like. We sell only what I have used and tested, and know that you can depend on. We will not sell you junk. We know the tools that you need to make creating great images easy and fun. And we are always glad to answer your gear questions via e-mail.
You can find the following items in the store: Gitzo tripods, Mongoose M3.6 and Wimberley heads, plates, low feet, and accessories, flash brackets, , Delkin e-film Pro Compact Flash Cards, LensCoat products, and our unique line-up of educational materials including ABP I & II, Digital Basics, Site and Set-up e-Guides, Canon and Nikon Camera Users and AF e-Guides, and MP-4 Photoshop video tutorials among others.
I would of course appreciate your using our B&H affiliate links for all of your major gear, video, and electronic purchases. For the photographic stuff mentioned in the paragraph above we, meaning BAA, would of course greatly appreciate your business. Here is a huge thank you to the many who have been using our links on a regular basis and visiting the BAA Online store as well.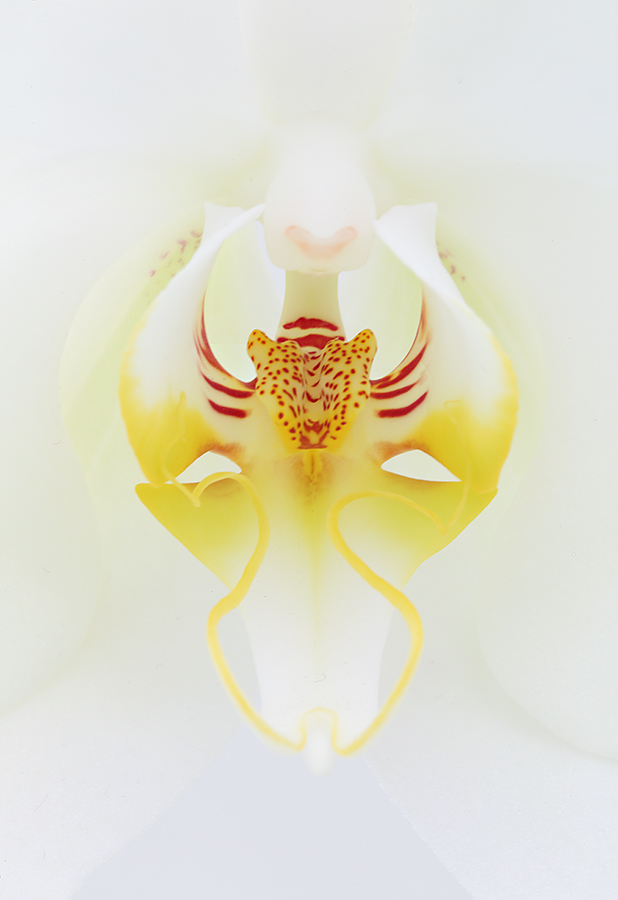 This Orchid Opti Grandi image was created on last spring's Tulips and a Touch of Holland IPT in the Beatrix Pavilion with the Gitzo GT1542T 4-section Traveler Tripod , the Mongoose M3.6 head on it,
Canon EF 100mm f/2.8L IS macro lens and the Canon EOS 5D Mark III Digital camera body. ISO 400. Evaluative metering +1 2/3 stops: 1/2 sec. at f/16 in Av mode. Color Temperature: 5000K.
Live View for mirror lock and the live RGB histogram. 2-second timer. Manual Focus. Click on the image to enjoy a larger version. Here is a tip on using the Live View RGB histogram: though it will get you in the neighborhood be sure to check for blinkies. There are times when all 3 channels (R, G, & B) seem to be well inside the right hand axis of the histogram but you still have a few flashing highlights…. In those cases you simply go 1/3 darker with the EC (Exposure Compensation).
Your browser does not support iFrame.
On Learning to Think and See Like a Pro
In the June 27, 2014 blog post, "Learning to Think and See Like a Pro/The Third of a Series" here, I posted, with regards to the image immediately below:
When I walked up to this display of Orchid Opti Grandi, my eye instantly went to the single flower that would yield the image that I saw in my mind's eye: a large-in-the-frame vertical of the center of one of the tiny orchid blooms. With a relatively distant background…. After I created the image that I saw I shared it with nearby members or our group and said: "There is only one blossom in this display that works; which one is it?"
All struggled.
So I ask you, "Which is the only blossom in the display that will yield a large=in-the-frame vertical of the center an Orchid Opti Grande flower with a relatively distant background?"
Canon Tripod Mount Ring D for IS 100mm f/2.8L Macro Lens
Because the 100 macro does not come with a tripod collar, those of you who own the lens are likely wondering "How does he get the 100 macro onto a Mongoose?" The answer is simple. I purchased the right tripod collar as a Canon accessory. In general it is not a good policy to mount the camera onto a ball head with the lens hanging from the front of it and stressing the lens mount. I prefer using the Mongoose for my flower photography for a variety of reasons so once I learned of the Canon Tripod Mount Ring D for IS 100mm f/2.8L Macro Lens I made it a point to get my hands on one asap and to bring it to Holland. And I did.
I tried the much cheaper ($49.95 as compared to $172.00) Vello Tripod Collar D (Black) for Canon EF 100mm f/2.8L IS USM Macro Lens but it pretty much turned out to be junk. It was very difficult to loosen and open it and very difficult to get it on the lens and tighten it. So I went with the Canon version. In general, you get what you pay for.
I have owned this tripod for about a year now. For the most part, I use it mostly to hold the LensAlign Mark II when micro-adjusting my lenses. On a whim, I packed it in one of my two checked bags for the Holland trip along with my workhorse Gitzo 3532 tripod. I have been rehabbing my right shoulder for more than a decade…. Yesterday I decided to go super-light with the tiny tripod and the Mongoose. Lord was I pleased. I used the 300 II with the 2X III TC and using good sharpness techniques on my part I was able to make sharp images at shutter speeds below 1/100 sec. And my shoulder felt great after the 5 hour photo session.
Because the Gitzo GT1542T will be top heavy with pretty much any camera and lens mounted on it, it is imperative that you never ever leave your tripod unattended, even for an instant. If you do lots of flowers and/or work with an intermediate telephoto lens and you like lightweight stuff, the Gitzo GT1542T tripod might just be perfect for you. Click here to read my probably too honest evaluation. As for me, I am sold on it for flower and many types of travel photography.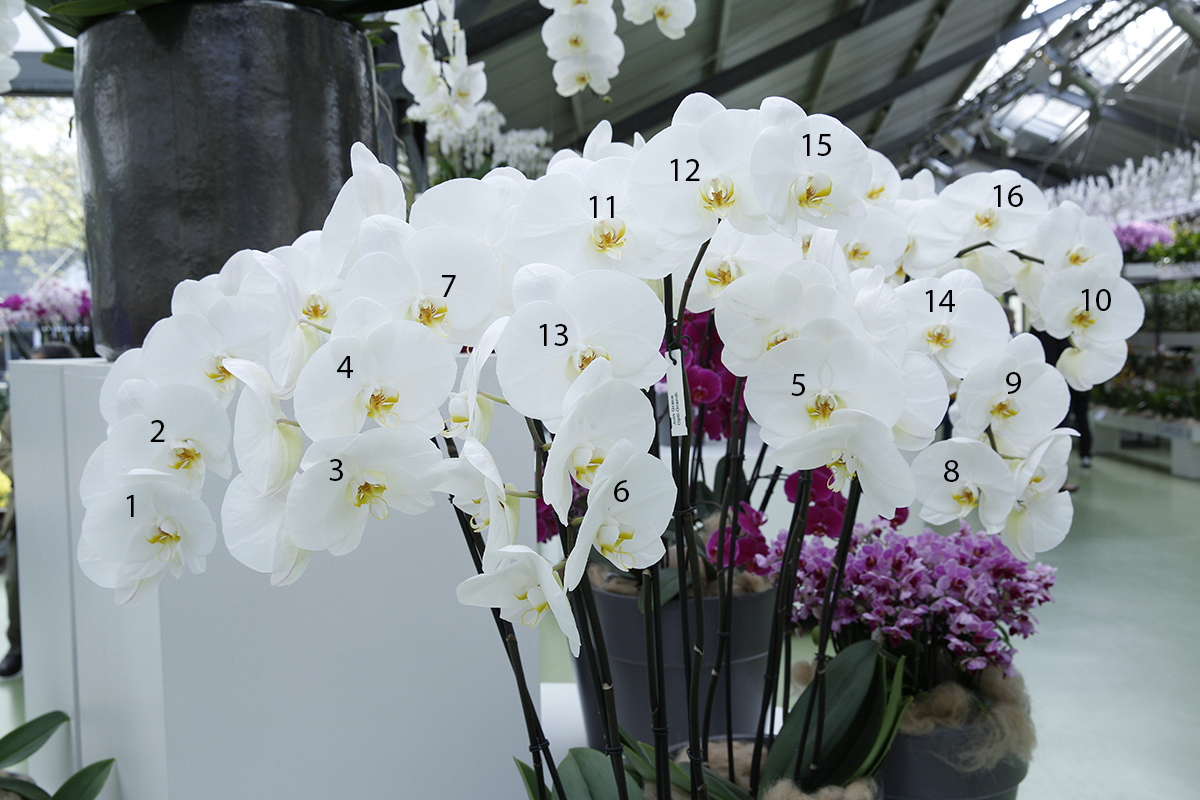 This image was created on last April's Tulip and a Touch of Holland ITP in the Beatrix Pavilion with the hand held Canon EF 24-70mm f/2.8L II USM lens (at 35mm), and the Canon EOS 5D Mark III . ISO 640. Evaluative metering +1 1/3 stops: 1/80 sec. at f/9 in Av mode.
Central sensor/AI Servo Rear Focus AF on orchid #6 and re-compose. Click here if you missed the Rear Focus Tutorial. Click on the image to see the larger version.
Your browser does not support iFrame.
What I Saw and Thought
Well, lots of folks tried but nobody was even close…. The opening image above features flower #3. The instant I walked up to the display, that single flower jumped out at me. The flower center was nicely isolated and I knew that the soft, white, matte finished wall of the
display behind the bottom of the flower would provide an ideal distant background. I chose flower #3 over flower #1 because it was positioned a bit higher and I knew that it would be easier to get the lens on it.
And you can believe this or not, but the God's-honest-truth is that when I was on the phone with Denise Ippolito yesterday I asked her to go to the June 27, 2014 blog post and let me know which flower center she would have photographed. In less than 1/1000 sec. she said, "#3."
Everyone Fanned on This One…
When I posted the question I thought that it was much too easy, that everyone would have answered "#3,", or at least #1. I was wrong. Nobody was even close.
There was one vote for #10. That would have yielded a horrible background. Two votes for #11; that one was blocked both left and below by the petals of another orchid. Three folks suggested #12 and #15 but each of those had other flowers as the proximal background, so close that there would have been lots of unwanted detail brought up. And the same goes for flower #16 with its single vote.
Perhaps everyone was thrown off because they failed to consider the man-made wall of the display as a possible background….
Is There Hope?
Summing up, the two professionals pick out the best possible subject instantly. Folks in our group and everyone else who tried here on the blog struck out on three pitches. Is there hope? Can everyone learn to see and design pleasing images?
Absolutely. The best way to start is to look at as many good and great images as you can every day, every week, and every month. The blog here and the Bulletins are great places to do that. Joining BPN and participating actively is an even better option. There are simply no better ways to learn than to have your best images critiqued by others and to critique the work of other photographers. I can still remember my one and only photography teacher Milton Heiberg commenting on my Greater Yellowlegs image. "It's nice, but why is the bird in the center of the frame?" And the rest is history.
In addition you can visit the websites of photographers that you admire and study their image galleries. In all of cases ask yourself why they choose a given perspective? What do I like about this image? What don't I like? What would I have done differently? Try to imagine what they were thinking when the pressed the shutter button.
Lastly, be sure to get yourself copies of the original "The Art of Bird Photography" (ABP, the classic how-to work on bird photography, now in soft cover) and of the then all-new follow-up, "The Art of Bird Photography II" (ABP II: 916 pages, 900+ images, on CD only). In ABP, study chapter seven, Designing the Image. In ABP II, study the section on Advanced Composition and Image Design. And you can save $10 by buying both together here.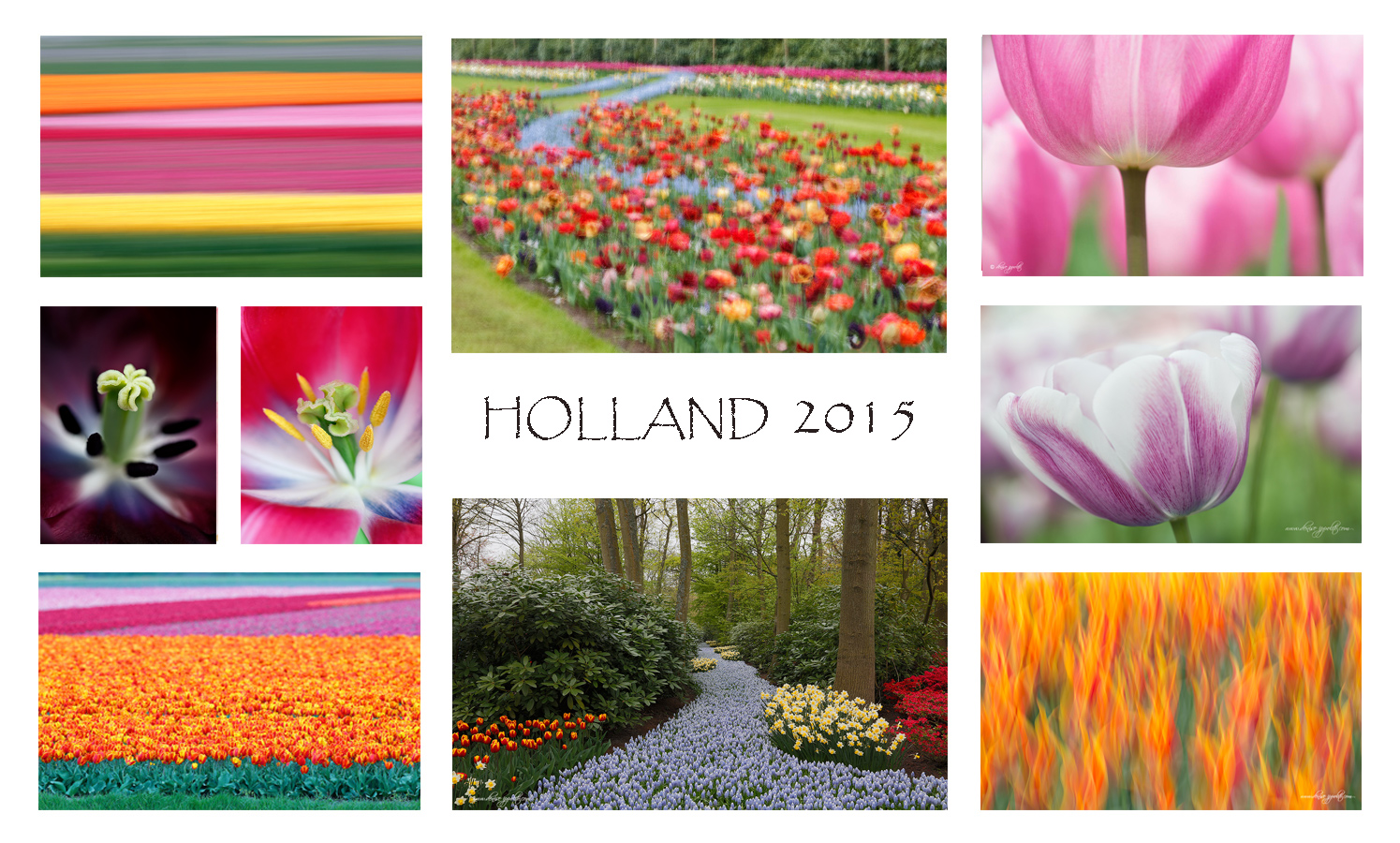 Denise and artie hope that you can join us next spring in Holland and learn to improve both the technical and creative aspects of your flower (and street) photography.
7 1/2-Day/8-Night: A Creative Adventure/BIRDS AS ART/Tulips & A Touch of Holland Instructional Photo-Tour (IPT)
Keukenhof—Delft—Amsterdam–Flower Fields—Kinderdijk
April 9 -April 16, 2015: $4995. Limit: 12 photographers/Openings 10. Four more to make the trip a go.
This trip needs 6 registrants to run so please do not purchase your plane tickets until you hear from us that the trip is a go.
Join Denise Ippolito, the author of "Bloomin' Ideas," and Arthur Morris, Canon Explorer of Light Emeritus, for a great trip to Holland in mid-April 2015. Day 1 of the IPT will be April 9, 2015. We will have a short afternoon get-together and then our first photographic session at the justly-famed Keukenhof. Our last day, Day 8, April 16 will be a full day of photography.
The primary subjects will be tulips and orchids at Keukenhof and the spectacularly amazing tulip, hyacinth, and daffodil bulb fields around Lisse and points north. We will spend one full day in Amsterdam. There will be optional visits to the Van Gogh Museum, the Anne Frank House and/or the Rijk's Museum. Street photography and sightseeing will be other options. We will spend a half day at Kinderdijk where we will be photographing the windmills and doing some creative photography. We will spend an afternoon in the lovely Dutch town of Delft where we will do some street photography and shopping. There is an optional church tower tour/climb. We will also enjoy a superb fine dining experience in a traditional restaurant.
Other than the arrival date: April 9, Day 1, and the date of our last day of photography on April 16, Day 8, there is no set itinerary. We will check the weather and play everything by ear to maximize the photographic opportunities. We will try to do Amsterdam, Delft, and especially Kinderdijik, on cloudy days.
There are several huge pluses to this trip. First off, denise is an amazingly skilled and caring instructor. Both her creativity and her willingness to share and to help beginning and intermediate photographers are unmatched. And though artie has learned a ton about flower photography from denise, their styles and techniques do vary considerably. You will have a chance to be counseled by and to learn from both of them. While denise will hunt you down to help you, artie's teaching style is more "the closer you stay to me, the more you will learn." Both leaders consistently inspire the participants. And each other. The sky, of course, is the limit.
You will learn to create tight abstracts, how best to use depth-of-field (or the lack thereof) to improve your flower photography, how to get the right exposure and make sharp images every time, how to see the best shot, and how to choose the best perspective for a given situation. And you will of course learn to create a variety of pleasingly blurred flower images. If you bring a long lens, you will learn to use it effectively for flower photography. Denise's two favorite flower lenses are the Canon EF 100mm f/2.8L Macro IS USM lens and the Canon EF 24-105mm f/4L IS USM lens. Mine are the Canon 100mm f/2.8L IS macro , the Canon EF 180mm f/3.5L Macro USM lens ,and the Canon EF 300mm f/2.8L IS II USM lens, all almost always on a tripod. Often with extension tubes and/or either the 1.4X or the 2X (with the 300 II) teleconverters. Denise hand holds a great deal of the time. For flower field blurs denise uses the same lenses mentioned above along with her new 70-200mm f/2.8L IS III lens. Artie's favorite is that same 70-200 often with a 1.4X TC but he uses both the new Canon EF 24-70mm f/2.8L II USM lens and the 300 II as well. Both of us use and love the Canon EOS 5D Mark IIIfor all of our flower photography. The in-camera HDR and Multiple Exposure features are a blast.
One of the great advantages of our trip is that we will be staying in a single, strategically located hotel that is quite excellent. Do note that all ground transfers to and from Schipol Airport will be via the free hotel shuttle bus.
What's included: Eight hotel nights. All ground transportation except for airport transfers as noted above. In-the-field instruction and small group image review and Photoshop sessions. All meals from dinner on Day 1 through dinner on Day 8. There is good food at the hotel and we will be dining there on occasion; whenever you order off the menu be it at the hotel or at another restaurant only the cost of your main course is included. On these occasions the cost of soups, appetizers, salads, sodas and other beverages, alcoholic drinks and wine, bottled water, and desserts are not included. Snacks, personal items, phone calls, etc. are also not included. The cost of bus or train transportation to and from Amsterdam (about $20 US), museum entry, and tower and church entry fees (optional) are likewise not included.
Beware of seemingly longer, slightly less expensive tours that include travel days and days sitting in the hotel doing nothing as part of the tour. In addition, other similar trips have you changing hotels often and needlessly. One final note on other similar trips: the instructors on this trip actually instruct. On other similar trips the instructors, though usually imminently qualified, serve for the most part as van drivers and van door openers.
A non-refundable deposit of $1,000 per person is required to hold your spot. The second payment of $2,000 due by October 30, 2014. The balance is due on January 15, 2015. Payments in full are of course welcome at any time. All payments including the deposit must be by check made out to "Arthur Morris." As life has a way of throwing an occasional curve ball our way, you are urged to purchase travel insurance within 15 days of our cashing your check. Artie uses and recommends Travel Insurance Services. All payments are non-refundable unless the trip fills to capacity. In that case, all payments but your deposit will be refunded. If the trip does not run every penny will of course be refunded. Again, please do not purchase your air tickets until you hear from us that the trip is a go. We are very confident that it will.
All checks should be made out to "Arthur Morris" and sent to: Arthur Morris, PO Box 7245, Indian Lake Estates, FL 33855. Call Jim or Jen in the BAA office with any additional registration questions: 863-692-0906.
For couples or friends signing up at the same time for the tulip trip, a $200/duo discount will be applied to the final payment.
When you send your deposit check, please print, sign, and include the paperwork here.
If you have any questions on the trip please contact artie by e-mail or denise by e-mail.
Selling Your Used Photo Gear Through BIRDS AS ART
Selling your used (or like-new) photo gear through the BAA Blog or via a BAA Online Bulletin is a great idea. We charge only a 5% commission. One of the more popular used gear for sale sites charges a minimum of 20% plus assorted fees! Yikes. The minimum item price here is $500 (or less for a $25 fee). If you are interested please e-mail with the words Items for Sale Info Request cut and pasted into the Subject line :). Stuff that is priced fairly–I offer free pricing advise, usually sells in no time flat.
In late May and early June, practically everything on the shelves was sold. I am still at a loss as to how Jim Bicket's 800mm lens (see above) has not sold. It is a great lens in perfect condition that is more than fairly priced. B&H is asking $11,999.90 for a used one in the same condition here. Buy Jim's lens and save $3249.90 right now!
Used Gear Caution
Though I am not in a position to post images of gear for sale here or elsewhere, prospective buyers are encouraged to request for photos of the gear that they are interested in purchasing via e-mail. Doing so will help to avoid any misunderstandings as to the condition of the gear.
One Week Sale Only: Used Canon 500mm f/4L IS Lens at a Ridiculous Low Price
Ellen Anon is offering a used Canon 500mm f/4L IS lens for only $4949.00. This super-low price if for this week only as Ellen is desperate to purchase a 200-400 for a polar bear trip. The lens is in Very Good condition (8/10). Included in the sale are the installed LensCoat that has protected the lens, the lens trunk, hood, leather front cover and the rear lens cap. The seller will pay for insured UPS Ground shipping to US addresses only. The lens will not ship until after your check clears.
Interested folks can contact Ellen via e-mail or try her at 1-814-838-1996. Photos of the lens are available upon request.
Canon EOS 5D Mark III Kit with EF24-105mm f/4L IS USM Lens
Chuck Pettis is offering a Canon EOS-5D Mark III Kit with EF24-105mm f/4L IS USM Lens new in the box–from an insurance claim for only $3499. Save $500 off the B&H price. The seller will pay insured UPS shipping within the continental US. And here is the best part: the lucky purchaser of this kit will receive a free copy of my EOX-5D Mark III User's Guide, a $50 value.
Interested folks can contact Chuck via e-mail or try him at 360-331-6667 or on his cell at 206-930-2623.
Canon EF 600mm f/4L IS USM Lens, the "old six" An Amazing Package for Someone Young and Strong. Or Old and Strong.
Chuck is also offering a Canon EF 600mm f/4L IS USM lens for $6199 with an amazing package of extras, extras that I used and depend on. The lens is in excellent condition used only a dozen times. The sale includes the Lens Trunk (one latch on the case was damaged by the TSA on a trip to Bosque but the latch still functions fine), the leather lens hood, and the rear cap. Amazingly Chuck is also including more than $30 in extras: a Canon 52mm Drop-in Circular Polarizing Filter PL-C, also in excellent condition and an extra Canon 52mm Drop-in Filter Holder in excellent condition. I put a 3-stop ND in my extra filter draw for creating blurs on sunny days.
The seller will also pay insured UPS shipping within the continental US.
Interested folks can contact Chuck via e-mail or try him at 360-331-6667 or on his cell at 206-930-2623.
The old six was my workhorse super-telephoto for too many years….
Canon 500mm f/4L IS II USM Lens
Multiple IPT veteran and BAA friend Carl Zanoni is offering an immaculate Canon 500mm f/4L IS II USM lens in Like New condition for the ridiculously low price of $8,999. With lots of extras. The sale includes the Canon E-163B Lens Cap, a Canon Rear Lens Cap, the Canon ET-138W II Lens Hood, the Canon Hard Lens Trunk 500B, a Canon Drop-in 52mm Circular Polarizer, 2 Canon shoulder straps, a LensCoat(Realtree Max 4), a Kirk LP-55SG Quick Release Plate/Foot, the original Canon lens foot, and insured UPS Ground shipping to US addresses. The items will be shipped only after the buyer's check clears.
Please contact Carl via e-mail or by phone at 860 349 3840. This is a dream lens for all bird and wildlife photographers who do not want to deal with the bulk and weight of a 600mm lens. Save a ton as the lens sells new for $10,499.00.
Canon 400 DO IS USM Lens
Joe Messina is offering a used Canon 400 DO IS USM lens in very good ++ condition for $4200. There are some minor cosmetic scratches to the finish. The lens hood is slightly out of round and is difficult to install. The sale includes an AquaTech flexible strap-on hood, a $150 value. The sale also includes the lens trunk (with key), the original leather hood, and a hard plastic lens cap. The seller will pay insured UPS shipping within continental US. The lens will ship after the check clears.
Please contact Joe via e-mail or by phone at 415-563-6577.
If you are looking for a fast, lightweight, hand holdable telephoto lens, this is the lens for you. Learn a ton more about the 400 DO here and see lots of 400 DO images by visiting the "The Canon 400mm f/4 IS DO Lens: Fourteen Images that Prove that the Internet Experts are (As Usual) Idiots" blog post here. The lens sells new at B&H for $6499.00.
Canon EOS-1D Mark III
Michael Zajac is offering a Canon EOS-1D Mark III professional digital camera body in Excellent condition for $1250. The sale includes the battery charger, one battery, the original paperwork, the camera strap, the original box, and shipping to the continental US.
Please contact Michael via e-mail or by phone at 732-979 -6644. Photos are available upon request.
Some EOS-1D Mark III bodies originally had AF problems. Michael's did not. I have seen his great flight images made with this camera. This body features a 1.3X crop factor sensor and is a great step-up for someone who wants to take a big step up from a 7D. It's powerful battery drives AF much faster than the pro-sumer bodies especially with either a 1.4X or 2X teleconverter in place.
Used Mongoose Package for Sale
Upgraded Mongoose M3.5 Package: $630
John Stuhlmuller is offering a used Mongoose M3.5 tripod head that has been upgraded to an M3.6 (approximate value $550). The only differences between a refurbished M3.5 and a new M3.6 is the internal finish of several parts. Otherwise, it functions as an M3.6, the head I have used and depended on for nearly a decade. The sale includes an installed Horizontal) Low Mount Arm (sells new for $90), the Integrated Flash Arm (sells new for $110), a CR-X5 plate, the low foot for the four Series II Canon Super-Telephoto lenses and teh 200-400 (sells for $122 new), a CP16 lens plate for B-tripod ring lenses like the Canon 70-200mm f/2.8L IS (sells for $75 new).
There are some minor scratches on the top of the mounting clamp. Otherwise, there are no other signs of wear and the head works perfectly. John prefers his Wimberley V2 head.
The package is valued at approximately $947. The cost of insured ground shipping to US addresses is included. Sale price: $630. Save $300+.
Contact John via e-mail. Photos available upon request.
Used Canon 800mm f/5.6L IS Lens for Sale
Multiple IPT veteran, the too-kind Jim Bicket, is offering a Canon EF 800mm f/5.6L IS USM lens in excellent condition for $8750. The lens is like new except for some wear on the bottom of the lens hood near the forward edge when the hood is reversed. The sales includes the LensCoat that has protected the lens since day 1, the leather hood, the original hard case and key, and insured shipping via UPS Ground to US addresses only. Personal checks only; your new lens will be shipped only after your check clears.
This great lens, my favorite for 3 years, sells new at B&H for $13,999.00. B&H is asking $11,999.90 for a used one in the same condition as Jim's here. Buy Jim's lens and save $3249.90 right now! It will save you a ton of dough and you will have a super-sharp lens with lots of reach. And it works great with a 1.4X TC too.
Interested folks can contact Jim via e-mail or try him at 501-915-9336.
Support the BAA Blog. Support the BAA Bulletins: Shop B&H here!
We want and need to keep providing you with the latest free information, photography and Photoshop lessons, and all manner of related information. Show your appreciation by making your purchases immediately after clicking on any of our B&H or Amazon Affiliate links in this blog post. Remember, B&H ain't just photography!
…..
Amazon Canada
Many kind folks from north of the border, ay, have e-mailed stating that they would love to help us out by using one of our affiliate links but that living in Canada and doing so presents numerous problems. Now, they can help us out by using our Amazon Canada affiliate link by starting their searches by clicking here. Many thanks to those who have written.
Typos
In all blog posts and Bulletins, feel free to e-mail or to leave a comment regarding any typos, wrong words, misspellings, omissions, or grammatical errors. Just be right. 🙂