Galapagos 2015 Photo-Cruise
Details of the Galapagos 2015 Photo-Cruise are announced below.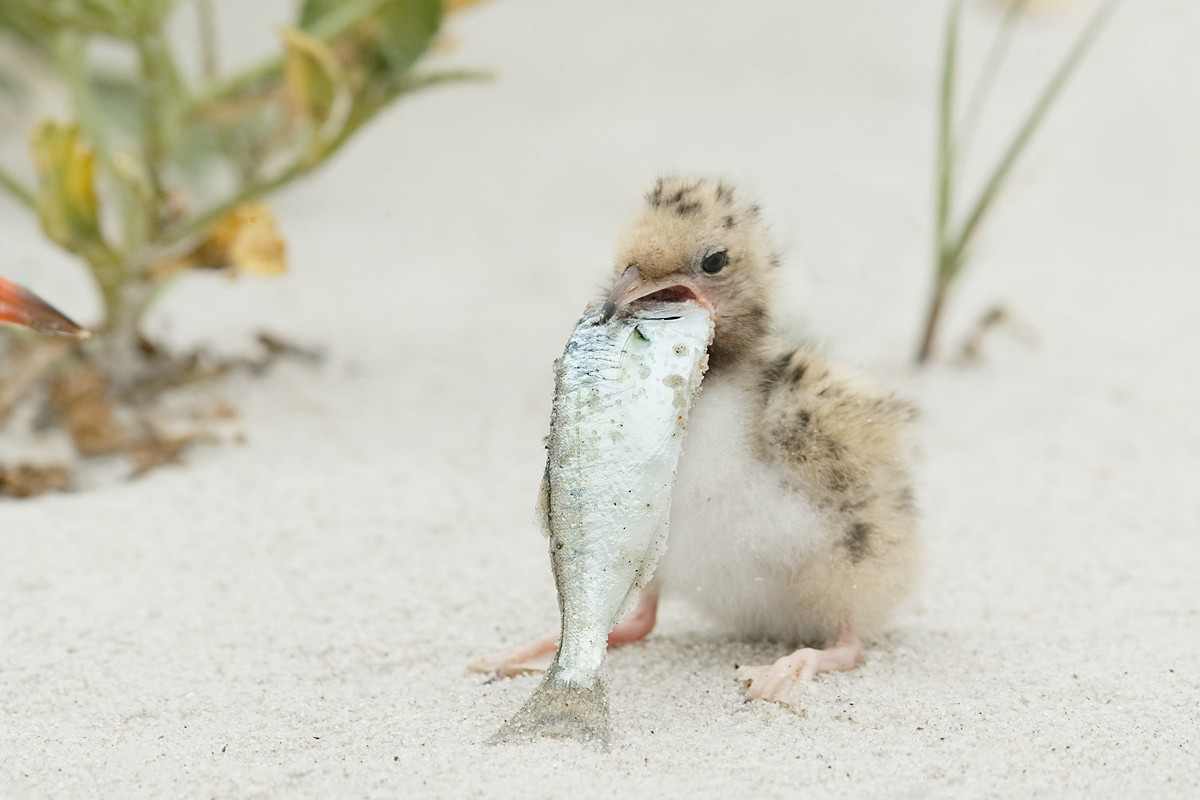 This image was created at Nickerson Beach, Long Island NY on the recently concluded Nickerson Beach Baby Beach Nesting Birds IPT with the tripod-mounted Canon EF 600mm f/4L IS II USM lens, the Canon 2x EF Extender III (Teleconverter), and the Canon EOS-1D X Digital SLR camera. ISO 800. Evaluative metering +1 stop: 1/160 sec. at f/10 in Manual Mode.
For general bird photography the 600 II cannot be beat, especially for those capable of making sharp images with the 2X III TC. For those who cannot the 800 f/5.6L IS with the 1.4X III TC is the way to go.
Central sensor Expand (by necessity)/AI Servo/Rear Focus AF just in front of the bend of the chick's wing stub active at the moment of exposure. Click here if you missed the Rear Focus Tutorial. Click on the image to see a larger version.
Your browser does not support iFrame.
The Streak Continues: 212
It is now about 8:30am here in Indian Lake Estates as today's blog post is being published. I am getting really excited about the UK Puffin IPT. Today is packing day. I fly to Newark on Tuesday afternoon where I will meet Denise and two of our 7 clients for the red eye flight to Edinburgh, Scotland, arriving in the UK at 7:55am on Wednesday morning. This post took about 3 hours to prepare. Enjoy and learn.
This post marks 212 consecutive days with a new blog post. With so many folks getting in the habit of using our B&H links and our Amazon logo-links why quit now? April, May and June have been fantastic as lots of folks are getting the message; using my affiliate links does not cost you a penny and helps support my efforts here. To show your appreciation, I do ask that you use our the B&H and Amazon affiliate links on the right side of the blog for all of your purchases. Please check the availability of all photographic accessories in the BIRDS AS ART Online Store, especially Gitzo tripods, Wimberley tripod heads, and the like. We sell only what I have used and tested, and know that you can depend on. We will not sell you junk. We know the tools that you need to make creating great images easy and fun. And we are always glad to answer your gear questions via e-mail.
You can find the following items in the store: Gitzo tripods, Mongoose M3.6 and Wimberley heads, plates, low feet, and accessories, flash brackets, , Delkin e-film Pro Compact Flash Cards, LensCoat products, and our unique line-up of educational materials including ABP I & II, Digital Basics, Site and Set-up e-Guides, Canon and Nikon Camera Users and AF e-Guides, and MP-4 Photoshop video tutorials among others.
I would of course appreciate your using our B&H affiliate links for all of your major gear, video, and electronic purchases. For the photographic stuff mentioned in the paragraph above we, meaning BAA, would of course greatly appreciate your business. Here is a huge thank you to the many who have been using our links on a regular basis and visiting the BAA Online store as well.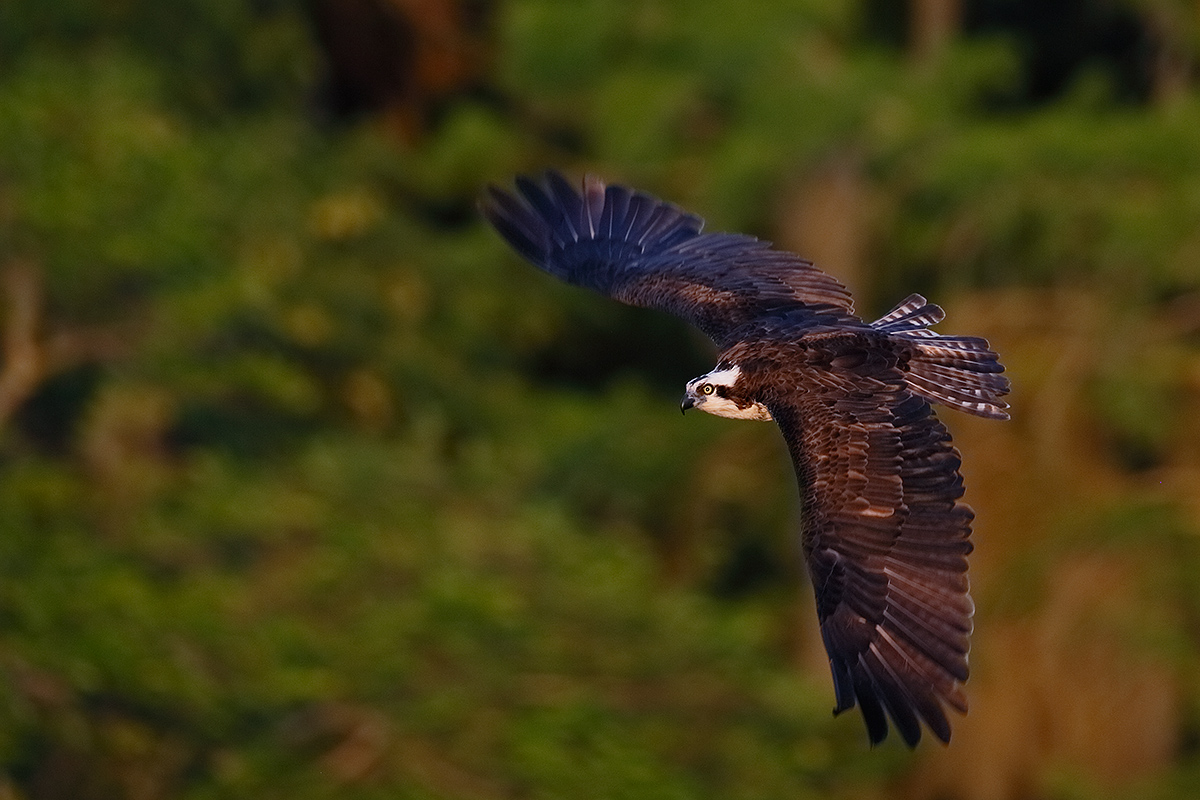 This Osprey top shot was created very late in the day (7:30pm) on a mostly clear afternoon on Lake Blue Cypress on Saturday, April 12. There were five of us aboard Jim Neiger's pontoon boat. I used the hand held Canon EF 300mm f/2.8L IS II USM lens, the Canon Extender EF 2X III, and the Canon EOS-1D X. ISO 1600. Evaluative metering -1/3 stop off the green vegetation: 1/640 sec. at f/5.6 in Manual mode. AWB.
The 300 II either alone or with either Series III teleconverter is a versatile, hand holdable option.
Central Sensor/AI Servo-Surround/Rear Focus AF as originally framed was active at the moment of exposure. The image was cropped from behind and from above. Learn everything there is to know about the 1D X and 5D III AF systems including how to manage the various AF Area Selection Modes, when to use which one, and several ways to move the AF sensor around in my 1D X AF Guide and the 5D Mark III User's Guide. Click here to see the latest version of the Rear Focus Tutorial. Click on the image to see a larger version. .
Your browser does not support iFrame.
300 II, 200-400, & 600 f4L IS II/Canon Big Lens Gear Bag Questions and Answers
My Dilemma
My dilemma is a simple one. I know that my gear bag for the UK Puffin IPT will include the following:
1 @ Canon EF 24-70mm f/2.8L II USM lens
1@ Canon EF 70-200mm f/2.8L IS II USM lens
1 @ Canon EF 300mm f/2.8L IS II USM lens
3 @ Canon Extender EF 1.4X III
2 @ Canon EOS-1D X
1 @ Canon EOS 5D Mark III DSLR Camera (Body Only)
I am sure that with the gear above that my shoulder will get a pretty good rest and that I will make lots of great images. In Iceland I made head portraits of puffins with a 70-200, a 1.4X TC, and a 1.3X camera body so the 300 II/2X III TC will do fine as a long lens.
My dilemma is whether or not to bring the Canon EF 600mm f/4L IS II USM lens. My shoulder is dong better but is not yet completely healed. I know that the 600 II will be worthless on the Gannet boat trips where the 70-200 will shine. The 600 will likely prove useful on our puffin boat landings should I chose to carry it on our landings…. That I would do only once or twice. I am considering bringing the 600 II for early morning or late afternoon/early evening shoreline sessions. Writing this has me leaning towards being smart for once and leaving the 600 II at home. Jim can ship it to my Mom's so that I will have it for the Nickerson Beach IPT where a long super-telephoto is pretty much a necessity for my style of shooting.
George Golumbeski's Question
On Saturday afternoon, just after rooting the The Netherlands home in their last minute come-back-from-the-dead defeat of Mexico in the World Cup round of 16, I received an e-mail from UK Puffin IPT George Golumbeski. Here is our e-mail conversation:
AM: Hi George,
re:
GG: I am in final prep mode for this IPT and have one last question about which lenses to take. My current plan is to go with the following Canon gear:
24-70 f/2.8 L II, 70-200 f/2.8 L IS II, Canon EF 200-400mm f/4L IS USM lens with Internal 1.4x Extender, the 300 f/2.8 L IS II, and EF Extenders 1.4x and 2X.
This means I will be without my beloved 600 f/4 L Mk2. Do you endorse this decision or would you suggest I take my 600 instead of the 200-400 zoom?
AM: First of, you will need a 300 II (or one of the intermediate telephotos) for hand held flight photography. If it were me I would choose to bring the 600 II over the 2-4 as the 600 with the 2X TC gives you 1200mm as opposed to a max of 784mm with the 2-4 (and an external 1.4X TC). In addition, the 300 II with both TCs counterfeits the 200-400 focal length wise. You will surely miss the versatility of the 2-4 on the puffin islands but only a bit. If my shoulder were fine and I did bring a big lens it would be the 600 II not the 2-4 as the 600 f/4 may help for birds along the shore. Hey, I just got a great idea. I can borrow yours once in a while :).
Do know that if we were going on a Cheesemans' Southern Ocean expedition, to the Galapagos, or to the Palouse, I would not be without the 200-400 for a minute. On the first of those two trips I'd be bringing the 300 II for flight photography from the trip. On a Galapagos trip I'd be bringing the 300 II as back-up. I leave it at home for Palouse trips. Note that Denise who does not own the 200-400 uses her 300 II for the long rolling farm field images. The 24-70 and the 70-200 II makes all three trips.
later and love and see you soon, artie
George wrote back:
Thanks. I feel better with the 600. See you in Edinburgh.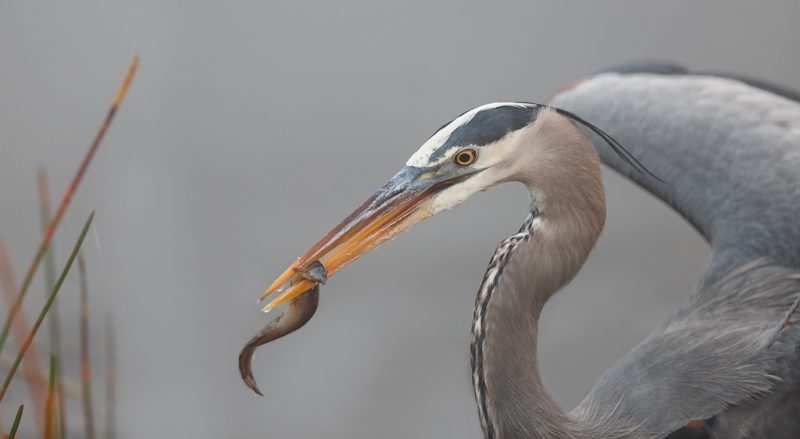 This Great Blue Heron was photographed at Anhinga Trail with the hand held Canon EF 300mm f/2.8L IS II USM lens and the Canon EOS-1D X Digital SLR camera. ISO 800. Evaluative metering +1 1/3 stops as framed: 1/320 sec. at f/3.2.
The 300 f.2.8L IS II alone can be deadly in low light conditions.
61-point/AI Servo/Rear Focus AF active at the moment of exposure. Click here if you missed the Rear Focus Tutorial. Click on the image to see a larger version.
Your browser does not support iFrame.
Indranil Sircar is Getting Back in the Game With a Vengeance
Indranil is a fine photographer and a good friend. He has been on many IPTs. And he is coming on the July 2015 Galapagos Photo Cruise IPT. Best of all, we have enjoyed some very fine Thai food in a variety of locations. Indranil was a moderator in the Out-of-the-Box Forum on BPN.
Here is our first Saturday morning e-mail chat:
AM: Hi Indranil,
re:
IS: Hope you are doing well. I wish I could join you and Denise for the Puffin IPT.
AM: Am thanks and ditto. Us too. It is good to hear from you; how is your Dad?
IS: I am finally planning to get my next lens and to get back into photography after a 2 year of hiatus!
AM: Great! I still find it a lot of fun!
IS: I was considering 200-400 for the versatility alone. I read through your blog on 300 vs. 2-4. Although you have made it clear, I still need your advice on the following –
1-Should I go with 200-400 as it gives me a good range option up-to 560mm. Does this lens work with external 2X with internal extender off? I am not worried about the weight yet.
AM: There is no need for the 2X III TC. You put the internal TC in place and then add an external 1.4X III. Same as a 2X but sharper.
IS: Or 2-, should I go with 300 II and use the 1.4X and the 2X III TCs? That is a lot cheaper as an option compared to 200-400.
AM: I could kick myself for forgetting to mention the huge price difference in that comparative blog post here. That said, it is a personal choice. The heavier, more expensive 2-4 is more versatile but the 300II is lighter, cheaper, and much more easily hand held for flight and for everything else as well. I cannot make that call for you. 🙂
IS: Or 3, alternately get only the 600 II only.
AM: For Galapagos either the 2-4 or the 300II would be a much better choice than the 600 II. For general bird photography of course the 600 II rules….
IS: For next year's Galapagos, as you have said, I may not need a 600. 300 or 2-4 would be sufficient.
AM: Yes.
IS: Right now I have only the newer 70-200. I could add either the 300 II or tje 2-4 now and eventually add the 600 II. Is there any other combination I should plan to build towards. I am using the 5D MK3
AM: Below you mention the 500 II. The combination of 70-200 II, 300 II, 500 II is an attractive one.
But if you go to the 600 II then focal-length-wise that works much better with the 70-200 and the 200-400 as you have everything covered from 70-1200mm with no gaps…. The only thing missing is a light hand holdable lens—you guessed it, the 300 II. That's why I own both. BTW, on the Galapagos trip I will be bringing the 200-400 and the 300 II. Same on the Southern Oceans expedition. Why? For easy flight photography with the 300 II (oespecially from the ship with the Cheesmans), the versatility of the 200-400 for the landings on both trips, and with the overlap, a back-up in case of disaster…. Been there done that.
IS: Any final advice?
AM: See above. 🙂
IS: Does it matter if I use your Amazon link or your B&H link for the new gear?
AM: Many thanks for that question. B&H works much better for me. Amazon has cheated me out of a few large commissions by pointing to their "agreement." Also, some folks have been really pissed at Amazon when they get boxes with supposedly new lenses that have been opened by previous purchasers… More than one person has found copies of previous invoices in their long lens boxes. And some of the third party sellers that are standard among the Amazon listings are a bit suspect.
That is why I have been pushing folks to buy their photo gear from the much more trustworthy B&H and their underwear, CDs, and toothpaste from Amazon. That said, every use of any of our affiliate links is greatly appreciated.
IS: BTW, I was tempted by the used 500 II on your Used Photography Gear page.
AM: That lens is a great buy; Carl is a stickler for neatness and takes great care of his gear. Please don't tell him that I said that he is a neat-nik.
One thing that everyone should remember is that they when they buy a big new Canon or Nikon lens that if they take good care of it and have a LensCoat on it from day 1, that they can use it for 1 or 2 or 3 or more years and then sell it for close to what they paid for it. Big glass is amazing when it comes to holding its value for resale.
If you went 300 II/500 II/1.4X III/2X III you could always rent a 200-400 from Borrow Lenses for the Galapagos trip….
Let me know if you have any more questions.
later and love, artie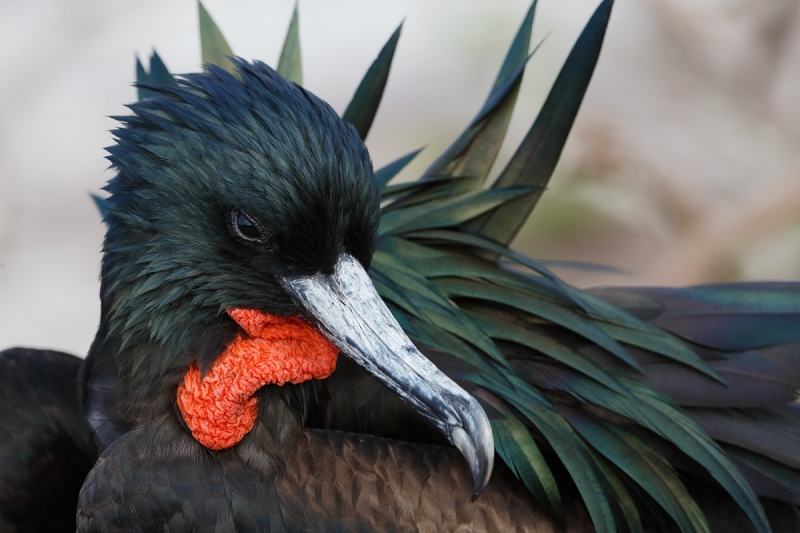 This Great Frigatebird image was created on our afternoon landing at Prince Philips Steps, Tower Island with the tripod-mounted Canon EF 200-400mm f/4L IS USM Lens with Internal 1.4x Extender (at 490mm with the internal TC in place) and the Canon EOS-1D X). ISO 400. Evaluative metering -1 2/3 stops as framed: 1/200 sec. at f/9.
Most Galapagos wildlife is so tame that a 600 is not needed. The framing versatility of the 200-400 with Internal Extender is unmatched.
Two sensors above and three to the left of the central sensor/AI Servo-Surround on the bird's forehead active at the moment of exposure. Click here if you missed the Rear Focus Tutorial. Click on the image to see a larger version.
Your browser does not support iFrame.
Here is our second Saturday morning e-mail chat:
AM: Hi Again Indranil,
re:
IS: Thank you so much for the detailed explanation. I do like both the combination but 300+500 II is a quiet a bit cheaper compared to 2-4 + 600.
AM: YAW.
IS: Two more questions:
1-How often do you change TCs with the 300.
AM: Anywhere from never or almost never to often, depending on the situation.
IS: 2-Is it practical to change TCs in the field?
AM: I have never had a problem changing TCs in the field even on windy days at the beach…. The trick with that is to turn your back to the wind. And be sure to turn the camera off before taking the camera body off the lens. I always remember to do that now but I rarely remember to turn it back on.
IS: When I use the 70-200, I always find myself either using 1.4x or 2X and rarely changing during a session. I am guessing it changes based on individual situation.
AM: You are correct sir.
IS: With 70-200 f/2.8L IS II, when I use 2X III TC, I find that it takes just a bit longer to focus as compared to 1.4X III TC. Most time I use 1.4X. Do you see the same with 300.
AM: Yes to some degree, but the 300 II acquires focus very quickly, TC or no TC. Initial AF acquisition will always be a bit slower with TCs as the AF system needs light (and contrast) to function. Any TC reduces the amount of light: 1 stop for a 1.4X, 2 stops for a 2X.
IS: I am going to rent a 2-4 for a weekend and test it out to see how I feel hand holding it.
AM: That is a good plan. I ask that if feasible, you consider renting from Borrow Lenses—there is a big logo link on the right side of each blog page. They have great rates and are very dependable. Heck, since I know you well, I would be glad to rent you mine as I am not bringing it to the UK or to Long Island for the Nickerson Beach IPT.
IS: How well I do hand holding the 2-4 will be the key decision factor. I have already seen the 300 II so it would be easy to compare the 2 lenses. Also, I will use your B&H affiliate links for the purchase. Thanks for the heads-up.
AM: Many thanks on all counts. And later and love, artie
ps: you missed this: how is your Dad doing?
pps: these two e-mails will make a great blog post soon; folks love anything to do with gear.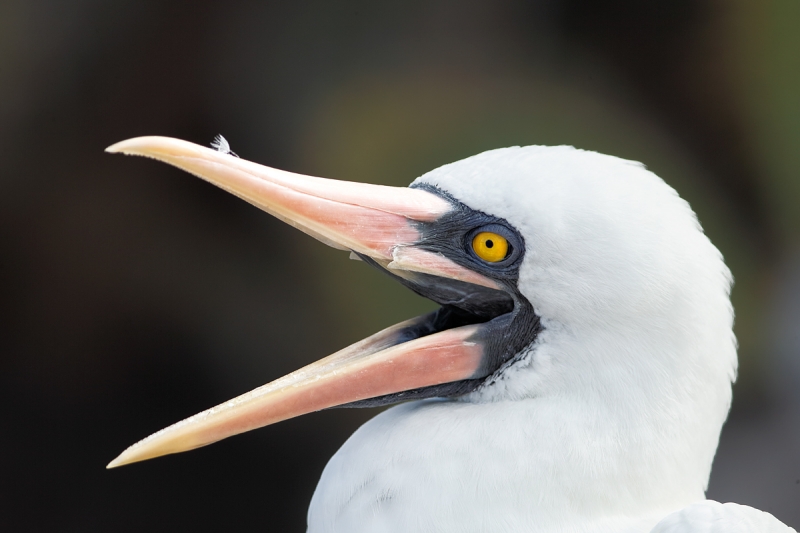 This image of a yawning adult Nazca Booby was created with the tripod mounted Canon EF 200-400mm f/4L IS USM Lens with Internal 1.4x Extender (with the internal TC in place), the Canon 1.4x EF Extender III (Teleconverter) (at 728mm), and the Canon EOS-1D X). ISO 400. Evaluative metering at zero: 1/320 sec. at f/8.
With the internal extender engaged and an external 1.4X TC added the 200-400 can get you out to 784mm.
Central sensor (by necessity)/AI Servo-Expand/Rear Focus AF on the base of the bird's bill active at the moment of exposure. Click here if you missed the Rear Focus Tutorial. Click on the image to see a larger version.
Your browser does not support iFrame.
Indranil wrote back late in the day:
Hi Artie,
Thanks again for the email and for asking about my Dad. Yes, I forgot to respond. He is doing great. We found the right cardiologist for him and he seems to be happy since moving here. He spends a lot of time photographing things around the house and also photographing gourmet food , mostly the healthy type that I cook! My mother is a borderline diabetic and I have been using the book by Dr. Richard K. Bernstein that you recommended as a reference in creating a great food plan. End of the day, it is also keeping me healthy!
I can certainly use BorrowLenses.com. If it is not too much of an inconvenience, I will take up on your offer to rent your lens. Let me know.
I like your idea of making a blog post of our conversations. Please feel free to edit and use the e-mail as you feel appropriate. Your advice is invaluable and others can always benefit from it as I do. I will always remain one of your biggest fans. 🙂
Regards, Indranil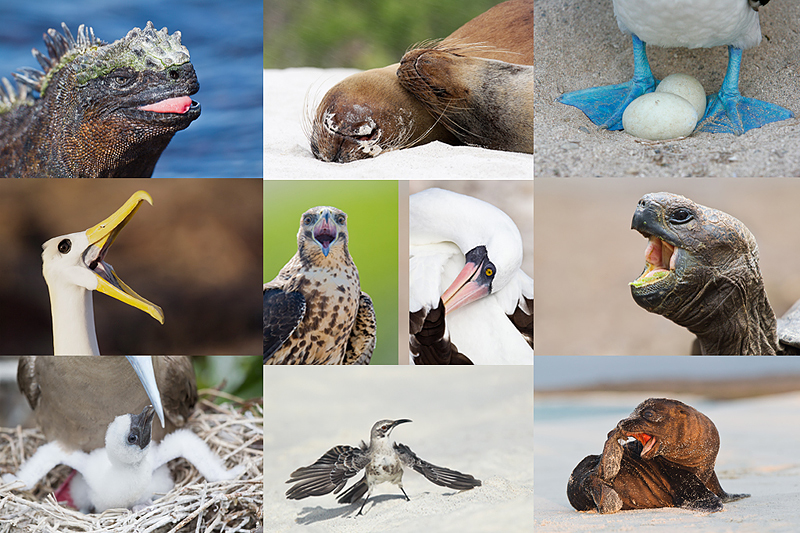 Do consider joining me for a once in a lifetime trip to the Galapagos archipelago in July, 2015.
GALAPAGOS Photo Cruise of a Lifetime IPT/The Complete Galapagos Photographic Experience. July 14-28, 2015 on the boat. 13 FULL and two half-days of photography: $12,499. Limit 14 including the leader(s)/Openings: 7.
My two-week Galapagos Photo-Cruises are without equal. The world's best guide, a killer itinerary, a great boat (the Samba), and the best leader with eight Galapagos cruises under his belt. Pre-trip and pre-landing location-specific gear advice. In-the-field photo instruction and guidance. Jeez, I almost forgot: fine dining at sea!
The great spots that we will visit include Tower Island (including Prince Phillips Steps and Darwin Bay), Hood Island (including Punta Suarez, the world's only nesting site of Waved Albatross, and Gardner Bay)—each of the preceding are world class wildlife photography designations that rank right up there with Antarctica, Africa, and Midway. We will also visit Fernandina, Puerto Ayora for the tortoises, Puerto Egas—James Bay, North Seymour and Isla Lobos for nesting Blue-footed Booby (most years), South Plaza, Floreana, and Urbina Bay, all spectacular in their own right. We visit every great spot on a single trip. Plus tons more. And there will he lots of opportunities to snorkel on sunny mid-days for those like me who wish to partake.
We will be the first boat on each island in the morning and the last boat to leave each island every afternoon. If we are blessed with overcast weather, we will often spend 5-6 hours at the best sites. And as noted above, mid-day snorkeling is an option on most sunny days depending on location. Note: some of the walks are a bit strenuous. Great images are possible on all landings with a hand held 70-200mm lens and a 1.4X teleconverter. I bring a longer lens ashore on most landings as that fits my style. I generally work with either the Canon 300mm f/2.8L IS or the Canon 200-400mm f/4 L IS with Internal Extender.
Do know that there is a NatureScapes Galapagos trip: one week for $8495. Thus, my trip represents a tremendous value; why go all that way and miss half of the great photographic locations?
The Logistics
Fly to Guayacil, Ecuador on July 12, 2015. Travel insurance/rest day: July 13 (We may or may not offer a photo outing on the 13th). Fly to the archipelago on July 14 and board the Samba. Get off the boat on July 28. Fly to Guayacil that afternoon. Fly home on the early morning of July 29 unless you are staying on or going elsewhere (or catching a red-eye flight on the evening of the 28th).
$12,499 includes just about everything: all transfers, guide and park fees, all food on the boat, transfers and ground transportation, your flights to the archipelago, and three nights (double occupancy) in a top notch hotel in Guayacil. If you are good to go, a non-refundable deposit of $5,000 per person is due immediately. The second payment of $4,000 is not due until 11/1/14. The final payment of $3749 per person will be due on 2/1/15. A $200 discount will be applied to each of the balances for couples or friends who register at the same time.
Purchasing travel insurance within 2 weeks of our cashing your deposit check is strongly recommended. On my past two cruises a total of 5 folks were forced to cancel less than one week prior to the trip. My family and I use Travel Insurance Services and strongly recommend that you do the same.
Not included: your round trip airfare from your home to and from Guayacil, beverages on the boat, phone calls, your meals in Guayacil, personal items, and a $600/person cash tip for the crew and the guide—this works out to roughly $40/day to be shared by the 7 folks who will be waiting on us hand and foot every day for two weeks. The service is so wonderful that many folks choose to tip extra.
Please e-mail for the complete itinerary and for additional info and images. Please cut and paste "Galapagos 2015 Info Please) into the Subject line.
Support the BAA Blog. Support the BAA Bulletins: Shop B&H here!
We want and need to keep providing you with the latest free information, photography and Photoshop lessons, and all manner of related information. Show your appreciation by making your purchases immediately after clicking on any of our B&H or Amazon Affiliate links in this blog post. Remember, B&H ain't just photography!
…..
Amazon Canada
Many kind folks from north of the border, ay, have e-mailed stating that they would love to help us out by using one of our affiliate links but that living in Canada and doing so presents numerous problems. Now, they can help us out by using our Amazon Canada affiliate link by starting their searches by clicking here. Many thanks to those who have written.
Typos
In all blog posts and Bulletins, feel free to e-mail or to leave a comment regarding any typos, wrong words, misspellings, omissions, or grammatical errors. Just be right. 🙂