Galapagos 2015 Photo-Cruise
If you missed the announcement of the Galapagos July 2015 Photo-Cruise, click here and scroll down.
Used Photography Gear for Sale
After two weeks of nothing-happening two major items sold yesterday: Ellen Anon's "old" 500mm and the new in the box 5D Mark III KIt offered by Chuck Pettis. See lots more great used photo gear including the perfect big lens for you here. Cheap! There are 2 folks seriously interested in Carl Zanoni's 500 II….
The Streak Continues: 213
It is just before 6:00am here in Indian Lake Estates as today's blog post is being published. I fly to Newark this afternoon to meet Denise and two of our 7 clients for the red eye flight to Edinburgh, Scotland, arriving in the UK at 7:55am on Wednesday morning. I still need to pack 🙂 This post took about one hour to prepare. Enjoy and learn.
This post marks 213 consecutive days with a new blog post. With so many folks getting in the habit of using our B&H links and our Amazon logo-links why quit now? April, May and June have been fantastic as lots of folks are getting the message; using my affiliate links does not cost you a penny and helps support my efforts here. To show your appreciation, I do ask that you use our the B&H and Amazon affiliate links on the right side of the blog for all of your purchases. Please check the availability of all photographic accessories in the BIRDS AS ART Online Store, especially Gitzo tripods, Wimberley tripod heads, and the like. We sell only what I have used and tested, and know that you can depend on. We will not sell you junk. We know the tools that you need to make creating great images easy and fun. And we are always glad to answer your gear questions via e-mail.
You can find the following items in the store: Gitzo tripods, Mongoose M3.6 and Wimberley heads, plates, low feet, and accessories, flash brackets, , Delkin e-film Pro Compact Flash Cards, LensCoat products, and our unique line-up of educational materials including ABP I & II, Digital Basics, Site and Set-up e-Guides, Canon and Nikon Camera Users and AF e-Guides, and MP-4 Photoshop video tutorials among others.
I would of course appreciate your using our B&H affiliate links for all of your major gear, video, and electronic purchases. For the photographic stuff mentioned in the paragraph above we, meaning BAA, would of course greatly appreciate your business. Here is a huge thank you to the many who have been using our links on a regular basis and visiting the BAA Online store as well.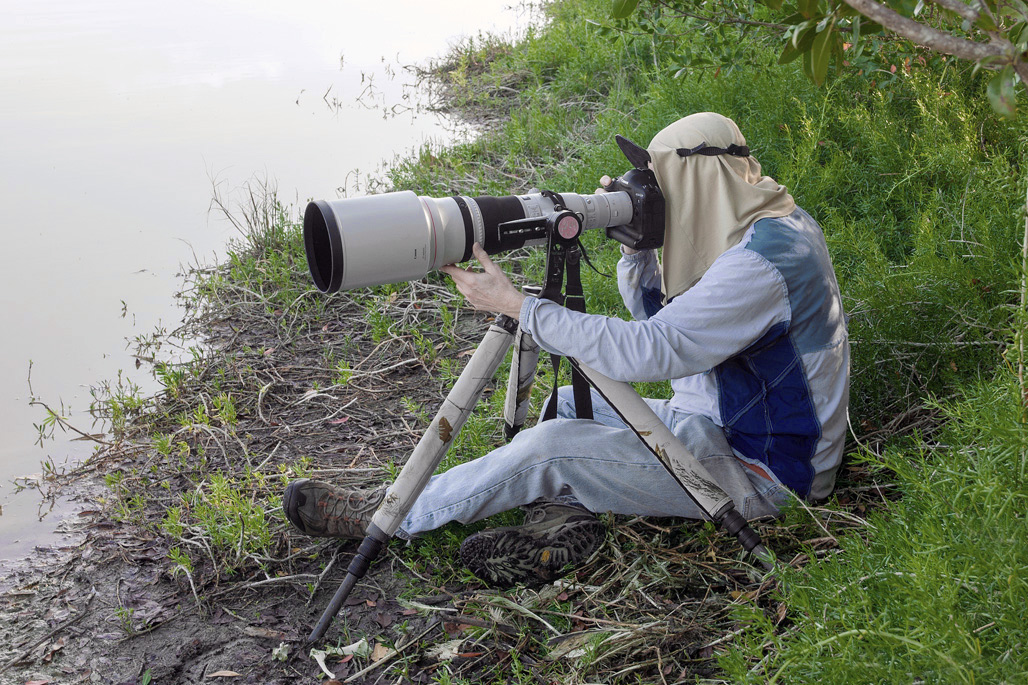 That's me seated behind the 600 II at Eco Pond in Everglades National Park last February.
Image courtesy of and copyright 2014: Roger Burnard.
I have somewhat reluctantly decided to leave the 600 at home for the UK trip….
Roger used a lens that I had never heard of before to create the image above, the Nikon 16-85mm f/3.5-5.6G ED VR AF-S DX Nikkor (at 32mm). It is a relatively inexpensive B-roll zoom lens.
Your browser does not support iFrame.
State of the Art (That's Me)
Eleven days after the alternative treatment (stem cell PRP and prolozone injections) on my right shoulder, it is doing much better. Range of motion is pretty much normal with just a bit of tightness on full overhead extension. After two prolozone injections the left knee it is also doing better, but it still hurts a bit at times, especially at bedtime. That makes zero sense as it feels pretty good all day long with just a twinge here and there. Overall I am feeling great. I have been eating well and swimming my half-mile plus most every day with a 40-minute 58 degree ice bath every evening. (See Cold Thermogenisis here.)
The Decision
While my shoulder is feeling pretty good, I decided to leave the 600 II (and the 200-400) at home. Why? After writing yesterday's blog post I took a step back and listened to my body. Perhaps it is a sign of maturity on my part. Jim will be shipping the 600 II to my Mom's. If my shoulder continues to progress well, I will be using the 600 on the Nickerson IPT. The coolest news is that I learned that Scott Elowitz's new 3Xpandable Long Lens bag will, when expanded, comfortably hold the 600 II with the hood in place and a 1D X mounted to the lens. We added the harness and the waist belt and I went tooling around the house, also quite comfortably. And unlike with the prototype bags that I tested for Scott, removing the lens from the bag was a snap.
To learn more about the 3Xpandable and 4Xpandable bags click here and scroll down.
Under-gunned?
For sure.
For the first time ever I will be leaving for a major bird photography trip without my longest super-telephoto lens. I am, however, sure that I will return with lots of great images including head portraits of puffins, hopefully puffins with beaks full of small fishes (those courtesy of the 300 II/2X III combination). And using a shorter, lighter, hand holdable lens always increases the chances of creating great images of birds in flight and in action. As a lover of what is, I am looking forward to the trip.
Nickerson Baby Beach-nesting Birds IPT: 3-Full Days/July 15-17, 2014: $1199. Introductory meet and greet: 8pm, Monday, July 14, 2014. Co-leaders Arthur Morris and Denise Ippolito
Late Registration Discount: Call Jim weekdays at 863-692-0906 for details. Or contact us via e-mail.
With a small group pretty much guaranteed, do consider joining us on Long Island, NY this coming July to photograph Black Skimmers–it's looking like a great year for skimmer nesting, Common Terns with chicks, American Oystercatcher families, and possibly some just-hatched Black Skimmer chicks. The opportunities will include chances to photograph a variety of breeding behaviors including courtship feeding, display flight and combat, and copulations. Car-pooling is recommended; if we opt to return to the beach before 5pm on cloudy days for example) there is a $30/vehicle parking fee that is not included so it is best to share that expense. Parking in the morning is free.
Because of the late date, your non-refundable payment in full is due when you register.
Please print, complete, and sign the form that is linked to here and shoot it to us along with your deposit check (made out to "Arthur Morris.") Though we prefer a check, you can also leave your deposit with a credit card by calling the office at 863-692-0906. If you register by phone, please print, complete and sign the form as noted above and either mail it to us or e-mail the scan.
If you have any questions, please feel free to contact me via e-mail
Facebook
Be sure to like and follow BAA on Facebook by clicking on the logo link upper right. Tanks a stack!
Support the BAA Blog. Support the BAA Bulletins: Shop B&H here!
We want and need to keep providing you with the latest free information, photography and Photoshop lessons, and all manner of related information. Show your appreciation by making your purchases immediately after clicking on any of our B&H or Amazon Affiliate links in this blog post. Remember, B&H ain't just photography!
…..
Amazon Canada
Many kind folks from north of the border, ay, have e-mailed stating that they would love to help us out by using one of our affiliate links but that living in Canada and doing so presents numerous problems. Now, they can help us out by using our Amazon Canada affiliate link by starting their searches by clicking here. Many thanks to those who have written.
Typos
In all blog posts and Bulletins, feel free to e-mail or to leave a comment regarding any typos, wrong words, misspellings, omissions, or grammatical errors. Just be right. 🙂