Galapagos 2015 Photo-Cruise
If you missed the announcement of the Galapagos July 2015 Photo-Cruise, click here and scroll down.
Used Photography Gear for Sale
After two weeks of nothing-happening four major items sold recently: Ellen Anon's "old" 500mm and the new in the box 5D Mark III KIt offered by Chuck Pettis. The I learned that Carl Zanoni's pristine 500 II had sold. And then Jim Bicket e-mailed saying that his immaculate 800 had sold a few days back but that he had forgotten to let me know :).
I got this from the office yesterday:
Artie: I sold the 800! I was sure I wrote you last weekend to share the good news. But I cannot find my file copy of the sent email. At any rate, I am again in your debt. Your continued reminders in the blog were much appreciated and no doubt contributed to the sale. Your commission check was mailed to you on June 30ieth. Please let me know if you do not receive it or it is not in the correct amount.
Happy to hear you are making progress with your health problems. I will have to make a decision on a hip replacement for the right (the good one!) soon. My arthritis not improving and may keep me from any workshop where extensive walking is involved. But we'll keep plugging along and hope for a breakthrough.
Many thanks for your friendship and many courtesies! Jim
There are still some great deals and lots of used photo gear for you here. And there are a few new lenses in the pipeline that will be listed soon.
The Streak Continues: 216
It is just before 6:30 am here in Bamburgh (say BUM-bu-Ruh) as I finish today's blog post. Our first day on the puffin boat was incredible with tame nesting seabirds at close range in all directions. After a too-sunny start we were blessed with cloudy bright conditions for the rest of the day. Here I share with you two of my favorites from the 1454 images that I created on the gannet boat in less than 2 hours. That is what I call frantic action. Most everyone in the group was too fatigued to photograph well before we headed back to the dock. Read the whole story below.
This post marks 215 consecutive days with a new blog post. With so many folks getting in the habit of using our B&H links and our Amazon logo-links why quit now? April, May and June have been fantastic as lots of folks are getting the message; using my affiliate links does not cost you a penny and helps support my efforts here. To show your appreciation, I do ask that you use our B&H and Amazon affiliate links on the right side of the blog for all of your purchases. Please check the availability of all photographic accessories in the BIRDS AS ART Online Store, especially Gitzo tripods, Wimberley tripod heads, and the like. We sell only what I have used and tested, and know that you can depend on. We will not sell you junk. We know the tools that you need to make creating great images easy and fun. And we are always glad to answer your gear questions via e-mail.
You can find the following items in the store: Gitzo tripods, Mongoose M3.6 and Wimberley heads, plates, low feet, and accessories, flash brackets, , Delkin e-film Pro Compact Flash Cards, LensCoat products, and our unique line-up of educational materials including ABP I & II, Digital Basics, Site and Set-up e-Guides, Canon and Nikon Camera Users and AF e-Guides, and MP-4 Photoshop video tutorials among others.
I would of course appreciate your using our B&H affiliate links for all of your major gear, video, and electronic purchases. For the photographic stuff mentioned in the paragraph above we, meaning BAA, would of course greatly appreciate your business. Here is a huge thank you to the many who have been using our links on a regular basis and visiting the BAA Online store as well.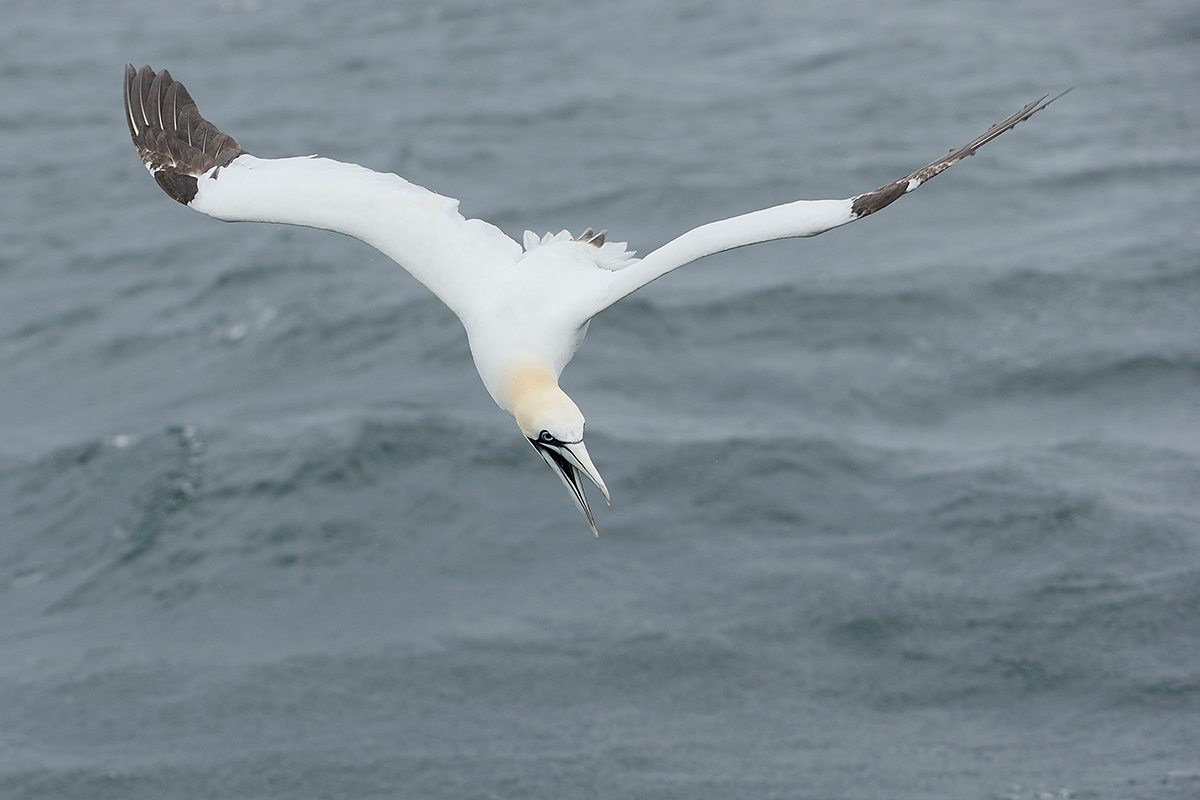 This image was created on the gannet boat on the UK Puffins and Gannets IPT with the Canon EF 70-200mm f/2.8L IS II USM lens (hand held at 100mm) and the Canon EOS-1D X. ISO 400. Evaluative metering +1 2/3 stops off the white sky: 1/2000 sec. at f/4.5 in Manual mode.
Central sensor Surround/AI Servo Rear Focus AF just caught the bird's face and was active at the moment of exposure. Click here to see the latest version of the Rear Focus Tutorial. Click on the image to see a larger version.
Image #1: Outta My Way!
Your browser does not support iFrame.
Left Hand on the Stick
Denise, long-time IPT Veteran Mike Goldhamer, new BAA-friend George Golumbeski, and I were on the same flight from Newark to EDI, UA 36. We got into Edinburgh, Scotland about 20 minutes early. Soon we met up with Donna Bourdon who made her tight connection in Paris and finally found long-time IPT veteran Jean-Luc Vailliant at Domestic Arrivals; he had flown in from London….
I had envisioned us getting to our hotel in Bamburgh, UK, way too early to check in. Not. Our vans were being "delivered" to the airport and it took us more than 2 hours to find the drivers and learn a bit about our 12-passenger mini bus and our 7-passenger SUV. I had e-mailed and called the company several times to make sure that they removed the last row of seats in the mini-bus and had confirmed that we were to have a GPS in each vehicle. They had removed the last row of seats but there were no GPS units in sight anywhere :).
After a round of phone calls we realized that we would be going GPS-less. George came to our rescue and Google Maps on his I-phone has been our guiding beacon ever since. Thank God for Mr. Golumbeski!
South we headed down the A1 looking for some gas; both vehicles had been delivered practically empty. I was driving the mini-bus. I guess that it was mini as compared to a Greyhound bus but I kept hitting the curb on the right and driving over the medians when I turned the monster. Ah, I forgot to mention a few things: Denise and I would need to remember to drive on what for us was the "wrong" side of the road. And both vehicles had manual transmissions. We had anticipated that not being a problem at all until we realized that we would have to work the stick with our left hands. That frazzled my brain. I kept reaching out with my right hand for the stick and when it was not there I found myself for no reason at all trying to operate both the clutch pedal and the brake pedal with my left foot. That with the expected result of the vehicle coming to a shuddering stop in the middle of the highway…. While I had been confident before I got into the driver's seat and Denise had been somewhat fearful, she did much better than I did.
We finally found a petrol station in Dunbar; filling up both vehicles with diesel foul cost in excess of $350 US dollars. We had a leisurely meal at a nearby garden shop where they refused to take our lunch orders until precisely 12 noon. During lunch I came up with a great plan. We would enjoy some down time and then head to Dunbar harbor to meet the boatman thus saving an 80 minute drive south followed by an 80 minute drive north to wind up pretty much in the same spot. Great plan not. It was Donna who realized that we would need to do the drive in order to pick up Bear Boat veteran David Neilson and his wife Robin who had arrived a few days early and were already in Bamburgh.
Now we were worried about getting to the hotel and getting to the boat on time.
We arrived at the hotel at about 2pm, got checked in, and realized that it would make total sense to take only the larger vehicle. So we did. And I drove since Denise was having no part of our not-mini-bus. On the way to the dock I realized that I had left the 3,000 British pounds in cash in my laptop bag that was safely in the hotel room. When we finally arrived a few minutes late our boatman was not a happy boatman. In fact, when I began to speak he knew what was coming. In short order he agreed to take us out. I would pay him the cash for both trips when we returned on July 7th.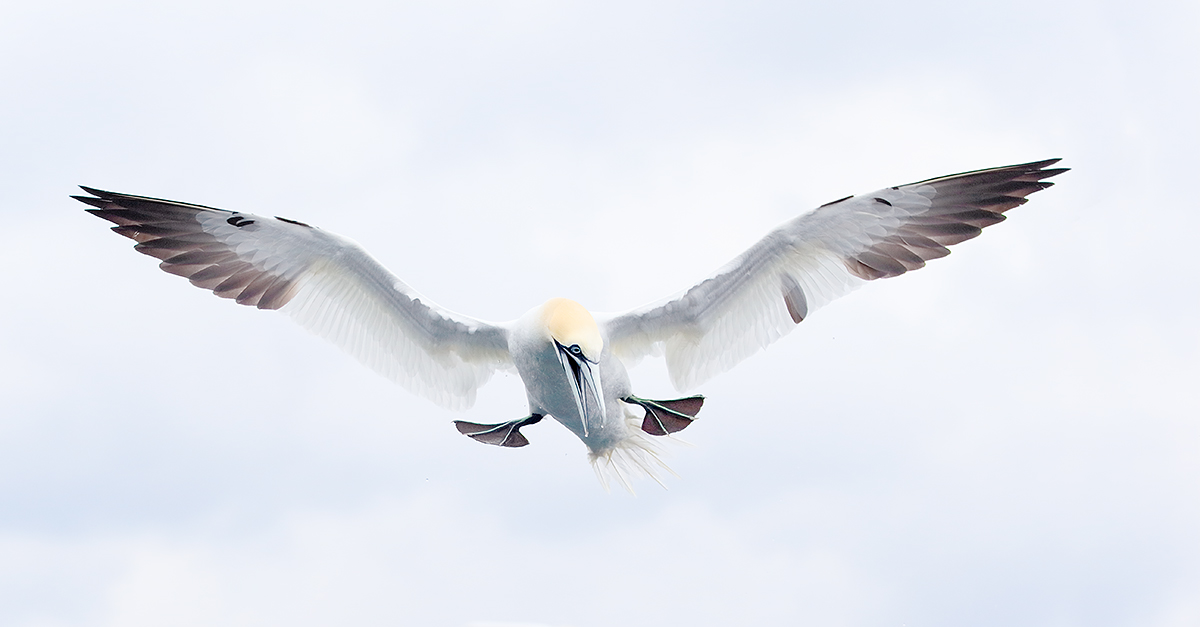 This image was also created on the gannet boat on the UK Puffins and Gannets IPT, this one with the Canon EF 70-200mm f/2.8L IS II USM lens (hand held at 140mm) and the and the Canon EOS-1D X. ISO 800. Evaluative metering +2 srey stops off the dreary grey sky was still a significant under-exposure: 1/2000 sec. at f/4 in Manual mode. AWB
Central sensor Surround/AI Servo Rear Focus AF on the bird's right foot was active at the moment of exposure. Click here to see the latest version of the Rear Focus Tutorial. Click on the image to see a larger version.
Image #2: Spotting the Fish
Your browser does not support iFrame.
The Gannet Boat
Having baited gannets with fish previously at another location, I said to the captain, "These folks have no idea what to expect." He said in his thick Scottish brogue, "You have too much confidence in us laddie." Again he was teasing me.
Once we got the birds coming, the action was nonstop for about 90 minutes. At the one hour mark most folks quit because they no longer had the strength to raise their lenses. I carefully explained to the captain exactly how to position the boat and where to have Eric the mate toss the dabs. Though the action was amazing the photography was difficult. There were so many birds in the air at once that isolating a single bird was nearly impossible. I kept going the whole time though I am not sure how. But even I was forced to give up the ghost after a while.
A Tale of Heroism and Exhaustion
We were back at the dock by 7:20pm and I was driving south in short order. We planned to stop for some chow in Berwick (say BERR-ick) as it was about the halfway mark between Dunbar and Bamburgh. Was I tired when we started? Well, actually I was far beyond tired. And jet-lagged. I had slept for about 2 hours on the flight over. As I had gotten up at 5am on Tuesday to finish packing that meant that I had had 2 hours of sleep in the previous 32 hours….
When we stopped at a pub for dinner I grabbed a bag of potato chips and napped in the car while the group ate. I would not have made it safely back to the hotel without that nap.
When we finally made it back to the hotel with the mini-bus in one piece, Denise led the cheers for me. 🙂
Nickerson Baby Beach-nesting Birds IPT: 3-Full Days/July 15-17, 2014: $1199. Introductory meet and greet: 8pm, Monday, July 14, 2014. Co-leaders Arthur Morris and Denise Ippolito
Late Registration Discount: Call Jim weekdays at 863-692-0906 for details. Or contact me via e-mail.
With a small group pretty much guaranteed, do consider joining us on Long Island, NY this coming July to photograph Black Skimmers–it's looking like a great year for skimmer nesting, Common Terns with chicks, American Oystercatcher families, and possibly some just-hatched Black Skimmer chicks. The opportunities will include chances to photograph a variety of breeding behaviors including courtship feeding, display flight and combat, and copulations. Car-pooling is recommended; if we opt to return to the beach before 5pm on cloudy days for example) there is a $30/vehicle parking fee that is not included so it is best to share that expense. Parking in the morning is free.
Because of the late date, your non-refundable payment in full is due when you register.
Please print, complete, and sign the form that is linked to here and shoot it to us along with your deposit check (made out to "Arthur Morris.") Though we prefer a check, you can also leave your deposit with a credit card by calling the office at 863-692-0906. If you register by phone, please print, complete and sign the form as noted above and either mail it to us or e-mail the scan.
If you have any questions, please feel free to contact me via e-mail
Facebook
Be sure to like and follow BAA on Facebook by clicking on the logo link upper right. Tanks a stack!
Support the BAA Blog. Support the BAA Bulletins: Shop B&H here!
We want and need to keep providing you with the latest free information, photography and Photoshop lessons, and all manner of related information. Show your appreciation by making your purchases immediately after clicking on any of our B&H or Amazon Affiliate links in this blog post. Remember, B&H ain't just photography!
…..
Amazon Canada
Many kind folks from north of the border, ay, have e-mailed stating that they would love to help us out by using one of our affiliate links but that living in Canada and doing so presents numerous problems. Now, they can help us out by using our Amazon Canada affiliate link by starting their searches by clicking here. Many thanks to those who have written.
Typos
In all blog posts and Bulletins, feel free to e-mail or to leave a comment regarding any typos, wrong words, misspellings, omissions, or grammatical errors. Just be right. 🙂