The Streak Continues: 220
It is 7:00am here in Bamburgh, UK as I hit publish for this blog post. It is drizzling pretty hard right now. Breakfast is at eight. This post marks a ridiculous 220 consecutive days with a new blog post. With so many folks getting in the habit of using our B&H links and our Amazon logo-links why quit now? April, May and June have been fantastic as lots of folks are getting the message; using my affiliate links does not cost you a penny and helps support my efforts here. To show your appreciation, I do ask that you use our B&H and Amazon affiliate links on the right side of the blog for all of your purchases. Please check the availability of all photographic accessories in the BIRDS AS ART Online Store, especially Gitzo tripods, Wimberley tripod heads, and the like. We sell only what I have used and tested, and know that you can depend on. We will not sell you junk. We know the tools that you need to make creating great images easy and fun. And we are always glad to answer your gear questions via e-mail.
You can find the following items in the store: Gitzo tripods, Mongoose M3.6 and Wimberley heads, plates, low feet, and accessories, flash brackets, , Delkin e-film Pro Compact Flash Cards, LensCoat products, and our unique line-up of educational materials including ABP I & II, Digital Basics, Site and Set-up e-Guides, Canon and Nikon Camera Users and AF e-Guides, and MP-4 Photoshop video tutorials among others.
I would of course appreciate your using our B&H affiliate links for all of your major gear, video, and electronic purchases. For the photographic stuff mentioned in the paragraph above we, meaning BAA, would of course greatly appreciate your business. Here is a huge thank you to the many who have been using our links on a regular basis and visiting the BAA Online store as well.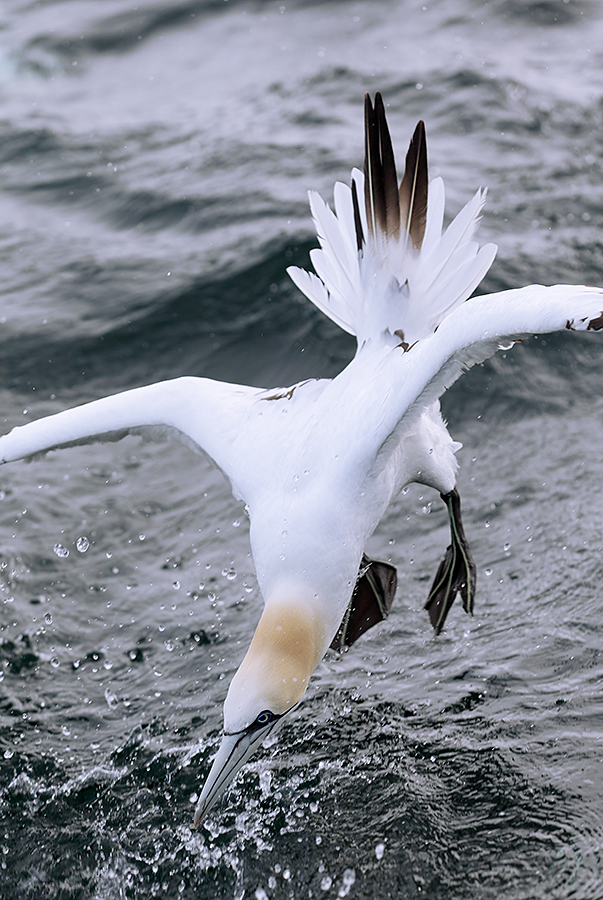 This image was created with the hand held Canon EF 70-200mm f/2.8L IS II lens (at 140mm) and the Canon EOS-1D X. ISO 400. Evaluative metering + 2 1/3 stops off the grey sky: 1/2000 sec. at f/4 in Manual mode.
Two sensors down from the central sensor/AI Servo Surround/Rear Focus AF on the top of the bird's back was active at the moment of exposure. Click here if you missed the Rear Focus Tutorial. Be sure to click on the image to see a larger version.
Your browser does not support iFrame.
Gannet Boat Trip #2
On Monday, July 7 we made our 2nd gannet boat trip. With overall brighter conditions it was even better than our first trip. When we left the dock it looked as if we were going to be dead ducks with wind against sun conditions: the sun in the northeast and the winds from the southwest…. But after the 1 hour run to Bass Rock a lovely thin fog/cloud rolled in to save us. We enjoyed more than 90 minutes of non-stop flight photography. Many of the participants needed to take short breaks here and there as they simply could not raise their rigs to the sky. Almost mercifully the sun came out but most folks still kept trying in difficult conditions. I asked the captain to speed up the boat a bit as the mate baited the gannets with fish so that the birds would follow us as we headed right at the sun. My idea worked perfectly and we enjoyed lots more great diving action.
Vertical Diving Bird Photography???
With the birds diving right next to the boat I decided for the first time ever to go vertical in an attempt to create some images of these rocket arrow birds just before and just after they hit the water. The image above is not quite what I had in mind but it surely is different.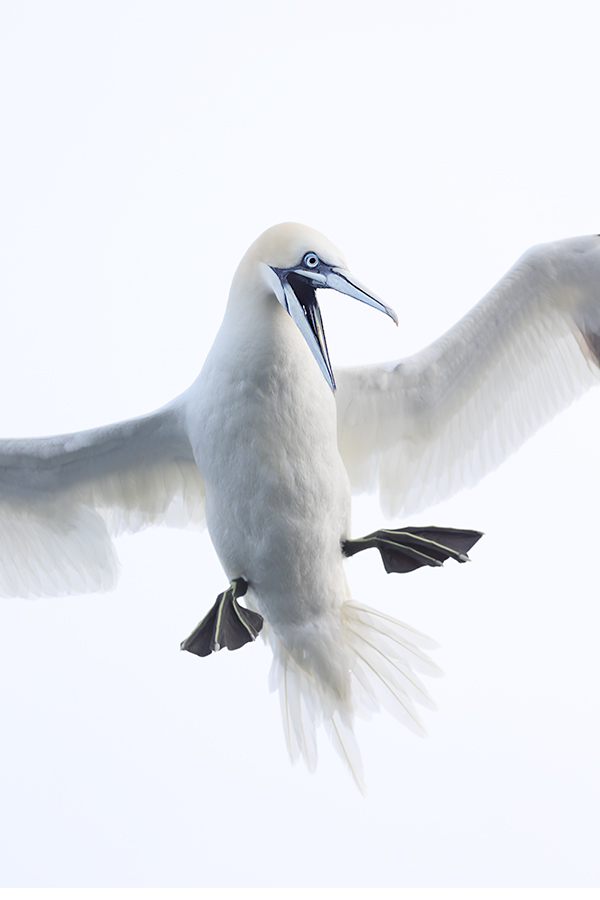 This image was also created with the hand held Canon EF 70-200mm f/2.8L IS II lens (this time at 200mm) and the Canon EOS-1D X. ISO 400. Evaluative metering + 2 1/3 stops off the grey sky: 1/1250 sec. at f/4 in Manual mode.
Two sensors up from the central sensor/AI Servo Surround/Rear Focus AF on the base of the lower mandible was active at the moment of exposure. Click here if you missed the Rear Focus Tutorial. Be sure to click on the image to see a larger version.
Your browser does not support iFrame.
More Vertical Flight Photography
With the clouds coming and going–but mostly coming, we enjoyed more great flight photography. I was set up for the vertical diving images and when I pointed the lens at the birds directly overhead I noticed that the bird's bodies framed up nicely. So I moved the active sensor from 2 below the central sensor to 2 above the central sensor and made only a few images. I was thrilled with this one of a screaming gannet.
70-200mm f/2.8L IS & 1D X Combo Does Not Suck
In flight situations with the birds at close range the 70-200II/1D X combo is unbeatable. About a year ago, Denise Ippolito, abandoned her beloved Canon EF 100-400mm L IS lens and purchased Peter Kes's 70-200 II. On this outing, Denise, who had steadfastly stuck by her 1D Mark IV body, tried one of my two 1D X bodies. Her reaction: "Love it. Tracks better. I need one for my bird photography."
It's that simple.
If reading this motivates you to purchase a 1D X please consider using our B&H affiliate logo-link immediately below. Send me your B&H receipt via e-mailand I will be glad to send you a free copy of our EOS-1D X AF Guide.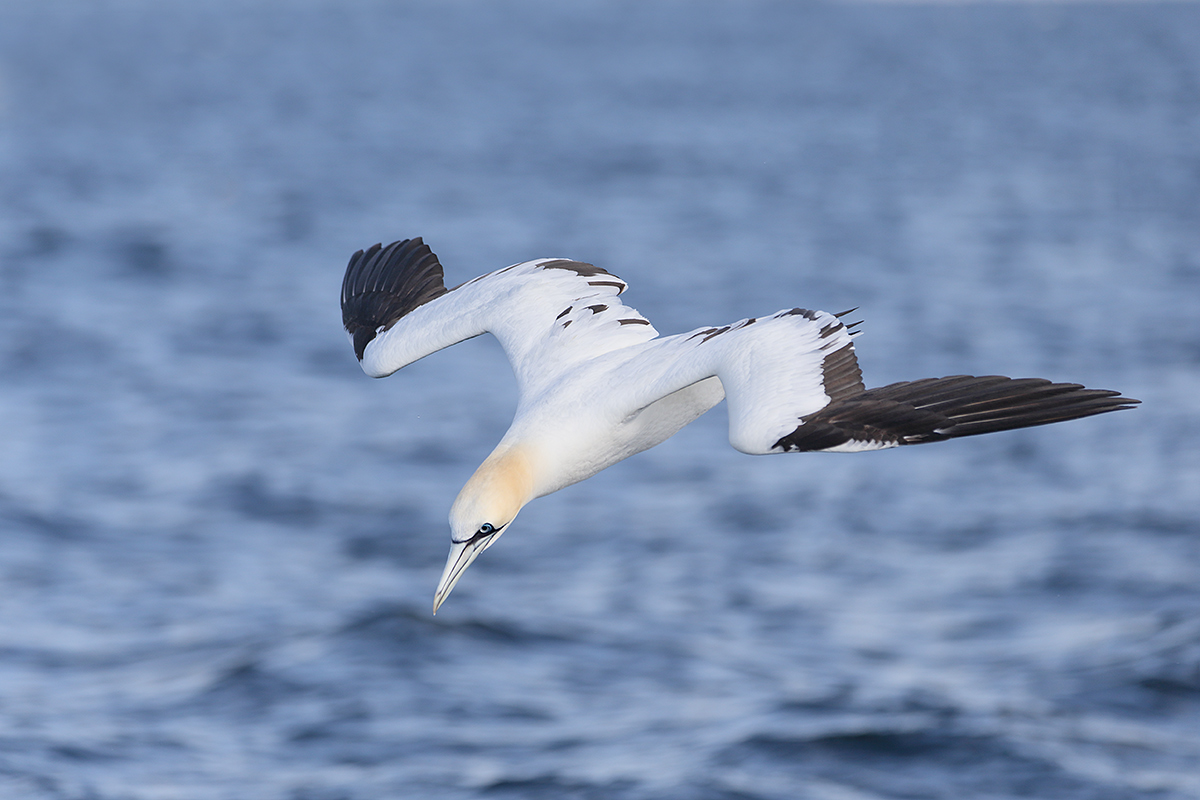 This image was created with the hand held Canon EF 70-200mm f/2.8L IS II lens , the Canon 1.4x EF Extender III (Teleconverter) (at 222mm), and the Canon EOS-1D X. ISO 400. Evaluative metering + 1 1/3 stops off a fairly bright cloud: 1/2500 sec. at f/4 in Manual mode.
Central sensor/AI Servo Surround/Rear Focus AF on the bird's upper back was active at the moment of exposure. Click here if you missed the Rear Focus Tutorial. Be sure to click on the image to see a larger version.
Your browser does not support iFrame.
Adding the 1.4X III TC
Once the boat sped up the birds were a bit farther from the boat than they had been so I added the 1.4X TC III for a bit more reach. Initial AF acquisition and tracking accuracy are still superb. The image above was made in cloudy bright conditions with just a hint of sun. I love the bright whites and the deep rich blues.
Gannet Eyes
The eyes of gannets are very deep-set, surely in part to protect them during their incredible dives. Thus, they are always shaded to some degree. I spent a good deal of time during our Photoshop session yesterday afternoon reviewing my Digital Eye Doctor techniques so that the eyes of the birds looked as bright and sharp as they do in life.
Digital Basics
My Digital Eye Doctor techniques and everything else that I did to optimize today's image is detailed in the Digital Basics File–written in my easy-to-follow, easy-to-understand style. Are you tired of making your images look worse in Photoshop? Digital Basics File is an instructional PDF that is sent via e-mail. It includes my complete digital workflow, dozens of great Photoshop tips, the use of Contrast Masks, several different ways of expanding and filling in canvas, all of my time-saving Keyboard Shortcuts, Quick Masking, Layer Masking, and NIK Color Efex Pro basics, my killer image clean-up techniques, creating time-saving actions, and lots more.
DPP V4.0
Canon recently released a new version of DPP, V4.0. It can be downloaded here. You will need to enter your 1D X or 5D Mark III serial number to start the download. I now have 4.0 on both of my laptops. While early reports are that it is significantly better in many areas than any previous versions, I was totally baffled by the interface. It bears no resemblance to any current version of DPP. Arash Hazeghi and I will be working on a DPP V4.0 RAW Conversion eGuide quite soon. It will require a separate purchase. V4.0 works only with 1D X, 5D III, 6D, and 1Dc images. Folks with older bodies (both pro-sumer and professional) will need to continue using previous versions of DPP. I recently updated to V3.11 and have been very happy with it. I was glad to note the addition of a Color Temperature slider: I had been suggesting that ever since I began using DPP about 2 years ago.
The currently available version of the DPP Raw Conversion Guide is ideal for folks (like me) who use V3.11 or prior. To learn why I now convert all of my images with DPP, click here.
Your Favorite?
Take a moment to leave a comment and let us know which of the 3 images you liked best. And why.
The 2015 UK Puffins and Gannets IPT
This workshop has been so amazing that by the 2nd afternoon we had already decided to return in very early July 2015. In addition, we may run the first-ever Ireland Puffins and Gannets IPT the week before. If you are interested in receiving early notice for either or both of these great trips, please shoot me an e-mail with the words "2015 Puffins and Gannets IPTs" cut and pasted into the Subject line.
Facebook
Be sure to like and follow BAA on Facebook by clicking on the logo link upper right. Tanks a stack!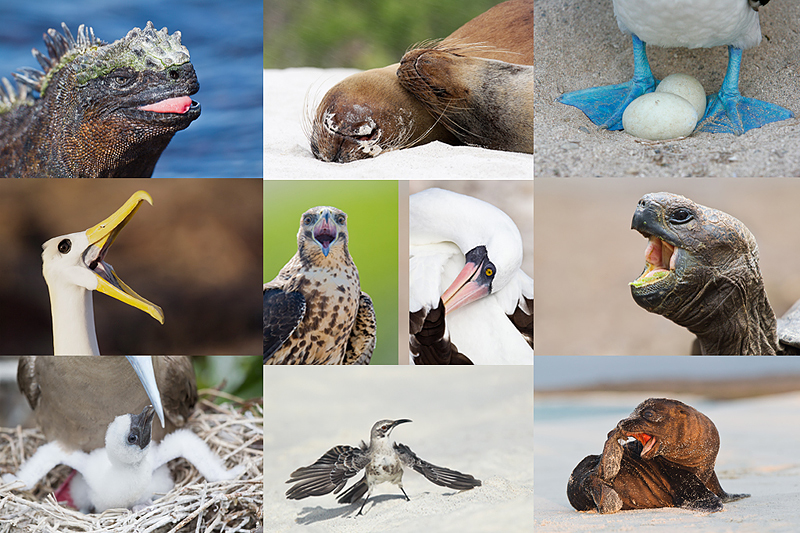 Do consider joining me for a once in a lifetime trip to the Galapagos archipelago in July, 2015.
GALAPAGOS Photo Cruise of a Lifetime IPT/The Complete Galapagos Photographic Experience. July 14-28, 2015 on the boat. 13 FULL and two half-days of photography: $12,499. Limit 14 including the leader(s)/Openings: 7.
My two-week Galapagos Photo-Cruises are without equal. The world's best guide, a killer itinerary, a great boat (the Samba), and the best leader with eight Galapagos cruises under his belt. Pre-trip and pre-landing location-specific gear advice. In-the-field photo instruction and guidance. Jeez, I almost forgot: fine dining at sea!
The great spots that we will visit include Tower Island (including Prince Phillips Steps and Darwin Bay), Hood Island (including Punta Suarez, the world's only nesting site of Waved Albatross, and Gardner Bay)—each of the preceding are world class wildlife photography designations that rank right up there with Antarctica, Africa, and Midway. We will also visit Fernandina, Puerto Ayora for the tortoises, Puerto Egas—James Bay, North Seymour and Isla Lobos for nesting Blue-footed Booby (most years), South Plaza, Floreana, and Urbina Bay, all spectacular in their own right. We visit every great spot on a single trip. Plus tons more. And there will he lots of opportunities to snorkel on sunny mid-days for those like me who wish to partake.
We will be the first boat on each island in the morning and the last boat to leave each island every afternoon. If we are blessed with overcast weather, we will often spend 5-6 hours at the best sites. And as noted above, mid-day snorkeling is an option on most sunny days depending on location. Note: some of the walks are a bit strenuous. Great images are possible on all landings with a hand held 70-200mm lens and a 1.4X teleconverter. I bring a longer lens ashore on most landings as that fits my style. I generally work with either the Canon 300mm f/2.8L IS or the Canon 200-400mm f/4 L IS with Internal Extender.
Do know that there is a NatureScapes Galapagos trip: one week for $8495. Thus, my trip represents a tremendous value; why go all that way and miss half of the great photographic locations?
The Logistics
Fly to Guayacil, Ecuador on July 12, 2015. Travel insurance/rest day: July 13 (We may or may not offer a photo outing on the 13th). Fly to the archipelago on July 14 and board the Samba. Get off the boat on July 28. Fly to Guayacil that afternoon. Fly home on the early morning of July 29 unless you are staying on or going elsewhere (or catching a red-eye flight on the evening of the 28th).
$12,499 includes just about everything: all transfers, guide and park fees, all food on the boat, transfers and ground transportation, your flights to the archipelago, and three nights (double occupancy) in a top notch hotel in Guayacil. If you are good to go, a non-refundable deposit of $5,000 per person is due immediately. The second payment of $4,000 is not due until 11/1/14. The final payment of $3749 per person will be due on 2/1/15. A $200 discount will be applied to each of the balances for couples or friends who register at the same time.
Purchasing travel insurance within 2 weeks of our cashing your deposit check is strongly recommended. On my past two cruises a total of 5 folks were forced to cancel less than one week prior to the trip. My family and I use Travel Insurance Services and strongly recommend that you do the same.
Not included: your round trip airfare from your home to and from Guayaquil, beverages on the boat, phone calls, your meals in Guayacil, personal items, and a $600/person cash tip for the crew and the guide—this works out to roughly $40/day to be shared by the 7 folks who will be waiting on us hand and foot every day for two weeks. The service is so wonderful that many folks choose to tip extra.
Please e-mail for the complete itinerary and for additional info and images. Please cut and paste "Galapagos 2015 Info Please) into the Subject line.
Support the BAA Blog. Support the BAA Bulletins: Shop B&H here!
We want and need to keep providing you with the latest free information, photography and Photoshop lessons, and all manner of related information. Show your appreciation by making your purchases immediately after clicking on any of our B&H or Amazon Affiliate links in this blog post. Remember, B&H ain't just photography!
…..
Amazon Canada
Many kind folks from north of the border, ay, have e-mailed stating that they would love to help us out by using one of our affiliate links but that living in Canada and doing so presents numerous problems. Now, they can help us out by using our Amazon Canada affiliate link by starting their searches by clicking here. Many thanks to those who have written.
Typos
In all blog posts and Bulletins, feel free to e-mail or to leave a comment regarding any typos, wrong words, misspellings, omissions, or grammatical errors. Just be right. 🙂