The Streak Continues: 230
This post was published just before 5:00am from Rockville, Center, Long Island, NY. I am not sure what the plans are right now but I will wind up back at my Mom's sometime later today.
This post, which took me about 2 hours to prepare, marks 230 consecutive days with a new educational blog post. With so many folks getting in the habit of using our B&H links and our Amazon logo-links, why quit now? April, May, June, and July have been fantastic as lots of folks are getting the message; using my affiliate links does not cost you a penny and helps support my efforts here. To show your appreciation, I do ask that you use our B&H and Amazon affiliate links on the right side of the blog for all of your purchases. Please check the availability of all photographic accessories in the BIRDS AS ART Online Store, especially Gitzo tripods, Wimberley tripod heads, and the like. We sell only what I have used and tested, and know that you can depend on. We will not sell you junk. We know the tools that you need to make creating great images easy and fun. And we are always glad to answer your gear questions via e-mail.
You can find the following items in the store: Gitzo tripods, Mongoose M3.6 and Wimberley heads, plates, low feet, and accessories, flash brackets, , Delkin e-film Pro Compact Flash Cards, LensCoat products, and our unique line-up of educational materials including ABP I & II, Digital Basics, Site and Set-up e-Guides, Canon and Nikon Camera Users and AF e-Guides, and MP-4 Photoshop video tutorials among others.
I would of course appreciate your using our B&H affiliate links for all of your major gear, video, and electronic purchases. For the photographic stuff mentioned in the paragraph above we, meaning BAA, would of course greatly appreciate your business. Here is a huge thank you to the many who have been using our links on a regular basis and visiting the BAA Online store as well.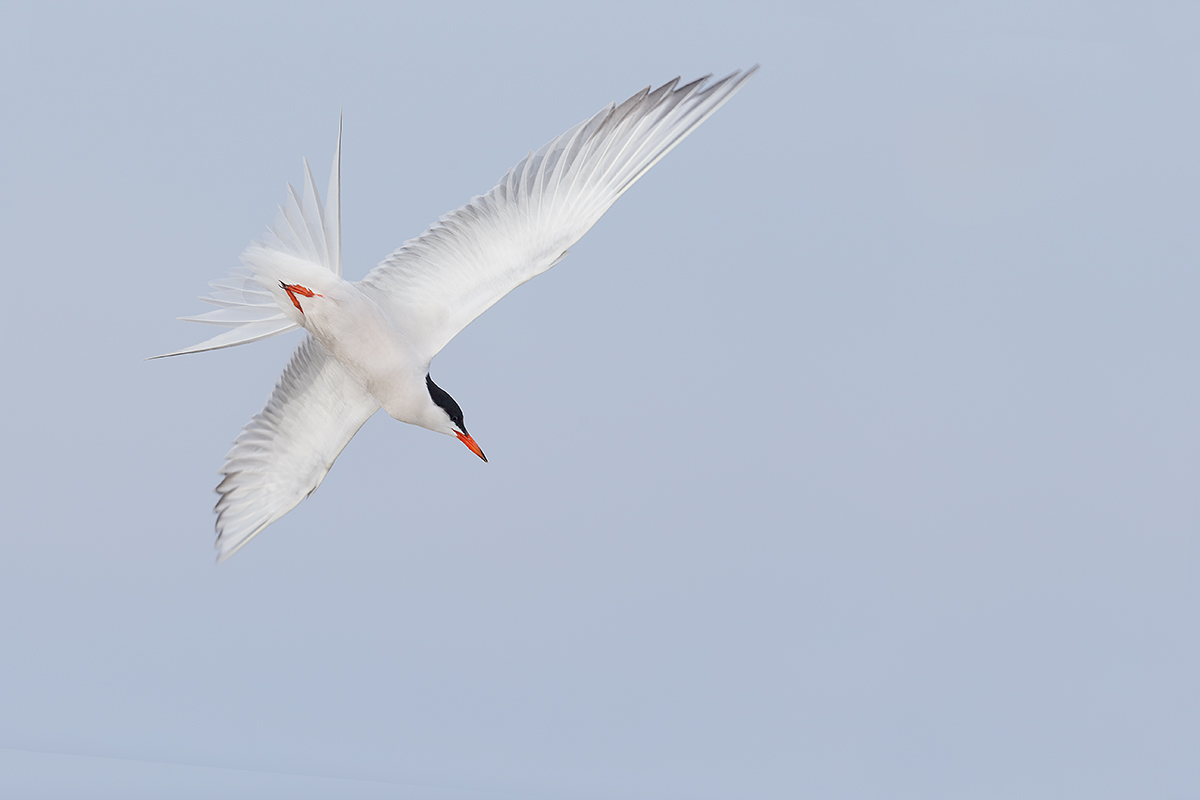 This image was created at 6:11pm in very soft sunlight on the Nickerson Baby Beach Nesting Bird IPT with the Gitzo 3532 LS carbon fiber tripod, the Mongoose M3.6 head, the Canon EF 600mm f/4L IS II USM lens and the Canon EOS-1D X Digital SLR camera. ISO 400. Evaluative metering +2 1/3 stops off the light blue sky: 1/1600 sec. at f/4.5 in Manual mode.
Central Sensor/AI Servo/Surround AF on the point where the lower right flank meets the base of the far wing was active at the moment of exposure. Be sure to click on the image to see the spectacular larger version.
Your browser does not support iFrame.
Persistence and Determination Trump Poor Hand Eye Coordination
Good numbers of adult Common Terns were diving for baitfish in the wash, the shallow breaking surf. I stood in the same spot in about a foot of water for about 2 hours. Again.
I created more than 800 flight images. Most of them featured the birds either flying right at me (from east to west into the wind as I looked east) or kiting as they got ready to dive for Atlantic Silversides, the spearing of my childhood that we used as bait for snapper blues. About half of the images were sharp. Of those, more than 9 of every 10 were of what Denise Ippolito and I call the "Who Cares?" variety, i.e., sharp but nothing special. After an hour I noticed that some of the birds that were flying the "wrong" way, from west to east with the wind, would bank and turn nearly upside down as they dove for one of the small fish. I acquired focus on each bird that flew by me and then hoped that it would turn and dive. Most did not. Several, including the bird in today's featured image, did. I pretty much jerked the lens down hard and right to focus track while striving to keep the bird completely in the frame. Of the very few chances that I had, I wound up clipping something. Except in the single very sharp image above.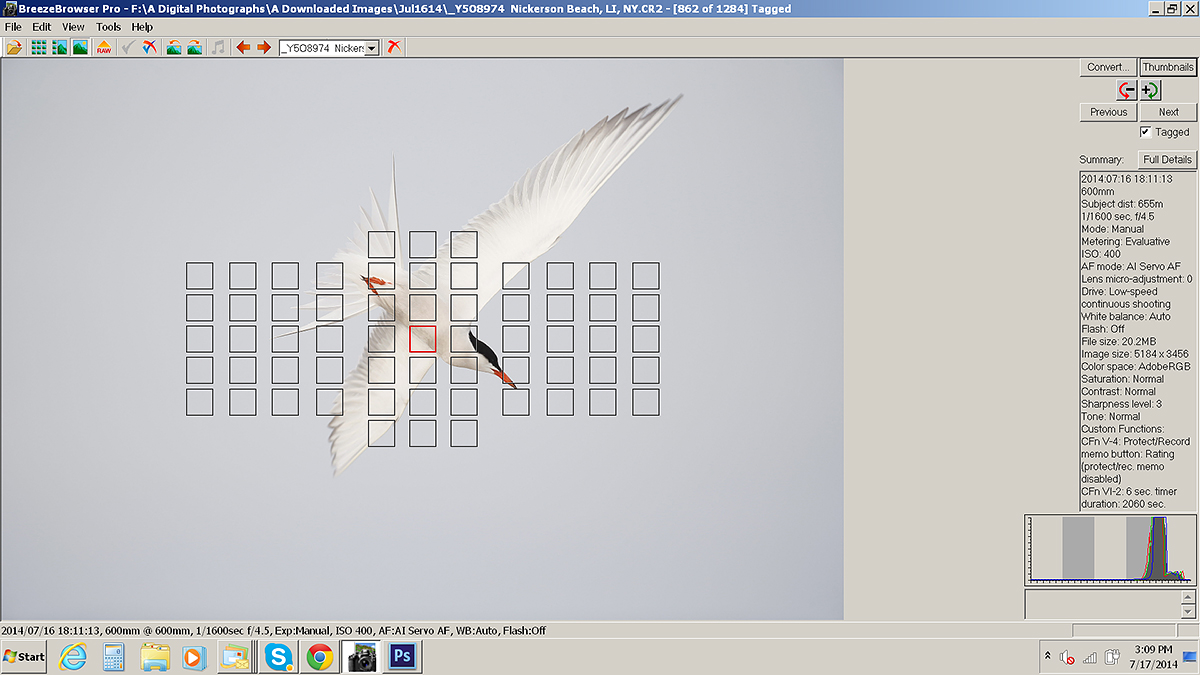 This is the BreezeBrowser Main View screen capture for today's image.
The Breezebrowser Main View Screen Capture
Above is the BreezeBrowser Main View screen capture for today's image. Note that the illuminated red square shows the AF point that was selected. Remember that with Surround eight additional sensors are active but are not illuminated. Note: in Breezebrowser you need to check "Show Focus Points" under View to activate this feature. To see the focus points in DPP check "AF Point" under View or hit Alt L. Hit Alt M to see Highlight Alert. To learn how and why I use only DPP (Canon Digital Photo Professional) to convert my RAW files, see the info on our DPP RAW Conversion Guide here.
Note the perfect histogram the WHITEs well into the rightmost histogram box. Regular readers know that I use and depend on BreezeBrowser every day of the year. It allows me to sort my keepers and delete the rejects faster than any other Windows browsing program. We use it on the main computer in the home office to catalog our images file-drawer style. And the companion program, Downloader Pro allows me to download my images quickly and conveniently. It automatically adds my IPTC data and the shooting location. I have it set up to create a folder named by the Month/date/year. The Breezebrowser/Downloader Pro combo saves me many hours each week. To learn more or to purchase this great PC only program, click here. As far as the BreezeBrowser/Downloader Pro Combo goes, if you are using a Windows platform and are not using these two great programs you are at best, wasting your valuable time. My understanding is that Photo Mechanic is best for Mac-users who do not opt to run Parallels or VM Ware fusion on their Macs so that they can enjoy the many advantages of BreezeBrowser. See BreezeBrowswer on a Mac for details on the latter.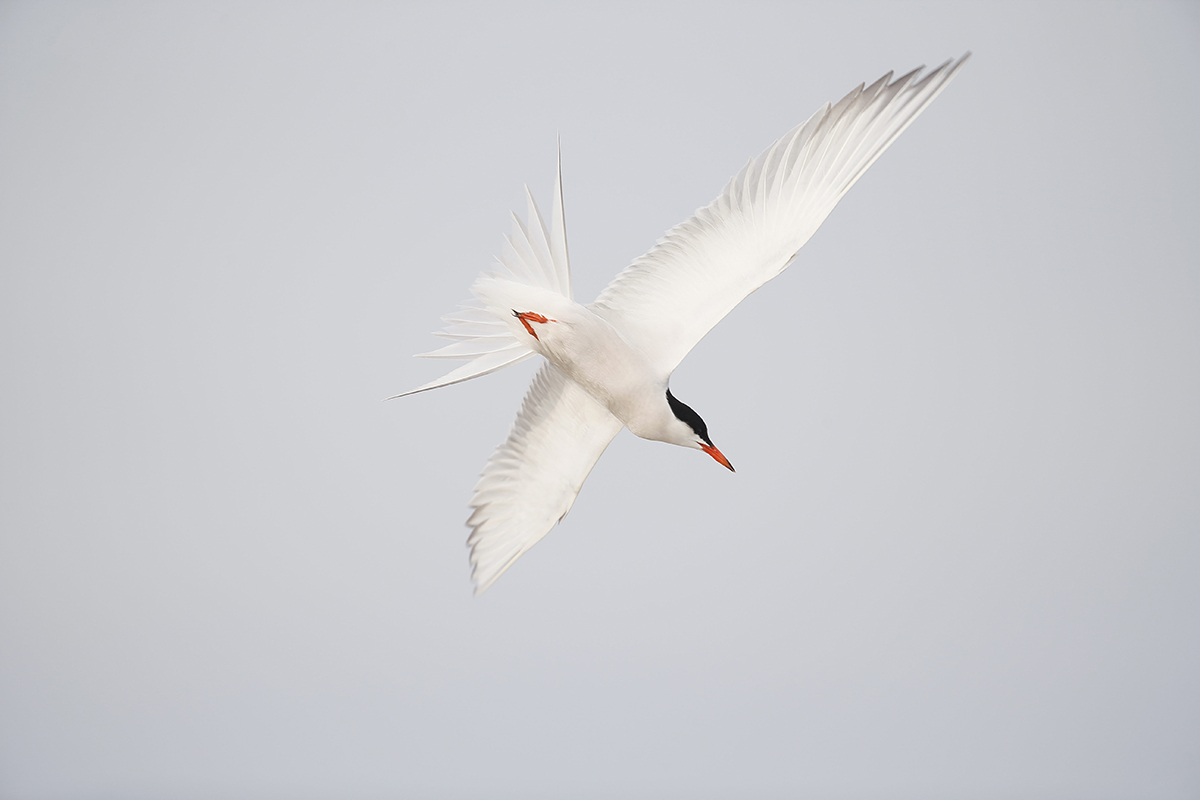 This JPEG represents the original unsharpened RAW file.
The Image Optimization
Having exposed well to the right I darkened the image and eliminated the vignetting with the Lens Aberration feature during conversion in DPP. I moved the bird back in the frame using techniques from APTATS II and angled the bird a bit more steeply using techniques from Digital Basics. I selected the bird with the Quick Selection Tool and ran my 50-50 NIK filter on that layer. I erased the effects from the darker areas of the bird using a Regular Layer Mask. I selected the black cap again using the Quick Selection Tool and lightened it considerably by pulling up the curve. After a bit of Eye Doctor work using Tim Grey Non-destructive Dodge and Burn I sharpened the face and bill with a Contrast Mask. Voila.
The DPP RAW Conversion Guide
To learn why I use Canon's Digital Photo Professional (DPP) to convert every image that I work on, click here.
APTATS I & II
Learn the details of advanced Quick Masking techniques in APTATS I. Learn Advanced Layer Masking Techniques in APTATS I. Mention this blog post and apply a $5 discount to either with phone orders only. Buy both APTATS I and APTATS II and we will be glad to apply at $15 discount with phone orders only.
Digital Basics
Everything above (except as noted) is detailed in my Digital Basics File–written in my easy-to-follow, easy-to-understand style. Are you tired of making your images look worse in Photoshop? Have you no clue as to how I optimized the image above? The Photoshop techniques mentioned above plus tons more are covered in my Digital Basics File, an instructional PDF that is sent via e-mail. It includes my complete digital workflow, dozens of great Photoshop tips, the use of Contrast Masks, several different ways of expanding and filling in canvas, all of my time-saving Keyboard Shortcuts, Quick Masking, Layer Masking, and NIK Color Efex Pro basics, my killer image clean-up techniques, Digital Eye Doctor, creating time-saving actions, and lots more.
Facebook
Be sure to like and follow BAA on Facebook by clicking on the logo link upper right. Tanks a stack!
Support the BAA Blog. Support the BAA Bulletins: Shop B&H here!
We want and need to keep providing you with the latest free information, photography and Photoshop lessons, and all manner of related information. Show your appreciation by making your purchases immediately after clicking on any of our B&H or Amazon Affiliate links in this blog post. Remember, B&H ain't just photography!
…..
Amazon Canada
Many kind folks from north of the border, ay, have e-mailed stating that they would love to help us out by using one of our affiliate links but that living in Canada and doing so presents numerous problems. Now, they can help us out by using our Amazon Canada affiliate link by starting their searches by clicking here. Many thanks to those who have written.
Typos
In all blog posts and Bulletins, feel free to e-mail or to leave a comment regarding any typos, wrong words, misspellings, omissions, or grammatical errors. Just be right. 🙂