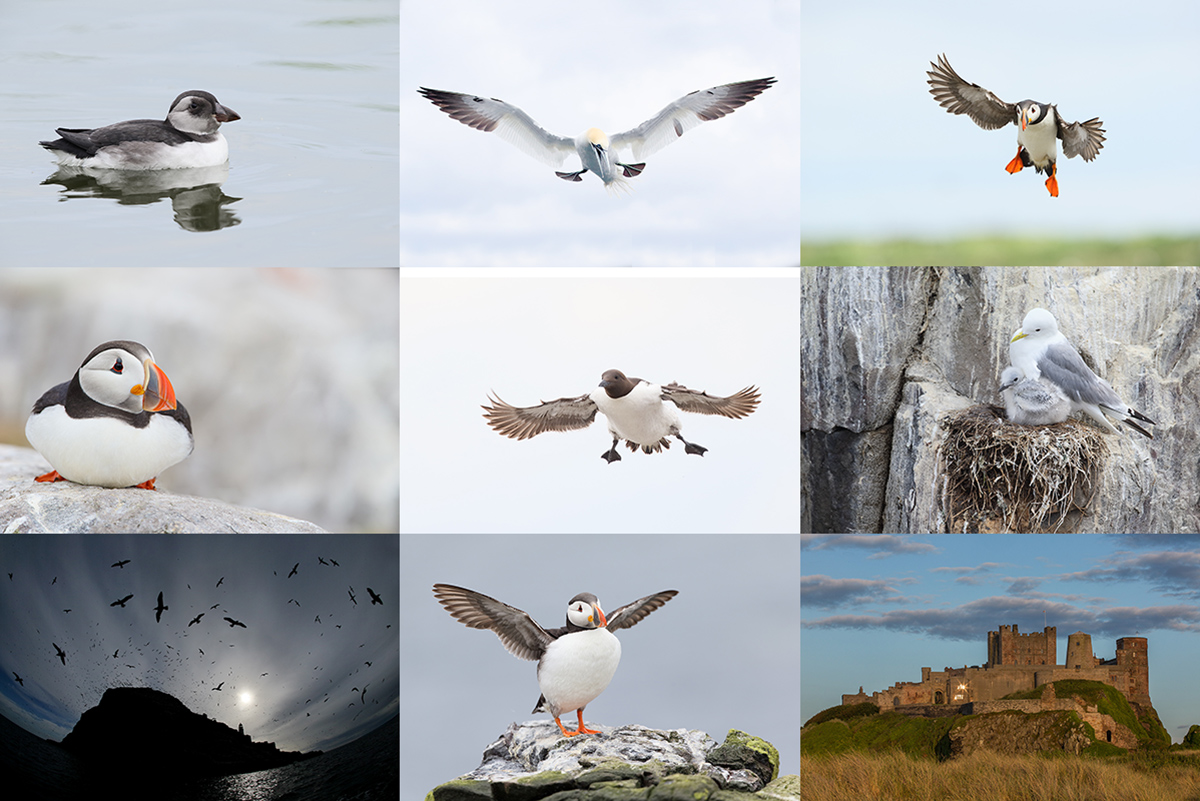 Images and card design copyright 2014: Arthur Morris/BIRDS AS ART. Click on the card to enjoy a spectacular larger version. Scroll down to join us in the UK in 2015.
The Streak Continues: 239
This post was published just before 6am from Gull Island. I slept late till about 6am this morning and it looks like wind against sun so I am not sure whether I will be doing much photography this morning.
This post, which took me 1 1/2 hours to prepare, marks 239 consecutive days with a new enjoyable and educational blog post. With so many folks getting in the habit of using our B&H links and our Amazon logo-links, why quit now? April, May, June, and July have been fantastic as lots of folks are getting the message; using my affiliate links does not cost you a penny and helps support my efforts here. To show your appreciation, I do ask that you use our B&H and Amazon affiliate links on the right side of the blog for all of your purchases. Please check the availability of all photographic accessories in the BIRDS AS ART Online Store, especially Gitzo tripods, Wimberley tripod heads, and the like. We sell only what I have used and tested, and know that you can depend on. We will not sell you junk. We know the tools that you need to make creating great images easy and fun. And we are always glad to answer your gear questions via e-mail.
You can find the following items in the store: Gitzo tripods, Mongoose M3.6 and Wimberley heads, plates, low feet, and accessories, flash brackets, , Delkin e-film Pro Compact Flash Cards, LensCoat products, and our unique line-up of educational materials including ABP I & II, Digital Basics, Site and Set-up e-Guides, Canon and Nikon Camera Users and AF e-Guides, and MP-4 Photoshop video tutorials among others.
I would of course appreciate your using our B&H affiliate links for all of your major gear, video, and electronic purchases. For the photographic stuff mentioned in the paragraph above we, meaning BAA, would of course greatly appreciate your business. Here is a huge thank you to the many who have been using our links on a regular basis and visiting the BAA Online store as well.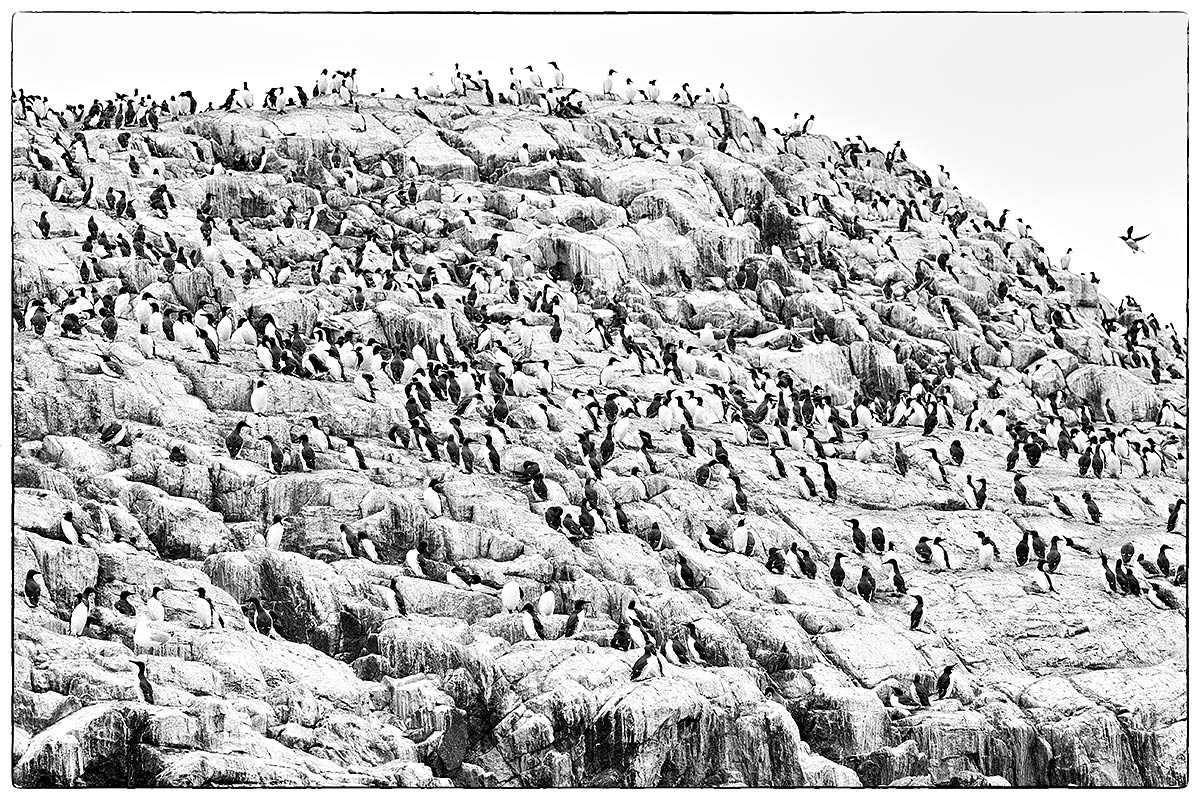 This image was created on recently concluded UK Puffins and Gannets IPT with the Canon EF 200-400mm f/4L IS USM Lens with Internal 1.4x Extender that I borrowed from Jean-Luc Vaillant for the day (hand held at 200mm) and the Canon EOS-1D X. ISO 800. Evaluative metering +1 2/3 stops of the light grey sky: 1/800 sec. at f/6.3 in Manual mode. AWB.
Two sensors below the Central Sensor/AI Servo-Surround/Rear Focus was active at the moment of exposure. Click here to see the latest version of the Rear Focus Tutorial. Click on the image to see a larger version.
Your browser does not support iFrame.
Do Your Tastes Run to Black and White?
Though I don't do much black and white, I thought of converting this image even as I was creating it from the boat. I brought the image into NIK Silver Efex Pro and tried my favorite pre-sets but none of them grabbed me. Then I tried "Pro Fine Art High Key" and bingo, that was it for me. I did not even notice that this pre-set included ragged edges until I viewed the image full screen in BreezeBrowser.
WDYT?
A lot more went into creating the final image then the B&W conversion. See the original below along with the info on the image clean-up and optimization.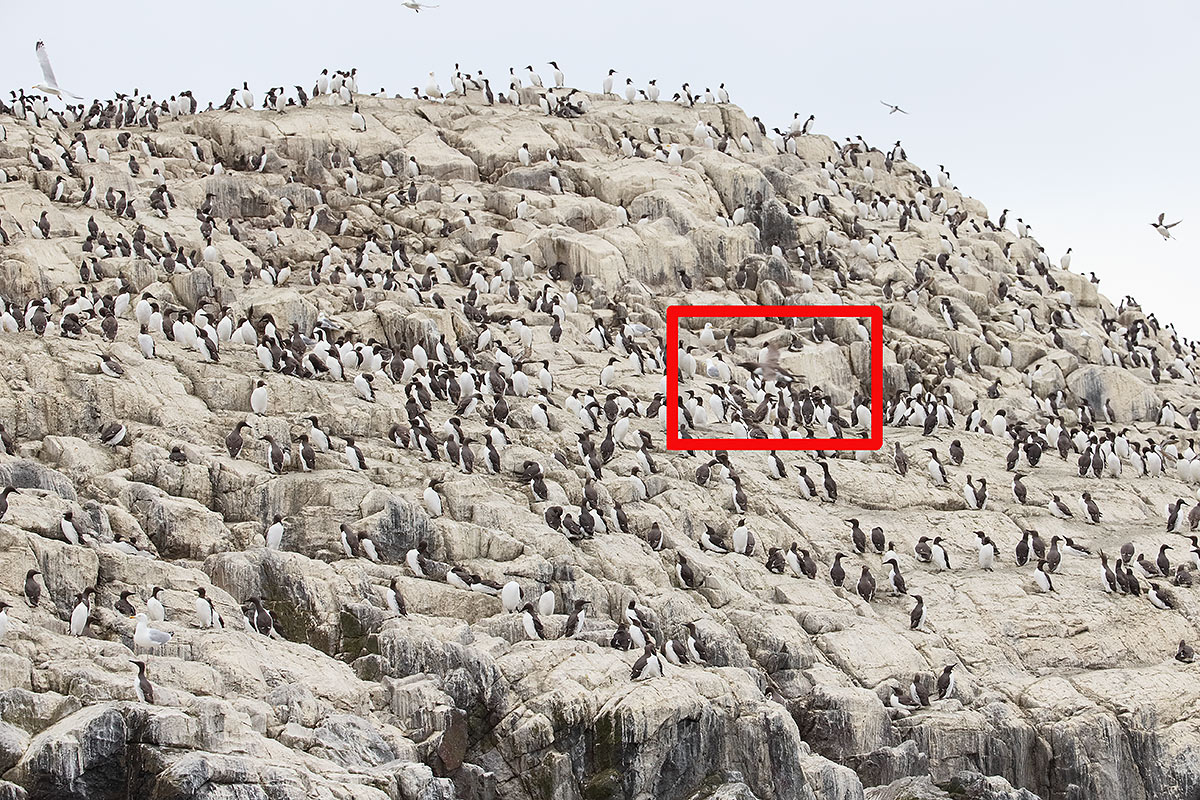 This is one of the two original images from which the optimized image that opened this blog post was created.
The Image Clean-up and Optimization
As is usually the case when I am photographing single birds or somewhat static bird-scapes as with today's image, I almost always create bursts of 3-4 images when I see something that I like in the viewfinder. That is a great habit to develop. With single birds there is always the risk that the nictitating membrane–a bird's translucent 2nd eyelid–might be in place to ruin the image. Brief subject movement can ruin many shots as well.
With bird-scapes creating multiple similar images can save the day in a variety of ways. First off, they can provide source material that may be useful during the image clean-up and optimization process. As here. And also as here–with the Common Murre in the URC–multiple frames increase the chance of capturing a bird in flight with a decent wing position that just might add to the scene….
In the original image above note the out-of-focus Common Murre (Guillemot on the other side of the pond) in flight; it is in the red box. I painted a quick mask of the area behind the o-o-f flying bird from the next frame in the series and used that layer to cover the offending and distracting bird. Eliminating the gull in the upper left corner along with a few other stray birds in flight and cleaning the left frame-edge was done as usual with a series of small warped Quick Masks, the Clone Stamp Tool, and the Spot Healing Brush. I moved the murre in flight with two Quick Masks, one to move the bird to a new position, the other to cover the "original" bird.
The DPP RAW Conversion Guide
To learn why I use Canon's Digital Photo Professional (DPP) 3.14 to convert every image that I work on, click here.
Digital Basics
Everything that I did to optimize today's images are detailed in my Digital Basics File–written in my easy-to-follow, easy-to-understand style. Are you tired of making your images look worse in Photoshop? Digital Basics File is an instructional PDF that is sent via e-mail. It includes my complete digital workflow, dozens of great Photoshop tips, the use of Contrast Masks, several different ways of expanding and filling in canvas, all of my time-saving Keyboard Shortcuts, Quick Masking, Layer Masking, and NIK Color Efex Pro basics, my killer image clean-up techniques, Digital Eye Doctor, creating time-saving actions, and lots more.
APTATS I & II
Learn the details of advanced Quick Masking techniques in APTATS I. Learn Advanced Layer Masking Techniques in APTATS I. Mention this blog post and apply a $5 discount to either with phone orders only. Buy both APTATS I and APTATS II and we will be glad to apply at $15 discount with phone orders only. Please call Jim or Jennifer at 863-221-2372 on Tuesday to order.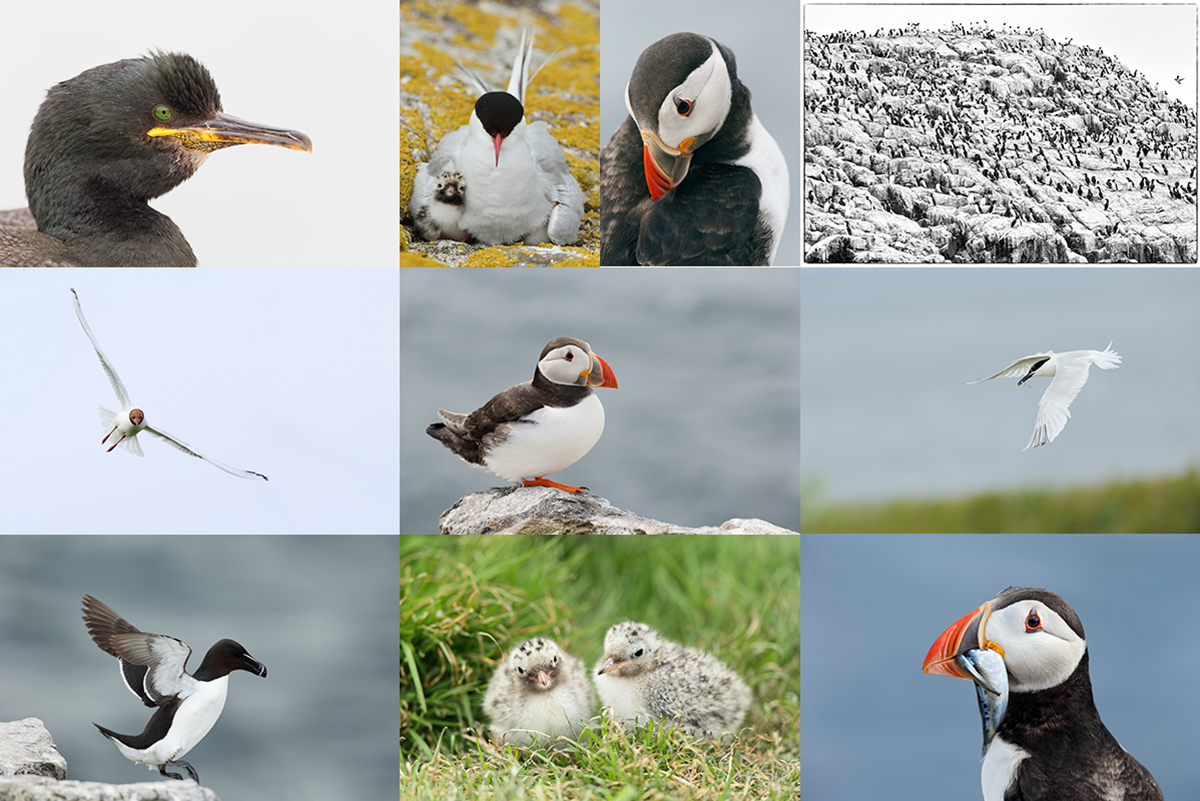 Images and card design copyright 2014: Arthur Morris/BIRDS AS ART. Click on the card to enjoy a spectacular larger version.
The 2015 UK Puffins and Gannets IPT
June 29 through July 5, 2015: $5499: Limit 10 photographers/Openings 8. Two great leaders.
Here are the plans for next year: take a red eye from the east coast of the US on 28 June arriving in Edinburgh, Scotland on the morning of Monday 29
June (or simply meet us then either at the Edinburgh Airport (EDI) or later in the day at our cottages if you are driving your own vehicle either from the UK or from somewhere in Europe. Stay 7 nights in two gorgeous modern country cottages.
There are 5 days of planned puffin/seabird trips—weather permitting, and 1 full day of gannet photography with 2 sessions on the boat.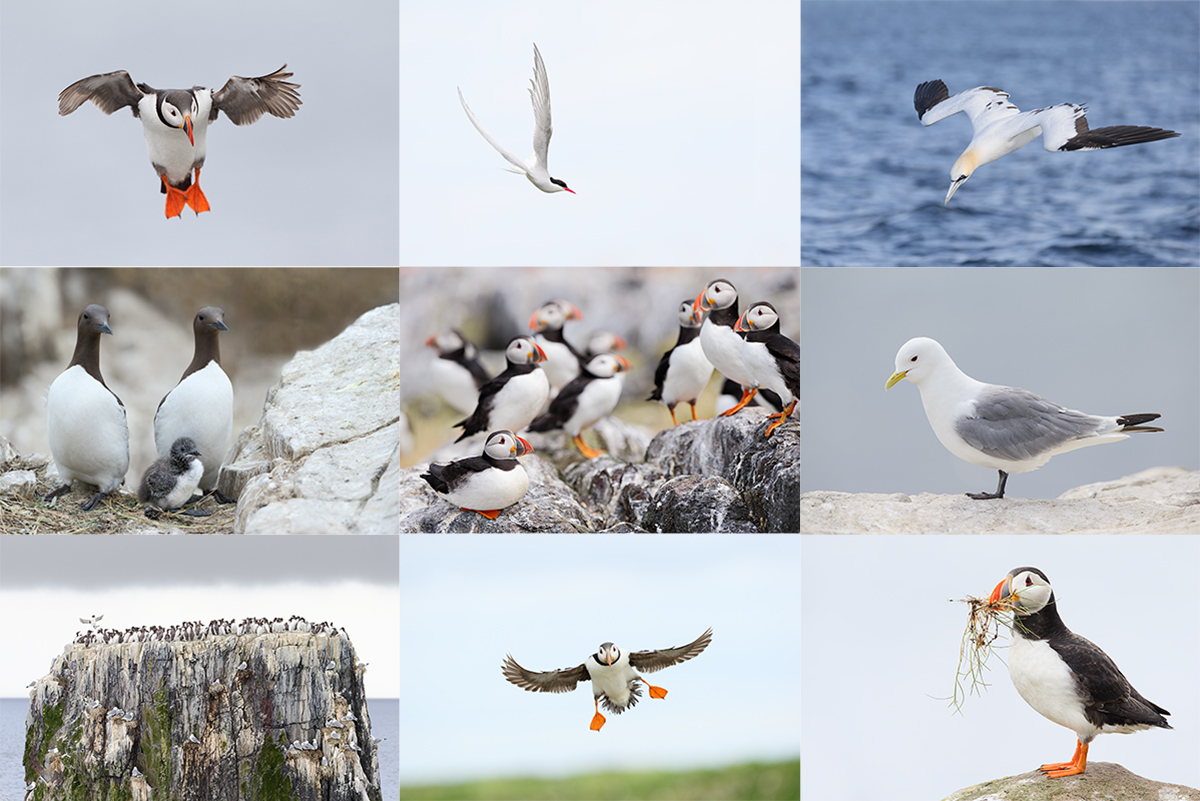 Images and card design copyright 2014: Arthur Morris/BIRDS AS ART. Click on the card to enjoy a spectacular larger version.
The Details
All breakfasts, lunches and dinners are included. All 5 puffins boat lunches will need to be prepared in advance, taken with, and consumed at your leisure. I usually eat mine on the short boat trip from one island to the other. Also included is a restaurant lunch on the gannet boat day and a farewell fine dining thank you dinner. The cost of your National Heritage Trust is also included; that covers the twice a day landing fees.
Plan to fly home on the early morning of Monday 6 July or to continue your stay or travels.
We are planning this as double-occupancy only but we should be able to arrange for singles by renting a 3rd cottage. We would need to know well in advance, i.e., soon, and it would be pricey and would need to be paid with your non-refundable deposit of $2,000. The shared rooms are decent-sized, each with two roomy single beds and a private bathroom. There are two king rooms available for couples. The upscale country-side cottages are beyond lovely with large living areas and lots of open space for image sharing and Photoshop lessons.
The single supplement is $1475. As we will be renting a third cottage the $1475 is due with your deposit and is also non-refundable.
If you are good to go please send your $2,000 deposit check now to save a spot. We do expect this workshop to sell out very quickly as we have already sold 2 slots even though the trip has not yet been formally announced till right now. Not to mention that everyone loves puffins. Please make your check out to "Arthur Morris" and send it to Arthur Morris/BIRDS AS ART, PO Box 7245, Indian Lake Estates, FL, 33855.
We do hope that you can join us.
Facebook
Be sure to like and follow BAA on Facebook by clicking on the logo link upper right. Tanks a stack!
Support the BAA Blog. Support the BAA Bulletins: Shop B&H here!
We want and need to keep providing you with the latest free information, photography and Photoshop lessons, and all manner of related information. Show your appreciation by making your purchases immediately after clicking on any of our B&H or Amazon Affiliate links in this blog post. Remember, B&H ain't just photography!
…..
Amazon Canada
Many kind folks from north of the border, ay, have e-mailed stating that they would love to help us out by using one of our affiliate links but that living in Canada and doing so presents numerous problems. Now, they can help us out by using our Amazon Canada affiliate link by starting their searches by clicking here. Many thanks to those who have written.
Typos
In all blog posts and Bulletins, feel free to e-mail or to leave a comment regarding any typos, wrong words, misspellings, omissions, or grammatical errors. Just be right. 🙂