The Streak Continues: 244
This post was published just before 8:00am from my Mom's home in Holbrook, NY. I had a relaxing day yesterday and spent a lot of time watching multiple episodes of American Pickers with my Mom. That made her very happy. I enjoyed a nice swim in the community pool just before dinner. My Mom mentioned a hankering for some calves liver so I ran down to King Cullen to get some. I had not partaken in many years and neither had she. Sauteed medium rare with vidalia onions we enjoyed a sumptuous feast. This post, which took me more than 3 hours to prepare, marks 244 consecutive days with a new enjoyable and educational blog post.
With so many folks getting in the habit of using our B&H links and our Amazon logo-links, why quit now? April, May, June, and July have been fantastic as lots of folks are getting the message; using my affiliate links does not cost you a penny and helps support my efforts here. To show your appreciation, I do ask that you use our B&H and Amazon affiliate links on the right side of the blog for all of your purchases. Please check the availability of all photographic accessories in the BIRDS AS ART Online Store, especially Gitzo tripods, Wimberley tripod heads, and the like. We sell only what I have used and tested, and know that you can depend on. We will not sell you junk. We know the tools that you need to make creating great images easy and fun. And we are always glad to answer your gear questions via e-mail.
You can find the following items in the store: Gitzo tripods, Mongoose M3.6 and Wimberley heads, plates, low feet, and accessories, flash brackets, , Delkin e-film Pro Compact Flash Cards, LensCoat products, and our unique line-up of educational materials including ABP I & II, Digital Basics, Site and Set-up e-Guides, Canon and Nikon Camera Users and AF e-Guides, and MP-4 Photoshop video tutorials among others.
I would of course appreciate your using our B&H affiliate links for all of your major gear, video, and electronic purchases. For the photographic stuff mentioned in the paragraph above we, meaning BAA, would of course greatly appreciate your business. Here is a huge thank you to the many who have been using our links on a regular basis and visiting the BAA Online store as well.
Denise Ippolito Nickerson Beach Workshop ~ Saturday & Sunday August 23-24th, $699.00
One great leader! See below for details. Please let Denise know that you learned of this workshop through BIRDS AS ART. Click here and scroll down to register.
Used Canon 400 DO IS USM Lens
Price slashed $450!
Joe Messina is offering a used Canon 400 DO IS USM lens in very good ++ condition for 3750! There are some minor cosmetic scratches to the finish. The lens hood is slightly out of round and is difficult to install. The sale includes an AquaTech flexible strap-on hood, a $150 value. The sale also includes the lens trunk (with key), the original leather hood, and a hard plastic lens cap. The seller will pay insured UPS shipping within continental US. The lens will ship after the check clears.
Please contact Joe via e-mail or by phone at 415-563-6577.
If you are looking for a fast, lightweight, hand holdable telephoto lens, this is the lens for you. Learn a ton more about the 400 DO here and see lots of 400 DO images by visiting the "The Canon 400mm f/4 IS DO Lens: Fourteen Images that Prove that the Internet Experts are (As Usual) Idiots" blog post here. The lens sells new at B&H for $6499.00.
See more great used gear deals here.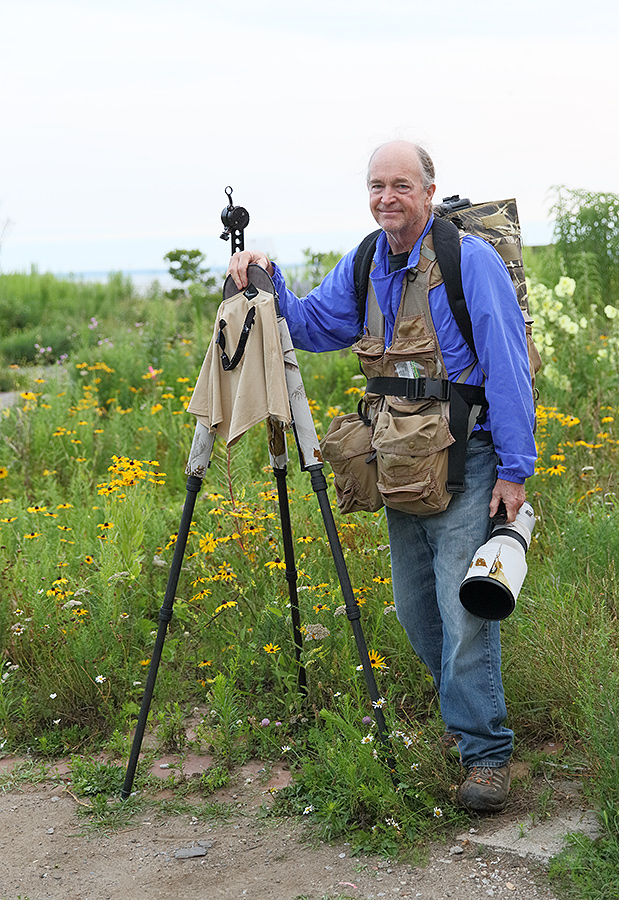 This image was created on July 30, 2014 at Great Gull Island, NY with the Canon EF 24-70mm f/2.8L II USM lens (hand held at 50mm) and the Canon EOS-1D X. ISO 400. Evaluative metering -1/3 stop (was an intentional under-exposure): 1/250 sec. at f/3.5 in Tv mode. AWB.
Three sensors above and 1 to the right of the central sensor/AI Servo/Single Point AF (as originally framed) was active at the moment of exposure. Click on the image to see a larger version and see how old and grizzled I am looking. 🙂
Image courtesy of and copyright 2014: GGI tern radar research assistant Maria Andersen.
Your browser does not support iFrame.
The Root of My Right Shoulder Problems
This coming August 7 will mark 31 years with a long lens; I purchased my first telephoto, the Canon 400mm f/4.5 FD (manual focus) lens on August 7, 1983. I still have that receipt. For many of those years I carried a big heavy lens–some weighing 14 pounds–on my right shoulder on a tripod that weighed as much as 8 pounds along with a 3-4 pound camera body. That with my right arm in the stress position, parallel to the ground. When the range of motion in my shoulder joint became severely restricted about 10 years ago and my shoulder began to ache, I learned that the "classic" way of carrying a big lens on a tripod was the worst possible way to do it, a way designed to inflict serious damage to your right shoulder.
After that, I began switching shoulders every now and then (even though it seemed much more natural to use the right shoulder than to use the left shoulder). And in time, I came up with a slightly improved method that I will share with you here at some point. In the meantime, the damage had been done: impingement and atrophy of various rotator cuff muscles, adhesive capsulitis, arthritis–call it what you like, it still hurts. After the first shoulder episode I rehabbed the shoulder with Aaron Mattes' Isolated Active Stretching techniques. My shoulder was fine but I continued to punish my shoulder by carrying the tripod with a big lens on my shoulders. After the next major episode–at worst I could not raise my right arm above my waist, I started Active Release chiropracty and had a good deal of relief. I am currently employing a variety of alternative techniques to keep the wolf at the door….
I Could Not Have Survived Great Gull…
I simply could not have survived Great Gull without my 4Xpandable Long Lens Bag from LensCoat. For the most part at GGI I needed to get my gear to a given location, usually one about 1/4 mile from headquarters, and then set up shop by finding a good spot in the rocks, erecting the tripod, mounting the 600 II/1D X rig, and covering up with my Kwik-Camo Summer Weight Throw-over Blind (see photo next).
A while back, I asked my friend and health guru, the brilliant Dr. Cliff Oliver of the Center for Balance in San Diego, CA, "Would it be best for me to carry the big lens in one hand and the tripod in the other?" He answered, "It would be better than what you have been doing for the past 3 decades but would still be less than ideal. Perfect would be some sort of lens bag or backpack with shoulder straps and a waist harness. On Great Gull I had my first chance to try out Scott Elowitz's 4Xpandable Long Lens Bag. In short, the results of this experiment were miraculous. Continue reading for additional details and for tips on using this great new LensBag.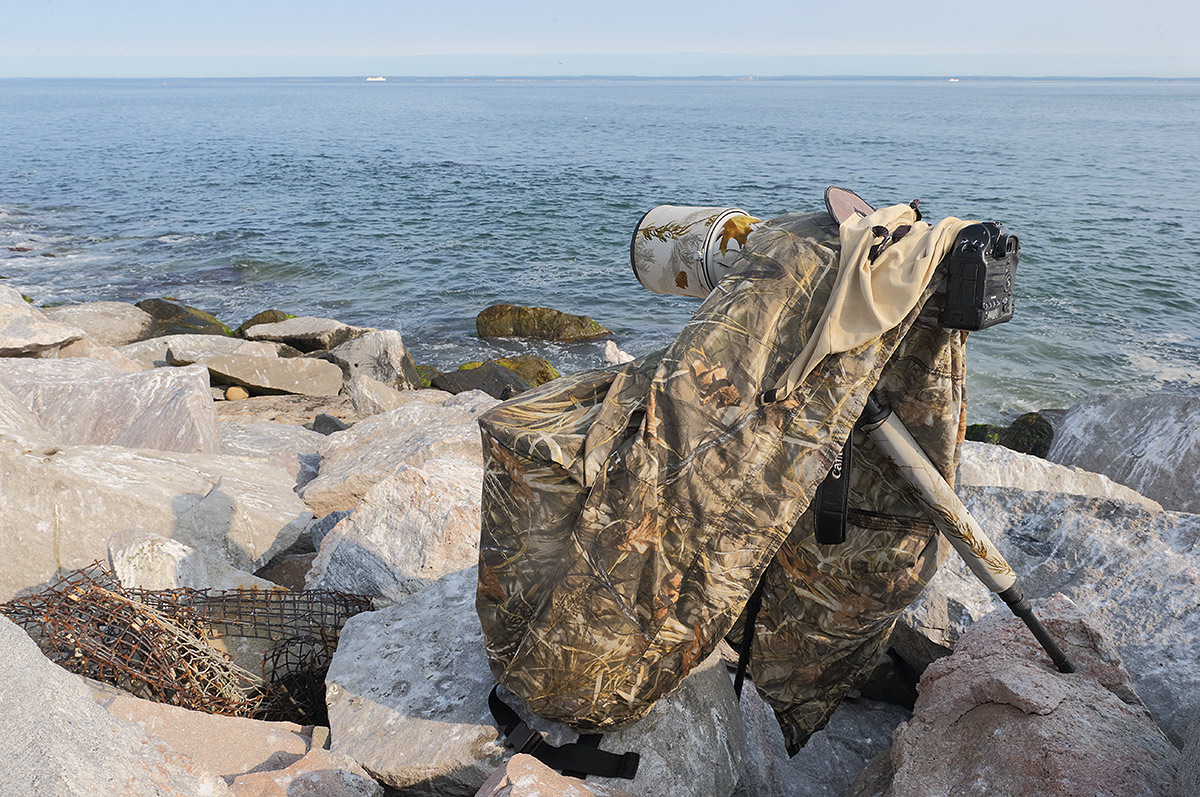 This image was also created on July 30, 2014 (sidelit in full, harsh sun at 8:40am) at Great Gull Island, NY with the Canon EF 24-70mm f/2.8L II USM lens (this time hand held at 24mm) and the Canon EOS-1D X. ISO 400. Evaluative metering +2/3 stop: 1/1250 sec. at f/13 in Tv mode. AWB.
Four sensors to the right of the central sensor AI Servo Surround/Rear Focus AF as framed was active at the moment of exposure. Click here to see the latest version of the Rear Focus Tutorial. Click on the image to see a larger version and see how old I am looking. 🙂
Note that I stood the 4X Lens Bag up inside the Kwik-Camo Blind to support the left side of the blind.
Your browser does not support iFrame.
Once I figured out the best way to get the bag with the 600 II and the 1D X on my back and adjusted the various harness straps to perfection carrying the rig around Great Gull was a dream. As Dr. Dr. (my long time nickname for Cliff Oliver) had stated, there was no stress at all on either shoulder. (Once I began switching shoulders I began to have some problems with my left shoulder; the left is fine right now….) Be sure to fasten and snug up the waist belt; the one time that I forgot to do that my load seemed a lot heavier. Yes, your big lens will not be available instantly should something great happen right in front of you but at this stage of my career carrying the lens on a tripod on my shoulder is no longer a viable option.
On most forays into the field I opted not wear my Xtrahand Vest from Vested Interest. (Please e-mail for more info on my Custom designed Magnum vest.) For most sessions I carried the big lens with the camera body attached on my back and had the 300 II with my 2nd 1D X on slung over my left shoulder via an RS-7 Black Rapid Strap. My teleconverters were always in a fanny pack. The tripod with my beloved Mongoose M3.6 was always carried in one hand. Toward the end of the trip I began carrying the 24-70mm/1D X on the RS-7 Black Rapid Strap, the tripod in one hand, and the 300 II alone in the other hand. If large groups of terns took flight in front of me I was able to quickly put the tripod and the 300 II on the ground and begin photographing. On what turned out to be my last morning I wanted to bring a few extra lenses along including the 24-70, the 15mm fisheye, and the 100 macro so I wore the vest. The vest works well in conjunction with the 4Xpandable Long Lens Bag as long as you do not put anything substantial in the rear pouch.
Observant readers might have noticed in the opening image that I was not using the top cover of the LensBag; I had inadvertently left it in my Mom's garage. That actually turned out to be a plus as I was able to get the big rig out of the bag quickly. I would of course want the top cover in place if there was a chance of rain. After placing the big rig in the bag I would stuff the Kwik-Camo Summer Weight Throw-over Blind into the bag around the lens; this served as additional protective padding and left the blind easily accessible. On occasion, I would place a small lens or two into the LensBag each in a woolen watch cap before I stuffed in the blind.
It is important to shorten the straps so that the LensBag fits you snugly. I shortened the shoulder straps to the point where it was a slight struggle to get my left arm into the left shoulder strap. In addition, I shortened the straps at the top of the shoulder harnesses where they attached to the LensBag; this prevented the bag from wiggling about. As I mentioned above, with everything set up just right carrying the big lens with the 1D X in place was a dream.
In short, the 4Xpandable Long Lens Bag will lengthen my career by years.
Learn lots more about the 4Xpandable Long Lens Bag it's smaller cousin, the 3Xpandable Long Lens Bag, and the various straps and harnesses by clicking here and scrolling down.
Important Request
If you are inspired to order one of the Xpandable LensBags after reading this post, please, please pretty please purchase yours through the BIRDS AS ART Online Store (and NOT from our friends at B&H) by using the following links/same great gear, same low prices:
The Two New Expandable LensBags/please scroll down for details
Expandable Bag Accessories/please scroll down for details
The DPP RAW Conversion Guide
I tried something new when converting the opening image in DPP. I moved the Highlight slider 3 clicks to the left and the Shadow slider 2 clicks to the right; this reduced the contrast nicely without greying out the highlights and opened up the shadows without adding much noise. In addition, checking the box for Distortion under Lens aberration correction completely eliminated the curved horizon due to barrel distortion. To learn why I use Canon's Digital Photo Professional (DPP) 3.14 to convert every image that I work on, click here.
Coming soon: the DPP 4.0 RAW Conversion Guide by Arash Hazeghi with Arthur Morris. I will be starting to use DPP 4.0 this week as I get into editing the new guide.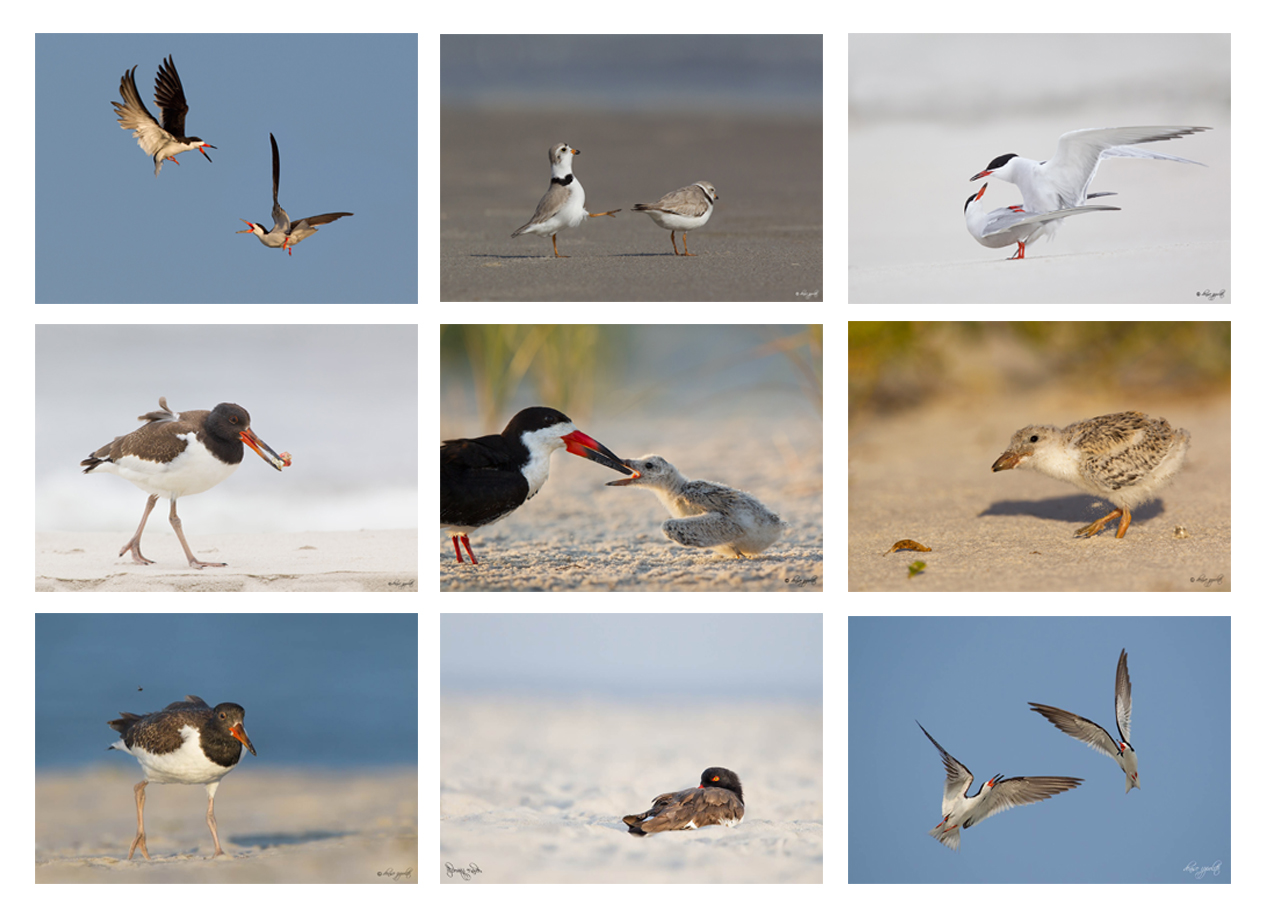 Images and card design by Denise Ippolito/A Creative Adventure
Denise Ippolito Nickerson Beach Workshop ~ Saturday & Sunday August 23-24th, $699.00 includes 4 photo sessions and 2 Image Review/ Photoshop sessions.
One great leader! Please let Denise know that you learned of this workshop through BIRDS AS ART. Click here and scroll down to register.
From Denise
There is just too much going on at Nickerson to stay away. I have decided to do a 2-day workshop at Nickerson Beach this August. By then lots of the Black Skimmer chicks will be hatched and there should also be plenty of action! The skimmers are lots of fun to photograph in flight, especially when they battle. We should also have good opportunities to photograph American Oystercatcher, Common Tern and maybe even some Least Terns and Piping Plovers. I will do my very best to get the group in position to capture great images. I will share with you my flight techniques and my techniques on getting you close to your subject. I will help you to recognize good situations and become a better bird photographer. This workshop needs 6 participants.
Saturday Schedule: 5:45am- 9:45am morning photography session, Lunch Break – Photoshop/Image Review, Gear and Camera settings session, Afternoon Break, 4:30pm- 7:30pm afternoon photography session.
Sunday Schedule: 5:45am- 9:45am morning photography session, Lunch Break- Photoshop/Image Review, Afternoon Break, 4:30pm- 7:30pm afternoon photography session.
We will photograph in the morning on Saturday, then break for an early lunch (included in the price). During lunch we will do image review and Photoshop lessons. After lunch I will go over gear handling tips and camera settings with the group. Then we will take an afternoon rest. This will give you time to download your images and have some time to yourself before we head back out in the late afternoon/early evening. Sunday we will wake up and have basically the same schedule as Saturday. This schedule is subject to change depending on conditions and wildlife. 🙂
Gear Suggestions:
I recommend that you bring your longest lens. If that is a 70-200mm lens than you will need a teleconvertor. You should have at the very least 400mm of focal length. A sturdy tripod- preferably w/o a center column. A complete list of gear recommendations as well as hotel recommendations and general information sheet will be provided at sign up.
Please contact Denise via e-mail with any questions.
Facebook
Be sure to like and follow BAA on Facebook by clicking on the logo link upper right. Tanks a stack!
Support the BAA Blog. Support the BAA Bulletins: Shop B&H here!
We want and need to keep providing you with the latest free information, photography and Photoshop lessons, and all manner of related information. Show your appreciation by making your purchases immediately after clicking on any of our B&H or Amazon Affiliate links in this blog post. Remember, B&H ain't just photography!
…..
Amazon Canada
Many kind folks from north of the border, ay, have e-mailed stating that they would love to help us out by using one of our affiliate links but that living in Canada and doing so presents numerous problems. Now, they can help us out by using our Amazon Canada affiliate link by starting their searches by clicking here. Many thanks to those who have written.
Typos
In all blog posts and Bulletins, feel free to e-mail or to leave a comment regarding any typos, wrong words, misspellings, omissions, or grammatical errors. Just be right. 🙂