The Streak Continues: 247
This post was published just before 3:15am from my Mom's home in Holbrook, NY. I need to get out of bed soon and pack. I am a late-packer :). I fly home today from ISP (Islip) on Southwest departing at 11:40am; right now the flight is showing on time despite the big flight delays in FL over the weekend. Jim will pick me up at MCO (Orlando) at about 2:30pm. This post, which took me about 1 1/2 hours to prepare, marks 247 consecutive days with a new enjoyable and educational blog post.
With so many folks getting in the habit of using our B&H links and our Amazon logo-links, why quit now? April, May, and June were fantastic. July was good. Lots of folks are getting the message: using my affiliate links does not cost you a penny and helps support my efforts here. To show your appreciation, I do ask that you use our B&H and Amazon affiliate links on the right side of the blog for all of your purchases. Please check the availability of all photographic accessories in the BIRDS AS ART Online Store, especially Gitzo tripods, Wimberley tripod heads, and the like. We sell only what I have used and tested, and know that you can depend on. We will not sell you junk. We know the tools that you need to make creating great images easy and fun. And we are always glad to answer your gear questions via e-mail.
You can find the following items in the store: Gitzo tripods, Mongoose M3.6 and Wimberley heads, plates, low feet, and accessories, flash brackets, , Delkin e-film Pro Compact Flash Cards, LensCoat products, and our unique line-up of educational materials including ABP I & II, Digital Basics, Site and Set-up e-Guides, Canon and Nikon Camera Users and AF e-Guides, and MP-4 Photoshop video tutorials among others.
I would of course appreciate your using our B&H affiliate links for all of your major gear, video, and electronic purchases. For the photographic stuff mentioned in the paragraph above we, meaning BAA, would of course greatly appreciate your business. Here is a huge thank you to the many who have been using our links on a regular basis and visiting the BAA Online store as well.
I Am Not Very Good At Mini-Landscapes/What's Different?
In the I Am Not Very Good At Mini-Landscapes/What's Different? post the four folks who responded pretty much nailed all the differences. Kudos to Doug West, David Policansky, Naveena, and Andrew McLachlan.
My Two Favorites From a 1362-Image Day on Great Gull Island…
In the My Two Favorites From a 1362-Image Day on Great Gull Island… post I like both images equally well. I love the splayed feathers of the braking tern with the green background and find the shade of blue in the taking flight image irresistible.
Image Questions:
What is the one thing that bugs me in one of the two images? What would I have preferred?
It would seem as if Paul Mckenzie were inside my head when he wrote, "The one thing I don't like about the first image is the bird's bill slightly protruding past the tail feathers – would have been better if the entire bill was framed within the tail feathers." That is exactly what bugged me.
What are the strong points of each image? Any weaknesses?
Folks covered the strong points of each image quite well. As for the perceived weaknesses I disagreed with many of those. I have replied to each and every comment on this thread.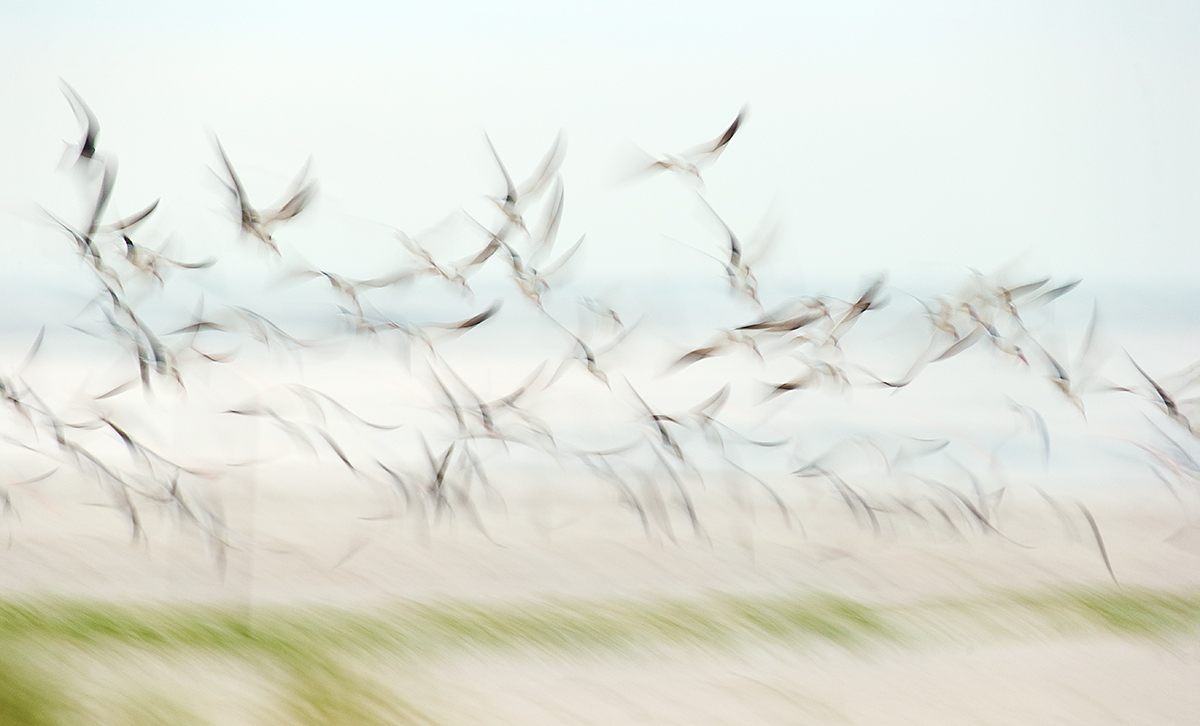 I preferred this image to the one with the read sky for its simplicity and child-like qualities. In the first image there were several really close, really blurred out-of-focus birds that were distracting. We teach that principle on the Bosque IPTs most every day.
What Can You Possibly Do When You Get Up at 2:07am?
In the What Can You Possibly Do When You Get Up at 2:07am? nobody took a crack at any of the questions. I guess I will have to go with easier ones…. 🙂
These two image were created just minutes apart: why is there such a big difference in the (effectively) auto ISO settings: ISO 250 for opening image, ISO 1600 for the second image?
For the first image the lens was pointed at the relatively bright eastern sky, at the spot where the sun would rise in less than 30 minutes. In the second image the lens was pointed in the opposite direction, 180 degrees away from the light sky thus the need for a much higher ISO setting.
What percentage of the available focal length range did I use to create today's two images?
With the 2X TC in place the focal length range of the 70-200 is 140-400mm. Since one image was made at 140mm and the other at 400mm I used 100% of the focal length range.
Used Canon 70-200mm f/2.8L IS II Lens
Dale Lorenzen is offering a used Canon 70-200mm f/2.8L IS II USM Lens in nearly mint condition for $1850. It is like new with a small scratch on the hood. The sale includes the original box, the software CD, the carrying case, the tripod ring, and the front and rear caps. The seller will pay insured UPS shipping within continental US. The lens will ship after the check clears.
Please contact Dale via e-mail. At this give-away price, this lens should sell instantly.
As regular blog readers know full well, the Canon 70-200mm f/2.8L IS II USM lens is one of my very favorite lenses. It is often the only other lens that I take into the field with my tripod-mounted Canon EF 600mm f/4L IS II USM lens. As above, I use it often to create small-in-the-frame or habitat images. I use it for flocks in flight at Bosque with either TC. I use it often to photograph family groups of birds or birds interacting at close range. I use it a ton for scenic images as I did with great success in the Palouse. And I use it either alone (see here) or with either TC to photograph birds in flight at close range. In short, the 70-200 II is an incredibly versatile hand holdable intermediate telephoto lens that offers me a focal length range of from 70 to 400mm.
Used Photo Gear
Though we have sold a ton of great stuff in the last 2 weeks there are still several great buys like the one above. Click here to view all the current listings.
If you are a seller, be sure to read Mark's helpful warning comments at the bottom of the page.
The 2015 UK Puffins and Gannets IPT
June 29 through July 5, 2015: $5499: Limit 10 photographers/Openings 7. Two great leaders: Denise Ippolito and Arthur Morris.
We now have 3 folks signed up with five others seriously interested not only in the IPT but in the possible 3-Day pre-trip to Ireland…, If you are seriously interested it would be best not to tarry. Click here for complete details.
The Question: Did Murphy's Law Strike Again? Or Not?
In the image above Mr. Murphy did indeed strike again. That left me having to do some fancy work in Photoshop in what seemed at the time like a perfect set-up. When the chick peeked out from the adult's breast I fired off a 25-frame burst without filling the buffer on my dependable Delkin 64GB 1000X Compact Flash Card.
For the first 13 frames the head angle for the adult was perfect but the head of the chick was turned well away. On the 14th frame, the one that served as the base image for the optimized image above, the chick–as you can see–turned nicely towards me. But no, could it be true? On that very frame the adult turned its head well to the right. So I painted a Quick Mask of the head of the adult in the 13th frame and placed that layer atop the head of the adult in the 14th frame. It took quite a bit of work getting everything lined up properly and fine tuning the added layer with a Regular Layer Mask. To further complicate things the background below the bird's neck looked a bit phony in the original capture, frame 14…. No amount of work there could get that area to look natural to me.
Thanks
Thanks to Ted Wilcox for leaving a comment and pointing out that the image in the original post needed a good deal of clockwise rotation. The image above is a re-do with 1.5 degrees of clockwise rotation. I used the John Haedo technique for filling in the needed canvas (as detailed in Digital Basics.
The DPP RAW Conversion Guide
To learn why I use Canon's Digital Photo Professional (DPP) 3.14 to convert every image that I work on, click here.
Digital Basics
Everything that I did to optimize the image above is detailed in my Digital Basics File–written in my easy-to-follow, easy-to-understand style. Are you tired of making your images look worse in Photoshop? Digital Basics File is an instructional PDF that is sent via e-mail. It includes my complete digital workflow, dozens of great Photoshop tips, the use of Contrast Masks, several different ways of expanding and filling in canvas, all of my time-saving Keyboard Shortcuts, Quick Masking, Layer Masking, and NIK Color Efex Pro basics, my killer image clean-up techniques, Digital Eye Doctor, creating time-saving actions, and lots more.
APTATS I & II
Learn the details of advanced Quick Masking techniques in APTATS I. Learn Advanced Layer Masking Techniques in APTATS I. Mention this blog post and apply a $5 discount to either with phone orders only. Buy both APTATS I and APTATS II and we will be glad to apply at $15 discount with phone orders only. Please call Jim or Jennifer at 863-692-0906 weekdays to order.
Facebook
Be sure to like and follow BAA on Facebook by clicking on the logo link upper right. Tanks a stack!
Support the BAA Blog. Support the BAA Bulletins: Shop B&H here!
We want and need to keep providing you with the latest free information, photography and Photoshop lessons, and all manner of related information. Show your appreciation by making your purchases immediately after clicking on any of our B&H or Amazon Affiliate links in this blog post. Remember, B&H ain't just photography!
…..
Amazon Canada
Many kind folks from north of the border, ay, have e-mailed stating that they would love to help us out by using one of our affiliate links but that living in Canada and doing so presents numerous problems. Now, they can help us out by using our Amazon Canada affiliate link by starting their searches by clicking here. Many thanks to those who have written.
Typos
In all blog posts and Bulletins, feel free to e-mail or to leave a comment regarding any typos, wrong words, misspellings, omissions, or grammatical errors. Just be right. 🙂