The Streak Continues: 248
This post was published just before 8:00am from my home at Indian Lake Estates, FL. Though delayed close to 90 minutes, my flight to Orlando yesterday was otherwise uneventful. I enjoyed 8 hours of sleep last night. . This post, which took me about 2 hours to prepare, marks 248 consecutive days with a new enjoyable and educational blog post. Today's post is quite educational. 🙂
With so many folks getting in the habit of using our B&H links and our Amazon logo-links, why quit now? April, May, and June were fantastic. July was good. Lots of folks are getting the message: using my affiliate links does not cost you a penny and helps support my efforts here. To show your appreciation, I do ask that you use our B&H and Amazon affiliate links on the right side of the blog for all of your purchases. Please check the availability of all photographic accessories in the BIRDS AS ART Online Store, especially Gitzo tripods, Wimberley tripod heads, and the like. We sell only what I have used and tested, and know that you can depend on. We will not sell you junk. We know the tools that you need to make creating great images easy and fun. And we are always glad to answer your gear questions via e-mail.
You can find the following items in the store: Gitzo tripods, Mongoose M3.6 and Wimberley heads, plates, low feet, and accessories, flash brackets, , Delkin e-film Pro Compact Flash Cards, LensCoat products, and our unique line-up of educational materials including ABP I & II, Digital Basics, Site and Set-up e-Guides, Canon and Nikon Camera Users and AF e-Guides, and MP-4 Photoshop video tutorials among others.
I would of course appreciate your using our B&H affiliate links for all of your major gear, video, and electronic purchases. For the photographic stuff mentioned in the paragraph above we, meaning BAA, would of course greatly appreciate your business. Here is a huge thank you to the many who have been using our links on a regular basis and visiting the BAA Online store as well.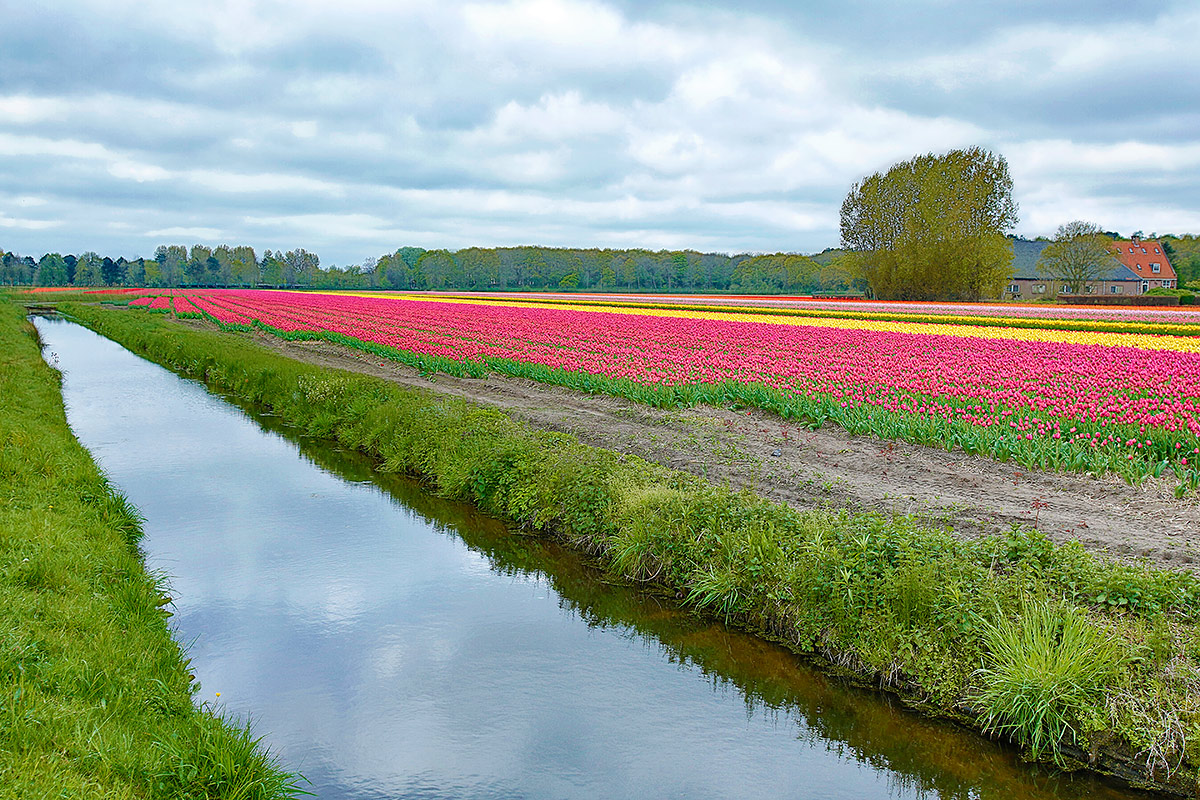 This 3-frame in-camera Art Vivid HDR image was created on last spring's Tulips with a Touch of Holland IPT with the Canon EF 24-70mm f/2.8L II USM lens (hand held at 33mm) and the Canon EOS 5D Mark III. ISO 800. Evaluative metering (+/- 2 stops around) +2 stops as framed yielded a base exposure of 1/200 sec. at f/8 in Av mode. Color temperature: 5000K.
Central sensor/AI Servo/Surround Rear Focus AF 1/3 of the way into the frame and re-compose. Click here to see the latest version of the Rear Focus Tutorial. Click on the image to see a larger version.
Tulip Fields with Farmhouses
Your browser does not support iFrame.
s
Compositional Care
Many photographers are quite lackadaisical when it comes to designing their images. "I'll crop it later in Photoshop." But coming up with a pleasingly composed image is much more about your choice of perspective than about cropping. At the NECCC Photography Conference where both Denise Ippolito and I presented in mid-July, I had the pleasure of attending a program by Ian Plant of Virginia entitled "Visual Flow: Mastering the Art of Composition." With chagrin I will admit that I had never heard of Ian before. But oh my, what a talented photographer he is. And a very nice guy to boot. Yes, his program was quite professionally organized with lots of specials effects 🙂 (and a great sense of humor), but most special were his images. You can get a taste of those here.
Though Ian did not mention it during his program, I did tell him afterwards that one thing that struck me about most of his images aside from their beauty and impact was the fact no other photographer could have created the image that he had at that same moment? Why? Because his choice of perspective was always so impeccably perfect that even someone standing shoulder to shoulder with him would have had serious compositional flaws in their images….
Learning to improve your compositions does require study, thought, hard work, and a mastery of the many principles of image design. Ian covered most of those in his program. I cover most of them in the "Designing the Image" chapter in the original The Art of Bird Photography (ABP: 160 pages, 203 photos, soft-cover), in the chapter on "Advanced Composition and Image Design" in The Art of Bird Photography II (ABP II: 916 pages, 900+ images on CD only), here on the blog almost daily, at seminars and programs, in the field on IPTs, and in my critiques at BPN–Bird Photographers.Net; It Ain't Just Birds, honest critiques done gently.
As photographers we peer through the viewfinder dozens, hundreds, or possibly thousands of times each and every day. Start taking more care each time that you do so. Start by looking for and avoiding merges, considering the compositional balance, and checking your backgrounds and frame edges for distracting elements.
Note: you can save $10 by purchasing ABP and ABP II together here.
Diagonally Speaking
I believe strongly that powerful diagonal lines can often be used to great effect by having them enter the frame exactly from one of the corners of the image. As in "Tulip Fields with Farmhouses" above. I shared this image on the rear LCD with several members of the group just outside of Keukenhoff. They all loved the image but–when I looked at their images on their rear LCDs, I saw that they had had trouble creating something similar, their problems all going back to the choice of perspective business. In addition to wanting the far edge of the canal from the lower right corner I wanted a small border of grass at the far end of the canal….
A Challenge
Please take a moment to leave a comment and mention as many of the principles of image design that you can. As soon as I publish this I will leave a comment mentioning the principles covered in the text of this blog post.
The Image Optimization
Aside from the image clean-up with my usual tools (Patch Tool, Spot Healing Brush, Clone Stamp Tool, and several small Quick Masks fine-tuned with regular Layer Masks), my 50-50 NIK pre-set at about 25% brought this image to life.
Image Optimization Question
Would you have done such an extensive cleanup of the light poles and the other hand of man stuff in the distant background? Why or why not?
Digital Basics
Everything that I did to optimize the image above is detailed in my Digital Basics File–written in my easy-to-follow, easy-to-understand style. Are you tired of making your images look worse in Photoshop? Digital Basics File is an instructional PDF that is sent via e-mail. It includes my complete digital workflow, dozens of great Photoshop tips, the use of Contrast Masks, several different ways of expanding and filling in canvas, all of my time-saving Keyboard Shortcuts, Quick Masking, Layer Masking, and NIK Color Efex Pro basics, my killer image clean-up techniques, Digital Eye Doctor, creating time-saving actions, and lots more.
APTATS I & II
Learn the details of advanced Quick Masking techniques in APTATS I. Learn Advanced Layer Masking Techniques in APTATS I. Mention this blog post and apply a $5 discount to either with phone orders only. Buy both APTATS I and APTATS II and we will be glad to apply at $15 discount with phone orders only. Please call Jim or Jennifer at 863-692-0906 weekdays to order.
Facebook
Be sure to like and follow BAA on Facebook by clicking on the logo link upper right. Tanks a stack!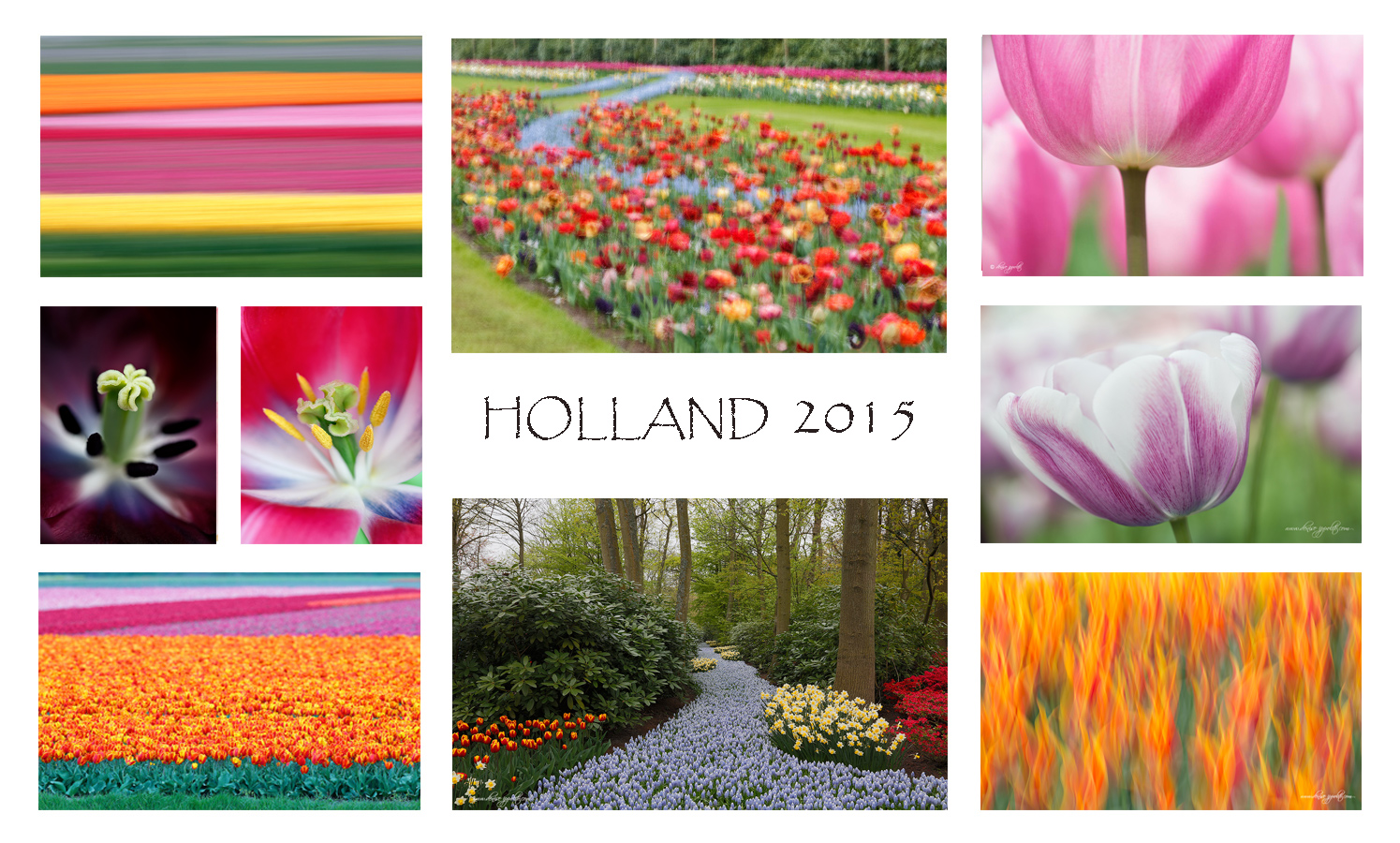 Denise and artie hope that you can join them next spring in Holland and learn to improve both the technical and creative aspects of your flower (and street) photography.
7 1/2-Day/8-Night: A Creative Adventure/BIRDS AS ART/Tulips & A Touch of Holland Instructional Photo-Tour (IPT)
Keukenhof—Delft—Amsterdam–Flower Fields—Kinderdijk
April 9 -April 16, 2015: $4995. Limit: 12 photographers/Openings 10. Four more to make the trip a go.
This trip needs 6 registrants to run so please do not purchase your plane tickets until you hear from us that the trip is a go.
Join Denise Ippolito, the author of "Bloomin' Ideas," and Arthur Morris, Canon Explorer of Light Emeritus, for a great trip to Holland in mid-April 2015. Day 1 of the IPT will be April 9, 2015. We will have a short afternoon get-together and then our first photographic session at the justly-famed Keukenhof. Our last day, Day 8, April 16 will be a full day of photography.
The primary subjects will be tulips and orchids at Keukenhof and the spectacularly amazing tulip, hyacinth, and daffodil bulb fields around Lisse and points north. We will spend one full day in Amsterdam. There will be optional visits to the Van Gogh Museum, the Anne Frank House and/or the Rijk's Museum. Street photography and sightseeing will be other options. We will spend a half day at Kinderdijk where we will be photographing the windmills and doing some creative photography. We will spend an afternoon in the lovely Dutch town of Delft where we will do some street photography and shopping. There is an optional church tower tour/climb. We will also enjoy a superb fine dining experience in a traditional restaurant.
Other than the arrival date: April 9, Day 1, and the date of our last day of photography on April 16, Day 8, there is no set itinerary. We will check the weather and play everything by ear to maximize the photographic opportunities. We will try to do Amsterdam, Delft, and especially Kinderdijik, on cloudy days.
There are several huge pluses to this trip. First off, denise is an amazingly skilled and caring instructor. Both her creativity and her willingness to share and to help beginning and intermediate photographers are unmatched. And though artie has learned a ton about flower photography from denise, their styles and techniques do vary considerably. You will have a chance to be counseled by and to learn from both of them. While denise will hunt you down to help you, artie's teaching style is more "the closer you stay to me, the more you will learn." Both leaders consistently inspire the participants. And each other. The sky, of course, is the limit.
You will learn to create tight abstracts, how best to use depth-of-field (or the lack thereof) to improve your flower photography, how to get the right exposure and make sharp images every time, how to see the best shot, and how to choose the best perspective for a given situation. And you will of course learn to create a variety of pleasingly blurred flower images. If you bring a long lens, you will learn to use it effectively for flower photography. Denise's two favorite flower lenses are the Canon EF 100mm f/2.8L Macro IS USM lens and the Canon EF 24-105mm f/4L IS USM lens. Mine are the Canon 100mm f/2.8L IS macro , the Canon EF 180mm f/3.5L Macro USM lens ,and the Canon EF 300mm f/2.8L IS II USM lens, all almost always on a tripod. Often with extension tubes and/or either the 1.4X or the 2X (with the 300 II) teleconverters. Denise hand holds a great deal of the time. For flower field blurs denise uses the same lenses mentioned above along with her new 70-200mm f/2.8L IS III lens. Artie's favorite is that same 70-200 often with a 1.4X TC but he uses both the new Canon EF 24-70mm f/2.8L II USM lens and the 300 II as well. Both of us use and love the Canon EOS 5D Mark IIIfor all of our flower photography. The in-camera HDR and Multiple Exposure features are a blast.
One of the great advantages of our trip is that we will be staying in a single, strategically located hotel that is quite excellent. Do note that all ground transfers to and from Schipol Airport will be via the free hotel shuttle bus.
What's included: Eight hotel nights. All ground transportation except for airport transfers as noted above. In-the-field instruction and small group image review and Photoshop sessions. All meals from dinner on Day 1 through dinner on Day 8. There is good food at the hotel and we will be dining there on occasion; whenever you order off the menu be it at the hotel or at another restaurant only the cost of your main course is included. On these occasions the cost of soups, appetizers, salads, sodas and other beverages, alcoholic drinks and wine, bottled water, and desserts are not included. Snacks, personal items, phone calls, etc. are also not included. The cost of bus or train transportation to and from Amsterdam (about $20 US), museum entry, and tower and church entry fees (optional) are likewise not included.
Beware of seemingly longer, slightly less expensive tours that include travel days and days sitting in the hotel doing nothing as part of the tour. In addition, other similar trips have you changing hotels often and needlessly. One final note on other similar trips: the instructors on this trip actually instruct. On other similar trips the instructors, though usually imminently qualified, serve for the most part as van drivers and van door openers.
A non-refundable deposit of $1,000 per person is required to hold your spot. The second payment of $2,000 due by October 30, 2014. The balance is due on January 15, 2015. Payments in full are of course welcome at any time. All payments including the deposit must be by check made out to "Arthur Morris." As life has a way of throwing an occasional curve ball our way, you are urged to purchase travel insurance within 15 days of our cashing your check. Artie uses and recommends Travel Insurance Services. All payments are non-refundable unless the trip fills to capacity. In that case, all payments but your deposit will be refunded. If the trip does not run every penny will of course be refunded. Again, please do not purchase your air tickets until you hear from us that the trip is a go. We are very confident that it will.
All checks should be made out to "Arthur Morris" and sent to: Arthur Morris, PO Box 7245, Indian Lake Estates, FL 33855. Call Jim or Jen in the BAA office with any additional registration questions: 863-692-0906.
For couples or friends signing up at the same time for the tulip trip, a $200/duo discount will be applied to the final payment.
When you send your deposit check, please print, sign, and include the paperwork here.
If you have any questions on the trip please contact artie by e-mail or denise by e-mail.
Support the BAA Blog. Support the BAA Bulletins: Shop B&H here!
We want and need to keep providing you with the latest free information, photography and Photoshop lessons, and all manner of related information. Show your appreciation by making your purchases immediately after clicking on any of our B&H or Amazon Affiliate links in this blog post. Remember, B&H ain't just photography!
…..
Amazon Canada
Many kind folks from north of the border, ay, have e-mailed stating that they would love to help us out by using one of our affiliate links but that living in Canada and doing so presents numerous problems. Now, they can help us out by using our Amazon Canada affiliate link by starting their searches by clicking here. Many thanks to those who have written.
Typos
In all blog posts and Bulletins, feel free to e-mail or to leave a comment regarding any typos, wrong words, misspellings, omissions, or grammatical errors. Just be right. 🙂