The Streak Continues: 250
This post was published just after 7:30am from my home at Indian Lake Estates, FL. Yesterday I enjoyed a great swim, an ice bath, a productive but relaxing day of work, and another good night's sleep. This post, which took me about 1 1/2 hours to prepare, marks 250 consecutive days with a new enjoyable and educational blog post.
With so many folks getting in the habit of using our B&H links and our Amazon logo-links, why quit now? April, May, and June were fantastic. July was good. Lots of folks are getting the message: using my affiliate links does not cost you a penny and helps support my efforts here. To show your appreciation, I do ask that you use our B&H and Amazon affiliate links on the right side of the blog for all of your purchases. Please check the availability of all photographic accessories in the BIRDS AS ART Online Store, especially Gitzo tripods, Wimberley tripod heads, and the like. We sell only what I have used and tested, and know that you can depend on. We will not sell you junk. We know the tools that you need to make creating great images easy and fun. And we are always glad to answer your gear questions via e-mail.
You can find the following items in the store: Gitzo tripods, Mongoose M3.6 and Wimberley heads, plates, low feet, and accessories, flash brackets, , Delkin e-film Pro Compact Flash Cards, LensCoat products, and our unique line-up of educational materials including ABP I & II, Digital Basics, Site and Set-up e-Guides, Canon and Nikon Camera Users and AF e-Guides, and MP-4 Photoshop video tutorials among others.
I would of course appreciate your using our B&H affiliate links for all of your major gear, video, and electronic purchases. For the photographic stuff mentioned in the paragraph above we, meaning BAA, would of course greatly appreciate your business. Here is a huge thank you to the many who have been using our links on a regular basis and visiting the BAA Online store as well.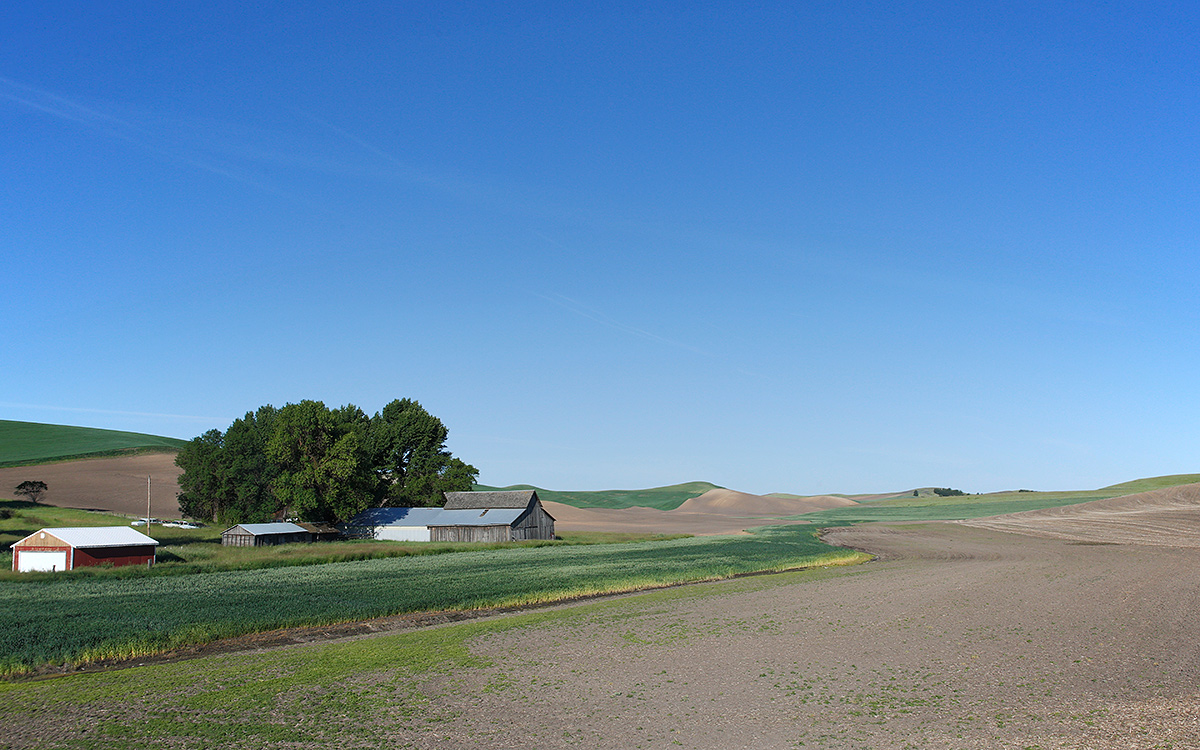 This 3-frame in-camera Natural HDR image was created on last spring's Palouse exploratory trip with the Canon EF 24-70mm f/2.8L II USM lens (hand held at 25mm) and the Canon EOS 5D Mark III. ISO 400. Evaluative metering (+/- 2 stops around) +1 stop as framed yielded a base exposure of 1/500 sec. at f/14 in Av mode. Color temperature: AWB.
Central sensor/AI Servo/Surround Rear Focus AF on the grey barn and re-compose. Click here to see the latest version of the Rear Focus Tutorial. Click on the image to see a larger version.
Your browser does not support iFrame.
s
The Challenge: Learning to Think and See Like a Pro
I made the image above as a teaching tool after we had spent about a half hour using longer lenses to extract various elements of the scene that we all had found interesting.
Here is the challenge: click on the image above to enlarge it. Examine it carefully. You have access to all focal lengths from 70mm to 784mm in the form of a 70-200 II and a 200-400 with Internal TC along with an external 1.4X III. The latter covers from 200-784mm in its various configurations. What catches your eye? What images would you extract from the scene? Please leave a comment and please be specific. I will share several of the images that I created that morning with you in this coming Saturday's blog post. Suggestions for creating pleasing blurs are of course welcome.
Art Vivid/Natural In-camera HDR Exposure Tip
In the blog post of Tuesday August 5th, the featured image was an In-camera Art Vivid HDR. The 3 images in that HDR series were created +/- 2 stops around a base exposure that was created with an EC (exposure compensation) of +2 stops. The 3 images for today's In-camera Natural HDR were created +/- 2 stops around a base exposure that was created with an EC (exposure compensation) of +2 stops. Note that both images were of similar overall tonality and were created in similar lighting conditions. Why +2 stop of EC for the base exposure of the ART Vivid HDR but only +1 stop of EC for the Natural HDR? While I do not know the technical reason or reasons for this, but experience has shown that you need to add a lot more light to an In-camera Art Vivid HDR than you do to an In-camera Natural HDR in order to wind up exposing to the right in the histogram for the final result, the 61mb JPEG.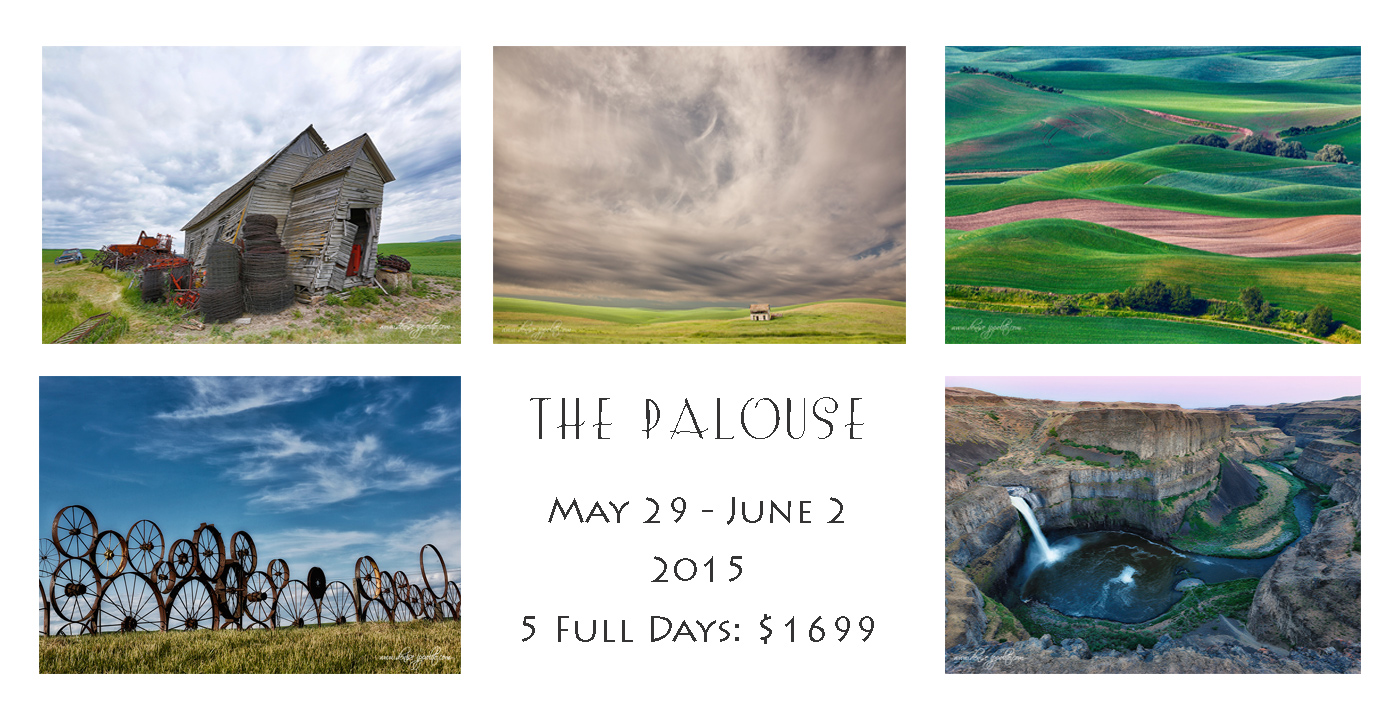 Card and design by Denise Ippolito. Scroll down here to see lots more of Denise's Palouse images. Note that the dates on Denise's card are for the first Palouse IPT that is sold out with a long waiting list. The dates for the 2nd IPT are June 5-9, 2015. See below for complete details.
The Palouse A Creative Adventure/BIRDS AS ART Instructional Photo-Tour (IPT)/Eastern Washington State. May 29-June 2, 2015/5 Full Days: $1699/Limit 12 photographers/Sold Out with a long waiting list
As the trip above sold out quickly and now has a long waiting list we scheduled a second trip after giving ourselves 2 days to recover from the first one. We have already sold eight slots for the 2nd Palouse trip so please do not tarry if you wish to join us. There will not be a third trip. 🙂 See the details below.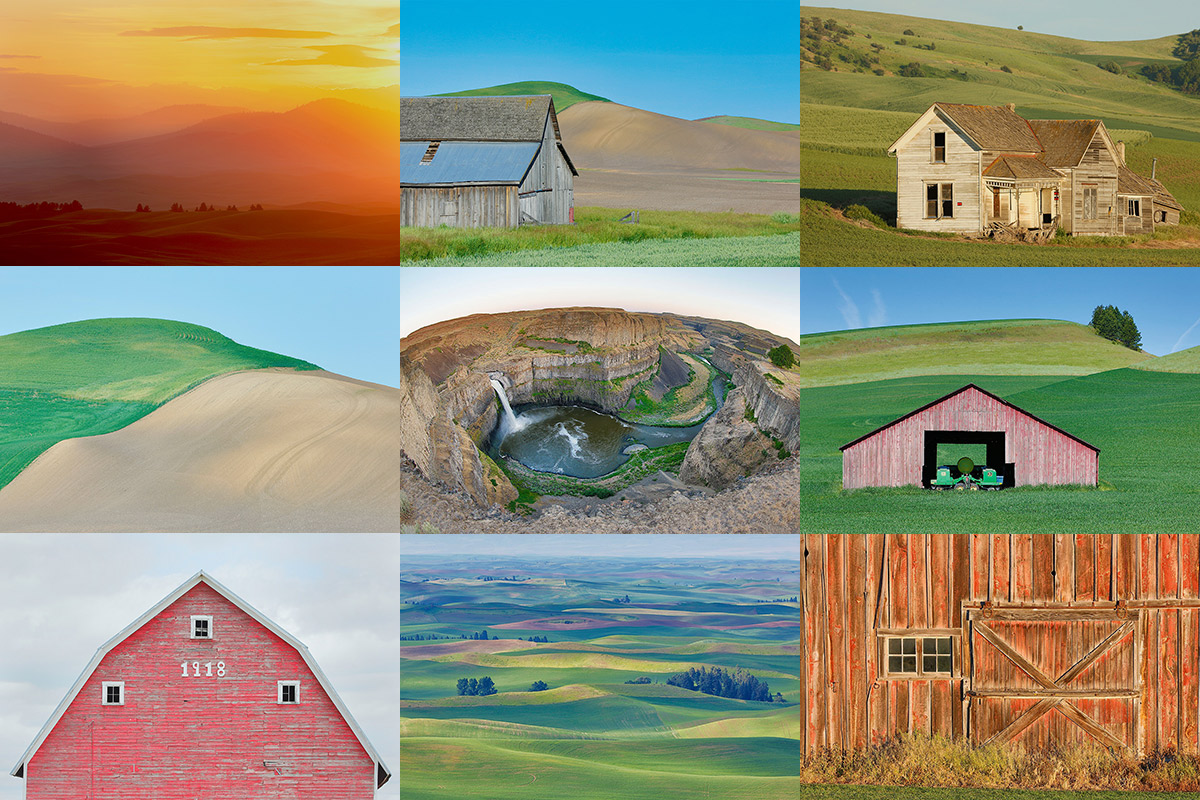 Please note that there are two Palouse IPTs in place. Hope that you can join us 🙂 Card and design by Arthur Morris/BIRDS AS ART.
The Palouse A Creative Adventure/BIRDS AS ART Instructional Photo-Tour (IPT)/Eastern Washington State. June 5-9, 2015/5 Full Days: $1699/Limit 12 photographers/Openings 4; this trip is a go.
Rolling farmlands provide a magical patchwork of textures and colors, especially when viewed from the top of Steptoe Butte where we will likely enjoy spectacular sunrises and possibly a nice sunset or two. We will photograph grand landscapes and mini-scenics of the rolling hills and farm fields. We will take you to some really neat old abandoned barns and farmhouses in idyllic settings. There is no better way to improve your compositional and image design skills and to develop your creativity than to join us for this trip. Two great leaders: Denise Ippolito and Arthur Morris. Photoshop and image sharing sessions when we have the time and energy…. We get up early and stay out late and the days are long.
After 6 days of back-breaking scouting work in early June 2014 we found all of the iconic locations and, in addition, lots of spectacular new old barns and breath-taking landforms and views. We will teach you what makes one situation prime and another seemingly similar one a waste of your time.
What's included: In-the-field instruction, guidance, lessons, and inspiration, our newfound but very extensive knowledge of the area, all lunches, motel lobby breakfasts, and Photoshop and image sharing sessions when possible.
You will learn and hone both basic and advanced compositional and image design skills. You will learn to get the right exposure every time. You will learn to develop your creative eye. You will learn the basics of HDR (high dynamic range) photography. You will learn a variety of in-camera creative techniques; Canon 5D Mark III bodies are a plus. And most importantly you will learn to see the situation and to create a variety of top-notch images. Do see both of our blogs for lots more on that in the coming weeks. You will learn how the quality and direction of light combine to determine the success of your images. And–please don't gasp–we will be working quite a bit with sidelight when creating landscapes. Lastly, we will be touching on infrared photography.
A non-refundable $699 deposit is due now. The balance will be due on January 29, 2015. With the unpredictable nature of the photography business, I have not said this often lately, but it seems quite likely that this one will fill up very quickly. Please let me know via e-mail that you will be joining us. Then you can either call Jim or Jennifer at 863-692-0906 during business hours or send us a check; the latter is preferred.
Please send your deposit check made out to "Arthur Morris" to us at Arthur Morris/BIRDS AS ART, PO Box 7245, Indian Lake Estates, FL, 33855. If you have any questions, please feel free to contact me via e-mail. You can also contact denise via e-mail here
Facebook
Be sure to like and follow BAA on Facebook by clicking on the logo link upper right. Tanks a stack!
Support the BAA Blog. Support the BAA Bulletins: Shop B&H here!
We want and need to keep providing you with the latest free information, photography and Photoshop lessons, and all manner of related information. Show your appreciation by making your purchases immediately after clicking on any of our B&H or Amazon Affiliate links in this blog post. Remember, B&H ain't just photography!
…..
Amazon Canada
Many kind folks from north of the border, ay, have e-mailed stating that they would love to help us out by using one of our affiliate links but that living in Canada and doing so presents numerous problems. Now, they can help us out by using our Amazon Canada affiliate link by starting their searches by clicking here. Many thanks to those who have written.
Typos
In all blog posts and Bulletins, feel free to e-mail or to leave a comment regarding any typos, wrong words, misspellings, omissions, or grammatical errors. Just be right. 🙂