The Streak Continues: 252
This post was published just after 8:30am from my home at Indian Lake Estates, FL. Yesterday I enjoyed another great swim, an ice bath, a productive but relaxing day of work, and another good night's sleep. The mornings have been clear, still, hot and sunny. The afternoons have been partly cloudy. And just after dinner there has been an absolute deluge every day. This post, which took me more than 4 1/2 hours to prepare, marks 252 consecutive days with a new enjoyable and educational blog post.
With so many folks getting in the habit of using our B&H links and our Amazon logo-links, why quit now? April, May, and June were fantastic. July was good. Lots of folks are getting the message: using my affiliate links does not cost you a penny and helps support my efforts here. To show your appreciation, I do ask that you use our B&H and Amazon affiliate links on the right side of the blog for all of your purchases. Please check the availability of all photographic accessories in the BIRDS AS ART Online Store, especially Gitzo tripods, Wimberley tripod heads, and the like. We sell only what I have used and tested, and know that you can depend on. We will not sell you junk. We know the tools that you need to make creating great images easy and fun. And we are always glad to answer your gear questions via e-mail.
You can find the following items in the store: Gitzo tripods, Mongoose M3.6 and Wimberley heads, plates, low feet, and accessories, flash brackets, , Delkin e-film Pro Compact Flash Cards, LensCoat products, and our unique line-up of educational materials including ABP I & II, Digital Basics, Site and Set-up e-Guides, Canon and Nikon Camera Users and AF e-Guides, and MP-4 Photoshop video tutorials among others.
I would of course appreciate your using our B&H affiliate links for all of your major gear, video, and electronic purchases. For the photographic stuff mentioned in the paragraph above we, meaning BAA, would of course greatly appreciate your business. Here is a huge thank you to the many who have been using our links on a regular basis and visiting the BAA Online store as well.
"Learning to Think and See Like a Pro/The Fourth of a Series" Images
The images from the fourth Learning to Think and See Like a Pro blog post that were promised for today will be featured in tomorrow's blog post. Lots of folks have posted some great ideas by leaving well thought out comments. As you now have another day it is not too late to take a crack at it.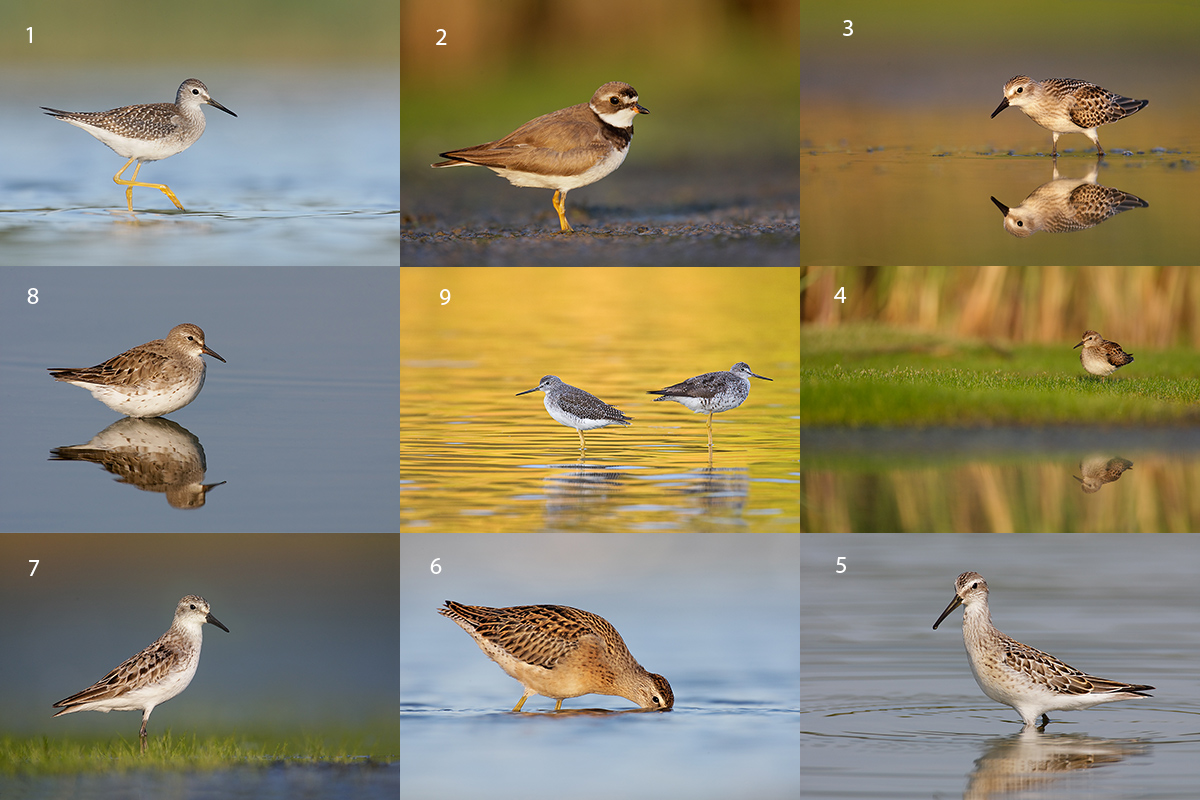 All of the shorebirds on this composite card were photographed at Jamaica Bay Wildlife Refuge (JBWR) in late summer. Amazingly, "fall" (southbound) migration for arctic and sub-arctic breeding shorebirds begins every year in late June when the first Least Sandpipers and Short-billed Dowitchers, birds that did not breed, stop in New York City on their way south to their wintering grounds. You can learn the whole story, as well as the basics of identifying and ageing North American shorebirds in my Shorebirds: Beautiful Beachcombers (softcover: 160 pages with 96 full color photographs).
See the Shorebird ID quiz below and be sure to click on the image to view a larger size.
Shorebirds
For me, the coolest thing about learning to identify shorebirds is that once you learn the basics it is actually easier to age a shorebird, that is, to tell if it an adult or a juvenile, than it is to identify it as to species. And with a bit of experience, study, and practice, identifying the common North American migrant shorebirds is nowhere as difficult as it is reputed to be. Advice: get yourself a copy of my Shorebirds: Beautiful Beachcombers, study, and get out to local ponds, estuaries, beaches, and mudflats as much as possible for the next month. Mid-August through early September is the best time of year to see both adult and fresh juvenile shorebirds together on migration. Better yet, join me at JBWR for two great mornings of shorebird photography while honing your identification and ageing skills and learning a ton about my favorite bird family. See below for details.
Shorebird ID Quiz
After much thought I have decided to make things easy for y'all: we will do this as a matching exercise. You are invited to leave a comment by listing the numerals 1-9, each on its own line, and then cutting and pasting the name and age of the shorebird depicted in each image from this list:
Juvenile Least Sandpiper
Adult and juvenile Greater Yellowlegs
Stilt Sandpiper in juvenal plumage
Adult Semipalmated Sandpiper
Adult Semipalmated Plover
Juvenile Lesser Yellowlegs
Short-billed Dowitcher in fresh juvenal plumage
Worn, fading adult White-rumped Sandpiper
Fresh juvenile Semipalmated Sandpiper
Below I illustrate the proper format by giving you a head start with one correct answer:
1-
2-
3-
4-
5-
6-
7-
8-
9-Adult and juvenile Greater Yellowlegs
You may of course consult a good field guide or reference book. Good luck!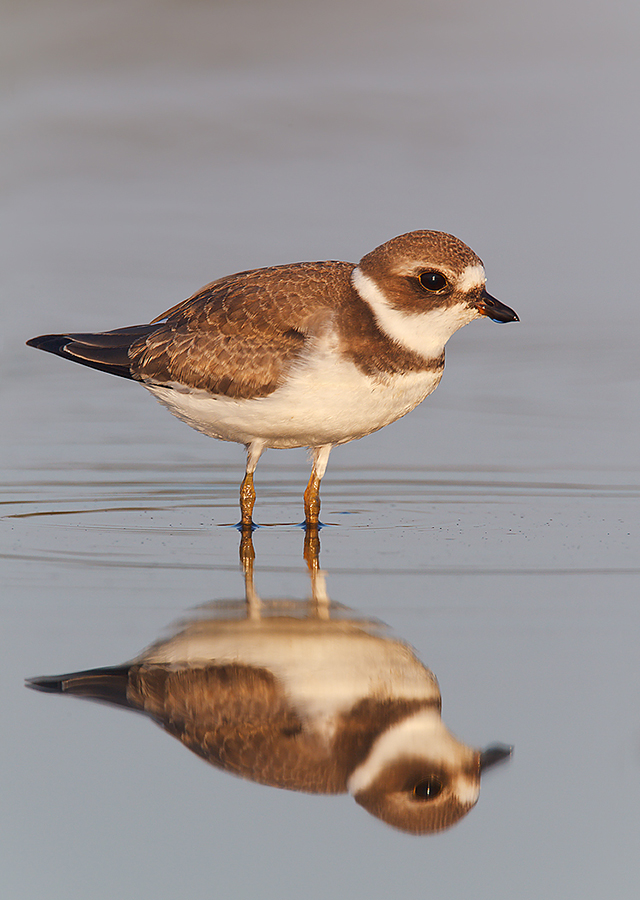 This juvenile Semipalmated Plover image was created on August 20, 2010. Note the whitish fringes on each feather of the bird's upperparts and crown that give the bird the scalloped look sported by many young shorebirds. I used the the Gitzo 3530LS tripod now replaced by the Gitzo 3532 LS carbon fiber tripod, the Mongoose M3.6 head, the Canon EF 800mm f/5.6L IS USM lens, the Canon Extender EF 1.4X III, and the EOS-1D Mark IV (now replaced by the Canon EOS-1D X. ISO 400. Evaluative metering +1 1/3 stops as framed: 1/320 sec. at f/11in Manual Av mode. AWB.
Central Sensor (by necessity)/AI Servo-Expand/Rear Focus on the bird's eye and re-compose. Today, when you add a 2X TC to an f/4 lens with the 1DX or the 5D III, hit the MFn button once to toggle to AF Expand and enjoy 4 extra AF sensors. Learn everything there is to know about the 1D X and 5D III AF systems including how to manage the various AF Area Selection Modes, when to use which one, and several ways to move the AF sensor around in the 1D X AF Guide and the 5D Mark III User's Guide. Click here to see the latest version of the Rear Focus Tutorial. Click on the image to see a larger version.
Your browser does not support iFrame.
JBWR Short-Notice Shorebird Photography and ID In-the-Field Morning Workshop Sessions
Saturday August 23 and Sunday August 24: sunrise till 10am followed by brunch and image review at a local diner: $299/morning session. $549 for both days. Limit 6.
Join me at Jamaica Bay Wildlife Refuge in Queens, NY for a morning or two of shorebird photography in the mud. You will learn to age and identify the common shorebirds that we will encounter. You will learn the best times, tides, and locations to visit for the very best shorebird photography on the east coast and why only a very few days each year offer the best chances for success. I will teach you how to get close; we will either be sitting in or lying on the hard mud. These two morning sessions offer you a chance to learn from someone who has spent more time studying and photographing the shorebirds of JBWR than anyone alive. Join me and you are invited to pick my brain; as is usual, I share everything that I know. For those who are coming from out of town who would like to photograph on either Saturday or Sunday afternoon I will be glad to offer location guidance and options. Some folks may wish to join me for a JBWR/Nickerson Beach double header. See below for Nickerson Beach details.
Payment in full is due when you register and is non-refundable. Call me on weekends or Jim or Jen weekdays at 863-692-0906 with a credit card in hand to register. Please print, complete, and sign the form that is linked to here and shoot us a scanned copy via e-mail or a hard copy via snail mail to BIRDS AS ART, PO Box 7245, Indian Lake Estates, FL 33855.
Nickerson Beach Short-notice Weekday Beach-nesting Birds IPT: 2-Full Days/August 25-26, 2014: $749*. Leader: Arthur Morris
Join me on Long Island, NY soon to photograph Black Skimmers with chicks and young of all sizes, adult and juvenile Common Terns, and American Oystercatchers with grown young. The skimmers will be the stars of the show. Mid- to late August is prime time for photographing young skimmers. Chances are great to witness Great Black-backed Gull predation. The will also be chances to photograph a variety of shorebird species including large flocks of southbound migrant Sanderlings. Car-pooling is recommended; if we opt to return to the beach before 5pm there is a $30/vehicle parking fee that is not included so it is best to share that expense. Parking in the morning is free.
Call me on weekends or Jim or Jen weekdays at 863-692-0906 with a credit card in hand to register and leave a non-refundable $200 deposit. We will hold your spot pending the arrival of a check for your $549 balance. Checks should be made out to "Arthur Morris" and mailed to us at BIRDS AS ART, PO Box 7245, Indian Lake Estates, FL 33855. Please print, complete, and sign the form that is linked to here and shoot us a scanned copy via email or a hard copy via snail mail to the PO Box above.
* Folks who sign up for one or both JBWR morning sessions may apply a $50 discount to their Nickerson Beach fee bringing that cost down to $699.
If you have any questions please feel free to contact me via e-mail or by phone this weekend at 863-692-0906. Some may wish to combine this workshop with one or both of my JBWR morning In-the-Field sessions above or with Denise's Nickerson Beach weekend workshop below.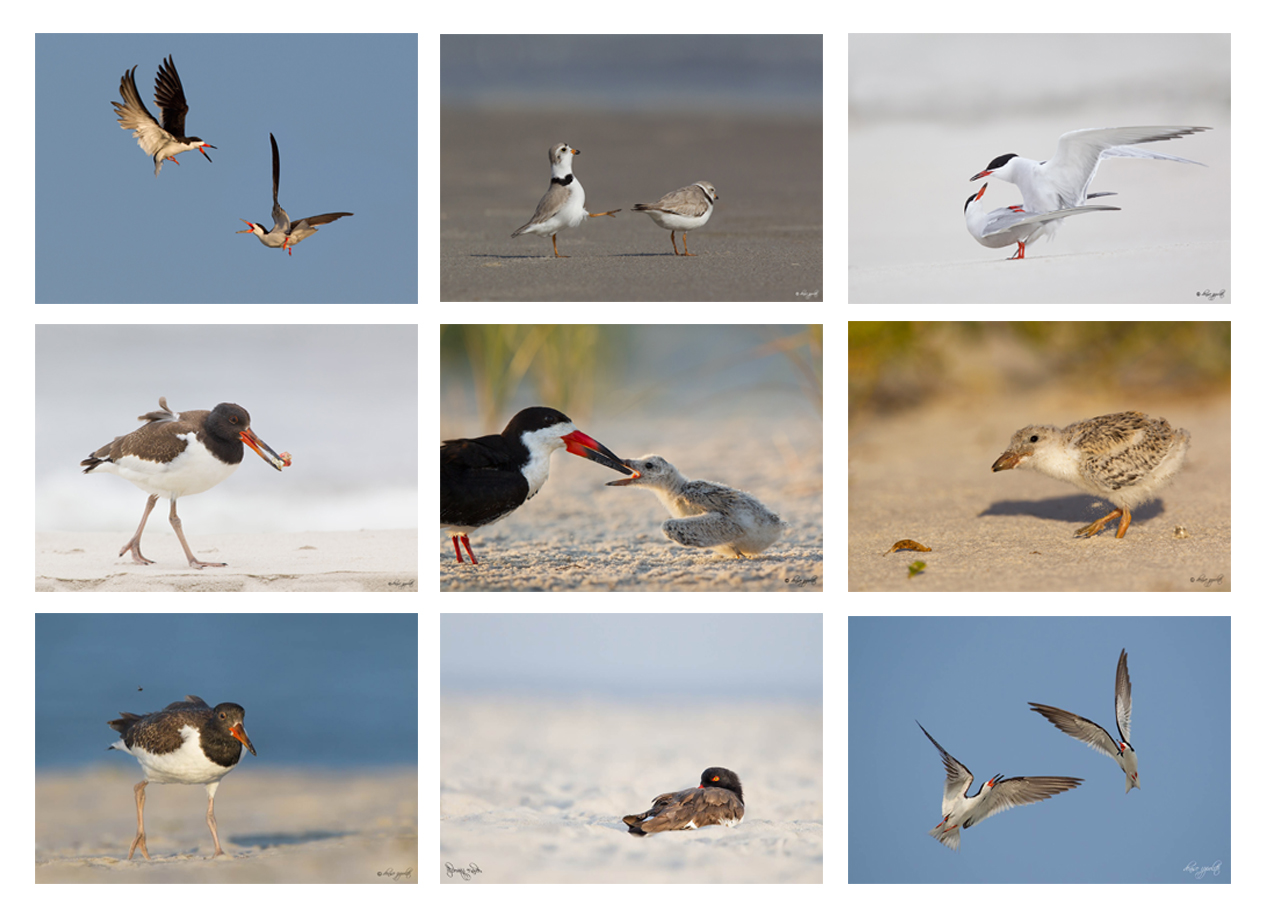 Images and card design by Denise Ippolito/A Creative Adventure
Denise Ippolito Nickerson Beach Workshop ~ Saturday & Sunday August 23-24th, $699.00 includes 4 photo sessions and 2 Image Review/ Photoshop sessions.
One great leader! Please let Denise know that you learned of this workshop through BIRDS AS ART. Click here and scroll down to register.
From Denise
There is just too much going on at Nickerson to stay away. I have decided to do a 2-day workshop at Nickerson Beach this August. By then lots of the Black Skimmer chicks will be hatched and there should also be plenty of action! The skimmers are lots of fun to photograph in flight, especially when they battle. We should also have good opportunities to photograph American Oystercatcher, Common Tern and maybe even some Least Terns and Piping Plovers. I will do my very best to get the group in position to capture great images. I will share with you my flight techniques and my techniques on getting you close to your subject. I will help you to recognize good situations and become a better bird photographer. This workshop needs 6 participants.
Saturday Schedule: 5:45am- 9:45am morning photography session, Lunch Break – Photoshop/Image Review, Gear and Camera settings session, Afternoon Break, 4:30pm- 7:30pm afternoon photography session.
Sunday Schedule: 5:45am- 9:45am morning photography session, Lunch Break- Photoshop/Image Review, Afternoon Break, 4:30pm- 7:30pm afternoon photography session.
We will photograph in the morning on Saturday, then break for an early lunch (included in the price). During lunch we will do image review and Photoshop lessons. After lunch I will go over gear handling tips and camera settings with the group. Then we will take an afternoon rest. This will give you time to download your images and have some time to yourself before we head back out in the late afternoon/early evening. Sunday we will wake up and have basically the same schedule as Saturday. This schedule is subject to change depending on conditions and wildlife. 🙂
Gear Suggestions:
I recommend that you bring your longest lens. If that is a 70-200mm lens than you will need a teleconvertor. You should have at the very least 400mm of focal length. A sturdy tripod- preferably w/o a center column. A complete list of gear recommendations as well as hotel recommendations and general information sheet will be provided at sign up.
Please contact Denise via e-mail with any questions.
Today's Featured Lens: Used Canon 800mm f/56L IS USM Lens
Multiple IPT veteran and good friend Mike Gotthelf, is offering a used Canon EF 800mm f/5.6L IS USM lens in excellent + condition for $8850. The lens is like new except for some very minor wear on the finish. The sale includes the leather hood, the original hard case and key, a low foot, a LensCoat, and insured shipping via UPS Ground to US addresses only. Personal checks only; your new lens will be shipped only after your check clears.
This great lens, my favorite for 3 years, sells new at B&H for $13,999.00. B&H is asking $11,399.95 for a used one here in the same condition as Mike's. They recently dropped their price for this lens from $11,999.90…. Buy Mike's lens and save $2456.95 right now! It will save you a ton of dough and you will have a super-sharp lens with lots of reach. And it works great with a 1.4X TC too with all pro bodies and with the 5D Mark III.
Interested folks can contact Mike via e-mail or by phone at (978)-407-0679 (eastern time).
Used Photography Gear for Sale
Though we have sold a boatload of great gear recently, there are still some great buys available. Click here to see the complete listings. Below is today's featured item.
Facebook
Be sure to like and follow BAA on Facebook by clicking on the logo link upper right. Tanks a stack!
Support the BAA Blog. Support the BAA Bulletins: Shop B&H here!
We want and need to keep providing you with the latest free information, photography and Photoshop lessons, and all manner of related information. Show your appreciation by making your purchases immediately after clicking on any of our B&H or Amazon Affiliate links in this blog post. Remember, B&H ain't just photography!
…..
Amazon Canada
Many kind folks from north of the border, ay, have e-mailed stating that they would love to help us out by using one of our affiliate links but that living in Canada and doing so presents numerous problems. Now, they can help us out by using our Amazon Canada affiliate link by starting their searches by clicking here. Many thanks to those who have written.
Typos
In all blog posts and Bulletins, feel free to e-mail or to leave a comment regarding any typos, wrong words, misspellings, omissions, or grammatical errors. Just be right. 🙂