The Streak Continues: 257
This item was published just before 7:00am from my home at Indian Lake Estates, FL. This blog post, which took me 2 1/2 hours to prepare, marks 257 consecutive days with a new enjoyable and educational blog post. As always, I would appreciate your using the BIRDS AS ART B&H affiliate links for all of your major gear, video, and electronic purchases, using our Amazon logo-link for all of your household purchases, and visiting the BAA Online Store for your tripod, tripod head, LensCoat, miscellaneuos, accessories, and eGuide purchases as well.
The Art of Flower Photography
Click here if you missed yesterday's eBook announcement.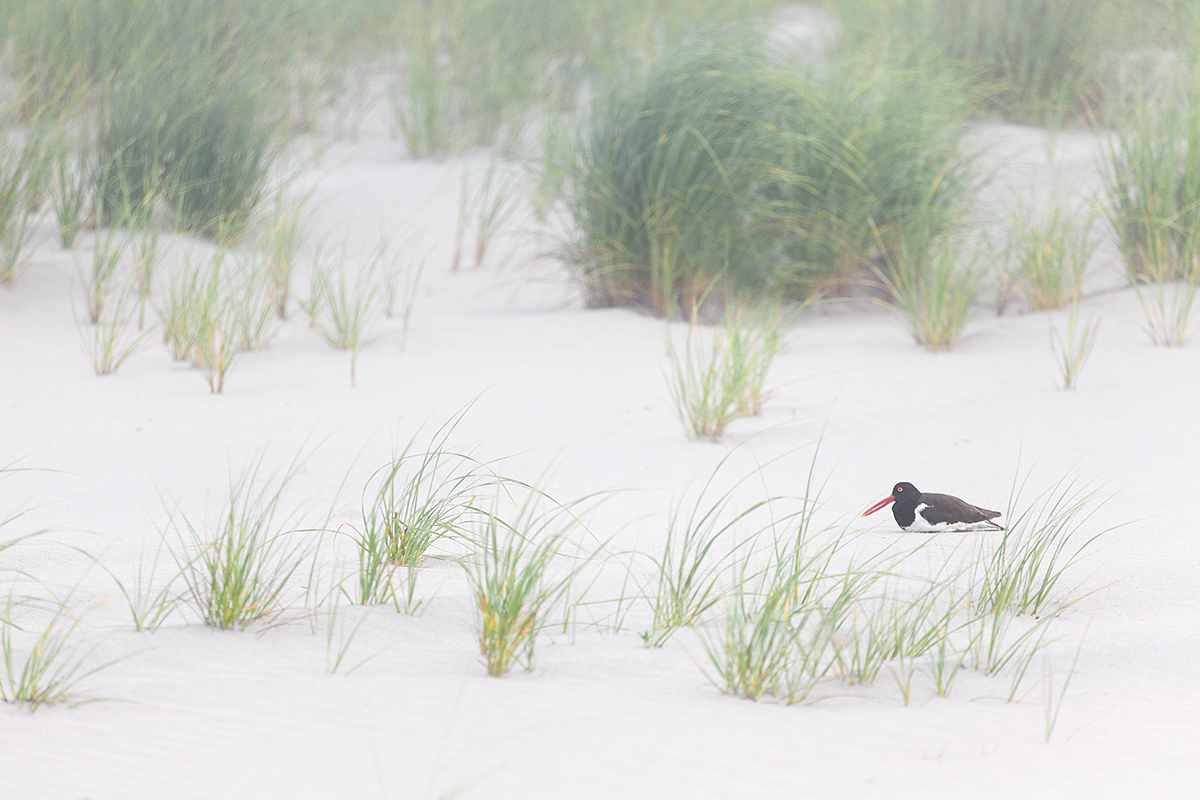 This image was created with the hand held Canon EF 70-200mm f/2.8L IS II lens , the Canon 1.4x EF Extender III (Teleconverter) (at 280mm), and the Canon EOS 5D Mark III . ISO 400. Evaluative metering + 2 stops as framed (would have been more than +3 stops off the foggy, dreary sky): 1/800 sec. at f/4 in Av mode. AWB.
Central sensor/AI Servo Surround/Rear Focus AF on the bird and re-compose. Click here if you missed the Rear Focus Tutorial. Be sure to click on the image to see a larger version.
I almost always have this rig on my shoulder via the Black Rapid RS-7 Camera Strap when walking the beach at Nickerson in the early morning.
Your browser does not support iFrame.
Wrong For So Long…
It is a little-known fact that all pro-sumer and professional digital camera bodies create and embed a JPEG at the moment of capture even if you have your camera set to RAW only. Folks like me who use BreezeBrowser can highlight an image and then hit Shift/Control/X and follow the prompts to extract that JPEG. I have been doing that for years. When I open an extracted JPEG from the 1D X and bring it into Photoshop CS-6 and go Image > Image Size (or hit Shift/Control X the Image Size dialogue box shows the pixel dimensions as 5760 X 3840 or 63.3M. I have been telling folks for years that all quality digital camera bodies create very large JPEGs at the moment of RAW capture. How large with a 1D X? I have been telling folks confidently for years "63.3 MBs.
When I shared that "fact" with Arash Hazeghi while we were discussing the new DPP 4.0 RAW Conversion Guide he told me that I was flat out wrong. "The embedded JPEGs are actually quite small" he said. "You can see how small by going to My Computer, finding the image, right-clicking on it, and selecting Properties from the drop-down menu. When I do that with an extracted JPEG from the 1D X the File Size shows as 1.04 MB…. Even more confusing for me is that when I click on the details tab the pixel dimensions are exactly as they show in Photoshop, 5760 X 3840….
When I asked Arash why Photoshop showed the JPEGs as 5760 X 3840 pixels I did not understand it well enough to share with you here. Actually I did not understand it at all. It is quite obvious that I am confused. I am starting to realize that pixel dimensions have nothing to do with file size and that 63.3M does not mean 63.3 MB…
If you can leave a clear, lucid explanation that explains the basis of my confusion your help would be greatly appreciated.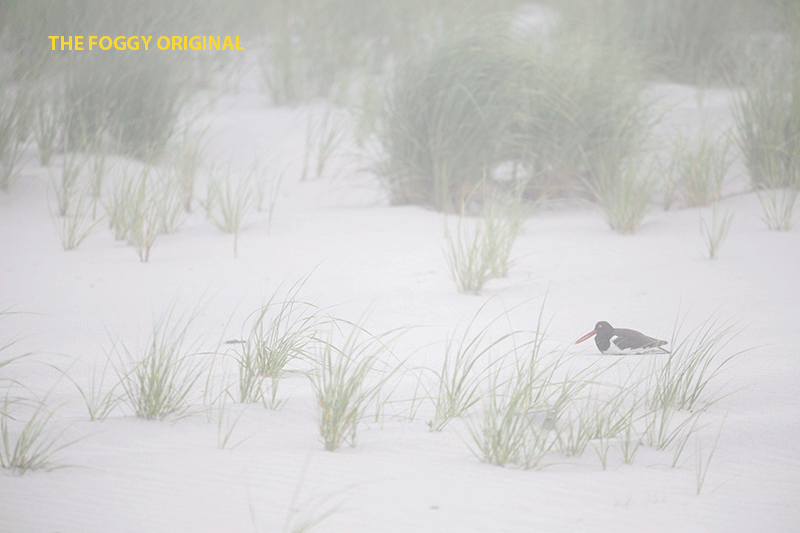 The animated GIF here compares the extracted JPEG (cropped to 800 pixels wide) with the optimized image (also cropped to 800 pixels wide).
The Foggy Image Optimization
After converting the image in DPP 4.0 I brought it into Photoshop CS-6 and did some clean-up work with the Clone Stamp Tool, the Spot Healing Brush, and several small Quick Masks that were fine-tuned with Regular Layer Masks. One Quick Mask layer was Warped. Next was a Levels adjustment but I did not move the shadow slider all the way to the clipping point (hold down the ALT key while moving the slider) as that made the image far too contrasty. I lowered the BLUE saturation about 40 points and raised the YELLOW saturation about 40 points, the latter to juice up the grasses a bit. I finished things off with a 10% Auto Contrast layer as taught to me by Denise Ippolito.
Image Questions
1-What were the 4 major clean-up projects?
2-Why is this an atypical BIRDS AS ART image?
3-What are the strong points of the image design?
The DPP RAW Conversion Guide
To learn why I use Canon's Digital Photo Professional (DPP) to convert every image that I work on, click here. Coming soon: the DPP 4.0 RAW Conversion Guide by Arash Hazeghi with Arthur Morris.
Digital Basics
Most everything that I did to optimize today's image above is detailed in my Digital Basics File–written in my easy-to-follow, easy-to-understand style. Are you tired of making your images look worse in Photoshop? Digital Basics File is an instructional PDF that is sent via e-mail. It includes my complete digital workflow, dozens of great Photoshop tips, details on using all of my killer clean-up tools, the use of Contrast Masks, several different ways of expanding and filling in canvas, all of my time-saving Keyboard Shortcuts, Quick Masking, Layer Masking, and NIK Color Efex Pro basics, Digital Eye Doctor, Tim Grey Dodge and Burn, how to create time-saving actions, and lots more.
APTATS I & II
Learn the details of advanced Quick Masking techniques in APTATS I. Learn Advanced Layer Masking Techniques in APTATS I. Mention this blog post and apply a $5 discount to either with phone orders only. Buy both APTATS I and APTATS II and we will be glad to apply at $15 discount with phone orders only. Please call Jim or Jennifer at 863-692-0906 weekdays to order.
Used Photography Gear for Sale
The "Old 600" that was featured in yesterday's blog post sold right then and there. Though have sold a boatload of great gear recently, there are still some great buys available. Click here to see the complete listings. Below s today's featured item.
Featured Lens
Used Canon 800mm f/56L IS USM Lens
Multiple IPT veteran and good friend Mike Gotthelf, is offering a used Canon EF 800mm f/5.6L IS USM lens in excellent + condition for $8850. The lens is like new except for some very minor wear on the finish. The sale includes the leather hood, the original hard case and key, a low foot, a LensCoat, and insured shipping via UPS Ground to US addresses only. Personal checks only; your new lens will be shipped only after your check clears.
This great lens, my favorite super-telephoto for more than 3 years, sells new at B&H for $13,999.00. B&H is asking $11,399.95 for a used one here in the same condition as Mike's. They recently dropped their price for this lens from $11,999.90…. Buy Mike's lens and save $2456.95 right now! It will save you a ton of dough and you will have a super-sharp lens with lots of reach. And it works great with a 1.4X TC too with all pro bodies and with the 5D Mark III.
Interested folks can contact Mike via e-mail or by phone at (978)-407-0679 (eastern time).
Selling Your Used Photo Gear Through BIRDS AS ART
Selling your used (or like-new) photo gear through the BAA Blog or via a BAA Online Bulletin is a great idea. We charge only a 5% commission. One of the more popular used gear for sale sites charges a minimum of 20% plus assorted fees! Yikes. The minimum item price here is $500 (or less for a $25 fee). If you are interested please e-mail with the words Items for Sale Info Request cut and pasted into the Subject line. Stuff that is priced fairly–I offer free pricing advise, usually sells in no time flat.
For me, the coolest thing about learning to identify shorebirds is that once you learn the basics it is actually easier to age a shorebird, that is, to tell if it an adult or a juvenile, than it is to identify it as to species. And with a bit of experience, study, and practice, identifying the common North American migrant shorebirds is nowhere as difficult as it is reputed to be. Advice: get yourself a copy of my Shorebirds: Beautiful Beachcombers, study, and get out to local ponds, estuaries, beaches, and mudflats as much as possible for the next month. Mid-August through early September is the best time of year to see both adult and fresh juvenile shorebirds together on migration. Better yet, join me at JBWR for two great mornings of shorebird photography while honing your identification and ageing skills and learning a ton about my favorite bird family. See below for details.
For the correct ageing and ID of each of the birds in the composite above, see the comments here.
JBWR Short-Notice Shorebird Photography and ID In-the-Field Morning Workshop Sessions
Saturday August 23 and Sunday August 24: sunrise till 10am followed by brunch and image review at a local diner: $299/morning session. $549 for both days. Limit 6.
Join me at Jamaica Bay Wildlife Refuge in Queens, NY for a morning or two of shorebird photography in the mud. You will learn to age and identify the common shorebirds that we will encounter. You will learn the best times, tides, and locations to visit for the very best shorebird photography on the east coast and why only a very few days each year offer the best chances for success. I will teach you how to get close; we will either be sitting in or lying on the hard mud. These two morning sessions offer you a chance to learn from someone who has spent more time studying and photographing the shorebirds of JBWR than anyone alive. Join me and you are invited to pick my brain; as is usual, I share everything that I know. For those who are coming from out of town who would like to photograph on either Saturday or Sunday afternoon I will be glad to offer location guidance and options. Some folks may wish to join me for a JBWR/Nickerson Beach double header. See below for Nickerson Beach details.
Payment in full is due when you register and is non-refundable. Call me on weekends or Jim or Jen weekdays at 863-692-0906 with a credit card in hand to register. Please print, complete, and sign the form that is linked to here and shoot us a scanned copy via e-mail or a hard copy via snail mail to BIRDS AS ART, PO Box 7245, Indian Lake Estates, FL 33855.
Nickerson Beach Short-notice Weekday Beach-nesting Birds IPT: 2-Full Days/August 25-26, 2014: $749. Leader: Arthur Morris
Join me on Long Island, NY soon to photograph Black Skimmers with chicks and young of all sizes, adult and juvenile Common Terns, and American Oystercatchers with grown young. The skimmers will be the stars of the show. Mid- to late August is prime time for photographing young skimmers. Chances are great to witness Great Black-backed Gull predation. The will also be chances to photograph a variety of shorebird species including large flocks of southbound migrant Sanderlings. Car-pooling is recommended; if we opt to return to the beach before 5pm there is a $30/vehicle parking fee that is not included so it is best to share that expense. Parking in the morning is free.
Call me on weekends or Jim or Jen weekdays at 863-692-0906 with a credit card in hand to register and leave a non-refundable $200 deposit. We will hold your spot pending the arrival of a check for your $549 balance. Checks should be made out to "Arthur Morris" and mailed to us at BIRDS AS ART, PO Box 7245, Indian Lake Estates, FL 33855. Please print, complete, and sign the form that is linked to here and shoot us a scanned copy via email or a hard copy via snail mail to the PO Box above.
If you have any questions please feel free to contact me via e-mail or by phone this weekend at 863-692-0906.
Facebook
Be sure to like and follow BAA on Facebook by clicking on the logo link upper right. Tanks a stack!
Support the BAA Blog. Support the BAA Bulletins: Shop B&H here!
We want and need to keep providing you with the latest free information, photography and Photoshop lessons, and all manner of related information. Show your appreciation by making your purchases immediately after clicking on any of our B&H or Amazon Affiliate links in this blog post. Remember, B&H ain't just photography!
…..
Amazon Canada
Many kind folks from north of the border, ay, have e-mailed stating that they would love to help us out by using one of our affiliate links but that living in Canada and doing so presents numerous problems. Now, they can help us out by using our Amazon Canada affiliate link by starting their searches by clicking here. Many thanks to those who have written.
Typos
In all blog posts and Bulletins, feel free to e-mail or to leave a comment regarding any typos, wrong words, misspellings, omissions, or grammatical errors. Just be right. 🙂