The Streak Continues: 266
This blog was published just before 3:30am from my Mom's home at Holbrook, Long Island, NY. I am meeting two clients at 5:55am at my old stomping grounds, the Jamaica Bay Wildlife Refuge in Queens, NY. I will be teaching them the shorebird ropes of the East Pond. It took me about 4 1/2 hours over the course of 3 days to assemble this post which makes 266 consecutive days with a brand new effort. I am in NY for a week of visiting my elderly (gonna be 92 soon) Mom, my younger sister Arna, my younger daughter Alissa and her wonderful family, and doing some late summer bird photography.
As always, I would appreciate your using the BIRDS AS ART B&H affiliate links for all of your major gear, video, and electronic purchases, using our Amazon logo-link for all of your household purchases, and visiting the BAA Online Store for your tripod, tripod head, LensCoat, miscellaneous, accessories, and eGuide purchases as well.
JBWR and Nickerson Beach Short-Notice In-the-field Workshop Morning Sessions
Scroll down for info on both.
Your Help Is Needed
Sales for the first half of August, 2014 via our BIRDS AS ART B&H affiliate links have been microscopically abysmal at best. If you need to purchase some new camera gear, please remember to use either our B&H logo link below or one of the product-specific links in the blog or the Bulletins. All should feel free to write me via e-mail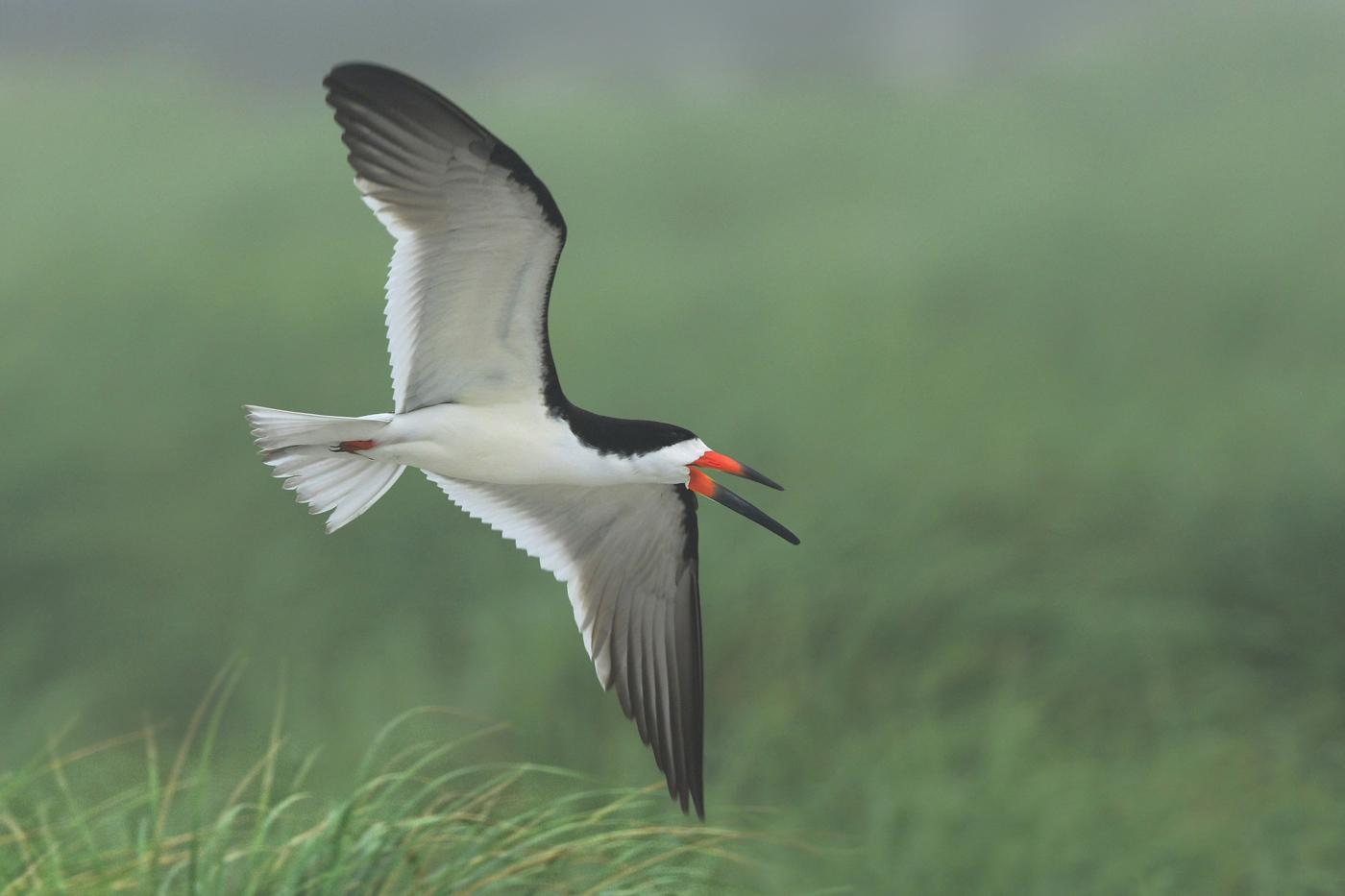 This image was created by participant Dave Klein on the mid-July Nickerson Beach IPT that I co-led with Denise Ippolito. Dave used the Nikon AF-S NIKKOR 500mm f/4G ED VR lens (Black) (hand held at 500mm/digital zoom 1.5X = 750mm) and the Nikon D7100 DSLR . ISO 800. Matrix metering +2/3 stop: 1/1000 sec. at f8 in Av mode. AWB.
Black Skimmer in flight. Image courtesy of and copyright 2014 Dave Klein
Your browser does not support iFrame.