The Streak Continues: 267
This blog was published just before 4:30am from my Mom's home at Holbrook, Long Island, NY. I am meeting four clients soon at my old stomping grounds, the Jamaica Bay Wildlife Refuge in Queens, NY. I will be teaching them the shorebird ropes at the East Pond. It took me about 1 1/2 hour to put this post together. It makes 267 consecutive days with a brand new effort. I am on Long Island until this coming Thursday while visiting my elderly (gonna be 92 soon) Mom, my younger sister Arna, my younger daughter Alissa and her wonderful family, and doing some late summer bird photography. So far, the photography has been phenomenal.
As always, I would appreciate your using the BIRDS AS ART B&H affiliate links for all of your major gear, video, and electronic purchases, using our Amazon logo-link for all of your household purchases, and visiting the BAA Online Store for your tripod, tripod head, LensCoat, miscellaneous, accessories, and eGuide purchases as well.
Nickerson Beach Short-Notice In-the-field Workshop Morning Sessions
Please see below for details.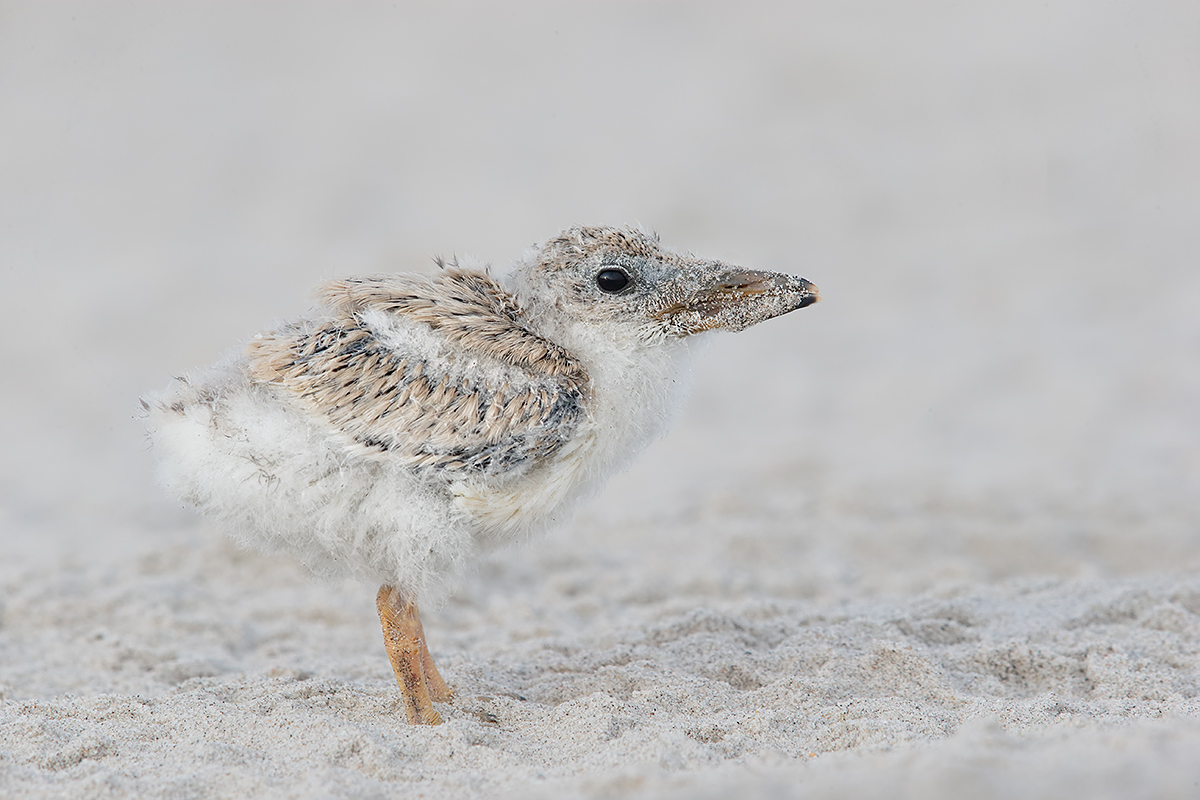 This image was created on Thursday morning past at Nickerson Beach in cloudy bright conditions with the Gitzo 3532 LS carbon fiber tripod, the Mongoose M3.6 head, the Canon EF 600mm f/4L IS II USM lens, the Canon Extender EF 2X III, and the Canon EOS-1D X. ISO 800. Evaluative metering +2 stops as framed: 1/250 sec. at f/13 in Manual mode.
Central Sensor (by necessity)/AI Servo-Expand/Rear Focus AF just forward of the bend of the wing was active at the moment of exposure. When you add the 2X TC to an f/4 lens with the 1DX or the 5D III hit the MFn button once to toggle to AF Expand and enjoy 4 extra AF sensors. Learn everything there is to know about the 1D X and 5D III AF systems including how to manage the various AF Area Selection Modes, when to use which one, and several ways to move the AF sensor around in the 1D X AF Guide and the 5D Mark III User's Guide. Click here to see the latest version of the Rear Focus Tutorial. Click on the image to see a larger version. .
Ten-day Old Black Skimmer Chick
Your browser does not support iFrame.
In the Zone
I was really in the zone on my first morning at Nickerson. Having believed the weatherman I missed an hour of nice light. But then the clouds came which is always fine with me. I picked a spot that I thought would be productive and withing 15 minutes I was surrounded by skimmers and skimmer chicks of all ages and sizes. Though the skimmers at Nickerson nested atypically late this year, it was a productive season for them. The question remains as to what percentage of the smaller chicks like the one in the image above will survive until its time to head south…. Food (in the form or baitfish) has been relatively scarce this year, especially for Nickerson's Common Terns, a species that nested atypically early; they suffered high chick mortality (John Zarudsky/personal comment).
Back to photography: not having to worry about sun angle was a huge boon as much of the action was inside the ropes which would have been about 70 degrees off sun angle had it been a clear morning.
Image Questions
What is wide open with the 600 II/2X III combo?
Why f/13?
Confession
I did so well on Thursday that I was planning on a really long blog post. But I did not get back to my Mom's till well after 1pm. Then I napped, did my seven-tenths mile slow swim, napped, and visited my younger daughter Alissa's family for plov, a traditional Uzbek dish that I love. And right now (7:46pm as I type this) I am so exhausted so that all you are getting on Sunday is the one big little baby. Good night; I will be climbing into bed (on Saturday night of course) before 8pm.
Your Help Is Needed
Sales for the first half of August, 2014 via our BIRDS AS ART B&H affiliate links have been microscopically abysmal at best. If you need to purchase some new camera gear, please remember to use either our B&H logo link below or one of the product-specific links in the blog or the Bulletins. All should feel free to write me via e-mail