The Streak Continues: 272
This blog was published at 6:30am from my home in Indian Lake Estates, FL. My flight yesterday from Islip to Orlando was uneventful. Right now it is looking like an unprecedented ten weeks with no plane flights on the horizon until I fly to ABQ for a long stretch at Bosque. Then home for four days before heading to the Southern Ocean for a month on another great Cheeseman's Expedition. See yesterday's blog post for more info on that trip. Photographically, my New York week was phenomenal. This post makes 272 in a row.
As always, I would appreciate your using the BIRDS AS ART B&H affiliate links for all of your major gear, video, and electronic purchases, using our Amazon logo-link for all of your household purchases, and visiting the BAA Online Store for your tripod, tripod head, LensCoat, miscellaneous, accessories, and eGuide purchases as well.
The Leader's Favorites
Paul McKenzie's great love is for the Whooper Swans. Like me, Denise's favorites are the Red-crowned Cranes and the sea eagles–there are two species, the huge Steller's and the smaller white-tailed. And all three of us love the adorable Snow Monkeys. It is not too soon for you to join this trip of a lifetime and choose your favorite. If you want to hone your flight photography skills, this is the trip for you Everything flies but the Snow Monkeys. But come to think of it we did photograph them jumping across the stream on our last trip…. And do know that images from Hokkaido have been honored in most every BBC Wildlife Photographer of the Year Competition for several decades. Three great leaders, the best lodge, the best guide, great food, superb organization, and a wealth of incredible subjects in awe-inspiring settings. What more could you ask for?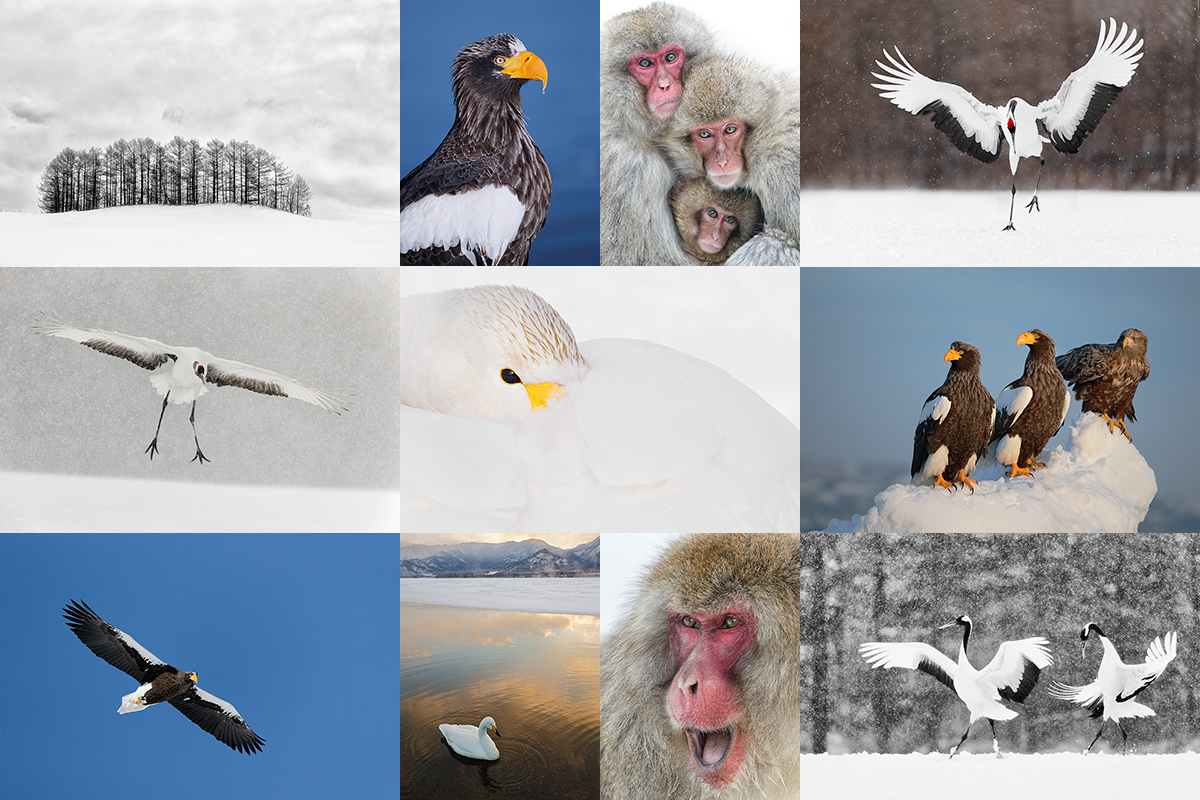 Consider joining us in Japan in February, 2016; the world's best Japan in Winter workshop. Click on the card to enjoy the spectacular larger version.
Japan In Winter IPT. February 9-24, 2016: $13,999/double occupancy. Limit 7: Openings: 3.
Needs five to run; just 1 more to go. All lodging including Tokyo hotel on 9 FEB, all breakfasts & dinners, ground transport and transfers including bus to the monkey park hotel, and all entrance fees and in-country flights are included. Not included: international flights, all lunches–most are on the run, and alcoholic beverages.
This trip is one day longer than the 2014 trip to allow for more flexibility, more time with the cranes, and most importantly, more time for landscape photography. Hokkaido is gorgeous. Three great leaders plus the world's best Japan in winter Japanese photography guide: the amazingly creative Denise Ippolito, multiple award winning photographer Paul McKenzie and yours truly. Tons of trip planning and gear advice, in-the-field instruction and guidance, at-the-lodge Photoshop and image review sessions in addition to short introductory slide programs for each of the amazing locations.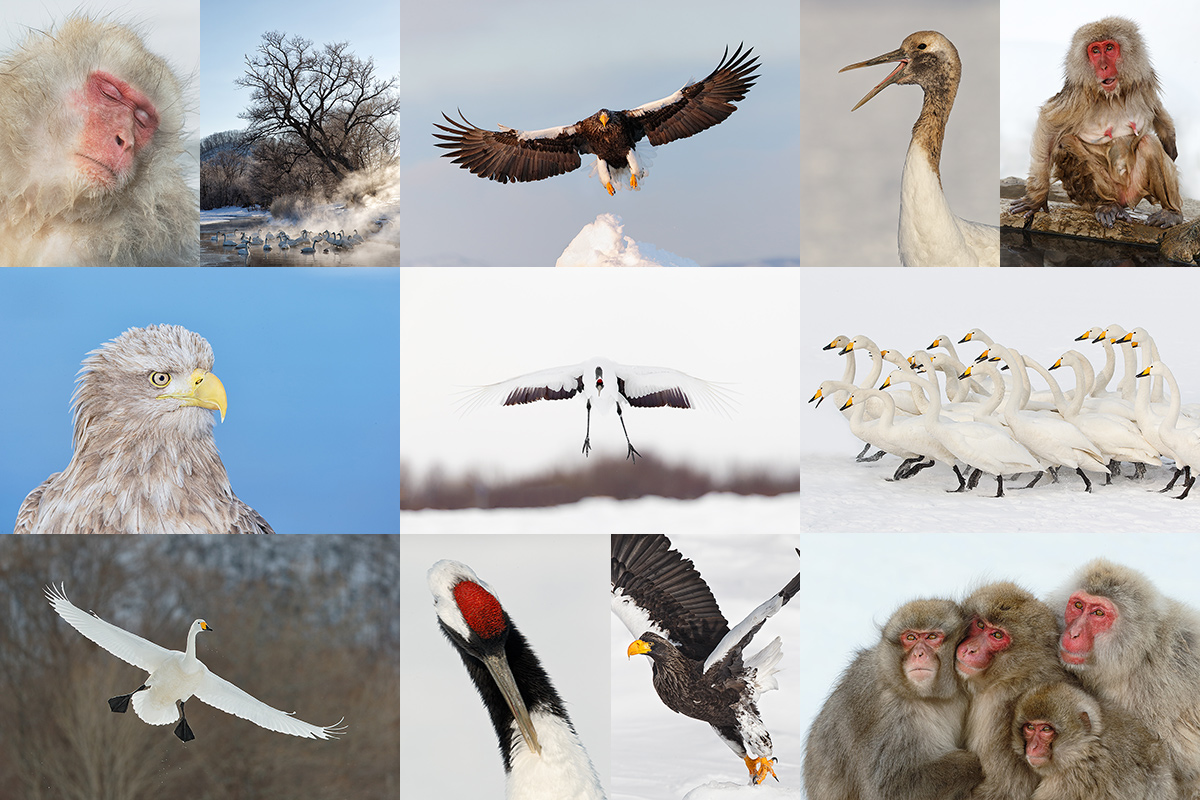 Amazing subjects. Beautiful settings. Nonstop action and unlimited opportunities. Join us.
Arrive Tokyo: 9 FEB 2016 the latest. 8 FEB is safer and gives you a day to get acclimated to the time change. Your hotel room for the night of the 9th is covered.
Travel to Monkey Park Hotel: 10 FEB: Short 1/2 DAY of Monkey photography possible depending on our travel time….
Full Day snow monkeys: FEB 11.
Full Day snow monkeys: FEB 12.
13 FEB: Full travel day to Hokkaido/arrive at our lodge in the late afternoon. The lodge is wonderful. All the rooms at the lodge have beds. Bring your warm pajamas. Local onsen (hot springs bath and tubs) is available for $5 each day before dinner–when you are cold, it is the best thing since sliced bread. Smile emoticon The home cooked meals at the lodge are to die for.
FEB 14-23: Red-crowned Crane, raptors in flight, Whooper Swans, and scenic photography. Ural Owl possible. One 2-night trip to Rausu for Steller's and White Tailed Sea Eagles on the tourists boats dependent on sea ice conditions. Only our trip offers complete flexibility in this area. It saved us this year. One afternoon of duck photography in the harbor is a strong possibility in Rausu. 2-3 boat trips. In addition, few if any tours offer at least one afternoon boat trip….
Lodging notes: bring your long johns for sleeping in the lodge. In Rausu and the snow monkey park, the hotel the rooms are Japanese-style. You sleep on comfortable mats on the floor. Wi-fi is available every day of the trip.
FEB 24. Fly back to Tokyo for transfer to your airport if you are flying home that night, or, to your hotel if you are overnighting. If you need that room it is on you.
To save your spot, please send your $5,000 non-refundable deposit check made out to "Arthur Morris to Arthur Morris/BIRDS AS ART, PO Box 7245, Indian Lake Estates, FL 33855. We do hope that you can join us for this trip of a lifetime. Do e-mail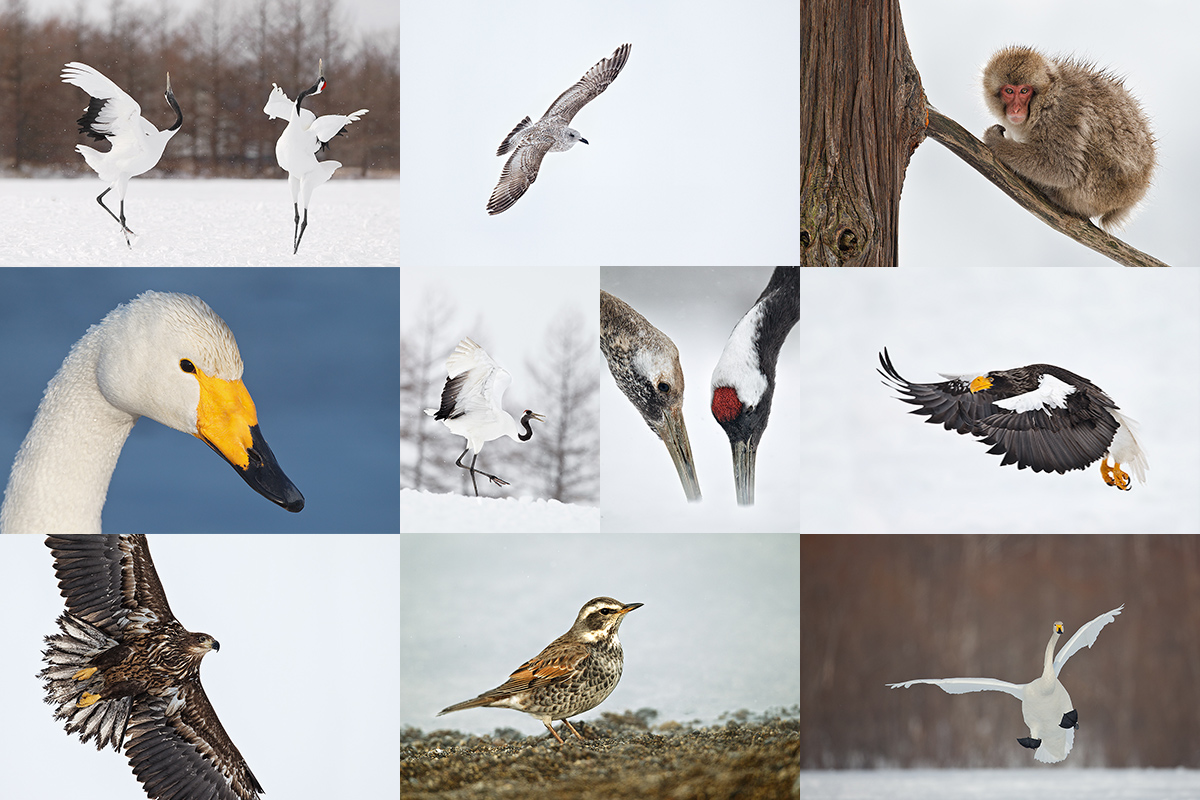 Life is short. Hop on the merry-go-round.