The Streak Continues: 275
This blog was published just after 5:30am from my home in Indian Lake Estates, FL after another great night's sleep. I will be here for the better part of the next ten weeks with no plane flights on the horizon until I fly to ABQ for a long stretch at Bosque. Then home for four days before heading to the Southern Ocean for a month on another great Cheeseman's Expedition. Click here for info on this great trip and learn about joining the BAA group. This post, which took me more than 2 1/2 hours to prepare, makes 275 in a row.
As always, I would appreciate your using the BIRDS AS ART B&H affiliate links for all of your major gear, video, and electronic purchases, using our Amazon logo-link for all of your household purchases, and visiting the BAA Online Store for your tripod, tripod head, LensCoat, miscellaneous, accessories, and eGuide purchases as well.
This Just In!
There are huge B&H discounts on most Canon lenses including and especially the super-telephotos. Click here to see the discounts and the amazingly low prices.
Here are some examples:
Canon EF 500mm f/4L IS II USM lens: $1000 off.
Canon EF 600mm f/4L IS II USM lens: $1000 off.
Canon EF 300mm f/2.8L IS II USM lens: $700 off.
Canon EF 800mm f/5.6L IS USM Lens: $500 off.
Canon Extender EF 1.4X III: $50 off.
Canon Extender EF 2X III: $50 off.
Festival of the Cranes Early Morning Photography In-the-Field Workshops Notice!
If you wish to guarantee a spot on one or more of the Festival of the Cranes Early Morning Photography In-the-Field Workshops it is imperative that you read the registration information below very carefully. Registration begins tomorrow for Friends of Bosque members only. See below for info on joining and registering early. We expect that all four sessions will fill quickly. Folks attending the Sunday session should consider the 2-DAY Creative Workshop as well as Denise and I still have a very few openings on that IPT.
Your Help Is Needed
Sales for the August, 2014 via our BIRDS AS ART B&H affiliate links have been microscopically abysmal at best. If you need to purchase some new camera gear, please remember to use either our B&H logo link below or one of the product-specific links in the blog or the Bulletins. All should feel free to write me via e-mail for gear advice.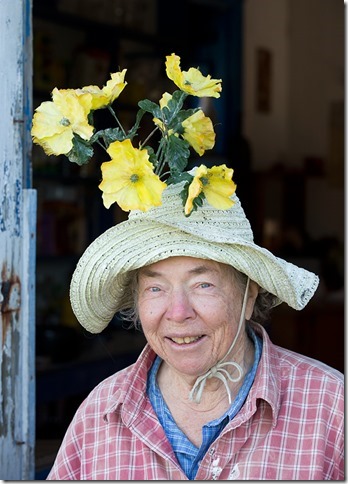 Helen Hays standing in one of the three GGI HQ doorways. The flowered straw hats (and other types of unique headgear) are designed to prevent scalp lacerations caused by terns defending their nest sites, eggs, and/or offspring.
Important "CBS This Morning" News Flash for Tuesday, September 2, 2014
Helen Hayes/Great Island Feature to Air
While I was on Great Gull Island this past July photographing Common and Roseate Terns as well B-roll GGI, a crew from CBS news showed up as scheduled to do a feature on Helen Hayes, now in her 47th year of studying the terns of GGI. The crew was made up of on-air talent/host Michelle Miller, producer Alberto Moya, videographer Paul Lederman, and talent acquisitions specialist (aka "talent scout") Ginny de Liagre, nice folks all.
The feature on Helen will air nationally on "CBS This Morning" between 8:00 and 9:00am on Tuesday, September 2, 2014. Be sure to tune in or catch it on Tivo or whatever device you use to record TV shows. Helen's dedication to the terns of GGI is unparalleled. My older daughter Jennifer worked on Great Gull for five summers and met her husband Erik there. As far as I know, the plan is to use six of my tern images in the feature.
Note: "CBS This Morning" airs from 7:00 to 9:00am. My understanding is that the GGI segment will air during the 2nd hour….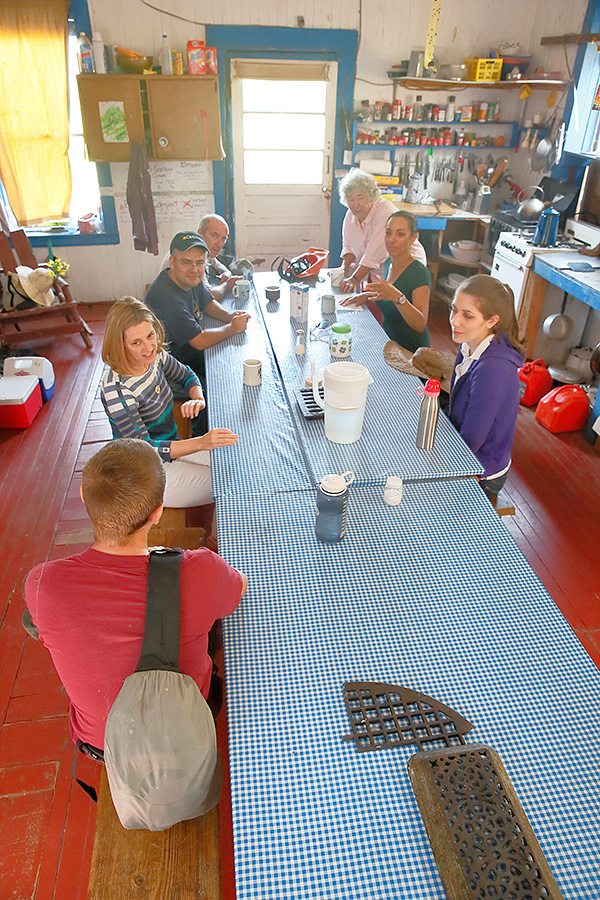 Clockwise from front left: with his back to the camera, tern researcher Ian Putnam, CBS talent scout Ginny de Liagre, producer Alberto Moya, videographer Paul Lederman, Helen Hays, feature host Michelle Miller, and Kendra Snyder, a public relations liaison from the American Museum of Natural History. AMNH owns Great Gull Island and the work there is done under the auspices of the museum. My interest in natural history was kindled on the many weekends that I spent walking the galleries of the museum as a young teen of about 13. My folks let me take the subway into the city. I'd start with what was then the Brighton Beach Express (now the Q train) and connect with what is now the C train….
The GGI Kitchen/Dining Room
The kitchen/dining room is one of four (relatively small) rooms in the Great Gull Island headquarters building. On my last visit, I learned that the floor is the original floor, circa the early 1900s as part of Fort Michie. Fort Michie was built in 1896 as part of the Harbor Defense of Long Island Sound.
Image Question
Why should I have created an HDR series for the image above?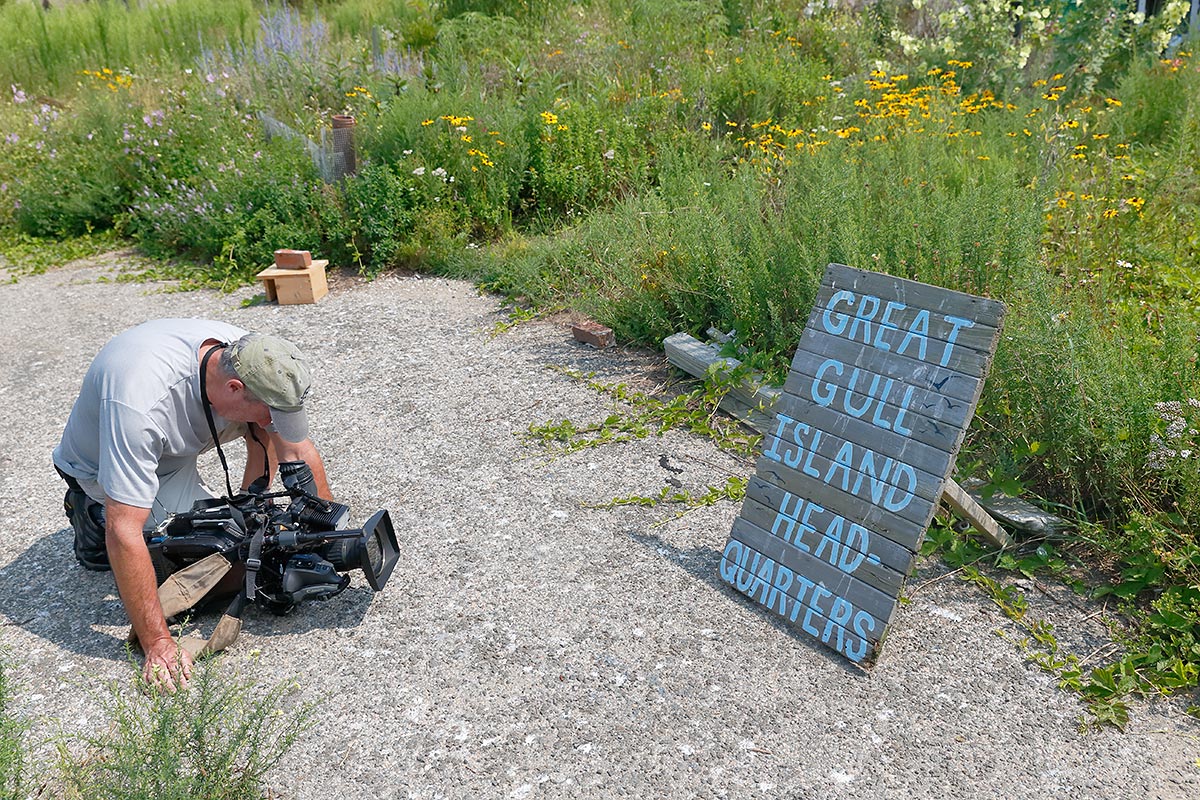 CBS videographer Paul Lederman filming the GGI HQ sign for B-roll.
My Right Shoulder
Whenever I see someone working with a huge video camera I quit feeling sorry for myself….
Thirty-one years of carrying a big lens on a tripod has taken a toll on my right shoulder. As regular readers know, I have been trying a variety of alternative methods of healing and pain relief. About six weeks ago I had stem cell/PRP/Prolozone injections in my right shoulder. While I do not quite have the hoped-for new shoulder yet, I have enjoyed great improvement. Before the treatment I had very limited range of motion and frequent sharp pain, and worst of all, when I swam, my shoulder always got worse. The more I swam, the worse the pain. Right now I have very close to complete range of motion with only a bit of tightness–and no pain. I have been easy-swimming between a half mile and a mile each day; when I get out of the pool, my shoulder feels better than when I got in the pool. No twinges while swimming and no pain afterwards. I am hoping to get another treatment on the right shoulder as well as one for my bone on bone left knee in the next week or two.
A while back, someone–a woman–I believe, wrote me asking about the stem cell/PRP treatment after I mentioned it on the blog. Though I spent a good deal of time searching for that e-mail, I have been unable to find it. If that was you, please get in touch again via e-mail.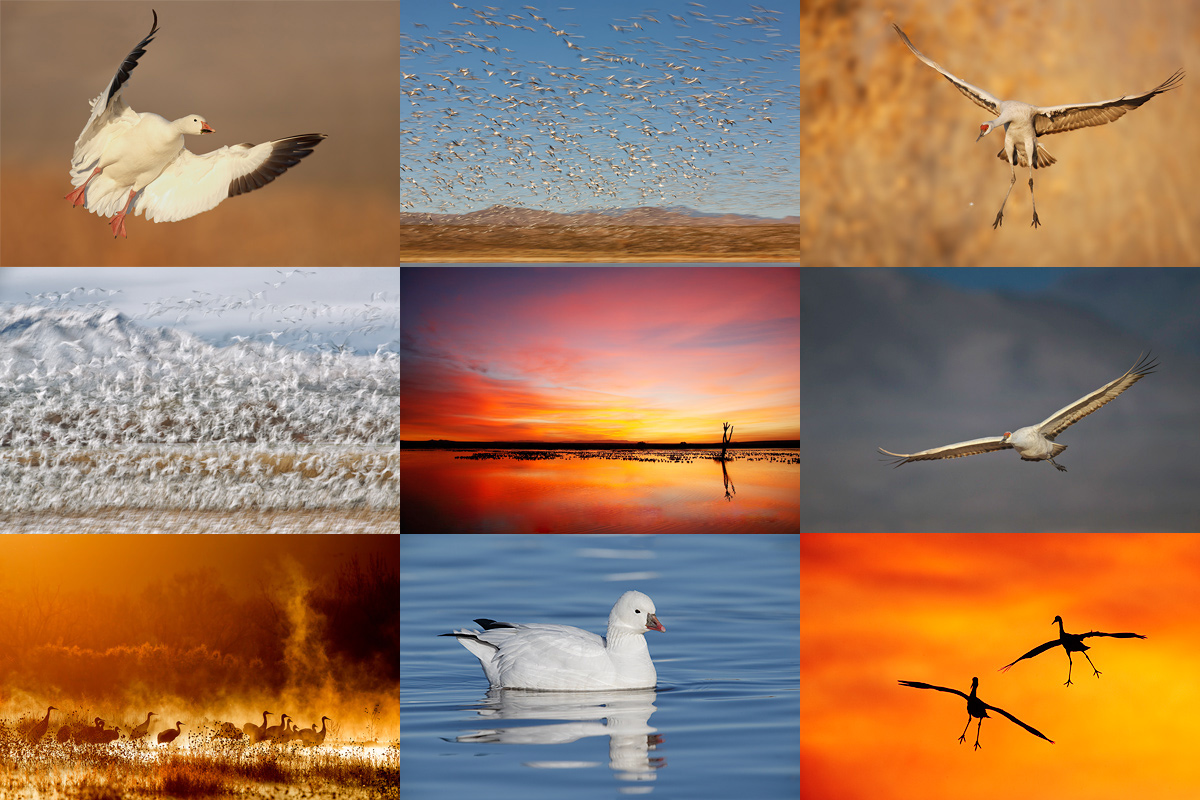 Get your butt on a plane and take advantage of some downright cheap instruction! Please click on the card to enjoy a larger version.
Festival of the Cranes Early Morning Photography In-the-Field Workshops
Festival of the Cranes Early Morning In-the-Field Photography Workshops: 5:50-10:30am. Limit 16. NOV 20/21/22 & 23: $125/session. Please see the important registration information below.
Join fulltime professional photographers Arthur Morris/BIRDS AS ART and Denise Ippolito/A Creative Adventure for four 1/2 hours of fun and learning at the refuge. You will learn how to create pleasingly blurred images in the low predawn light, to spot the good situations, to understand the effects of wind speed and direction on bird (especially in flight) photography, to photograph individual cranes in flight, to see and understand the light, to get the right exposure every time after making a single test exposure, and to design pleasing images. In addition you will learn and live Artie's early morning Bosque del Apache strategies, strategies based on over two decades of experience at the refuge. This is a caravan event and a refuge pass will be provided. Dress with layers for warmth and bring snacks and plenty of water. Workshop leaves sharply at 6:00 AM. This workshop is being offered on Thursday, Friday, Saturday, and Sunday.
Combining one or more all of the Early Morning Photography In-the-Field Workshops immediately above with the Bosque del Apache 2014 A Creative Adventure/BIRDS AS ART "Creative Photography Instructional Photo-Tour" (IPT) immediately below and/or the Bosque del Apache Photography Two-Part Seminar (scroll down for details) is a fabulous and economical way to maximize your educational and photographic opportunities on a 2014 Bosque visit. Why not take advantage of these great relatively inexpensive events and learn from two of the world's most talented, most creative, most caring, and most respected photographic educators, educators with a combined 26 years of Bosque experience?
Please note: the 4-DAY Bosque del Apache 2014 BIRDS AS ART/A Creative Adventure IPT (NOV 29–afternoon photo session through DEC 3–morning session is sold out with a waiting list as is the BIRDS AS ART Bosque del Apache/Canon EOS Destination Workshop (DEC 5-7, 2014).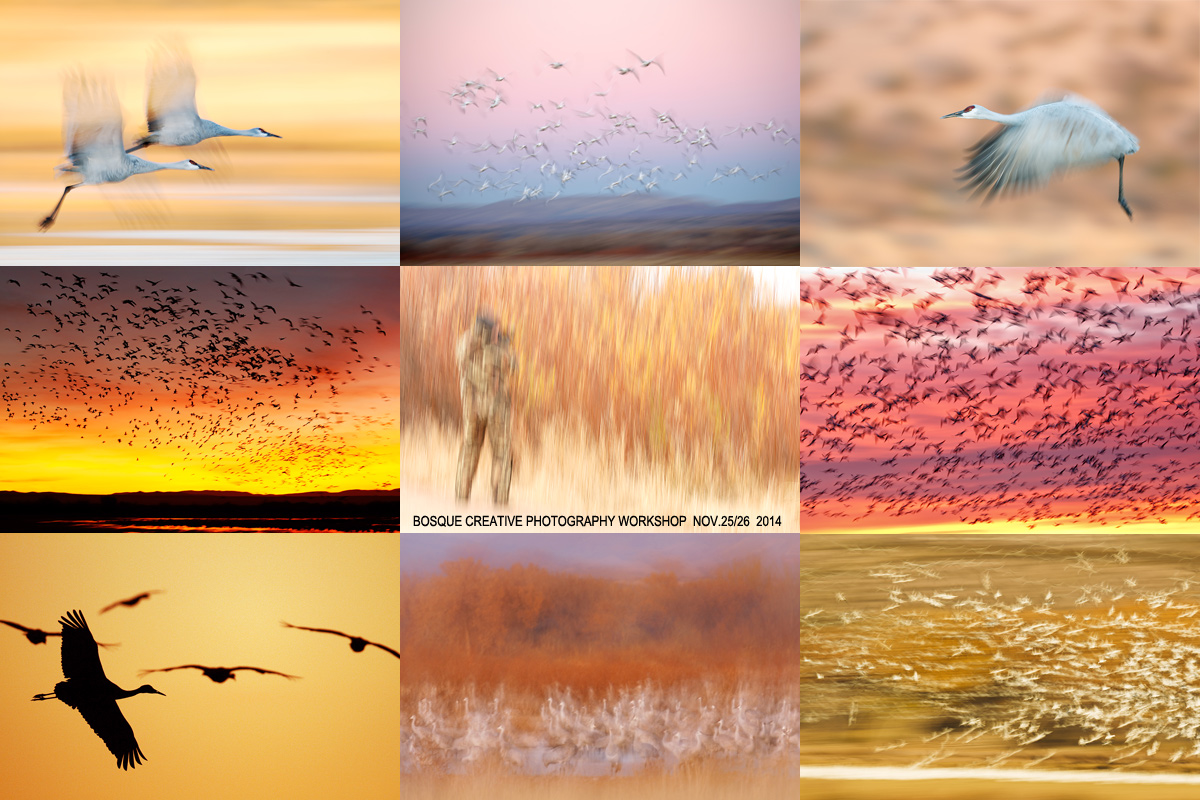 Join Denise Ippolito and Arthur Morris for two great days of photography, fun, and learning at one of our favorite soul places. We will surely be taking you out of the box on this workshop. Please click on the card to enjoy a larger version.
Bosque del Apache 2014 A Creative Adventure/BIRDS AS ART "Creative Photography Instructional Photo-Tour." (IPT). NOV 24-25, 2014. 2-FULL DAYS: $729. Leaders: Denise Ippolito & Arthur Morris. Introductory Slide program: 7:00pm on Sunday 11/23.
Get Out of Your Box!
The Creative Bosque IPT is perfect for folks who want to learn to think outside the box, to create new and different images. This workshop is the perfect add-on for folks who are planning on attending the Festival of the Cranes. Learn to unleash your creative juices at the wondrous Bosque del Apache National Wildlife Refuge in San Antonio, New Mexico with two great leaders including the amazingly talented and creative Denise Ippolito. In-the-field instruction will include tips on gear set-up, on creating a variety of pleasing blurs, on getting the right exposure, and on designing pleasing images. And lots more. From vertical pan blurs to subject motion blurs to zoom blurs to multiple exposures we will cover it all. If conditions are perfect, we will not hesitate to take advantage of them to do some traditional bird photography. This workshop will include an inspirational introductory slide program on Sunday evening, 11/23, after dinner on your own, two morning and two afternoon photography sessions, all lunches, a digital workflow and Photoshop session after lunch on Monday, and an image critiquing session after lunch on Tuesday.
A $329 non-refundable deposit is required to hold your slot for this IPT. Your balance, payable only by check, will be due on 7/25/2014. If the trip fills, we will be glad to apply a credit applicable to a future IPT for the full amount less a $100 processing fee. If we do not receive your check for the balance on or before the due date we will try to fill your spot from the waiting list. If your spot is filled, you will lose your deposit. If not, you can secure your spot by paying your balance.
Please print, complete, and sign the form that is linked to here and shoot it to us along with your deposit check (made out to "Arthur Morris.") You can also leave your deposit with a credit card by calling the office at 863-692-0906. If you register by phone, please print, complete and sign the form as noted above and either mail it to us or e-mail the scan. If you have any questions, please feel free to contact me via e-mail.
It's been a 20+ year love affair….
"Love Affair with Bosque." Sponsored by Canon. Friday, NOV 21, 2014; 1:00 to 2:40pm. Free, at the Bodega Restaurant, Socorro.
A slide program by Arthur Morris/BIRDS AS ART. Limit 200. Please see the important registration information below.
Arthur Morris first visited Bosque del Apache Refuge in December, 1992 while on sabbatical with his late-wife Elaine. While leading his first Bosque del Apache photographic workshop in December, 1994, quite soon after Elaine's death, he created two iconic Bosque images. His "Blizzard in Blue" was honored in the prestigious 1998 BBC Wildlife Photographer of the Year Competition. "Fire in the Mist" was similarly honored in the 2001 BBC competition and soon thereafter was featured as wrap-around cover art on the coffee table book, Life on the Earth, a celebration of 30 years of the best images from the Wildlife Photographer of the Year Competitions. Those two images laid the foundation for his more than two decade love affair with the refuge. He has returned every year since then at the Thanksgiving season while leading BIRDS AS ART Instructional Photo-Tours. In addition, he has two February visits along with two September visits, the latter visits in conjunction with the Bosque del Apache Open Windows Volunteer Program that he founded. Join us for Artie's photographic celebration of his "Love Affair with Bosque."
Finally, the Important Registration Information 🙂
Warning: if you do not read this information carefully you will likely screw up and experience some degree of disappointment. Forewarned is forearmed (praemonitus, praemunitus in Latin).
The best way to register for one or more of the Festival of the Cranes Early Morning Photography In-the-Field Workshops, the Bosque del Apache Photography Two-Part Seminar, and/or the free "Love Affair with Bosque" program is to use the registration button at http://www.festivalofthecranes.com.
Here's the rub: Online early registration for Friends of the Bosque members only will begin on Tuesday September 2, 2014 at 9:00 AM (MDT). Non-member online registration will begin a day later on Wednesday September 3, 2014 at 9:00 AM (MDT). E-mail confirmation of your registration, your receipt and your schedule will be sent automatically when you register online. Your schedule will be your ticket.
What to do?
If you wish to be assured of registering for the events that you wish to attend I recommend strongly that you click here right now and become a member of The Friends of the Bosque. Friends of the Bosque is a non-profit group that was organized in 1993 to support the Bosque del Apache National Wildlife Refuge and to promote appreciation and conservation of wildlife and habitat through environmental education and natural history experiences. I have been a member for many years. Joining the Friends group now will ensure that you can take advantage of the priority registration process that is reserved that is for their valued members on September 2 at 9:00am Mountain Daylight Time. Learn more about Friends of the Bosque here.
After you join, set your alarm to ring at 8:55am Mountain Daylight Time on September 2, 2014. As you might surmise, we expect that all three festival events will sell out quickly.
Facebook
Be sure to like and follow BAA on Facebook by clicking on the logo link upper right. Tanks a stack!
Support the BAA Blog. Support the BAA Bulletins: Shop B&H here!
We want and need to keep providing you with the latest free information, photography and Photoshop lessons, and all manner of related information. Show your appreciation by making your purchases immediately after clicking on any of our B&H or Amazon Affiliate links in this blog post. Remember, B&H ain't just photography!
…..
Amazon.com
Those who prefer to support BAA by shopping with Amazon may use this link:
Amazon Canada
Many kind folks from north of the border, ay, have e-mailed stating that they would love to help us out by using one of our affiliate links but that living in Canada and doing so presents numerous problems. Now, they can help us out by using our Amazon Canada affiliate link by starting their searches by clicking here. Many thanks to those who have written.
Typos
In all blog posts and Bulletins, feel free to e-mail or to leave a comment regarding any typos, wrong words, misspellings, omissions, or grammatical errors. Just be right. 🙂