Important "CBS This Morning" News Flash Update
Helen Hayes/Great Island Feature Re-scheduled.
8:51am EDT. The feature just aired. It was wonderful and I laughed a lot. And they used some of my images. I hope that each of you got it on tape or Tivo or got to watch it. It is not too late for those in time zones to the west.
A Wonderful and Moving Tribute to Helen Hays
Via a comment on the blog by Glen Fox
September 2, 2014 at 4:13 pm
Artie, Thank you for this photo and head-up regarding the CBS interview with Helen Hayes. I first came acquainted with Helen in 1957, at the American Ornithologists Union meeting in Regina, SK. when I was a 14yr old budding ornithologist. I remember distinctly the cheers and wolf whistles that went up as Helen, then a newly-minted waterfowl biologist crossed the stage to present her paper, and the extended applause she received after her presentation from all her male contemporaries. You see, Helen was a pioneer, and one of the very first female wildlife biologists of her day. Later, in the early 1970s, we worked together editing my manuscript on Common Terns based on my graduate thesis. Helen was then the editor of The Wilson's Bulletin, and with her help, that manuscript won a prize as the best paper to be published in that journal that year. Later, when I was a biologist with the Canadian Wildlife Service, we corresponded on deformities in fish-eating birds. Helen Hays has been a mentor and source of encouragement to hundreds of young people as she was to your Jennifer and her husband Erik. Her extensive data set on Common and Roseate Terns collected over the past 47 years will be a goldmine of information. Rarely do studies last more than 10 years, let alone 47! Hats off to the 80-something year old wonder lady with the yellow flowers in her straw hat. She is still a classy act and an inspiration to us all.. Yeah Helen!
On September 2, 2014 at 4:35 pm I responded:
Glen, Thanks for sharing your powerful and moving tribute to Helen with us here.
I wrote an article about Helen for the now defunct "Birder's World Magazine" about 20 years ago. It was entitled "One Good Tern Lady." At one point I had several hard copies but have lost track of those. I have been trying without success to find one so that I could scan the article…. Perhaps you or someone else has a copy…. best and thanks again, artie
Important Bosque Festival of the Cranes Event Registration Notice
Registration for all Festival of the Cranes workshops, seminars and programs will be open for all today at 9:00am MDT (11:00am EDT). Please click here and read carefully to avoid missing out on several wonderful and inexpensive educational opportunities. Please do not tarry as we expect all of the BAA/A Creative Adventure sessions to sell out quickly, especially the early morning In-the-Field Workshops.
The Streak Continues: 277
This blog was published just after 6:00am from my home in Indian Lake Estates, FL after another good night's sleep. We head to Tampa today for another stem cell/PRP/Prolozine injection treatment for my right shoulder and the first one for my left knee. This post, which took me about two hours to prepare, makes 277 in a row.
As always, I would appreciate your using the BIRDS AS ART B&H affiliate links for all of your major gear, video, and electronic purchases, using our Amazon logo-link for all of your household purchases, and visiting the BAA Online Store for your tripod, tripod head, LensCoat, miscellaneous, accessories, and eGuide purchases as well.
Web Orders Only Please!
Though we have let you know in the past that BAA will receive affiliate credit only for web orders, several well meaning folks have placed B&H orders by phone after calling and being told by the salesman that "BIRDS AS ART will absolutely earn credit for this purchase. Please understand that that is not the case. BAA affiliate credit is earned only on orders placed on the web.
I greatly appreciate those of you who have been placing your gear orders on the web while using our B&H (or Amazon) affiliate links.
Catching Up on Photography Fine Points
From time to time–but probably not often enough–I like to go back and take a look at the answers to the questions that are sprinkled throughout various blog posts.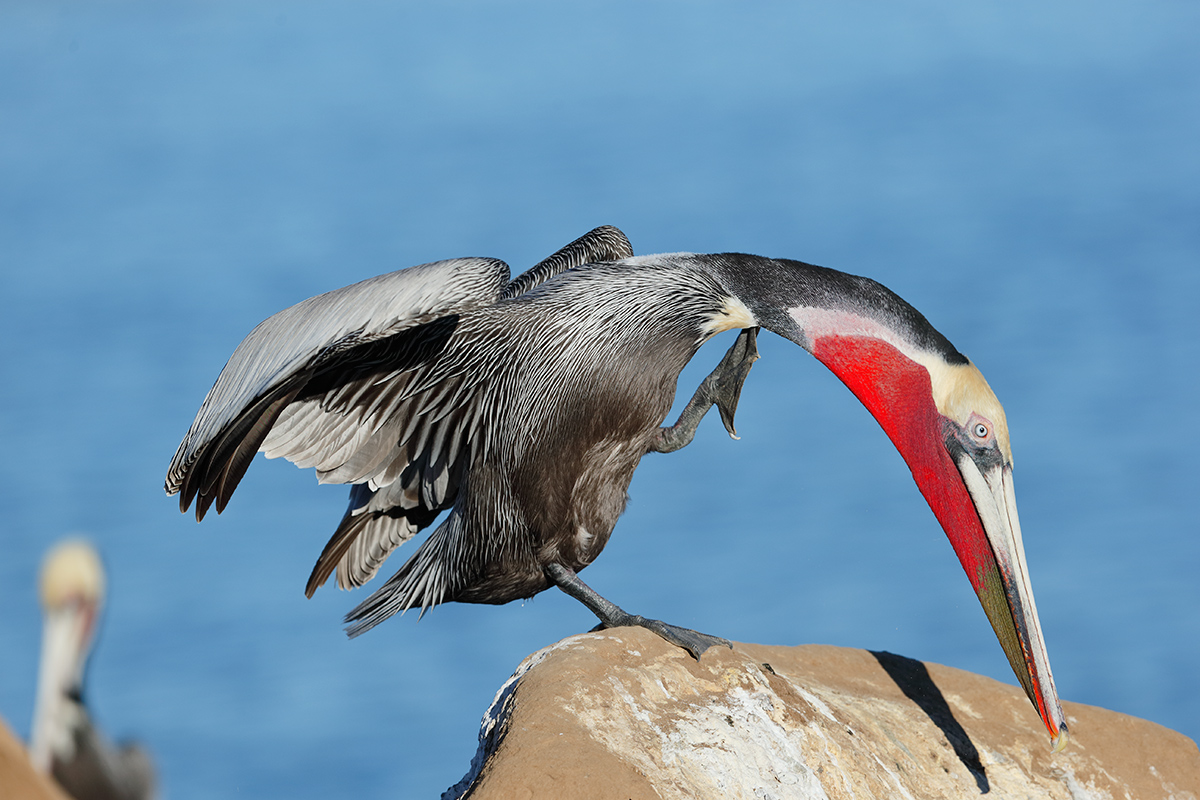 This image was created at 8:11am in full sun on last year's Short Notice San Diego IPT with the hand held Canon EF 300mm f/2.8L IS II USM lens and the Canon EOS-1D X. ISO 400. Evaluative metering at zero: 1/4000 sec. at f/4.5 in Manual mode.
Central sensor/AI Servo/Surround Rear Focus AF as originally framed (see below) was active at the moment of exposure. Click here to see the latest version of the Rear Focus Tutorial. Click on the image to see a larger version. See image next for the original capture.
Your browser does not support iFrame.
Mommy, Why are Their Bills So Red?
In yesterday's Mommy, Why are Their Bills So Red? blog post, I asked:
#1: Why didn't I simply point my lens to the right to eliminate the out-of-focus pelican behind the subject and have more room in front of the bird?
Nobody came close on this one…. At 1/4000 sec. at f/4.5 with central sensor AI Servo Surround set some might surmise that I had been concentrating on flight photography. They would have been correct. When I saw the pelican scratching, I got as low as I could to eliminate the rocks right behind the bird. I was not able to get low enough to separate the pelican's bill from the rock. I knew that there was too much room behind the bird and not enough room in front but I did not want to miss the scratching action. The problem stemmed from the fact that central sensor Surround AF was active; if I pointed the lens to the right for better framing the active sensor would have been on the distant ocean. I remember being reluctant to move the active AF sensor as I was not sure of what would have been the best choice.
Knowing now what I did not know then about 61-Point AF, I would have realized that 61-Point Automatic selection would have been perfect for this situation as I was almost parallel to the bird…. Once I acquired focus I would have been able to re-compose right without losing focus….
#2: Had I been able to get lower, how would that have helped the image?
As noted above, had I been able to get lower I could have eliminated the merge of the tip of the bill with the rock. Kudos to David Policansky for leaving a comment and nailing that one.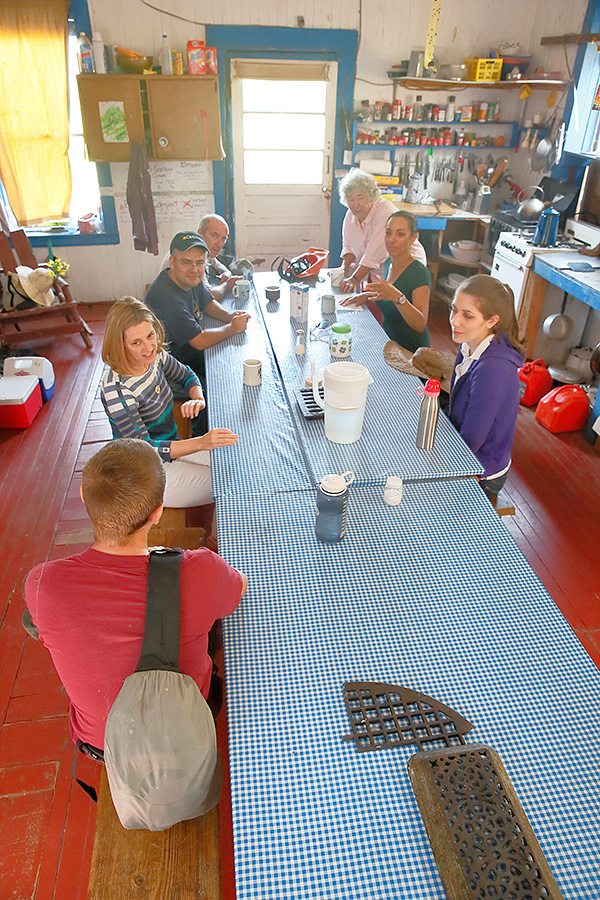 This image was created with the Canon EF 24-70mm f/2.8L II USM lens (hand held at 24mm) and the Canon EOS-1D X. ISO 1600. Evaluative metering +1/3 stop: 1/60 sec. at f/5.6 in Av mode. Color temperature: AWB.
Central sensor/AI Servo/Surround Rear Focus AF on the head of the young man with his back to the camera and and re-compose. Click here to see the latest version of the Rear Focus Tutorial. Click on the image to see a larger version.
Your browser does not support iFrame.
Important CBS This Morning News Flash for Tuesday, September 2, 2014
In the "Important CBS This Morning News Flash for Tuesday, September 2, 2014" blog post here, I asked, referring to the image created in the GGI kitchen, why I should have gone with an HDR (High Dynamic Range) series. When you are photographing indoors with a window to the outside world going HDR is often the best and only solution. Note that both windows as well as the blue & white checkerboard oilcloth at the far end of the table were mega-over-exposed.
I followed the standard advice of going "high and wide for people" and was standing on one of the bench seats. Being indoors I was at a necessarily slow shutter speed despite having set a high ISO so in order to create a usable HDR series I would have needed to have my rig on a tripod. But that was not possible with me standing on the bench seat. You get the picture. So I went with a straight image capture and lived with the toasted windows and tablecloth.
Had my EOS-5D Mark III not been on the fritz I would have gone with in-camera HDR Natural with Auto Align set and hoped for the best….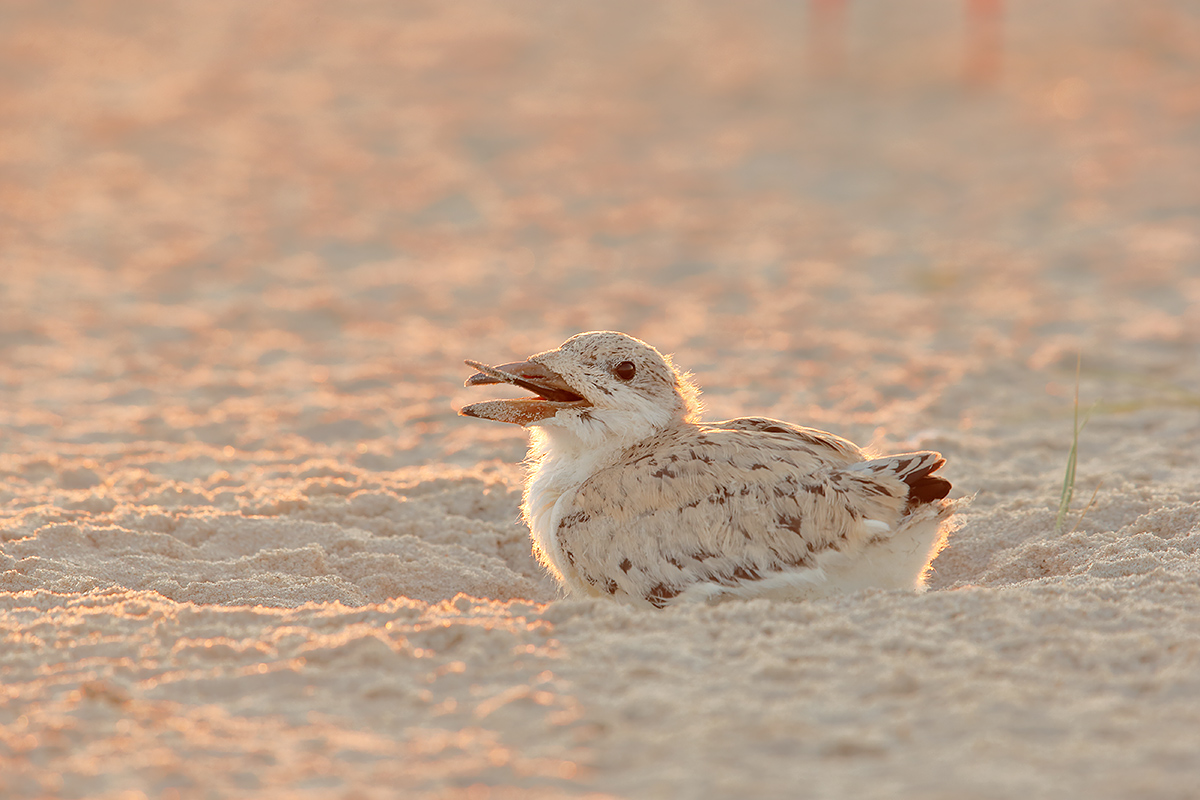 This image was created at Nickerson Beach at 6:33am on the clear morning of 25 August, 2014 with the Gitzo 3532 LS carbon fiber tripod, the Mongoose M3.6 head, the Canon EF 600mm f/4L IS II USM lens, the Canon Extender EF 2X III, and the Canon EOS-1D X. ISO 1600. Evaluative metering +1 2/3 stops as framed: 1/160 sec. at f/9 in Manual mode.
Central Sensor (by necessity)/AI Servo-Expand/Rear Focus AF on the base of the bird's face and release. When you add the 2X TC to an f/4 lens with the 1DX or the 5D III hit the MFn button once to toggle to AF Expand and enjoy 4 extra AF sensors. Learn everything there is to know about the 1D X and 5D III AF systems including how to manage the various AF Area Selection Modes, when to use which one, and several ways to move the AF sensor around in the 1D X AF Guide and the 5D Mark III User's Guide. Click here to see the latest version of the Rear Focus Tutorial. Click on the image to see a larger version.
Black Skimmer chick with twig at dawn
Your browser does not support iFrame.
The Importance of Being Early III
In The Importance of Being Early III I posted with regards to the image above:
Image Question
What other elements of composition–though quite small and seemingly insignificant to many, add to the success of this image?
The two tiny blades of grass right behind the behind the chick and the pair of legs of an adult skimmer on the upper right frame-edge both added interest to the image as both were perfectly positioned. If I were painting this chick on a plain sand beach I would have placed these two elements in exactly the same spots….
Just for the record book, the item that the chick is holding in its bill is a small, likely windblown twig.
AF Question
With the active and the eight surrounding sensors squarely on the chick's face why did I take my thumb off the rear focus button before creating the image? Note: I did not re-compose….
AF sometimes has problems in extreme low contrast situations. AF often has problems in backlit situations. For those reasons I released the rear focus button once I had acquired focus. Here's a tip for similar situations: there is a small, round, green AF indicator light. If that light is flickering when you are in AI Servo AF it means that AF is having trouble locking on. If the light is steady, it indicates that accurate focus has been achieved….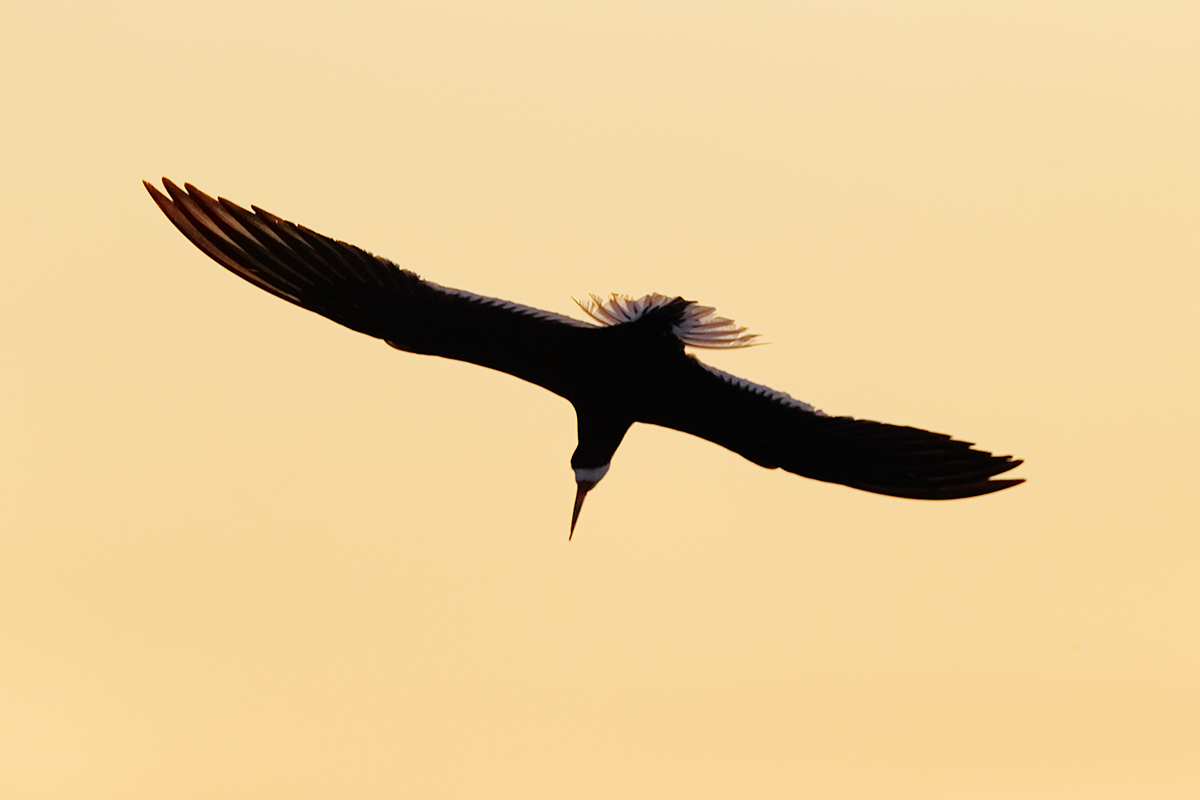 This image was also created on the morning of 25 August, 2014, this one at 6:46am, also with the Gitzo 3532 LS carbon fiber tripod, the Mongoose M3.6 head, the Canon EF 600mm f/4L IS II USM lens, the Canon Extender EF 1.4X III, and the Canon EOS-1D X. ISO 400. Evaluative metering at zero: 1/8000 sec. at f/5.6. in Av mode!
Central Sensor AI Servo-Surround/Rear Focus AF on the base of the bird's left wing just forward of the tail was active at the moment of exposure. Click here to see the latest version of the Rear Focus Tutorial. Click on the image to see a larger version. .
Black Skimmer diving on another during an aerial battle
Your browser does not support iFrame.
Exposure Questions
With regards to the skimmer silhouette image I wrote:
1-Why would +2 stops as framed have been very close to +3 stops off the sky?
+2 stops as framed would have been very close to the meter reading that you got at +3 stops off the sky because the bird is darker than the sky and would have influenced the meter. Remember that if you are (properly) working in Manual mode that you would need to look at the analogue scale in the viewfinder to note these differences.
2-Assuming that I went to Manual mode what would the correct shutter speed have been at f/5.6?
The image was created at zero in Av mode at 1/8000 sec. at f/5.6. To get two stops lighter in Manual mode I would have needed to halve the shutter speed twice as halving the shutter speed once gets you one stop lighter. Another way to think of it would be to go six counterclockwise clicks with the index finger wheel with each click representing 1/3 stop lighter. Either way you would wind up at 1/2000 sec. at f/5.6.
All photographers need to be familiar with the relationships that deal with ISO, shutter speed, aperture, and exposure compensation. In other words, you need to be able to do the math. Those who have trouble doing the math are referred to "Measuring Light in Stop"s section on page 54 of the original The Art of Bird Photography (160 pages in soft cover).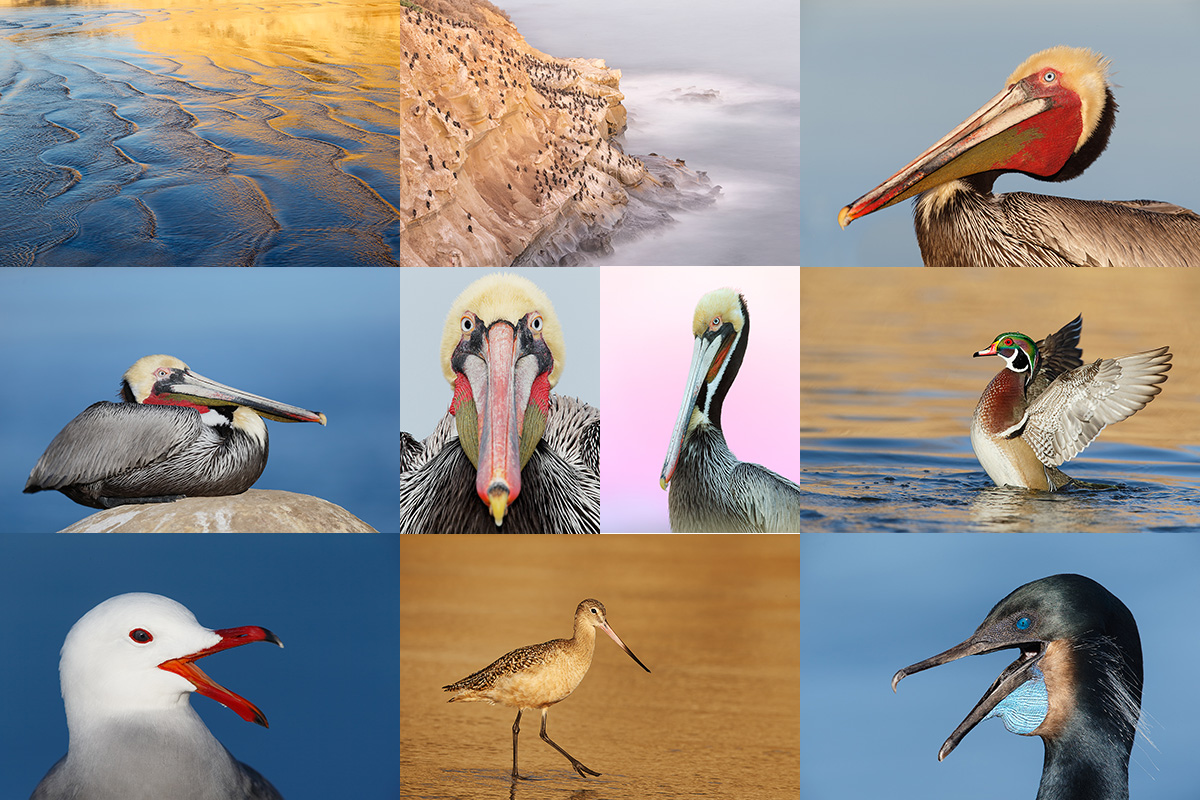 San Diego offers a wealth of very attractive natural history subjects. With annual visits spanning more than three decades I have lot of experience there….
2015 San Diego 4 1/2-DAY BIRDS AS ART Instructional Photo-Tour (IPT): FEB 1 thru the morning of FEB 5, 2015: $1799 (Limit: 8/Openings: 7)
Meet and Greet after dinner on your own at 7:00pm on JAN 31
Join me in San Diego to photograph the spectacular breeding plumage Brown Pelicans with their fire-engine red bill pouches; Brandt's and Double-crested Cormorants in breeding plumage with their amazing crests; breeding plumage Wood and Ring-necked Duck; other species possible inluding Lesser Scaup, Redhead, and Surf Scoter; a variety of gulls including Western, California, and the gorgeous Heerman's, all in full breeding plumage; shorebirds including Marbled Godwit, Willet, Sanderling and Black-bellied Plover; many others possible including Least, Western, and Spotted Sandpiper, Whimbrel, Black and Ruddy Turnstone, Semiplamated Plover, and Surfbird; Harbor Seals (depending on the current regulations) and California Sea Lions likely; and Bird of Paradise flowers. And as you can see by studying the two IPT cards there are some nice landscape opportunities as well.
Did I mention that there are wealth of great birds and natural history subjects in San Diego in winter?
This IPT will include five 3 1/2 hour morning photo sessions, four 2 1/2 hour afternoon photo sessions, five lunches, after-lunch image review and Photoshop sessions, and two fine dinners. To ensure early starts, breakfasts will be your responsibility.
A $499 non-refundable deposit is required to hold your slot for this IPT. You can send a check (made out to "Arthur Morris) to use at BIRDS AS ART, PO Box 7245, Indian Lake Estates, FL, 33855. Or call Jim or Jennifer at the office with a credit card at 863-692-0906. Your balance, payable only by check, will be due on 12/1//2014. If the trip fills, we will be glad to apply a credit applicable to a future IPT for the full amount less a $100 processing fee. If we do not receive your check for the balance on or before the due date we will try to fill your spot from the waiting list. If your spot is filled, you will lose your deposit. If not, you can secure your spot by paying your balance. Please print, complete, and sign the form that is linked to here and shoot it to us along with your deposit check. If you register by phone, please print, complete and sign the form as noted above and either mail it to us or e-mail the scan. If you have any questions, please feel free to contact me via e-mail.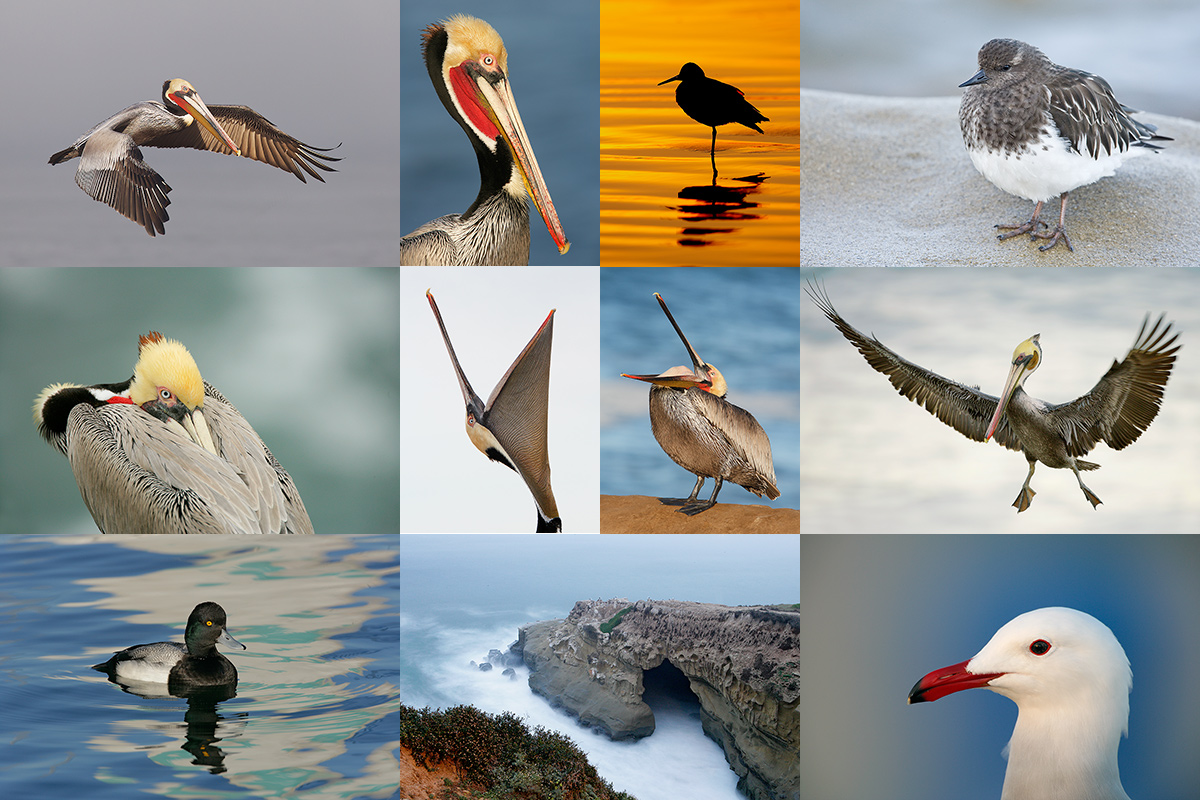 Though the pelicans will be the stars of the show on this IPT there will be many other handsome and captivating subjects in wonderful settings.
San Diego Natural History Museum Program & The Birds of the World Exhibit
On Saturday morning, February 7, 2015 I will be presenting "A Bird Photographer's Story" at the San Diego Natural History Museum to kick off the Birds of the World photographic exhibit that will feature the images of about a dozen of the world's top avian photographers. This program,which is being generously sponsored by the Canon Explorers of Light program, will be free and open to the public. I am proud to say that both Denise Ippolito and I will have images hanging in the show. The exhibit opening is scheduled for later that same day, February 7, 2015. (Times TBA).
Folks on the IPT who wish to stay over and attend the program and the exhibit opening on Saturday are invited to join me for a photo session on Friday morning as follows:
Friday Morning Add-on Photo Session: February 6, 2015: $299.
This workshop includes 3 hours of in-the-field pelican photography instruction and brunch with image review and Photoshop instruction. For now, this session is open only to folks attending the IPT.
Facebook
Be sure to like and follow BAA on Facebook by clicking on the logo link upper right. Tanks a stack!
Support the BAA Blog. Support the BAA Bulletins: Shop B&H here!
We want and need to keep providing you with the latest free information, photography and Photoshop lessons, and all manner of related information. Show your appreciation by making your purchases immediately after clicking on any of our B&H or Amazon Affiliate links in this blog post. Remember, B&H ain't just photography!
…..
Amazon.com
Those who prefer to support BAA by shopping with Amazon may use this link:
Amazon Canada
Many kind folks from north of the border, ay, have e-mailed stating that they would love to help us out by using one of our affiliate links but that living in Canada and doing so presents numerous problems. Now, they can help us out by using our Amazon Canada affiliate link by starting their searches by clicking here. Many thanks to those who have written.
Typos
In all blog posts and Bulletins, feel free to e-mail or to leave a comment regarding any typos, wrong words, misspellings, omissions, or grammatical errors. Just be right. 🙂