The Streak Continues: 279
This blog was published at 7:45am from my home in Indian Lake Estates, FL after another good night's sleep. I enjoyed an easy swim yesterday; only time will reveal the effects of the stem cell/PRP/Prolozine injections in my right shoulder (the 2nd set) and left knee. Healing takes time. This post, which took me about 3 hours to prepare, makes 279 in a row.
As always, I would appreciate your using the BIRDS AS ART B&H affiliate links for all of your major gear, video, and electronic purchases, using our Amazon logo-link for all of your household purchases, and visiting the BAA Online Store for your tripod, tripod head, LensCoat, miscellaneous, accessories, and eGuide purchases as well. Please remember, web orders only. 🙂
You can find the following items in the store: Gitzo tripods, Mongoose M3.6 and Wimberley heads, plates, low feet, and accessories, flash brackets, , Delkin e-film Pro Compact Flash Cards, LensCoat products, and our unique line-up of educational materials including ABP I & II, Digital Basics, Site and Set-up e-Guides, Canon and Nikon Camera Users and AF e-Guides, and MP-4 Photoshop video tutorials among others.
I would of course appreciate your using our B&H affiliate links for all of your major gear, video, and electronic purchases. For the photographic stuff mentioned in the paragraph above we, meaning BAA, would of course greatly appreciate your business. Here is a huge thank you to the many who have been using our links on a regular basis and visiting the BAA Online store as well.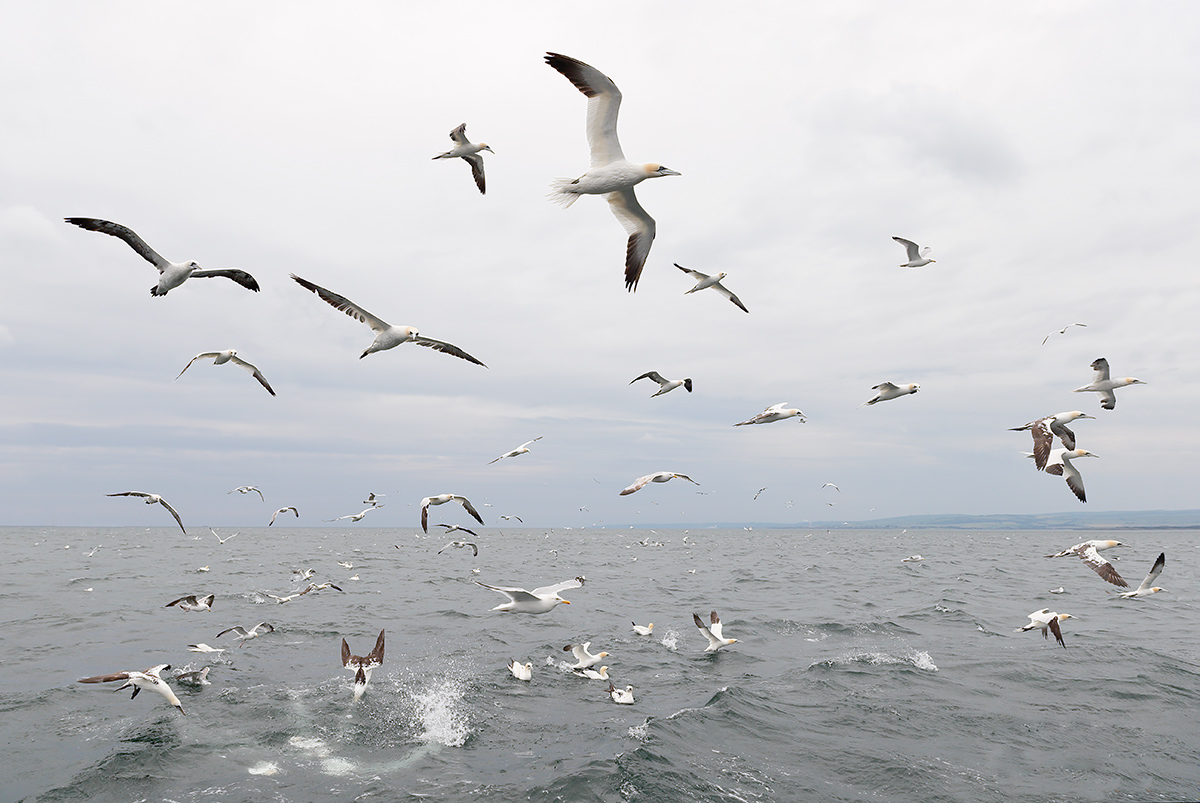 This image was created on last July's UK Puffins and Gannets IPT with the Canon EF 24-70mm f/2.8L II USM lens (hand held at 24mm) and the Canon EOS-1D X. ISO 800. Evaluative metering +1 2/3 stops off the sky: 1/2000 sec. at f/4.5 in Manual mode. Color temperature: Cloudy.
Central sensor/AI Servo/Surround Rear Focus AF on the closest gannets hitting the water and re-compose. Click here to see the latest version of the Rear Focus Tutorial. Click on the image to see a larger version.
Your browser does not support iFrame.
Ah, The Insanity Of It…
Once the mate began tossing fish and the gannets came, it was pure chaos. Within the hour, folks began taking extended rests, too exhausted even to lift their 70-200s. Once in a while I would take short "break" by going for some wide stuff with the 24-70. It is a lot lighter than the 70-200 f/2.8L IS II.
As you might surmise, the big key to creating pleasing images of single birds like the one immediately below is being able to isolate your chosen subject. Going to a longer focal length, a tactic that usually works well when you have problems isolating a single bird in a flock, did not help on the gannet boat because the birds were simply too close. In fact, pretty much everyone in the group removed their 1.4X teleconverters from their 70-200s….
So how do you go about isolating a single gannet? Study and anticipation. I urged the group to simply quit photographing the birds for a minute, to see how they were flying, to note the direction of the wind and the quality and direction of the light. Bird behavior tends to be repetitive.
In the situation pictured above, I might have counseled the group in my loudest voice something like this, "Watch for the birds coming in from our left. Get on one that looks to be in a bit of relatively clear sky and wait until it turns to its right and starts to dive. Then push and hold the shutter button. Be sure to follow through."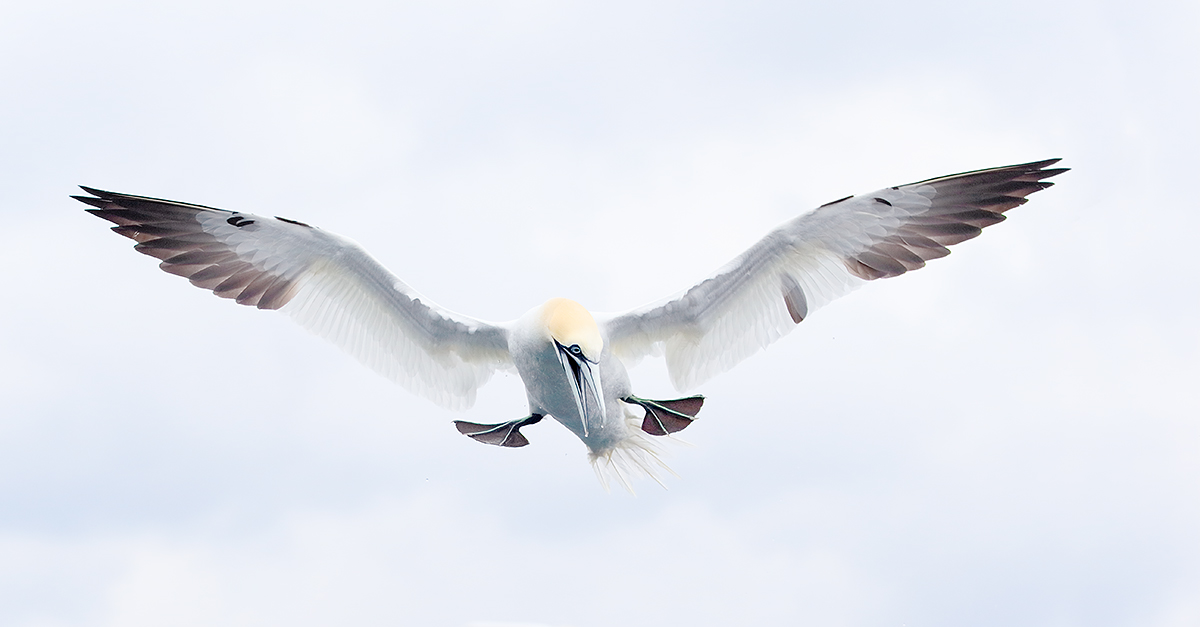 This image was also created on the gannet boat on the UK Puffins and Gannets IPT, this one with the Canon EF 70-200mm f/2.8L IS II USM lens (hand held at 140mm) and the and the Canon EOS-1D X. ISO 800. Evaluative metering +2 stops off the dreary grey sky was still a significant under-exposure: 1/2000 sec. at f/4 in Manual mode. AWB
Central sensor Surround/AI Servo Rear Focus AF on the bird's right foot was active at the moment of exposure. Click here to see the latest version of the Rear Focus Tutorial. Click on the image to see a larger version.
Image #2: Spotting the Fish
Your browser does not support iFrame.
Isolating a Single Bird
In addition to figuring out the flight and diving patterns, isolating a single gannet in the mayhem takes a great deal of determination and some degree of stamina. I still have probably 200 very good images of single gannets in flight to process….
The Image Optimization
First off, I will say that I realize that there are a few of you out there who prefer the original chaotic image to the cleaner more balanced look of the optimized image. I am fine with that but much prefer the optimized version.
Here is an easy multiple choice question: How much time did I spend on the image optimization?
a-about 30 minutes
b-about one hour
c-about 90 minutes
d-very close to two hours
After the conversion in DPP 4.0, the clean-up–as always–was done with a combination of the Clone Stamp Tool, the Spot Healing Brush, the Patch Tool, and many small Quick Masks that were refined via the addition of a Regular Layer Mask. I used both the "Divide and Conquer" and the "Denise Ippolito Protective Cloning on a Layer" techniques. And I used them often. I applied a heavy layer of Image> Blur> Surface Blur and painted that onto the sky via an Inverse or Hide-All Layer Mask to smooth out the bird removal and bird relocation repairs. Near the end I move the whole flock a bit back in the frame using techniques from APTATS II. Lastly I noticed that the image needed to be leveled; that resulted in the need for a small crop.
The DPP RAW Conversion Guide
To learn why I use Canon's Digital Photo Professional (DPP) to convert every image that I work on, click here. Coming soon: The DPP 4.0 RAW Conversion Guide by Arash Hazeghi and Arthur Morris. The more that I use DPP 4.0 for my RAW conversions the more I am impressed with it. I will be putting in several more hours of work today editing and adding to our new eGuide. Note: at present, DPP 4.0 will work only with 1D X and 5D III images.
Digital Basics
Everything that I did to optimize today's image is detailed in my Digital Basics File–written in my easy-to-follow, easy-to-understand style. Are you tired of making your images look worse in Photoshop? Digital Basics File is an instructional PDF that is sent via e-mail. It includes my complete digital workflow, dozens of great Photoshop tips, details on using all of my killer image clean-up tools, the use of Contrast Masks, several different ways of expanding and filling in canvas, all of my time-saving Keyboard Shortcuts, Quick Masking, Layer Masking, and NIK Color Efex Pro basics, Digital Eye Doctor, Tim Grey Dodge and Burn, how to create time-saving actions, and tons more.
APTATS I & II
Learn the details of advanced Quick Masking techniques in APTATS I. Learn Advanced Layer Masking Techniques in APTATS I. Mention this blog post and apply a $5 discount to either with phone orders only. Buy both APTATS I and APTATS II and we will be glad to apply at $15 discount with phone orders only. Please call Jim or Jennifer at 863-692-0906 weekdays to order.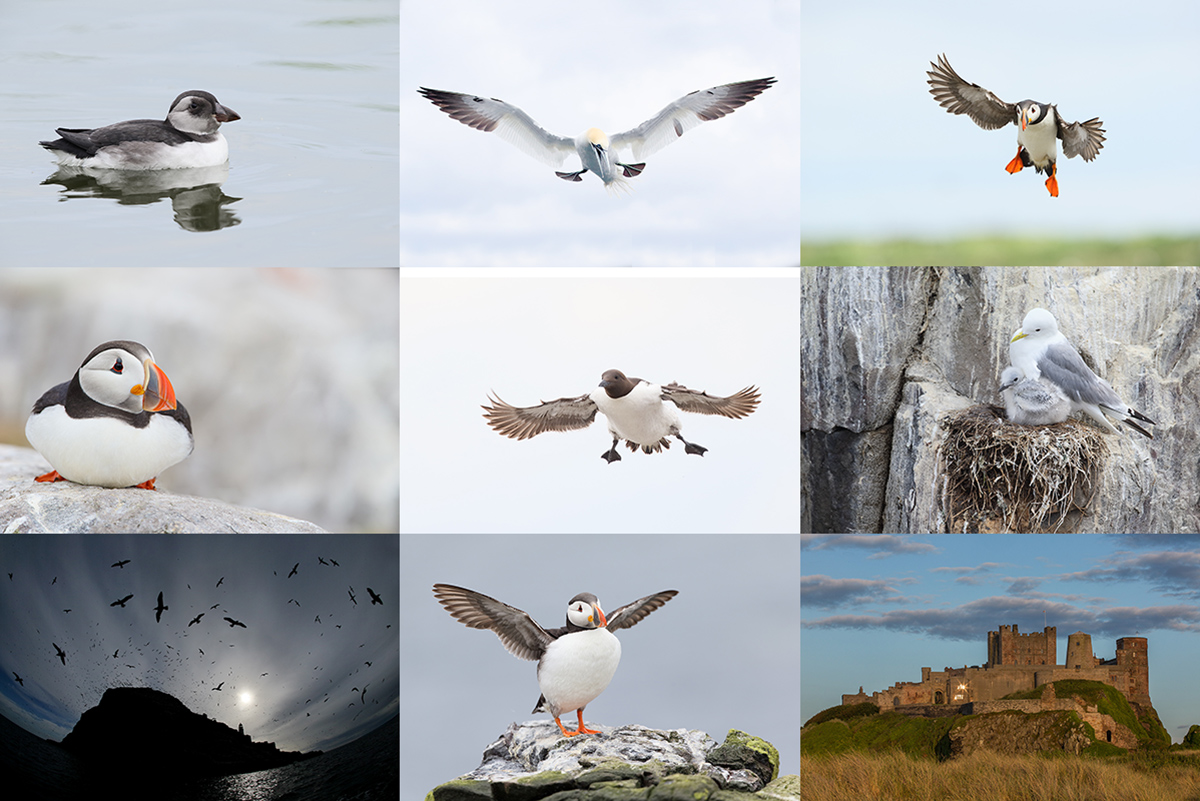 Images and card design copyright 2014: Arthur Morris/BIRDS AS ART. Click on the card to enjoy a spectacular larger version.
The 2015 UK Puffins and Gannets IPT
June 29 through July 5, 2015: $5499: Limit 10 photographers/Openings 2. Two great leaders: Denise Ippolito and Arthur Morris.
Here are the plans for next year: take a red eye from the east coast of the US on 28 June arriving in Edinburgh, Scotland on the morning of Monday 29 June (or simply meet us then either at the Edinburgh Airport (EDI) or later in the day at our cottages if you are driving your own vehicle either from the UK or from somewhere in Europe. Stay 7 nights in two gorgeous modern country cottages.
There are 5 days of planned puffin/seabird trips—weather permitting, and 1 full day of gannet photography with 2 sessions on the boat. (More info below.)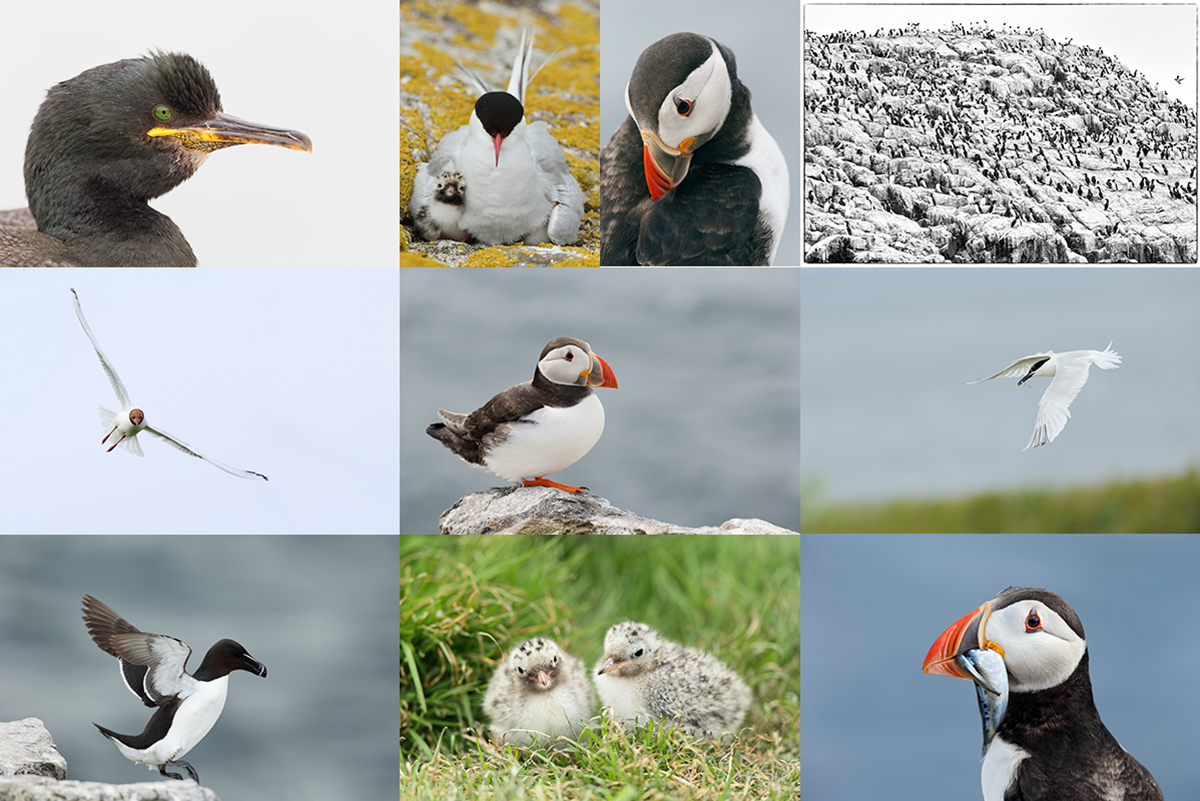 Images and card design copyright 2014: Arthur Morris/BIRDS AS ART. Click on the card to enjoy a spectacular larger version.
The Rest of the Fine Details
All breakfasts, lunches and dinners are included. All 5 puffins boat lunches will need to be prepared in advance, taken with, and consumed at your leisure. I usually eat mine on the short boat trip from one island to the other. Also included is a restaurant lunch on the gannet boat day and a farewell fine dining thank you dinner. The cost of your National Heritage Trust is also included; that covers the twice a day landing fees.
Plan to fly home on the early morning of Monday 6 July or to continue your stay or travels.
We are planning this as double-occupancy only but we should be able to arrange for singles by renting a 3rd cottage. We would need to know well in advance, i.e., soon, and it would be pricey and would need to be paid with your non-refundable deposit of $2,000. The shared rooms are decent-sized, each with two roomy single beds and a private bathroom. There are two king rooms available for couples. The upscale country-side cottages are beyond lovely with large living areas and lots of open space for image sharing and Photoshop lessons.
The single supplement is $1475. As we will be renting a third cottage the $1475 is due with your deposit and is also non-refundable.
If you are good to go please send your $2,000 deposit check now to save a spot. We do expect this workshop to sell out very quickly as we have already sold 2 slots even though the trip has not yet been formally announced till right now. Not to mention that everyone loves puffins. Please make your check out to "Arthur Morris" and send it to Arthur Morris/BIRDS AS ART, PO Box 7245, Indian Lake Estates, FL, 33855.
We do hope that you can join us.
Facebook
Be sure to like and follow BAA on Facebook by clicking on the logo link upper right. Tanks a stack!
Support the BAA Blog. Support the BAA Bulletins: Shop B&H here!
We want and need to keep providing you with the latest free information, photography and Photoshop lessons, and all manner of related information. Show your appreciation by making your purchases immediately after clicking on any of our B&H or Amazon Affiliate links in this blog post. Remember, B&H ain't just photography!
…..
Amazon Canada
Many kind folks from north of the border, ay, have e-mailed stating that they would love to help us out by using one of our affiliate links but that living in Canada and doing so presents numerous problems. Now, they can help us out by using our Amazon Canada affiliate link by starting their searches by clicking here. Many thanks to those who have written.
Typos
In all blog posts and Bulletins, feel free to e-mail or to leave a comment regarding any typos, wrong words, misspellings, omissions, or grammatical errors. Just be right. 🙂