The Streak Continues: 284
This blog was published at about 5:15am from my home in Indian Lake Estates, FL. Yesterday I enjoyed another long, easy swim of just under a mile and a short nap. I spent four solid hours working on the DPP 4.0 RAW Conversion eGuide. This post, which took me about 2 1/2 hours to prepare, makes 284 in a row. 365 is well within sight….
As always, I would appreciate your using the BIRDS AS ART B&H affiliate links for all of your major gear, video, and electronic purchases, using our Amazon logo-link for all of your household purchases, and visiting the BAA Online Store for your tripod, tripod head, LensCoat, miscellaneous, accessories, and eGuide purchases as well. Please remember, web orders only. 🙂
First-ever BIRDS AS ART In-the-Field/Meetup Workshop Session (ITF/MWS): $50
Join me on the afternoon of October 10, 2014 for 3-hours of photographic instruction at Fort DeSoto Park. Beginners are welcome. Lenses of 300mm or longer are recommended but even those with 70-200s should get to make some nice images. Teleconverters are always a plus. Scroll down here for complete info.
Fort DeSoto Fall IPT/October 11-13, 2014. 3 FULL DAYs: $1099. Limit 8.
Tame shorebirds, herons, egrets, night-herons, terns and gulls plus tons of great instruction. Scroll down here for complete info.
Important Bosque Festival of the Cranes Event Registration Notice
Registration for all Festival of the Cranes workshops, seminars and programs is open. Please click here and read carefully to avoid missing out on several wonderful and inexpensive educational opportunities. Please do not tarry as we expect all of the BAA/A Creative Adventure sessions to sell out quickly, especially the early morning In-the-Field Workshops. You can click http://www.festivalofthecranes.com to register.
Head Throw Photography
Head throws, usually part of the bill cleaning ritual of Pacific Brown Pelican are thought to be a form of intra-flock communication: one pelican talking to another. It is exceedingly rare to see a Brown Pelican of the Atlantic race do a head throw. On the other hand, the Pacific birds do them quite often. Head throw photography can be quite exciting and quite rewarding; one of my earliest BBC Wildlife Photographer of the Year Competition-honored images (I have eight in all), was a full frame vertical of Pacific Brown Pelican at the height of a head throw. You can see that image, cropped a bit too tightly by the original designer, on page 86 as a chapter opener and on the back cover of the original The Art of Bird Photography.
Head throw photography is a huge challenge. You might have as many as 20-30 or more pelicans sitting right in front of you at relatively close range; which one will be the next to execute a head throw? Are there any clues to which bird will be the next to show off? How do you position yourself to try to isolate your subject and come up with a clean background? What is the best lens? Should you use a fixed focal length lens or a zoom lens? Should you be in horizontal or vertical format? Should you include the whole bird in the frame, go for a head and shoulder vertical, or try for a tight bill portrait shot as in today's featured image? Should you be on a tripod or hand holding? What sort of shutter speed should I be using? Is one time of day better than another for head portrait photography? Should you specifically try to create head throw images or do you have a chance to get a great one in the course of a given morning of general pelican photography?
Please note the answers to some of these questions can be ascertained by carefully reading the image caption above…. A good part of each morning on a San Diego IPT is spent considering all of the above questions…. And answering them. And lots more. If you would like to join us please scroll down for info on this great workshop.
Head Throw Word Association
Click on the image to enlarge it. What words and phrases come to mind? Please take a moment to leave a comment with your list. Right now I have more than 20 on my list. I will share my list with you here on Friday morning.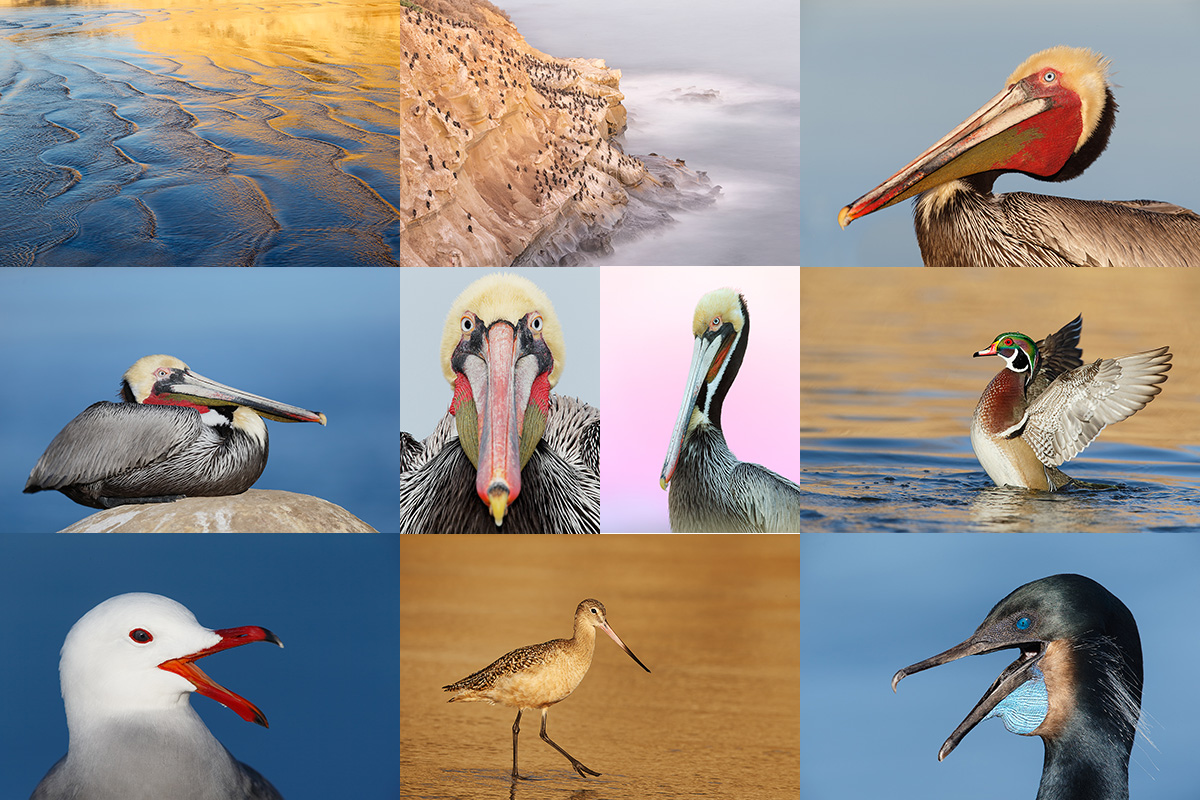 San Diego offers a wealth of very attractive natural history subjects. With annual visits spanning more than three decades I have lot of experience there….
2015 San Diego 4 1/2-DAY BIRDS AS ART Instructional Photo-Tour (IPT): FEB 1 thru the morning of FEB 5, 2015: $1799 (Limit: 8/Openings: 5)
Meet and Greet after dinner on your own at 7:00pm on JAN 31
Join me in San Diego to photograph the spectacular breeding plumage Brown Pelicans with their fire-engine red bill pouches; Brandt's and Double-crested Cormorants in breeding plumage with their amazing crests; breeding plumage Wood and Ring-necked Duck; other species possible inluding Lesser Scaup, Redhead, and Surf Scoter; a variety of gulls including Western, California, and the gorgeous Heerman's, all in full breeding plumage; shorebirds including Marbled Godwit, Willet, Sanderling and Black-bellied Plover; many others possible including Least, Western, and Spotted Sandpiper, Whimbrel, Black and Ruddy Turnstone, Semiplamated Plover, and Surfbird; Harbor Seals (depending on the current regulations) and California Sea Lions likely; and Bird of Paradise flowers. And as you can see by studying the two IPT cards there are some nice landscape opportunities as well.
Did I mention that there are wealth of great birds and natural history subjects in San Diego in winter?
This IPT will include five 3 1/2 hour morning photo sessions, four 2 1/2 hour afternoon photo sessions, five lunches, after-lunch image review and Photoshop sessions, and two fine dinners. To ensure early starts, breakfasts will be your responsibility.
A $499 non-refundable deposit is required to hold your slot for this IPT. You can send a check (made out to "Arthur Morris) to use at BIRDS AS ART, PO Box 7245, Indian Lake Estates, FL, 33855. Or call Jim or Jennifer at the office with a credit card at 863-692-0906. Your balance, payable only by check, will be due on 12/1//2014. If the trip fills, we will be glad to apply a credit applicable to a future IPT for the full amount less a $100 processing fee. If we do not receive your check for the balance on or before the due date we will try to fill your spot from the waiting list. If your spot is filled, you will lose your deposit. If not, you can secure your spot by paying your balance. Please print, complete, and sign the form that is linked to here and shoot it to us along with your deposit check. If you register by phone, please print, complete and sign the form as noted above and either mail it to us or e-mail the scan. If you have any questions, please feel free to contact me via e-mail.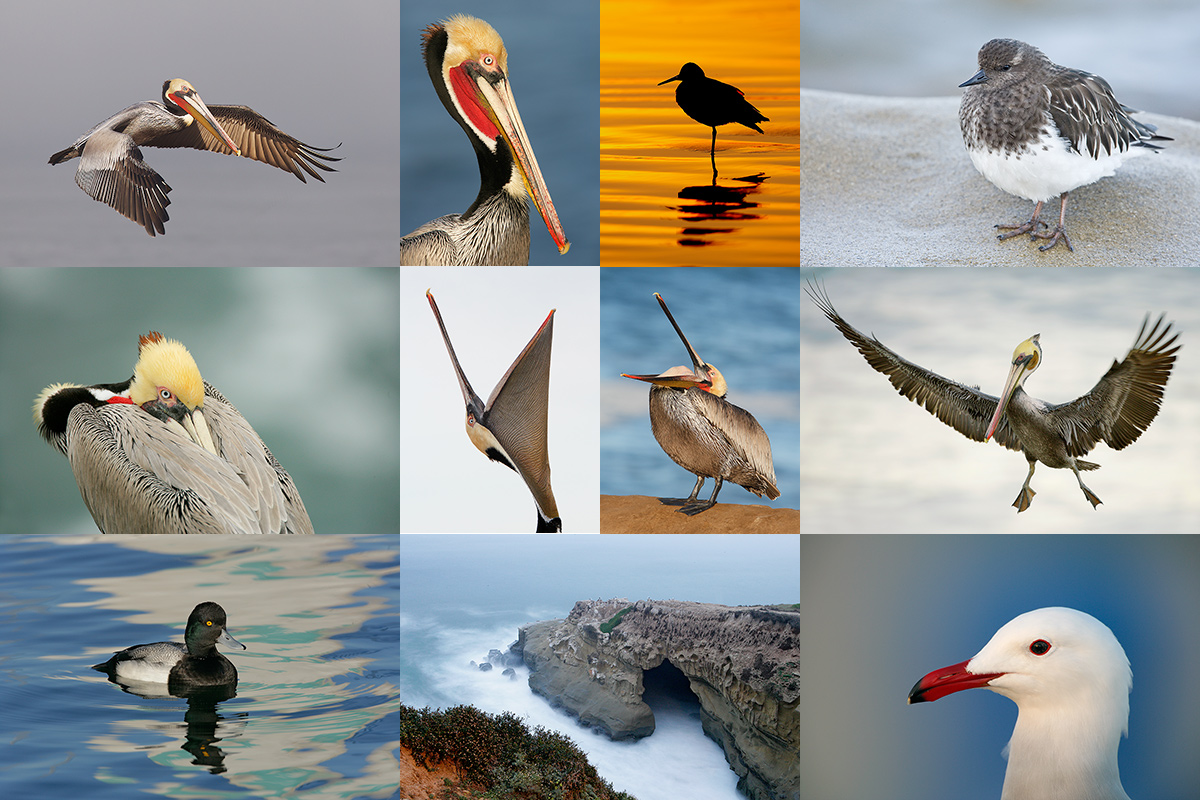 Though the pelicans will be the stars of the show on this IPT there will be many other handsome and captivating subjects in wonderful settings.
San Diego Natural History Museum Program & The Birds of the World Exhibit
On Saturday morning, February 7, 2015 I will be presenting "A Bird Photographer's Story" at the San Diego Natural History Museum to kick off the Birds of the World photographic exhibit that will feature the images of about a dozen of the world's top avian photographers. This program,which is being generously sponsored by the Canon Explorers of Light program, will be free and open to the public. I am proud to say that both Denise Ippolito and I will have images hanging in the show. The exhibit opening is scheduled for later that same day, February 7, 2015. (Times TBA).
Folks on the IPT who wish to stay over and attend the program and the exhibit opening on Saturday are invited to join me for a photo session on Friday morning as follows:
Friday Morning Add-on Photo Session: February 6, 2015: $299.
This workshop includes 3 hours of in-the-field pelican photography instruction and brunch with image review and Photoshop instruction. For now, this session is open only to folks attending the IPT.
Facebook
Be sure to like and follow BAA on Facebook by clicking on the logo link upper right. Tanks a stack!
Support the BAA Blog. Support the BAA Bulletins: Shop B&H here!
We want and need to keep providing you with the latest free information, photography and Photoshop lessons, and all manner of related information. Show your appreciation by making your purchases immediately after clicking on any of our B&H or Amazon Affiliate links in this blog post. Remember, B&H ain't just photography!
…..
Amazon.com
Those who prefer to support BAA by shopping with Amazon may use this link:
Amazon Canada
Many kind folks from north of the border, ay, have e-mailed stating that they would love to help us out by using one of our affiliate links but that living in Canada and doing so presents numerous problems. Now, they can help us out by using our Amazon Canada affiliate link by starting their searches by clicking here. Many thanks to those who have written.
Typos
In all blog posts and Bulletins, feel free to e-mail or to leave a comment regarding any typos, wrong words, misspellings, omissions, or grammatical errors. Just be right. 🙂