The Streak Continues: 288
Sleeping till after 6:00am was a rare treat. I guess that I needed it. I did spend lots more time yesterday working on the DPP 4.0 RAW Conversion eGuide and enjoyed a short, easy swim of about 2/3 mile. That and a short afternoon nap. This post, published at about 7:45am, took me about 1 3/4 hours to prepare and makes 288 in a row.
As always, I would appreciate your using the BIRDS AS ART B&H affiliate links for all of your major gear, video, and electronic purchases, using our Amazon logo-link for all of your household purchases, and visiting the BAA Online Store for your tripod, tripod head, LensCoat, miscellaneous, accessories, and eGuide purchases as well. Please remember, web orders only. 🙂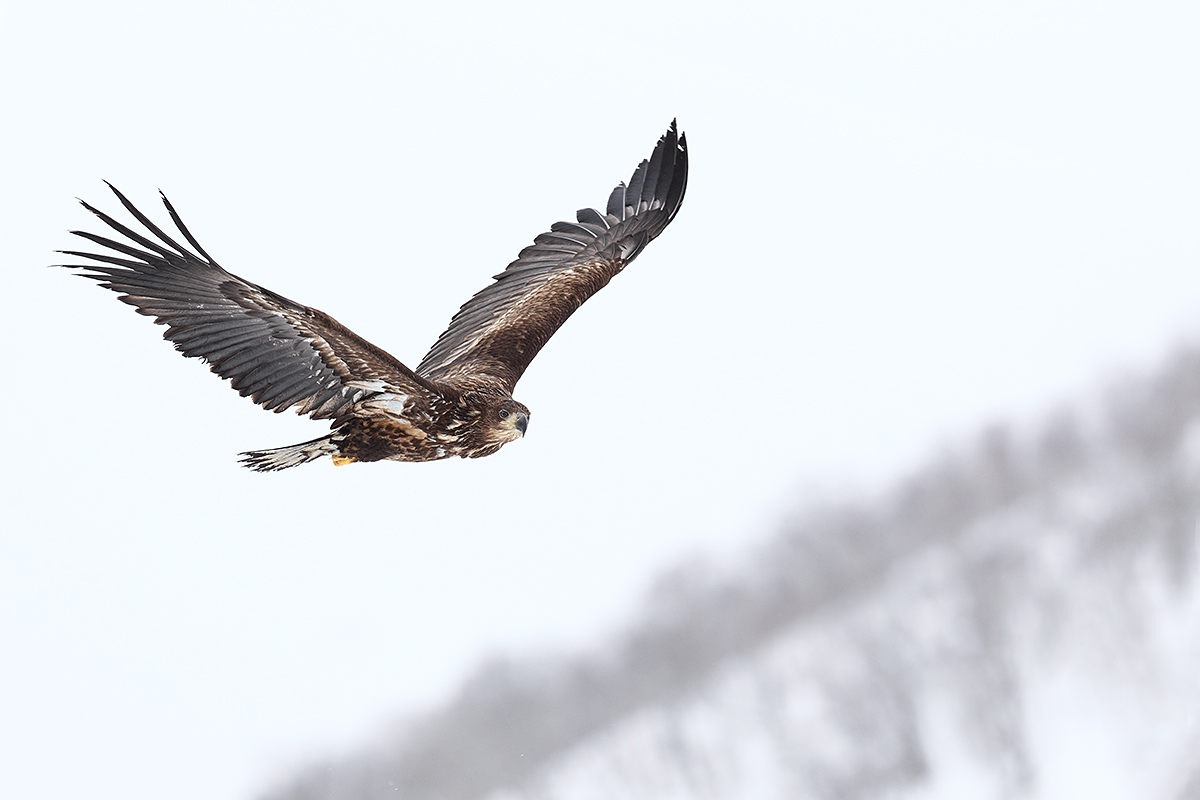 This image was created at 8:19am on February 27, on one of what I call the sea-eagle tourist boats in Rausu on the 2012 Japan in winter IPT, my first. I used the hand held Canon EF 300mm f/2.8L IS II USM lens and the EOS-1D Mark IV (now replaced by the Canon EOS-1D X). ISO 400. Evaluative metering +2 2/3 stop off the sky in cloudy conditions: 1/1250 sec. at f/4 in Manual mode. AWB.
Central sensor/AI Servo-Surround/Rear Focus AF as framed squarely on the bird's face was active at the moment of exposure. Click here to see the latest version of the Rear Focus Tutorial. Click on the image to see a larger version.
Immature White-tailed Sea-eagle
Your browser does not support iFrame.
The EF 300mm f2.8L IS II in Japan
As we have been seeing here for well more than a year, and contrary to my prior opinion of about three decades, the 300mm f/2.8L IS (and VR) lenses can be extremely valuable for bird photography in a variety of situations including and especially hand held flight. Please do not ask me how I got three super-telephoto lenses on my 2014 trip to Japan: the Canon EF 300mm f/2.8L IS II, the Canon EF 200-400mm f/4L IS USM lens with Internal 1.4x Extender, and the Canon EF 600mm f/4L IS II.
In any case I did, and I was glad that I did. The 300 II was great for hand held flight with several species, the 600 II for the Red-crowned Cranes, and the 200-400 for the sea-eagles and the Snow Monkeys.
White-tailed Sea-eagles
White-taileds larger, showier cousin, the Steller's Sea-Eagle, is the prime target of most photographers visiting Japan. I have to admit it but at times I have to force myself to photograph the white-taileds…. IAC, you need to remember to go two or three clicks lighter for the juvies of this species as they do not have any of the bright patches of white that the adult Steller's have. One or two clicks lighter is perfect for the adult white-taileds as the white on their tails is nowhere near as bright as the whites on the adult Steller's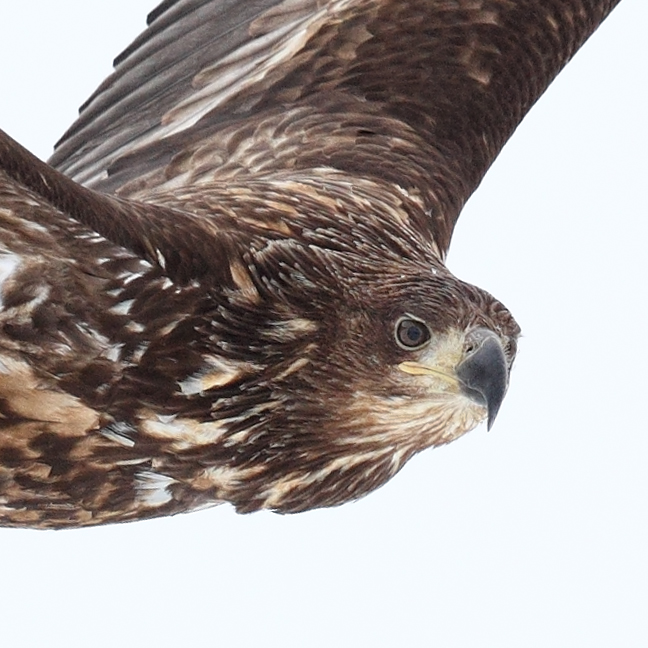 This is a tight crop of the unsharpened optimized TIFF file. Click on the image to enjoy a large version.
How Sharp is Sharp?
How sharp is sharp? Take a close look at the unsharpened image above and you be the judge.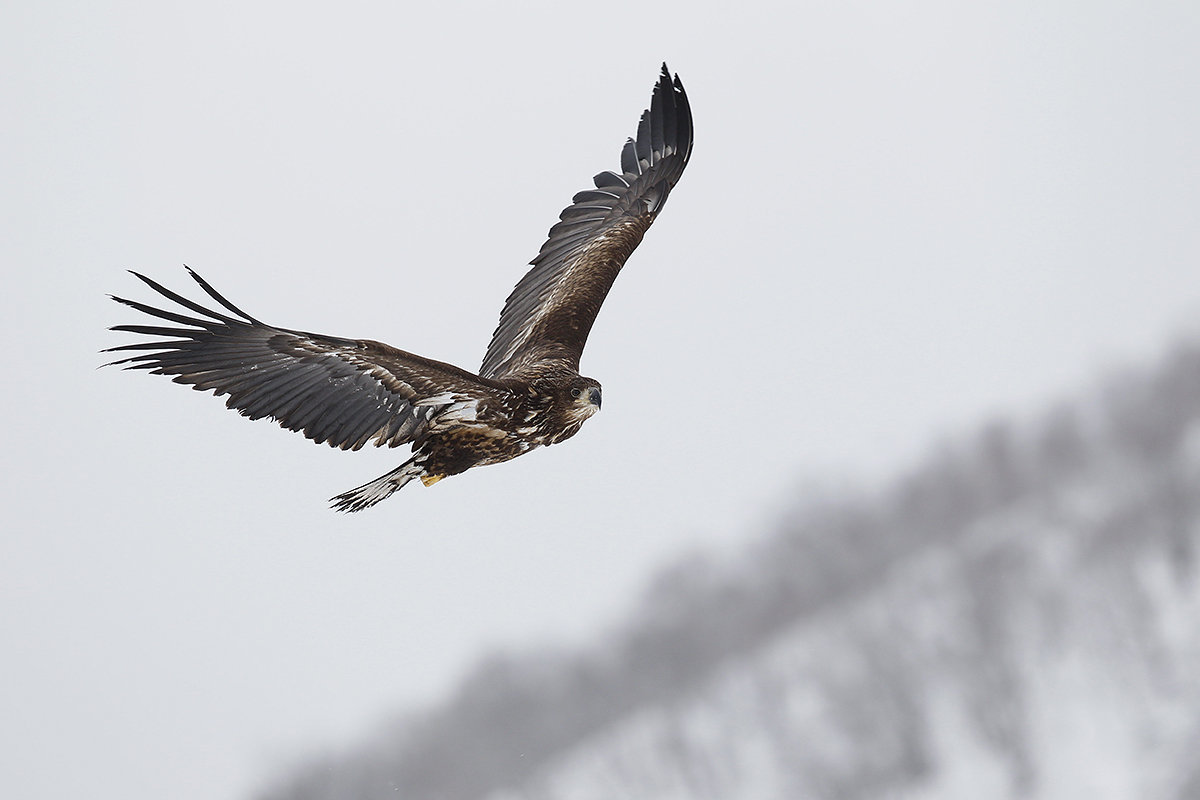 This JPEG, created from the embedded JPEG, represents the original RAW capture as it came out of the camera.
The Image Optimization
I did the RAW conversion in DPP 3.4.0.0. DPP 4.0 does not at present support EOS-1D Mark IV images. I did open up the dark tones during the RAW conversion with both the Brightness and the Shadow sliders.
Once I got the image into Adobe Photoshop CS-6, I had two main concerns. Since the bird appeared to be flying uphill, I wanted to level the bird in flight. I did that by duplicating the entire image (Ctrl J), rotating the bird to level using the love handles on the transform command box, and then bringing back the original slope of the big hill with the addition of a Regular Layer Mask. Lastly in that department I moved the bird back in the frame just a bit using techniques from APTATS II.
Next I applied my NIK Color EFEX Pro 4.0 50-50 recipe to the bird only. And finally I lightened only the dark tones of the head by selecting them, putting them on a layer, and pulling up the curve. All selections were made using the Quick Selection Tool (my keyboard shortcut W.) I saved the master file and then created my 1200 pixel wide JPEG optimized to less than 395kb for use on both the blog and on BPN.
The DPP RAW Conversion Guide
To learn why I use Canon's Digital Photo Professional (DPP) to convert every image that I work on, click here. Coming soon: The DPP 4.0 RAW Conversion Guide by Arash Hazeghi and Arthur Morris. The more that I use DPP 4.0 for my RAW conversions the more I am impressed with it. I will be putting in several more hours of work today editing and adding to our new eGuide. Note: at present, DPP 4.0 will work only with 1D X, 5D Mark III, and 6D images.
Digital Basics
Everything that I did to optimize today's image is covered in detail in my Digital Basics File–written in my easy-to-follow, easy-to-understand style. Are you tired of making your images look worse in Photoshop? Digital Basics File is an instructional PDF that is sent via e-mail. It includes my complete digital workflow, dozens of great Photoshop tips, details on using all of my killer image clean-up tools, the use of Contrast Masks, several different ways of expanding and filling in canvas, all of my time-saving Keyboard Shortcuts, Quick Masking, Layer Masking, and NIK Color Efex Pro basics, Digital Eye Doctor, Tim Grey Dodge and Burn, how to create time-saving actions, and tons more.
APTATS I & II
Learn the details of advanced Quick Masking techniques in APTATS I. Learn Advanced Layer Masking Techniques in APTATS II. Mention this blog post and apply a $5 discount to either with phone orders only. Buy both APTATS I and APTATS II and we will be glad to apply at $15 discount with phone orders only. Please call Jim or Jennifer at 863-692-0906 weekdays to order.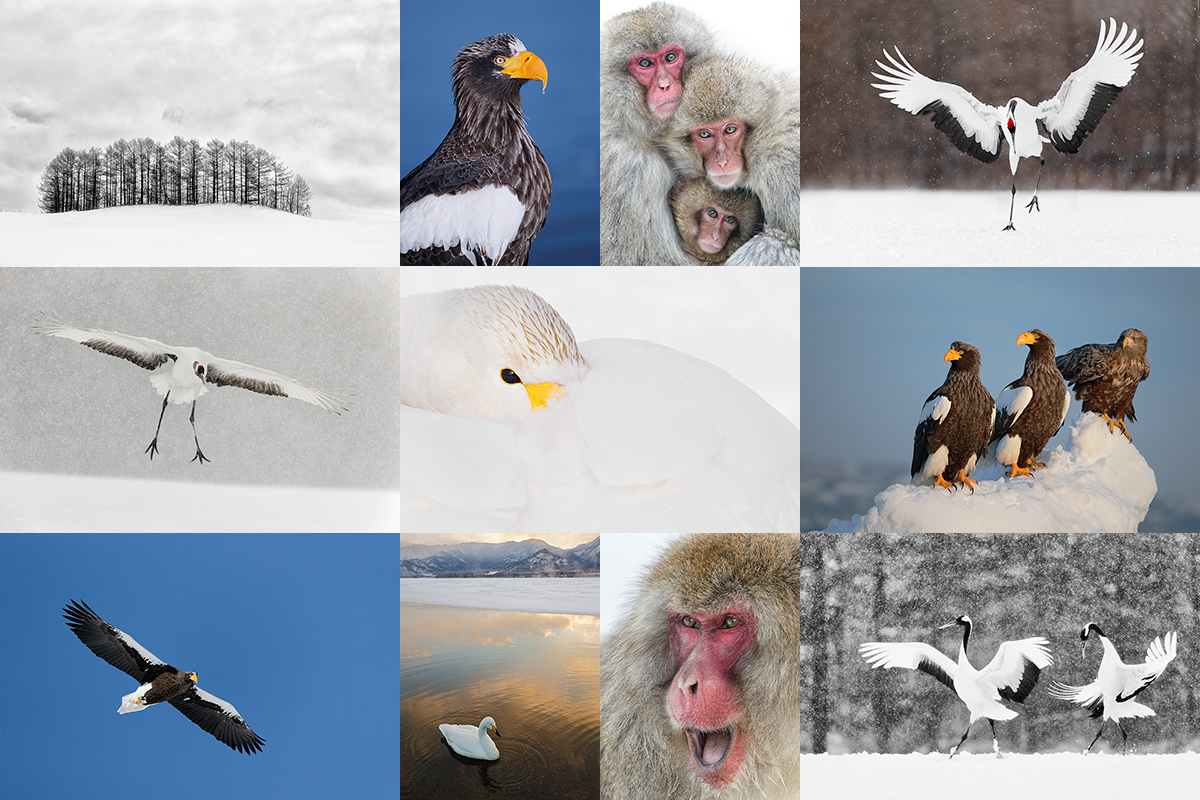 Consider joining us in Japan in February, 2016; the world's best Japan in Winter workshop. Click on the card to enjoy a larger more spectacular version.
Japan In Winter IPT. February 9-24, 2016: $13,999/double occupancy. Limit 7: Openings: 5.
Needs five to run; just 3 more to go. All lodging including Tokyo hotel on 9 FEB, all breakfasts & dinners, ground transport and transfers including bus to the monkey park hotel, and all entrance fees and in-country flights are included. Not included: international flights, all lunches–most are on the run, and alcoholic beverages.
This trip is one day longer than the 2014 trip to allow for more flexibility, more time with the cranes, and most importantly, more time for landscape photography. Hokkaido is gorgeous. Three great leaders plus the world's best Japan in winter Japanese photography guide: the amazingly creative Denise Ippolito, multiple award winning photographer Paul McKenzie and yours truly. Tons of trip planning and gear advice, in-the-field instruction and guidance, at-the-lodge Photoshop and image review sessions in addition to short introductory slide programs for each of the amazing locations.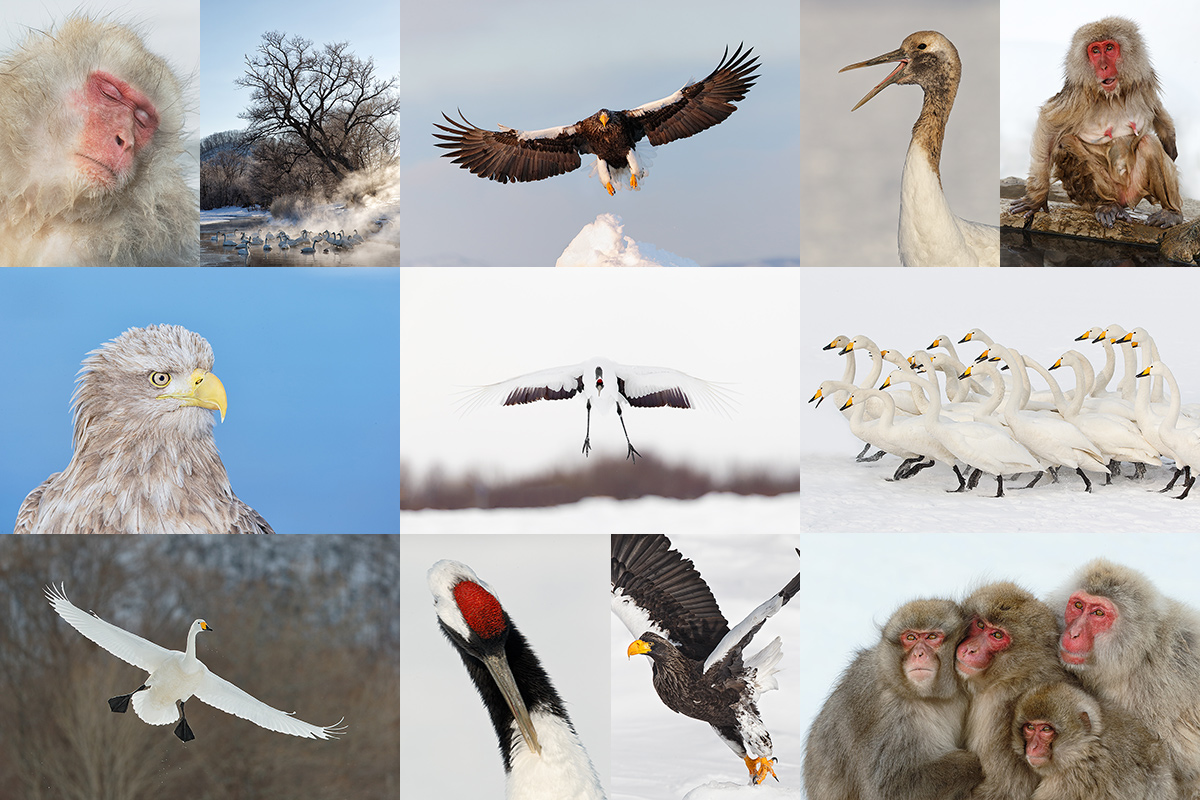 Amazing subjects. Beautiful settings. Nonstop action and unlimited opportunities. Join us. Click on the card to enjoy a larger more spectacular version.
The Itinerary
Arrive Tokyo: 9 FEB 2016 the latest. 8 FEB is safer and gives you a day to get acclimated to the time change. Your hotel room for the night of the 9th is covered.
Travel to Monkey Park Hotel: 10 FEB: Short 1/2 DAY of Monkey photography possible depending on our travel time….
Full Day snow monkeys: FEB 11.
Full Day snow monkeys: FEB 12.
13 FEB: Full travel day to Hokkaido/arrive at our lodge in the late afternoon. The lodge is wonderful. All the rooms at the lodge have beds. Bring your warm pajamas. Local onsen (hot springs bath and tubs) is available for $5 each day before dinner–when you are cold, it is the best thing since sliced bread. Smile emoticon The home cooked meals at the lodge are to die for.
FEB 14-23: Red-crowned Crane, raptors in flight, Whooper Swans, and scenic photography. Ural Owl possible. One 2-night trip to Rausu for Steller's and White Tailed Sea Eagles on the tourists boats dependent on sea ice conditions. Only our trip offers complete flexibility in this area. It saved us this year. One afternoon of duck photography in the harbor is a strong possibility in Rausu. 2-3 boat trips. In addition, few if any tours offer at least one afternoon boat trip….
Lodging notes: bring your long johns for sleeping in the lodge. In Rausu and the snow monkey park, the hotel the rooms are Japanese-style. You sleep on comfortable mats on the floor. Wi-fi is available every day of the trip.
FEB 24. Fly back to Tokyo for transfer to your airport if you are flying home that night, or, to your hotel if you are overnighting. If you need that room it is on you.
To save your spot, please send your $5,000 non-refundable deposit check made out to "Arthur Morris to Arthur Morris/BIRDS AS ART, PO Box 7245, Indian Lake Estates, FL 33855. We do hope that you can join us for this trip of a lifetime. If you have any questions for would like to discuss alternate financing for this trip please shoot me an e-mail or give me a buzz at 863-692-2806.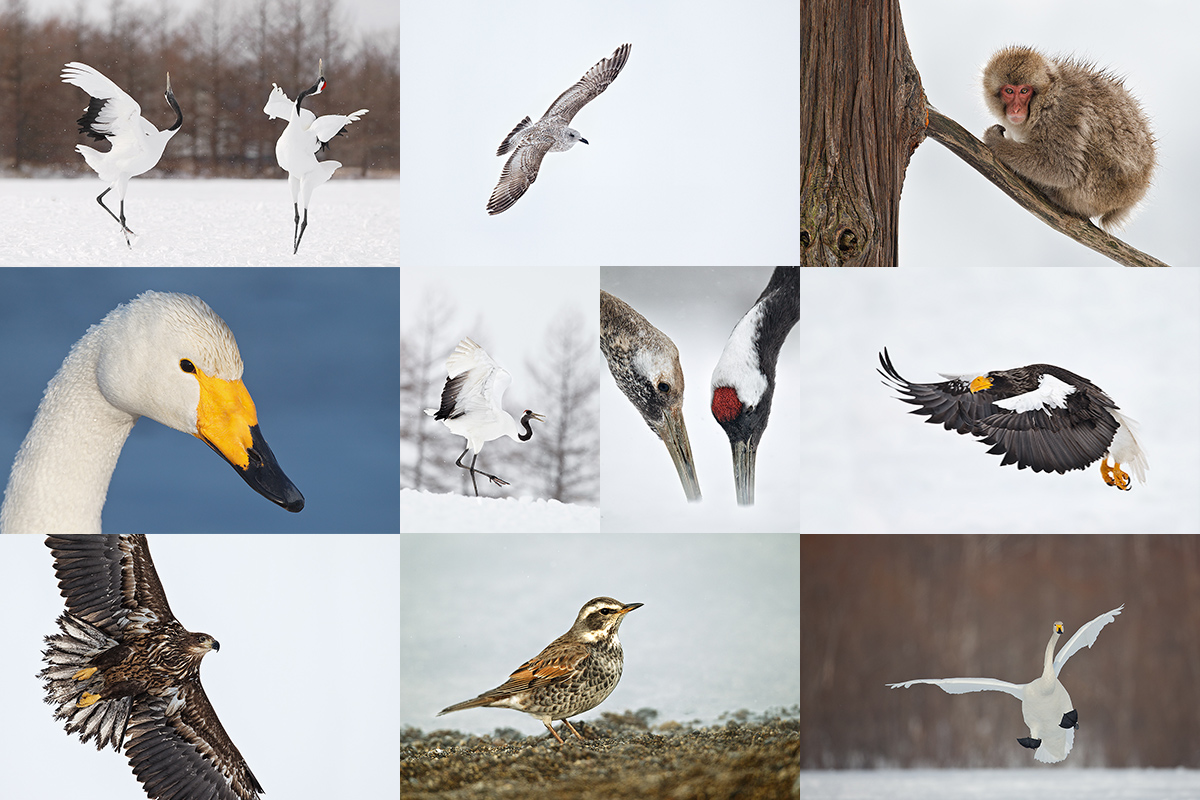 Life is short. Hop on the merry-go-round. Click on the card to enjoy a larger more spectacular version.
The Leader's Favorites
Paul McKenzie's great love is for the Whooper Swans. Like me, Denise's favorites are the Red-crowned Cranes and the sea eagles–there are two species, the huge Steller's and the smaller white-tailed. And all three of us love the adorable Snow Monkeys. It is not too soon for you to join this trip of a lifetime and choose your favorite. If you want to hone your flight photography skills, this is the trip for you Everything flies but the Snow Monkeys. But come to think of it we did photograph them jumping across the stream on our last trip…. And do know that images from Hokkaido have been honored in most every BBC Wildlife Photographer of the Year Competition for several decades. Three great leaders, the best lodge, the best guide, great food, superb organization, and a wealth of incredible subjects in awe-inspiring settings. What more could you ask for?
Facebook
Be sure to like and follow BAA on Facebook by clicking on the logo link upper right. Tanks a stack!
Support the BAA Blog. Support the BAA Bulletins: Shop B&H here!
We want and need to keep providing you with the latest free information, photography and Photoshop lessons, and all manner of related information. Show your appreciation by making your purchases immediately after clicking on any of our B&H or Amazon Affiliate links in this blog post. Remember, B&H ain't just photography!
…..
Amazon.com
Those who prefer to support BAA by shopping with Amazon may use this link:
Amazon Canada
Many kind folks from north of the border, ay, have e-mailed stating that they would love to help us out by using one of our affiliate links but that living in Canada and doing so presents numerous problems. Now, they can help us out by using our Amazon Canada affiliate link by starting their searches by clicking here. Many thanks to those who have written.
Typos
In all blog posts and Bulletins, feel free to e-mail or to leave a comment regarding any typos, wrong words, misspellings, omissions, or grammatical errors. Just be right. 🙂