The Streak Continues: 292
I am almost finished with the first edit of the DPP 4.0 RAW Conversion eGuide that I am doing with Arash Hazeghi. We spoke on the phone yesterday for a bit so I have some re-writing to do today. We will spend an hour or two on the phone on Saturday morning; I should be sending Arash the MS Word file that afternoon. The price of this extensive guide will be $40. The PDF will be sent via e-mail or via Hightail.
The rest of my day was made up of meditating and breathing exercises, a nice easy swim, healthy eating, a short nap, a 44 minute ice bath, and answering about a zillion e-mails. All that followed by another good night's sleep.This blog post, the 292nd in a row, was published at about 6:45am from my home in Indian Lake Estates, FL.
As always, I would appreciate your using the BIRDS AS ART B&H affiliate links for all of your major gear, video, and electronic purchases, using our Amazon logo-link for all of your household purchases, and visiting the BAA Online Store for your tripod, tripod head, LensCoat, miscellaneous, accessories, and eGuide purchases as well. Please remember, web orders only. 🙂
EOS-7D Mark II Thanks!
Thanks a stack to the 18 folks who pre-ordered their EOS 7D Mark II bodies (and lots of accessories) using a BAA affiliate link. If you missed all of yesterday's excitement, click here. And best of luck to Geoffrey Cuff of the Cayman Islands with the Canon EF 400mm f/4 DO IS II USM Lens that he ordered in similar fashion.
Convinced? Click on the logo-link immediately below to pre-order yours. This will be one hot-ticket item; the sooner you get your name on the pre-order list, the sooner you will have a 7D II in your hands.
Not convinced? Click here and be sure to see tomorrow's blog post.
Canon EOS-7D Mark II AF at f/8 Info
Though it seemed likely from the 7D II info on several websites that the new camera would focus to f/8, it was great to have that confirmed via e-mail by Canon USA's top tech guru, Chuck Westfall, Advisor, Technical Information, ITCG Prof Bus Strategy Plan Division, Canon U.S.A., Inc.
He wrote:
The 7D Mark II is the same as 1D X re: autofocus at f/8. Central point is fully supported for cross-type focusing, and focusing point expansion around the central point is also supported.
My Comments on the 7D II AF
I responded to a 7D AF question as follows:
I am sure that the 7D II will focus better than the 7D on any lens. I am sure that the 7D II will AF just fine with the older EF lenses. And I am sure that it will AF faster and more accurately with the Series II super-telephotos than with the older lenses. Not because of anything to do with the camera, simply because the Series II lenses feature better AF than the older lenses.
To be sure that I was not stepping out of bounds with the statement above, I ran it by Chuck Westfall. He responded by e-mail: "Looks good to me."
EOS-7D Mark II Mode Dial Info
Here is another 7D II plus,adapted from a Ken Shelton e-mail:
A Mode dial that can be locked is now standard; you have to push the center lock button to be able to rotate the dial. As the original 7D came out of the box, it was easy to inadvertently rotate the Mode dial. Fixing the problem was a $125 factory add-on. This change is important to me.
Ken surely got is money's worth with his original EOS-7D; the shutter failed 638,444 actuations!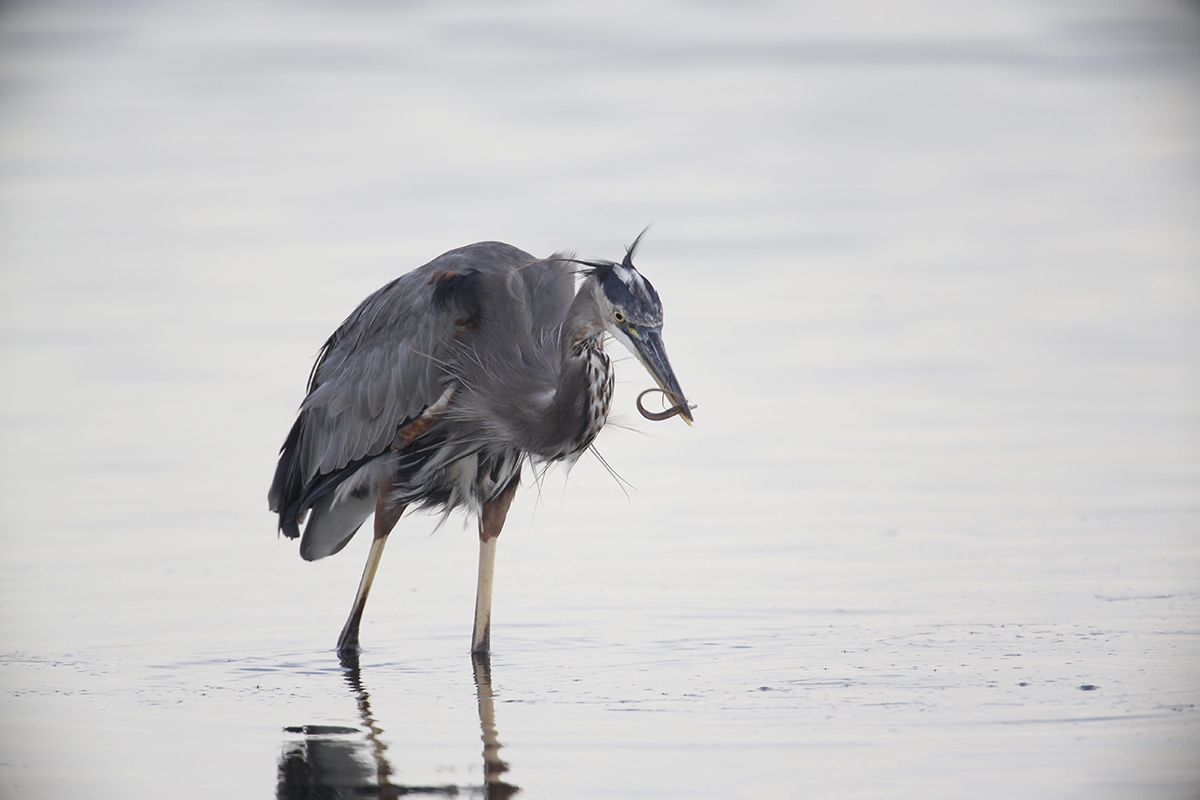 This image was created at Fort DeSoto Park on the cloudy afternoon of September 14, 2012 at 6:37pm with the Gitzo 3532 LS carbon fiber tripod, the Mongoose M3.6 head, the Canon EF 800mm f/5.6L IS USM lens, the Canon Extender EF 1.4X III, and the Canon EOS-1D X). ISO 800. Evaluative metering +1 stop as framed: 1/1250 sec. at f/8. Should have been +2 2/3 stops….
Central sensor/AI Servo/Surround Rear Focus AF on the front center of the curve of he neck as framed above was active at the moment of exposure. Click here to see the latest version of the Rear Focus Tutorial. Click on the image to see a larger version. This is the full frame original (well under-exposed) image capture.
Your browser does not support iFrame.
Great Blue Heron with Small Pipefish
Sometimes we simply screw up the exposure. It happens to me on occasion when I am in too much of a hurry. When we do, dealing with the noise caused by underexposure has always been a problem. As you can see by taking a close look at the optimized image below, DPP 4.0 does a great job with handling the noise caused by underexposures, even relatively severe underexposures. Arash spent many days and countless hours coming up with his suggested values for both luminance and chrominance noise reduction. The two charts in the new eGuide–coming fairly soon, include his recommended values for the 5D Mark III/6D and for the 1D X for each ISO from 400 to 6400. In every case that I have encountered Arash's values out-performed the values that were automatically suggested by DPP 4.0 in terms of reducing noise while maintaining fine feather detail.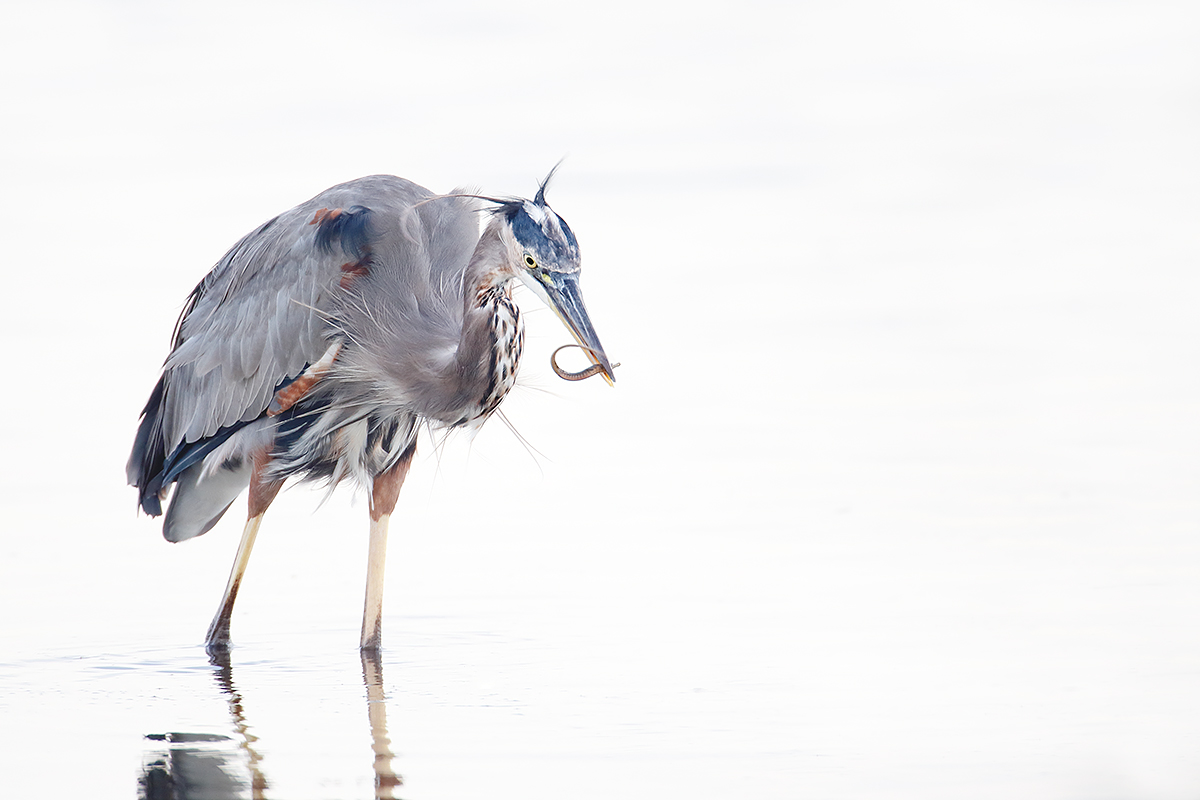 This is the optimized image that was created from the underexposed original image that opened this blog post.
DPP 4.0 Before and After Magic
After opening this image in DPP 4.0 the first thing that I did was move the Brightness slider one full stop to the right to 1.00. Then I moved the Shadow slider to the right to +2.2 to bring up the darker tones a bit more. Then I increased both the Contrast and the Saturation one click to 1.0. Next, on the Adjust image detail tab, I applied Arash's brilliant noise reduction values for the 1D X at ISO 800 as described above. In the new guide we teach you how to easily compare before and after magnified views. Unfortunately the Lens data for the Canon 800mm f/5.6L IS lens is not and never has been available for any version of DPP. As a result, I had to deal with the vignetting in Photoshop after the RAW file was converted. I used both the Crop Tool and the Clone Stamp Tool (that latter at 80%). That was followed by a bit of water surface clean-up, NIK 50-50 on the face and neck, dust spotting, and selective sharpening of the face and neck via a Contrast Mask. Then I saved my master file, duplicated the image for safety, cropped the copy to 1200 pixels wide, sharpened it, and used Save for Web optimized to < 395kb for both the blog and for posting on BPN. Done deal.
The DPP RAW Conversion Guide
To learn why I use Canon's Digital Photo Professional (DPP) to convert every image that I work on, click here. Coming soon: The DPP 4.0 RAW Conversion Guide by Arash Hazeghi and Arthur Morris. The more that I use DPP 4.0 for my RAW conversions the more I am impressed with it. Today, I will be finishing up my edit of our new DPP RAW Conversion eGuide. Note: at present, DPP 4.0 supports only 1D X, 5D Mark III, and 6D images.
Digital Basics
Everything that I did to optimize today's image is covered in detail in my Digital Basics File–written in my easy-to-follow, easy-to-understand style. Are you tired of making your images look worse in Photoshop? Digital Basics File is an instructional PDF that is sent via e-mail. It includes my complete digital workflow, dozens of great Photoshop tips, details on using all of my killer image clean-up tools, the use of Contrast Masks, several different ways of expanding and filling in canvas, all of my time-saving Keyboard Shortcuts, Quick Masking, Layer Masking, and NIK Color Efex Pro basics, Digital Eye Doctor, Tim Grey Dodge and Burn, how to create time-saving actions, and tons more.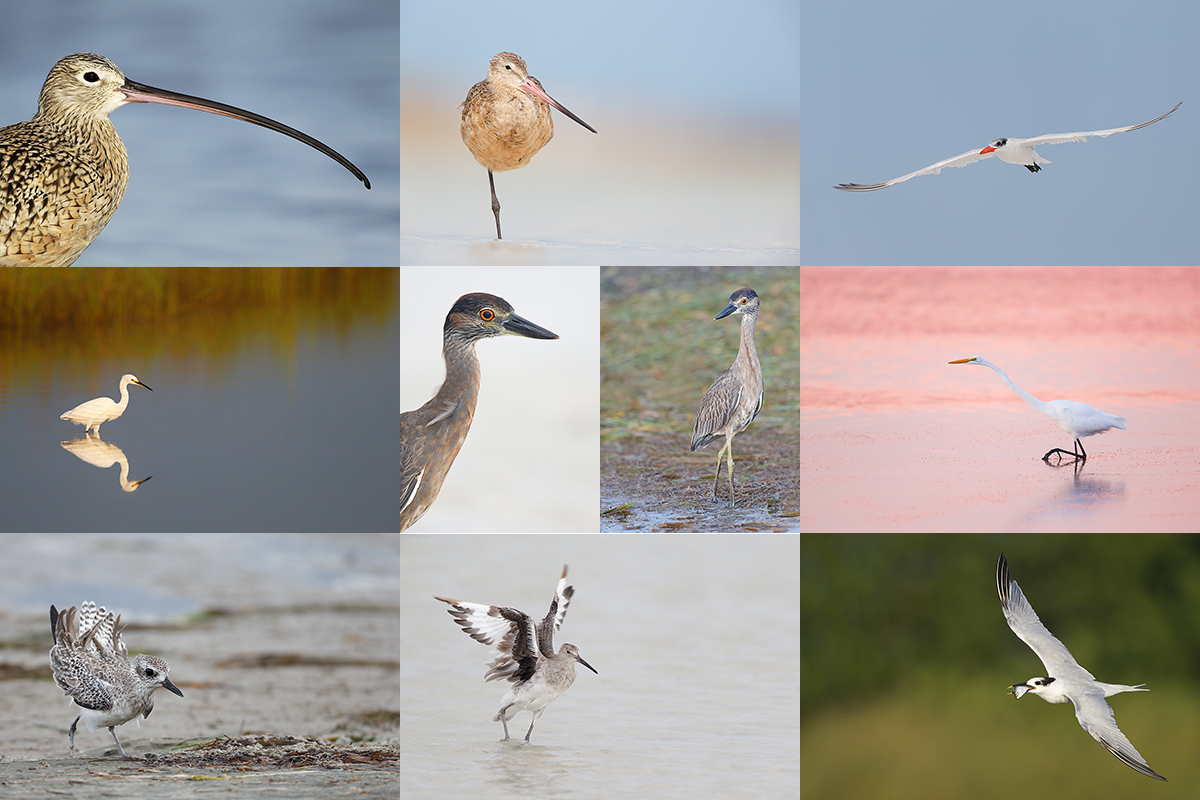 Fort DeSoto in fall is rich with tame birds. All of the images in this card were created at Fort DeSoto in either late September or early October. I hope that you can join me there this October. Click on the composite to enjoy a larger version.
First-ever BIRDS AS ART In-the-Field/Meetup Workshop Session (ITF/MWS): $50
Join me on the afternoon of October 10, 2014 for 3-hours of photographic instruction at Fort DeSoto Park. Beginners are welcome. Lenses of 300mm or longer are recommended but even those with 70-200s should get to make some nice images. Teleconverters are always a plus.
You will learn the basics of digital exposure and image design, autofocus basics, and how to get close to free and wild birds. We should get to photograph a variety of wading birds, shorebirds, terns, and gulls. This inexpensive afternoon workshop is designed to give folks a taste of the level and the quality of instruction that is provided on BIRDS AS ART Instructional Photo-tours. I hope to meet you there.
To register please call Jim or Jennifer during weekday business hours with a credit card in hand to pay the nominal registration fee. Your registration fee is non-refundable. You will receive a short e-mail with instructions, gear advice, and meeting place at least two weeks before the event.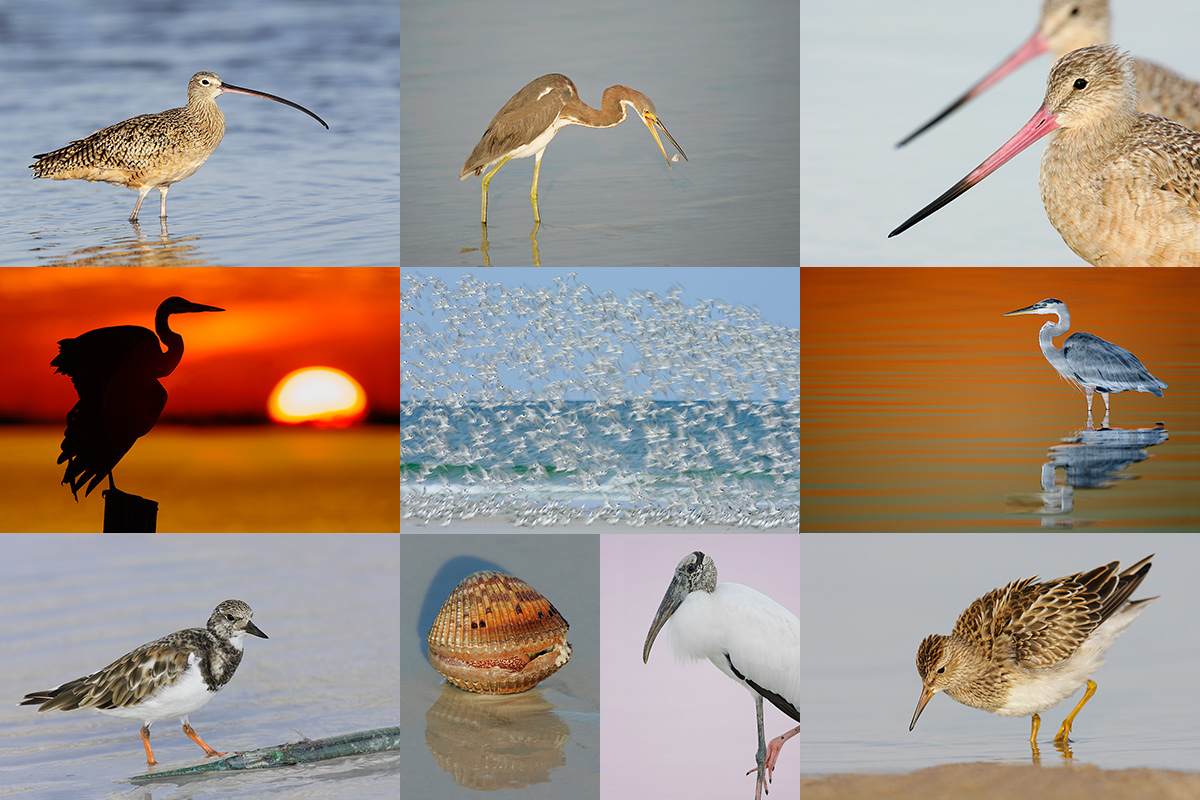 Obviously folks attending the IPT will be out in the field early and stay late to take advantage of sunrise and sunset colors. The good news is that the days are relatively short in October. Click on the composite to enjoy a larger version.
Fort DeSoto Fall IPT/October 11-13, 2014. 3 FULL DAYs: $1099. Limit 8/Openings 5.
Fort DeSoto, located just south of St. Petersburg, FL, is a mecca for migrant shorebirds in fall. There they join hundreds of egrets, herons, night-herons, gulls, and terns who winter on the T-shaped peninsula that serves as their wintering grounds. With any luck, we should get to photograph two of Florida's most desirable shorebird species: Marbled Godwit and the spectacular Long-billed Curlew. Black-bellied Plover and Willet are easy, American Oystercatcher likely. Great Egret, Snowy Egret, Great Blue Heron, and Tricolored Heron are easy as well and we will almost surely come up with a tame Yellow-crowned Night-Heron or two. We should get to do some Brown Pelican flight photography. And Royal, Sandwich, Forster's, and Caspian Terns will likely provide us with some good flight opportunities as well. Though not guaranteed Roseate Spoonbill and Wood Stork would not be unexpected.
Folks who sign up for the IPT are welcome to join us on the ITF/MWS on Friday afternoon as my guest. See above for details on that.
On the IPT you will learn basics and fine points of digital exposure and to get the right exposure every time after making a single test exposure, how to approach free and wild birds without disturbing them, to understand and predict bird behavior, to identify many species of shorebirds, to spot the good situations, to choose the best perspective, to see and understand the light, to, and to design pleasing images by mastering your camera's AF system. And you will learn learn how and why to work in Manual mode (even if you're scared of it).
At lunch (included) we will review my images–folks learn a ton watching me edit–why keep this one and delete that one. If you opt to bring your laptop, we will take a look at five of your best images from the morning session. We will process a few of my images in Photoshop after converting them in DPP. That followed by Instructor Nap Time.
If you decide to register and are traveling to attend this IPT, please make your reservations at the Beachcomber Beach Resort, 6200 Gulf Blvd, St. Petersburg (St. Pete Beach), FL 33706 (727-367-1902) as soon as possible as rooms for the weekend days are scarce: ARR: 10 OCT/DEP 14 OCT. I stayed there on my last DeSoto visit and was quite happy with it. Lodging is tough in Florida at this season…. The best airport is Tampa (TPA). It is always best if IPT folks stay in the same hotel so if you are interested it would be a good idea to register now and make your hotel reservations as well. We can, however, coordinate easily with local folks who opt to stay at home either by cell phone or e-mail.
Because of the relatively late date, payment is full is due upon registration either by check or credit card. If the former, please e-mail us immediately so that we can save you a spot. If the latter, please call Jim or Jennifer during weekday business hours at 863-692-0906 with a credit card in hand to register . Your registration fee is non-refundable unless the IPT sells out with eight so please check your plans carefully before committing. You will receive a confirmation e-mail with detailed instructions, gear advice, and first morning meeting place about one month before this IPT.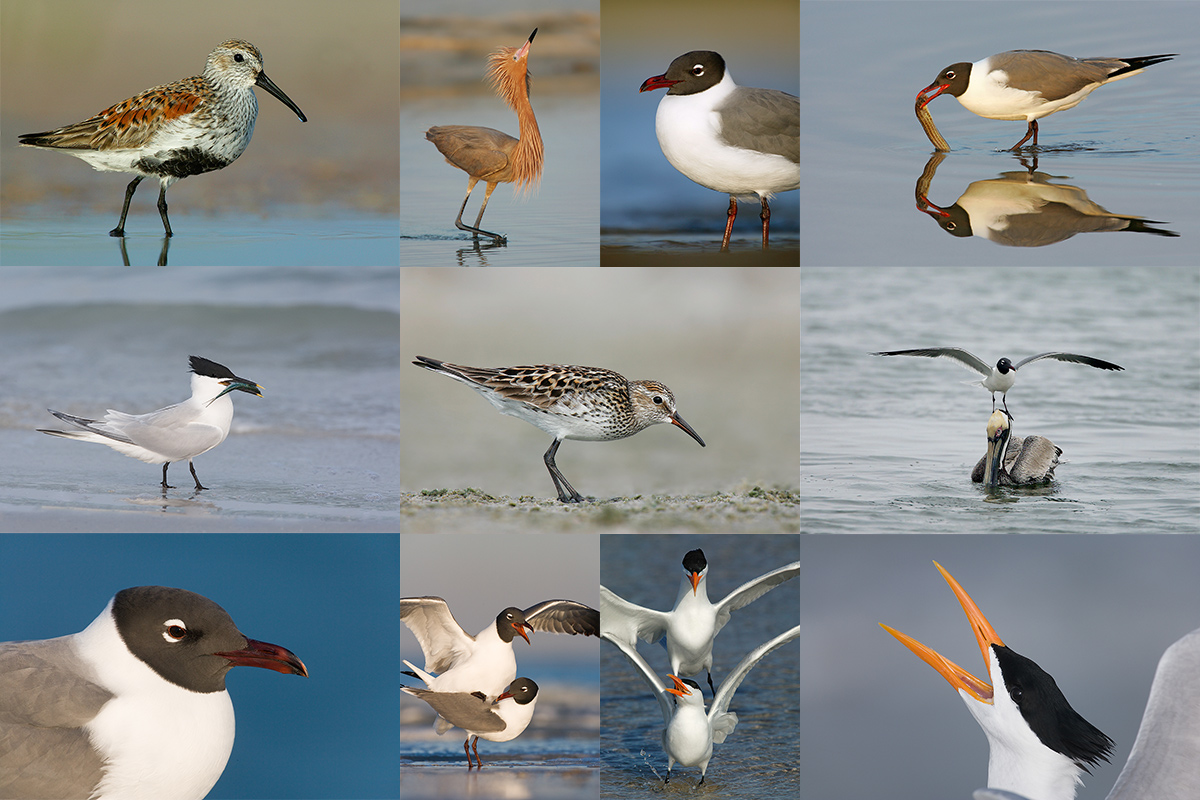 BAA Site Guides are the next best thing to being on an IPT.
Fort DeSoto Site Guide
Can't make the IPT? Get yourself a copy of the Fort DeSoto Site Guide. Learn the best spots, where to be when in what season in what weather. Learn the best wind directions for the various locations. BAA Site Guides are the next best thing to being on an IPT. You can see all of them here.
Facebook
Be sure to like and follow BAA on Facebook by clicking on the logo link upper right. Tanks a stack!
Support the BAA Blog. Support the BAA Bulletins: Shop B&H here!
We want and need to keep providing you with the latest free information, photography and Photoshop lessons, and all manner of related information. Show your appreciation by making your purchases immediately after clicking on any of our B&H or Amazon Affiliate links in this blog post. Remember, B&H ain't just photography!
…..
Amazon.com
Those who prefer to support BAA by shopping with Amazon may use this link:
Amazon Canada
Many kind folks from north of the border, ay, have e-mailed stating that they would love to help us out by using one of our affiliate links but that living in Canada and doing so presents numerous problems. Now, they can help us out by using our Amazon Canada affiliate link by starting their searches by clicking here. Many thanks to those who have written.
Typos
In all blog posts and Bulletins, feel free to e-mail or to leave a comment regarding any typos, wrong words, misspellings, omissions, or grammatical errors. Just be right. 🙂