The Streak Continues: 297
Well, I finally started my 2013 taxes yesterday. After about a gradual but steady five-year decline, BAA gross income rose quite significantly in 2013. So here is a big-time thank you to everyone who patronized BIRDS AS ART that year (and since!). I am never, however, sure how total receipts affect the bottom line until I finish my taxes. Why? High end international trips raise the gross income but usually require large payouts on our end for a variety of expenses that we incur but are included in the IPT registration fees. Examples would be the cost of hotels and meals, the cost of hiring guides, charter fees (for the Galapagos, Bear Boat, and other trips), and the cost of boat trips as on the UK Puffins and Gannets IPT. That said up is always better than down so thanks again to all of you who have partaken.
This blog post, the 297th in a row, took me close to 4 hours to prepare. It was published just after 8:30am from my home in Indian Lake Estates, FL.
As always, I would appreciate your using the BIRDS AS ART B&H affiliate links for all of your major gear, video, and electronic purchases, using our Amazon logo-link for all of your household purchases, and visiting the BAA Online Store for your tripod, tripod head, LensCoat, miscellaneous, accessories, and eGuide purchases as well. Please remember, web orders only. 🙂 Please remember also that all are invited to e-mail for gear advice.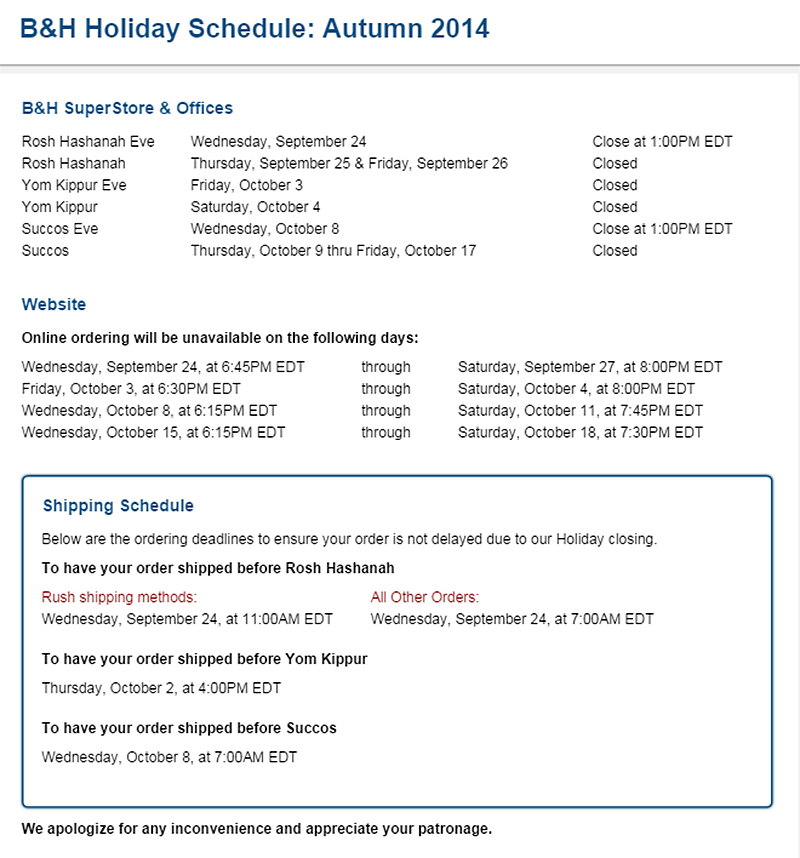 B&H 2014 Holiday Closing Schedule and Info.
B&H Holiday Info
Join me in saying Happy New Year/L'Shana Tova to all of our good friends at B&H Photo Video, including and especially the folks who take care of my affiliate account needs, Yechiel Orgel, Izzy Flamm, and Jeosef Brown. Above, for your convenience, please find the 2014 B&H holiday closing schedule and info.
Health Basics Follow-Up
I am thrilled that I continue to be inundated with requests for and comments on my Health Basics File. If you missed the original notice on that please see Saturday's blog post here and the important follow-up yesterday's blog post here. If you would like a copy of my Health Basics File, please shoot me an e-mail with the words "Health Basics File" cut and pasted into the Subject line.
Feel Good Sports Story
Huge congrats to Guilder Rodriguez now of the Texas Rangers. After 13 minor league seasons and 4000+ minor league at bats he got his first major league hit last night. He followed that with his second major league hit, a game-winning rbi single. His Dad and his wife were in the stands. Read the whole story and see the video here.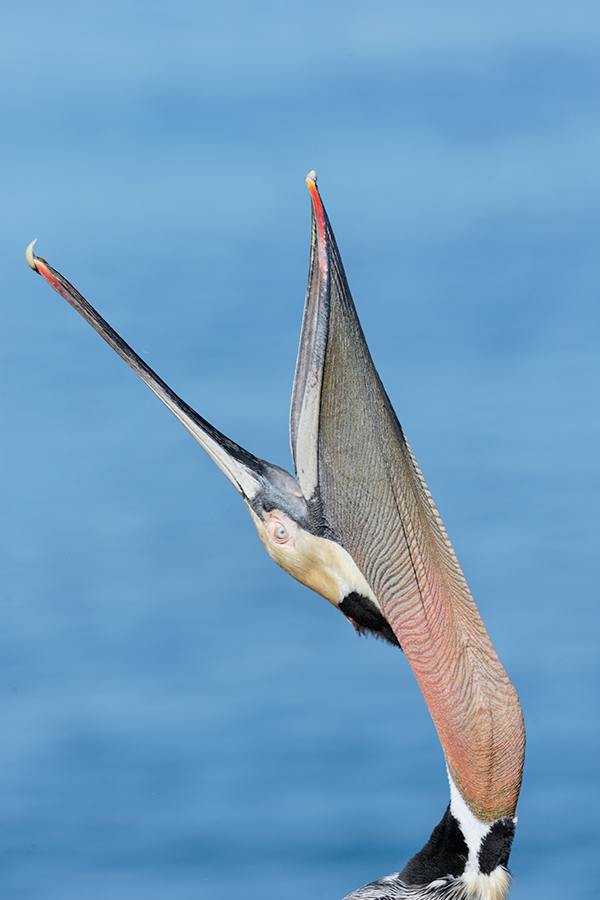 This image was created in LaJolla, CA. I am not honestly sure if I hand held for this image or if I used the Gitzo 3532 LS carbon fiber tripod and my beloved Mongoose M3.6 head. Either way, I did use the Canon EF 200-400mm f/4L IS USM Lens with Internal 1.4x Extender (with the internal TC in place at 400mm) and the Canon EOS-1D X. ISO 400. Evaluative metering +2/3 stop as framed in cloudy bright conditions: 1/1600 sec. at f/6.3 in Manual mode.
61-Point/AI Servo/Rear Focus AF had an array of 3 sensors active at the moment of exposure. One of those barely caught the top of the pelican's head–see the BreezeBrowser screen capture below. Click here if you missed the Rear Focus Tutorial.
Click on the image to enlarge it and see the problem with the eye.
Your browser does not support iFrame.
What Are The Problems?
If you enlarge the image you better be able to see two of the three major problems:
#1: The image is sharp, but not tack sharp. As I recall focus was not quite locked…. In addition, I believe that there is a bit of motion blur. As detailed in the fairly recent "Head Throw Photography" blog post here, photographing head throws is quite challenging with acquiring and maintaining focus at the top of the difficulty list. When I return to San Diego in late January I will likely go with Central Sensor Surround for the head throws.
#2: As luck would have it, the bird's nictitating membrane was in place at the moment of exposure. See the animated GIF below for the before and after close-ups.
#3: There image was not framed perfectly. (See #2 on the head throw photography difficulty list.) There is a bit too much room on the right and a bit too little room on the left.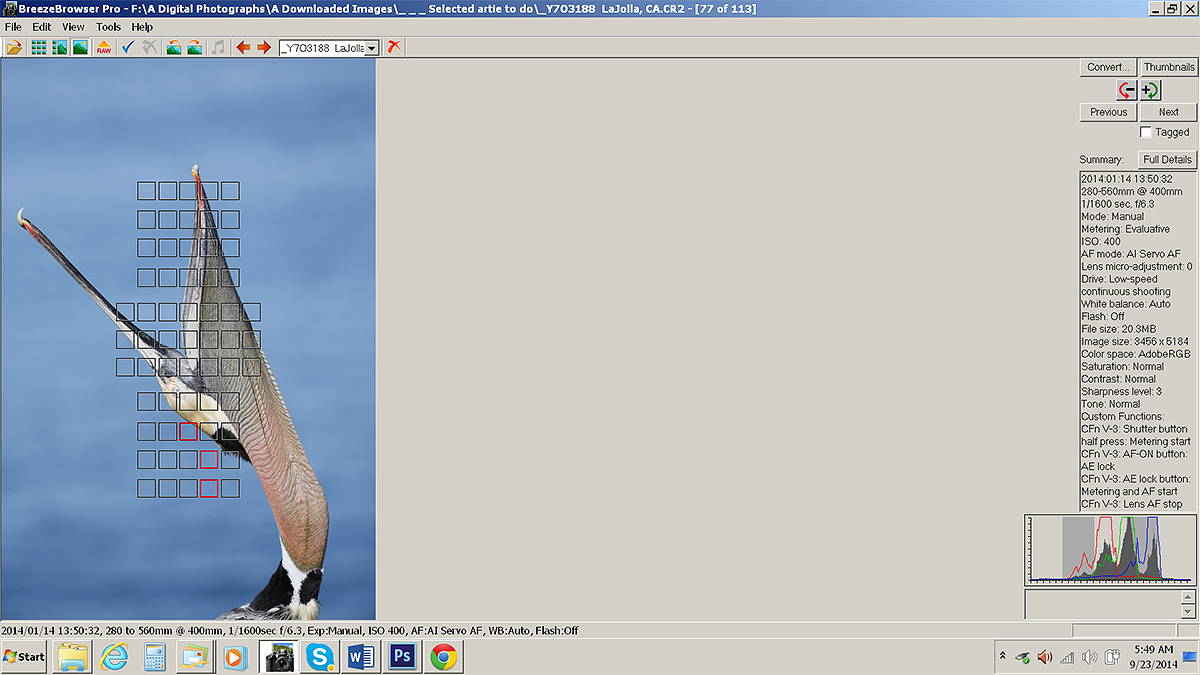 This is the Breezebrowser Main View Screen Capture.
The Breezebrowser Main View Screen Capture
Above is the BreezeBrowser Main View screen capture for today's image. Note that the illuminated red squares show the sensors that were active at the moment of exposure and that only one of the active AF points caught any part of the bird. (That due to operator error.) In BreezeBrowser you need to check "Show Focus Points" under View to activate this feature. To see the focus points in DPP V 3-point whatever check "AF Point" under View or hit Alt L. To learn how and why I use DPP (Canon Digital Photo Professional) to convert my RAW files, see the info on our DPP RAW Conversion Guide here. The DPP 4.0 RAW Conversion Guide that I am working on with Arash Hazeghi is nearing completion.
Note the perfect histogram with the small amount of WHITEs well into the rightmost histogram box and none of the dark tones clipped. Regular readers know that I use and depend on BreezeBrowser every day of the year. It allows me to sort my keepers and delete the rejects faster than any other Windows browsing program. We use it on the main computer in the home office to catalog our images file-drawer style. And the companion program, Downloader Pro allows me to download my images quickly and conveniently. It automatically adds my IPTC data and the shooting location. I have it set up to create a folder named by the Month/date/year. The Breezebrowser/Downloader Pro combo saves me many hours each week. To learn more or to purchase this great PC only program, click here. As far as the BreezeBrowser/Downloader Pro Combo goes, if you are using a Windows platform and are not using these two great programs you are at best, wasting your valuable time. Jennifer is loading Parallels onto my new Mac laptop today, that followed by a licensed copy of Windows 7 and then BreezeBrowser Pro and Downloader Pro. See BreezeBrowswer on a Mac for additional details.
There will be lots more coming soon on my switch to the top-of-the-line, super fast, Apple 15.4″ MacBook Pro Notebook Computer with Retina Display.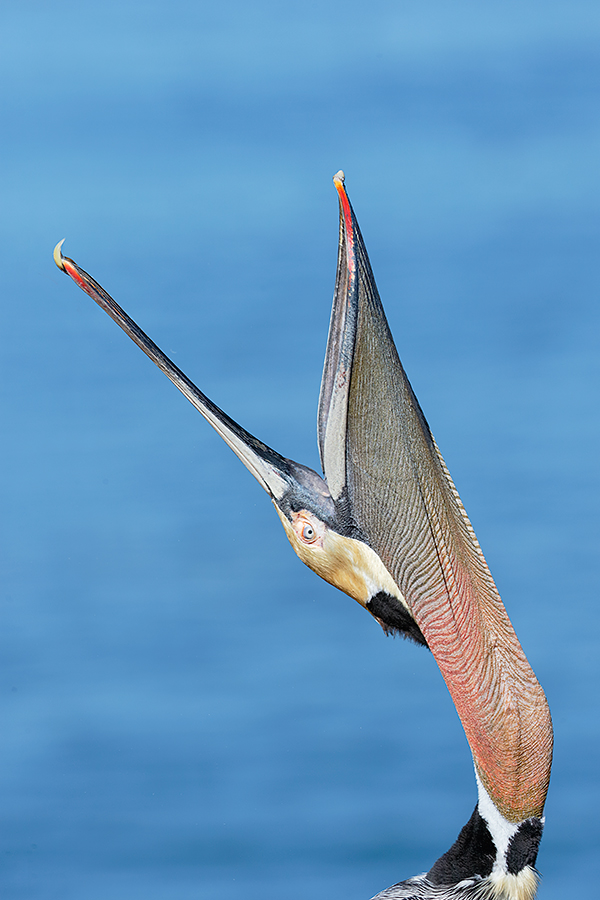 This is the optimized image that was created from the original image that opened this blog post.
The Image Optimization
First the image was converted in DPP 4.0 and then brought into Photoshop CS-6. I reconstructed and sharpened the eye using a variety of Digital Eye Doctor techniques, the Clone Stamp Tool, and several tiny Quick Masks (the latter refined via a Regular Layer Mask. I ran my NIK Color Efex Pro recipe on the bird only (selected with the Quick Selection Tool) and then sharpened that layer with a Contrast Mask. Then I quickly and easily moved the bird to our right using techniques from APTATS II.
Total time: 8 minutes.
The DPP RAW Conversion Guide
To learn why I use Canon's Digital Photo Professional (DPP) to convert every image that I work on, click here. Coming very soon: The DPP 4.0 RAW Conversion Guide by Arash Hazeghi and Arthur Morris. I finished my first edit of Arash's manuscript On Sunday and got Arash's feedback late last night. I will be working on the 4th draft today. The more that I use DPP 4.0 for my RAW conversions the more I learn about it and the more I learn about it the more I am impressed with it. Note: at present, DPP 4.0 will work only with 1D X, 5D III, and 6D images.
Digital Basics
Everything that I did to optimize today's image is covered in detail in my Digital Basics File–written in my easy-to-follow, easy-to-understand style. Are you tired of making your images look worse in Photoshop? Digital Basics File is an instructional PDF that is sent via e-mail. It includes my complete digital workflow, dozens of great Photoshop tips, details on using all of my killer image clean-up tools, the use of Contrast Masks, several different ways of expanding and filling in canvas, all of my time-saving Keyboard Shortcuts, Quick Masking, Layer Masking, and NIK Color Efex Pro basics, Digital Eye Doctor, Tim Grey Dodge and Burn, how to create time-saving actions, and tons more.
APTATS I & II
Learn the details of advanced Quick Masking techniques in APTATS I. Learn Advanced Layer Masking Techniques in APTATS II. Mention this blog post and apply a $5 discount to either with phone orders only. Buy both APTATS I and APTATS II and we will be glad to apply at $15 discount with phone orders only. Please call Jim or Jennifer at 863-692-0906 weekdays to order.
The Before and After Animated GIF
The before and after animated GIF above gives you a close-up look at the changes made in the eye and the face.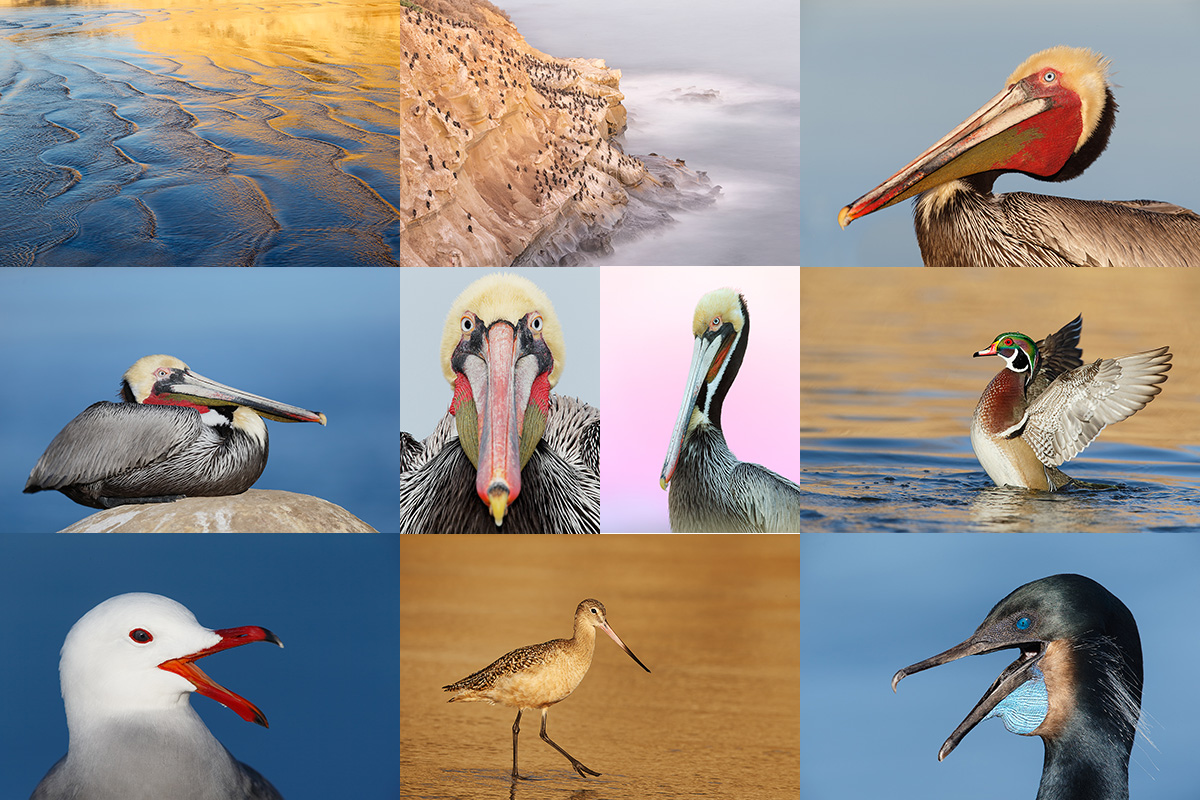 San Diego offers a wealth of very attractive natural history subjects. With annual visits spanning more than three decades I have lot of experience there….
2015 San Diego 4 1/2-DAY BIRDS AS ART Instructional Photo-Tour (IPT): FEB 1 thru the morning of FEB 5, 2015: $1799 (Limit: 8/Openings: 4)
Meet and Greet after dinner on your own at 7:00pm on JAN 31
Join me in San Diego to photograph the spectacular breeding plumage Brown Pelicans with their fire-engine red bill pouches; Brandt's and Double-crested Cormorants in breeding plumage with their amazing crests; breeding plumage Wood and Ring-necked Duck; other species possible inluding Lesser Scaup, Redhead, and Surf Scoter; a variety of gulls including Western, California, and the gorgeous Heerman's, all in full breeding plumage; shorebirds including Marbled Godwit, Willet, Sanderling and Black-bellied Plover; many others possible including Least, Western, and Spotted Sandpiper, Whimbrel, Black and Ruddy Turnstone, Semiplamated Plover, and Surfbird; Harbor Seals (depending on the current regulations) and California Sea Lions likely; and Bird of Paradise flowers. And as you can see by studying the two IPT cards there are some nice landscape opportunities as well.
Did I mention that there are wealth of great birds and natural history subjects in San Diego in winter?
This IPT will include five 3 1/2 hour morning photo sessions, four 2 1/2 hour afternoon photo sessions, five lunches, after-lunch image review and Photoshop sessions, and two fine dinners. To ensure early starts, breakfasts will be your responsibility.
A $499 non-refundable deposit is required to hold your slot for this IPT. You can send a check (made out to "Arthur Morris) to use at BIRDS AS ART, PO Box 7245, Indian Lake Estates, FL, 33855. Or call Jim or Jennifer at the office with a credit card at 863-692-0906. Your balance, payable only by check, will be due on 12/1//2014. If the trip fills, we will be glad to apply a credit applicable to a future IPT for the full amount less a $100 processing fee. If we do not receive your check for the balance on or before the due date we will try to fill your spot from the waiting list. If your spot is filled, you will lose your deposit. If not, you can secure your spot by paying your balance. Please print, complete, and sign the form that is linked to here and shoot it to us along with your deposit check. If you register by phone, please print, complete and sign the form as noted above and either mail it to us or e-mail the scan. If you have any questions, please feel free to contact me via e-mail.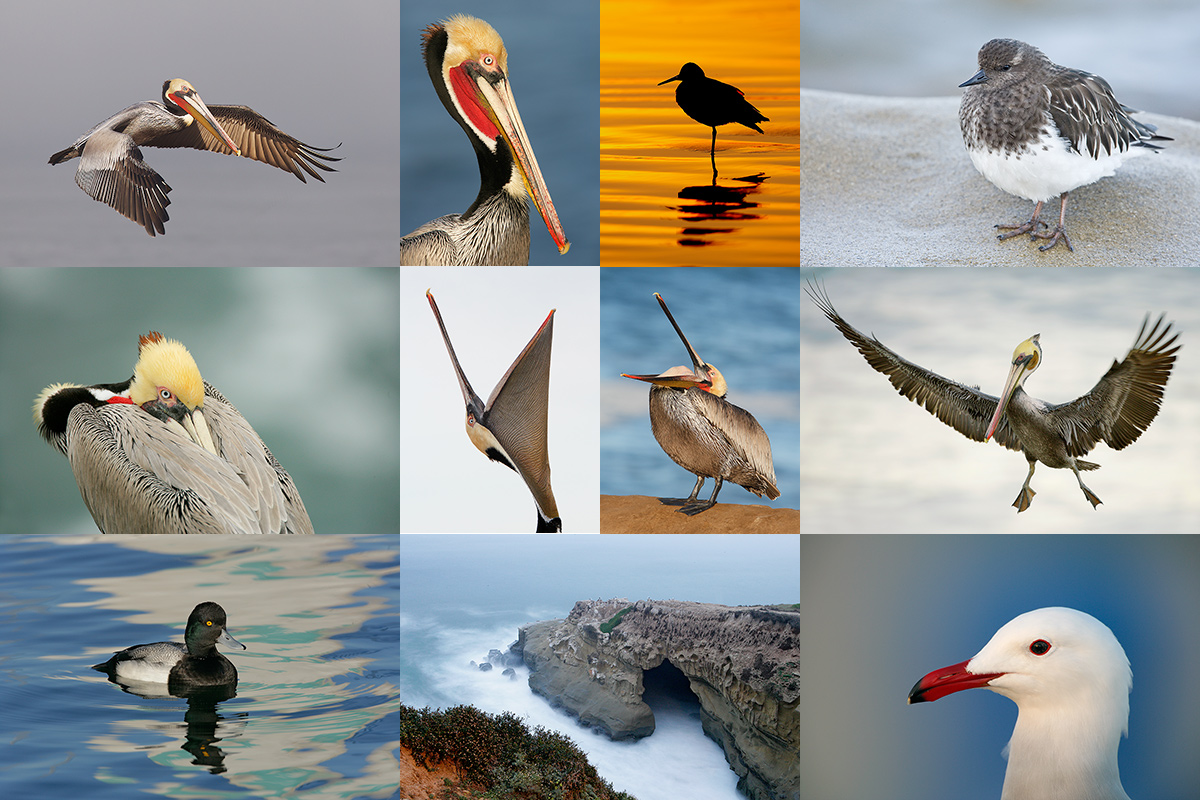 Though the pelicans will be the stars of the show on this IPT there will be many other handsome and captivating subjects in wonderful settings.
San Diego Natural History Museum Program & The Birds of the World Exhibit
On Saturday morning, February 7, 2015 I will be presenting "A Bird Photographer's Story" at the San Diego Natural History Museum to kick off the Birds of the World photographic exhibit that will feature the images of about a dozen of the world's top avian photographers. This program,which is being generously sponsored by the Canon Explorers of Light program, will be free and open to the public. I am proud to say that both Denise Ippolito and I will have images hanging in the show. The exhibit opening is scheduled for later that same day, February 7, 2015. (Times TBA).
Folks on the IPT who wish to stay over and attend the program and the exhibit opening on Saturday are invited to join me for a photo session on Friday morning as follows:
Friday Morning Add-on Photo Session: February 6, 2015: $299.
This workshop includes 3 hours of in-the-field pelican photography instruction and brunch with image review and Photoshop instruction. For now, this session is open only to folks attending the IPT.
Facebook
Be sure to like and follow BAA on Facebook by clicking on the logo link upper right. Tanks a stack!
Support the BAA Blog. Support the BAA Bulletins: Shop B&H here!
We want and need to keep providing you with the latest free information, photography and Photoshop lessons, and all manner of related information. Show your appreciation by making your purchases immediately after clicking on any of our B&H or Amazon Affiliate links in this blog post. Remember, B&H ain't just photography!
…..
Amazon.com
Those who prefer to support BAA by shopping with Amazon may use this link:
Amazon Canada
Many kind folks from north of the border, ay, have e-mailed stating that they would love to help us out by using one of our affiliate links but that living in Canada and doing so presents numerous problems. Now, they can help us out by using our Amazon Canada affiliate link by starting their searches by clicking here. Many thanks to those who have written.
Typos
In all blog posts and Bulletins, feel free to e-mail or to leave a comment regarding any typos, wrong words, misspellings, omissions, or grammatical errors. Just be right. 🙂