The Streak Continues: 298
Yesterday I made progress on my 2013 tax return. Swim, nap, meditation, ice bath, and a good night's sleep. This blog post, the 298th in a row, took me close to 4 hours to prepare. It was published at about 6:45am from my home in Indian Lake Estates, FL.
As always, I would appreciate your using the BIRDS AS ART B&H affiliate links for all of your major gear, video, and electronic purchases, using our Amazon logo-link for all of your household purchases, and visiting the BAA Online Store for your tripod, tripod head, LensCoat, miscellaneous, accessories, and eGuide purchases as well. Please remember, web orders only. 🙂 Please remember also that all are invited to e-mail for gear advice.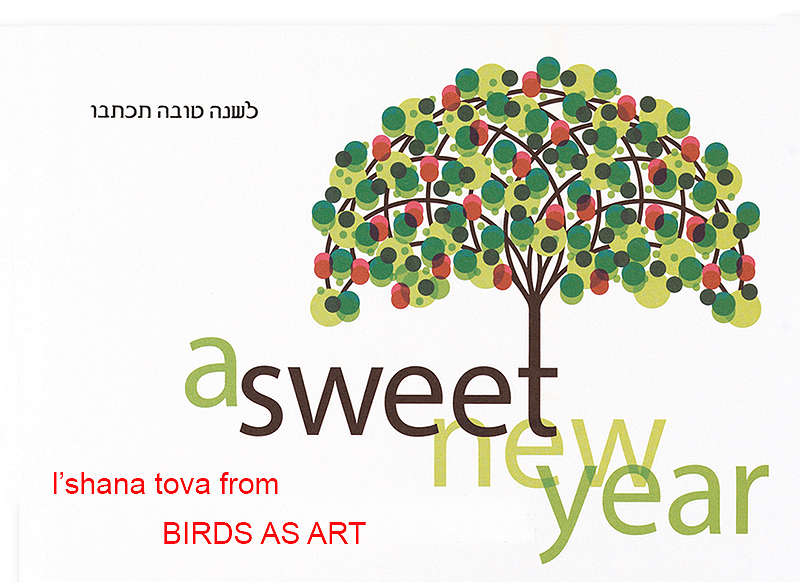 Have a great 5775!
Happy New Year
Here is wishing all of our Jewish friends and families l'shana tova with best wishes for a great 5775!
Important Prize Information
We are in the process of getting the prizes to the winning photographers. About a month ago we sent an e-mail to each winner asking that they confirm their snail mail addresses. Nearly all complied. In addition, we asked overseas winners if they could please provide a US address. Most but not all were able to do so. If we do not hear from the foreign winners who have not supplied us with a US address, we will send their prizes to their home addresses. In the past, we have found that many overseas postal services are not reliable. Last year many prizes that were mailed to a foreign country were lost. We agreed to replace them at our expense. Once. Some were lost twice.
This year all prizes–to both foreign and US addresses–will be sent only once. To the address that you provided. Anyone wishing to pay for a signature-required type of mailing or shipping at their expense is invited to contact Jim via e-mail with a copy to me here for details. The same goes for folks who want to confirm their ship-to addresses or provide us with a new address.
Thanks again to our fabulously generous sponsors. And special thanks to Denise Ippolito who first came up with the idea of creating a major BAA Photography competition. Without her suggestion and input the contest surely would not exist. And let's not forget that without the technical expertise of Peter Kes the contest would not exist. It's great to have great friends.
BAA 2nd International Bird Photography Competition/Winning and Honored Images
Below we are proud to present a gallery of the winning and honored images from the BIRDS AS ART BAA 2nd International Bird Photography Competition.
Like the 1st, the BIRDS AS ART 2nd International Bird Photography Competition was a big success. With more than 200 photographers entering more than 2,000 images, many of them spectacular, the distinguished panel of international judges, Sandesh Kadur, Scott Elowitz, Mary Ann McDonald, Michael Frye, Peter Kes, Denise Ippolito, last year's winner Lou Coetzer, and yours truly, Arthur Morris, had their work cut out for them.
Please remember that without our great cast of sponsors, this contest would not exist. Thanks to the following businesses for their wonderful generosity: major sponsor B&H Photo Video, Think Tank, Delkin Devices, Nature Photographer Magazine, Lens Coat, HP Marketing, Outdoor Photo Gear, RAW Workflow, Wimberley, Essential Photo Gear, 4th Generation Designs, Breeze Systems, Vested Interest, and the contest organizer–that's me, Arthur Morris/BIRDS AS ART.
Your Favorite
Please take a moment to leave a comment and let us know your single favorite image from the competition.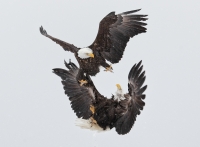 Clemens van der Werf
Squabbling Eagles
first
second
third

Doug Schurman
Short-eared Owl
Vincent de Jong
Sparrows on chain link fence
Cheri Hollis
Great Horned Owl
first
second
third

Jenaya Launstein
Anhinga
Jenaya Launstein
Baby Owl
Courtney Moore
Battling Skimmers
first
second
third

Carol Nichols
Painted Great Horned Owl
Michael Libbe
Heron Silhouette
Angie Luzader
Preening Spoonbill
first
second
third

Niko Pekonen
Immature Glaucous Gull with Guillemot
Bence Mate
Grey Heron with fish
Bence Mate
Golden Eagle with Mallard head
first
second
third

Seungho Cho
Hooded Crane flock blur
Paul McKenzie
Cape Petrel flash blur
Seungho Cho
Walking Vulture Blur
first
second
third

Dave Klein
Snow Geese Fire
Paul McKenzie
Flamingo aerial patterns
Clemens Van der Werf
Pink/Purple/Blue penguin moon
first
second
third

Pierre Giard
Great Grey Leaving
JoryGriesman
Snowy Owl downstroke
Vladimir Michael Kogan
Rose-winged Parakeet
first
second
third

Gail Bisson
Snow Angel
Sandy Zelasko
Great Horned Owlets
Jory Griesman
Bald Eagle pair in snow
Congrats and Thanks
Congratulations again to all the winners and thanks to all who entered. You can see the images from each category that made it to the final round of judging via the drop down menu under the 2nd-IBPC tab on the upper yellow tab bar above left.
Facebook
Be sure to like and follow BAA on Facebook by clicking on the logo link upper right. Tanks a stack!
Support the BAA Blog. Support the BAA Bulletins: Shop B&H here!
We want and need to keep providing you with the latest free information, photography and Photoshop lessons, and all manner of related information. Show your appreciation by making your purchases immediately after clicking on any of our B&H or Amazon Affiliate links in this blog post. Remember, B&H ain't just photography!
…..
Amazon.com
Those who prefer to support BAA by shopping with Amazon may use this link:
Amazon Canada
Many kind folks from north of the border, ay, have e-mailed stating that they would love to help us out by using one of our affiliate links but that living in Canada and doing so presents numerous problems. Now, they can help us out by using our Amazon Canada affiliate link by starting their searches by clicking here. Many thanks to those who have written.
Typos
In all blog posts and Bulletins, feel free to e-mail or to leave a comment regarding any typos, wrong words, misspellings, omissions, or grammatical errors. Just be right. 🙂