The Streak Continues: 299
Yesterday I made some more progress on my 2013 tax return. Swim, nap, meditation, ice bath, and a another good night's sleep. This blog post, the 299th in a row, took me more than 4 hours to prepare. It was published at about 8:45am from my home in Indian Lake Estates, FL.
The 3rd draft of the DPP 4.0 guide goes out to our skilled amazingly qualified volunteer reviewers this morning via e-mail.
As always, I would appreciate your using the BIRDS AS ART B&H affiliate links for all of your major gear, video, and electronic purchases, using our Amazon logo-link for all of your household purchases, and visiting the BAA Online Store for your tripod, tripod head, LensCoat, miscellaneous, accessories, and eGuide purchases as well. Please remember, web orders only. 🙂 Please remember also that all are invited to e-mail for gear advice.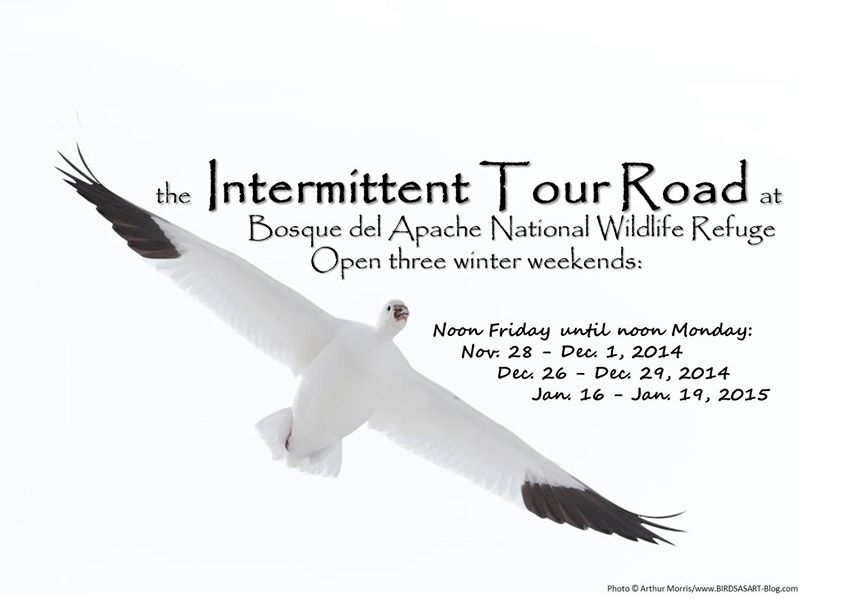 Bosque del Apache 2014/15 Intermittent Tour Loop Road Schedule
Bosque del Apache 2014/15 Intermittent Tour Loop Road Schedule
I donated a Ross's Goose image to the good folks at Bosque del Apache NWR for the poster that announces this season's Intermittent Tour Loop Road schedule. If you are lucky enough to visit when it is open, be sure to obey all signs and regulations. Learn more about the re-processing of this image here.
BAA Bulletin #466
BIRDS AS ART Bulletin #466 is online and can be accessed here.
Bosque del Apache 2014/15 Intermittent Tour Loop Road Schedule
The Ross's Goose in Flight Image
A Tale of Two RAW Conversions
Affordable Bosque Festival of the Cranes Educational Opportunities
Happy New Year
Important BAA 2nd International Bird Photography Competition Prize Information
Fort DeSoto October Events
The Art of Flower Photography
IPT Updates
Selling Your Used Photo Gear Through BIRDS AS ART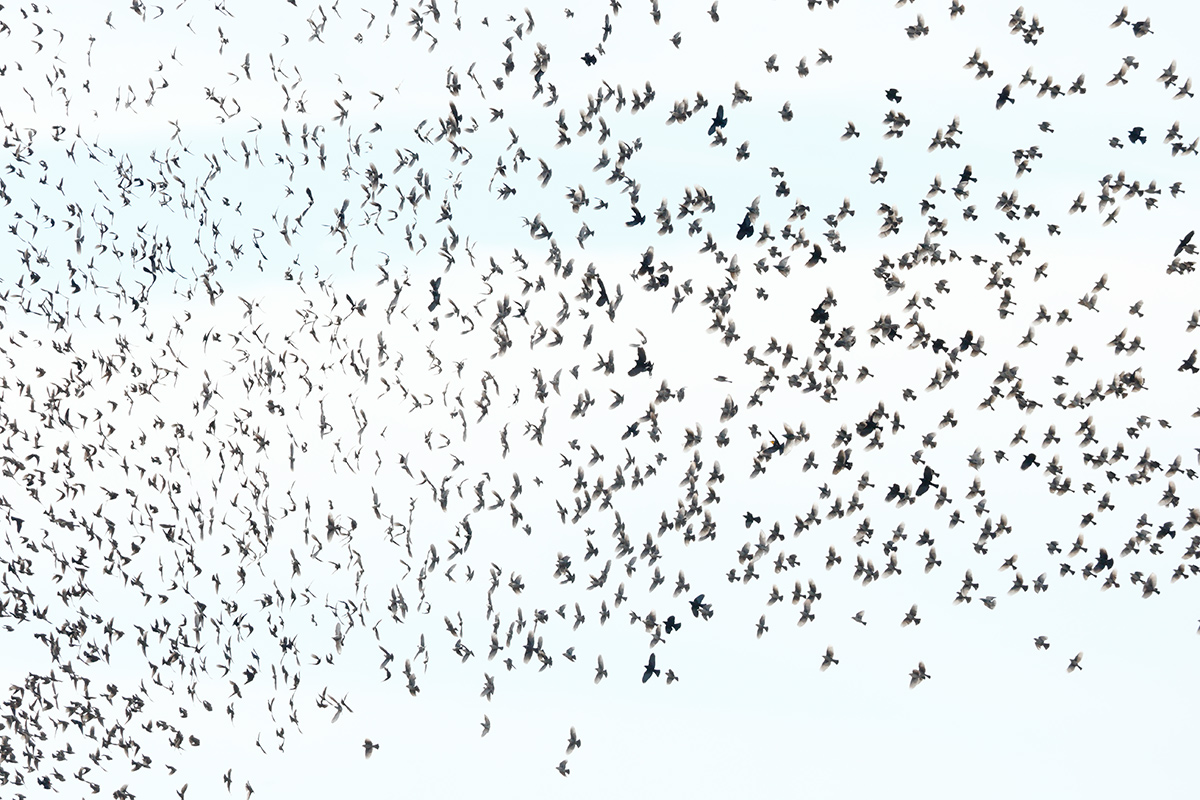 This image was created with the hand held Canon EF 200-400mm f/4L IS USM Lens with Internal 1.4x Extender (with the internal TC in place at 448mm) and the Canon EOS-1D X. ISO 800. Evaluative metering +2 2/3 stop: off the white sky: 1/1250 sec. at f/8 in Manual mode.
Two sensors above the Central Sensor (don't ask me what I was thinking)/AI Servo-Surround/Rear Focus as originally framed (see the original image/last in this post) was active at the moment of exposure. Click here if you missed the latest version of the Rear Focus Tutorial. Click on the image see a larger version.
Your browser does not support iFrame.
The Image Capture, the Original, and the Cropping Strategy
This flock of blackbirds (mostly Brewer's) was photographed on one of last year's Bosque IPTs on the Intermittent Tour Loop Road on a cloudy morning looking south. That would be NG on a clear morning…. Working with the 200-400 is great for photographing flocks of birds in flight as you can vary your framing and hand holding allows you to follow and frame a bit easier than you can when working on a tripod. That said the 200-400 gets heavy quickly for many folks including me.
One of the things that most folks probably would not realize is that this image was created just as two flocks–one flying west, the other flying east, converged. Thus the different look of the birds on the left side of the frame as compared to the look of the birds on the right side of the frame. These different looks add tension to the image.
I converted the RAW file in DPP 4.0 and opened it in Photoshop CS-6. I liked the open space on the right below the flock but there was too much of it so I cropped from the bottom creating a quasi-pano. This resulted in am image that was no longer top heavy. (See image next.)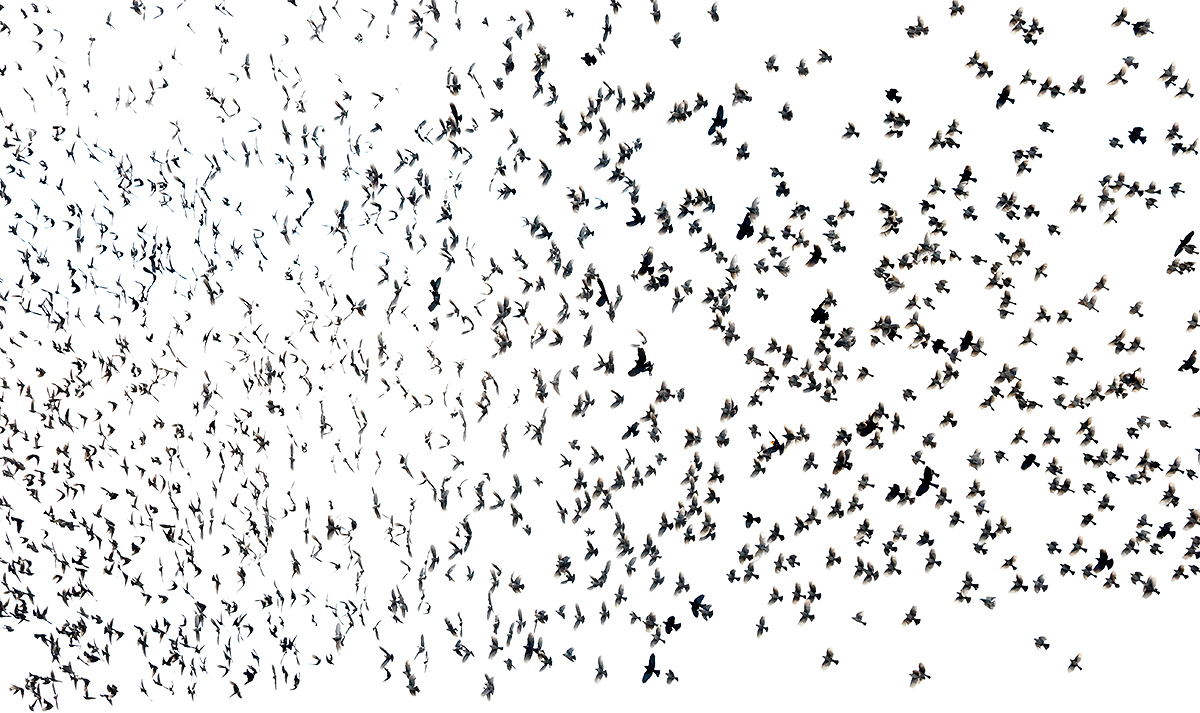 This is the first optimized version.
The First Optimized Version
For this version I decided to clean up only the lower frame edge (but for eliminating a sliver of one bird on the lower right frame edge). All clean-up was done with the Clone Stamp Tool. Why clean-up only the lower edge when there were birds cut off along the left, top, and right frame edges? With a flock this large getting a clean lower edge might be believable but getting four clean edges with the flock perfectly framed would not at all be believable. In other words, try to avoid the too perfect look….
One thing about this version bugged me. Before reading on, see if anything in the image above bothers you. o maximize learning as you read this blog post, do not scroll down to the animated GIF at the bottom before comparing the two versions below; it would spoil the challenge.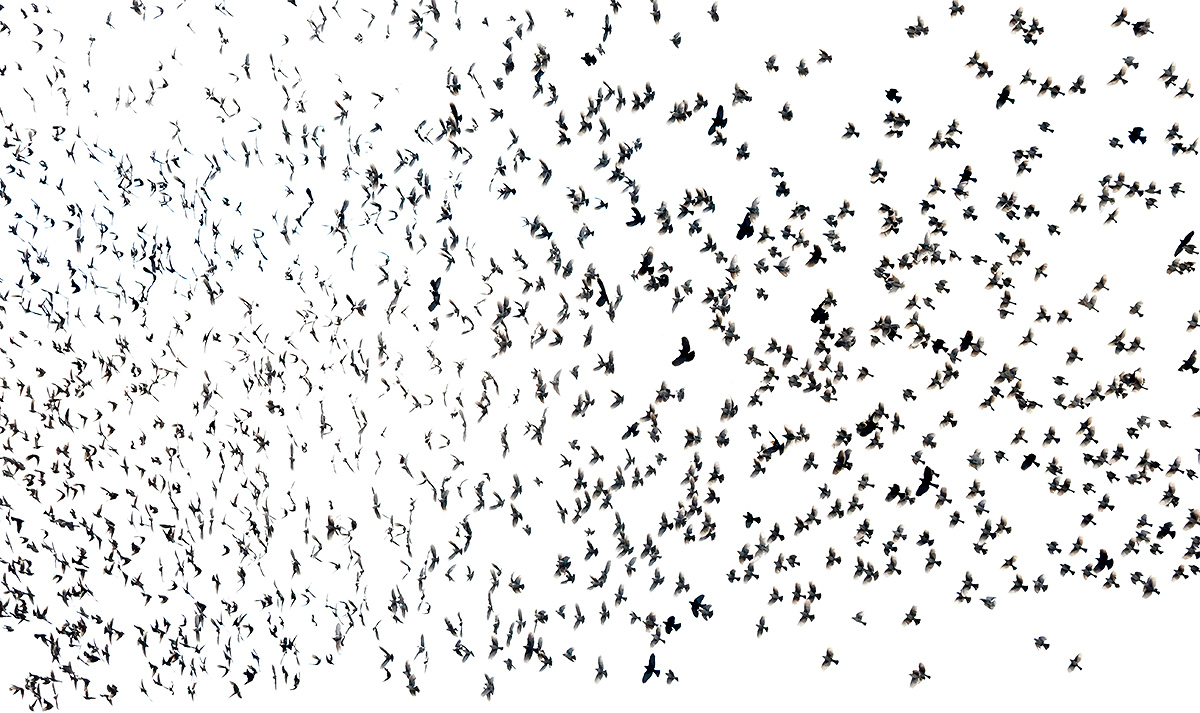 This is the second optimized version.
The Second Optimized Version
Though the differences are small, some might say tiny, I liked the the second optimized version a thousand times more than the first optimized version. Scroll up to see the first version and then back down to see the second version. Do you see the difference? Again, do not scroll down to the animated GIF below before comparing the two versions. It would spoil your fun.
Just Right of Center…
There was a fairly large area of empty space just right of center that bugged me from the get-go. I created the first version last night. When I woke this morning I took a closer look at the optimized image and–as you can see by looking at the animated GIF above, came up with a solution.
Working large, I used the Clone Stamp Tool to get rid of the two birds that merged with my hero bird. Then I used a series of about ten tiny warped and/or transformed Quick Masks to repair the upper wing and the tail of the hero bird. Lastly, I painted a larger Quick Mask of the hero bird. I needed to duplicate that layer about 6 times while moving each layer up and right. Voila. Seemingly tiny changes can make huge differences.
The DPP RAW Conversion Guide
To learn why I use Canon's Digital Photo Professional (DPP) to convert every image that I work on, click here. Coming very soon: The DPP 4.0 RAW Conversion Guide by Arash Hazeghi and Arthur Morris. I finished my first edit of Arash's manuscript On Sunday and got Arash's feedback late last night. I will be working on the 4th draft today. The more that I use DPP 4.0 for my RAW conversions the more I learn about it and the more I learn about it the more I am impressed with it. Note: at present, DPP 4.0 will work only with 1D X, 5D III, and 6D images.
Digital Basics
Everything that I did to optimize today's image is covered in detail in my Digital Basics File–written in my easy-to-follow, easy-to-understand style. Are you tired of making your images look worse in Photoshop? Digital Basics File is an instructional PDF that is sent via e-mail. It includes my complete digital workflow, dozens of great Photoshop tips, details on using all of my killer image clean-up tools, the use of Contrast Masks, several different ways of expanding and filling in canvas, all of my time-saving Keyboard Shortcuts, Quick Masking, Layer Masking, and NIK Color Efex Pro basics, Digital Eye Doctor, Tim Grey Dodge and Burn, how to create time-saving actions, and tons more.
APTATS I & II
Learn the details of advanced Quick Masking techniques in APTATS I. Learn Advanced Layer Masking Techniques in APTATS II. Mention this blog post and apply a $5 discount to either with phone orders only. Buy both APTATS I and APTATS II and we will be glad to apply at $15 discount with phone orders only. Please call Jim or Jennifer at 863-692-0906 weekdays to order.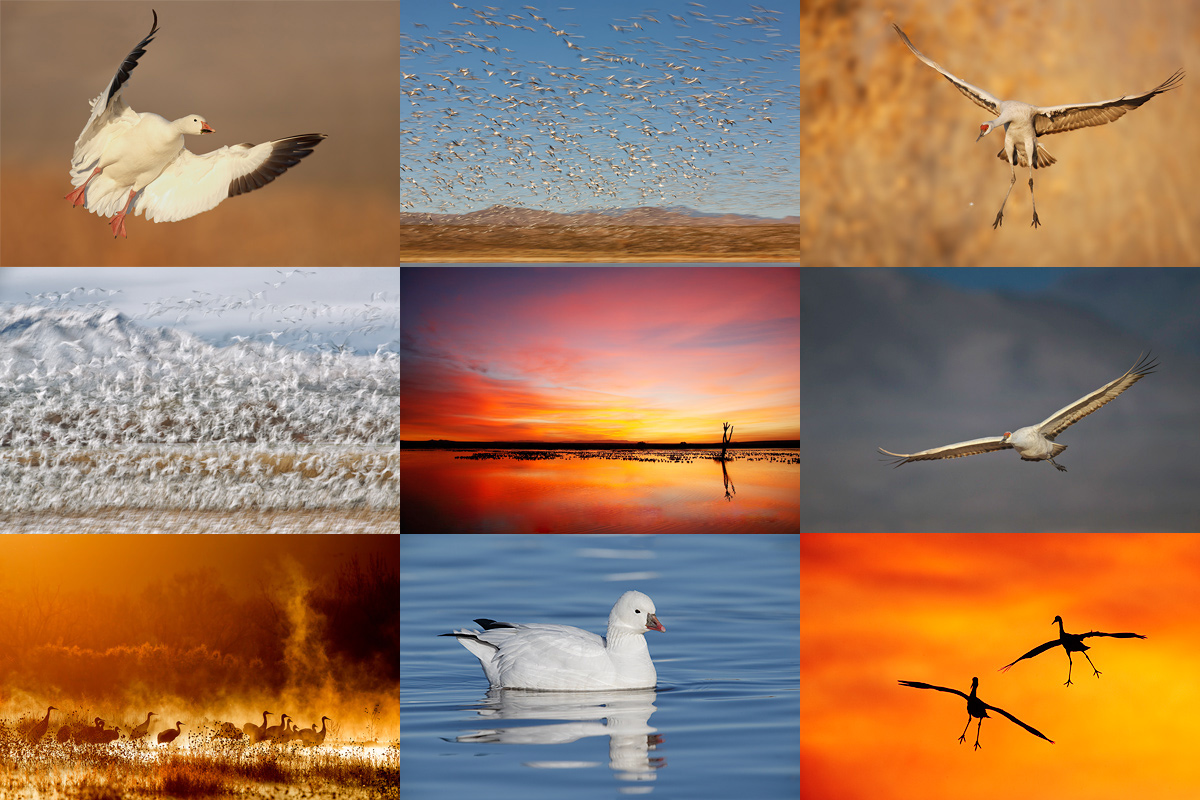 Get your butt on a plane and take advantage of some downright cheap instruction! Please click on the card to enjoy a larger version.
Affordable Bosque Educational Opportunities
I will be at Bosque this year for nearly three full weeks. There are a host of affordable educational opportunities on the slate in conjunction with the Festival of the Cranes. There are four early morning in-the-field photography workshops, Thursday through Sunday, NOV 20-23, 2014. Thursday is sold out, there is some room on the Friday and Sunday sessions, and, at last count, lots of room on the Saturday workshop. Denise and I are co-leading.
We are offering a two part afternoon seminar on Thursday afternoon, NOV 20 from 2-4:30pm as follows:
Part I: Bosque del Apache Photography Basics
Artie and Denise will cover the basics of lens selection, tripod and head selection, image design, getting the right exposure, autofocus options, and the relationship between light direction and wind direction, and will give an overview of the best photographic opportunities at the refuge.
Part II: Creative Photography at Bosque del Apache
Artie and Denise will teach you to think outside the box when photographing at Bosque del Apache. You will learn to create a variety of pleasingly blurred images by using slow shutter speeds, by photographing moving subjects, by zooming during the exposure, and by panning with the lens during the exposure. They will teach you to take advantage of spectacular lighting and weather conditions. They will also cover post processing creative techniques. Limit 50.
On Friday afternoon from 1:00 to 3:00pm I will, as below, be presenting a free slide program entitled "A 20-Year Love Affair With Bosque."
Click here to register for any of the open events above.
"Love Affair with Bosque." Sponsored by Canon. Friday, NOV 21, 2014; 1:00 to 2:40pm. Free, at the Bodega Restaurant, Socorro.
A slide program by Arthur Morris/BIRDS AS ART. Limit 200. Please see the important registration information below.
Arthur Morris first visited Bosque del Apache Refuge in December, 1992 while on sabbatical with his late-wife Elaine While leading his first Bosque del Apache photographic workshop in December, 1994, quite soon after Elaine's death, he created two iconic Bosque images. His "Blizzard in Blue" was honored in the prestigious 1998 BBC Wildlife Photographer of the Year Competition. "Fire in the Mist" was similarly honored in the 2001 BBC competition and soon thereafter was featured as wrap-around cover art on the coffee table book, Life on the Earth, a celebration of 30 years of the best images from the Wildlife Photographer of the Year Competitions. Those two images laid the foundation for his more than two decade love affair with the refuge. He has returned every year since then at the Thanksgiving season while leading BIRDS AS ART Instructional Photo-Tours. In addition, he has two February visits along with two September visits, the latter visits in conjunction with the Bosque del Apache Open Windows Volunteer Program that he founded. Join us for Artie's photographic celebration of his "Love Affair with Bosque."
Even though this is free event, you need to click here to register.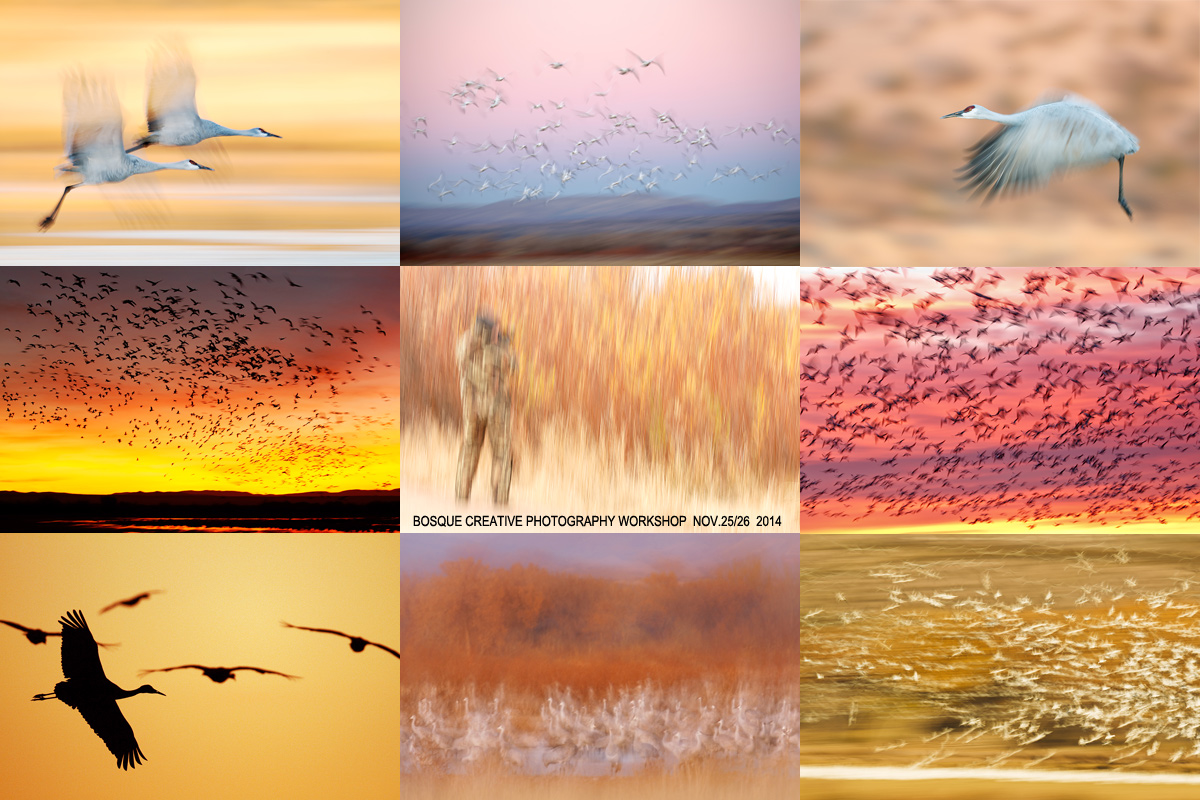 Join Denise Ippolito and Arthur Morris for two great days of photography, fun, and learning at one of our favorite soul places. We will surely be taking you out of the box on this workshop. Please click on the card to enjoy a larger version.
Bosque del Apache 2014 A Creative Adventure/BIRDS AS ART "Creative Photography Instructional Photo-Tour." (IPT). NOV 24-25, 2014. 2-FULL DAYS: $729. Leaders: Denise Ippolito & Arthur Morris. Introductory Slide program: 7:00pm on Sunday 11/23.
Important Note
While the 4-DAY Bosque IPT has been sold out for some time, there is still room on the 2-DAY Bosque Creative IPT as detailed here. Do understand that though we will cover a variety of creative techniques and photograph a variety of subjects, when conditions are perfect for traditional bird photography that is exactly what we will be doing.
Get Out of Your Box!
The Creative Bosque IPT is perfect for folks who want to learn to think outside the box, to create new and different images. This workshop is the perfect add-on for folks who are planning on attending the Festival of the Cranes. Learn to unleash your creative juices at the wondrous Bosque del Apache National Wildlife Refuge in San Antonio, New Mexico with two great leaders including the amazingly talented and creative Denise Ippolito. In-the-field instruction will include tips on gear set-up, on creating a variety of pleasing blurs, on getting the right exposure, and on designing pleasing images. And lots more. From vertical pan blurs to subject motion blurs to zoom blurs to multiple exposures we will cover it all. If conditions are perfect, we will not hesitate to take advantage of them to do some traditional bird photography. This workshop will include an inspirational introductory slide program on Sunday evening, 11/23, after dinner on your own, two morning and two afternoon photography sessions, all lunches, a digital workflow and Photoshop session after lunch on Monday, and an image critiquing session after lunch on Tuesday.
A $329 non-refundable deposit is required to hold your slot for this IPT. Your balance, payable only by check, will be due on 7/25/2014. If the trip fills, we will be glad to apply a credit applicable to a future IPT for the full amount less a $100 processing fee. If we do not receive your check for the balance on or before the due date we will try to fill your spot from the waiting list. If your spot is filled, you will lose your deposit. If not, you can secure your spot by paying your balance.
Please print, complete, and sign the form that is linked to here and shoot it to us along with your deposit check (made out to "Arthur Morris.") You can also leave your deposit with a credit card by calling the office at 863-692-0906. If you register by phone, please print, complete and sign the form as noted above and either mail it to us or e-mail the scan. If you have any questions, please feel free to contact me via e-mail.
Facebook
Be sure to like and follow BAA on Facebook by clicking on the logo link upper right. Tanks a stack!
Support the BAA Blog. Support the BAA Bulletins: Shop B&H here!
We want and need to keep providing you with the latest free information, photography and Photoshop lessons, and all manner of related information. Show your appreciation by making your purchases immediately after clicking on any of our B&H or Amazon Affiliate links in this blog post. Remember, B&H ain't just photography!
…..
Amazon.com
Those who prefer to support BAA by shopping with Amazon may use this link:
Amazon Canada
Many kind folks from north of the border, ay, have e-mailed stating that they would love to help us out by using one of our affiliate links but that living in Canada and doing so presents numerous problems. Now, they can help us out by using our Amazon Canada affiliate link by starting their searches by clicking here. Many thanks to those who have written.
Typos
In all blog posts and Bulletins, feel free to e-mail or to leave a comment regarding any typos, wrong words, misspellings, omissions, or grammatical errors. Just be right. 🙂