The Streak Continues: 307
I have now received three of the four DPP 4.0 RAW Conversion Guide manuscripts from the reviewers via e-mail and will begin the fifth and final round of editing this weekend. I will ship the revised ms off to Arash so that he can create the PDF. After arising at 2:15am yesterday (6:05am today:)), a short nap at 9:00 set up the rest of a productive day. I enjoyed an easy 2/3 mile swim yesterday. This blog post, the 307th in a row, took me about 2 1/2 hours to prepare. It was published at about 7:40am from my home in Indian Lake Estates, FL.
To show your appreciation for my efforts here, we do ask that you use our the B&H and Amazon affiliate links on the right side of the blog for all of your purchases. Please check the availability of all photographic accessories in the BIRDS AS ART Online Store, especially Gitzo tripods, Wimberley tripod heads, and the like. We sell only what I used, tested, and can depend on. We will not sell you junk. We know what you need to make creating great images easy and fun. And we are always glad to answer your gear questions via e-mail.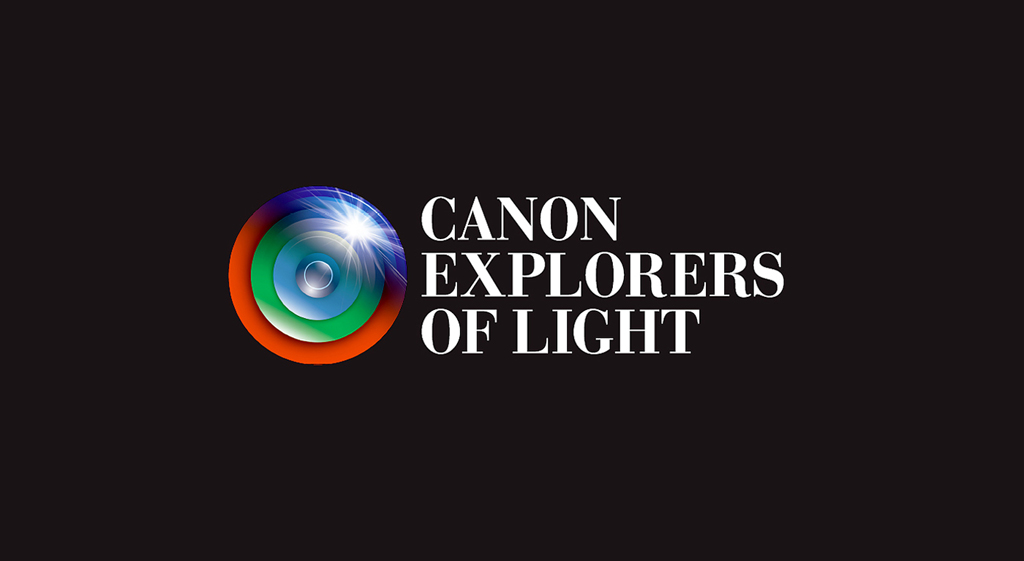 Thanks to EoL's Steven Inglima for helping me get my hands on a beta version EOS-7D Mark II.
Getting a 7D Mark II on Monday!
Thanks to Canon USA's Len Musmeci, Steven Inglima, head of the Canon Explorers of Light program, and good friend and Outdoor Photographer's Tech Tips expert George Lepp. Len approved the loan, Steve arranged it, and George is sending me the 7D II that he has been working with by Fed-Ex today. I need to return the camera on Tuesday October 14. Canon folks who are signed up for the Fort DeSoto IPT will be getting a very good look at the new camera.
I will begin sharing 7D II images with you here soon with the following rejoinder: the images were created with a "Beta" camera, not with a final production model.
George Lepp's Comments on the 7D II
George called BIRDS AS ART yesterday to order a copy of The Art of Flower Photography, the inspiring and instructive new eBook by Denise Ippolito and yours truly. Thinking that he was calling about shipping the 7D II I picked up the phone. He kept saying that he was paying and I kept telling him that he was not. I prevailed in the long run.
I asked George about the quality of the 7D II image files. He said, "You will love the camera and the image quality. The images are quite similar to those from the 5D Mark III." Then I asked with some trepidation, "What about noise?" George replied, "The same as the 5D III."
Wow, it is looking as if the 7D II might be a lightweight 1.6 crop factor body with 1D X AF and 5D III image quality and relatively low noise. I can't wait!
Use the BAA Affiliate logo link above to pre-order your 7D II, shoot me your receipt via e-mail,

and I will do my very best to have your order expedited once the camera begins shipping.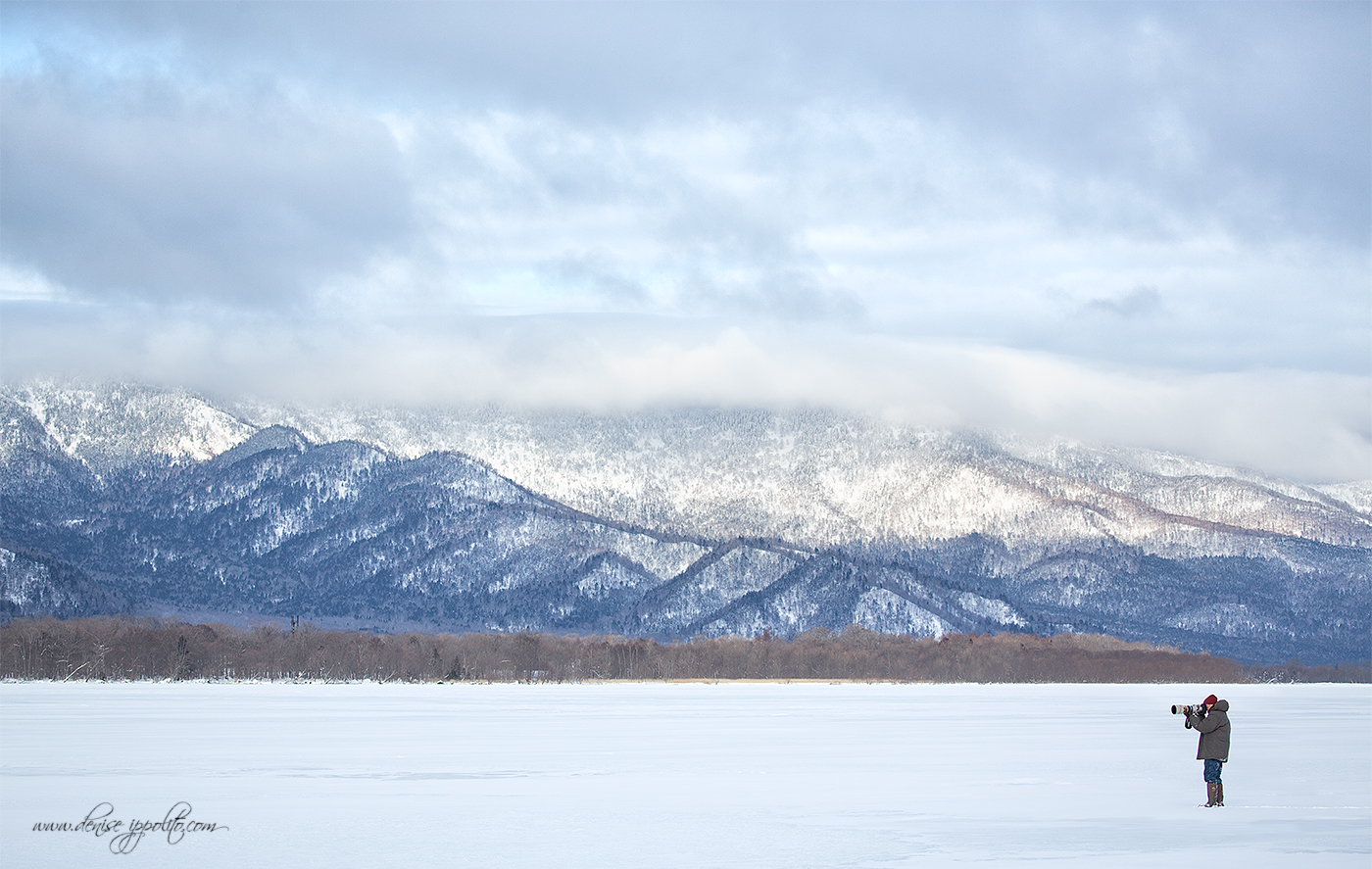 This image was created on the last Japan in Winter with the Canon EF 100-400mm f/4.5-5.6L IS USM lens (hand held at 100mm) and the Canon EOS 5D Mark III . ISO 400. Evaluative metering (probably) +2 1/3 stops as framed: 1/1600 sec. at f/5.6 in Manual mode.
Image copyright 2013: Denise Ippolito/A Creative Adventure
Denise mentioned on the phone last night that at times she really misses her 1-4…. See a new used 100-400 for sale below.
This Could Be You
Having Paul McKenzie aboard as a third leader is a huge plus as he knows the Whooper Swam locations better than anyone. I will share a misty morning image with you here soon. Scroll down just a bit here for info on the 2016 Japan in Winter IPT.
Image Question
#1: Denise climbed a small hill to create this image. WhY?
#2: Denise set the exposure so that there were a few blinkies on the snow and the brightest clouds. Why?
Selling Your Used Photo Gear Through BIRDS AS ART
Selling your used (or like-new) photo gear through the BAA Blog or via a BAA Online Bulletin is a great idea. We charge only a 5% commission. One of the more popular used gear for sale sites charges a minimum of 20% plus assorted fees! Yikes. The minimum item price here is $500 (or less for a $25 fee). If you are interested please e-mail with the words Items for Sale Info Request cut and pasted into the Subject line :). Stuff that is priced fairly–I offer free pricing advice, usually sells in no time flat. In the past few months, we have sold just about everything in sight. Click here to see all the current listings. Note: Bruce Boswell's 100-400 sold yesterday for $999 plus the shipping….
Brand New Listing
Used Canon EF 100-400 f 4.5-5.6 L IS Lens
Multiple IPT veteran Jack Panzeca is offering a used Canon EF 100-400 f 4.5-5.6 L IS lens in very good + condition for $999 including insured shipping via UPS Ground to US addresses only. The tripod collar has one small scratch. The sale includes the original tough fabric case, the original box, the front and rear caps, the lens hood, and the strap. Your gear will be shipped only after your check clears.
Please contact Jack via e-mail or by phone at 817 819 1756. Central Time Zone.
The 100-400 is a versatile intermediate telephoto zoom lens with 1,000+ uses. It makes a great starter lens especially for folks who do general nature and wildlife in addition to birds. I've sold 100s of images made with a 1-4 and denise loved hers for many years forsaking it only recently for the Canon EF 70-200mm f/2.8L IS II USM lens. Jack's 100-400 is priced to sell.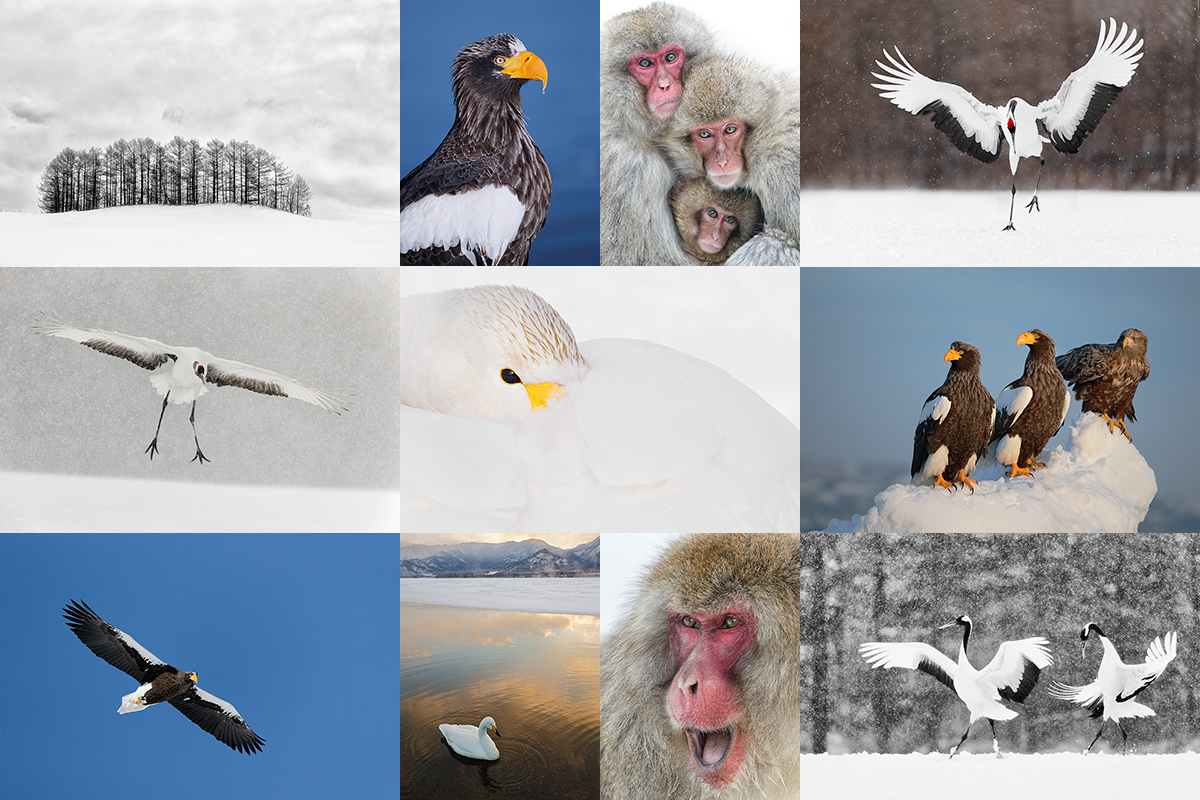 Consider joining us in Japan in February, 2016; the world's best Japan in Winter workshop. Click on the card to enjoy the spectacular larger version.
Japan In Winter IPT. February 9-24, 2016: $13,999/double occupancy. Limit 7: Openings: 4.
Needs five to run; just 2 more to go. All lodging including Tokyo hotel on 9 FEB, all breakfasts & dinners, ground transport and transfers including bus to the monkey park hotel, and all entrance fees and in-country flights are included. Not included: international flights, all lunches–most are on the run, and alcoholic beverages.
This trip is one day longer than the 2014 trip to allow for more flexibility, more time with the cranes, and most importantly, more time for landscape photography. Hokkaido is gorgeous. Three great leaders plus the world's best Japan in winter Japanese photography guide: the amazingly creative Denise Ippolito, multiple award winning photographer Paul McKenzie and yours truly. Tons of trip planning and gear advice, in-the-field instruction and guidance, at-the-lodge Photoshop and image review sessions in addition to short introductory slide programs for each of the amazing locations.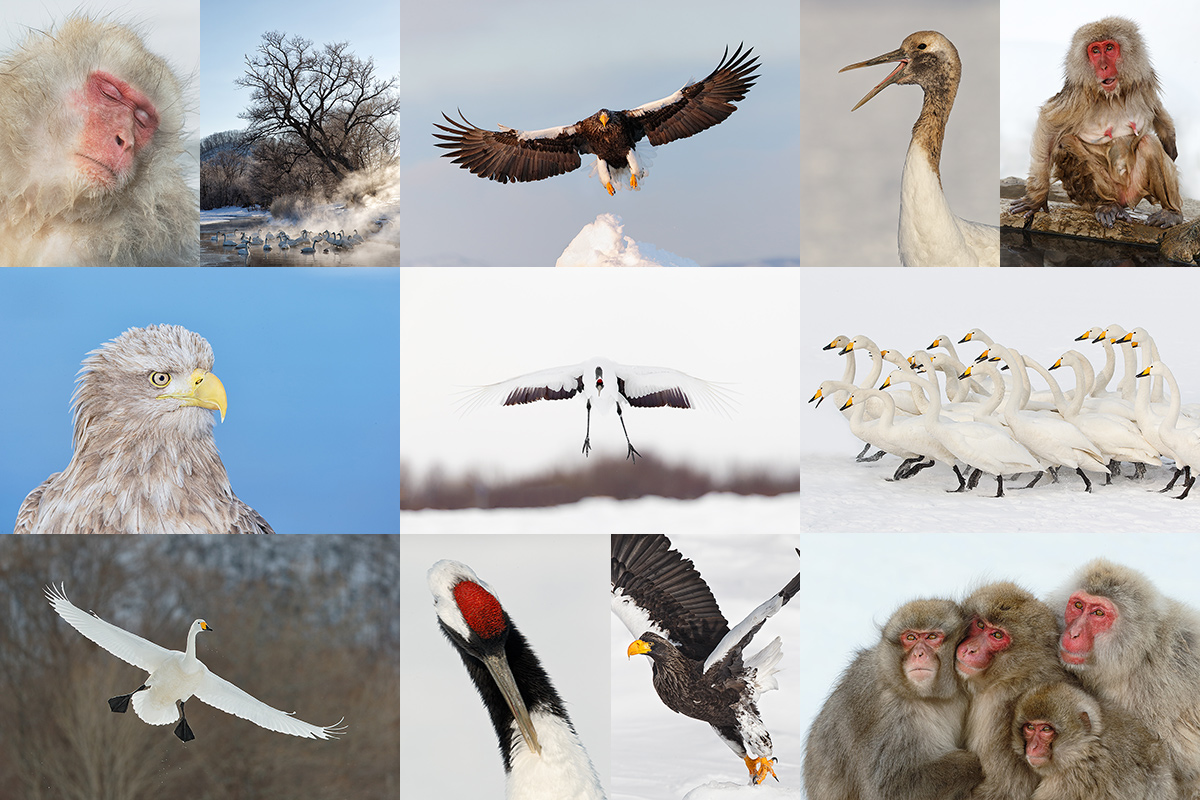 Amazing subjects. Beautiful settings. Nonstop action and unlimited opportunities. Join us.
Arrive Tokyo: 9 FEB 2016 the latest. 8 FEB is safer and gives you a day to get acclimated to the time change. Your hotel room for the night of the 9th is covered.
Travel to Monkey Park Hotel: 10 FEB: Short 1/2 DAY of Monkey photography possible depending on our travel time….
Full Day snow monkeys: FEB 11.
Full Day snow monkeys: FEB 12.
13 FEB: Full travel day to Hokkaido/arrive at our lodge in the late afternoon. The lodge is wonderful. All the rooms at the lodge have beds. Bring your warm pajamas. Local onsen (hot springs bath and tubs) is available for $5 each day before dinner–when you are cold, it is the best thing since sliced bread. Smile emoticon The home cooked meals at the lodge are to die for.
FEB 14-23: Red-crowned Crane, raptors in flight, Whooper Swans, and scenic photography. Ural Owl possible. One 2-night trip to Rausu for Steller's and White Tailed Sea Eagles on the tourists boats dependent on sea ice conditions. Only our trip offers complete flexibility in this area. It saved us this year. One afternoon of duck photography in the harbor is a strong possibility in Rausu. 2-3 boat trips. In addition, few if any tours offer at least one afternoon boat trip….
Lodging notes: bring your long johns for sleeping in the lodge. In Rausu and the snow monkey park, the hotel the rooms are Japanese-style. You sleep on comfortable mats on the floor. Wi-fi is available every day of the trip.
FEB 24. Fly back to Tokyo for transfer to your airport if you are flying home that night, or, to your hotel if you are overnighting. If you need that room it is on you.
To save your spot, please send your $5,000 non-refundable deposit check made out to "Arthur Morris to Arthur Morris/BIRDS AS ART, PO Box 7245, Indian Lake Estates, FL 33855. We do hope that you can join us for this trip of a lifetime. Do e-mail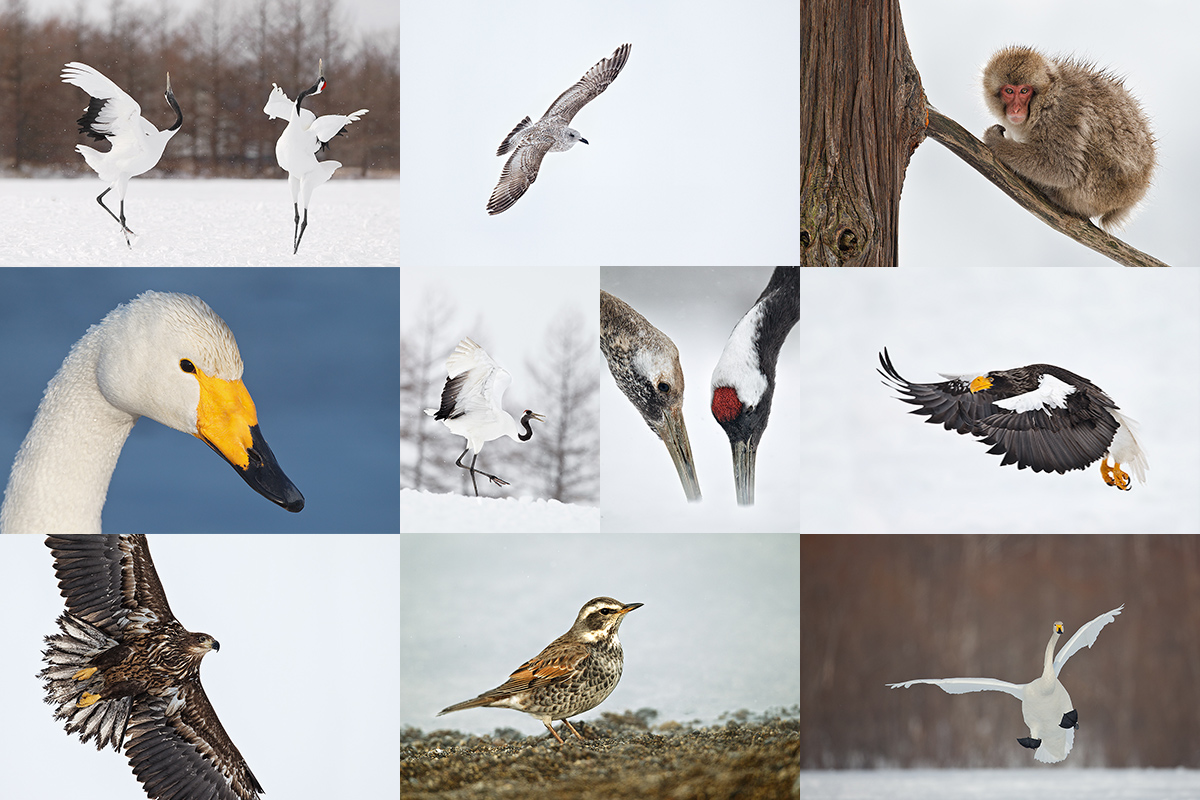 Life is short. Hop on the merry-go-round.