The Streak Continues: 310
I began yesterday with 30 minutes of meditation–see more on that immediately below. Then I worked a bit, enjoyed an easy 1/2 mile swim, took a nice nap, watched lots of pro football, and enjoyed a solid seven hours of sleep. This blog post, the 310th in a row, took me about 2 1/2 hours to prepare. All of the work was done on Monday morning. It was published just after 7:30am from my home in Indian Lake Estates, FL.
To show your appreciation for my efforts here, we do ask that you use our the B&H and Amazon affiliate links on the right side of the blog for all of your purchases. Please check the availability of all photographic accessories in the BIRDS AS ART Online Store, especially Gitzo tripods, Wimberley tripod heads, and the like. We sell only what I have used, have tested, and can depend on. We will not sell you junk. We know what you need to make creating great images easy and fun. And we are always glad to answer your gear questions via e-mail.
Click here to learn about the $200 Last Minute Registration Discount offer for the Fort DeSoto IPT. Join us and you just might get a chance to try out a 7D II for a few minutes…..
Enjoying Peacefulness Through Meditation
Since I began mentioning my morning meditation here a while back, I have been receiving many e-mails asking exactly what I do. To that end I share the following with you.
As best as I can understand it, one form of meditation teaches us to keep the mind clear by learning to concentrate on our breathing. My very favorite meditation CD is one by Jon Kabat-Zinn: Guided Mindfulness Meditation Series 1
He has the softest, most peaceful voice you could ever imagine, and he is a skilled instructor. When I wake up each morning I make a pit stop, lie with my back on the floor next to the bed, my calves resting on it, my thighs perpendicular to the floor, and my arms stretched out by my side. Then I click my Bose CD player on and listen to Jon Kabat-Zinn: the object is not to fall asleep, but to fall awake.
You can learn about additional mindfulness meditation CDs here
My Second Favorite Meditation CD
My 2nd favorite meditation CD is by Cliff Oliver's late-friend, world class drummer Layne Redmond: Heart Chakra Meditations
I enjoy several tracks on this CD. From it I learned Bhramari Pranayama, the humming Bee Breath. Though I am not sure that Jon Kabat-Zinn would approve of it, I often do both the 4-7-8 breathing that I wrote about here and the bee breath while listening to Jon's Mindfulness Meditation CD. And I often do the bee breathing to help fall asleep.
Layne Redmond was an American drummer, frame drum expert, writer, teacher, historian, and mythologist. Drum maker Remo created a frame drum designed by Redmond as their first Signature Series product. Layne died of breast cancer on October 28, 2013. Most would enjoy When the Women Were Drummers with Layne Redmond. When she was young, her Mom told her "The drums are for the boys; stick to tap dancing." Layne obviously did not listen. I spoke to her several years ago by phone, learned later from Cliff that she was sick, but did not know that she had died until this morning. It is wonderful that she lives on through her music and other work.
Quoting Layne, A lot of the drums were painted red, the color of blood. I started to realize that the drum represented the first sound, the first sound that we hear in the womb is the sound of our mother's blood pulsing through her arteries.
Back to the 4-7-8 Breathing
Back to the 4-7-8 breathing, I recently received a nice e-mail from a subscriber on her experiences with it:
Hi Artie, I just wanted to drop you a quick note about the 4-7-8 breathing. I have been doing it for almost two weeks now, and I can say I am much calmer and more relaxed. And even my muscles feel that way too! Also I seem to have much more patience and lose my temper much less often. Also, and maybe the most extraordinary part is that I used to come home from work and binge eat, just from stress I think. Now I just eat because I am hungry, and I feel that I now have a choice to eat or not. It is so simple to do, yet the returns on a three minute investment are almost miraculous. This is now part of my lifestyle. Thanks for sharing this technique.
I suggested that she follow up the breathing by doing The Work of Byron Katie if she wanted to find additional peace.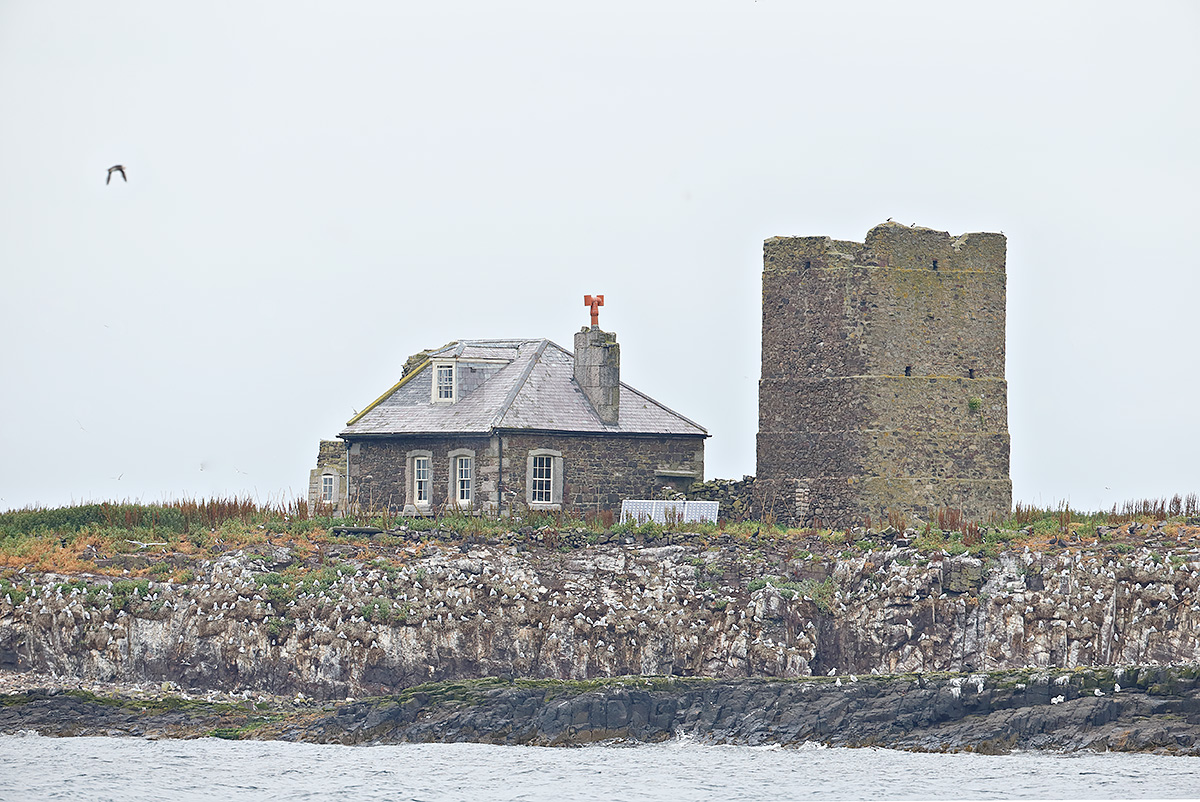 This image was created from the puffin boat on last July's UK Puffins and Gannets IPT. I used the hand held the Canon EF 200-400mm f/4L IS USM Lens with Internal 1.4x Extender (at 300mm) and the Canon EOS-1D X. ISO 800. Evaluative metering +3 1/3 stops off the white sky: 1/800 sec. at f/5.6 in Manual mode. AWB.
Three sensors to the right of the central Sensor/AI Servo-Surround/Rear Focus AF on the left side of the structure on the right (as framed) was active at the moment of exposure. Practicing so that you are able to change AF sensors on the fly is an important skill to work on. Learn everything there is to know about the 1D X and 5D III AF systems including how to manage the various AF Area Selection Modes, when to use which one, and several ways to move the AF sensor around in my 1D X AF Guide and the 5D Mark III User's Guide. Click here to see the latest version of the Rear Focus Tutorial. Click on the image to see a larger version. .
Stone Structures
Your browser does not support iFrame.
Hand Holding Peacefulness
On the puffin days we do the morning session on one island and then take the boat to another island that is a bit closer to the mainland. While sailing we sometimes get in close to the cliffs to photograph a variety of birds on their nests. At other times we are afforded scenic views of stone structures like those in today's image (and the occasional distant castle.
The stone house in the image above caught my eye as we approached it. The scene looked so utterly peaceful that I knew the moment that I saw it that I wanted to photograph it. I was not quite ready in time and was blocked by the wheelhouse. But in a rare for me fit of patience a different view materialized as we continued on. I had already determined the exposure by reading 3 1/3 stops off the sky and setting it manually. As I zoomed to properly frame the image I moved the active sensor well to the right so that it would fall on the right hand structure. BTW, if you know what the structure on the right is please do let us know.
Exposure Questions
Why so much plus Exposure Compensation (+EC) to the reading off the sky?
Would I have metered in the same manner on a sunny blue sky day? Why or why not?
200-400 Hand Holding Tips & Techniques
Click here for more on hand holding the 200-400.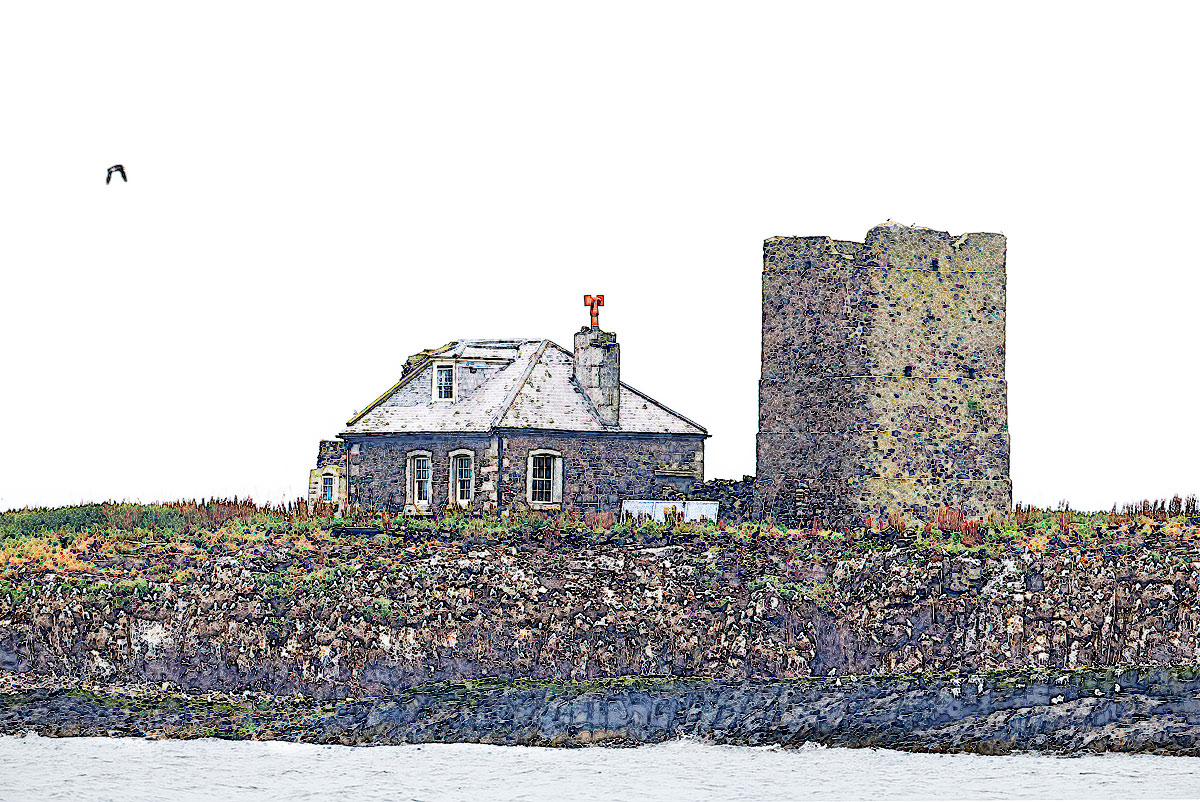 This image was created from the original above using Denise Ippolito's Photoshop "Sketch" action.
Denise Ippolito's Photoshop "Sketch" Action
Denise was always great at creating a sketched look in Fractlius, a stand alone Photoshop (PC only) plug-in. But she recently created two complex actions in Photoshop that yielded a similar effect. She named them "Sketch" and "Sketch II" and kindly shared them both with me. Thanks a stack Lady D.
Your Favorite?
Please take a moment to leave a comment and let us know which version you like best, the original version or the sketched version. And do let us know why.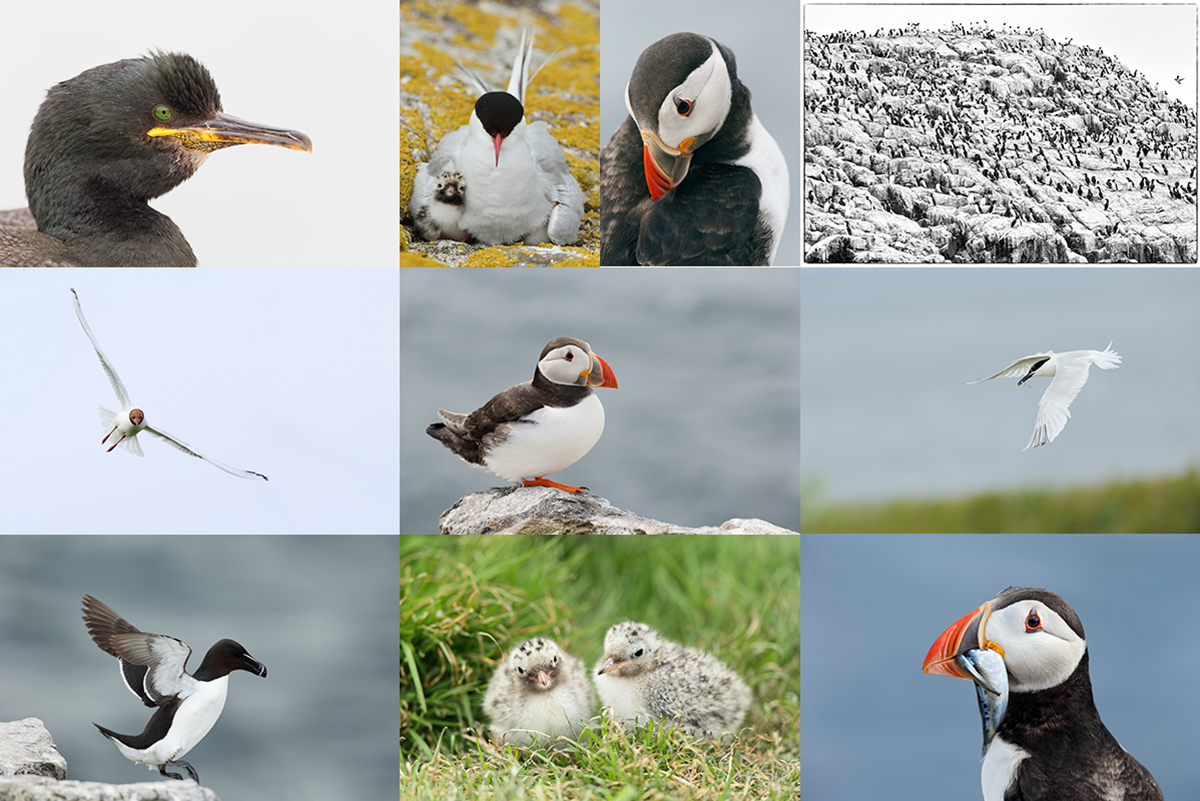 Images and card design copyright 2014: Arthur Morris/BIRDS AS ART. Click on the card to enjoy a spectacular larger version.
The 2015 UK Puffins and Gannets IPT
June 29 through July 5, 2015: $5499: Limit 10 photographers/Openings 3. Two great leaders: Denise Ippolito and Arthur Morris.
Here are the plans for next year: take a red eye from the east coast of the US on 28 June arriving in Edinburgh, Scotland on the morning of Monday 29 June (or simply meet us then either at the Edinburgh Airport (EDI) or later in the day at our cottages if you are driving your own vehicle either from the UK or from somewhere in Europe. Stay 7 nights in two gorgeous modern country cottages.
There are 5 days of planned puffin/seabird trips—weather permitting, and 1 full day of gannet photography with 2 sessions on the boat.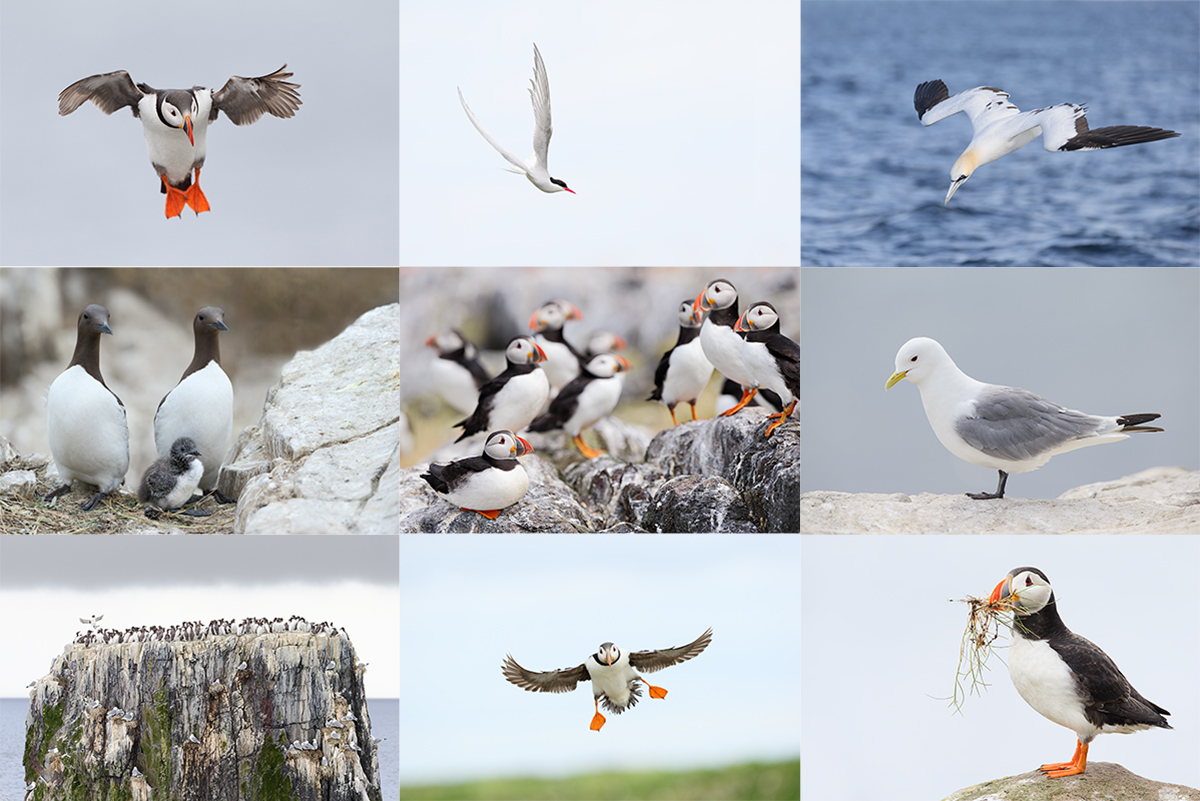 Images and card design copyright 2014: Arthur Morris/BIRDS AS ART. Click on the card to enjoy a spectacular larger version.
The Details
All breakfasts, lunches and dinners are included. All 5 puffins boat lunches will need to be prepared in advance, taken with, and consumed at your leisure. I usually eat mine on the short boat trip from one island to the other. Also included is a restaurant lunch on the gannet boat day and a farewell fine dining thank you dinner. The cost of your National Heritage Trust is also included; that covers the twice a day landing fees.
Plan to fly home on the early morning of Monday 6 July or to continue your stay or travels.
We are planning this as double-occupancy only but we should be able to arrange for singles by renting a 3rd cottage. We would need to know well in advance, i.e., soon, and it would be pricey and would need to be paid with your non-refundable deposit of $2,000. The shared rooms are decent-sized, each with two roomy single beds and a private bathroom. There are two king rooms available for couples. The upscale country-side cottages are beyond lovely with large living areas and lots of open space for image sharing and Photoshop lessons.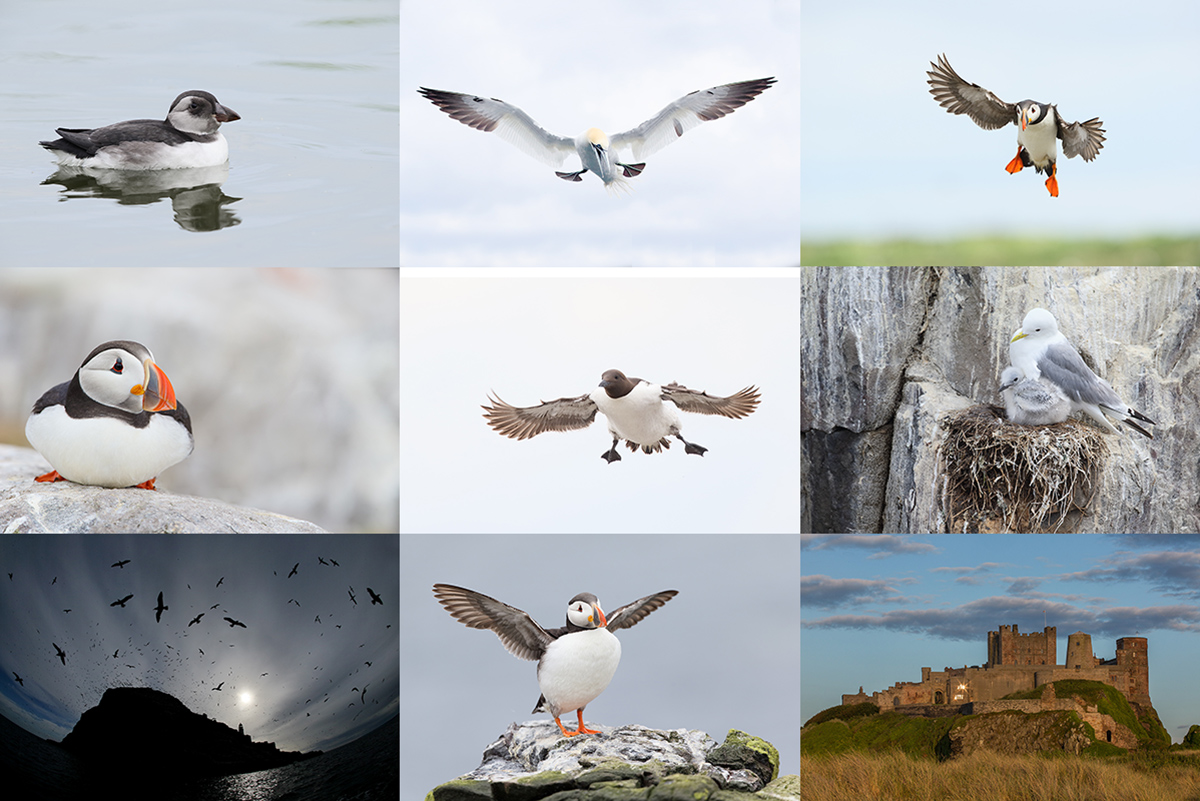 Images and card design copyright 2014: Arthur Morris/BIRDS AS ART. Click on the card to enjoy a spectacular larger version. Scroll down to join us in the UK in 2015.
Single Supplement Info
The single supplement is $1475. As we will be renting a third cottage the $1475 is due with your deposit and is also non-refundable.
If you are good to go please send your $2,000 deposit check now to save a spot. We do expect this workshop to sell out very quickly as we have already sold 2 slots even though the trip has not yet been formally announced till right now. Not to mention that everyone loves puffins. Please make your check out to "Arthur Morris" and send it to Arthur Morris/BIRDS AS ART, PO Box 7245, Indian Lake Estates, FL, 33855.
We do hope that you can join us.
Facebook
Be sure to like and follow BAA on Facebook by clicking on the logo link upper right. Tanks a stack!
Support the BAA Blog. Support the BAA Bulletins: Shop B&H here!
We want and need to keep providing you with the latest free information, photography and Photoshop lessons, and all manner of related information. Show your appreciation by making your purchases immediately after clicking on any of our B&H or Amazon Affiliate links in this blog post. Remember, B&H ain't just photography!
…..
Amazon.com
Those who prefer to support BAA by shopping with Amazon may use this link:
Amazon Canada
Many kind folks from north of the border, ay, have e-mailed stating that they would love to help us out by using one of our affiliate links but that living in Canada and doing so presents numerous problems. Now, they can help us out by using our Amazon Canada affiliate link by starting their searches by clicking here. Many thanks to those who have written.
Typos
In all blog posts and Bulletins, feel free to e-mail or to leave a comment regarding any typos, wrong words, misspellings, omissions, or grammatical errors. Just be right. 🙂