The Streak Continues: 312
Yesterday was a typical day of work and relaxation with a nice 1/2 mile swim. The pool is back up to a shade below 78 degrees after falling below 77 with the last cold snap. This blog post, the 312th in a row, took me about 3 hours to prepare. It was published just before 7:15am from my home in Indian Lake Estates, FL.
To show your appreciation for my efforts here, we do ask that you use our the B&H and Amazon affiliate links on the right side of the blog for all of your purchases. Please check the availability of all photographic accessories in the BIRDS AS ART Online Store, especially Gitzo tripods, Wimberley tripod heads, and the like. We sell only what I have used, have tested, and can depend on. We will not sell you junk. We know what you need to make creating great images easy and fun. And we are always glad to answer your gear questions via e-mail
Fort DeSoto October Updates
The Friday Afternoon October 10 BAA Fort DeSoto In-the-Field Workshop meet-up is now sold out.
For information on the October Fort DeSoto IPT and the late registration discount please see the blog post here.
Join us for a day on Saturday, Sunday, or Monday for $299 including lunch and image review. Or join us for a morning on Saturday, Sunday, or Monday for $199 including lunch and image review.
GALAPAGOS Photo Cruise of a Lifetime IPT/The Complete Galapagos Photographic Experience. July 14-28, 2015 on the boat. 13 FULL and two half-days of photography: $12,499. Limit 14 including the leader:/Openings: 3 or 4.
If you are considering this trip it would be best to act soon as there are now only 3 or 4 slots left on this amazing Photo-Cruise IPT. Scroll down in this blog post for additional information or e-mail for the complete itinerary.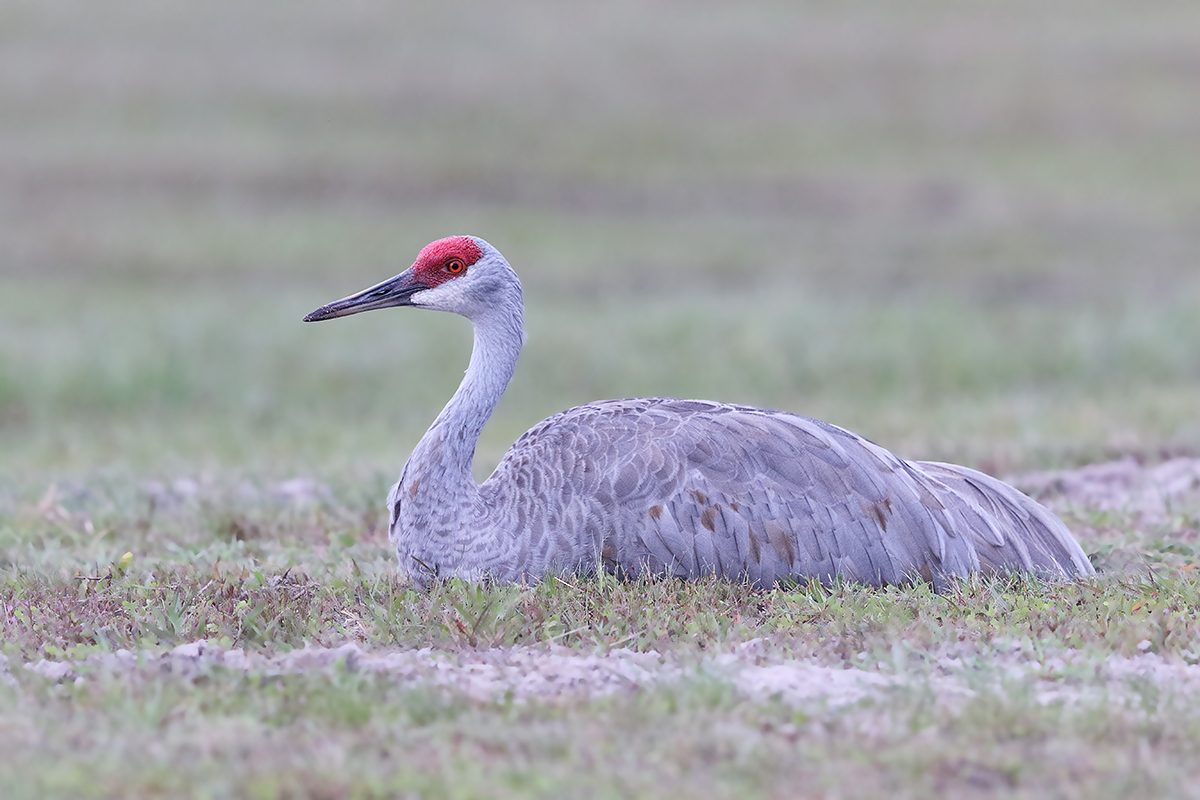 This image was created on the dark, drizzly afternoon of October 7, 2014 at Indian Lake Estates with the Canon EF 600mm f/4L IS II USM lens and a beta version of the Canon EOS 7D Mark II . ISO 3200. Evaluative metering +1 stop as framed: 1/320 sec. at f/5.6 in Manual mode.
Central Sensor/AI Servo/Rear Focus AF on the bird's face and re-compose. Click here to see the latest version of the Rear Focus Tutorial. Click on the image to see a larger version.
From the Sequoia with the lens supported by the BLUBB (my custom-designed, hand made Big Lens Ultimate Bean Bag). When working on a beanbag with a long lens and re-composing be absolutely sure that the focusing ring does not rest on the beanbag lest you throw off accurate focus when re-composing.
Resting Sandhill Crane. This JPEG represents the optimized image.
Your browser does not support iFrame.
EOS-7D Mark II General Impressions
I got my hands on a beta version of an EOS-7D II yesterday afternoon. The beta version of a product is used in the final stages of testing before it is commercially released. I like the feel and the build of the 7D II. Setting up the camera was relatively simple as it is quite similar to both the 1D X and the 5D III. While going through the menus and Custom Functions I was pleasantly surprised to see that it offers both in-camera Multiple Exposures and in-camera HDR options. There were a few new features that I need to study and figure out but none of those kept me from heading down to the lake and using the camera effectively. Those coming from a 7D or a 1D IV will have a much tougher time with the AF system. After deleting all copyright info (goodbye and thanks George Lepp) I entered my name and copyright info. I kept screwing up and because I could not figure out how to delete a single letter I would start from scratch. After about ten minutes of frustration I called Rudy Winston at Canon. He said, "Place the cursor to the right of the character that you want to remove and hit the garbage can icon." I was so happy :).
The viewfinder level is pretty neat; you need to rotate the lens almost imperceptibly to get the side to side dot to indicate perfectly level. That will be much easier to do when on a tripod than when effectively hand holding while using the BLUBB. It will be great when hand holding for scenics and even better when hand holding a fish eye lens.
The analog exposure scale is on the right side of the viewfinder as it is on the 1D X (and on previous pro bodies). The individual marks on the analog scale seem to me to be slightly smaller than on all previous bodies…. The single negative for me was that I needed to carefully adjust the position of my eye in relation to the viewfinder; if my eye was a bit too much to my left the analog scale became slightly blocked from view. I am sure that over time I will adjust though I think that I will always be wishing that the marks on the analog scale appeared to be a bit larger.
Yikes. I almost forgot the amazing frame rate. With the advance set to Continuous High I thought that I was using a 1D X.
Will I Own a 7D II?
Overall I was quite impressed with Canon's latest offering. Will I purchase one? It is much too soon to know but I can't wait to give the new camera a good workout in a variety of conditions. I will be doing that at Fort DeSoto on the coming holiday weekend.
1D X or 5D III Direct Comparsion
Many have asked that I create images from the same exact spot with the 7D II and one of the full frame bodies. I attempted to do that yesterday and came close, but there are so many variables that I opted not to publish a 7D II/1D X cropped to the same subject size comparison. For a completely fair comparison I need to find a sleeping bird….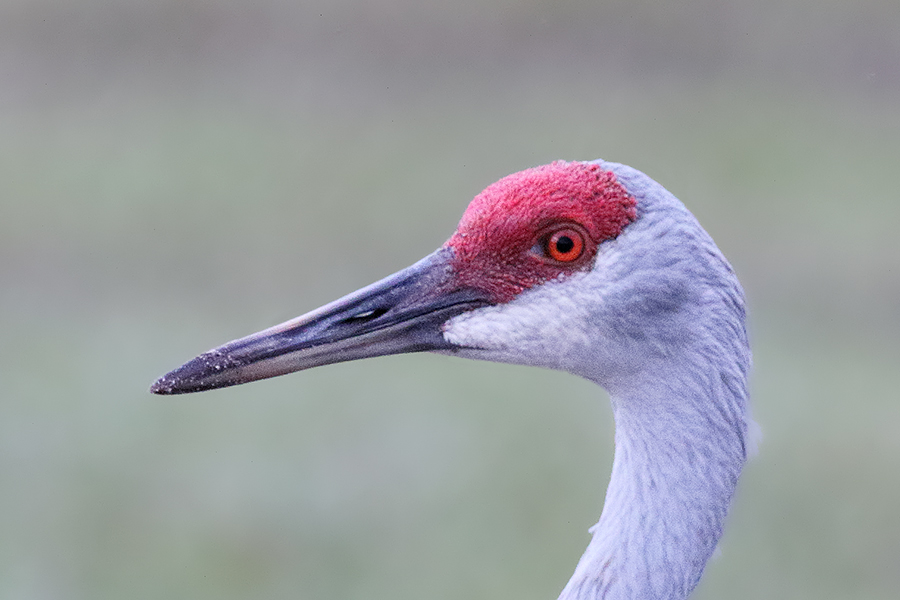 This is a tight crop of the head of the bird from the optimized image. See image next to have a look at the original image after conversion in DPP 3.14.41. Details on that coming soon.
The Image Optimization
After converting the image in DPP 3.14.41 with the Noise Reduction settings as per the original DPP RAW Conversion Guide I brought the image into Photoshop CS-6. I selected the bird, ran Refine Edge, saved the selection, and applied a 75% layer of my NIK Color Efex Pro 25/25 recipe (25% Detail Extractor and 25% Tonal Contrast). Then I darkened the pupil using my Eye Doctor techniques. Next I applied a Contrast Mask to the bird's face. All selections were made with the Quick Selection Tool. Then merged the layer I had been working on, loaded the selection of the bird, inverted it, and applied a healthy does of Filter > Blur > Surface Blur. That pretty much eliminated the background noise but you can still note a bit of the ISO 3200 noise in the bird's feathers in the image above. All in all I was quite impressed with high ISO performance. I did a bit of color correction that in retrospect I wish I had not done as the optimized file is a bit too magenta as compared to the converted original below.
The DPP RAW Conversion Guide
To learn why I use Canon's Digital Photo Professional (DPP) to convert every image that I work on, click here. Coming very soon: The DPP 4.0 RAW Conversion Guide by Arash Hazeghi and Arthur Morris. The more that I use DPP 4.0 for my RAW conversions the more I learn about it and the more I learn about it the more I am impressed with it. Note: at present, DPP 4.0 will work only with 1D X, 5D III, and 6D images. Scroll down for the latest DPP/7D Mark II info.
Digital Basics
Everything that I did to optimize today's image is covered in detail in my Digital Basics File–written in my easy-to-follow, easy-to-understand style. Are you tired of making your images look worse in Photoshop? Digital Basics File is an instructional PDF that is sent via e-mail. It includes my complete digital workflow, dozens of great Photoshop tips (including Surface Blur settings), details on using all of my image clean-up tools, the use of Contrast Masks, several different ways of expanding and filling in canvas, all of my time-saving Keyboard Shortcuts, Quick Masking, Layer Masking, and NIK Color Efex Pro basics, Digital Eye Doctor, Tim Grey Dodge and Burn, how to create time-saving actions, and tons more.
APTATS I & II
Learn the details of advanced Quick Masking techniques in APTATS I. Learn Advanced Layer Masking Techniques in APTATS II. Mention this blog post and apply a $5 discount to either with phone orders only. Buy both APTATS I and APTATS II and we will be glad to apply at $15 discount with phone orders only. Please call Jim or Jennifer at 863-692-0906 weekdays to order.
Digital Photo Professional 3.14.41 Updater
The latest version of DPP is V3.14.41; it will support 7D Mark II files. It is currently available for download here. Click on Drivers and Software and then on Software. Then click directly on the Digital Photo Professional 3.14.41 Updater for Windows (or Mac), check the Disclaimer box, and then click on the Download arrow. When the file is downloaded double-click on it and follow the prompts. I just finished updating :).
Note: if you do not already have a previous version of DPP 3.whatever installed you will need to download the entire software suite to install DPP 3.14.41 from scratch.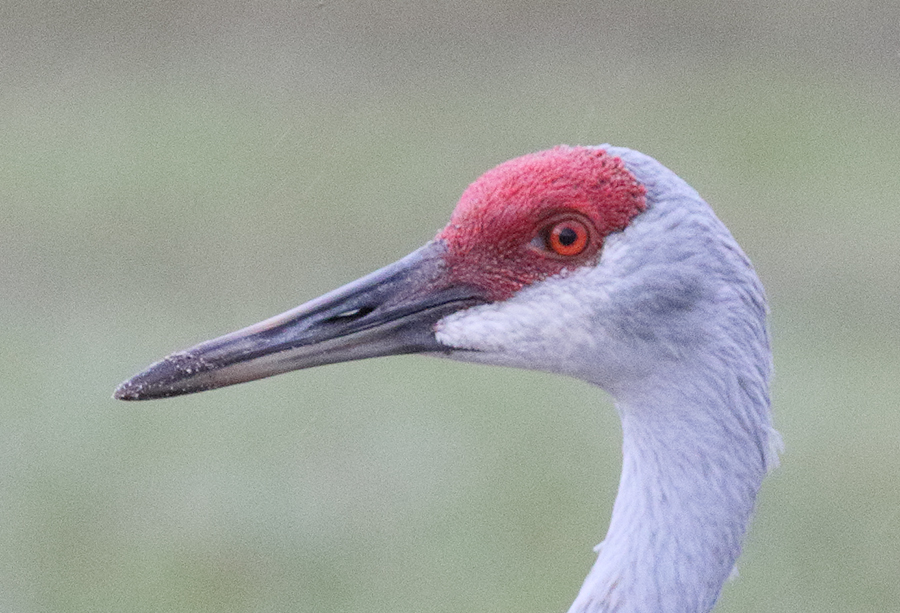 This is an unsharpened tight crop of the DPP 3.14.41 converted RAW file. ISO 3200 Noise Reduction was applied as per Arash's recommendations in the original DPP RAW Conversion Guide.
The Converted RAW File
The JPEG above represents an unsharpened tight crop of the DPP 3.14.41 converted RAW file. ISO 3200 Noise Reduction was applied as per Arash's recommendations in the original DPP RAW Conversion Guide. Though I do not have a great eye for fine detail I would judge the high ISO noise levels here as about the same as or perhaps a bit better than noise levels with the 5D III of the 1D X.
7D Mark II RAW File Offer
If you would like to receive a link to the RAW file for today's featured image for inspection and study only, please send us a Paypal for $5.00 (to cover our handling costs) to birdsasart@verizon.net or give Jim or Jennifer a buzz at 863-692-0906 during weekday business hours with a credit card in hand. We will send you a link via Hightail. You can the download and save the RAW file. Whether by Paypal or phone, be sure to specify "7D II resting Sandhill Crane RAW File" as I will be offering additional RAW files in the coming days and weeks. Please note that all rights remain with Arthur Morris/BIRDS AS ART.
Use the BAA Affiliate logo link above to pre-order your 7D II, shoot me your receipt via e-mail,

and I will do my very best to have your order expedited once the camera begins shipping.
Facebook
Be sure to like and follow BAA on Facebook by clicking on the logo link upper right. Tanks a stack!
Support the BAA Blog. Support the BAA Bulletins: Shop B&H here!
We want and need to keep providing you with the latest free information, photography and Photoshop lessons, and all manner of related information. Show your appreciation by making your purchases immediately after clicking on any of our B&H or Amazon Affiliate links in this blog post. Remember, B&H ain't just photography!
…..
Amazon.com
Those who prefer to support BAA by shopping with Amazon may use this link:
Amazon Canada
Many kind folks from north of the border, ay, have e-mailed stating that they would love to help us out by using one of our affiliate links but that living in Canada and doing so presents numerous problems. Now, they can help us out by using our Amazon Canada affiliate link by starting their searches by clicking here. Many thanks to those who have written.
Typos
In all blog posts and Bulletins, feel free to e-mail or to leave a comment regarding any typos, wrong words, misspellings, omissions, or grammatical errors. Just be right. 🙂