A Long Strange Day But The Streak Continues: 315
Yesterday was not a typical day for me. I awoke at about 4:30am, finished yesterday's blog post, had breakfast–a fresh tuna cheddar melt, and headed down to the lake where not much was going on. Once I was back in the house I started packing and answering e-mails. Jim Litzenberg helped me prepare fish and chicken for my breakfasts on my short road trip. I plan on being home late on Tuesday.
I left for DeSoto after lunch–baked flounder and butternut squash, at 12:30pm and arrived at East Beach just after 3:00pm after a few short pit stops. I did not even have time for a nap. Everything worked out great for the rest of the afternoon and we did not leave the beach till the sun touched the western horizon over the Gulf. After we checked into the hotel co-leader Bob Kimbrell, Deirde Scheer Gross and I went for a quick dinner at the Seaporch Grill. Having left my insulin in the fridge at the hotel room I order only a cerviche but it was so good that I had another one. My body reacted well as my blood sugar was only 87 at 9:30pm. I had three small bites of chicken for some additional protein and injected 3 units of fast acting insulin along with my overnight 5 units of slow acting. This morning my blood sugar was 75. 83 is the target.
Then I started working on a Turkey Vulture head shot for the blog but could not get the REDs right. Tried a crane head shot from the morning with the same problem; the REDs were way off. I think that I need to re-color calibrate this laptop…. Then tried a shorebird group shot and decided that I did not like it. By the time I was happy with the Marbled Godwit image below it was nearly midnight and the Orioles Royals MLB playoff game was tied at 5. Not wanting to stay up till the end I turned off the TV, set the alarm for 5:00am, read for two minutes, and fell asleep quickly.
From 9:00 till midnight I was in a sort of non-tired zombie state knowing that I should be tired but continuing to work…. As I said, it was a long strange day for me. Without a nap.
This blog post, the 315th in a row, took me about an hour to prepare if you don't count the 2+ hours that I spent on the misfires! It was published just before 7:15am from my motel room in St. Petersburg Beach, FL.
To show your appreciation for my efforts here, we do ask that you use our the B&H and Amazon affiliate links on the right side of the blog for all of your purchases. Please check the availability of all photographic accessories in the BIRDS AS ART Online Store, especially Gitzo tripods, Wimberley tripod heads, and the like. We sell only what I have used, have tested, and can depend on. We will not sell you junk. We know what you need to make creating great images easy and fun. And we are always glad to answer your gear questions via e-mail.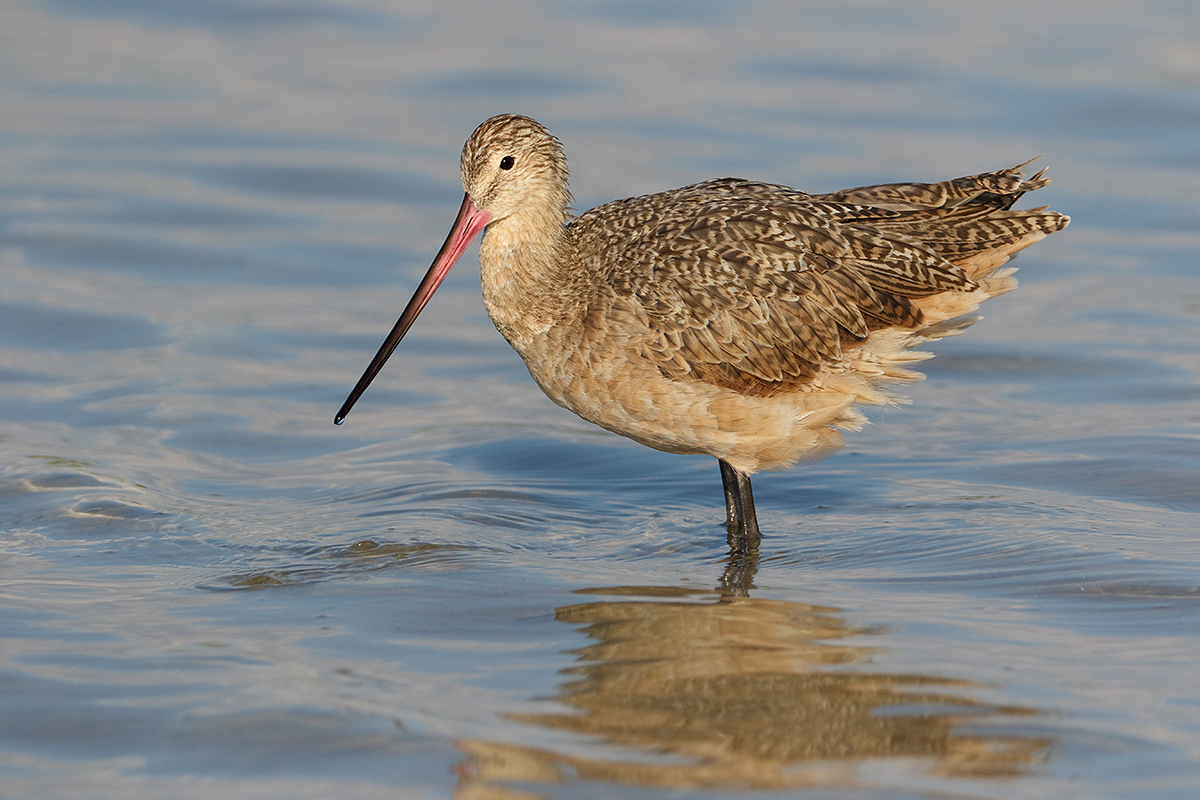 This image was created at 5:23pm on the afternoon of 10 October, on the first-ever BIRDS AS ART Meet-up In-the-Field Workshop. While seated in the very warm lagoon water employing my knee-pod technique, I used the the hand held Canon EF 200-400mm f/4L IS USM lens with Internal 1.4x Extender with the internal extender in place at 513mm) and a beta version of the Canon EOS 7D Mark II . ISO 400. Evaluative metering +2/3 stop as framed: 1/2500 sec. at f/6.3 in Manual mode.
Central sensor/AI Servo Surround/Rear Focus AF on the spot where the bird's breast meets the bird's belly was active at the moment of exposure. Click here to see the latest version of the Rear Focus Tutorial. Click on the image to see a larger version.
Marbled Godwit
Your browser does not support iFrame.
A Very Nice Combo
Wanting to keep things simple, I went with the hand held 200-400 and the 7D II for most of the afternoon. By 5:30pm, hand holding the 200-400 became too much of a chore. Co-leader Robert Kimbrell kindly loaned me a sturdy off-brand tripod topped with a Wimberley V-2 Tripod head. This combo worked just fine. I used it with and without the internal TC engaged and at times I added an external TC to give me a maximum reach of 784mm. That times the 1.6 crop factor left me at an effective or equivalent focal length of 1254.4mm. You had better be holding that puppy still.
I created about 150 images of Marbled Godwit yesterday afternoon. This leaning forward pose was one of my favorites.
Use the BAA Affiliate logo link above to pre-order your 7D II, shoot me your receipt via e-mail,

and I will do my very best to have your order expedited once the camera begins shipping.
Facebook
Be sure to like and follow BAA on Facebook by clicking on the logo link upper right. Tanks a stack!
Support the BAA Blog. Support the BAA Bulletins: Shop B&H here!
We want and need to keep providing you with the latest free information, photography and Photoshop lessons, and all manner of related information. Show your appreciation by making your purchases immediately after clicking on any of our B&H or Amazon Affiliate links in this blog post. Remember, B&H ain't just photography!
…..
Amazon.com
Those who prefer to support BAA by shopping with Amazon may use this link:
Amazon Canada
Many kind folks from north of the border, ay, have e-mailed stating that they would love to help us out by using one of our affiliate links but that living in Canada and doing so presents numerous problems. Now, they can help us out by using our Amazon Canada affiliate link by starting their searches by clicking here. Many thanks to those who have written.
Typos
In all blog posts and Bulletins, feel free to e-mail or to leave a comment regarding any typos, wrong words, misspellings, omissions, or grammatical errors. Just be right. 🙂