The Streak Continues: 316
Three great folks on the IPT, a gorgeous location, and lots of tame and beautiful birds. As always, life is good. But just a little more good than usual :). No time for meditation or for a swim or for ice baths but there is lots of great bird photography and learning going on. This blog post, the 316th in a row, took me about an hour to prepare if you don't count the 2+ hours that I spent on the misfires! It was published just before 5:45am from my motel room in St. Petersburg Beach, FL.
To show your appreciation for my efforts here, we ask that you use our the B&H and Amazon affiliate links on the right side of the blog for all of your purchases. Please check the availability of all photographic accessories in the BIRDS AS ART Online Store, especially Gitzo tripods, Wimberley tripod heads, and the like. We sell only what I have used, have tested, and can depend on. We will not sell you junk. We know what you need to make creating great images easy and fun. And we are always glad to answer your gear questions via e-mail.
It's not too late to join the DeSoto IPT on Monday
Join us for on Monday for a full day including lunch and image review for for $299. Or join us for the morning for $199 including lunch and image review. Since there is no one in the office you need to contact me on Sunday via e-mail. I will respond before I hit the sack tonight at about 9:30pm.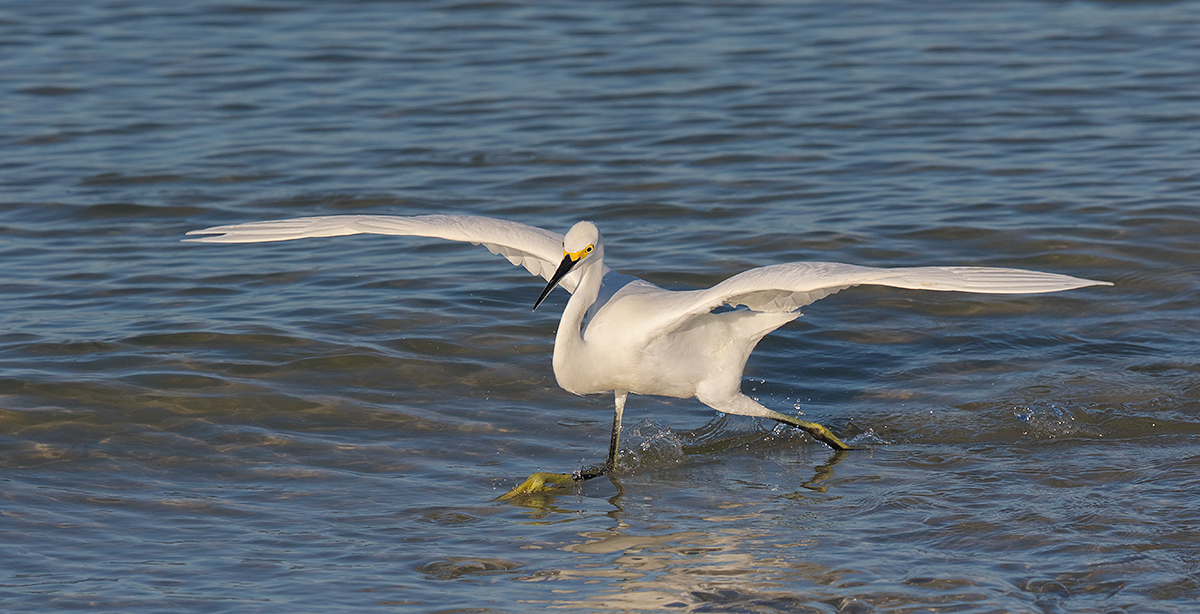 This image was created at 8:32am on the morning of 11 October, on the Fort DrSeSoto IPT with the hand held Canon EF 300mm f/2.8L IS II USM lens and a beta version of the Canon EOS 7D Mark II . ISO 400. Evaluative metering -1/3 stop as originally framed: 1/2000 sec. at f8 in Manual mode.
65-point Automatic Selection/AI Servo/Rear Focus AF activated two slightly off-centered sensors as seen in the DPP screen capture below. AF was of course actively tracking the subject at the moment of exposure. Click here to see the latest version of the Rear Focus Tutorial. Click on the image to see a larger version.
Speeding Snowy Egret fishing
Your browser does not support iFrame.
DeSoto Rocking With the EOS-7D Mark II
On Saturday, day 1 of the Fort DeSoto October IPT, we enjoyed a very good morning and a fantastic afternoon. The highlight of yesterday afternoon was a lovely Roseate Spoonbill that allowed fairly close approach for the entire group. I will share some of those with ya'll here asap. After the sun was down six more spoonbill flew in. I created lots of images at ISO 1600 and ISO 3200 as many of you have requested. I will share those too here when I have some breathing room.
Since I need to return the beta version 7D II that is on loan from Canon USA on Wednesday, I have committed to using only that camera body on this trip. While working along the shore of the Gulf yesterday morning there were times–with the equivalent 480mm focal length (300 X 1.6)–when I had to back up considerably to fit the fishing Snowy Egrets and Tricolored Herons in the frame with a bit of room all around. For the Black-bellied Plovers I added a 1.4X III TC. All images were sharp and of high quality.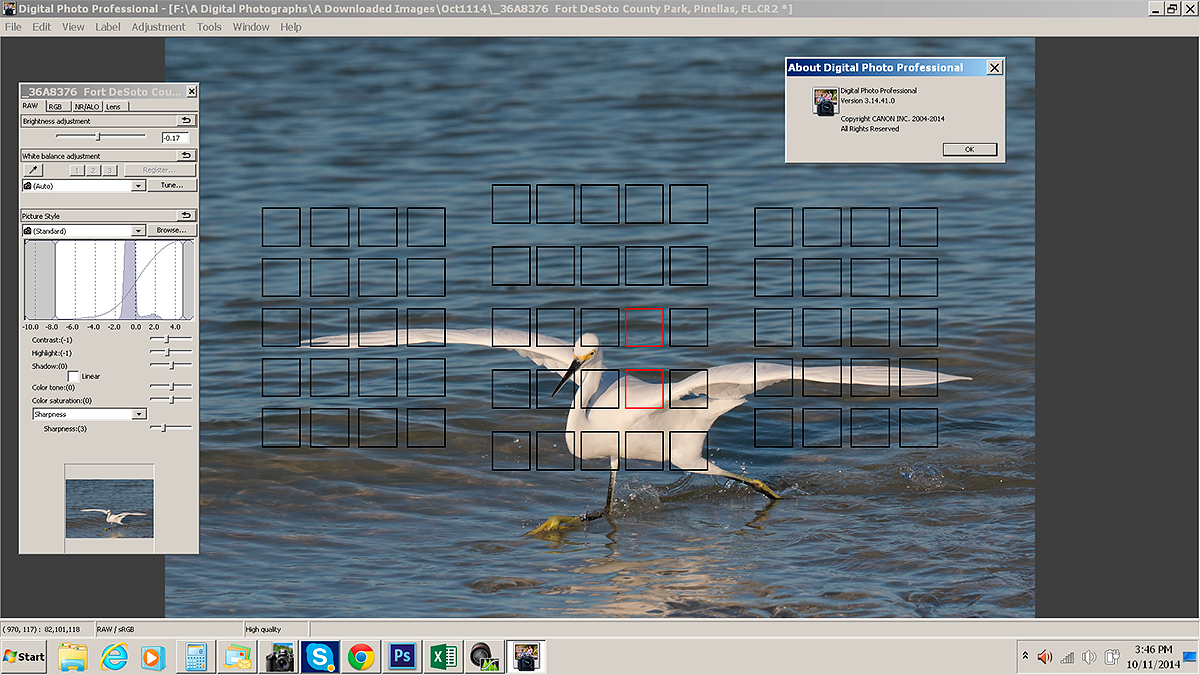 This is a DPP 3.41.14.0 screen capture for today's image.
Digital Photo Professional 3.14.41 Updater
In the DPP screen capture above, note the two AF points that were selected by the 7D II and were active at the moment of exposure. Understand that when you are in AI Servo AF with 65-point that the AF points will be constantly shifting like so many jumping beans as the system tracks the subject. Here we see how effectively 65-point Automatic Selection performed during and yesterday morning in an extremely difficult situation. Is 65-Point perfect? No, there is some operator skill required. I did have a few instances where the system grabbed the background and the subject was severely out of focus. But for the Snowy Egret image it performed superbly and enabled me to create an exciting action image.
The latest version of DPP is V3.14.41; right now only it will support 7D Mark II files. It is currently available for download here. Click on Drivers and Software and then on Software. Then click directly on the Digital Photo Professional 3.14.41 Updater for Windows (or Mac), check the Disclaimer box, and then click on the Download arrow. When the file is downloaded double-click on it and follow the prompts. I just finished updating :).
Note: if you do not already have an older version of DPP 3.whatever installed on your computer you will either need to download the entire software suite or first install a prior version of DPP from the disk that came in the box with your previous EOS camera body in order to install DPP 3.14.41.
Reader Confusion with EOS-7D II 65-point Automatic Selection AF
In the "More 7D Mark II Images–What Do You Think?" blog post here, I shared two images created using the 7D II's new 65-point Automatic Selection AF Area Selection Mode in which the camera selects the active sensor or sensors from the very wide array of 65 AF points. I the next blog post, "Four New Canon EOS-7D Mark II Great Egret Images," I never once mentioned the words "65-point Automatic Selection AF," yet several readers asked if I selected the AF points manually or if the camera selected them? Being so busy with the group I have not yet had even a moment to answer those (and other) questions yet. I will at some point, but please understand that the only time that the camera selects the active AF sensors is when you are in 65-point Automatic Selection AF Area Selection Mode. I have learned a ton about the setting options for this AF Area Selection Mode and will share those with you here at some point.
In short, if I am not in 65-point Automatic Selection AF then I–not the camera–selected the active AF point.
Facebook
Be sure to like and follow BAA on Facebook by clicking on the logo link upper right. Tanks a stack!
Support the BAA Blog. Support the BAA Bulletins: Shop B&H here!
We want and need to keep providing you with the latest free information, photography and Photoshop lessons, and all manner of related information. Show your appreciation by making your purchases immediately after clicking on any of our B&H or Amazon Affiliate links in this blog post. Remember, B&H ain't just photography!
…..
Amazon.com
Those who prefer to support BAA by shopping with Amazon may use this link:
Amazon Canada
Many kind folks from north of the border, ay, have e-mailed stating that they would love to help us out by using one of our affiliate links but that living in Canada and doing so presents numerous problems. Now, they can help us out by using our Amazon Canada affiliate link by starting their searches by clicking here. Many thanks to those who have written.
Typos
In all blog posts and Bulletins, feel free to e-mail or to leave a comment regarding any typos, wrong words, misspellings, omissions, or grammatical errors. Just be right. 🙂