The Streak Continues: 322
Yesterday was work, swim, and ice bath. The pool is down to 76 degrees. It is time to turn on the heater. I sent the final edit of the DPP 4 RAW Conversion Guide to Arash this morning. One more short phone conference and Arash will be creating the final PDF. This blog post, the 322nd in a row, took me about 2 hours to prepare. It was published at about 5:45am from my home at Indian Lake Estates, FL.
To show your appreciation for my efforts here, we ask that you use our the B&H and Amazon affiliate links on the right side of the blog for all of your purchases. Please check the availability of all photographic accessories in the BIRDS AS ART Online Store, especially Gitzo tripods, Wimberley tripod heads, and the like. We sell only what I have used, have tested, and can depend on. We will not sell you junk. We know what you need to make creating great images easy and fun. And we are always glad to answer your gear questions via e-mail.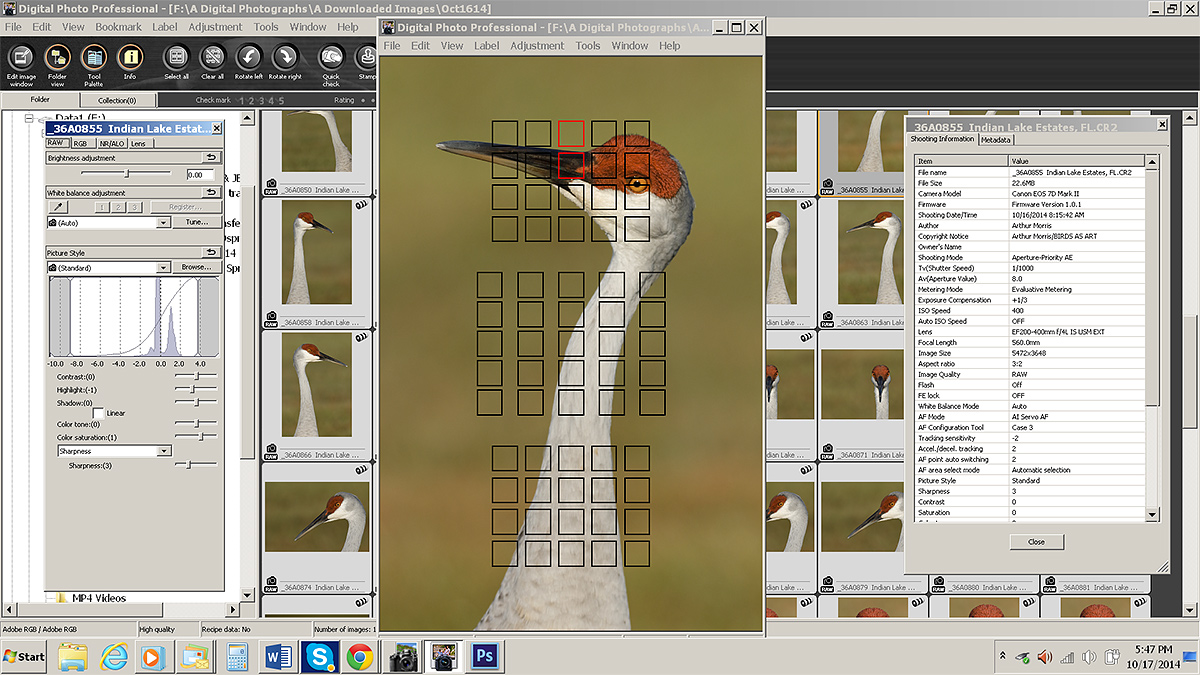 This is the DPP v3.14.41.0 screen capture for today's image.
The DPP v3.14.41.0 Screen Capture
The two AF sensors illuminated in red show what a great job the 65-Point AF Selection Area Mode did in helping me create the image design that I wanted. The new widest-ever AF array makes it easy to avoid winding up with the bird positioned too low in a vertical frame.
The Sandhill Crane here was watching several other cranes fly by.
Does EOS-7D Mark II iTR AF with Face Detection Actually Work with Birds?
While EOS iTR AF has been around for quite some time, EOS iTR AF with Face Detection was introduced in the EOS-1D X. This feature is not available in the EOS-5D Mark III. With iTR AF the camera's metering system communicates with the AF system and helps it to better track the subject only when you are in an AF mode that offers automatic AF point selection. iTR with Face Detection takes things a step further. Here is how it works: the RGB metering system uses a combination of skin tone and facial detail and shape to recognize the subject as a human face. And the EOS iTR AF allows this face recognition system to "talk" to the AF system. I tried this new feature with the 1D X for creating tall-in-the frame vertical head and shoulders portraits similar to today's featured image. It never really worked. Even if I started AF on the bird's face (with the subject parallel to the imaging sensor), the system almost always shifted to sensors that were lower down, effectively shifted the active AF points to the bird's torso (which being wider was closer to the camera).
My early impression is that 7D Mark II iTR ( Intelligent Tracking and Recognition) AF with Face Detection actually does work. If you select and start with a sensor that falls on the bird's face it tends to stay on the face rather than shifting downwards. I have other examples–most notably with two Yellow-crowned Night Herons from the Fort DeSoto IPT–that I will share with you here.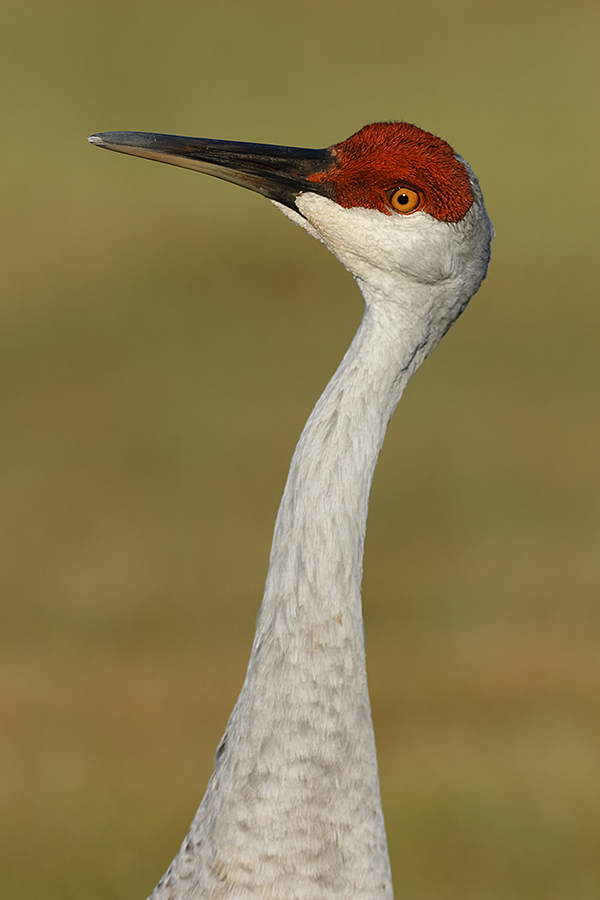 This image was created at 8:16am on the morning of 16 October down by the lake at Indian Lake Estates. Working from my vehicle I used the BLUBB-supported/hand held Canon EF 200-400mm f/4L IS USM lens with Internal 1.4x Extender (with the internal extender in place at 560mm) and a beta version of the Canon EOS 7D Mark II . ISO 400. Evaluative metering +1/3 stop as framed: 1/1000 sec. at f/8 in Av mode.
65-point Automatic Selection Rear Focus/AI Servo AF selected the fifth and sixth sensors directly above the central sensor that fell on and just above the base of the bird's bill and were of course active at the moment of exposure. (See the DPP v3.14.41.0 screen capture below to view the active AF points.) Click here to see the latest version of the Rear Focus Tutorial. Click on the image to see a larger version.
Your browser does not support iFrame.
Whaddya Mean BLUBB-supported/Hand Held?
When attempting to follow the action or when I need extra freedom of movement to get the exact framing that I want I will rest the hood of a big lens on the saddle of the BLUBB, my custom-designed, handmade Big Lens Ultimate Beanbag. I hold the camera body with my right hand with my finger on the shutter button. My left hand supports the lens just behind the tripod collar. It is much easier to frame an image using this technique than it is when the center of the lens is resting on the big beanbag. The latter, however, is best when working at shutter speeds below 1/250 sec.
The BLUBB is made of durable nylon pack cloth and each section is individually hot-cut to sear the edges; this prevents raveling. As nylon can be rather noisy and slippery, the surface that the lens is placed on has a layer of heavy duty cotton duck fabric sewn on top of the nylon fabric. The entire upper surface of the BLUBB is concave so that the lens will stay put. The inner surfaces that are placed over the door-frame or car window have a large piece of Toughtek non-slip fabric sewn in place to help keep the bag from slipping, especially in vehicles where the driver's window angles downward to the right. All of the fabrics have a water-repellent (but not water-proof) finish. The entire bag is sewn with nylon thread used in the parachute industry. The bag closes with a top quality YKK nylon zipper. All seams are sewn twice to help prevent failure. The bags are made in the USA and each is individually hand-sewn to extremely high standards.
Beware of smaller, cheaper, far-inferior imitations :). As is usually the case, you get what you pay for.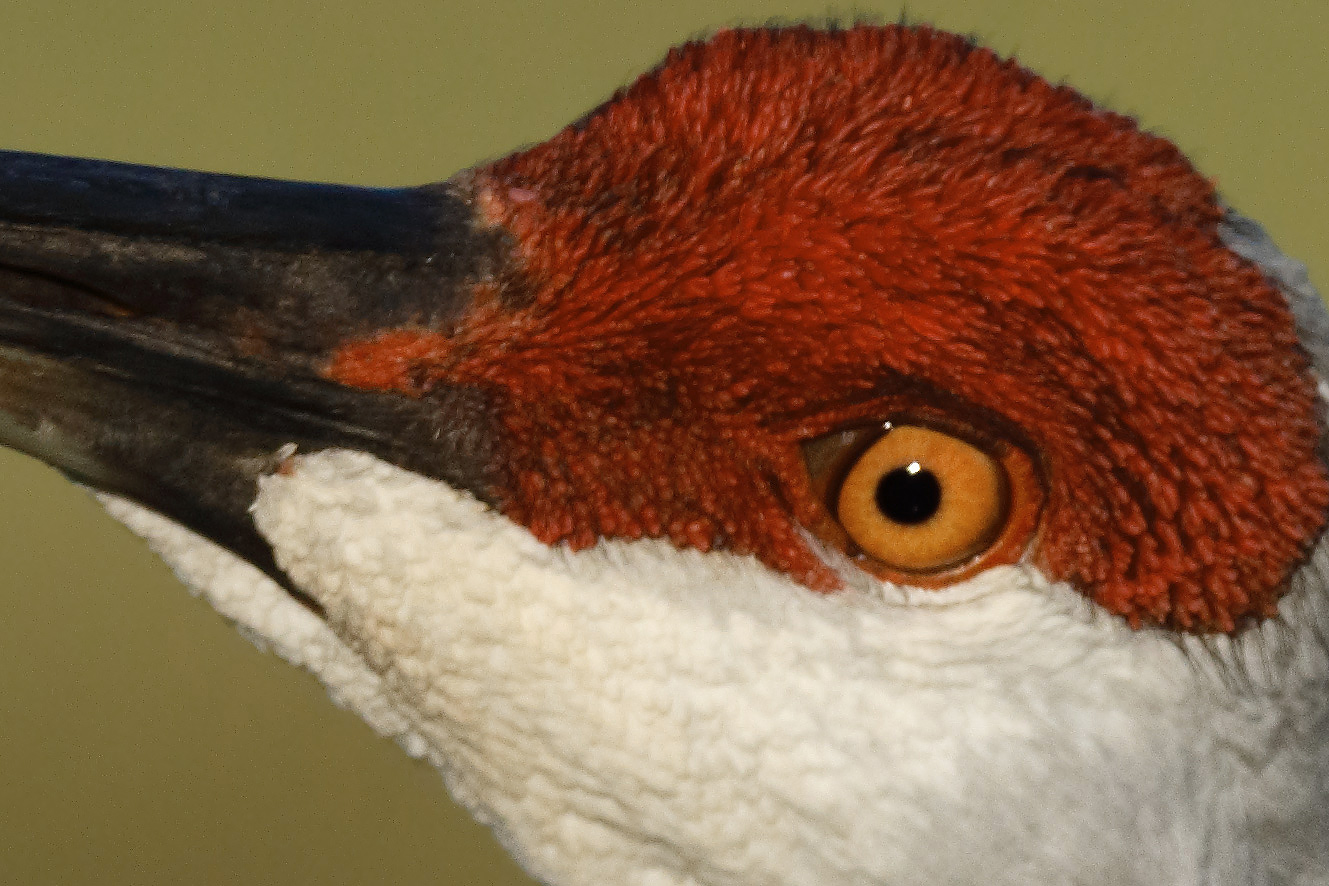 This is a sharpened 100% crop of the optimized image. How does it look to you in terms of image quality and noise?
The Image Optimization
After converting the image in DPP v3.14.41.0 I brought the image into Photoshop. I applied an 80% layer of NIK Color Efex Pro Detail Extractor to the WHITEs only that had been selected with the Quick Selection Tool. Then I painted a Quick Mask of the pupil and put it on its own layer. To darken the pupil only I pulled down the Curve (Ctrl + M). Then I selected the background only with the Magic Wand Tool, ran Select > Refine Edge, placed the selection on a layer, and applied a very small amount of Filter > Blur > Surface Blur to remove the noise that was barely noticeable at 200% in the ISO 400 image.
The DPP RAW Conversion Guide
To learn why I use Canon's Digital Photo Professional (DPP) to convert every image that I work on, click here. The current guide will teach you how to best convert all of your Canon images in all 3 point something versions of Canon Digital Photo Professional including the current v.3.14.41.0.
Coming very soon: The DPP 4.0 RAW Conversion Guide by Arash Hazeghi and Arthur Morris. The more that I use DPP 4.0 for my 1D X and 5D III RAW conversions the more I learn about it. And the more I learn about it the more I am impressed with it. Note: at present, DPP 4.0 will work only with 1D X, 5D III, and 6D images. I am hoping against hope that at some point Canon will release a new version of DPP 4 that will support 7D II images.
Digital Basics
Everything that I did to optimize today's images is covered in detail in my Digital Basics File–written in my easy-to-follow, easy-to-understand style. Are you tired of making your images look worse in Photoshop? Digital Basics File is an instructional PDF that is sent via e-mail. It includes my complete digital workflow, dozens of great Photoshop tips (including Surface Blur settings), details on using all of my image clean-up tools, the use of Contrast Masks, several different ways of expanding and filling in canvas, all of my time-saving Keyboard Shortcuts, Quick Masking, Layer Masking, and NIK Color Efex Pro basics, Digital Eye Doctor, using Surface and Gaussian Blurs, Tim Grey Dodge and Burn, how to create time-saving actions, and tons more.
APTATS I & II
Learn the details of advanced Quick Masking techniques in APTATS I. Learn Advanced Layer Masking Techniques in APTATS II. Mention this blog post and apply a $5 discount to either with phone orders only. Buy both APTATS I and APTATS II and we will be glad to apply at $15 discount with phone orders only. Please call Jim or Jennifer at 863-692-0906 weekdays to order.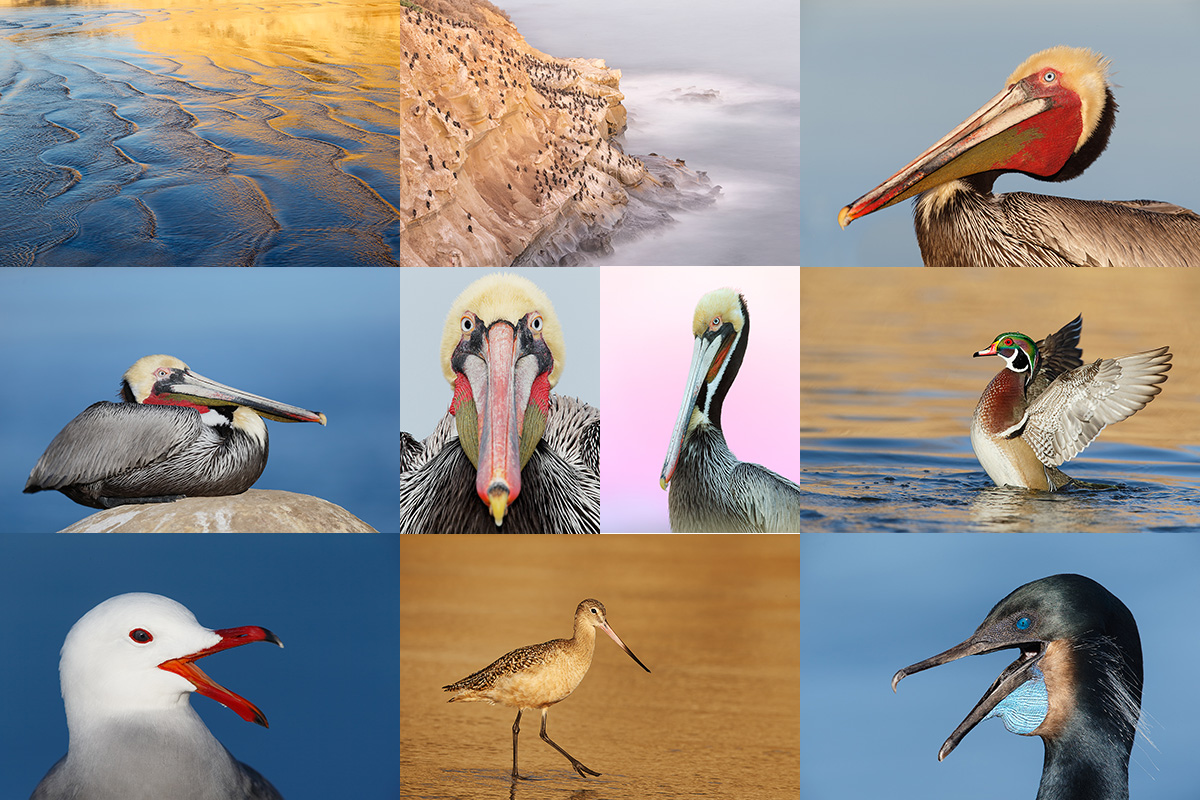 San Diego offers a wealth of very attractive natural history subjects. With annual visits spanning more than three decades I have lot of experience there….
2015 San Diego 4 1/2-DAY BIRDS AS ART Instructional Photo-Tour (IPT): FEB 1 thru the morning of FEB 5, 2015: $1799 (Limit: 8/Openings: 3)
Meet and Greet after dinner on your own at 7:00pm on JAN 31
Join me in San Diego to photograph the spectacular breeding plumage Brown Pelicans with their fire-engine red bill pouches; Brandt's and Double-crested Cormorants in breeding plumage with their amazing crests; breeding plumage Wood and Ring-necked Duck; other species possible including Lesser Scaup, Redhead, and Surf Scoter; a variety of gulls including Western, California, and the gorgeous Heerman's, all in full breeding plumage; shorebirds including Marbled Godwit, Willet, Sanderling and Black-bellied Plover; many others possible including Least, Western, and Spotted Sandpiper, Whimbrel, Black and Ruddy Turnstone, Semipalmated Plover, and Surfbird; Harbor Seals (depending on the current regulations) and California Sea Lions likely; and Bird of Paradise flowers. And as you can see by studying the two IPT cards there are some nice landscape opportunities as well.
Did I mention that there are wealth of great birds and natural history subjects in San Diego in winter?
This IPT will include five 3 1/2 hour morning photo sessions, four 2 1/2 hour afternoon photo sessions, five lunches, after-lunch image review and Photoshop sessions, and two fine dinners. To ensure early starts, breakfasts will be your responsibility.
A $499 non-refundable deposit is required to hold your slot for this IPT. You can send a check (made out to "Arthur Morris) to use at BIRDS AS ART, PO Box 7245, Indian Lake Estates, FL, 33855. Or call Jim or Jennifer at the office with a credit card at 863-692-0906. Your balance, payable only by check, will be due on 12/1//2014. If the trip fills, we will be glad to apply a credit applicable to a future IPT for the full amount less a $100 processing fee. If we do not receive your check for the balance on or before the due date we will try to fill your spot from the waiting list. If your spot is filled, you will lose your deposit. If not, you can secure your spot by paying your balance. Please print, complete, and sign the form that is linked to here and shoot it to us along with your deposit check. If you register by phone, please print, complete and sign the form as noted above and either mail it to us or e-mail the scan. If you have any questions, please feel free to contact me via e-mail.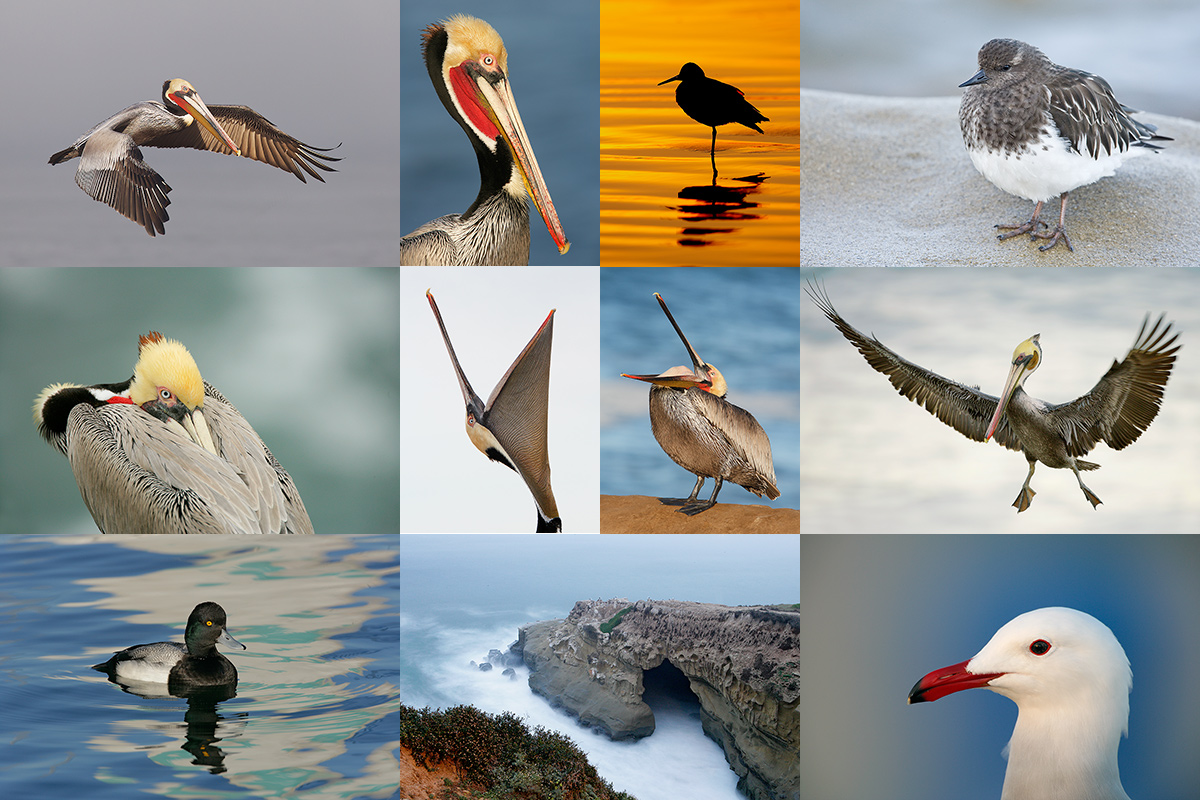 Though the pelicans will be the stars of the show on this IPT there will be many other handsome and captivating subjects in wonderful settings.
San Diego Natural History Museum Program & The Birds of the World Exhibit
On Saturday morning, February 7, 2015 I will be presenting "A Bird Photographer's Story" at the San Diego Natural History Museum to kick off the Birds of the World photographic exhibit that will feature the images of about a dozen of the world's top avian photographers. This program,which is being generously sponsored by the Canon Explorers of Light program, will be free and open to the public. I am proud to say that both Denise Ippolito and I will have images hanging in the show. The exhibit opening is scheduled for later that same day, February 7, 2015. (Times TBA).
Folks on the IPT who wish to stay over and attend the program and the exhibit opening on Saturday are invited to join me for a photo session on Friday morning as follows:
Friday Morning Add-on Photo Session: February 6, 2015: $299.
This workshop includes 3 hours of in-the-field pelican photography instruction and brunch with image review and Photoshop instruction. For now, this session is open only to folks attending the IPT.
Facebook
Be sure to like and follow BAA on Facebook by clicking on the logo link upper right. Tanks a stack!
Support the BAA Blog. Support the BAA Bulletins: Shop B&H here!
We want and need to keep providing you with the latest free information, photography and Photoshop lessons, and all manner of related information. Show your appreciation by making your purchases immediately after clicking on any of our B&H or Amazon Affiliate links in this blog post. Remember, B&H ain't just photography!
…..
Amazon.com
Those who prefer to support BAA by shopping with Amazon may use this link:
Amazon Canada
Many kind folks from north of the border, ay, have e-mailed stating that they would love to help us out by using one of our affiliate links but that living in Canada and doing so presents numerous problems. Now, they can help us out by using our Amazon Canada affiliate link by starting their searches by clicking here. Many thanks to those who have written.
Typos
In all blog posts and Bulletins, feel free to e-mail or to leave a comment regarding any typos or errors. Just be right :).