The Streak Continues: 339
Yesterday was a day of learning more about my relatively new Apple 15.4″ MacBook Pro Notebook Computer with Retina Display (Mid-2014). Less than a week ago I was thisclose to offering my new $3,199.00 notebook for sale for $2100. Today I am fully confident that I will do just fine with my Mac. Thanks to the many who commented and e-mailed offering helpful suggestions and links to websites that offered lists of keyboard shortcuts and other helpful hints. There have been so many that I have not had time to thank everyone individually.
I will be sharing the tale of my transition to the top of the line Mac with y'all here soon.
I enjoyed an easy 3/4 mile swim; the pool was down to 74 degrees. It was not as bad as the ice bath that I enjoyed after dinner. This blog post, the 339th in a row, took less than two hours to prepare and was published from my home at Indian Lake Estates just before 5:30am.
Please Help Support My Work on the BAA Blog
Thanks a Stack! October was a Great Month.
Even without the numerous EOS-7D Mark II sales made with our BAA Affiliate links–pre-orders are not credited until the item ships–October was a very rewarding month. Thanks a stack to all who used our B&H links for purchases large and small.
To show your appreciation for my efforts here, we ask, as always, that you use our the B&H and Amazon affiliate links on the right side of the blog for all of your purchases. B&H Is recommended for you major photography gear purchases, Amazon for your household, entertainment, and general purpose stuff. Please check the availability of all photographic accessories in the BIRDS AS ART Online Store, especially Gitzo tripods, Wimberley tripod heads, and the like. We sell only what I have used, have tested, and can depend on. We will not sell you junk. We know what you need to make creating great images easy and fun. And we are always glad to answer your gear questions via e-mail.
If what you learned here on my blog about the Canon EOS-7D Mark II has inspired you to purchase this great new camera body, please consider using the logo link above to support our efforts here in bringing you the latest, greatest educational materials on daily basis.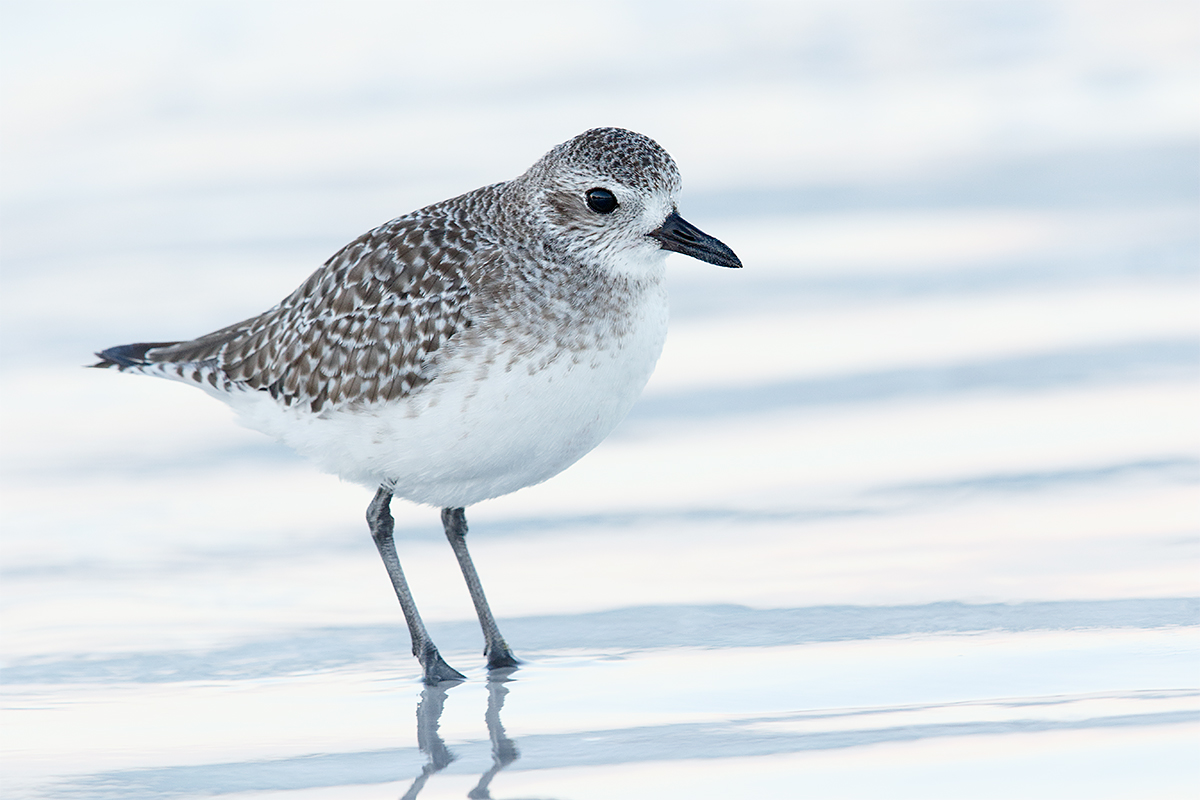 This image was created at 8:05am in the shade of a large stand of trees on the clear, cold morning of November 2, 2014 at Fort DeSoto Park. I used the Gitzo 3532 LS carbon fiber tripod, the Mongoose M3.6 head, the Canon EF 600mm f/4L IS II USM lens, the Canon Extender EF 1.4X III, and a beta version of the Canon EOS 7D Mark II . ISO 800. Evaluative metering + 2 stops as framed: 1/250 sec. at f/8 in Av mode. AWB.
Central sensor/AI Servo Surround/Rear Focus AF on the bird's belly was active at the moment of exposure. Click here to see the latest version of the Rear Focus Tutorial. Click on the image to see a larger version.
Image #1: Black-bellied Plover winter plumage posing
Your browser does not support iFrame.
Ah, the Flag!
As we approached the large flag after the entrance booth at DeSoto, I was happy to see the wind from the NE rather than from the NW as we had had on Saturday. Sunday loomed clear and bright and a NW wind in those conditions is pretty much fatal to bird photography.
As we approached my favorite, dependable location, the exact spot where we had had thousands of shorebirds, terns and gulls just 24 hours ago, there were less than ten birds. They flew away when we took one step towards them…. Some days are diamonds, some days are stone. But Greg was there to learn so we walked along the Gulf looking for a Willet or a Black-bellied Plover to photography. Even those two dependable species were scarce.
Ah, Birds in the Shade
When Greg saw a few birds feeding in the shade, he said, "The light is lousy." I said, "There is no such thing as lousy light. Only lousy photographers who do not understand how to get the right exposure. With Nikon you will need to add about 1 1/3 stops of light to move the histogram well to the right and get a few blinkies on the background. With Canon I knew that I would need to go with +2 stops or more. "Let's go: we can make some beautiful images. Watch the breaking waves in the background. Try to get a bird on clean sand with a nice wet sand background."
He did.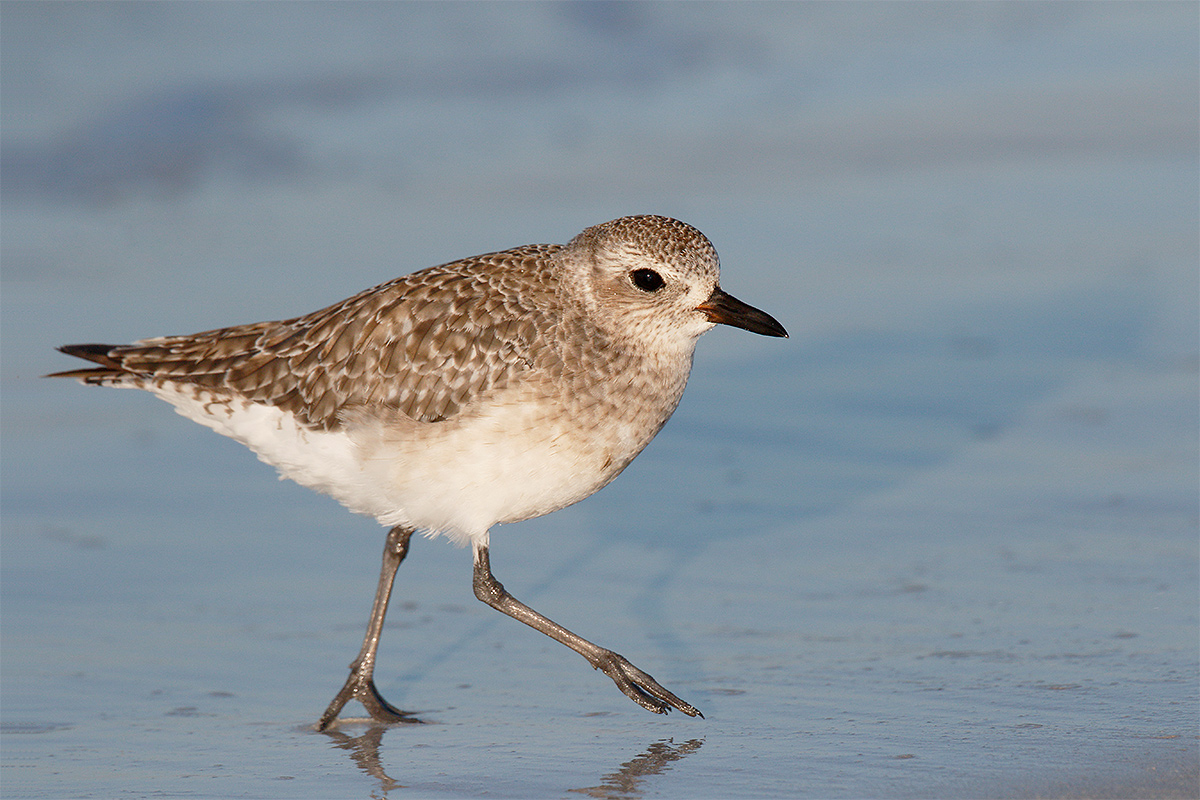 This image was created on the clear, sunny morning of November 2, 2014 at Fort DeSoto Park. I used the hand held Canon EF 300mm f/2.8L IS II USM lens, with the Canon Extender EF 2X III, and a beta version of the Canon EOS 7D Mark II . ISO 400. Evaluative metering +1/3 stop: 1/4000 sec. at f/6.3 in Av mode. AWB.
One sensor above the Central Zone/AI Servo Surround/Rear Focus AF on the bird's eye was active at the moment of exposure. Click here to see the latest version of the Rear Focus Tutorial. Click on the image to see a larger version.
Image #2: Black-bellied Plover winter plumage running
Your browser does not support iFrame.
Ah, Birds in the Sun
With the tide a lot lower than the day before for a variety of reasons, the birds never came in so we got in the car and drove a short distance to a different part of the lagoon in hopes of finding a tame Yellow-crowned Night-Heron for Greg. We did not find one, tame or otherwise. What to photograph? A very few Willets and Black-bellied Plovers. An oystercatcher flew in but as the wind had switched to north by a little bit west it fed along the Gulf surf facing away from us and away from the light. More lessons. We were left to photograph the Willets and the black-bellieds.
Exposure in the bright sun is a whole 'nother topic. "Greg, with Nikon here you will need to be at either zero or -1/3 stop. Take a few in aperture priority, check your histogram, and when you figure out the perfect exposure, set it manually and you are good to go." I did the same with the 7D II at +1/3 stop.
I forgot to mention that it was even colder on Sunday morning than it had been on Saturday morning. But it was less windy and we were much better dressed. The only thing missing were the birds. You gotta love nature photography….
Ah, the Big Question!
Which light do you prefer, shade or sun? I have a clear preference.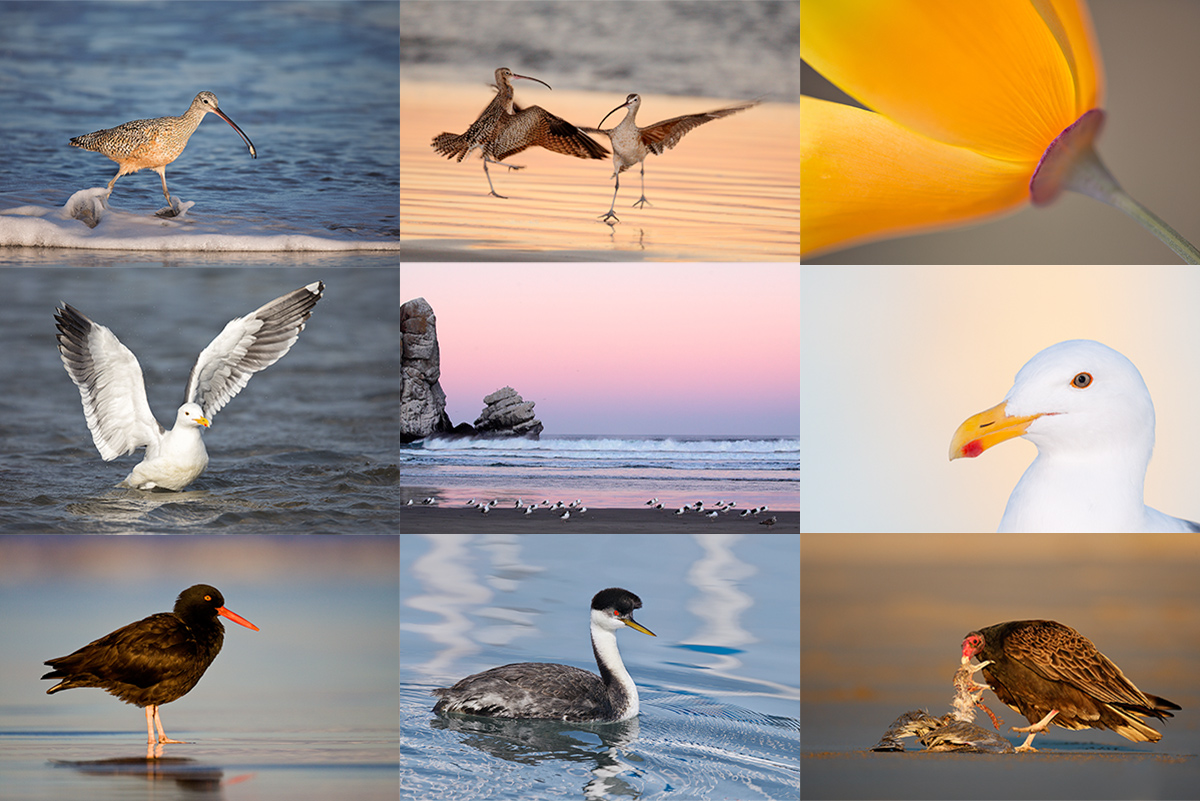 Morro Bay offers a wealth of very attractive natural history subjects in a variety of attractive settings.
2015 Morro Bay 5-DAY BIRDS AS ART Instructional Photo-Tour (IPT): MAR 14 thru MAR 18, 2015: $1999 (Limit: 8.)
Meet and Greet after dinner on your own at 8:00pm on MAR 13.
Join me in one of the most beautiful and scenic places on the planet to photograph a large variety of birds of the sea and shore. As above, the star of the show will be Long-billed Curlew. There will be lots of Marbled Godwits and Willets as well as lots of the smaller shorebird species. Black Oystercatcher is likely and we should get to photograph large flocks of Western Sandpipers in flight over the bay. With any luck we should enjoy some great sunrise and sunset photography. There are lots of gulls including Western, California, and Mew. There is one good location where we should get to photograph Western, Clarke's, Eared, and Pied-billed Grebe, Lesser Scaup, and Common Loon. We may get to photograph some passerines including Anna's Hummingbird, Brewer's Blackbird, and White-crowned Sparrow. And we have a chance for several species of raptors. Yikes, I almost forgot California Poppy. And California Ground Squirrel. Sea Otters are also possible.
This IPT will include five 3 1/2 hour morning photo sessions, five 2 1/2 hour afternoon sessions, five lunches, after-lunch image review and Photoshop sessions, and of course tons of great in-the-field instruction and photographic instruction. To ensure early starts, breakfasts will be your responsibility.
A $499 non-refundable deposit is required to hold your slot for this IPT. You can send a check (made out to "Arthur Morris) to use at BIRDS AS ART, PO Box 7245, Indian Lake Estates, FL, 33855. Or call Jim or Jennifer at the office with a credit card at 863-692-0906. Your balance, payable only by check, will be due on 12/1//2014. If the trip fills, we will be glad to apply a credit applicable to a future IPT for the full amount less a $100 processing fee. If we do not receive your check for the balance on or before the due date we will try to fill your spot from the waiting list. If your spot is filled, you will lose your deposit. If not, you can secure your spot by paying your balance. Please print, complete, and sign the form that is linked to here and shoot it to us along with your deposit check. If you register by phone, please print, complete and sign the form as noted above and either mail it to us or e-mail the scan. If you have any questions, please feel free to contact me via e-mail.
Used Canon EF 800mm f/5.6L IS (Image Stabilizer) USM Lens
Mike Stevens is offering a used Canon EF 800mm f/5.6L IS (Image Stabilizer) USM lens in like-new condition (used just once) for a ridiculously low $7999. The sale includes the front leather hood, the rear dust cap, the original case, a Wimberley P-50 lens plate, and insured shipping to US addresses only. Your lens will be shipped only after your check clears unless other arrangements are made; Paypal is an option.
Please contact Mike via e-mail, by phone at 951-260-2507, or on his cell at 951-821-1600.
The 800 was my go-to super-telephoto lens for about 4 years.
Facebook
Be sure to like and follow BAA on Facebook by clicking on the logo link upper right. Tanks a stack!
Support the BAA Blog. Support the BAA Bulletins: Shop B&H here!
We want and need to keep providing you with the latest free information, photography and Photoshop lessons, and all manner of related information. Show your appreciation by making your purchases immediately after clicking on any of our B&H or Amazon Affiliate links in this blog post. Remember, B&H ain't just photography!
…..
Amazon.com
Those who prefer to support BAA by shopping with Amazon may use this link:
Amazon Canada
Many kind folks from north of the border, eh, have e-mailed stating that they would love to help us out by using one of our affiliate links but that living in Canada and doing so presents numerous problems. Now, they can help us out by using our Amazon Canada affiliate link by starting their searches by clicking here. Many thanks to those who have written.
Typos
In all blog posts and Bulletins, feel free to e-mail or to leave a comment regarding any typos or errors. Just be right :).