The Streak Continues: 340
Yesterday was a day of answering e-mails and learning more about my relatively new Apple 15.4″ MacBook Pro Notebook Computer with Retina Display (Mid-2014).
I will be sharing the tale of my transition to the top of the line Mac with y'all here soon.
I enjoyed another easy 3/4 mile swim and a nice nap. This blog post, the 340th in a row, took about two hours to prepare and was published from my home at Indian Lake Estates just after 6:45am.
Please Help Support My Work on the BAA Blog
Thanks a Stack! October was a Great Month.
Even without the numerous EOS-7D Mark II sales made with our BAA Affiliate links–pre-orders are not credited until the item ships–October was a very rewarding month. Thanks a stack to all who used our B&H links for purchases large and small.
To show your appreciation for my efforts here, we ask, as always, that you use our the B&H and Amazon affiliate links on the right side of the blog for all of your purchases. B&H Is recommended for you major photography gear purchases, Amazon for your household, entertainment, and general purpose stuff. Please check the availability of all photographic accessories in the BIRDS AS ART Online Store, especially Gitzo tripods, Wimberley tripod heads, and the like. We sell only what I have used, have tested, and can depend on. We will not sell you junk. We know what you need to make creating great images easy and fun. And we are always glad to answer your gear questions via e-mail.
You can find the following items in the store: Gitzo tripods, Mongoose M3.6 and Wimberley heads, plates, low feet, and accessories, flash brackets, , Delkin e-film Pro Compact Flash Cards, LensCoat products, and our unique line-up of educational materials including ABP I & II, Digital Basics, Site and Set-up e-Guides, Canon and Nikon Camera Users and AF e-Guides, and MP-4 Photoshop video tutorials among others.
I would of course appreciate your using our B&H affiliate links for all of your major gear, video, and electronic purchases. For the photographic stuff mentioned in the paragraph above we, meaning BAA, would of course greatly appreciate your business. Here is a huge thank you to the many who have been using our links on a regular basis and visiting the BAA Online store as well.
If what you learned here on my blog about the Canon EOS-7D Mark II has inspired you to purchase this great new camera body, please consider using the logo link above to support our efforts here in bringing you the latest, greatest educational materials on daily basis.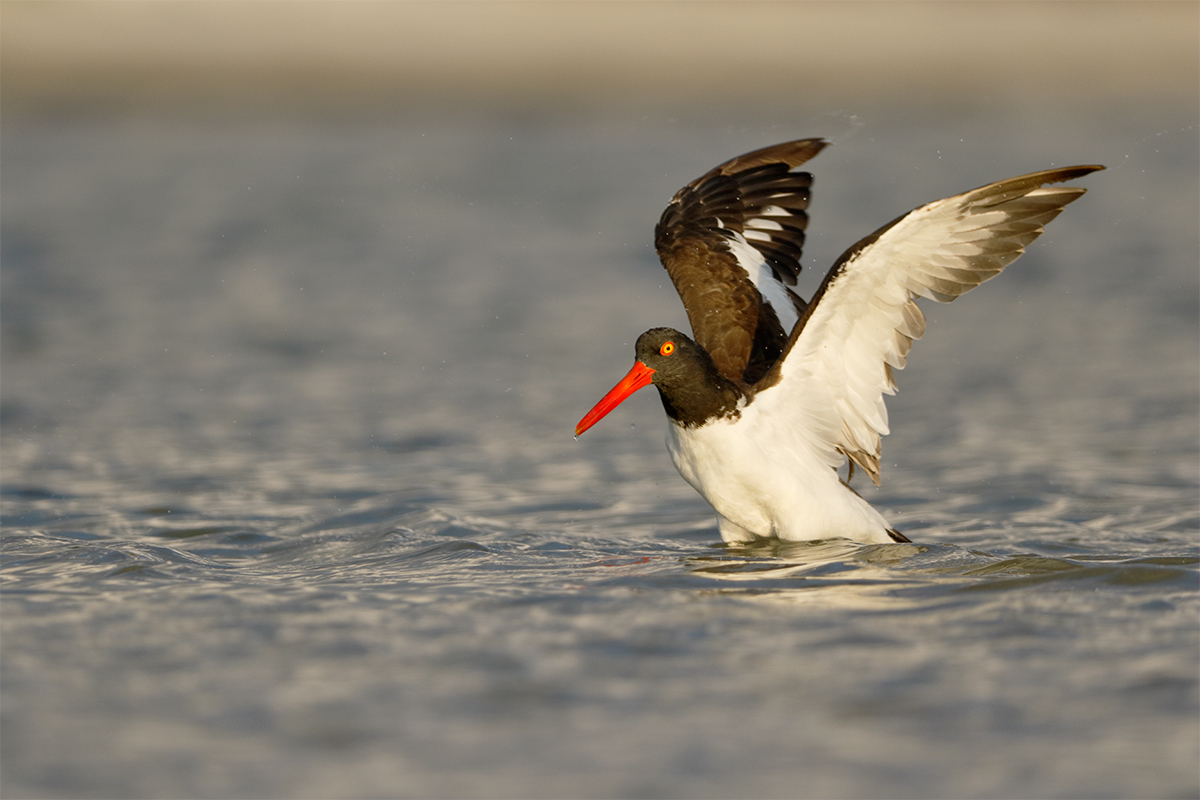 This image was created at 5:38pm on the afternoon of 10 October, on the first-ever BIRDS AS ART Meet-up In-the-Field Workshop. Co-leader Robert Kimbrell kindly loaned me a sturdy off-brand tripod topped with a Wimberley V-2 Tripod head. On that I mounted the Canon EF 200-400mm f/4L IS USM lens with Internal 1.4x Extender (with the internal extender in place at the max, 560mm) and a beta version of the Canon EOS 7D Mark II . ISO 400. Evaluative metering -2/3 stop as framed: 1/1250 sec. at f/5.6 in Manual mode.
Central sensor/AI Servo Expand/Rear Focus AF on the spot where the back of the bird's hood met the white of the underwing was active at the moment of exposure. Click here to see the latest version of the Rear Focus Tutorial. Click on the image to see a larger version.
American Oystercatcher flapping after bath
Your browser does not support iFrame.
Canon 200-400mm with Internal TC and EOS-7D Mark II a Powerful and Versatile Combo
The 2-4 with Internal Extender with the great new 1.6 crop body that is the 7D Mark II makes for a great one-size fits all rig for both bird and wildlife photography. With the zoom set to 400 and the internal TC in place you are at 896mm (nearly 18X magnification). Adding an external 1.4X III TC brings you to 1254.4mm, more than 25X. And with the lens alone zoomed out to 200mm you will have 320mm coverage. Throw in the Canon EF 70-200mm f/2.8L IS II lens and you are pretty well covered as far as telephoto focal length range goes.
Why the Tripod?
Though many can hand hold the 200-400 with the lightweight 7D Mark II for long shooting sessions, even for an entire day, I cannot unless all of my work is being done from a seated position using the always available left knee-pod. Hand holding offers lot of freedom, freedom to move about rather quickly and freedom to get the lens in pretty much any position needed. But when you are standing, the lactic acid builds up pretty quickly. At those times working off a tripod is the only way to go. Above, in a pinch, I borrowed a rig that let me go on photographing. Normally I would have my Gitzo 3532 LS carbon fiber tripod with a Mongoose M3.6 head atop it.
Working on a tripod while waiting for a bathing bird to flap after its bath enables you to frame the image easily and comfortably for as long as it takes. Sometimes they seem to bathe forever…. After a pretty good wait I got four nice frames from a ten-frame sequence. You gotta love the frame rate of the 7D II. My favorite of course is the one presented here.
The Situation
Late light on the birds with dark storm clouds in the east being reflected in the water makes for an ideal situation. Find a decent subject and make lots of images.
The Image Optimization
As you can see by considering the before and after 100% views above, the three biggest problems were that the nictitating membrane covered and pretty much ruined the eye, that the eye was less than sharp–most likely due to subject movement during the flap, and that the red of the bill and the eye ring were way over the top.
After opening up the shadows during the RAW conversion in DPP 4.0 I brought the image into Photoshop. I added a ton of CYAN to the REDs in Selective Color to tone down the bill. While I was there I added some BLACK to the BLACKs as well. I did lots of Eye Doctor work that was quite successful. And I sharpened the face, head, and upper neck with a Contrast Mask after making the selection with the Quick Selection Tool. Then I selected the whole bird, again with the Quick Selection Tool, placed the selection on its own layer, ran a layer of my NIK 25/25 recipe, and fine-tuned that with the addition of a Regular Layer Mask. The trick with NIK is to use it sparingly.
The result was that the bird's eye, face, and head were dramatically improved.
The DPP 4 eGuide
The RAW file for this image was converted in DPP v4.01.0 that now supports the 7D Mark II along with image files from the 1D X, the 5D III, the 6D. DPP 4 is a totally new program, far more sophisticated and complex than the various iterations of DPP 3. Thus, Arash and I created a new, stand-alone eGuide for DPP 4, one that really simplifies things. As so much work and effort went into the creation of the DPP 4 eGuide, it does require a separate purchase. Learn more about this great new guide by clicking here, or purchase a copy here.
Note: the Sharpness and Noise Reduction Charts will be updated to include the recommended values for the 7D Mark II. I begin sending RAW files to Arash today. This process will involve a ton of additional work by both authors. This update will of course be free but please be patient.
Those using older Canon camera bodies like the 1D Mark IV, the 7D, the 50D, the 40D, the various Rebels (not highly recommended for serious nature photography), are directed to the original DPP RAW Conversion Guide click here. DPP 3 (the latest version is DPP v3.14.41.0) does a fine job of converting images from the older camera bodies. I used it for several years.
DPP 4 eGuide Kudos via e-mail from Melvin Grey
Artie, Thank you very much for creating and sending the superb new guide and for the excellent service.THANK YOU and ARASH, once again, for an invaluable guide and THANK YOU for your continuing educational blogs. Melvin
Digital Basics
Everything that I did to optimize today's images is covered in detail in my Digital Basics File–written in my easy-to-follow, easy-to-understand style. Are you tired of making your images look worse in Photoshop? Digital Basics File is an instructional PDF that is sent via e-mail. It includes my complete digital workflow, dozens of great Photoshop tips (including the Surface Blur settings as taught to me by Denise Ippolito), details on using all of my image clean-up tools, the use of Contrast Masks, several different ways of expanding and filling in canvas, all of my time-saving Keyboard Shortcuts, Quick Masking, Layer Masking, and NIK Color Efex Pro basics, Contrast Masks, Digital Eye Doctor techniques, using Gaussian Blurs, Tim Grey Dodge and Burn, a variety of ways to make selections, how to create time-saving actions, and tons more.
APTATS I & II
Learn the details of advanced Quick Masking techniques in APTATS I. Learn Advanced Layer Masking Techniques in APTATS II. Mention this blog post and apply a $5 discount to either with phone orders only. Buy both APTATS I and APTATS II and we will be glad to apply at $15 discount with phone orders only. Please call Jim or Jennifer at 863-692-0906 weekdays to order.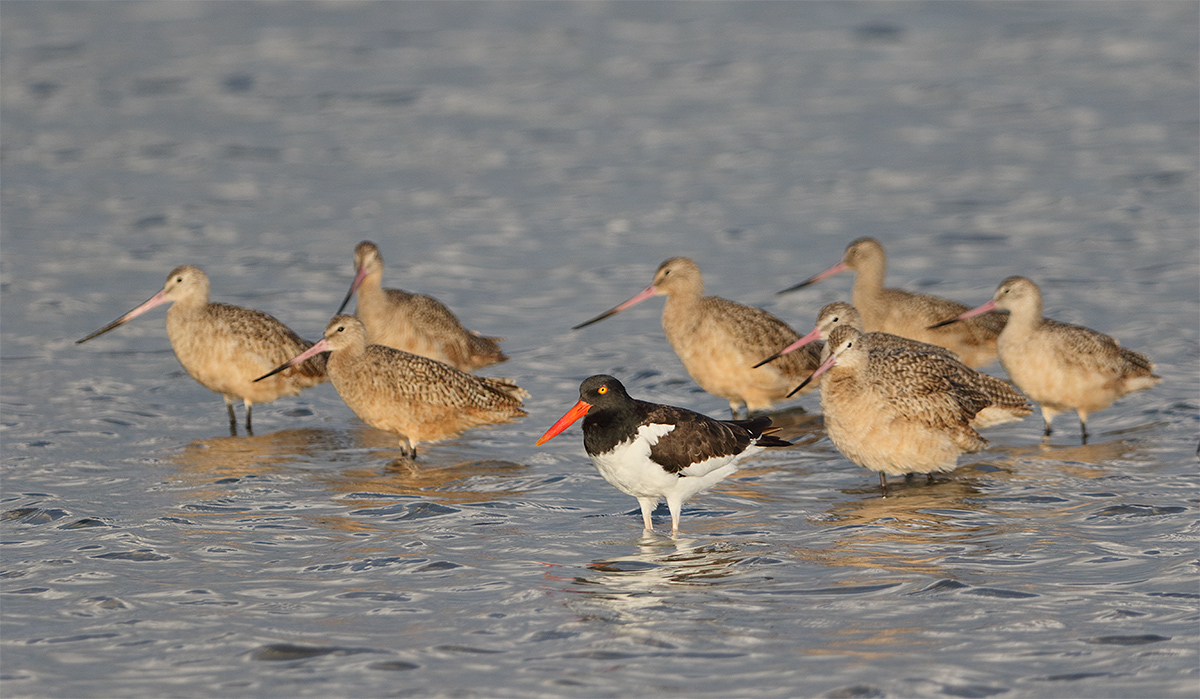 This image was created at 6:11pm, also on the afternoon of 10 October, on the first-ever BIRDS AS ART Meet-up In-the-Field Workshop. Co-leader Robert Kimbrell kindly loaned me a sturdy off-brand tripod topped with a Wimberley V-2 Tripod head. On that I mounted the Canon EF 200-400mm f/4L IS USM lens (at 383mm) and a beta version of the Canon EOS 7D Mark II . ISO 400. Evaluative metering -1/3 stop as framed: 1/1000 sec. at f/5.6 in Manual mode.
Central sensor/AI Servo Expand/Rear Focus AF on face of the oystercatcher and release. Click here to see the latest version of the Rear Focus Tutorial. Click on the image to see a larger version.
American Oystercatcher with Marbled Godwits
Your browser does not support iFrame.
your text and adds
Framing Options with the 200-400 with Internal Extender
Here we see that by dis-engaging the internal TC and zooming out a bit I was able to create a mini flock scape that featured the oystercatcher as the primary subject with the godwits making up the supporting cast. Four and one-half good head angles out of eight was as good as I could do….
Facebook
Be sure to like and follow BAA on Facebook by clicking on the logo link upper right. Tanks a stack!
Support the BAA Blog. Support the BAA Bulletins: Shop B&H here!
We want and need to keep providing you with the latest free information, photography and Photoshop lessons, and all manner of related information. Show your appreciation by making your purchases immediately after clicking on any of our B&H or Amazon Affiliate links in this blog post. Remember, B&H ain't just photography!
…..
Amazon.com
Those who prefer to support BAA by shopping with Amazon may use this link:
Amazon Canada
Many kind folks from north of the border, eh, have e-mailed stating that they would love to help us out by using one of our affiliate links but that living in Canada and doing so presents numerous problems. Now, they can help us out by using our Amazon Canada affiliate link by starting their searches by clicking here. Many thanks to those who have written.
Typos
In all blog posts and Bulletins, feel free to e-mail or to leave a comment regarding any typos or errors. Just be right :).