Important Note
The BAA On-line Store was back online on Monday morning.
3-Stop ND Question
The Streak Continues: 345
I am not sure what I did yesterday aside from working on the blog early in the morning and watching lots of NFL football. I had planned to swim a mile, 88 lengths of the pool, in the cold rain. At 68 lengths, however, I was quite chilled and had a pretty bad cramp in my lower left leg. For once I listened to my body and bagged it. I took a long, solid nap in the late afternoon and slept long and well last night.
Ah, I am starting to remember a bit. I did a very little bit of work mid-morning on the "Love Affair with Bosque" keynote program that I will be presenting on Friday afternoon, November 21, at the Festival of the Cranes. This program is free and open to the public but you must register. If you are in the vicinity, it would be foolish of you not to attend :). Scroll down here for details or to register. As noted previously, if the schedule takes too long to load you can register by phone by calling 575-835-2077 from 9:00am-Noon Mountain Daylight Time.
This blog post, the 345th in a row, took about 1 1/2 hours to prepare. It was published from my home at Indian Lake Estates just after 6:00am.
In the good news department we filled one of the four remaining slots on the two Palouse IPTs on Saturday past.
Please Help Support My Work on the BAA Blog
Thanks a Stack! October was a Great Month.
October was a very rewarding month. Thanks a stack to all who used our B&H links for purchases large and small.
To show your appreciation for my efforts here, we ask, as always, that you use our the B&H and Amazon affiliate links on the right side of the blog for all of your purchases. B&H Is recommended for you major photography gear purchases, Amazon for your household, entertainment, and general purpose stuff. Please check the availability of all photographic accessories in the BIRDS AS ART Online Store, especially Gitzo tripods, Wimberley tripod heads, and the like. We sell only what I have used, have tested, and can depend on. We will not sell you junk. We know what you need to make creating great images easy and fun. And we are always glad to answer your gear questions via e-mail.
I would of course appreciate your using our B&H affiliate links for all of your major gear, video, and electronic purchases. For the photographic stuff mentioned in the paragraph above we, meaning BAA, would of course greatly appreciate your business. Here is a huge thank you to the many who have been using our links on a regular basis and visiting the BAA Online store as well.
If what you've learned here on my blog about the Canon EOS-7D Mark II has inspired you to purchase this great new camera body, please consider using the logo link above to support our efforts here in bringing you the latest, greatest educational materials on daily basis.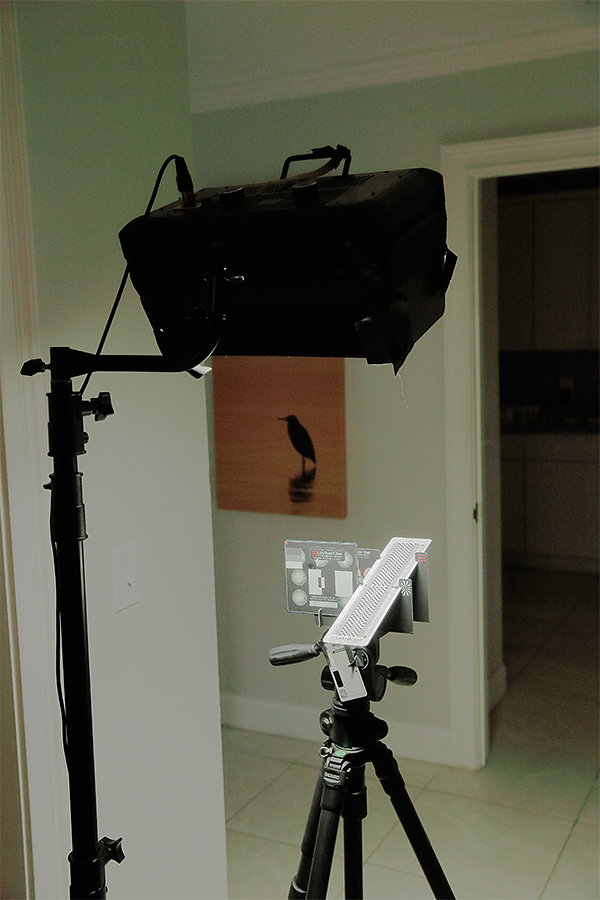 This is the indoor LensAlign Mark II set-up.
The LensAlign Mark II Indoor Set-up
The LensAlign Mark II indoor set-up is a bit more complex than the outdoor set-up. Working indoors with the large target and the ruler evenly and brightly lit will generally yield more consistent results. If you work outdoors on a cloudy bright day you will do just fine. Both the indoor and the outdoor set-ups will be detailed in the new BAA LensAligh/FocusTune tutorial.
DPP 4
DPP 4 did a pretty darned good job with the image above that was virtually black but for the brightly illuminated LensAlign Mark II with its white ruler. I did need to underexpose a ton to prevent burning (over-exposing) the ruler and even with that it opened in DPP with lots of flashing red Highlight warnings and a ton of flashing blue Shadow warnings.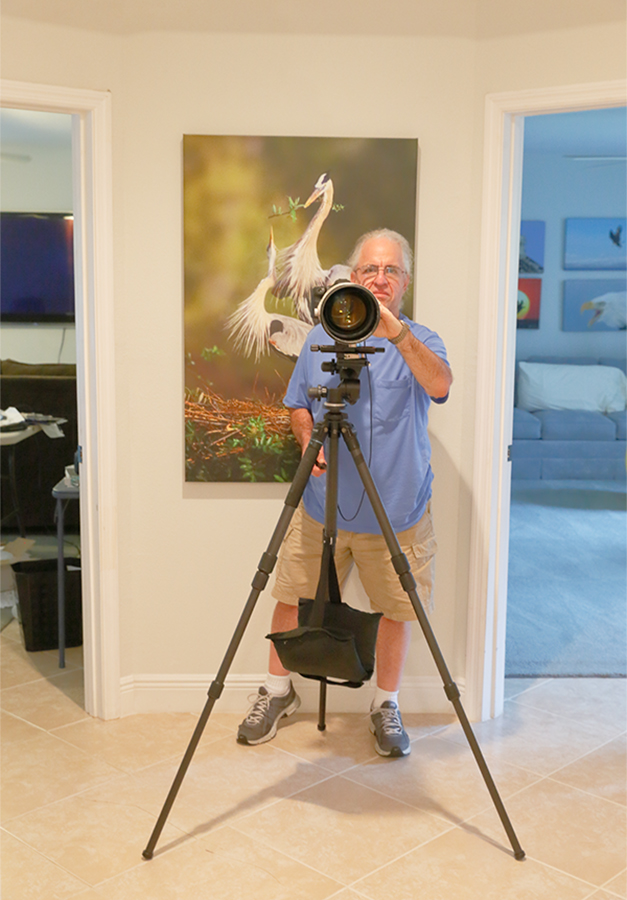 That's Michael Tapes making test images with my 300 II/2X III/7D Mark II rig.
Working Hard?
I mentioned in yesterday's blog post that Michael and I "worked long and hard" on Sunday. Please understand that the long and hard work involved my taking copious notes, my asking a zillion "why?" and "how come?" questions, and Michael answering my questions in great detail. Plus, we both like to yak.
Once I had mastered the concepts and fully understood Michael's LensAlign philosophy, the actual process of LensAligning a given lens/camera body combo took about seven to ten minutes. That included making a wide set of test images, importing and viewing them in FocusTune, analyzing the results, creating and analyzing a second, narrower set of test images, and at times, making a third set of test images to fine-tune and confirm the earlier findings.
Once you study the tutorial that will detail the steps needed to create and analyze a series of test images, the scenario described above will take the average person about 20-25 minutes. It is likely that none of us will ever learn to work as quickly and efficiently as Michael–he has been doing it for many years–but many of us will come close to cutting the time or our early efforts in half. Once you have the techniques down pat it becomes rather robotic.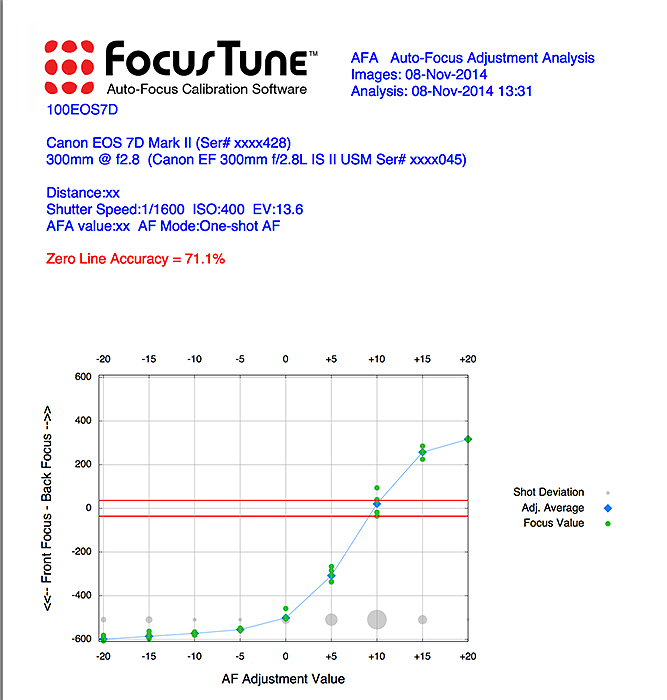 This is a FocusTune AFA graph for a wide set of test images
A FocusTune AFA graph for a wide set of test images
Above is a FocusTune Autofocus Adjustment Graph for a wide set of test images made with the 300 II and my new 7d II. You start wide, testing by increments of 5 and going from from -20 to +20. After you check the results, you come in tighter and then fine tune. The graph above would suggest that the correct MA would be somewhere in the vicinity of +10 but according to Michael, "this is not definitive because our data points are specifically +5, +10, +15. Since the results are rarely linear, the blue line connecting the weighted averages for each AFA does not show an accurate interpolation. We need more data points within this area to be accurate. After further testing we wound up setting the MA at +4.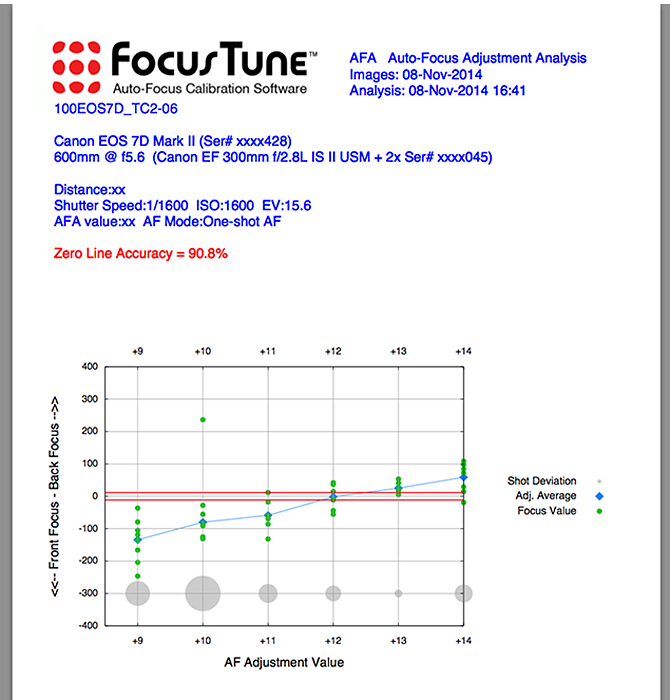 This is a FocusTune AFA graph for a narrow set of test images.
A FocusTune AFA graph for a narrow set of test images
This AFA chart is for our final series of test images with the 300 II, the 2X III, and my new 7D Mark II. Here we confidently set +12 as the MA.
For me working with FocusTune was a ton of fun; no more eye-balling it, no more "it looks as if….", no more guessing. Working with FocusTune allows you to work precisely and to be sure of your results. Tutorials coming.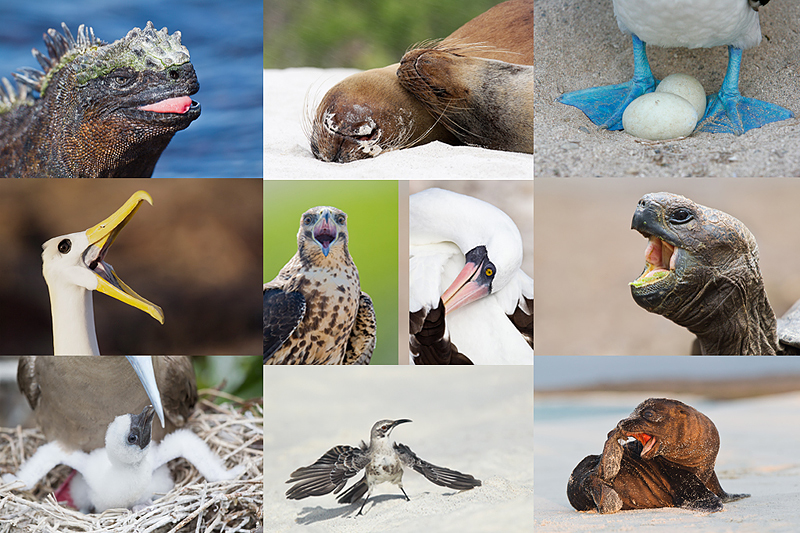 Do consider joining me for a once in a lifetime trip to the Galapagos archipelago in July, 2015.
GALAPAGOS Photo Cruise of a Lifetime IPT/The Complete Galapagos Photographic Experience. July 14-28, 2015 on the boat. 13 FULL and two half-days of photography: $12,499. Limit 14 including the leader:/Openings: 4.
My two-week Galapagos Photo-Cruises are without equal. The world's best guide, a killer itinerary, a great boat (the Samba), and the best leader with eight Galapagos cruises under his belt. Pre-trip and pre-landing location-specific gear advice. In-the-field photo instruction and guidance. Jeez, I almost forgot: fine dining at sea!
The great spots that we will visit include Tower Island (including Prince Phillips Steps and Darwin Bay), Hood Island (including Punta Suarez, the world's only nesting site of Waved Albatross, and Gardner Bay)—each of the preceding are world class wildlife photography designations that rank right up there with Antarctica, Africa, and Midway. We will also visit Fernandina, Puerto Ayora for the tortoises, Puerto Egas—James Bay, North Seymour and Isla Lobos for nesting Blue-footed Booby (most years), South Plaza, Floreana, and Urbina Bay, all spectacular in their own right. We visit every great spot on a single trip. Plus tons more. And there will he lots of opportunities to snorkel on sunny mid-days for those like me who wish to partake.
We will be the first boat on each island in the morning and the last boat to leave each island every afternoon. If we are blessed with overcast weather, we will often spend 5-6 hours at the best sites. And as noted above, mid-day snorkeling is an option on most sunny days depending on location. Note: some of the walks are a bit strenuous. Great images are possible on all landings with a hand held 70-200mm lens and a 1.4X teleconverter. I bring a longer lens ashore on most landings as that fits my style. I generally work with either the Canon 300mm f/2.8L IS or the Canon 200-400mm f/4 L IS with Internal Extender.
Do know that there is a NatureScapes Galapagos trip: one week for $8495. Thus, my trip represents a tremendous value; why go all that way and miss half of the great photographic locations?
The Logistics
Fly to Guayacil, Ecuador on July 12, 2015. Travel insurance/rest day: July 13 (We may or may not offer a photo outing on the 13th). Fly to the archipelago on July 14 and board the Samba. Get off the boat on July 28. Fly to Guayacil that afternoon. Fly home on the early morning of July 29 unless you are staying on or going elsewhere (or catching a red-eye flight on the evening of the 28th).
$12,499 includes just about everything: all transfers, guide and park fees, all food on the boat, transfers and ground transportation, your flights to the archipelago, and three nights (double occupancy) in a top notch hotel in Guayacil. If you are good to go, a non-refundable deposit of $5,000 per person is due immediately. The second payment of $4,000 is not due until 11/1/14. The final payment of $3449 per person will be due on 2/1/15. A $200 discount will be applied to each of the balances for couples or friends who register at the same time.
Purchasing travel insurance within 2 weeks of our cashing your deposit check is strongly recommended. On my past two cruises a total of 5 folks were forced to cancel less than one week prior to the trip. My family and I use Travel Insurance Services and strongly recommend that you do the same.
Not included: your round trip airfare from your home to and from Guayacil, beverages on the boat, phone calls, your meals in Guayacil, personal items, and a $600/person cash tip for the crew and the guide—this works out to roughly $40/day to be shared by the 7 folks who will be waiting on us hand and foot every day for two weeks. The service is so wonderful that many folks choose to tip extra.
Please e-mail for the complete itinerary and for additional info and images. Please cut and paste "Galapagos 2015 Info Please) into the Subject line.
Facebook
Be sure to like and follow BAA on Facebook by clicking on the logo link upper right. Tanks a stack!
Support the BAA Blog. Support the BAA Bulletins: Shop B&H here!
We want and need to keep providing you with the latest free information, photography and Photoshop lessons, and all manner of related information. Show your appreciation by making your purchases immediately after clicking on any of our B&H or Amazon Affiliate links in this blog post. Remember, B&H ain't just photography!
…..
Amazon.com
Those who prefer to support BAA by shopping with Amazon may use this link:
Amazon Canada
Many kind folks from north of the border, eh, have e-mailed stating that they would love to help us out by using one of our affiliate links but that living in Canada and doing so presents numerous problems. Now, they can help us out by using our Amazon Canada affiliate link by starting their searches by clicking here. Many thanks to those who have written.
Typos
In all blog posts and Bulletins, feel free to e-mail or to leave a comment regarding any typos or errors. Just be right :).