Important Note
The BAA On-line Store was back online on Monday morning.
The Streak Continues: 346
On Monday I started work on BAA Bulletin #469, answered a stack of e-mails, made motel arrangements for the Morro Bay IPT–remember, I will go with one :), enjoyed an easy 60-length swim in sunshine, and took a short nap. This blog post, the 346th in a row, took about 1 1/2 hours to prepare. It was published from my home at Indian Lake Estates just after 5:15am.
In the continuing good news department we filled one of the two remaining slots on the UK Puffins and Gannets IPT.
Please Help Support My Work on the BAA Blog
Thanks a Stack! October was a Great Month.
October was a very rewarding month. Thanks a stack to all who used our B&H links for purchases large and small.
To show your appreciation for my efforts here, we ask, as always, that you use our the B&H and Amazon affiliate links on the right side of the blog for all of your purchases. B&H Is recommended for you major photography gear purchases, Amazon for your household, entertainment, and general purpose stuff. Please check the availability of all photographic accessories in the BIRDS AS ART Online Store, especially Gitzo tripods, Wimberley tripod heads, and the like. We sell only what I have used, have tested, and can depend on. We will not sell you junk. We know what you need to make creating great images easy and fun. And we are always glad to answer your gear questions via e-mail.
I would of course appreciate your using our B&H affiliate links for all of your major gear, video, and electronic purchases. For the photographic stuff mentioned in the paragraph above we, meaning BAA, would of course greatly appreciate your business. Here is a huge thank you to the many who have been using our links on a regular basis and visiting the BAA Online store as well.
If what you've learned here on my blog about the Canon EOS-7D Mark II has inspired you to purchase this great new camera body, please consider using the logo link above to support our efforts here in bringing you the latest, greatest educational materials on daily basis.
Canon EOS-7D Mark II Histogram Set-up Tip
For several weeks I had been unable to figure out how to see both the luminance and RGB histograms on the same screen during image playback. With pretty much all recent Canon digital camera bodies you would simply toggle through the four different views during playback until you came to the one that displayed both histograms along with a thumbnail of the image and the shooting data.
As the 7D II comes out of the box only three views are displayed during playback and none of them feature both histograms. So, I e-mailed Rudy Winston and Chuck Westfall, two of Canon's top tech reps. Chuck was the first to respond. He wrote, "Yes, it's possible to see both histograms at the same time in playback mode on the 7D Mark II, but it's different than with the older cameras. Start as usual by pressing the playback button, then press the Info button a couple of times if necessary to get to the screen that shows a histogram in the upper right corner. From that screen, scroll down with the joystick to reveal several different sets of information for the bottom half of the display. The second histogram is a couple of clicks down with the joystick."
I tried it and bingo. I had both histograms displayed. While I was happy for that and appreciative as always–Chuck and Rudy are always there when I need help and always respond quickly, me thinks that this is a bit of reverse engineering. Why? With the older cameras you could enjoy one screen with both histograms, a thumbnail with blinkies, and the shooting info. With the 7D II that–at least as far as I know, is not possible. The view with both histograms gives you the thumbnail and the lens info (including the focal length with a zoom lens). But not the shooting data. From there one press of the Info button gets you to the full frame image, and another superimposes the shooting data on the image. (Note that all of my cameras are set to "Rotate on computer only" so that both the horizontals and the verticals are displayed as full frame during playback.)
As usual, thanks a stack Chuck!
My Take on the 1-4II
I wish that I had one for Bosque….
The new 1-4 is a twist zoom. Zillions of folks complained about the dust that was sucked into the lens and visible when you looked through the lens from the front element of the original 100-400 despite the fact that such dust never affected a single image. This new lens will surely be sharper than the original that was well sharper than most photographers. That said most folks including me find a twist zoom more convenient than a push-pull zoom. Both Denise Ippolito and I used and loved our 100-400s with great success over many years. Denise still owns and uses hers. I sold mine a few years back and replaced it with the Canon EF 70-200mm f/2.8L IS II USM lens.
Though the new lens is about 1/2 pound heavier than the original version it will be easily hand holdable by most folks. It focuses much closer than the original 1-4, down to 3.2 feet or 97.54cm according to the recently published specs. This huge improvement in MFD, 6.6 feet or 2 meters for the original, turns this already versatile lens into a more than decent quasi-macro lens for flowers, butterflies, frogs, and other relatively small to medium-sized natural history subjects, all the while providing the narrow angle of view at 400mm that I love.
In short I can wait to get my hands on one, not only for Bosque but for my upcoming Southern Oceans trip….
The Spiel
The manufacturer's take on things…
A long-reaching telephoto zoom characterized by a sophisticated optical design and advanced image stabilization technologies, the Canon EF 100-400mm f/4.5-5.6L IS II USM lens is part of the esteemed L-series developed for full-frame EOS DSLRs. One fluorite element and one Super UD element have been incorporated into the lens' construction, and both help to reduce aberrations and distortions throughout the zoom range in order to deliver notable clarity, image sharpness, and faithful color reproduction. An Air Sphere Coating has also been applied to lens elements in order to reduce lens flare and ghosting for more contrast-rich imagery. Benefitting the optical components of the lens, a four-stop effective Optical Image Stabilizer helps to minimize the appearance of camera shake and can be dedicated to different styles of shooting. Furthermore, a redeveloped rotation-type zoom ring pairs with an internal focusing mechanism, and an Ultrasonic Motor, to deliver quick and intuitive handling to benefit handheld shooting. Positioned as a versatile option for sports and wildlife photographers, this lens' list of attributes make it a viable telephoto zoom for a variety of shooting applications.
Housed within a weather-resistant barrel, this lens also features fluorine coatings on the front and rear elements for protection against fingerprints and smudges from affecting image quality. Zoom control is complemented by a dedicated tension ring for adjusting zoom torque. Additionally, other refined design elements include a tripod collar that can be attached or detached with the lens mounted to the camera and an included lens hood that permits easy control over specialty filters with the hood in place.
Telephoto zoom 100-400mm f/4.5-5.6 lens is compatible with full-frame EOS DSLRs, as well as APS-C sized sensors where it will provide a 35mm-equivalent focal length of 160-640mm. One fluorite element and one Super UD (Ultra Low Dispersion) element help to correct chromatic aberrations throughout the zoom range for a high degree of sharpness, clarity, and color accuracy.
An Air Sphere Coating (ASC) has been applied to lens elements to reduce backlit flaring and ghosting for maintained light transmission and high contrast in strong lighting conditions. An Optical Image Stabilizer helps to minimize the appearance of camera shake by up to four shutter speed stops to better enable working in low-light conditions and with slower shutter speeds. Additionally, three dedicated image stabilization modes are available-Standard, Panning, and During Exposure Only-and can be selectively employed to suit a variety of types of shooting.
An Ultrasonic Motor (USM), along with an internal focusing system, high-speed CPU, and optimized AF algorithms, are employed to deliver fast, precise, and near-silent autofocus performance. The rotation-type zoom ring offers precise adjustment between zoom positions, especially when shooting handheld, and a zoom torque adjustment ring enables easy setting of the zoom tension for personalized control. A weather-resistant design protects the lens from dust and moisture to enable its use in inclement conditions. Additionally, fluorine coatings have also been applied to the front and rear lens elements for further protection against fingerprints and smudging. Nine rounded diaphragm blades contribute to a pleasing out of focus quality that benefits the use of shallow depth of field and selective focus techniques. A redeveloped tripod collar can be attached or detached from the lens without having to remove the lens from the camera.
The included ET-83D lens hood incorporates a side window for easier adjustment of rotating filters with the hood in place.
You can pre-order your 100-400II by clicking here.
The Flourine Coating
A new Fluorine anti-smear coating is applied to the front and rear elements of the EF100-400mm f/4.5-5.6L IS II USM lens, on top of the anti-reflection multicoating layers. This new coating, which also appears on all L-series EF lenses released since 2010 as well as the Series III EF Extenders, is scratch-resistant as well as extremely oil-and water-repellent. It easily deflects these liquids so that they can be wiped off with a soft, clean, dry cloth with no need for lens cleaning solutions. The Fluorine coating on the new lenses is similar in composition to the Fluorine coatings found on the exterior surfaces of the LCD ClearView screens for EOS models released since 2009, as well as the surfaces of the anti-aliasing low-pass filters found on most EOS models equipped with the EOS Integrated Cleaning System. Canon's Fluorine lens coating is completely transparent and neutral in terms of color balance, so its effects are expected to be completely beneficial to photographers using the new lenses and extenders.

I learned on 11/16/14 from Chuck Westfall that the ET-83D lens hood does not fit the old lens and vice versa. It was announced only as a replacement.
What's Up?
Under "Overview" it mentions the "included ET-83D lens hood." Under the description of an apparently separate project, it states that this item is a replacement for the original hood included with the lens…. I have e-mailed Chuck Westfall and Rudy Winston at Canon and will report back once I hear from them and let everyone know what's up.
Though it does not mention it specifically that the new hood, whether included or not, will surely snap securely into place, unlike the lens hood on the original 1-4 which fell off the lens often, often without provocation.
Canon ET-83D Lens Hood
The Canon ET-83D Lens Hood is dedicated to the Canon EF 100-400mm f/4.5-5.6L IS II USM lens and helps to minimize flare by deflecting stray light from entering the lens. Its design incorporates a side window for easier adjustment of specialty rotating filters while the hood is in place. Additionally, the hood also provides additional protection to the lens from accidental impacts, bumps, and scratching.
This item is a replacement for the original hood included with the lens.
IAC, here is the BAA affiliate link for the ET-83D Lens Hood
Thanks Doug Schurman!
Thanks a stack to Doug Sherman sent me this e-mail along with his B&H receipt for the new 100-400 II:
Hello Artie,
I used your general B&H link tonight and pre-ordered the new Canon 100-400 lens. I cancelled my Sigma Tele zoom order when this lens was announced. I just hope I can get it before I leave for New Zealand on Dec 15th.
Thanks
Doug Schurman
Does anyone know the estimated ship date? Let's not forget that the 7D II was originally not supposed to ship until the end of November. Not to mention how great the 100-400II will be with a 7d Mark II….
Thanks to Kirk Stitt, via e-mail
AM: Hi Kirk, re:
KS: Thanks for the notice on this lens.
AM: You are most welcome. Thanks a stack for using our link.
KS: It should be great with the 7D M II for hand held use.
AM: For sure. It will open up whole new worlds for beginning bird, wildlife, and nature photographers.
KS: Is there any word on IQ with the 1.4xTC?
AM: No, but I am sure that in competent hands, as always, that that combo will produce superb images.
KS: See you at the Bosque. Is there any word on the bird count there?
AM: See you there. The birds have been arriving in good numbers for at least a week.
KS: Good shooting to you, Kirk
AM: Thanks and ditto I get to New Mexico on Thursday afternoon and am looking forward to my 20th consecutive fall visit to one of my very favorite soul places. We still have some room on each IPT and on several of the Festival-related events as well. Later and love, artie
Appreciation
It is hard to express how much I appreciate folks who go out of the way to use my affiliate links to thank me for the work I do here on the blog, for the Bulletins, and for the time I spend answering e-mails. Please remember that using my B&H links will not cost you one penny more; doing so is simply an act of generosity. So thanks!
Canon Telephoto Lens Specifications, Info, and Links; Bookmark This Page!
I have added the 100-400II to the chart here. Bookmark this page and consult it often as it makes comparing different lenses and easy chore. The chart includes weight in both pounds and kilograms, MFDs in feet and inches and in meters, magnification, filter size, and the year of introduction.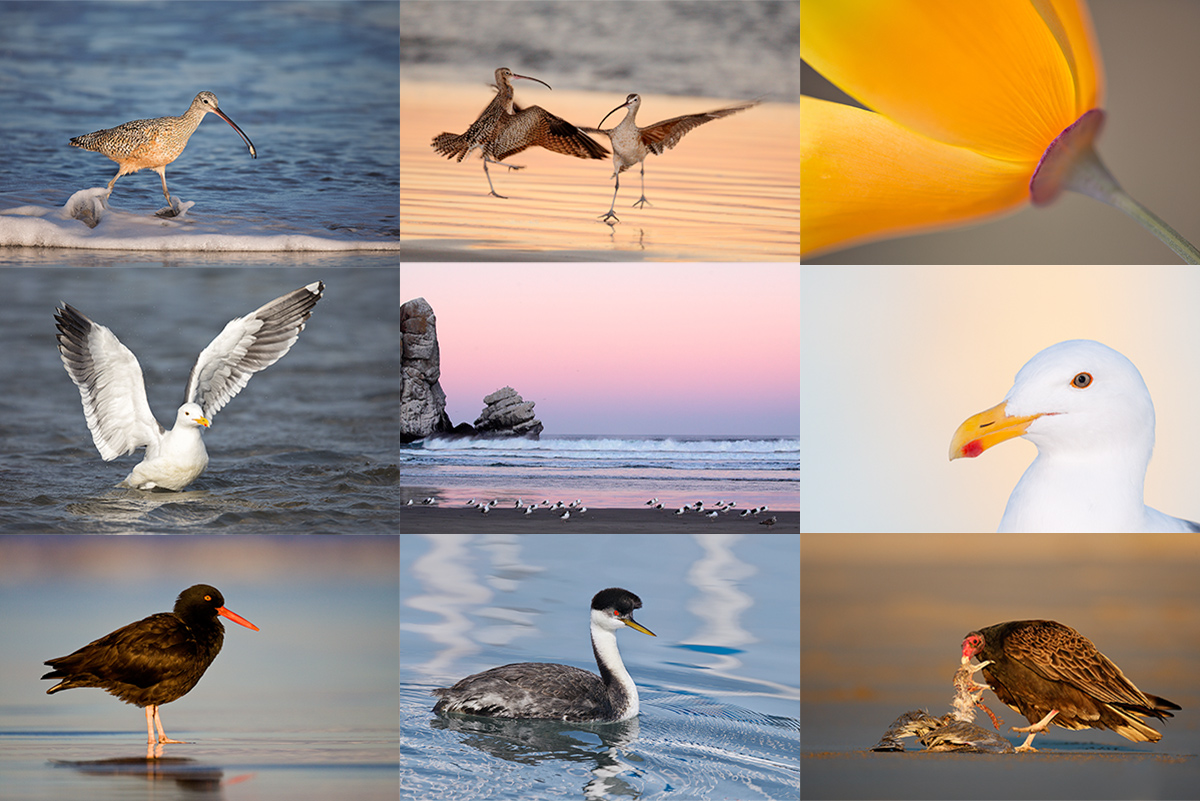 Morro Bay offers a wealth of very attractive natural history subjects in a variety of attractive settings.
2015 Morro Bay 5-DAY BIRDS AS ART Instructional Photo-Tour (IPT): MAR 14 thru MAR 18, 2015: $1999 (Limit: 8/Openings: 8.)
Meet and Greet after dinner on your own at 8:00pm on MAR 13.
Join me in one of the most beautiful and scenic places on the planet to photograph a large variety of birds of the sea and shore. As above, the star of the show will be Long-billed Curlew. There will be lots of Marbled Godwits and Willets as well as lots of the smaller shorebird species. Black Oystercatcher is likely and we should get to photograph large flocks of Western Sandpipers in flight over the bay. With any luck we should enjoy some great sunrise and sunset photography. There are lots of gulls including Western, California, and Mew. There is one good location where we should get to photograph Western, Clarke's, Eared, and Pied-billed Grebe, Lesser Scaup, and Common Loon. We may get to photograph some passerines including Anna's Hummingbird, Brewer's Blackbird, and White-crowned Sparrow. And we have a chance for several species of raptors. Yikes, I almost forgot California Poppy. And California Ground Squirrel. Sea Otters are also possible.
This IPT will include five 3 1/2 hour morning photo sessions, five 2 1/2 hour afternoon sessions, five lunches, after-lunch image review and Photoshop sessions, and of course tons of great in-the-field instruction and photographic instruction. To ensure early starts, breakfasts will be your responsibility.
A $499 non-refundable deposit is required to hold your slot for this IPT. You can send a check (made out to "Arthur Morris) to use at BIRDS AS ART, PO Box 7245, Indian Lake Estates, FL, 33855. Or call Jim or Jennifer at the office with a credit card at 863-692-0906. Your balance, payable only by check, will be due on 12/1//2014. If the trip fills, we will be glad to apply a credit applicable to a future IPT for the full amount less a $100 processing fee. If we do not receive your check for the balance on or before the due date we will try to fill your spot from the waiting list. If your spot is filled, you will lose your deposit. If not, you can secure your spot by paying your balance. Please print, complete, and sign the form that is linked to here and shoot it to us along with your deposit check. If you register by phone, please print, complete and sign the form as noted above and either mail it to us or e-mail the scan. If you have any questions, please feel free to contact me via e-mail.
See lots more Morro Bay images here.
Facebook
Be sure to like and follow BAA on Facebook by clicking on the logo link upper right. Tanks a stack!
Support the BAA Blog. Support the BAA Bulletins: Shop B&H here!
We want and need to keep providing you with the latest free information, photography and Photoshop lessons, and all manner of related information. Show your appreciation by making your purchases immediately after clicking on any of our B&H or Amazon Affiliate links in this blog post. Remember, B&H ain't just photography!
…..
Amazon.com
Those who prefer to support BAA by shopping with Amazon may use this link:
Amazon Canada
Many kind folks from north of the border, eh, have e-mailed stating that they would love to help us out by using one of our affiliate links but that living in Canada and doing so presents numerous problems. Now, they can help us out by using our Amazon Canada affiliate link by starting their searches by clicking here. Many thanks to those who have written.
Typos
In all blog posts and Bulletins, feel free to e-mail or to leave a comment regarding any typos or errors. Just be right :).