Coming Soon
Within the next few days I will do a feature detailing my thoughts on which camera body I will be using in various situations at Bosque.
The Streak Continues: 347
On Tuesday I finally finished the "Love Affair with Bosque" slide program, answered a stack of e-mails, enjoyed an easy 60-length swim in the sunshine, and took a short nap. This blog post, the 347th in a row, took about 1 1/2 hours to prepare. It was published from my home at Indian Lake Estates just after 5:30am. Today is packing day. I will be home for only 3 full days between tomorrow and January 13, 2015. 🙂
Thanks to all who pre-ordered the new Canon 100-400 II using our affiliate link. All orders have been forwarded for expediting.
Please Help Support My Work on the BAA Blog
Thanks a Stack! October was a Great Month.
October was a very rewarding month. Thanks a stack to all who used our B&H links for purchases large and small.
To show your appreciation for my efforts here, we ask, as always, that you use our the B&H and Amazon affiliate links on the right side of the blog for all of your purchases. B&H Is recommended for you major photography gear purchases, Amazon for your household, entertainment, and general purpose stuff. Please check the availability of all photographic accessories in the BIRDS AS ART Online Store, especially Gitzo tripods, Wimberley tripod heads, and the like. We sell only what I have used, have tested, and can depend on. We will not sell you junk. We know what you need to make creating great images easy and fun. And we are always glad to answer your gear questions via e-mail.
I would of course appreciate your using our B&H affiliate links for all of your major gear, video, and electronic purchases. For the photographic stuff mentioned in the paragraph above we, meaning BAA, would of course greatly appreciate your business. Here is a huge thank you to the many who have been using our links on a regular basis and visiting the BAA Online store as well.
If what you've learned here on my blog about the Canon EOS-7D Mark II has inspired you to purchase this great new camera body, please consider using the logo link above to support our efforts here in bringing you the latest, greatest educational materials on daily basis.
Backlit Guanaco
This image made the final round of judging in the 2014 Nature's Best Photography Windland Smith Rice International Awards competition. Denise Ippolito suggested that I enter this image.
Blacklit Magic
You can learn how to create strongly backlit images against black backgrounds like the image above in the "Blacklit Magic" blog post here.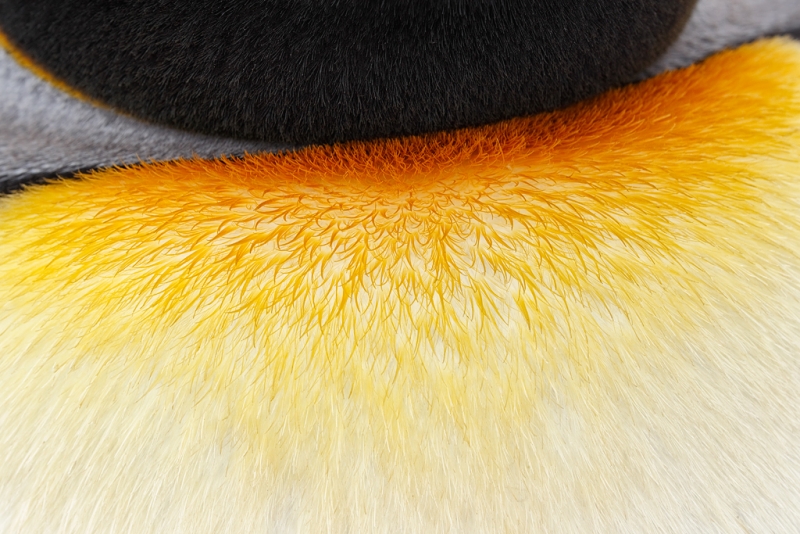 This abstract King Penguin neck pattern image was created at St. Andrews Bay with the tripod-mounted Canon EF 300mm f/2.8L IS II USM Telephoto Lens, the Canon 2x EF Extender III (Teleconverter), and the unfortunately discontinued EOS-1D Mark IV. ISO 400. Evaluative metering +1 2/3 stops: 1/125 sec. at f/16 in Manual mode.
Central sensor/AI Servo Rear Focus AF and recompose. Click here if you missed the Rear Focus Tutorial. Be sure to click on the image to enjoy a larger version.
To learn why I used the 300 and the 1D IVI rather than the 500 and the 1D X to create this image see the "Wrecked" blog post coming soon.
Your browser does not support iFrame.
King Penguin abstract neck pattern
This image made the final round of judging in the 2014 Nature's Best Photography Windland Smith Rice International Awards competition. Denise Ippolito suggested that I enter this image.
You Be the Judge
One of the two images above was Highly Honored in the 2014 Nature's Best Photography Windland Smith Rice International Awards competition. Which one was honored? If you were a judge for this prestigious contest, which would you have selected? Be sure to let us know why. Please, no spoilers. 🙂
I am flying to Washington DC on Thursday to attend the awards ceremony at the National Museum of Natural History and then continuing on to Albuquerque, Socorro, and my beloved Bosque del Apache NWR in San Antonio, NM for 3 1/2 fairly busy weeks. Though I have had more than several images in the Nature's Best museum exhibit my busy schedule has always prevented me from attending the ceremony. Until now. It should be fun hobnobbing with some of the world's best nature photographers.
Used Canon EF 600mm f/4L IS II USM Lens
Only $9999
Mark Richman is literally giving away a barely used Canon EF 600mm f/4L IS II USM lens in mint condition for only $9,999. This one should sell instantly. The sale includes the original box and everything that came in it, the rear lens cap, the protective front hood, a 4th Generation Design CR-X 5 low foot, the original lens foot, the original box, the LensCoat that was installed on day one, and insured shipping via UPS Ground to US addresses only. Your gear will be shipped only after your check clears.
Please contact Mark via e-mail or by phone at 914-772-7060. Eastern Time Zone.
The new 600 is just a shade heavier than the old 500, is incredibly sharp, and kills with both teleconverters yielding focal lengths of 600mm, 840mm, and 1200mm with a full frame camera body. In short, it is the world's premier super-telephoto lens. At 8.65 pounds it is hand holdable by many folks not including me. (Actually, I can hand hold if for flight for a very few minutes and can easily hand hold it while sitting on my butt. In comparison, the Nikon AF-S NIKKOR 600mm f/4G ED VR AF lens weighs in at a hefty 11.16 pounds…. I own a 600 II and use it regularly. Even after the recent $1,000 price drop the lens sells new for $11,999.00 at B&H as here.
Selling Your Used Photo Gear Through BIRDS AS ART
Selling your used (or like-new) photo gear through the BAA Blog or via a BAA Online Bulletin is a great idea. We charge only a 5% commission. One of the more popular used gear for sale sites charges a minimum of 20% plus assorted fees! Yikes. The minimum item price here is $500 (or less for a $25 fee). If you are interested please e-mail with the words Items for Sale Info Request cut and pasted into the Subject line :). Stuff that is priced fairly–I offer free pricing advice, usually sells in no time flat. In the past few months, we have sold just about everything in sight.
You can see all current listings http://www.birdsasart-blog.com/used-photography-gear-for-sale/.
Used Gear Cautions
Though I am not in a position to post images of gear for sale here or elsewhere, prospective buyers are encouraged to request for photos of the gear that they are interested in purchasing via e-mail. Doing so will help to avoid any misunderstandings as to the condition of the gear. Sellers are advised to take care to photograph their used gear with care against clean backgrounds so that the stuff is represented accurately and in the best light; please pardon the pun :).
Facebook
Be sure to like and follow BAA on Facebook by clicking on the logo link upper right. Tanks a stack!
Support the BAA Blog. Support the BAA Bulletins: Shop B&H here!
We want and need to keep providing you with the latest free information, photography and Photoshop lessons, and all manner of related information. Show your appreciation by making your purchases immediately after clicking on any of our B&H or Amazon Affiliate links in this blog post. Remember, B&H ain't just photography!
…..
Amazon.com
Those who prefer to support BAA by shopping with Amazon may use this link:
Amazon Canada
Many kind folks from north of the border, eh, have e-mailed stating that they would love to help us out by using one of our affiliate links but that living in Canada and doing so presents numerous problems. Now, they can help us out by using our Amazon Canada affiliate link by starting their searches by clicking here. Many thanks to those who have written.
Typos
In all blog posts and Bulletins, feel free to e-mail or to leave a comment regarding any typos or errors. Just be right :).