Coming Tomorrow
Tomorrow's blog post will outline my thoughts on which of my three (actually 5 on this trip) camera bodies I will be using in various situations at Bosque.
The Streak Continues: 348
On Wednesday I finished and sent BAA Bulletin #469. I enjoyed an easy 60-length swim in the sunshine and took a short nap. Late in the day, I started packing. This blog post, the 348th in a row, took about 1 1/2 hours to prepare. It was published from my home at Indian Lake Estates at about 5:15am. Today I fly to DC. I will be home for only 3 full days between tomorrow and January 13, 2015. 🙂
The sale of the 600 II featured in yesterday's blog post is pending.
Thanks to all who pre-ordered the new Canon 100-400 II using our affiliate link. All orders have been forwarded for expediting. And it looks as if all expedited 7D II orders, even the most recent ones, have been shipped. Many thanks to Yechiel Orgel at B&H for his help :).
Please Help Support My Work on the BAA Blog
Thanks a Stack! October was a Great Month.
October was a very rewarding month. Thanks a stack to all who used our B&H links for purchases large and small.
To show your appreciation for my efforts here, we ask, as always, that you use our the B&H and Amazon affiliate links on the right side of the blog for all of your purchases. B&H Is recommended for you major photography gear purchases, Amazon for your household, entertainment, and general purpose stuff. Please check the availability of all photographic accessories in the BIRDS AS ART Online Store, especially Gitzo tripods, Wimberley tripod heads, and the like. We sell only what I have used, have tested, and can depend on. We will not sell you junk. We know what you need to make creating great images easy and fun. And we are always glad to answer your gear questions via e-mail.
I would of course appreciate your using our B&H affiliate links for all of your major gear, video, and electronic purchases. For the photographic stuff mentioned in the paragraph above we, meaning BAA, would of course greatly appreciate your business. Here is a huge thank you to the many who have been using our links on a regular basis and visiting the BAA Online store as well.
If what you've learned here on my blog about the Canon EOS-7D Mark II has inspired you to purchase this great new camera body, please consider using the logo link above to support our efforts here in bringing you the latest, greatest educational materials on daily basis.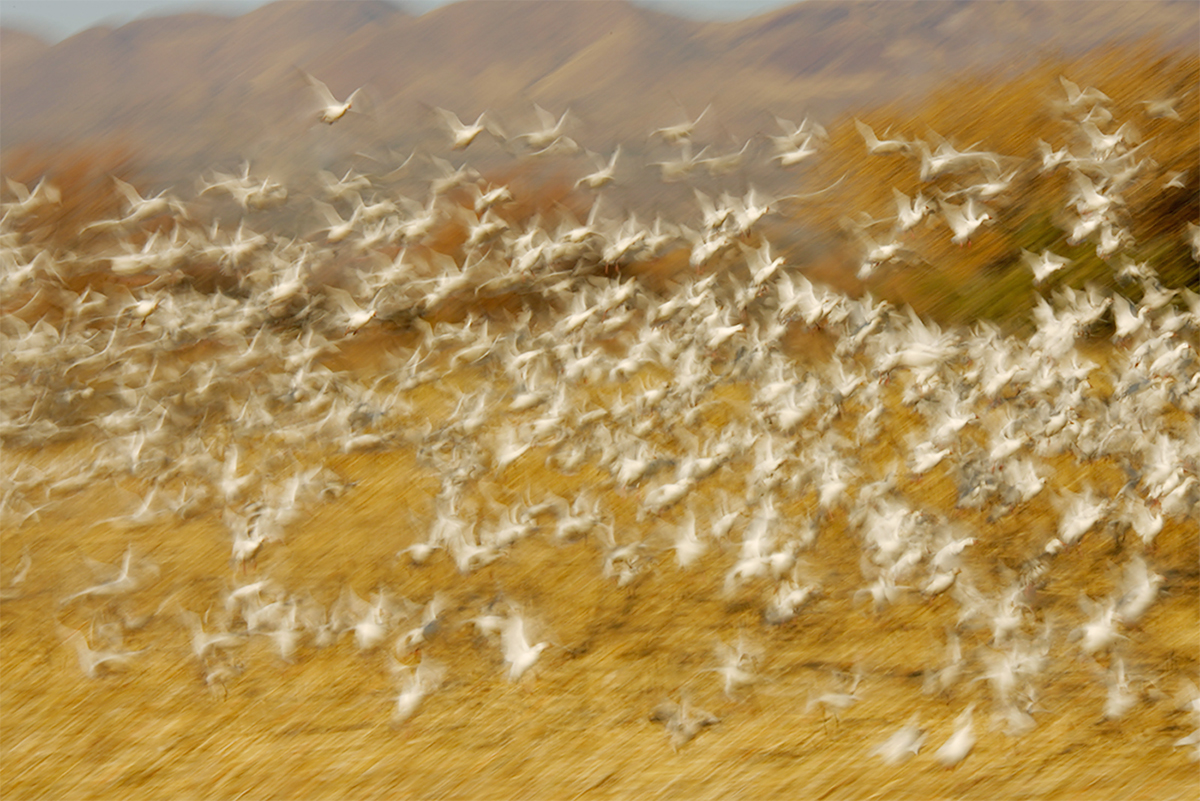 This image was created at Bosque del Apache NWR on a clear, bright, sunny November 26, 2006 at 10:31am with the hand held Canon 100-400mm IS L lens (now replaced by the brand new Canon EF 100-400mm f/4.5-5.6L IS II USM lens) and the EOS-1D Mark II N (now replaced by the Canon EOS-1D X digital SLR . ISO 50. Evaluative metering at zero as framed: 1/8 sec. at f/32 in Manual mode. Central sensor/AI Servo Shutter Button AF was active at the moment of exposure.
The warming polarizer that I used allowed me to work 3 stops slower than if I had not been using one. See the short tutorial below to learn how to set a circular polarizer to dark. Without the polarizer I could have only gotten down to 1/60 sec. (at f/32) in the bright sun. The geese would barely have been blurred…. In addition the warming filter added some really sweet color tones to the image.
Singh-Ray Filters
Singh-Ray filters have been used by the world's top photographers for many decades. Who? Art Wolfe, Tony Sweet, John Barclay, my new friend Ian Plant, my BFF and oft-business partner, Denise Ippolito, Nevada Weir, Brenda Tharp, Cole Thompson, Chuck Kimmerle, and the late Galen Rowell among others. Singh-Ray has been and is the name in quality filters. I often use a 77mm warming polarizer set to dark at Bosque to get to a slower shutter speed in too-bright conditions. Toward that end, BIRDS AS ART is working with Singh-Ray to produce a 5-stop Neutral Density filter to to fit the filter drawers of Canon Super-telephoto lenses. Stayed tuned for info on that.
No other filter manufacturer comes close to matching the quality of Singh-Ray's optical glass that is comparable to that used by NASA. And they continue to pioneer the most innovative products on the market like their ColorCombo polarizer, Vari-ND variable and Mor-Slo 15-stop neutral density filters. When you use their filters, you'll create better, more dramatic images and, unlike other filters, with absolutely no sacrifice in image quality. All Singh-Ray filters are handcrafted in the USA.
Best News: 10% Discount/Code at checkout: artie10
To shop for a Singh-Ray warming polarizer (for example), click on the logo link below, click on Polarizers/color enhancing on the menu bar, choose LB Warming Polarizer, choose the size and model, add to cart, and then checkout. At checkout, type artie10 into the "Have a coupon? Click here to enter your code" box, and a healthy 10% discount will be applied to your total. In addition to enjoying the world's best filter at 10% off you will be supporting my efforts here on the blog.

How to Set A Circular Polarizer to Dark
Mount the polarizer. Put the camera in Av mode at zero EC. Point the lens at the sky 90 degrees off sun angle. Turn the polarizer slowly while noting the shutter speed as you rotate the polarizer. You will want to quit turning it when you find the slowest shutter speed. Now you can work right down sun angle several stops slower than if you were not using a polarizer set to dark.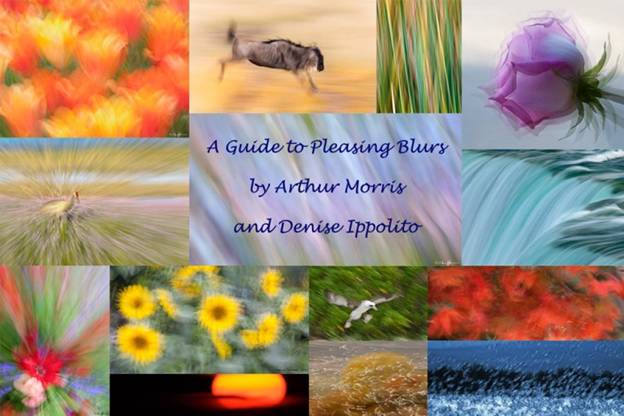 Learn the secrets of creating contest winning images in our "A Guide to Pleasing Blurs."
A Guide to Pleasing Blurs
While lying in bed in the middle of last night and thinking of finishing this blog post, I realized that the two oof bird images were actually de-focused blurs, one of the many categories that we discuss and detail in our great eGuide, A Guide to Pleasing Blurs by Denise Ippolito and yours truly.
Pleasing Blurs are not accidents. Learn pretty much everything that there is about creating them in this instructive (as always) guide.
IPT Updates
Would you like to visit some of the great bird photography locations on the planet? Would you like to learn from the best? Click here and join us.
Facebook
Be sure to like and follow BAA on Facebook by clicking on the logo link upper right. Tanks a stack!
Support the BAA Blog. Support the BAA Bulletins: Shop B&H here!
We want and need to keep providing you with the latest free information, photography and Photoshop lessons, and all manner of related information. Show your appreciation by making your purchases immediately after clicking on any of our B&H or Amazon Affiliate links in this blog post. Remember, B&H ain't just photography!
…..
Amazon.com
Those who prefer to support BAA by shopping with Amazon may use this link:
Amazon Canada
Many kind folks from north of the border, eh, have e-mailed stating that they would love to help us out by using one of our affiliate links but that living in Canada and doing so presents numerous problems. Now, they can help us out by using our Amazon Canada affiliate link by starting their searches by clicking here. Many thanks to those who have written.
Typos
In all blog posts and Bulletins, feel free to e-mail or to leave a comment regarding any typos or errors. Just be right :).