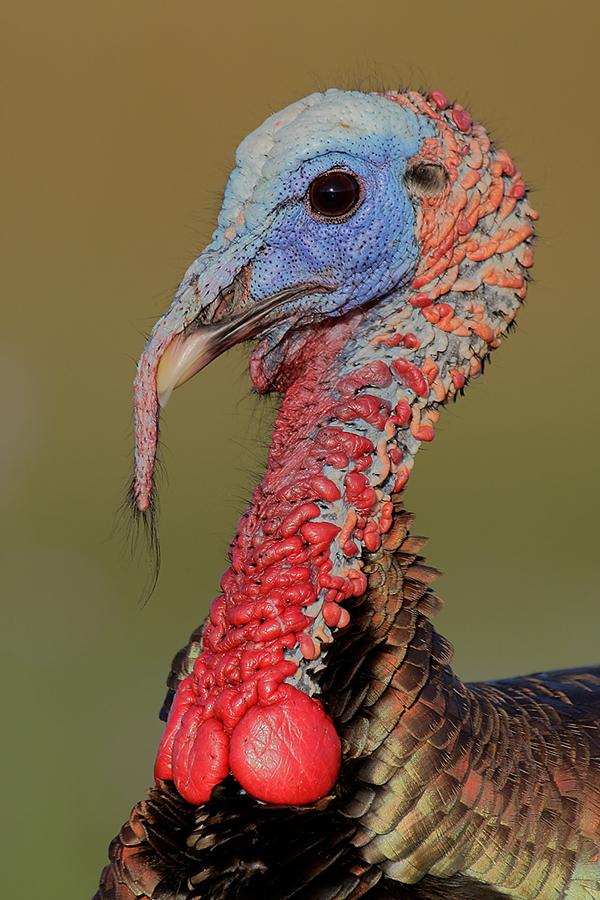 This tight head and neck portrait of a Wild Turkey tom was created near my home at Indian Lake Estates way back when, on February 16, 2008 with the Canon 500mm f/4L IS lens (now replaced by the much lighter Canon EF 500mm f/4L IS II USM lens), the 2X II YC (now replaced by the Canon 2x EF Extender III (Teleconverter), and the EOS-1D Mark III (now replaced by the Canon EOS-1D X. ISO 400. Evaluative metering +1/3 stop: 1/400 sec. at f/11.
Be sure to click on the image to enjoy a larger version.
Your browser does not support iFrame.
Happy Bird Day
I, my right-hand man Jim Litzenberg, and BAA Executive Director and my daughter, Jennifer Morris, would like to wish each and every one of you and your friends and families a wonderful Thanksgiving filled with food, friends, football, and hopefully, a few hours to get out and photograph birds.
I am thankful that I am celebrating my 20th straight Thanksgiving at the wondrous place that is Bosque del Apache NWR. And for lots more in my wonderful life.
The Streak Continues: 362
After a killer sunrise and some amazing blackbird action, Denise and I headed back to town to get some work done, that after six straight days of teaching a total of about 65 folks how to make better images at Bosque. That plus our two part seminar and my keynote program. Whew!
I spent a good part of my day getting photos to the team that is assembling the bird photography video for the Canon Digital Learning Center. I am only about 1/4 done so it is a good thing that I have a few more days off.
Coming soon: a free Bosque Site Guide update for all: The State of the Bosque…. Today's blog post, the 362nd in a row, took 1 1/2 hours to assemble (including the time for the DPP 4 RAW conversions and the image optimizations). It was published from my hotel room in Socorro, NM at 3:29am. We will continue our busman's holiday tomorrow. We meet the 4-Day Bosque IPT group on Saturday afternoon.
Bosque 2015
Denise and I will again be collaborating on two Bosque IPTs in 2015, one before Thanksgiving and one after. Dates and rates will be announced here soon. If you would like to receive early notice, please shoot me an e-mail with the words "Bosque 2015" in the Subject Line. We already have several interested folks.
Please Help Support My Work on the BAA Blog
Thanks a Stack! The last six weeks have been great!
The last six weeks have been quite rewarding with more and more folks making it a habit to use my B&H links especially for their major gear purchases. It is great to feel appreciated. Thanks a stack to all who used our links for purchases large and small.
To show your appreciation for my efforts here, we ask, as always, that you use our the B&H and Amazon affiliate links on the right side of the blog for all of your purchases. B&H Is recommended for you major photography gear purchases, Amazon for your household, entertainment, and general purpose stuff. Please check the availability of all photographic accessories in the BIRDS AS ART Online Store, especially Gitzo tripods, Wimberley tripod heads, and the like. We sell only what I have used, have tested, and can depend on. We will not sell you junk. We know what you need to make creating great images easy and fun. And we are always glad to answer your gear questions via e-mail.
I would of course appreciate your using our B&H affiliate links for all of your major gear, video, and electronic purchases. For the photographic stuff mentioned in the paragraph above we, meaning BAA, would of course greatly appreciate your business. Here is a huge thank you to the many who have been using our links on a regular basis and visiting the BAA Online store as well.
Canon EOS-7D Mark II Back in Stock at B&H and Now Shipping
B&H has a limited supply of Canon EOS-7D Mark II bodies in stock. They are ready to ship you one today. Take part in the revolution. Need reach along with a great AF system and superb image quality? Order yours today by clicking on the logo link below.
If what you've learned here on my blog about the Canon EOS-7D Mark II has inspired you to purchase this great new camera body, please consider using the logo link above to support our efforts here in bringing you the latest, greatest educational materials on daily basis.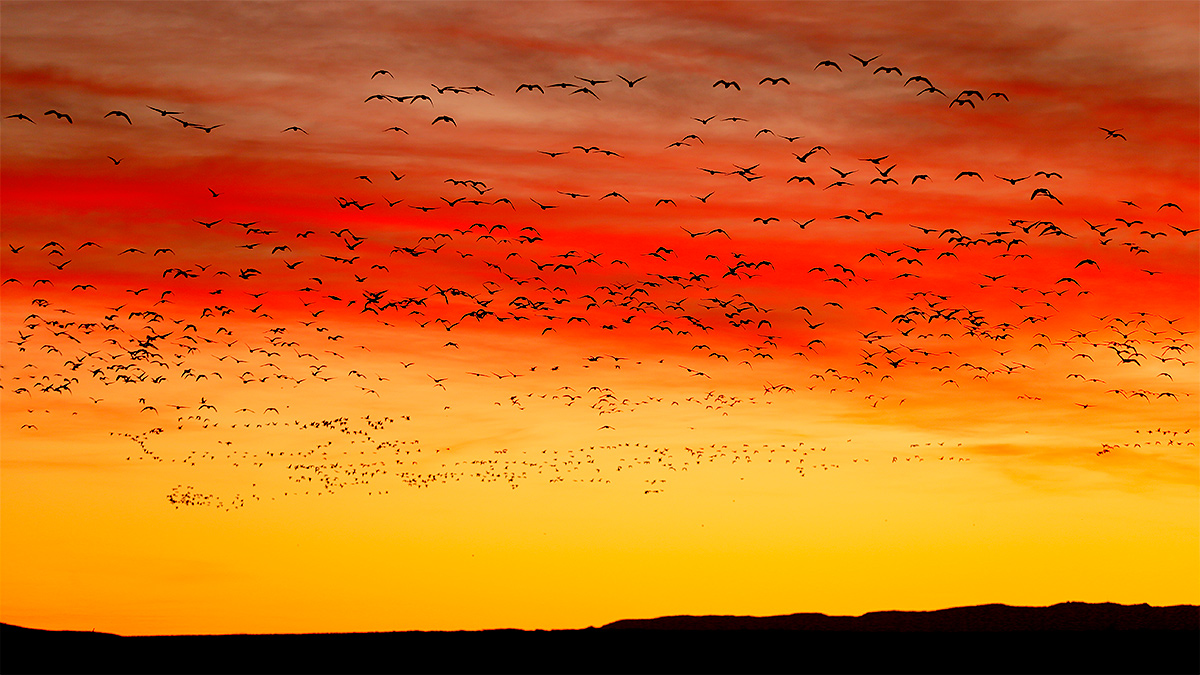 This image was created with the hand held Canon EF 70-200mm f/2.8L IS II lens (at 150mm) and the Canon EOS-1D X. ISO 400. Evaluative metering + 2/3 stop as framed: 1/200 sec. at f/2.8 in Tv mode.
Central sensor/AI Servo Surround/Rear Focus AF as originally framed (this is a small crop to 16 by 9) was active at the moment of exposure. Click here if you missed the Rear Focus Tutorial. Be sure to click on the image to see a larger version.
Your browser does not support iFrame.
Sometimes When You Screw Up…
The light clouds in the east resulted in a glorious sunrise. I was working in the predawn with three rigs: the tripod-mounted 200-400 with a 1D X, the 70-200 with my other 1D X, and the 16-35mm with the 5D III. I had set all of them up in Tv mode +1 stop with a relatively slow shutter speed, ISO Safety Shift (the equivalent of Auto ISO for most of you), 8000 K, and rear focus AI Servo AF. I was doing some tree blurs with the hand held 70-200 when 20,000 geese came over the ridge and into the color. I quickly went to the 200-400, dis-engaged the internal TC, and made some nice images. Most of the birds were headed north but one large group turned around and headed through the color back towards the main impoundment, D-18.
At first I hesitated not sure whether to go for the 16-35 or the 70-200 and was wishing that the 24-70 in my coat pocket was on the 5D III…. Even a moment's hesitation during those perfect seconds when everything is right can cost you. I eventually I picked up the 70-200 and concentrated on the birds coming back through the color (as above). I have no idea how I wound up at Av Mode and did not realize that I was working at a relatively high shutter speed of 1/200 sec. In any case, though I had no idea what I was doing I wound up with a very nice image. By the time I went for the 16-35 the show was over.
What's Up with this Image?
If you click on this image to enlarge it and take a good close look you will note that it is rather bizarre. If you think that you know how it was created, please leave a comment. Good guesses are appreciated.
Your Favorite?
Which of today's images do you like best? Be sure to let us know why.
IPT Updates
Would you like to visit some of the great bird photography locations on the planet? Would you like to learn from the best? Click here and join us.
Facebook
Be sure to like and follow BAA on Facebook by clicking on the logo link upper right. Tanks a stack!
Support the BAA Blog. Support the BAA Bulletins: Shop B&H here!
We want and need to keep providing you with the latest free information, photography and Photoshop lessons, and all manner of related information. Show your appreciation by making your purchases immediately after clicking on any of our B&H or Amazon Affiliate links in this blog post. Remember, B&H ain't just photography!
…..
Amazon.com
Those who prefer to support BAA by shopping with Amazon may use this link:
Amazon Canada
Many kind folks from north of the border, eh, have e-mailed stating that they would love to help us out by using one of our affiliate links but that living in Canada and doing so presents numerous problems. Now, they can help us out by using our Amazon Canada affiliate link by starting their searches by clicking here. Many thanks to those who have written.
Typos
In all blog posts and Bulletins, feel free to e-mail or to leave a comment regarding any typos or errors. Just be right :).