The Streak Continues: 364
With clear skies and barely any wind Denise Ippolito and I again went a bit out of the traditional Bosque box by starting our day at the Ed Kranepool. And again I went 16-35 for the goose blast off. Once the sun got on the birds, I concentrated on the departing white geese. My favorite is below. Dense got a lovely one of a Ross's Goose flying right at her. For me, the 600II/1.4X/7D II combo continued to prove its worth.
I spent pretty much another full day getting images together for the Canon Digital Learning Center bird photography video project. After two full days, I still have a ton of work to do. They need about seventy 16:9 images. So far I have delivered about half of those. Again I skipped the afternoon photo session.
Coming soon: a free Bosque Site Guide update for all: The State of the Bosque…. Today's blog post, the 364th in a row, took 1 1/2 hours to assemble (including the time for the DPP 4 RAW conversion). This blog post was published from my hotel room in Socorro, NM at 2:59am. We meet the 4-Day Bosque IPT group on Saturday afternoon.
Bosque 2015
Denise and I will again be collaborating on two Bosque IPTs in 2015, one before Thanksgiving and one after. Dates and rates will be announced here soon. If you would like to receive early notice, please shoot me an e-mail with the words "Bosque 2015" in the Subject Line. We already have several interested folks.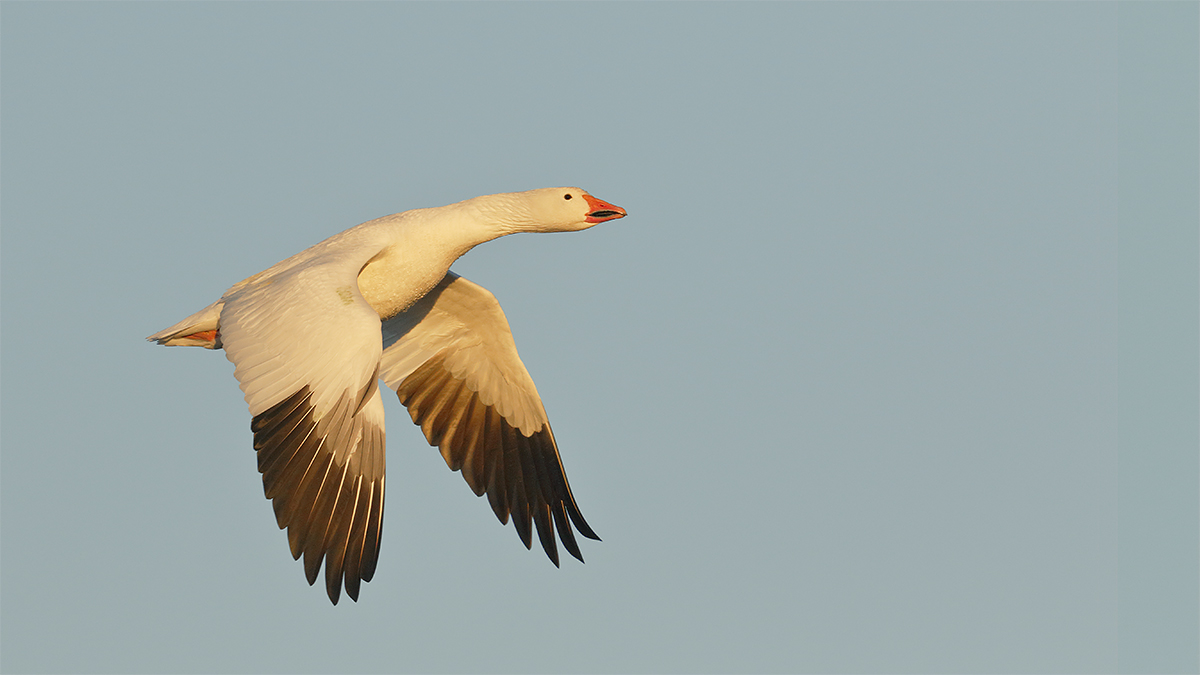 This image was created at 7:07am on the clear morning of Friday, NOV 28, 2015 at Bosque del Apache NWR. I used the Gitzo 3532 LS carbon fiber tripod), the Mongoose M3.6 head, Canon EF 600mm f/4L IS II USM lens, the Canon Extender EF 1.4X III, and the Canon EOS 7D Mark II. ISO 800. Evaluative metering +1/3 stop off the yellow grasses on the far side of the pond: 1/2000 sec. at f/5.6 in Av mode. AWB.
65-Point Automatic Selection/AI Servo Rear Focus AF activated 3 AF point that just caught the bird's tail; see the DPP 4 screen capture below.) They AF points were, of course, active at the moment of exposure. Click here if you missed the Rear Focus Tutorial. Click on the image to see a larger version.
Snow Goose in flight
Your browser does not support iFrame.
Jumped for Joy!
I jumped for joy when I saw this one on the laptop for the first time. It is the image I dreamed of when I got out of the car at Ed Kranepool in the dark on Black Friday morning. It is razor sharp and I love the full downstroke wing position. The way that the jet black primary feathers contrast with the silvery grey upper primary coverts gets me juiced.
In the trade we call the rich yellow light right after sunrise butter light. At times, as here, you need to do some work to tone down the rich YELLOWs. You can see the original colors in the DPP screen capture below. To tone down the YELLOWs, I reduced the YELLOW Saturation about 20 points. See more on working with the color in this image in item next.
600 II/1.4X II TC/7D II Combo Deadly for Flight Photography
Day after day here at Bosque the 600 II/1.4X II TC/7D II combo proves to be deadly for flight photography. It gives me a ton of reach (1344mm or 26.88X magnification) and as you can see here, the AF system is superb. For this image I was experimenting with 65-Point Automatic Selection and despite my abject failure to keep the active AF point or points on the bird's face, head, or neck, a sharp on the eye image was created. Coming soon: lots more images with this great combo.
One advantage that most folks do not realize is that with the great magnification the bird's speed relative to your position is effectively slowed making it somewhat easier for you to frame and track the bird flight. That is just another of the great advantages of the 7D II.
Does anyone notice me shooting flight with my 1D X lately?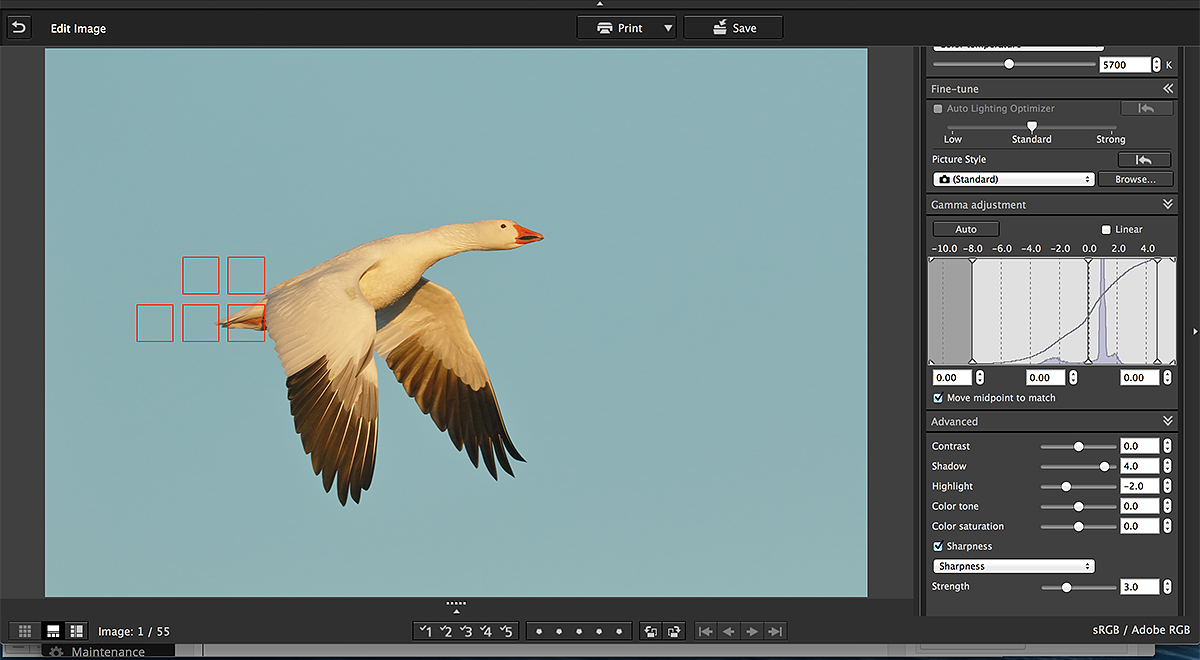 This is the DPP 4 screen capture for today's featured image.
The DPP 4 Screen Capture
The DPP 4 screen capture for the Snow Goose in butter light image shows the selected AF point array and that (at the very top right) I set the Color temperature slider at 5700. You cannot see that I moved the Brightness slider one click to the left to -.17 (-1/6 stop) as the first step in toning down the WHITEs. Several more adjustments that you cannot see were made on this, the Perform basic image adjustment tab. I use that tab, the Adjust image detail tab, and the Perform image lens correction on all images. On occasion I use the Adjust image colors tab. The other four tabs are used rarely if ever.
During the RAW conversion in DPP 4 I did some work on the Adjust image colors tab. Note the big CYAN cast to the light blue sky. When I brought the image into PS CC I reduced the CYAN saturation via a Hue/Saturation adjustment. I selected the too-pink bill with the Quick Selection Tool and reduced the Saturation there too. I made several additional adjustments in Selective Color working mostly on the blue sky.
It took a while to get the color right while still keeping the sweet light look.
Digital Basics
Everything that I did to optimize today's image is covered in detail in my Digital Basics File–written in my easy-to-follow, easy-to-understand style. Are you tired of making your images look worse in Photoshop? Digital Basics File is an instructional PDF that is sent via e-mail. It includes my complete digital workflow, dozens of great Photoshop tips (including the Surface Blur settings as taught to me by Denise Ippolito), details on using all of my image clean-up tools, the use of Contrast Masks, several different ways of expanding and filling in canvas, all of my time-saving Keyboard Shortcuts, Quick Masking, Layer Masking, and NIK Color Efex Pro basics, Contrast Masks, Digital Eye Doctor techniques, using Gaussian Blurs, Tim Grey Dodge and Burn, a variety of ways to make selections, how to create time-saving actions, and tons more.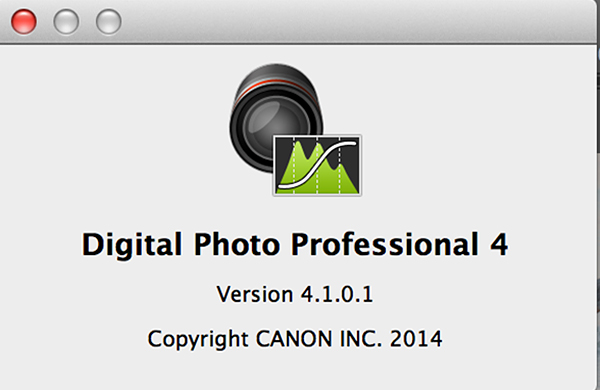 DPP 4 is completely new and different from the various versions of DPP 3. It handles files only from the following cameras: EOS-1D X, EOS 5D Mark III, EOS-6D, and the EOS-7D Mark II.
Great 7D II/DPP v4.01.0 News
An updated version of Canon Digital Photo Professional that supports RAW files from the EOS-7D Mark II was released more than a month ago and is available for download the Canon USA website. To download DPP v4.1 first click here and then click on Drivers and Software and follow the prompts.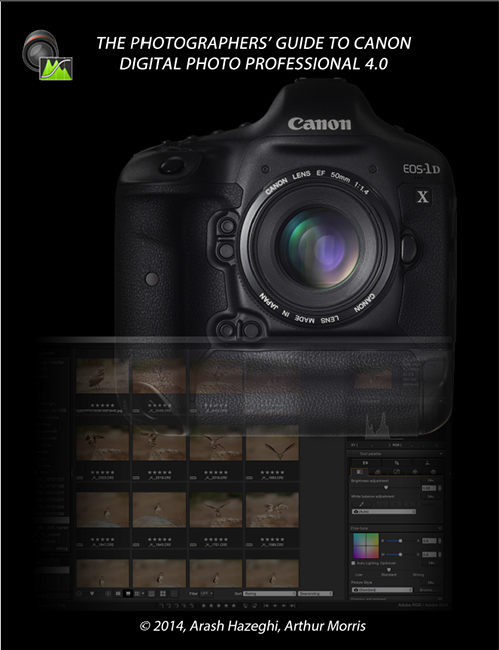 The Photographers' Guide to Canon Digital Photo Professional 4.0 by Arash Hazeghi and Arthur Morris is now available. Click here to order.
The DPP 4 eGuide (PDF)
The Photographers' Guide to Canon Digital Photo Professional 4.0 by Arash Hazeghi and Arthur Morris: $40.
Artie first went to DPP because he was not happy with the colors he was getting with 1D X and 5D III images from ACR (Adobe Camera Raw). Though less than intuitive, he found it fast and easy to use once he mastered the basics. He collaborated with Arash Hazeghi on the first DPP RAW Conversion Guide. Do understand that the DPP RAW Conversion Guide details the use of various iterations of DPP 3. He calls those the DPP 3.whatever versions. The latest version is DPP 3.14.41.0.
Some time ago Canon released DPP 4.0, completely and utterly new and different from DPP 3. When it was introduced DPP 4 worked only EOS-1D X, EOS-5D Mark III, and EOS-6D images but support for the EOS-7D Mark II was added to the latest version when that camera began shipping.
When I first opened DPP 4 I felt as if I were in the cockpit of a Boeing 747 and was being asked to fly it. There were so many tabs and buttons and controls that I simply closed the program. I immediately called Arash and asked him if he wanted to work together on a DPP 4 guide. After 100s of hours of work the guide was ready to teach you to conveniently and easily use DPP 4 to create the finest possible image files from your 1D X, 5D III, 6D, and 7D II image files. Basically, Arash sent me a sophisticated outline that I re-crafted into a clear, concise, easily understood, and easy to follow how-to guide written in the BAA style. Arash created all of the charts, diagrams, and graphics.
His charts with recommendations for both Chrominance and Luminance Noise Reduction values for each of the 4 covered cameras at various ISO settings are alone worth the price of the book. He spent many dozens of hours experimenting with high ISO RAW files and shares his findings with you in the DPP 4 Guide. Folks will surely want to create some sort of easily accessible quick reference on their laptops and home computers.
DPP offers a host of great features some but not all of which are reminiscent of ACR. These include the following: Multi-image display, the extremely valuable Before/after Comparison layout, Highlight/shadow warnings, White Balance, and the eight RAW Conversion tabs that include sliders for Brightness, Highlights, Shadows, Contrast, Hue-Saturation, Color Tone, Sharpness, Noise Reduction, HSL (Hue/Saturation/Luminance), Lens Corrections, and Digital Lens Optimizer among others. We teach you how to best utilize each of those and many more. We share our slightly different DPP workflows and dozens of tips that will simply make your life easier. Arash uses DPP4′s rating system for choosing his keepers while artie continues to rely on BreezeBrowser Pro for that. DPP offers a variety of sorting filters. We explain all of the options. In addition, we teach you how to set your preferences and how to arrange your workspace for the greatest efficiency.
Both authors firmly believe that the manufacturer's conversion algorithms will always out-perform 2nd party software when it comes to preserving image quality, fine detail, and accurate color rendition.
The authors wish to thank Chuck Westfall and Rudy Winston of Canon USA for their help; they are always available to answer our nit-picking questions. Sincere thanks also to Ken Kovak, Bob Schwartz, Dane Johnson, and John Stuhlmuller for their thoughtful and substantive reviews of late drafts of the DPP 4 manuscript.
You can order your copy of the DPP 4 Guide for $40 through the BAA Online Store by clicking here, by calling Jim or Jen in the office at 863-692-0906 with credit card in hand, by sending us a check made out to "Arthur Morris" or a money order for $40 to BIRDS AS ART, PO Box 7245, Indian Lake Estates, FL 33855, or by by sending a Paypal for $40 to e-mail. IN the latter two instances be sure to note DPP 4 Guide so we know what you are ordering :).
Note: the Sharpness and Noise Reduction Charts will be updated to include the recommended values for the 7D Mark II. I have been sending RAW files to Arash for several days. Now Arash has a lot more work to do. For those who have purchased the DPP 4 Guide, the update will of course be free but please be patient.
Those using older Canon camera bodies like the 1D Mark IV, the 7D, the 50D, the 40D, the various Rebels (not highly recommended for serious nature photography), are directed to the original DPP RAW Conversion Guide click here. DPP 3 (the latest version is DPP v3.14.41.0) does a fine job of converting images from the older camera bodies. I used it for several years.
DPP 4 eGuide 7D II Update
If you have purchased the DPP 4 eGuide and have purchased a 7D II, please request the free update by shooting Jim an e-mail with the words DPP 4 7D II Update cut and pasted into the Subject Line. You must include some sort of proof of purchase; a cut and paste of page 2 of the current guide will suffice. If you send your request without including proof of purchase your updated eGuide will not be sent 🙂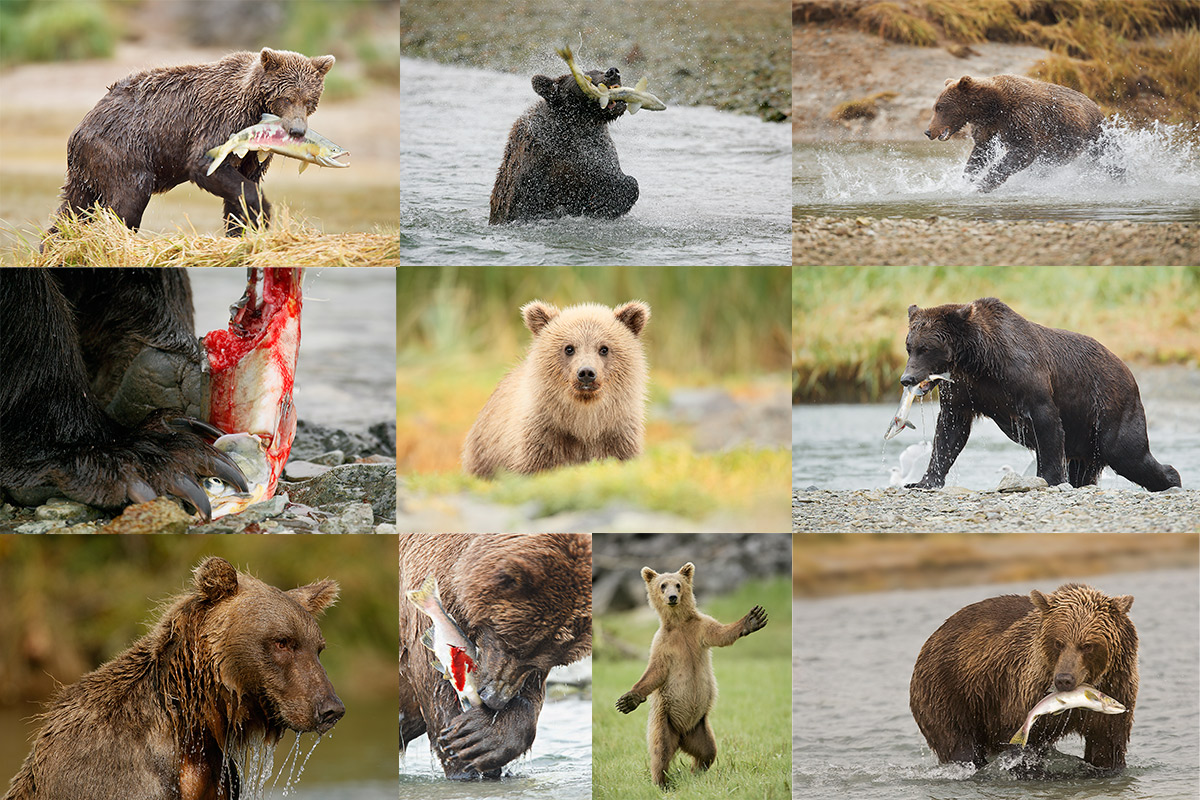 All of the images in the bear boat card above were created in Katmai National Park during the month of September.
Bear Boat/Bears Catching Salmon IPT: September 1-8, 2015 from Kodiak, AK/6 FULL & 2 1/2 DAYS: $6699. Happy campers only! Maximum 8/Openings: 5. Plus the leader: Arthur Morris.
If I do not have four deposit checks in hand by 1/31/2015 I reserve the right to scrap this trip so please do not purchase your plane tickets until you hear from me. 🙂 Only one to go.
Join me in Katmai National Park, AK for seven days of photographing Coastal Brown Bears (grizzlies) catching salmon, fattening up for the long winter. Other subjects will include Mew and Glaucous-winged Gulls in flight and dip-feeding on salmon roe. Did I mention that we live on a boat and that the food is great? Most of our photography will be done in a variety of famed locations: Geographic Harbor, Kinak Bay, and Kukak Bay. We once had 39 bears fishing the creek at Kukak….
It is mandatory that you be in Kodiak no later than the late afternoon of August 31, 2015 September to avoid missing the float planes to the boat on the morning of September 1. With air travel in AK being what it is, with the chance of fog or other bad weather–being on Kodiak on August 30 is an even better plan). I be on Kodiak on August 30 to avoid any potential disaster. That said in my nearly a dozen bear boat trips I was delayed only once but since I was day early as noted above there was no harm, no foul.
We will take one or more float planes to the boat mid-morning on September 1. We will photograph bears fishing that afternoon and every day for the next six days (weather permitting of course). We should have bears catching salmon every day. In addition, we will get some nice stuff on Mew Gull and Glaucous-winged Gulls dining on roe and the remains of predated salmon. We may–depending on where the concentrations of bears are–get to photograph Harbor seals and some hauled out Steller's Sea Lions (an endangered species). Halibut fishing (license required) is optional. On September 8, our last morning on the boat, those who would like to enjoy one last photo session will do so. The group returns to Kodiak via float plane midday. Most folks will fly to Anchorage and then continue on red-eye flights to their home cities.
The eight days will consist of six full days (Sept 2, 3, 4, 5, 6, & 7) of photography featuring lots of Coastal Brown Bears catching salmon as above plus a variety of other natural history subjects plus some nice scenic photography that I forgot to mention above. Plus the first afternoon and the last morning.
What's included? 8 DAYS/7 NIGHTS on the boat as above. All meals on the boat. (The food is quite excellent.) National Park fees. One night's double occupancy lodging on Kodiak; arrive: Sept 1/depart: Sept 2. The thank-you-in-advance dinner on Sept 1. In-the-field photo tips, instruction, and guidance. An insight into the mind of a top professional; I will constantly let you know what I am thinking, what I am doing, and why I am doing it. Small group image review, image sharing, and Photoshop instruction on the boat.
What's not included: Your round trip airfare to and from Kodiak, AK (almost surely through Anchorage). All necessary lodging other than the cost of your double occupancy room on the night of August 31 should you opt to arrive early–we can arrange that in advance for you. We will let you know the cost of a single supplement for the one night if so desired. The cost of the round-trip float plane to the boat on September 2 and back to Kodiak on September 9. The cost of a round trip this year was $500. The suggested crew tip of $210.
Is this an expensive trip? Yes, of course. But with 6 full and two half days, a wealth of great subjects, and the fact that you will be walking with the bears just yards away (or less….) it will be one of the great natural history experiences of your life. Most folks who take part in a Bear Boat IPT wind up coming back for more.
A $2,000 per person non-refundable deposit by check only made out to "Arthur Morris" is required to hold your spot. Please click here to read our cancellation policy. Then please print, read, and sign the necessary paperwork here and send it to us.
Your deposit is due immediately. That will leave a balance of $4699. The next payment of $2699 will be due on February 15, 2015. The final payment of $2000 is due on May 1, 2015.
I hope that you can join us for this wondrously exciting trip.
By e-mail from Bill Keown, veteran of three bear boat trips!
Hi Artie, What a great trip! With the exception of the one bright sunny day it was just great. Very different from my first trip in June where we only had the bears clamming; the fishing bears were amazing! As always I learned a lot and enjoyed the group immensely. All the Best, Bill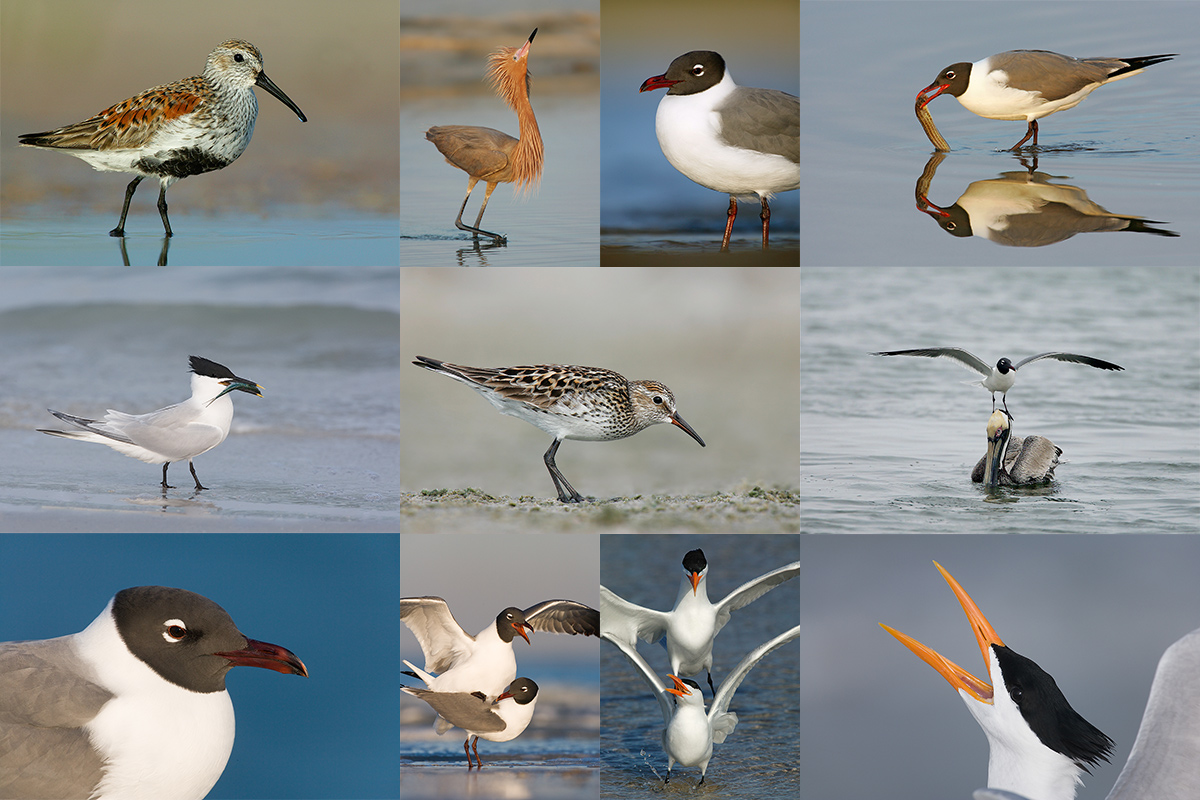 Fort DeSoto in spring can be bird photographer's heaven. And most of the birds are stupid tame.
Fort DeSoto in Spring/Breeding Plumage IPT: April 24-26, 2015. 3 FULL DAYs: $1099. Limit 8/Openings: 7.
Meet and Greet at 8pm on Thursday, April 23.
Join me at Fort DeSoto at the height of the breeding season for many of our target species: Laughing Gull, Royal Tern, Sandwich Tern, dark and light morph Reddish Egret, Great Egret, Tricolored Heron, and Yellow-crowned Night-Heron. In addition, we will have a good shot at photographing a variety of arctic-bound shorebird species in breeding plumage. We should have good chances with a variety of courtship behaviors including courtship feeding, courtship displays, pre-copulatory stands, and copulation.
On this IPT you will the learn basics and fine points of digital exposure and how to get the right exposure every time after making a single test exposure, how to approach free and wild birds without disturbing them, to understand and predict bird behavior, to identify many species of shorebirds, to spot the good situations, to choose the best perspective, to see and understand the light, and to design pleasing images by mastering your camera's AF system. And you will learn learn how and why to work in Manual mode (even if you're scared of it).
At lunch (included) we will review my images–folks learn a ton watching me edit–why keep this one and delete that one. If you opt to bring your laptop, we will take a look at five of your best images from the morning session. We will process a few of my images in Photoshop after converting them in DPP. That followed by Instructor Nap Time.
A $499 non-refundable deposit is required to hold you spot. The balance, $600 will be due on February 7, 2015. Please click here to read our cancellation policy. Then please print, read, and sign the necessary paperwork here and send it to us.
Facebook
Be sure to like and follow BAA on Facebook by clicking on the logo link upper right. Tanks a stack!
Support the BAA Blog. Support the BAA Bulletins: Shop B&H here!
We want and need to keep providing you with the latest free information, photography and Photoshop lessons, and all manner of related information. Show your appreciation by making your purchases immediately after clicking on any of our B&H or Amazon Affiliate links in this blog post. Remember, B&H ain't just photography!
…..
Amazon.com
Those who prefer to support BAA by shopping with Amazon may use this link:
Amazon Canada
Many kind folks from north of the border, eh, have e-mailed stating that they would love to help us out by using one of our affiliate links but that living in Canada and doing so presents numerous problems. Now, they can help us out by using our Amazon Canada affiliate link by starting their searches by clicking here. Many thanks to those who have written.
Typos
In all blog posts and Bulletins, feel free to e-mail or to leave a comment regarding any typos or errors. Just be right :).