Thanks
Sincere thanks to those who have and those who continue to leave congratulatory comments on the streak. No worries. This is not a new streak. 🙂 Everyone's kind words are greatly appreciated.
What's Up?
Thursday was a rare day off. Though it looked like a total bust with heavy cloud cover at 5:30am there was a layer of thin cloud right at the horizon and it was easy to see well before 6:00am that all were going to be in for a rare treat. We were; there were pinks and purples everywhere with mega reflections. Images coming soon. I drove Denise to ABQ for her AA flight to Chile. I typed this paragraph in a Verizon store in Albuquerque; my Droid battery died. It is plenty cloudy up here so I will likely take another afternoon off. It actually rained in Socorro on Thursday, the first real daytime rain I experienced in 20 years of visits at this season. I wish that it had been colder….
Tonight I meet the sold-out Canon Destination workshop group. Jim Heupel will be co-leading with me. This blog post was published from my hotel room in Socorro, NM at 3:05am.
Incredible luck: photographing a big cat from my vehicle at Bosque
I once saw a Mountain Lion at the refuge. It was on the East Farm Loop Road. It was about 400 yards from me. As I got closer I saw that it was covered in mud and dripping wet. I thought at first that it was a huge River Otter. But as I continued to drive slowly towards the animal its long tail made its identity very clear. As with the one that I saw at Merritt Island NWR, it disappeared as quickly and quietly as it had appeared.
I never thought that I would have a chance to photograph a Big Cat at the refuge. But today, I had that chance and took every advantage of the opportunity. See image next.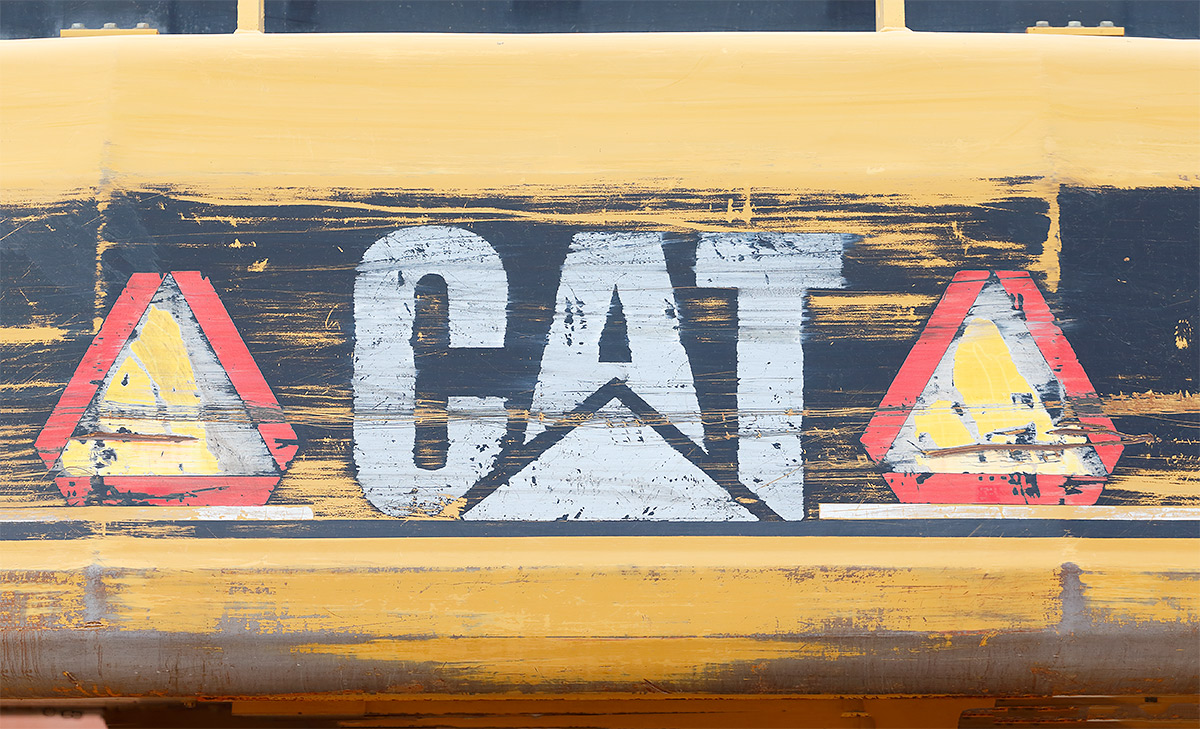 This image was created on the cloudy morning of December 4, 2014 on my day off after an amazingly breathtaking predawn filled with exposures as long as 8 seconds. Images coming soon. I used the Canon EF 200-400mm f/4L IS USM Lens with Internal 1.4x Extender (at 200mm) and the Canon EOS-1D X). ISO 800. Evaluative metering +1 stop as framed: 1/250 sec. at f/5.6. The lens was supported by the BLUBB, the Big Lens Ultimate BeanBag. There are lots of BLUBBs being driven around Bosque.
Central sensor/AI Servo-Surround on the black triangle in the A was active at the moment of exposure. Click here if you missed the Rear Focus Tutorial. Click on the image to see a larger version.
Your browser does not support iFrame.
The Big Cat
Unfortunately the "Big Cat" that I photographed from the car today was not a Mountain Lion. It was a large Caterpillar bulldozer, one that has seen lots of use on the refuge. I had had my eyes on the Caterpillar logo for several days and once the huge machine was moved from one side of the road to the other all that I had to do was wait for a cloudy day. Thursday was bingo!
I guess that there is still a lot of little kid left in me.
110 Years Since the First test of the Steam-powered Track-type Tractor
November 24th past marked an important day in the Track-Type Tractor's history — and Caterpillar's for that matter. On this day in 1904 in Stockton, California Benjamin Holt tested his steam-powered track-type tractor prototype for the first time. Holt was not satisfied with the performance of his company's steam traction engine tractors. Regions of California were difficult to prepare for crops because both horses and steam traction engine tractors got stuck in the soggy peat soil.
Holt's first inclination was to experiment with wider wheels. Some of his machines had wheels that were each 18 feet wide; the engine itself was already 10 feet wide. For that reason, roads and gates to fields needed to be 46 feet wide. These experiments were inefficient, costly and added to the weight of the machine without improving its performance.
After years of research, Holt instructed his mechanics to remove the rear wheels from the 40-horsepower Holt Junior Steam Traction Engine #77 and replace them with a pair of tracks he had designed. These tracks were nine feet long and 24 inches wide. The track shoes consisted of three-by-four-inch wooden slats bolted to an endless chain. The weight of the machine moved on rollers anchored to a supplementary frame.
On Thanksgiving Day, November 24, 1904, this tracked machine was given its first field test and it performed very well. Today, #77 is recognized as the prototype of the world's first commercially successful track-type tractor. You can learn more about this very interesting company by clicking here.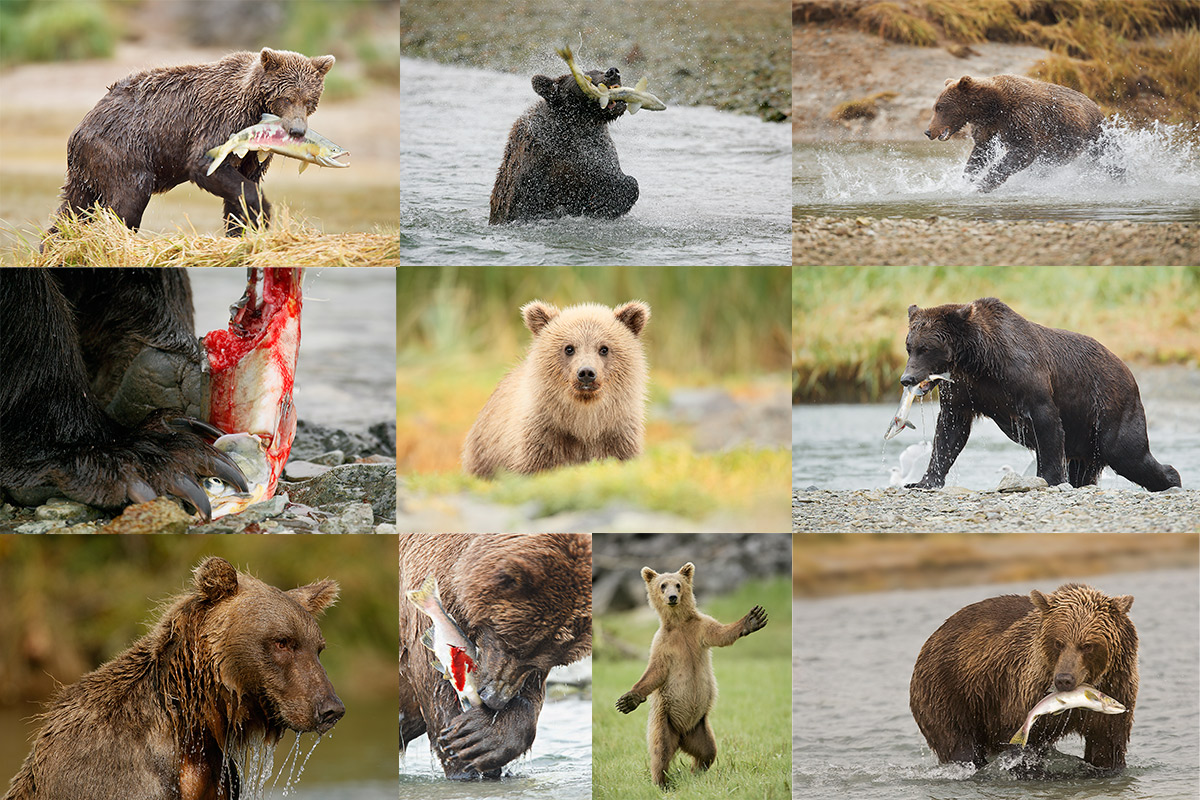 All of the images in the bear boat card above were created in Katmai National Park during the month of September.
Bear Boat/Bears Catching Salmon IPT: September 1-8, 2015 from Kodiak, AK/6 FULL & 2 1/2 DAYS: $6699. Happy campers only! Maximum 8/Openings: 5. Plus the leader: Arthur Morris.
If I do not have four deposit checks in hand by 1/31/2015 I reserve the right to scrap this trip so please do not purchase your plane tickets until you hear from me. 🙂 Only one to go.
Join me in Katmai National Park, AK for seven days of photographing Coastal Brown Bears (grizzlies) catching salmon, fattening up for the long winter. Other subjects will include Mew and Glaucous-winged Gulls in flight and dip-feeding on salmon roe. Did I mention that we live on a boat and that the food is great? Most of our photography will be done in a variety of famed locations: Geographic Harbor, Kinak Bay, and Kukak Bay. We once had 39 bears fishing the creek at Kukak….
It is mandatory that you be in Kodiak no later than the late afternoon of August 31, 2015 September to avoid missing the float planes to the boat on the morning of September 1. With air travel in AK being what it is, with the chance of fog or other bad weather–being on Kodiak on August 30 is an even better plan). I be on Kodiak on August 30 to avoid any potential disaster. That said in my nearly a dozen bear boat trips I was delayed only once but since I was day early as noted above there was no harm, no foul.
We will take one or more float planes to the boat mid-morning on September 1. We will photograph bears fishing that afternoon and every day for the next six days (weather permitting of course). We should have bears catching salmon every day. In addition, we will get some nice stuff on Mew Gull and Glaucous-winged Gulls dining on roe and the remains of predated salmon. We may–depending on where the concentrations of bears are–get to photograph Harbor seals and some hauled out Steller's Sea Lions (an endangered species). Halibut fishing (license required) is optional. On September 8, our last morning on the boat, those who would like to enjoy one last photo session will do so. The group returns to Kodiak via float plane midday. Most folks will fly to Anchorage and then continue on red-eye flights to their home cities.
The eight days will consist of six full days (Sept 2, 3, 4, 5, 6, & 7) of photography featuring lots of Coastal Brown Bears catching salmon as above plus a variety of other natural history subjects plus some nice scenic photography that I forgot to mention above. Plus the first afternoon and the last morning.
What's included? 8 DAYS/7 NIGHTS on the boat as above. All meals on the boat. (The food is quite excellent.) National Park fees. One night's double occupancy lodging on Kodiak; arrive: Sept 1/depart: Sept 2. The thank-you-in-advance dinner on Sept 1. In-the-field photo tips, instruction, and guidance. An insight into the mind of a top professional; I will constantly let you know what I am thinking, what I am doing, and why I am doing it. Small group image review, image sharing, and Photoshop instruction on the boat.
What's not included: Your round trip airfare to and from Kodiak, AK (almost surely through Anchorage). All necessary lodging other than the cost of your double occupancy room on the night of August 31 should you opt to arrive early–we can arrange that in advance for you. We will let you know the cost of a single supplement for the one night if so desired. The cost of the round-trip float plane to the boat on September 2 and back to Kodiak on September 9. The cost of a round trip this year was $500. The suggested crew tip of $210.
Is this an expensive trip? Yes, of course. But with 6 full and two half days, a wealth of great subjects, and the fact that you will be walking with the bears just yards away (or less….) it will be one of the great natural history experiences of your life. Most folks who take part in a Bear Boat IPT wind up coming back for more.
A $2,000 per person non-refundable deposit by check only made out to "Arthur Morris" is required to hold your spot. Please click here to read our cancellation policy. Then please print, read, and sign the necessary paperwork here and send it to us.
Your deposit is due immediately. That will leave a balance of $4699. The next payment of $2699 will be due on February 15, 2015. The final payment of $2000 is due on May 1, 2015.
I hope that you can join us for this wondrously exciting trip.
By e-mail from Bill Keown, veteran of three bear boat trips!
Hi Artie, What a great trip! With the exception of the one bright sunny day it was just great. Very different from my first trip in June where we only had the bears clamming; the fishing bears were amazing! As always I learned a lot and enjoyed the group immensely. All the Best, Bill
Facebook
Be sure to like and follow BAA on Facebook by clicking on the logo link upper right. Tanks a stack!
Support the BAA Blog. Support the BAA Bulletins: Shop B&H here!
We want and need to keep providing you with the latest free information, photography and Photoshop lessons, and all manner of related information. Show your appreciation by making your purchases immediately after clicking on any of our B&H or Amazon Affiliate links in this blog post. Remember, B&H ain't just photography!
…..
Amazon.com
Those who prefer to support BAA by shopping with Amazon may use this link:
Amazon Canada
Many kind folks from north of the border, eh, have e-mailed stating that they would love to help us out by using one of our affiliate links but that living in Canada and doing so presents numerous problems. Now, they can help us out by using our Amazon Canada affiliate link by starting their searches by clicking here. Many thanks to those who have written.
Typos
In all blog posts and Bulletins, feel free to e-mail or to leave a comment regarding any typos or errors. Just be right :).